Avocado brownies may sound a bit odd, but I promise you they are fantastic. These brownies are moist, decadent, and packed with extra nutrients thanks to the addition of avocado. Plus, they happen to be egg-free and vegan, making them ideal for anyone who prefers plant-based foods!
Today, I'll show you how to make my favorite moist avocado brownies.
This chocolatey treat can be made quickly. Even the busiest of moms can whip them up in just a few minutes!
Baking with avocado
While I can't exactly call these healthy, these brownies do have added nutritional value and take the place of some other less-than-nutritious ingredients, like vegetable oil.
So if you think about it, avocado brownies are a great way to sneak in extra nutrients for kids too! My daughter loves these brownies and can't resist going back for seconds!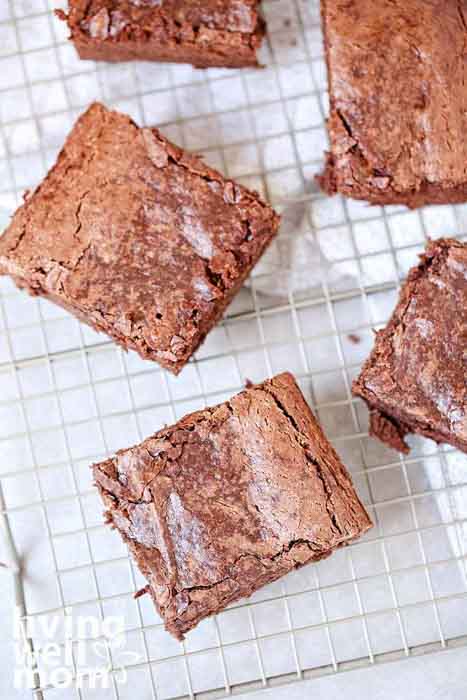 This avocado brownie recipe doesn't use eggs, so this is a great option if you're egg-free. Many egg substitutes result in kind of "meh" baked goods, but this brownie recipe is delicious!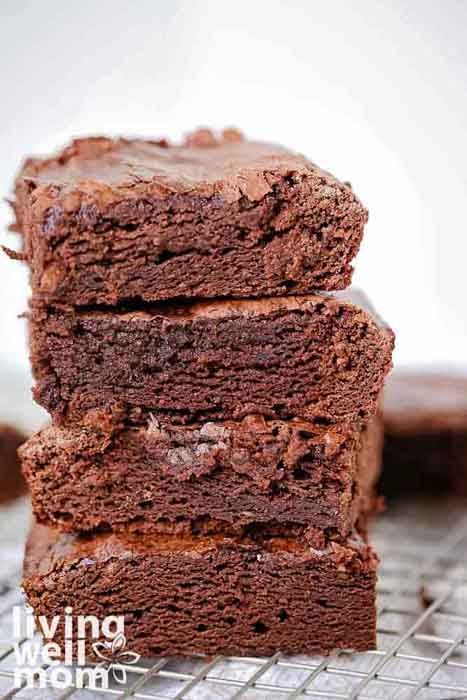 Most people don't realize that you can do a lot more with avocados beyond guacamole. Did you know they're delicious in baked goods?
In fact, avocados make exceptional substitutes for butter and even eggs in baking recipes. And no, you won't taste them!
Their subtle flavor is easily masked with traditional baking ingredients like cocoa powder and vanilla extract. Avocados provide all the moisture and creamy texture of fats (without the unhealthy side effects).
These creamy fruits are known as nutritional powerhouses for good reason. Each avocado is loaded with healthy fats, 4 grams of protein, potassium, and vitamins B6, B5, C, and E. To top it all off, at 11g of fiber, they provide half of the recommended fiber intake for the day!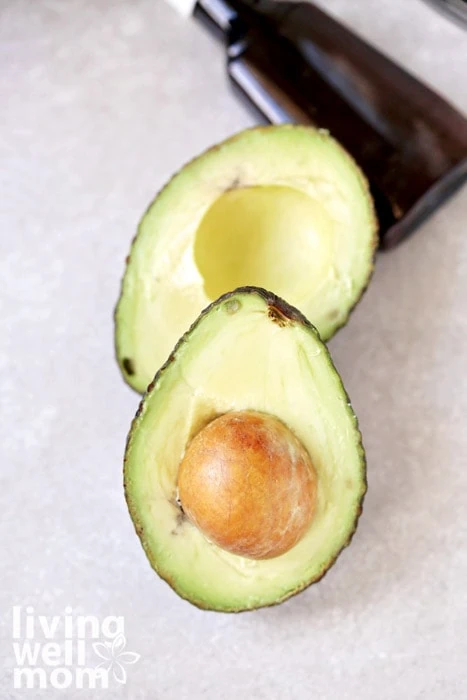 Ingredients
The ingredient list for these brownies is short and sweet. You likely have most of these items at home already!
Cocoa powder – make sure you have the unsweetened variety
Salt
Avocado – you'll want your avocado to be ripe so that it is easily mashed
Milk – use your preferred milk. I've made these with almond milk for a vegan brownie, but also with 1% and 2%. All tasted fantastic!
Water
Walnuts – optional (sadly, my kids don't like nuts in their brownies!)
How to make avocado brownies
Whipping up a batch of these avo brownies is easy peasy. Here's how to do it.
Preheat your oven to 350 degrees.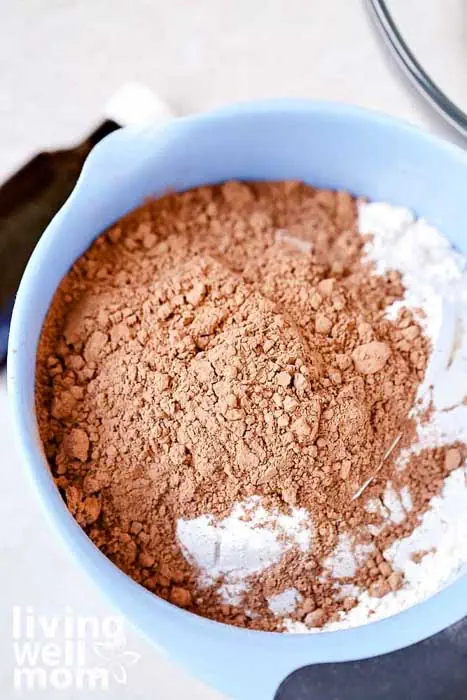 Combine the flour, sugar, unsweetened cocoa powder, baking powder, and salt in a mixing bowl.
Then, get your secret ingredient ready. You'll need 1 cup of mashed avocado, so you may need 2 small avocados or 1 large. Make sure it is ripe and easy to mash!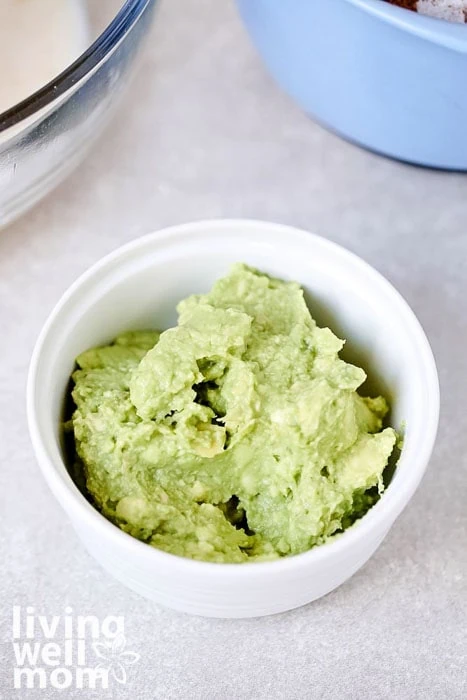 With a mixer, beat together the mashed avocado, milk, water, and vanilla extract.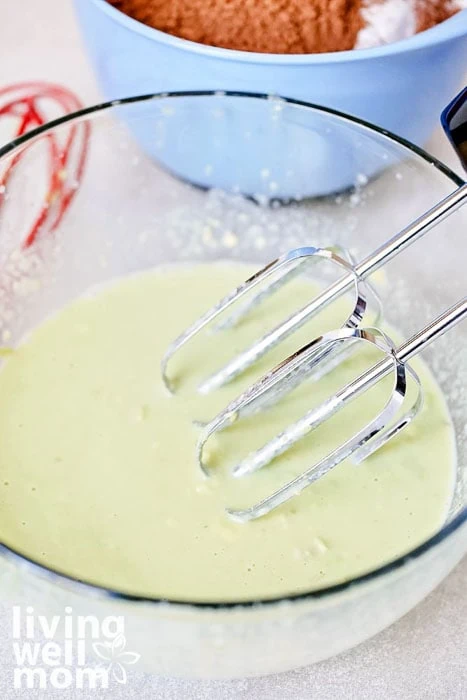 Next, add the dry ingredients into the wet bowl and mix until well combined.
If you are adding walnuts, you can mix in about 1/2 cup of chopped nuts now.
(My kids prefer nut-free, so we left those out.)
Then, grease a 9×13″ baking pan and pour in your avocado brownie batter.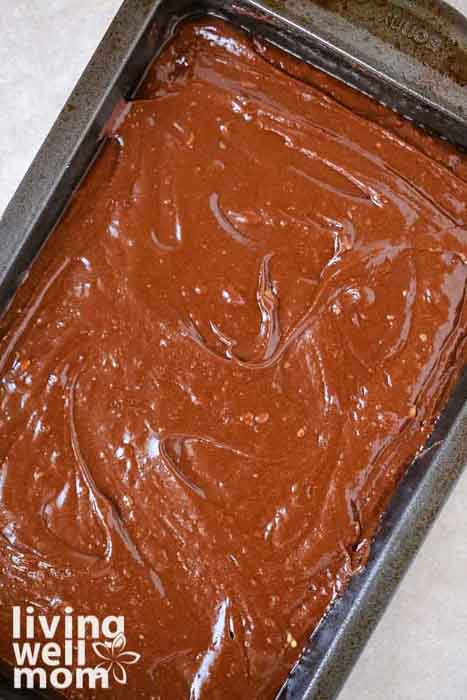 Bake at 350 degrees for 30-40 minutes or until a toothpick comes out clean.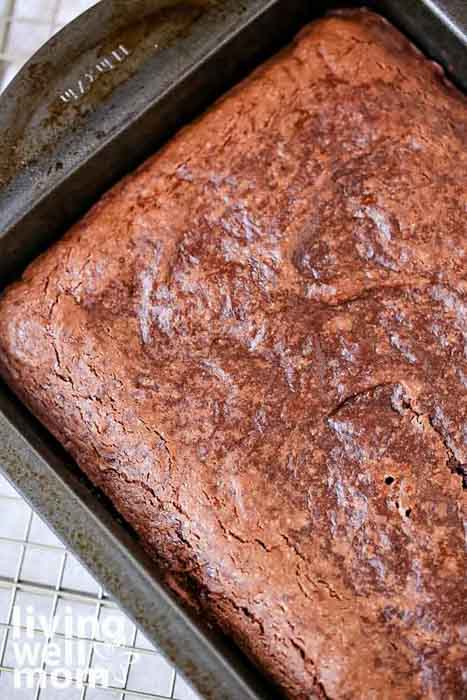 These avocado brownies are more cake-like than chewy and so yummy! Enjoy!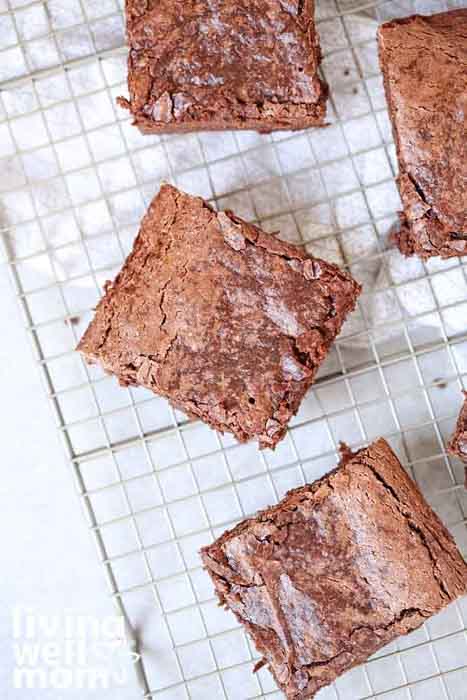 Storage
In my opinion, these brownies are best eaten warm and fresh. But, if you have to store leftovers, there are several different ways you can do so, including at room temperature, in the refrigerator, and freezer.
Room temperature
If you plan on enjoying your avo brownies within a few days, storing them at room temperature is your best bet.
To keep them fresh, place them in an airtight container and/or wrap them tightly with plastic wrap. This will prevent them from drying out and getting stale. I also recommend waiting to cut the brownies until you are ready to eat them, as that will help keep them moist.
Be sure to store these brownies in a cool, dry place away from direct sunlight to keep them as fresh as possible!
Fridge
While storing brownies in the fridge isn't recommended for long-term storage, it can be a good option if you need to keep them fresh for a few extra days.
To keep your brownies in the fridge, wrap them tightly in plastic wrap or place them in an airtight container. They'll keep for about five days.
I personally rarely store my baked goods in the fridge as it can cause them to dry out. If you decided to go for it, make sure you keep them tightly wrapped.
Freezer
If you want to keep your brownies for a longer period of time, freezing them is a better option.
First, let them cool completely. Then, wrap them tightly in plastic wrap and place them in a freezer-safe container.
This will help prevent freezer burn and keep them fresh for up to three months. When you're ready to enjoy them, simply thaw them at room temperature, and your avocado brownies will be ready to eat in no time!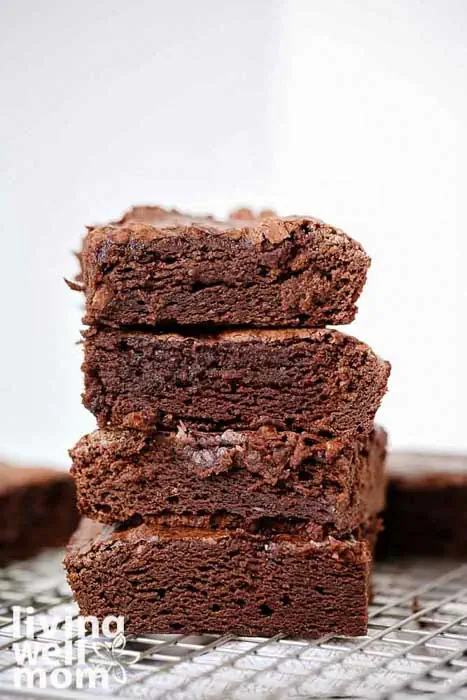 FAQs
Can you taste avocado in avocado brownies?
If the idea of avocado brownies scares you, don't worry! Avocado itself has a very mild flavor, and when it is paired with stronger ingredients like cocoa and sugar, it fades nicely into the background.
Make sure to use a RIPE avocado, however, as the unripe ones can have a bit of bitter flavor.
Looking for another way to enjoy avocado as a dessert? Give this yummy avocado chocolate mousse a try!
How do I ripen an avocado quickly?
If you are stuck with rock-hard avocados, you'll want to wait for them to ripen before making a batch of these brownies.
I've tried several methods to speed up the ripening process for avocados, and I've gotten the best results by putting them in a brown paper bag and sealing the top. Simply leave the bag on your counter overnight, and your avocados should be ripening along nicely.
So, there you have it: chocolatey, rich avocado brownies. Enjoy!
More Brownie Recipes to Try
Print
Avocado Brownies
Author:
Prep Time:

10 mins

Cook Time:

30 mins

Total Time:

40 mins

Yield:

16

brownies

1

x
Instructions
Preheat the oven to 350F.
Combine dry ingredients (flour, sugar, cocoa powder, baking powder, and salt) in a mixing bowl.
Beat together the mashed avocado, milk, water, and vanilla extract in another bowl. Add the dry ingredients, mixing until well combined. Optional: gently combine mixed walnuts.
Grease a 9×13″ baking pan, and pour in mixture.
Bake for 25-35 minutes, or until toothpick comes out clean. Let brownies cool completely before cutting into squares and serving. Enjoy!
Notes
© Living Well Mom. All images & content are copyright protected. Please do not use my images without prior permission. If you want to republish this recipe, please re-write the recipe in your own words and link back to this post for the recipe.