I used to think water parks were just for older kids and teens, but then I went to Water Country in Portsmouth, New Hampshire.
That's where I realized this isn't any old water park. Water Country has something for everyone in the family, from babies all the way to grandparents. It's definitely not just for teens, although there's plenty of thrills for that age too!
Water Country gave my family tickets in return for sharing with you. We had an amazing day and definitely came away with some great memories.
Here are 8 Reasons Water Country is Fun for the Whole Family
1. Water Country is huge!
There are 26 acres full of fun attractions, including a giant wave pool with 700,000 gallons of water.
Fun fact: Water Country's wave pool is the largest in New England!
2. Family Rides
Many places have stuff for teens/older kids and then younger kids. While Water Country definitely has both, they have a few water slides you can enjoy together as a family with kids that are 36-42″ on up.
Our favorite water slide of the day was the tube slide called Wild Canyon! With a huge raft for 2-4 people, you'll twist and turn down the slide as a family!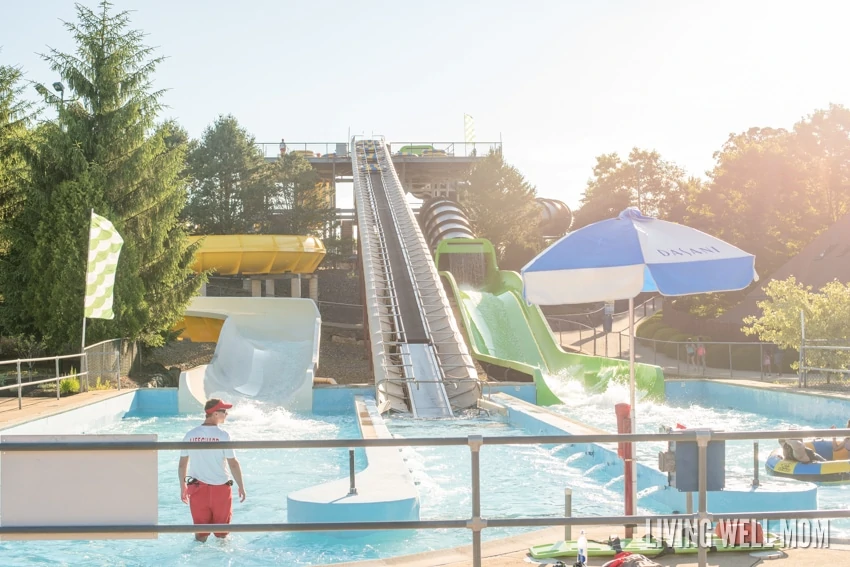 Our youngest, Luke, is just 42″ now and he could go on this slide with a life jacket. He's normally very cautious but after we convinced him to go once, he liked it so much, we eventually went down 5 times during our visit!
Thunder Falls is the other side of this set and this one carries you down a tunnel! Joshua (7) and Luke were a little more hesitant, but eventually we did this one too and they did great! This was definitely a fantastic family adventure slide!
3. Great Kiddie Attractions
With not just one or two, Water Country has four separate attractions for kids! There's Bubble Bay, right near the Wave Pool, has geysers and bubbling water.
Ollie Octopus has fun slides for children under 48″.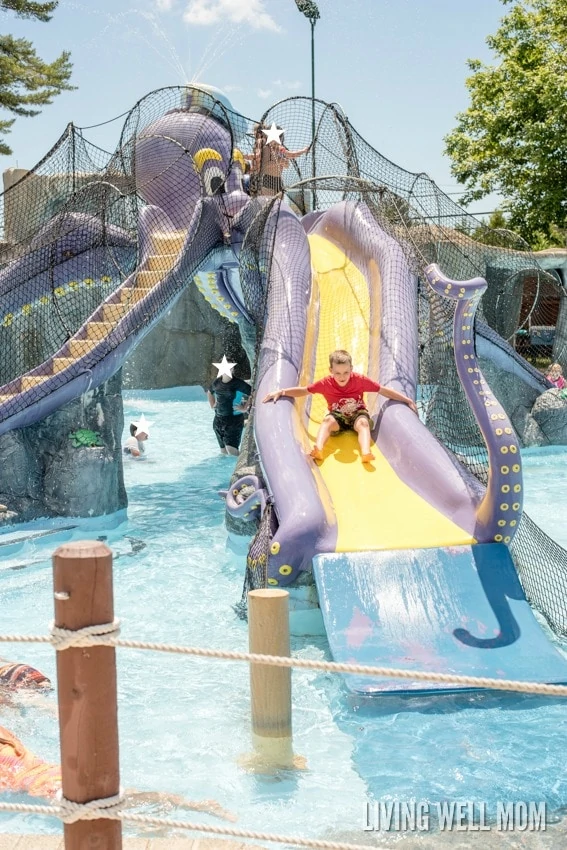 Pirate's Pool and Lagoon has a 40′ pirate ship with slides and fun for kids!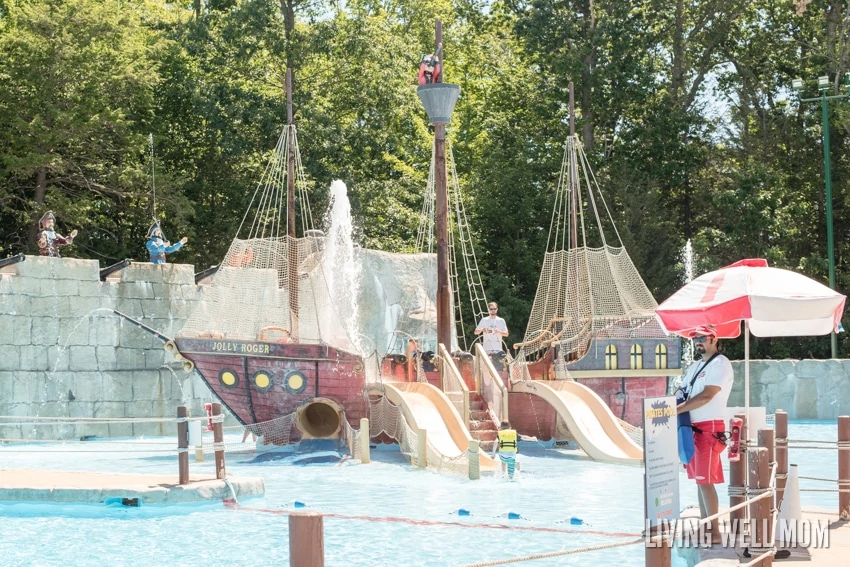 But Tahiti Tree House was my kids' favorite area.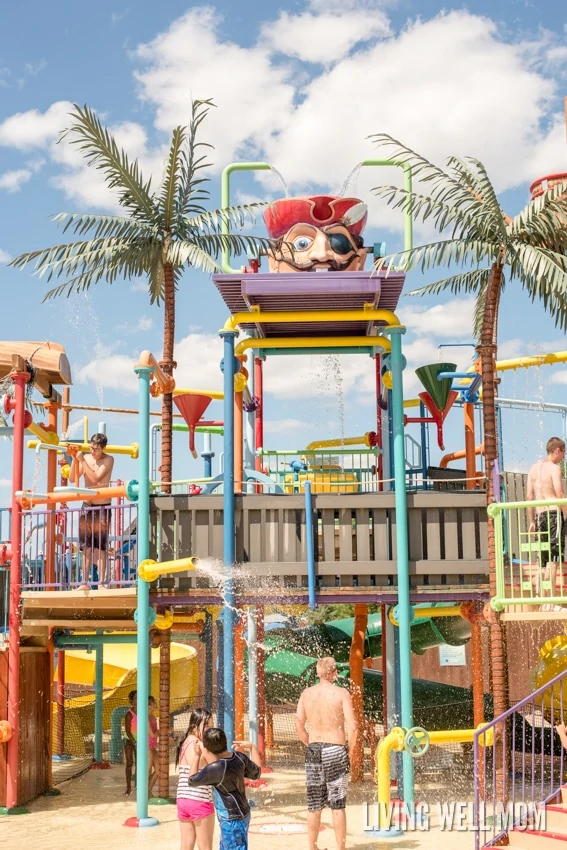 There's a huge tipping bucket that periodically dumps water all over and lots of slides and place to climb and have fun. Joshua and Luke spent at least an hour or so enjoying this area alone!
4. The Adventure River
Every water park needs a lazy river and Water Country is no different. But this river isn't exactly lazy. It's called the "Adventure River" because you go through "caves" and under waterfalls as you go around the 1/4 mile ride!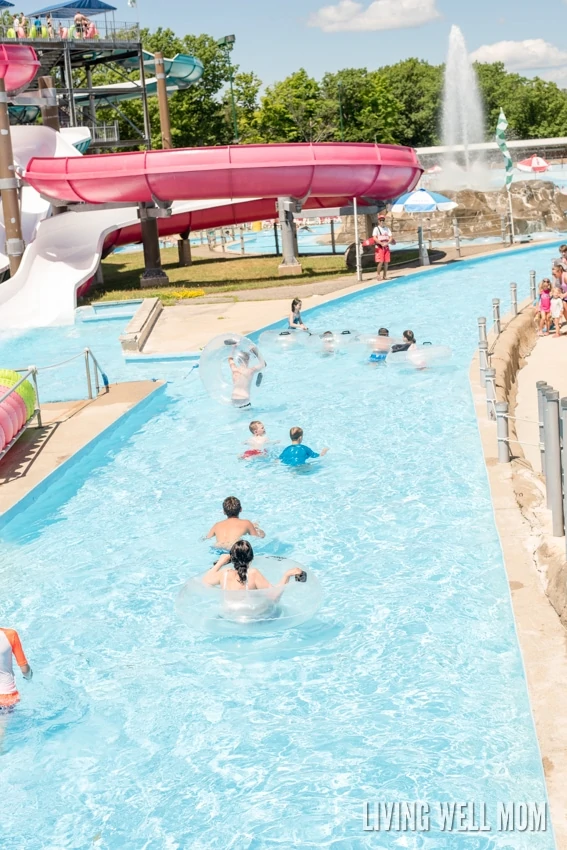 The Adventure River was one of my favorite attractions; it's a great way to take a break.
5. Thrills for the Brave
If you're feeling brave, Water Country has some awesome water slides for you too!
Double Geronimo has you zip down a 58 foot high slide on your back. You'll speed down so quickly, you have to cross your arms and legs and you might get a wedgie at the bottom. But it's worth it for the thrill of "conquering the Geronimo!"
My husband, Nate, went to Water Country when he was a teenager and he enjoyed coming back and going on this insane slide again! While I wasn't quite brave enough, Nathan joined him and loved it too!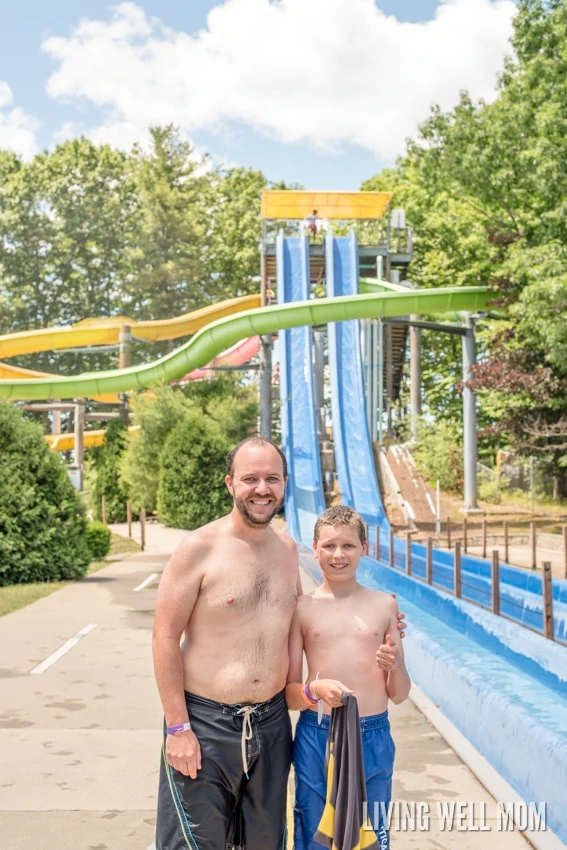 Dr Von Dark's Tunnel of Terror is for two people. I braved this slide with Nate and it is a little insane as you whip around in the dark tunnel, eventually splashing out at the end of the 300 foot slide!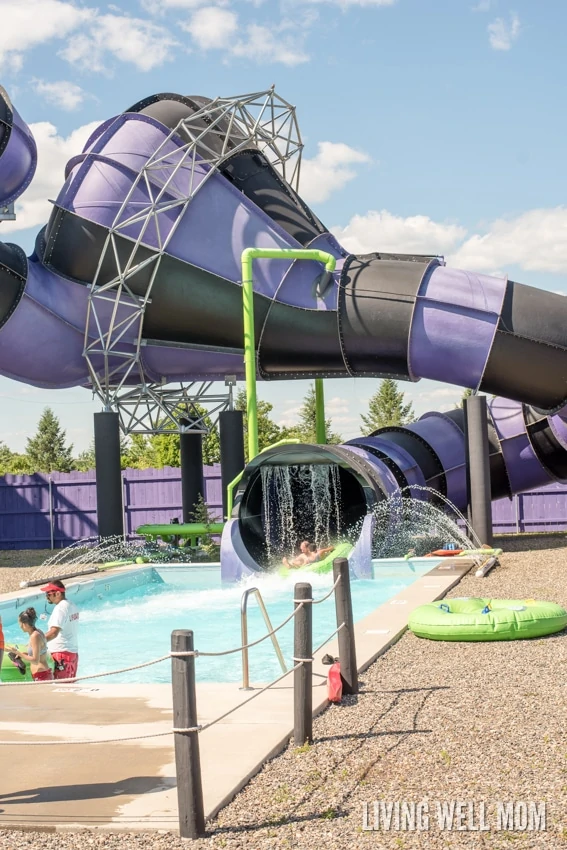 As you wait in line, you can look down into the Dragon's Den. This tube slide is also for two people; you'll whip down a dark tunnel, then swirl around in the "dragon's den" a couple of times before you swoop into another tunnel to the bottom! Nate and I tried this slide too and it was awesome!
6. Even More Awesome Slides
There's quite a few more awesome things to do at Water Country!
The Screamer side of the Shoot & Screamer combo was the first slide we all tried.
You can go down by yourself in a tube or with a double tube. It's a free fall drop for this slide, but even my younger boys loved this adrenaline rush!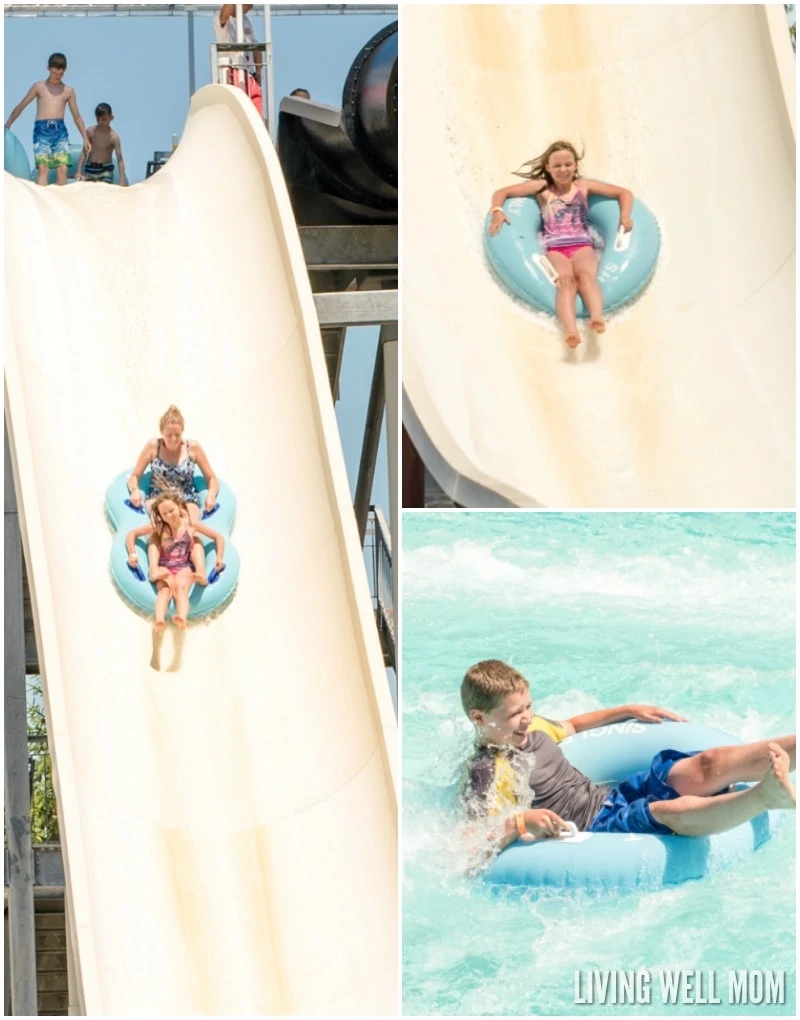 The Black Hole & Warp 8 are another set of single or double tube slides. Nate and I went down the warp 8 with Joshua and Luke (another great 'family' slide for kids ages 42″+). The boys weren't sure about the tube part of it, but at the bottom, they said it was awesome!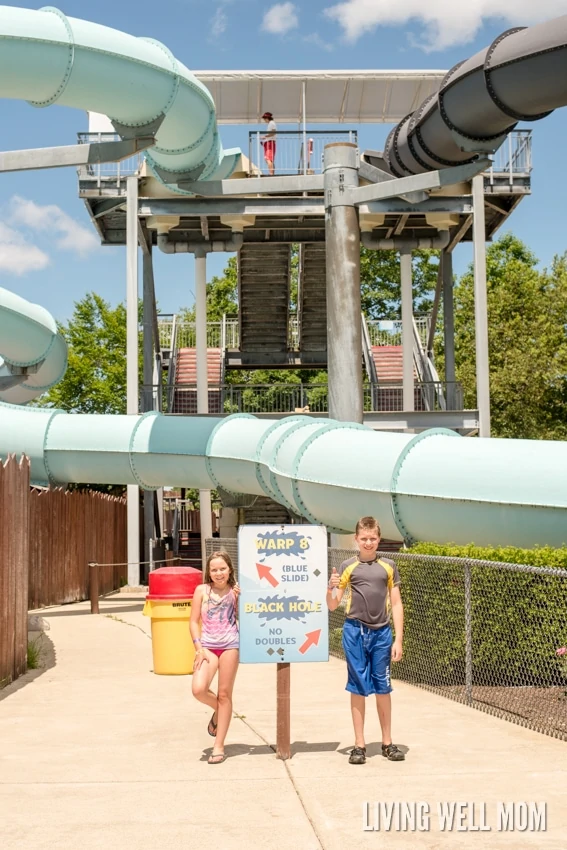 Another favorite slide was the Racing Rapids/The Plunge. These tube slides are 396 feet and 422 feet long and they're awesome!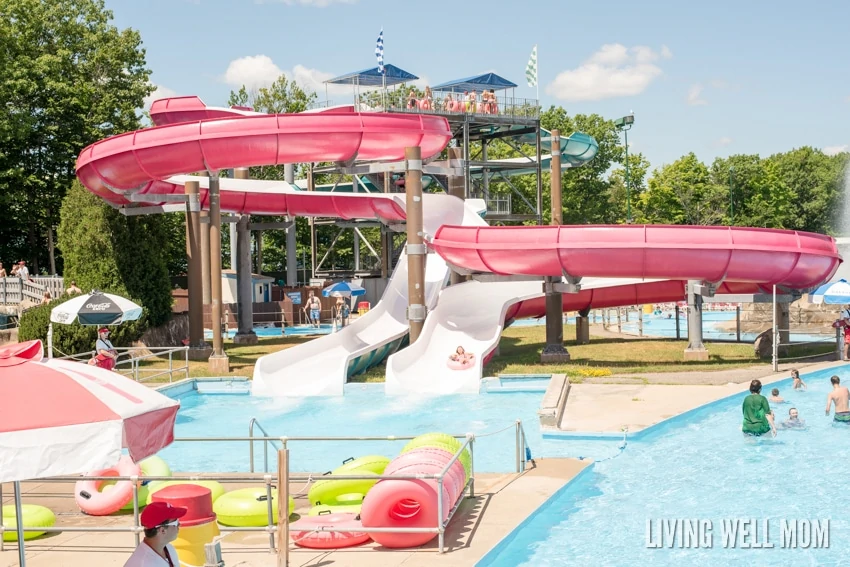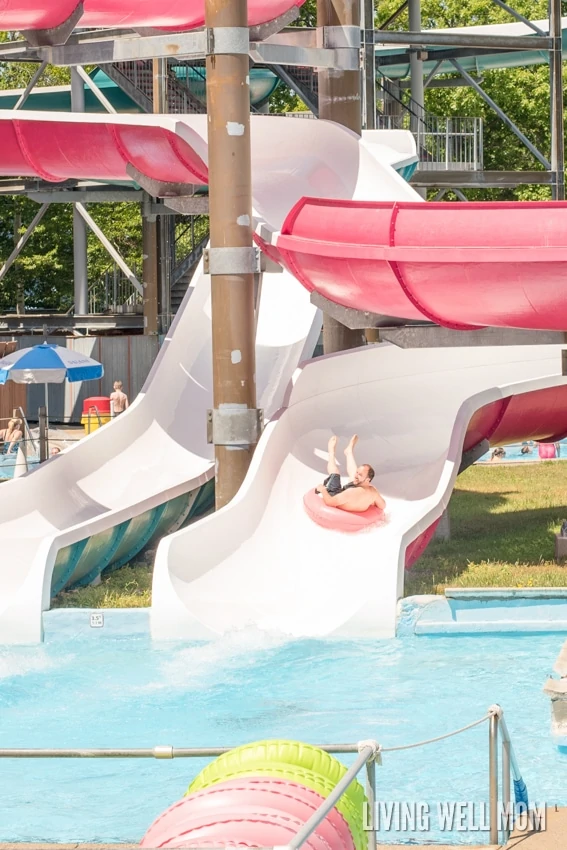 7. The Food
Unlike a lot of parks, Water Country lets you bring your own food. Their website states you're allowed to bring food if necessary for allergy or health reasons, which is exactly what my family needs with our food sensitivities. I was very happy to be able to pack our own food without worrying about finding food my family can eat without breaking our budget!
Water Country has quite a few restaurant and food options too. From the Smoothie Hut to Breaking Pizza Pointe, you can find everything from pizza and grilled cheese to chicken fingers, hot dogs, and burgers. They even have Oreo Churros and freshly squeezed lemonade!
If you like Water Country as much as my family does, you'll want to go back soon. Luckily, Water Country offers reasonable season passes for less than the cost of 3 visits! It's $65.99 for a basic pass and if you're willing to come Monday-Friday, you can save even more with a season pass for $49.99.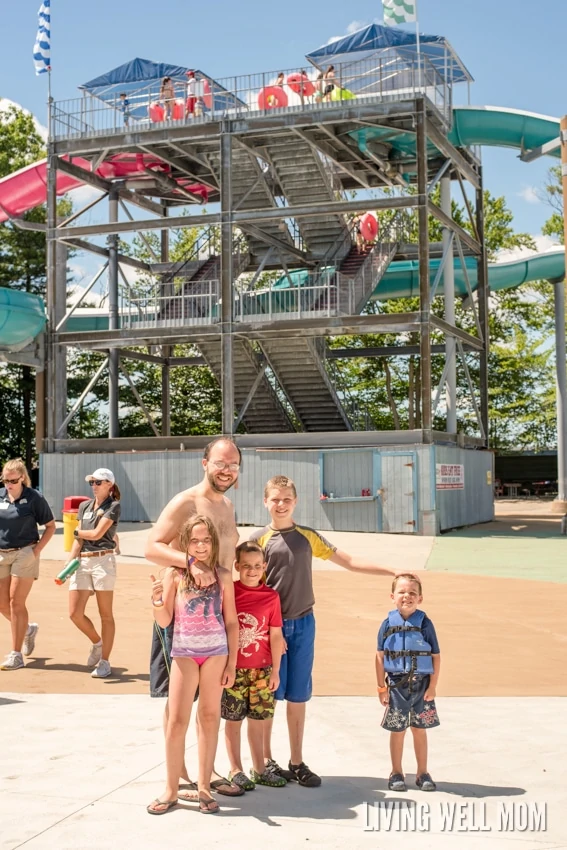 Not sure yet? If you visit Water Country and decide you love it, you can apply that day's admission cost toward your season pass. Woohoo!
Water Country has tube rentals for $7 each. We probably could have gotten away without any rentals because it wasn't terribly crowded the day we went, but it did make it easier with a limited number of tubes for the Adventure River. And of course everyone wants a tube for the Wave Pool!
You can rent life jackets for younger children for $10. Return them at the end of the day and get your money back.
Renting a cabana is a great way to ensure you have a place to relax during your visit to Water Country. We rented a cabana near Pirate's Pool & Lagoon and enjoyed having a spot out of the sun all to ourselves.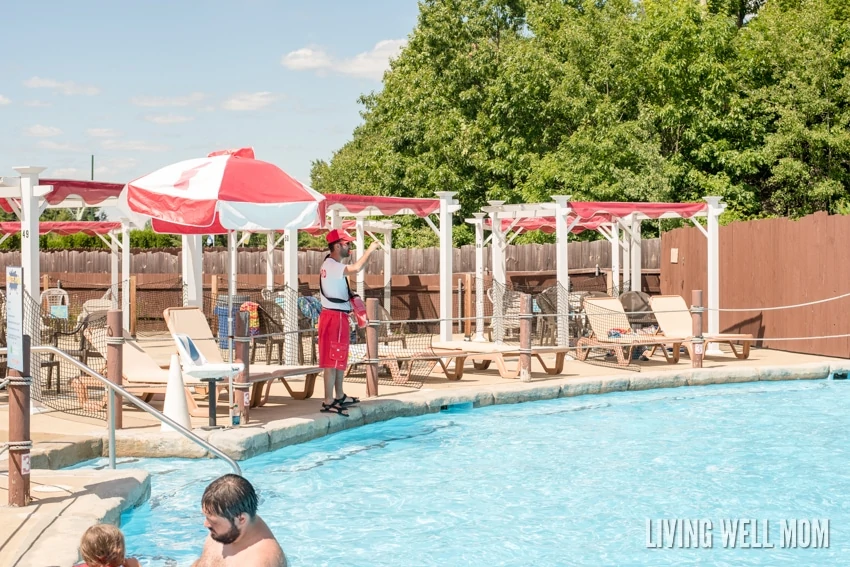 I also liked how the cabana area was separate from the rest of the lounge areas, so I didn't have to worry about leaving our towels and bags there.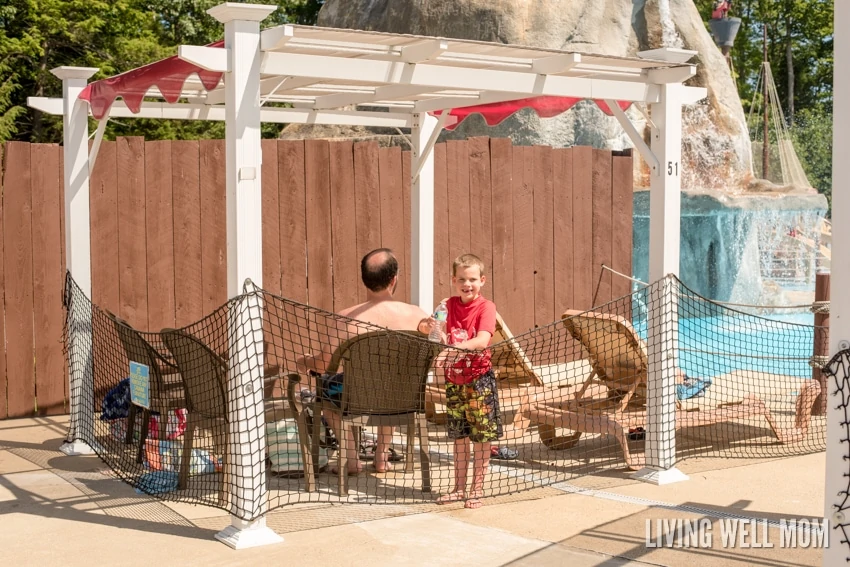 Of course, it's not a bad idea to rent an all-day locker to store your belongings just to be safe.
Forget your sunglasses or something important? Water Country has a convenient shop where you can purchase everything from swim suits to towels, sunscreen and more. The prices are a little expensive, but it's what you would expect for that convenience.
The staff was fantastic too. Everyone from the life guards to the lemonade stand folks, the staff was kind, friendly, efficient, and clearly well trained.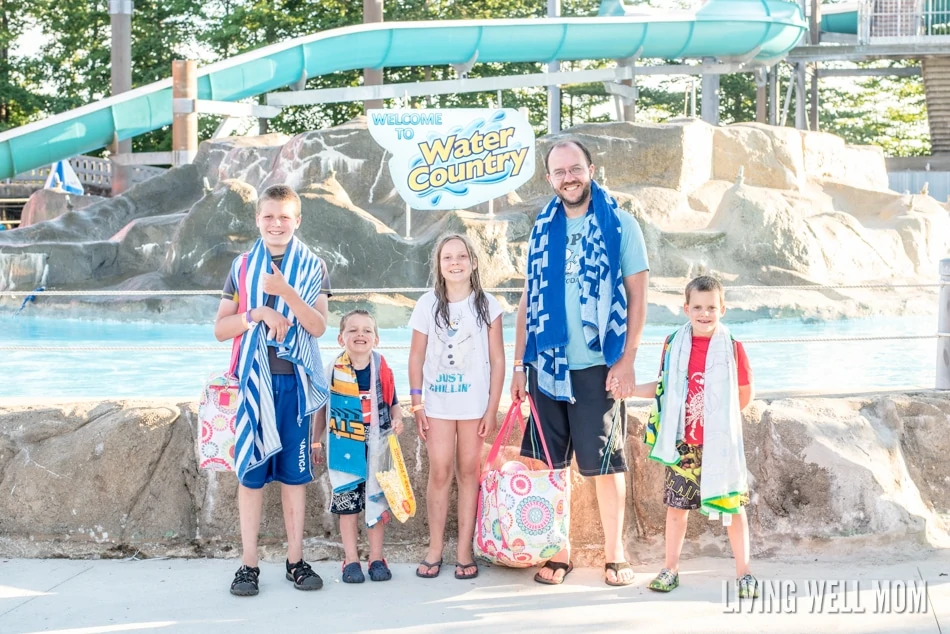 We had a fantastic day at Water Country and hope to go back soon. It's truly a great place to take the whole family to cool off!
Click here to save $3 off each ticket to Water Country or use code: LIVINGWELLMOMBLOG16