If you love drinking green tea, you're going to think you've died and gone to heaven when you try a piece of this Green Tea Fudge. It's a-mazing!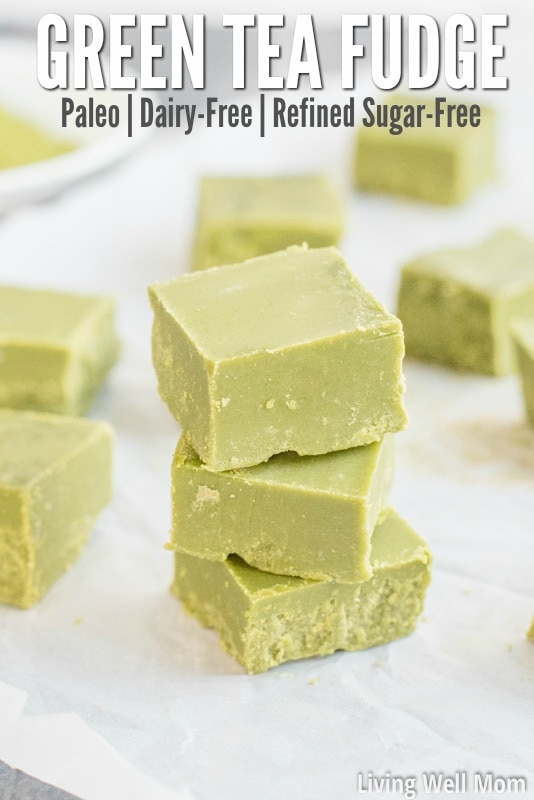 This Green Tea Fudge recipe is made with matcha green tea, coconut butter, maple syrup, and a couple other simple ingredients that together create an irresistible, rich and satisfying, healthier treat. Because the star ingredient is matcha green tea, you'll also get a nice energy boost from this green tea fudge!
If you've ever wanted a healthier fudge without the huge quantities of sugar, dairy, or other things you might not want to eat, this is the fudge recipe for you. Because it's Paleo too, with no dairy, refined sugar, grains, or nuts. Technically coconut is considered a nut, but it's not a legume or usual allergy-causing nut, so chances are it's fine for most people.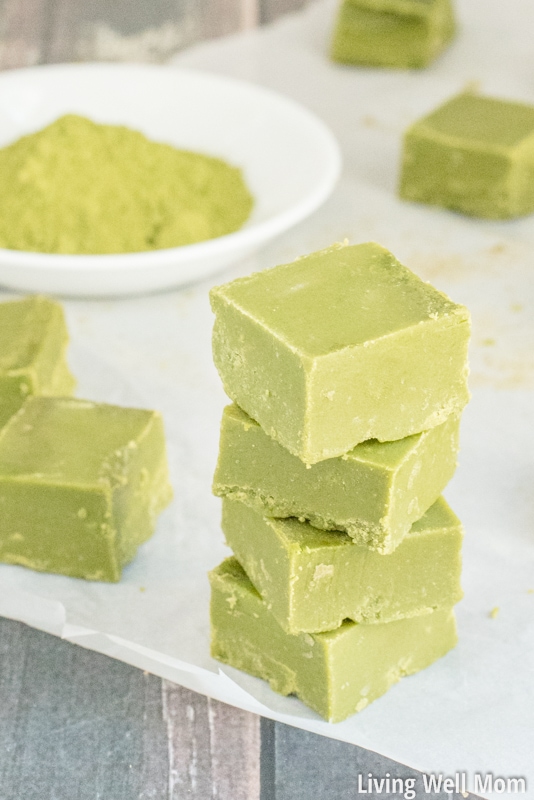 Green Tea Fudge isn't quite what I'd consider a "guilt-free" treat because it's pretty rich and you probably shouldn't eat more than a couple pieces at once. But it's still much better for you than typical fudge recipes.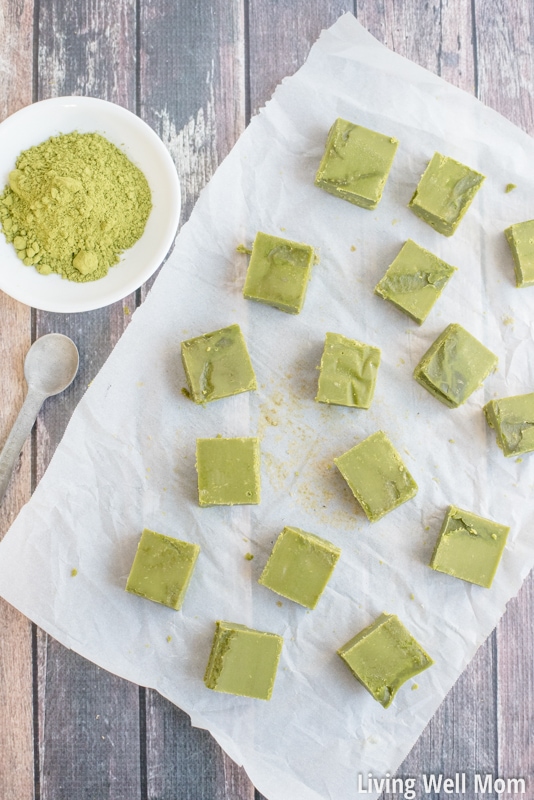 And oh my goodness, the combination of sweet maple syrup, coconut butter, and matcha green tea is mouth-watering!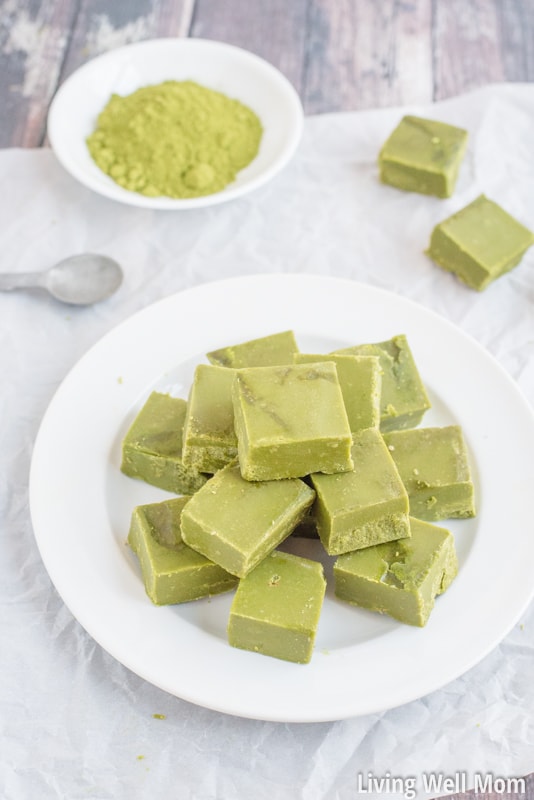 I spent over a month perfecting this recipe and even called in my best friend who has what I like to call "super tasting powers." She can taste any hint of spice or flavor and is really good at helping to determine the right combination. Because matcha green tea is very bitter, we wanted the perfect combination of green tea flavor without the bitterness or too much sweetness. So together, we experimented and came up with this final recipe.
I've made it several times since than and it's just as good as that first night when we shared licking out the bowl, spatula, wire whisk, etc. Because this green tea fudge is too good to let anything go to waste.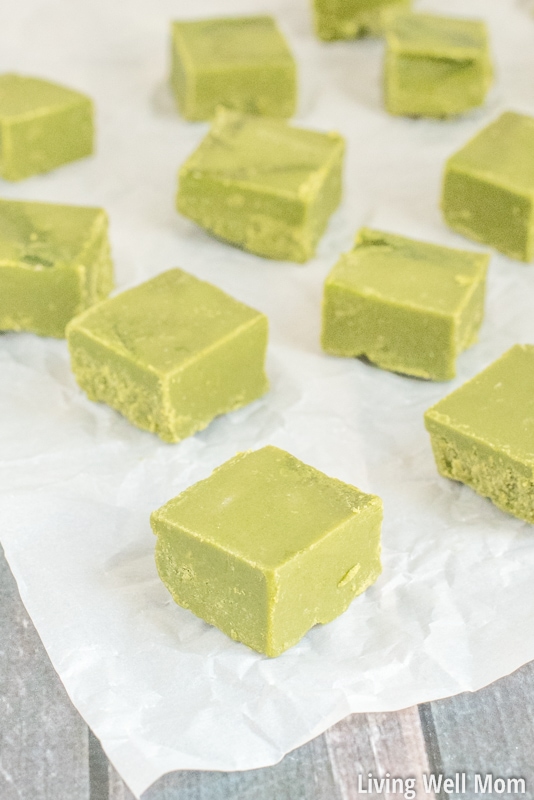 What You'll Need for Green Tea Fudge:
A couple notes on the ingredients:
*I highly recommend this brand of coconut milk as it has the thick cream at the top you'll need. (Not all brands are this thick.)
**I use both this brand of matcha and this one, but THIS brand has a slightly lighter green color, making it slightly more appealing in a fudge.
***In my experience, maple syrup offers the best flavor compared to other liquid sweeteners, like honey.
I'll be perfectly honest with you – the ingredients aren't cheap (then again when is 'healthy' eating inexpensive?) But it is just so good, it's worth it! I now buy coconut butter just so I can make this Green Tea Fudge.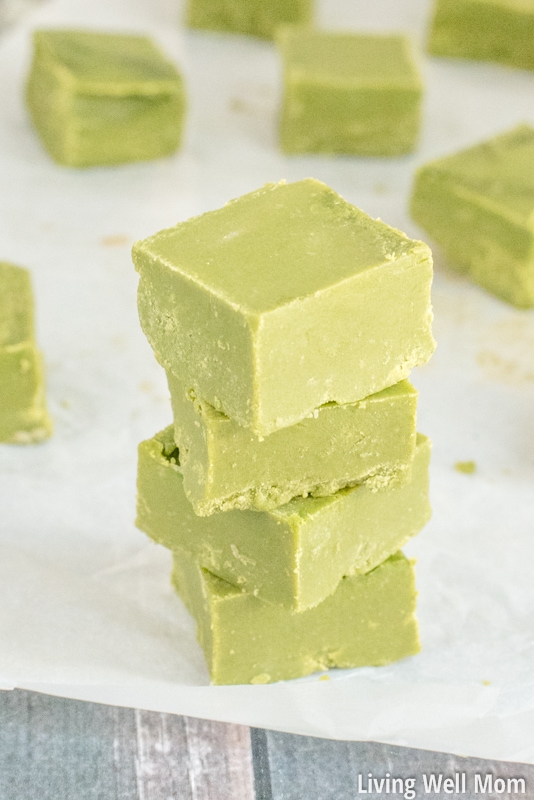 How to Make Green Tea Fudge:
It's really easy to make Green Tea Fudge. There's no candy thermometers or boiling or even timed cooking. You simply melt everything on low heat and gently whisk until combined. The hardest part is impatiently waiting for the fudge to set before you can dig in!
Coconut butter can be a pain to get out of the jar since it hardens, especially during the winter. I simply set it in a small saucepan filled with water and turn the heat on low to slowly soften it.
Once you can get the coconut butter softened enough to get it out of the jar, measure out 1 cup and melt it in a saucepan over low heat.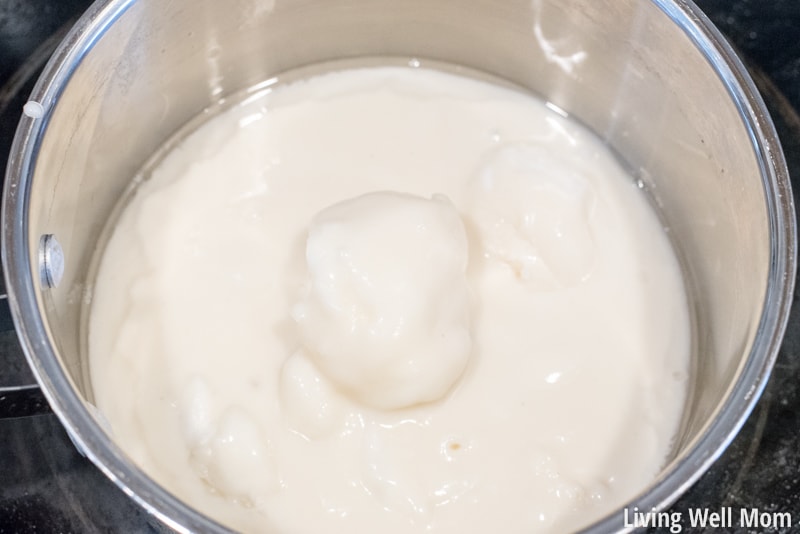 Whisk in 1/3 cup of creamed coconut milk. You want the thick cream layer from the top of the can, not the liquid. Whisk this in too, along with 3 Tbsp coconut oil, until everything is melted.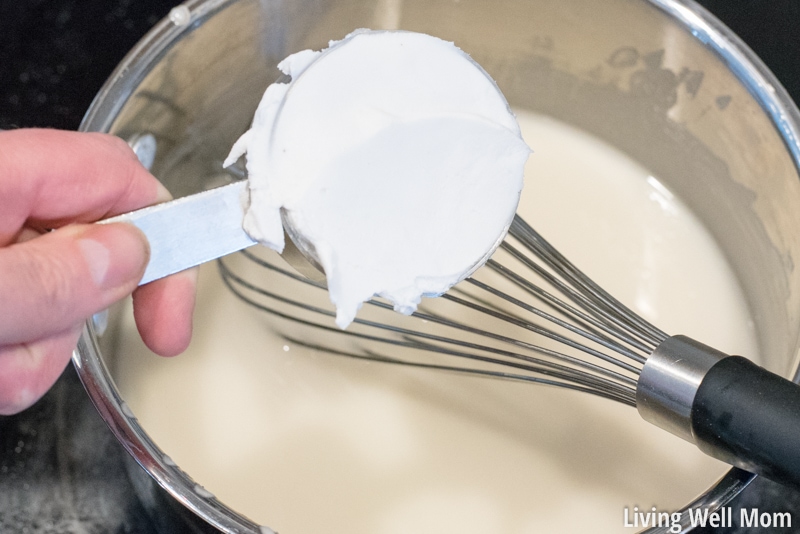 Add the maple syrup, vanilla extract, and matcha green tea, again whisking slowly over low heat until everything is melted and combined.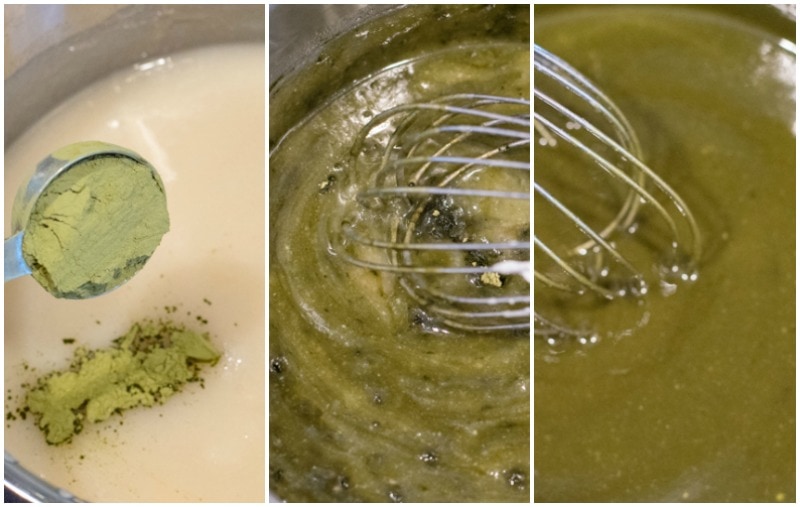 Pour into a 6×8″ parchment paper lined glass pan. You can use an 8×8″, but your fudge won't be as thick. It won't affect the texture or taste though.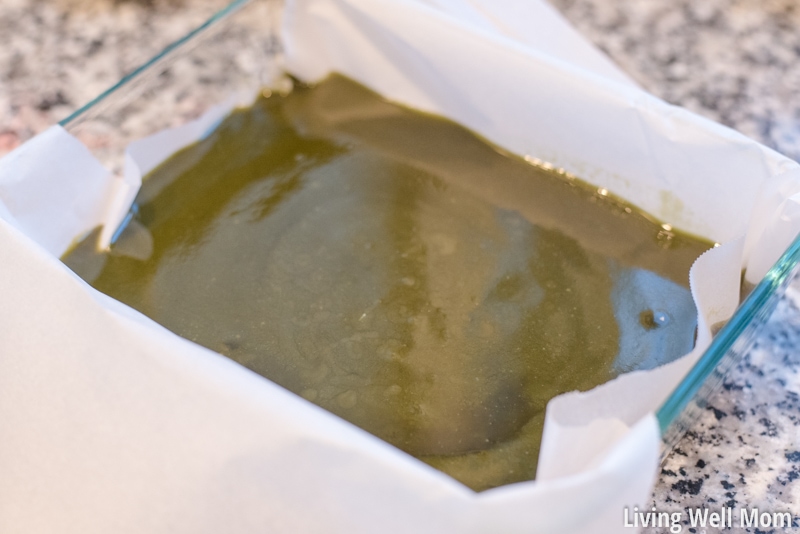 Let it sit at room temperature for several hours. If you're in a rush, you can put it in the refrigerator to chill faster, though I've found it tastes better at room temperature since the coconut oil doesn't solidify as quickly.
Once it's solid, cut into small pieces and enjoy. You shouldn't need to refrigerate this fudge, though if the weather is really warm, you may want to if it's softening too much.
My family calls this Mom's fudge because this Green Tea Fudge is so rich and yummy, I won't share. Yes, I'm selfish with this. But truthfully, my kids don't need the energy boost and I do. It really is my special treat. (And I do share with my husband. Just once in awhile.)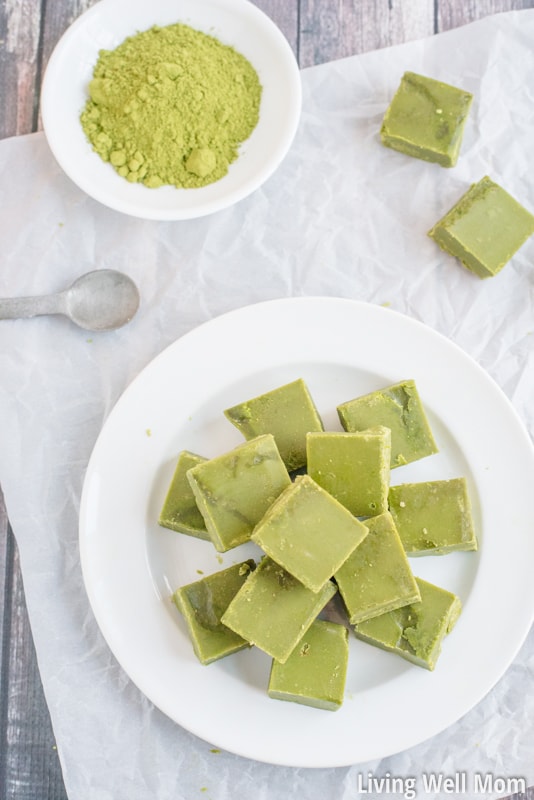 If you love green tea, you are going to adore this green tea fudge recipe!

Green Tea Fudge
This incredibly easy Green Tea Fudge recipe is rich, satisfying, and provides a nice energy boost, thanks to the matcha green tea powder.
Ingredients
1 cup coconut butter
⅓ cup cream from canned coconut milk
3 Tbsp coconut oil
2 Tbsp matcha green tea powder
2 tsp vanilla extract
½ cup maple syrup
Instructions
Melt the coconut butter in a saucepan over low-medium heat. Whisk in the creamed coconut milk and melted coconut oil. Add the matcha green tea, vanilla, and maple syrup, stirring well.
Scoop into a parchment paper lined 6x8" pan and let sit for a few hours.
Cut into small pieces and enjoy!