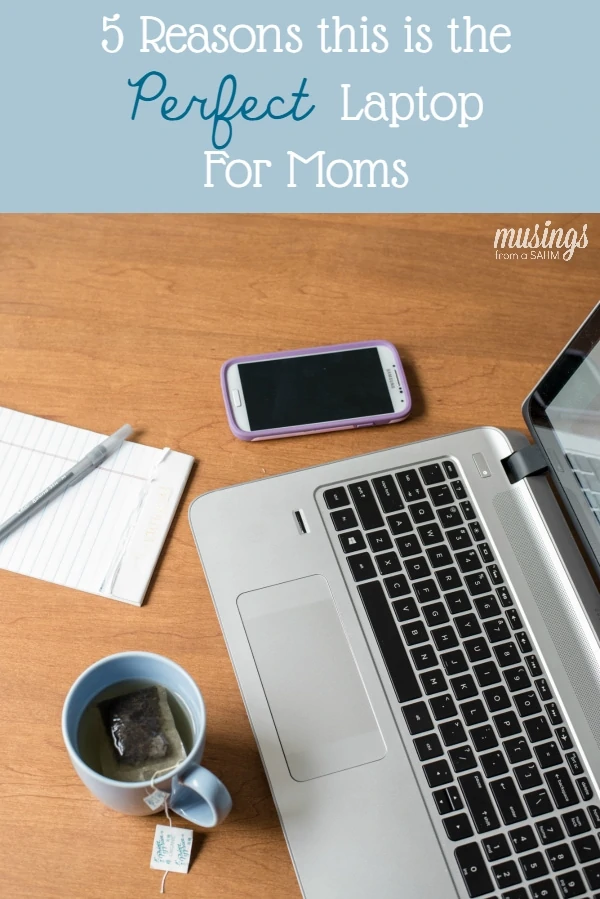 The last time I had a new laptop was almost 5 years ago. And it's slow as a snail now.
I don't know about you, but I don't want to wait 5 minutes for my browser to load! Because that's about the capacity of my old laptop now. Even after my computer geek husband, Nate, reformatted the computer and all that jazz, it was just time to say good-bye. Which I did over a year ago.
In the meantime, I've used my desktop computer for blogging and photography. I also have an iPad, which I mainly use for watching shows and social media, etc.
That combo worked, but I've missed having a laptop.
A couple months ago, I was asked to try out a new Intel 2 in 1 Laptop – the HP ENVY Notebook. Um, YES please!
I'm going to break it down and share exactly why I've discovered that this is the perfect laptop for moms. AND bloggers. And probably for anyone who likes a fast laptop with fantastic sound and graphics and is overall pretty awesome. But I'm getting ahead of myself.
5 Reasons Why the Intel 2 in 1 HP ENVY Notebook is the Perfect Laptop
1. It's fast.
Speed is probably my #1 requirement for a laptop. If it's not fast, it's not for me. (And probably you too.) And this baby definitely makes the cut.
There's a couple reasons why this laptop is so fast. (I know this because Nate explained it to me. Computer tech stuff isn't my usual forte.)
This Notebook has Intel Core (dual-core) processors. Translation? It's got awesome speed for cutting-edge performance. Plus the graphics chip is pretty crazy impressive.
Here's the thing: if your laptop doesn't have a good graphics chip, the computer processor itself will have to process the graphics on top of all the work it already has to do. And that's where laptops get bogged down. So a good graphics chip is crucial to speed and the Intel 2 in 1 HP ENVY Notebook really delivers here.
The memory is excellent too. With 8GB DDR3L system memory, the Intel 2 in 1 HP ENVY Notebook has the best memory available right now.
This computer is super fast in everything I ask it to do. From Netflix and Pandora to games and multiple browser windows open, it doesn't hesitate. I've had 10+ programs running at one time and the performance hasn't changed at all.
2. The speakers deliver incredible sound.
Far from the usual two (or sometimes even one) tiny speakers crammed onto most laptops, this baby has BeatsAudio dual speakers, plus a subwoofer, that provide some of the best sounding audio you can find on a computer.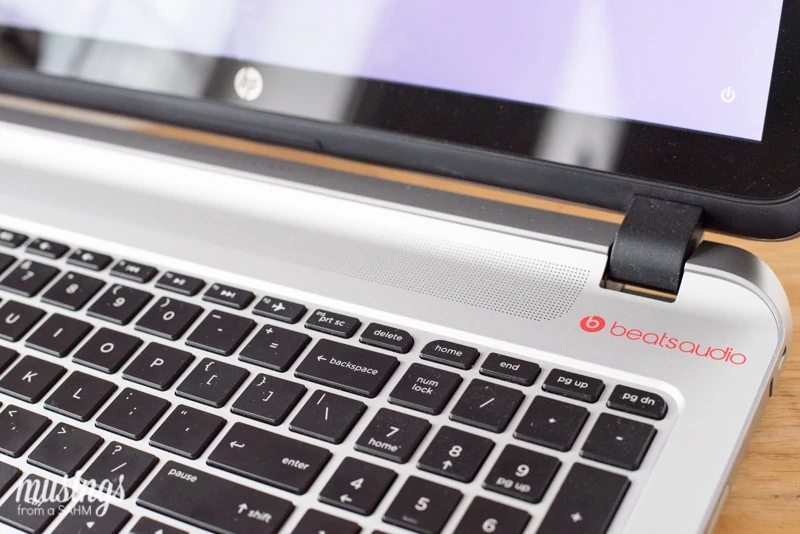 The sound was always one of my biggest complaints with my old laptop. Even when it was new, the sound was so quiet and the quality so poor, I had to use earbuds.
Enter the HP ENVY Notebook. The sound is so rich and powerful that 100% volume is sometimes too loud! And that's a GOOD thing when you're a busy mom trying to work in a noisy household! I've watched movies with the kids on the laptop because the sound is so impressive.
My Intel 2 in 1 Notebook even beats my iPad hands down for sound. It's WAY better.
3. The high definition touchscreen is so pretty and fun to use.
With an advanced capacity FULL HD touchscreen, the Intel 2 in 1 HP ENVY Notebook looks amazing. Whether I'm on the edge of my seat watching my favorite show The Walking Dead or writing out my shopping list on my Wunderlist app, the high definition screen is incredible.
This laptop uses Windows 8.1 and while I've never been a fan of Windows 8 in the past, it's grown on me. In fact, I've grown to like the home start screen with all the tiles lined up so nicely and organized. (It does appeal to my OCD organized side as it's much more fun and easy to arrange than a regular desktop.) Of course, there is still an easily accessible regular desktop so don't worry if you don't want that to go away.
My personal tip for adjusting to Windows 8? There's a learning curve to Windows 8, but check out a few YouTube tutorials for tips. It helped me figure out the little quirks of the system and now I can smoothly navigate without the frustrations of before.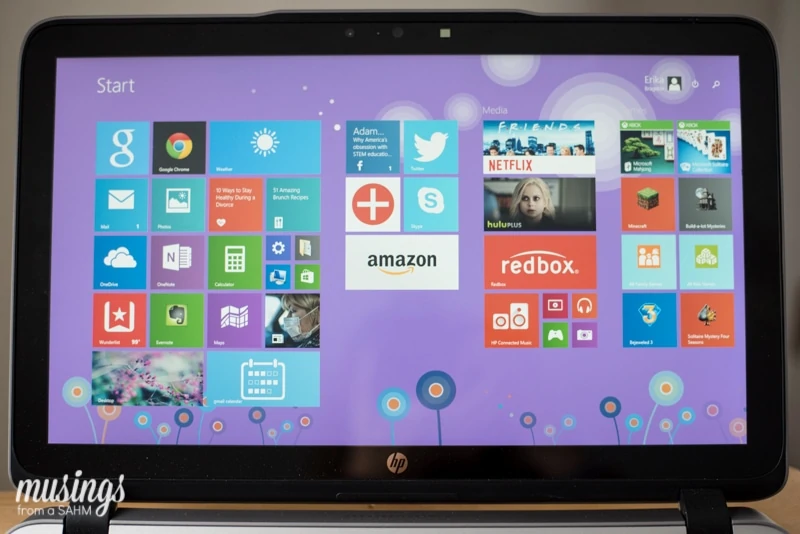 The fact that this laptop has a touchscreen makes Windows 8 far more user friendly too. Sure I could just use the mouse, but it's far more fun to touch the screen.
My favorite feature of Windows 8, so far, is being able to line up two different apps or windows side by side at the same time. Whether I'm comparing notes for an article or doing the family budget, this simple feature makes it so much easier than flipping back and forth. And simply swiping my finger to move the windows makes it that much more fun too.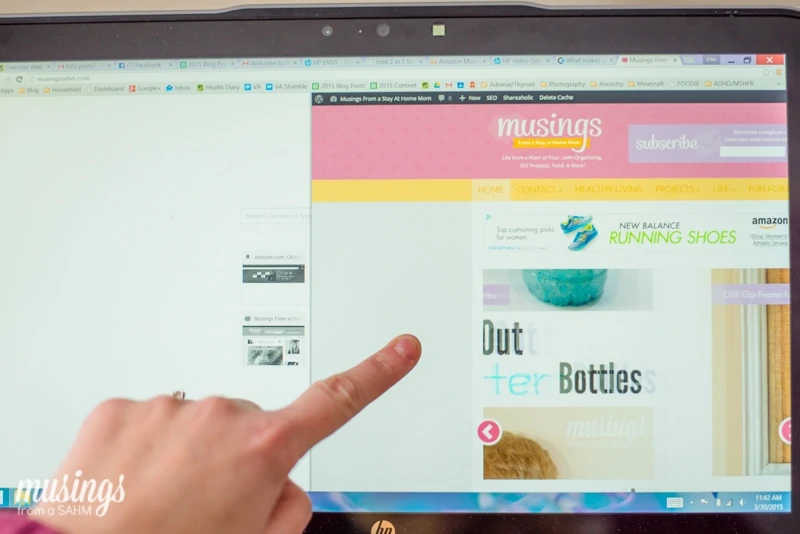 My only complaint with this laptop is the "Control Zone trackpad" mouse. While it's supposed to be fancy and all, with the "App Switcher" (on the left "zone" of the mousepad, where you can click, slide up and down, and press to change apps), the "Charm Bar" (on the right "zone" for bringing up the Charms bar), and options to touch and drag to switch apps or move them, etc., it really doesn't work that well. At least on my device. I find it to be a pain and the swiping and dragging options rarely work as they're supposed to.
Maybe it's just my device or I'm not doing it right, but I'd prefer just a regular ol' mouse to this one. That being said, I'm able to navigate the laptop mouse pretty well for the regular functions (only occasionally annoying myself by accidentally clicking the apps bar, etc.) Plus there's always the option to buy a regular mouse. So I wouldn't let this one issue take away from the awesome features of this laptop.
4. Family Fun.
The Intel 2 in 1 HP ENVY Notebook has features that allow the whole family to enjoy this awesome laptop, more than any other device our household owns. Going back to the incredible graphics and fast response, this lets us enjoy family games together in a way. I'll share more about this in my next post, but I'll just say that we've had some fun times together, all centered around this laptop.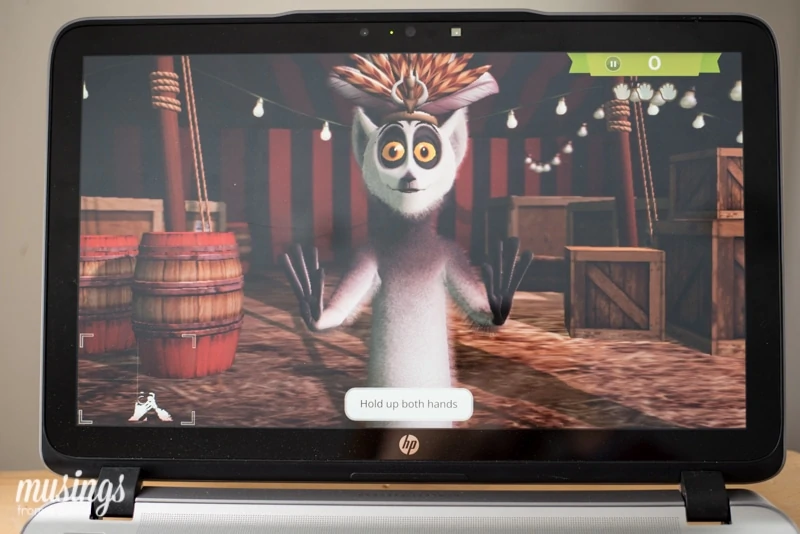 5. 2 in 1: The Best of Both Worlds
The 2 in 1 aspect of this laptop is probably my favorite part. Intel 2 in 1 takes laptop power and tablet fun and combines them into one awesome device – the Intel 2 in 1 HP ENVY Notebook.
In addition to the fun features I've already mentioned, this notebook has an awesome battery. When I was sick a couple weeks ago, I used the laptop for 5 straight hours, mostly watching Hulu, without needing to plug it in. My old laptop never came close to that.
I love having a laptop to use for my writing again. My preferred writing spot is sitting in my rocking chair near the window where I can look at our beautiful woods or the birds on the bird feeder. I always feel inspired to write here (I'm sitting here right now) rather just my boring desk.
And when I'm done working and want to plan the weekly menu or relax and watch old Friends reruns, I simply touch and swipe and I'm there. No more switching between devices.
So those are my 5 reasons for why the Intel 2 in 1 HP ENVY Notebook is the perfect laptop for moms. It's made my life a whole lot easier, plus a little more fun too!
#spon: I'm required to disclose a relationship between our site and Intel. This could include Intel providing us with content, product, access or other forms of payment.