If you're looking for a full day of fun, bring your family to Canobie Lake Park in Salem, New Hampshire. The entire family will love this amusement park!
Canobie Lake Park is a fantastic place for families. There is so much to do, you can easily spend a full day from open to close here!
Looking for family fun – at home? Try a Family Game Night!
When Canobie Lake Park offered my family tickets in return for sharing with you, I was very happy to do so!
My husband has fond memories of riding the Corkscrew, Turkish Twist, and many more with his family when he was young. His father's favorite ride was the Yankee Cannonball, a roller coaster we quickly deemed one of our favorites too!
Roller Coasters:
The Yankee Cannonball has been a fixture at Canobie Lake Park since 1936 and it's still one of the most popular rides there!
We visited on a great day with very few crowds, but there was always a line at the Yankee Cannonball because everyone loves it!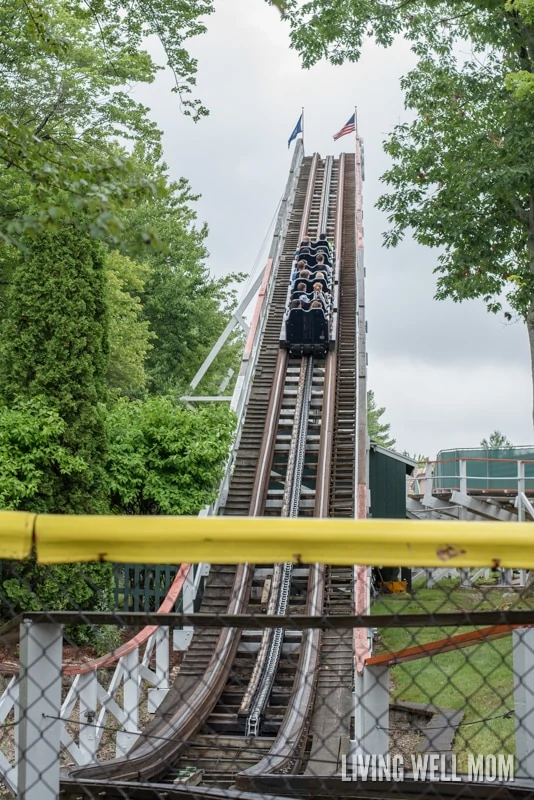 This traditional wooden roller coaster has a lot of thrill! We all rode the Yankee Cannonball, aside from Luke who is too short. Even Joshua, who is 7, decided to muster up his courage and ride it at the end of the day; he loved it!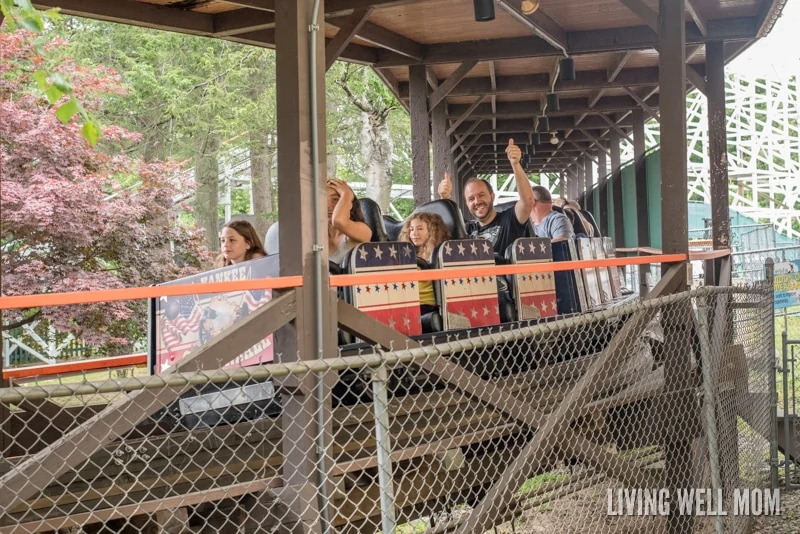 The Corkscrew Coaster has two corkscrew loops and has a fun drop too.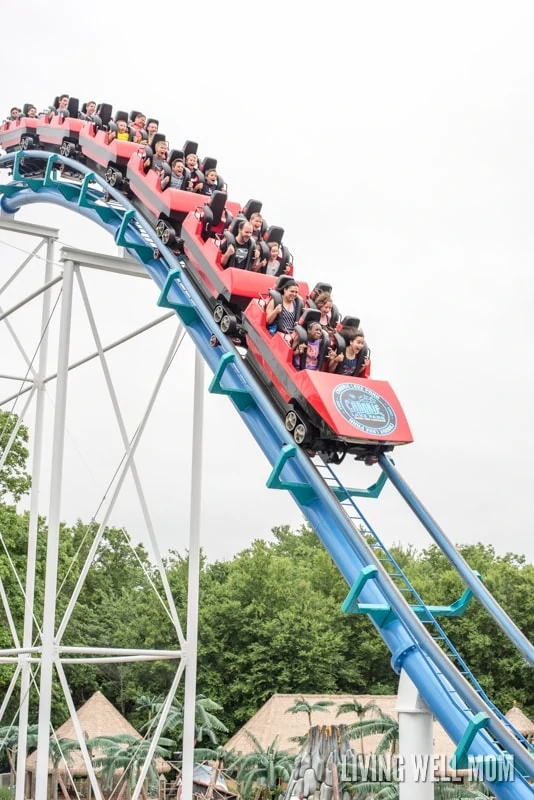 This was the first corkscrew roller coaster my husband ever tried when he was young and now, 20+ years later, it was Nathan and Emily's first corkscrew coaster too!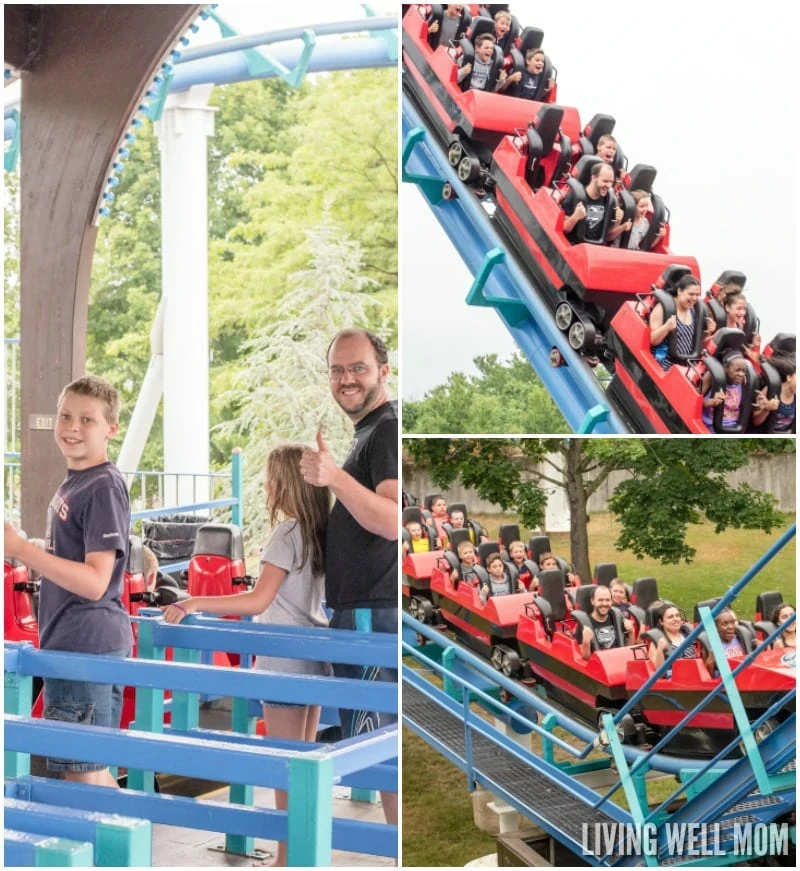 Feeling brave? Try Untamed.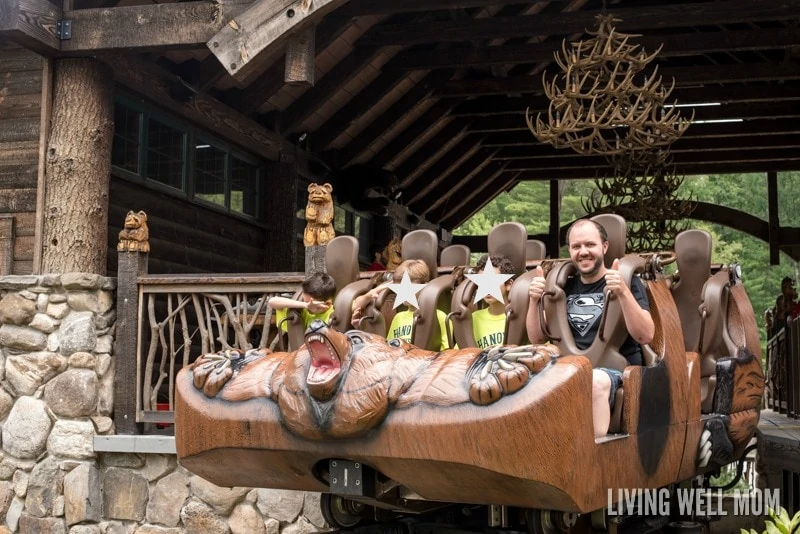 This insane coaster lifts you 72 feet in the air, then drops you beyond 97 degrees vertically!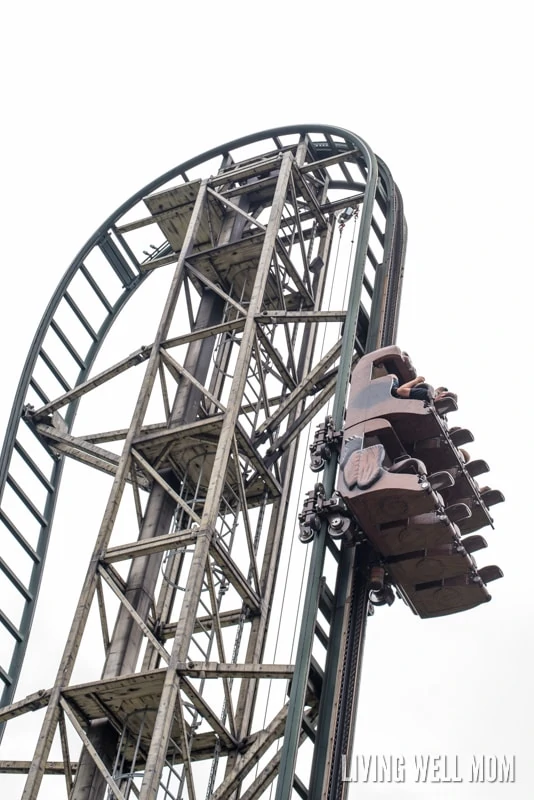 But that's not all because then you'll go through more loops, banked turns, and even zero gravity before you come to the end!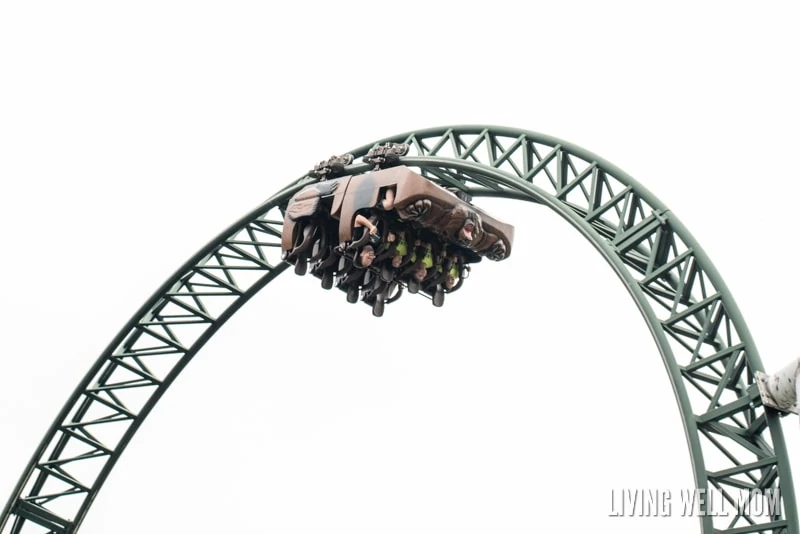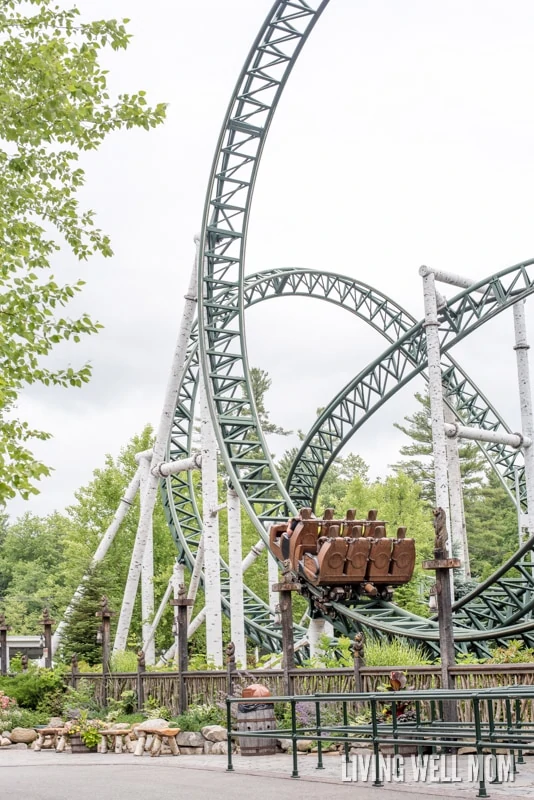 Nate, Nathan, and I each rode Untamed at least twice and eventually, Emily said she wanted to go. She was scared, but I was so proud of her for conquering Untamed with me!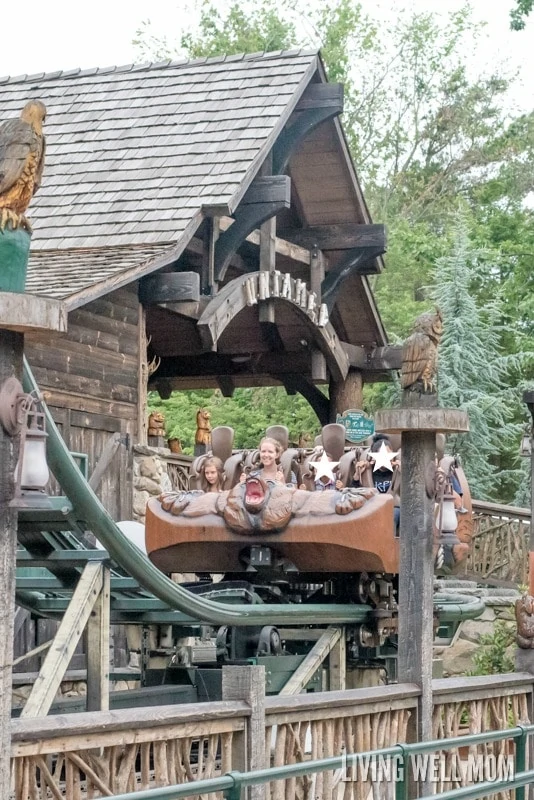 Canobie Lake Park has a smaller roller coaster for younger children too, called "Dragon," but unfortunately it wasn't open when we were there. Otherwise I'm sure that would have been a popular ride with Joshua and Luke!
More Thrill Rides:
Nathan, Emily, and I blasted 80 feet high, twice, on the Starblaster! It was so crazy, I was shaking afterwards, but it was so much fun!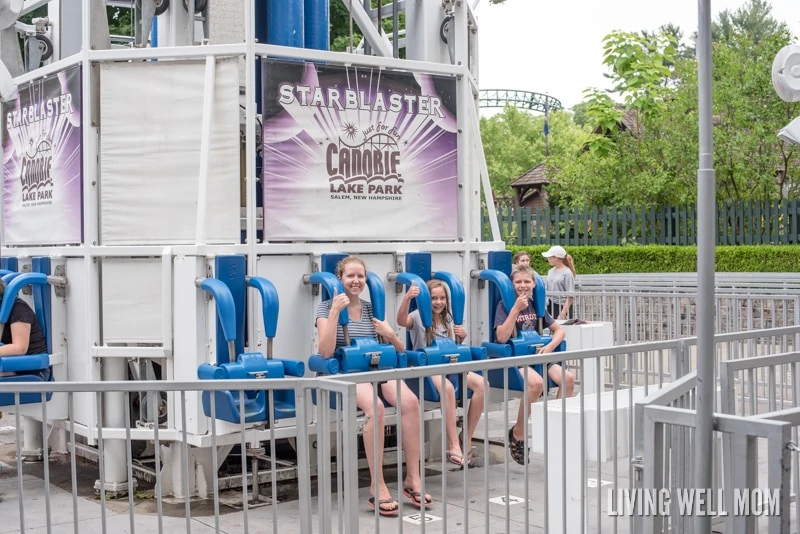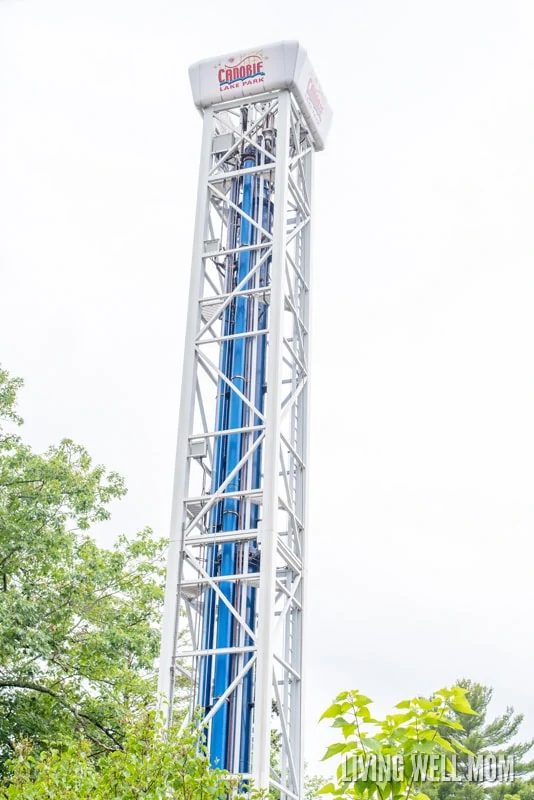 The Turkish Twist is one of Nathan's favorite attractions at Canobie Lake Park. At top speed, riders experience almost 3G's worth of force as you're spun around so fast, the floor drops out and you stick to the wall!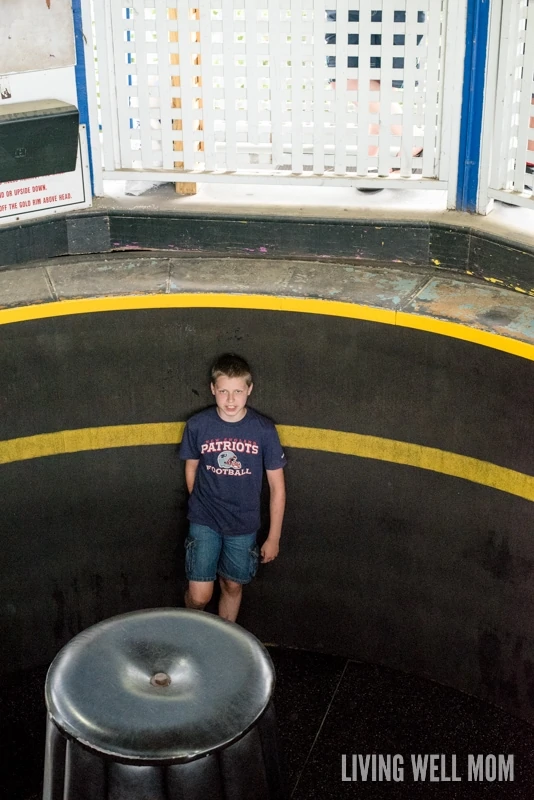 If you don't want to experience this ride, you can watch from above. It's pretty cool to see!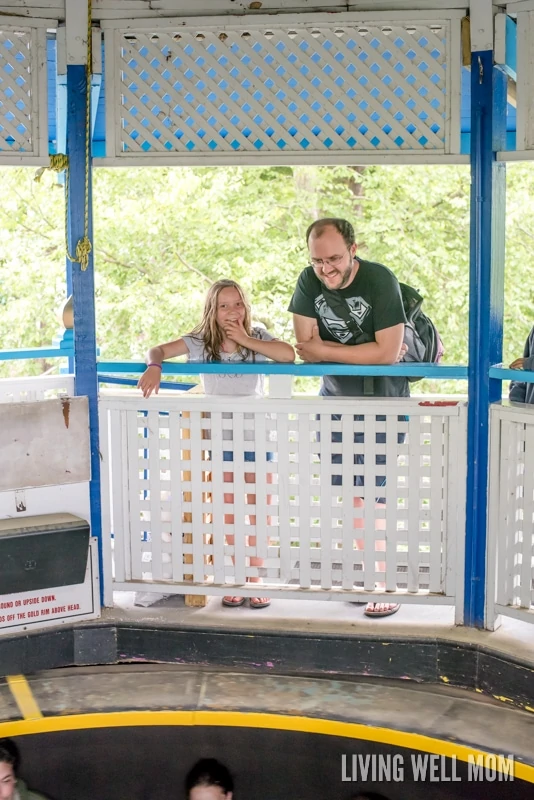 Xtreme Frisbee was a little too "xtreme" for me, but Nate, Nathan, and Emily rode this awesome attraction. You spin around as the giant "frisbee" swings you 60 feet back and forth!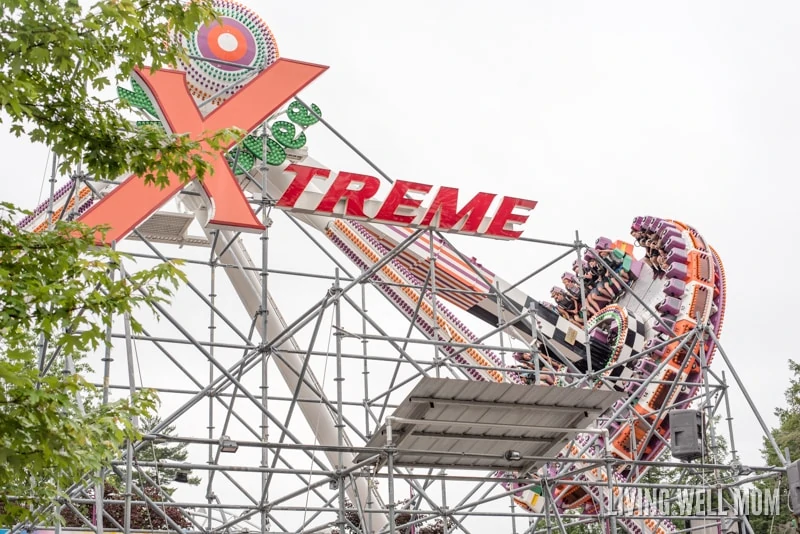 We loved the Pirate Ship ride too; it swung us higher and higher until we were almost at a 90 degree angle from the ground! Our ride operator was awesome; he made it a fun game for us and challenged us to keep our hands in the air the whole time. We did it, even Joshua!
Water Rides:
Canobie Lake has some fantastic water rides for those hot summer days!
The Log Flume ride is one of my favorite rides. While Luke wasn't a huge fan, we loved that our entire family could enjoy this ride!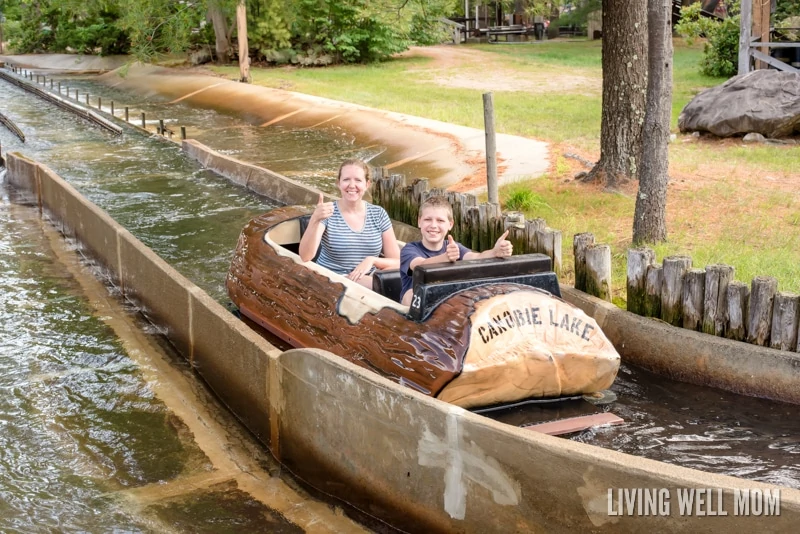 Your log will take you over a small hill at the beginning, then you'll go around several loops, under a large rock, through the rapids, and finally down a 40 foot high drop to the bottom.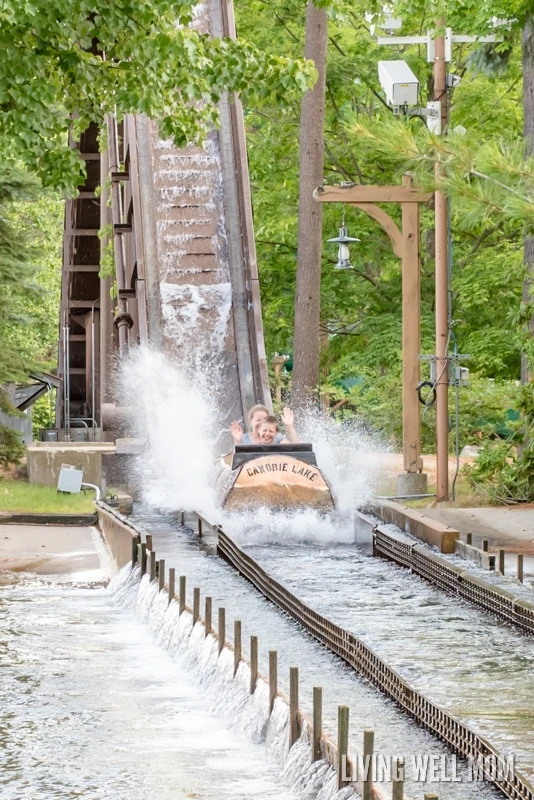 Here's what our souvenir photos looked like: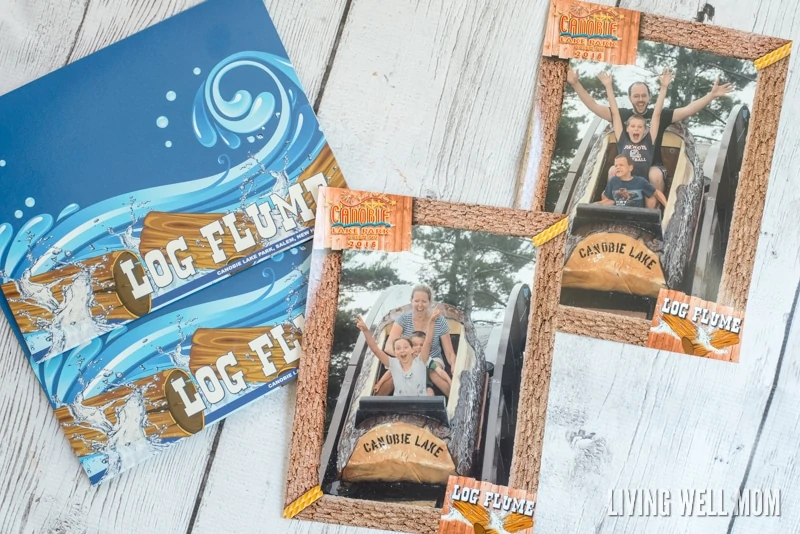 The Boston Tea Party is like a giant log flume ride and it's epic!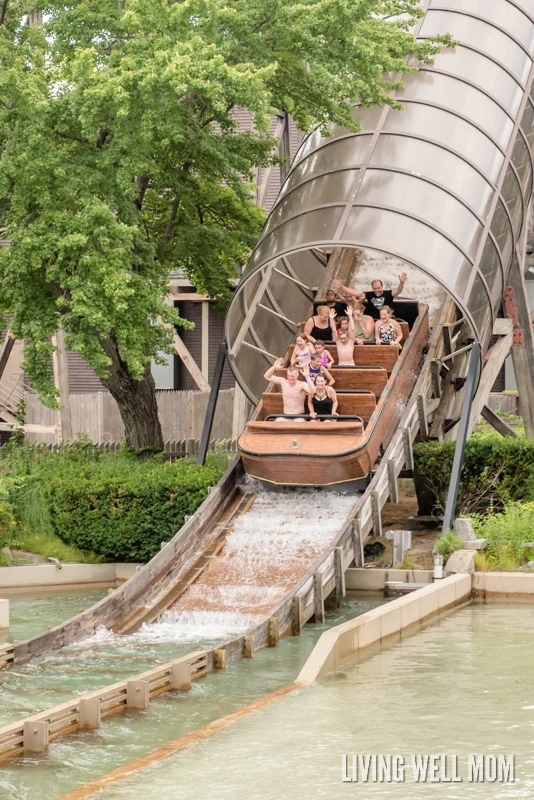 The 50 foot drop at the end got us all soaking wet; it was a good thing we changed into swimsuits first! The splash at the bottom is so huge that anyone within a 100 foot radius will get soaked!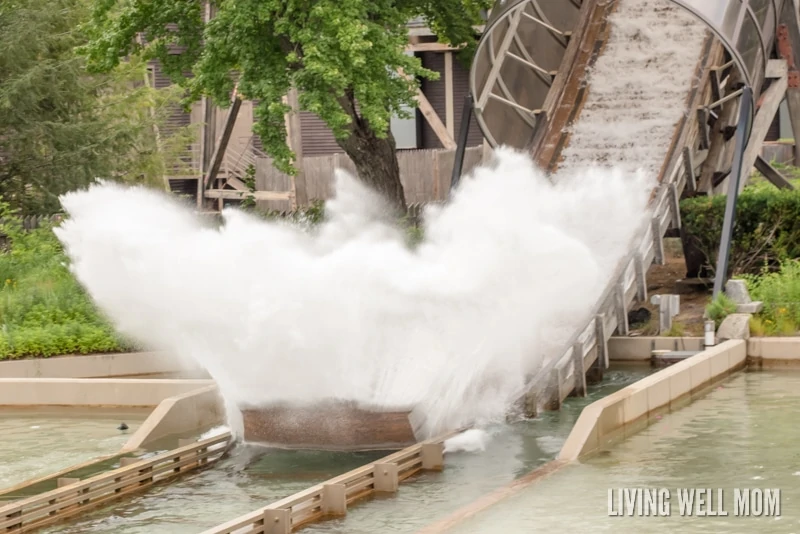 Tall Timber Splash is a wet/dry water slide. You can wear regular clothes (though you may get a little wet) and choose from two fun slides. One slide is a little "less wild/less wet" and that's the one we enjoyed several times because there was almost no line. We all loved the Tall Timber Splash, including Luke!
Lastly, Castaway Island has water slides, bridges, wheels, water curtains, water guns, and much more, including a giant bucket that periodically drops on everyone!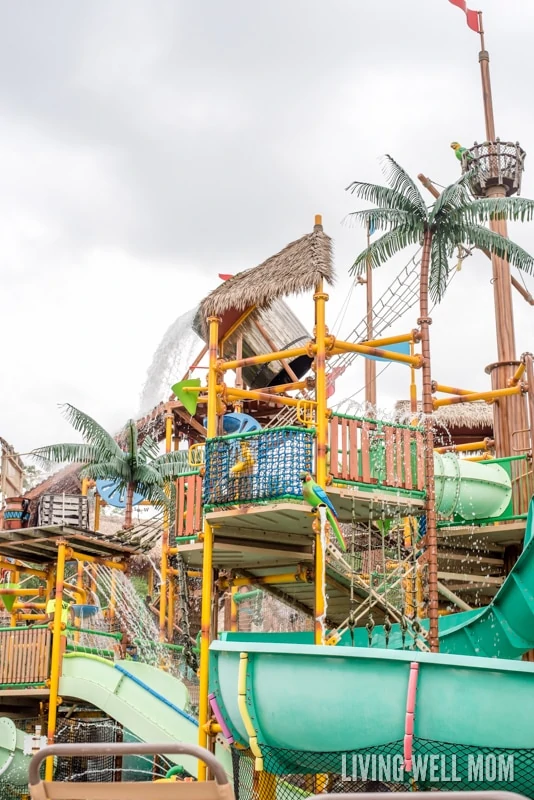 Unlike some water places, Castaway Island is open for all ages. This was a perfect place to relax when Nate and I needed a break and the kids still wanted to play.
Kids' Rides:
One of my favorite parts about Canobie Lake is just how many kids rides they have; there's so many options, our family could have spent a full day with just the kids stuff!
It was perfect for Joshua and Luke, while Nathan and Emily ran off to ride the Turkish Twist and Corkscrew again.
I love how Canobie Lake has quite a few mini kids' rides for the bigger rides. Right near the Log Flume, they have the Kiddie Canoes.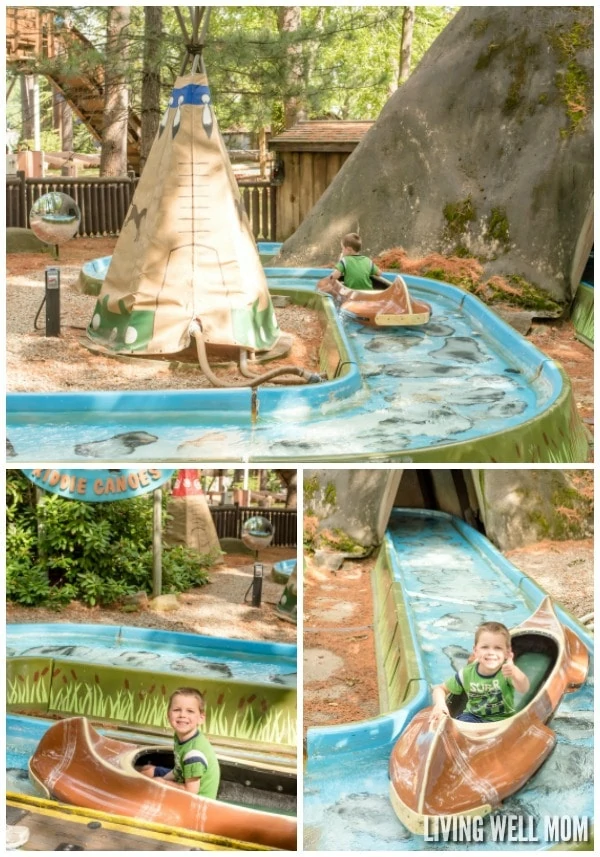 The Jungle Bounce is a fun kiddie version of the Star Blaster.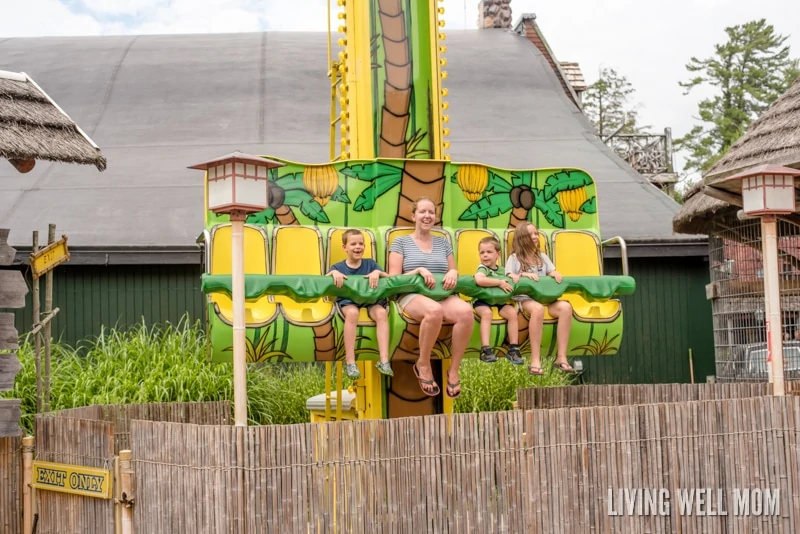 There's Junior Sports Cars for children who want to drive their own car all by themselves. Luke was in heaven with this ride!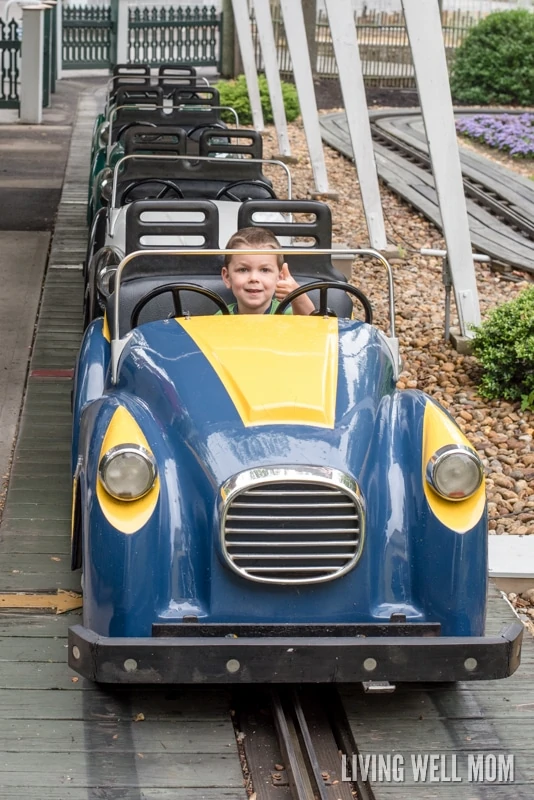 Mini Skooter was another favorite of Luke's. Comparable to the bigger bumper cars, this is for children under 48″.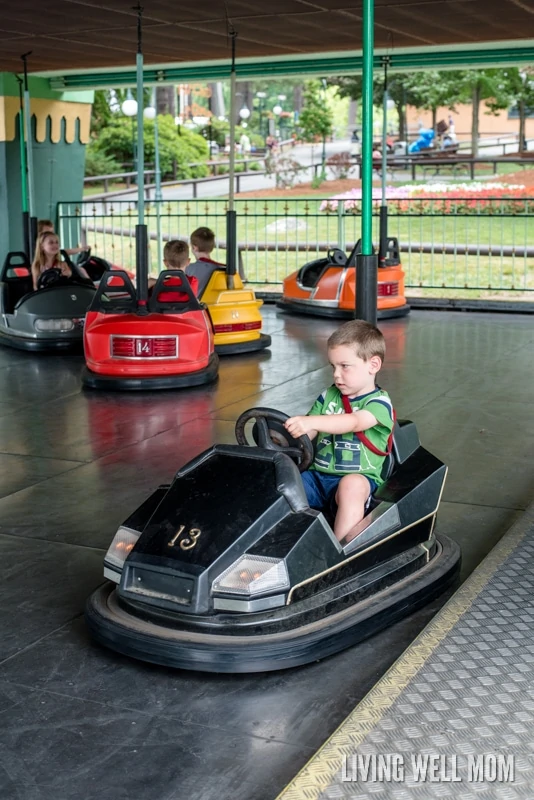 Luke also loved the Sea/Land rescue planes. When he figured out he could move his plane up and down, his smile lit up his face!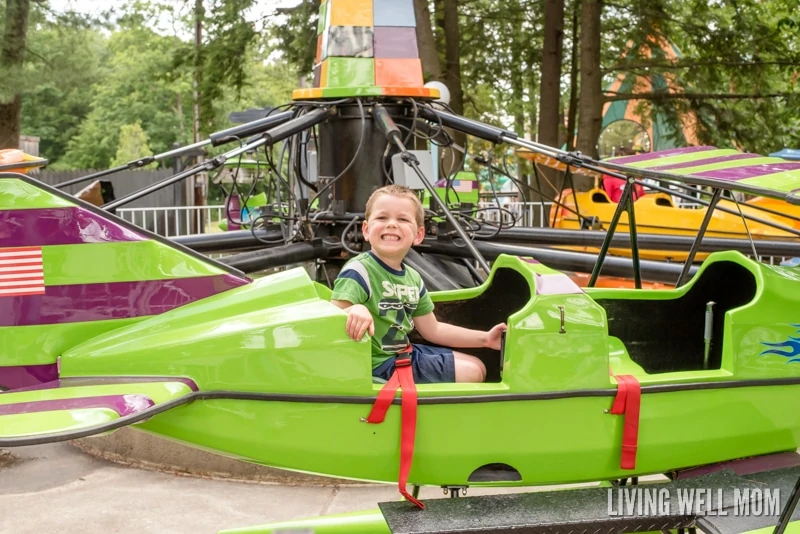 Here's a few more awesome kid rides:
Autobahn (one of the oldest kiddie rides at Canobie Lake)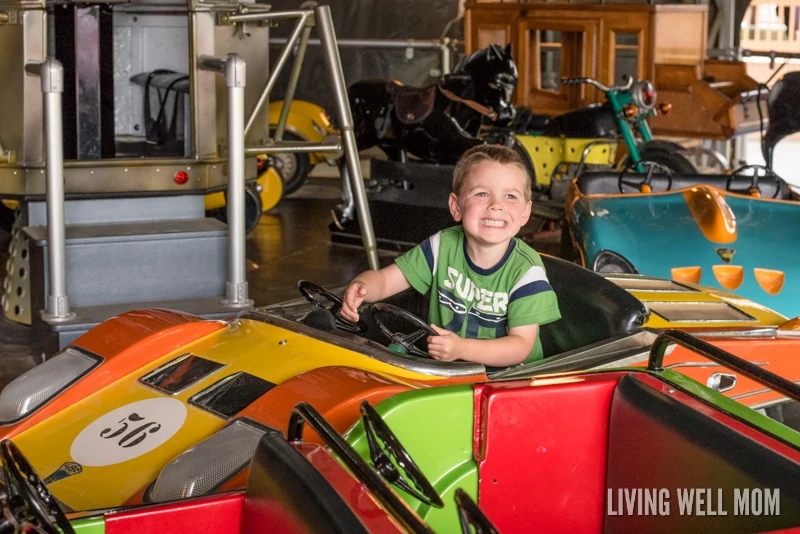 Mini Dinos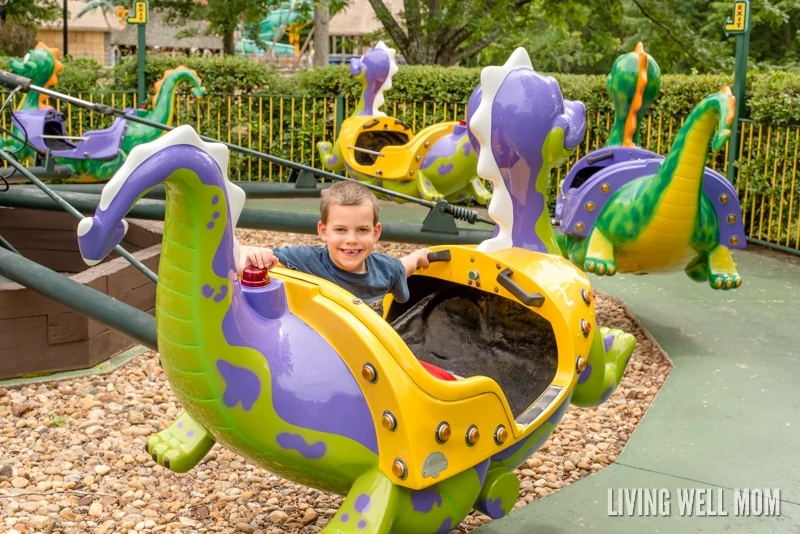 And that's just a few of the kiddie rides at Canobie Lake Park!
Classic Attractions:
Canobie Lake has some great rides for the whole family, like the Antique Carousel, Blue Heron Lake Cruise (a 40′ pontoon boat that takes you on a 20 minute scenic cruise around the lake), Boston Harbor Patrol, Canobie Express train, Mine of the Lost Souls, Over the Rainbow, and plenty more.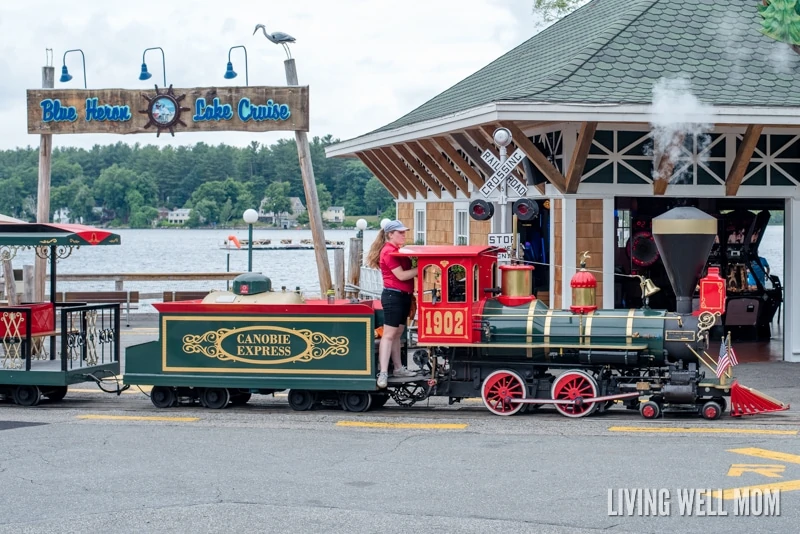 Our whole family could ride the Wave Blaster that bounces you as you go around. Luke loved this one!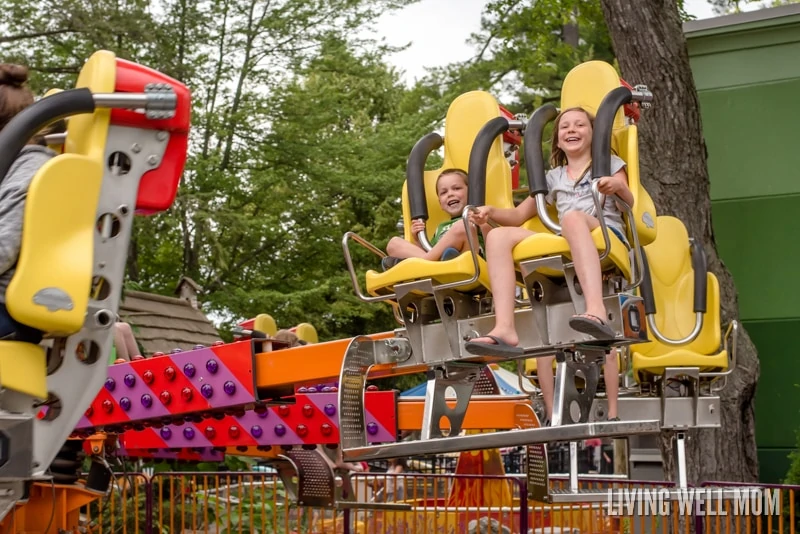 The Sky Ride is a great way to relax when you need a break. It's like a ski lift that carries you over the north end of the park.
We all loved Skater; I even convinced Luke to ride with me! This is a fun whirling, daring ride that mimics a skateboard on a half pipe!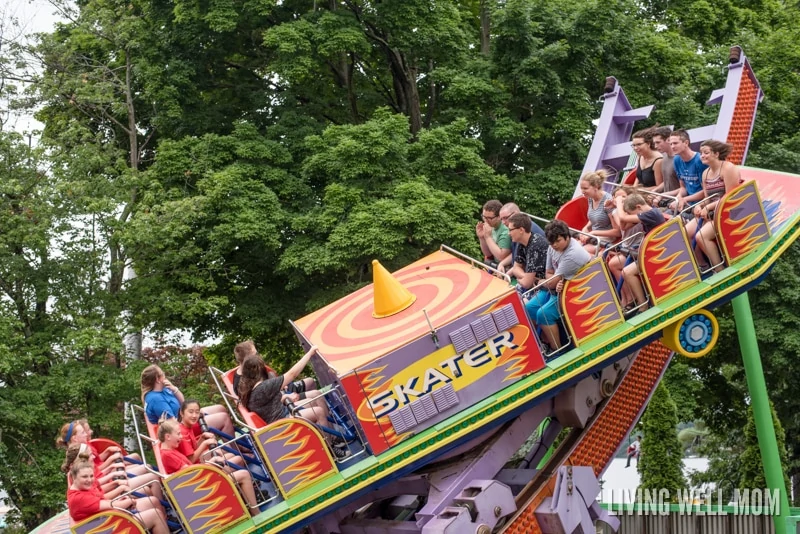 Rowdy Roosters was another hit for Luke and Dad; this ride carries you up in the sky where you get to determine your rooster's path!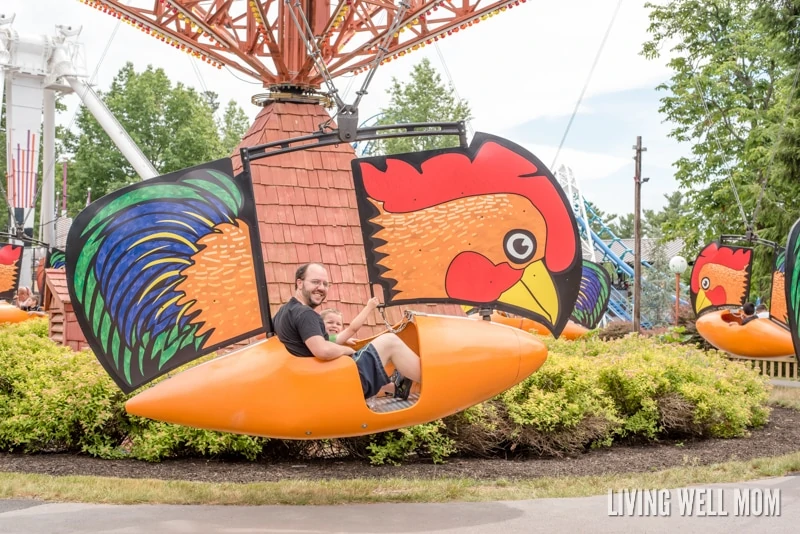 Davinci's Dream is a classic swing ride. We loved flying high while getting a nice view of Canobie Lake!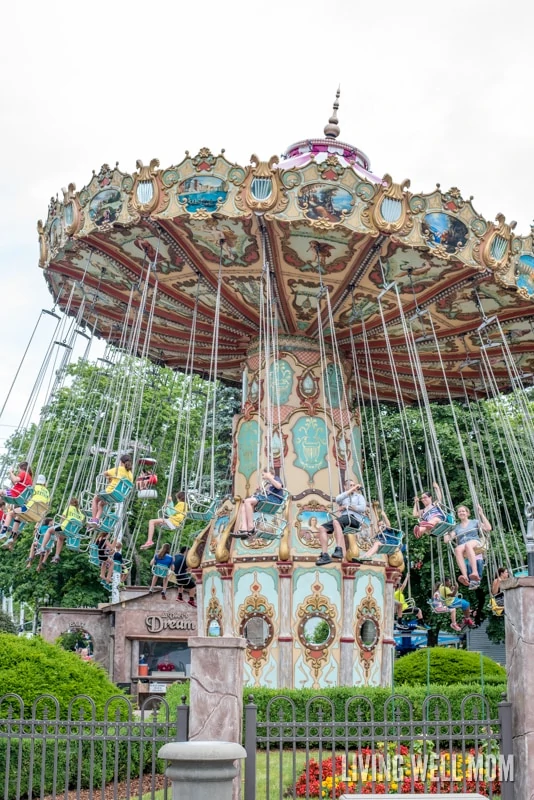 While you have to be at least 48″ high to enjoy this ride, younger children have their own version with the Alpine Swing.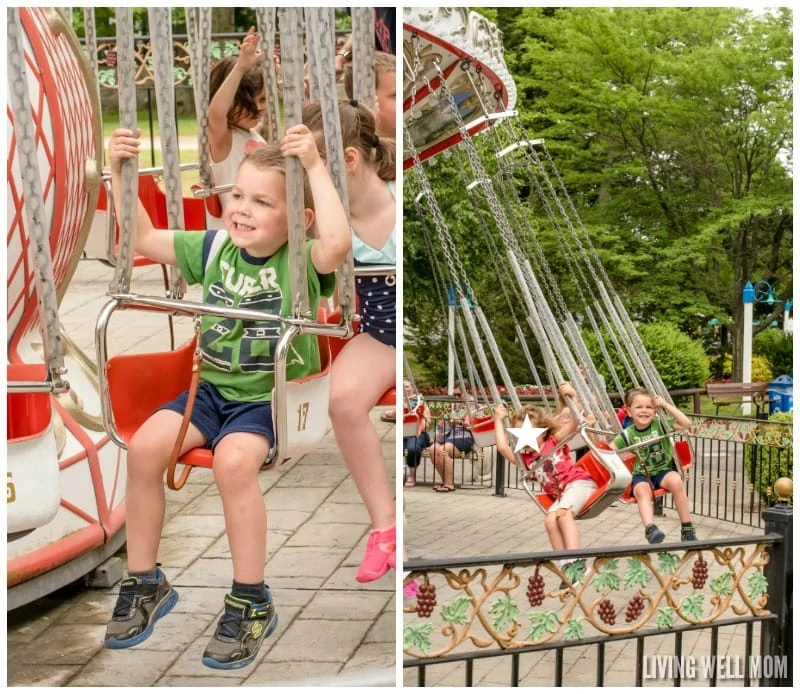 A visit to Canobie Lake Park isn't complete without a trip on the Giant Sky Wheel. This 80 foot tall ferris wheel offered us a beautiful view of the entire park. We waited to ride at night and it was so neat to see all the lights!
Food:
As is expected with amusement parks, you cannot bring your own food into Canobie Lake Park. This does make it a little challenging if you have food sensitivities like my family but we made it work. Luckily Canobie Lake has quite a few delicious options, including gluten free pizza, which we enjoyed at dinner, and tacos for lunch!
There was also of plenty of typical amusement park food, including fried dough, candy apples, popcorn, ice cream, etc.
One other note: we were impressed with the Canobie Lake Park staff. Everyone we encountered was friendly, helpful, and really seemed to enjoy what they do.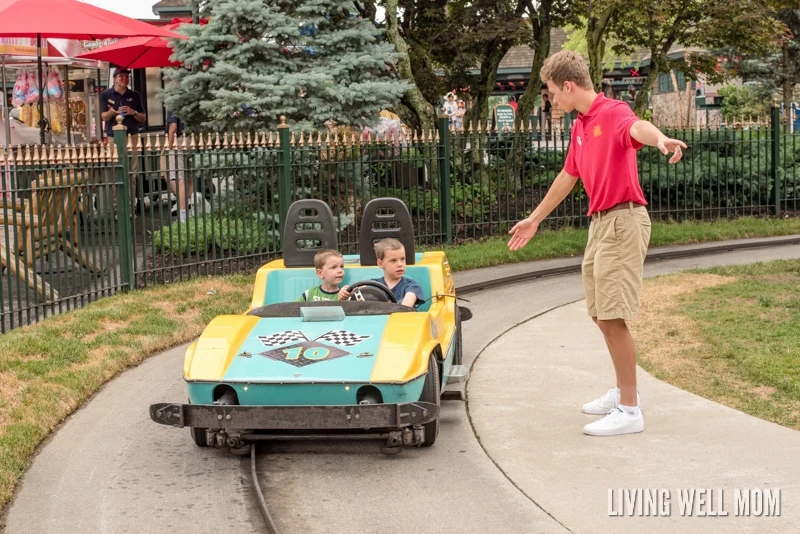 There's also plenty more fun to be had with many games throughout the park and live shows; there are 18 this summer!
Tickets are a great value for the full day of full you'll get in return.
General admission is $38, while children under 48″ can get in for $29. And 3 and under is free! Canobie Lake also has an after-5pm-rate of $26 per person.
Find out more about Canobie Lake Park here and follow on Facebook, Twitter, and Instagram.
As you can see, Canobie Lake Park is a fantastic amusement park for the entire family. We absolutely loved it and you will too!