Family game night is about spending quality time together, enjoying screen-free activities, and having fun. Plus, it teaches kids important skills like patience and how to be a team player. Learn why it's such an important family tradition and how to create unforgettable memories for adults and kids right at home.
I'm sure you've heard about the idea of family game night. It's when everyone sits down to enjoy a good ol' card game or board game together.
But that's just what it is on the surface because when you actually sit down to do it, it's so much more than that (in the very best way possible)!
5 reasons to make family game night part of your week
Family game night has been amazing for my family. If you've been thinking about bringing the family together to play fun games but haven't tried it, here's why I highly recommend it.
1. Family game night brings everyone together
With busy lifestyles, it's more essential than ever to be intentional about what's important. Spending time together as a family should be one of those goals, but it's not always easy. That's especially true as the kids get older and start doing their own activities.
In a culture where everyone is running from one activity to another, family game night is a great way to purposefully set aside family time – and fun family time at that!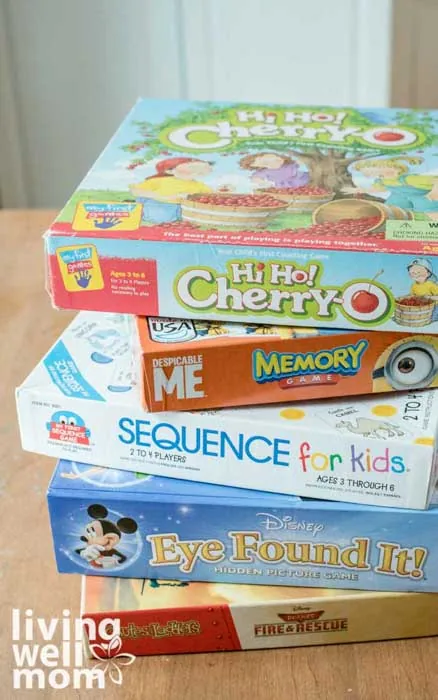 2. Family game night gives everyone a break from screen time
There's nothing wrong with a little time spent watching TV or playing games on the computer, game console, or tablet for kids (or adults!). But too much of anything can be, well, NOT good.
Family game night is a great way to build in some planned time off screens and get the family to turn off the electronics together. There won't be any arguing, "Well, he's still on the computer!" when the whole family is playing a game together.
And you know what? With time, even the most screen-addicted kids will realize there's a lot of fun in doing things off screens!
3. Family game night teaches important skills
Playing games is fun, but if you do it thoughtfully, there are LOTS of skills that kids can learn while playing.
Taking turns and patience
One thing young kids (and sometimes older kids, too) are not good at is taking turns. It's hard to be patient and wait when you really want to get one step closer to winning the game!
But I have seen a huge amount of growth in my kids around patience and taking turns since we started our family game night tradition!
Sportsmanship
Another area where my kids have improved is in showing good sportsmanship. The winning-losing aspect is one of the pros AND cons of game night.
It's not easy to teach disappointed young children to be kind when they've lost, and it's just as hard to teach excited winners not to gloat. But it's an important life lesson that they won't necessarily learn on the soccer field.
I've been amazed at how upset some of my children have gotten over losing a game, but I realized this was one more reason we needed to continue doing family game night. It's much better for kids to learn this lesson now when they're young!
Cooperation and teamwork
Many games involve players playing as separate entities that compete against each other. For example, playing a fun card game like Go Fish has each person holding cards in their hand and playing against all of the other players.
However, you can also play cooperative games where you either have teams playing against each other (ex: charades) or where everyone is on one team working toward a common goal (ex: escape room games or solving puzzles).
Working as a team can be a tough skill to learn, but it's only learned through practice. And it's an essential skill that kids need as they get older.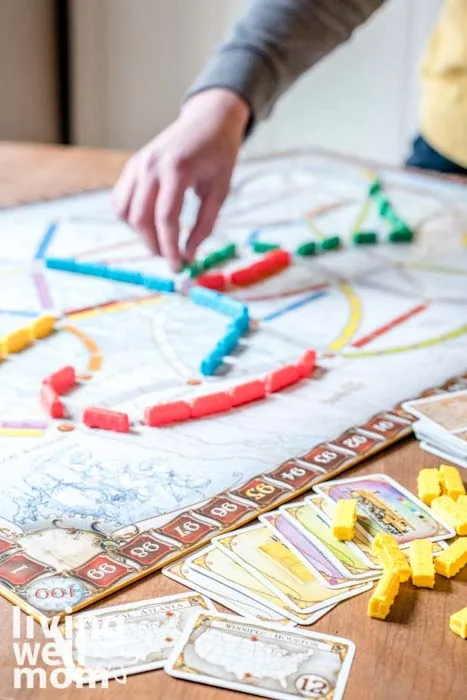 4. Family game night teaches flexibility
Sometimes a new game just isn't working. Maybe it's too hard or just boring. It's okay to stop and try something different, and that's another good lesson for kids.
At the same time, it's okay to skip a family game night if you're just too tired and would rather have a movie night instead. Game night should be fun, not stressful (aside from a few teaching moments)!
We usually do game night 3 out of 4 nights a month because there's almost always one night when we're just too tired or someone in the family has to do something.
Game night is a priority, but not at the cost of stress or guilt.
5. Game night results in hours of fun!
When I was growing up, my family had Friday night game night every week. Though it was a little too competitive sometimes, it made for great family bonding. I have great memories of those fun times.
When Nate and I started this tradition with our family, the kids were a little reluctant, and I wasn't sure how well it would work out.
One of my concerns was that my oldest has autism, and board games can be a challenge. Another one of my concerns was the age span of my kids – how would we find something that everyone could play and enjoy?
But I had no idea just how much fun was in store! We've spent HOURS laughing, playing, learning, and growing together as a result of this simple night of fun.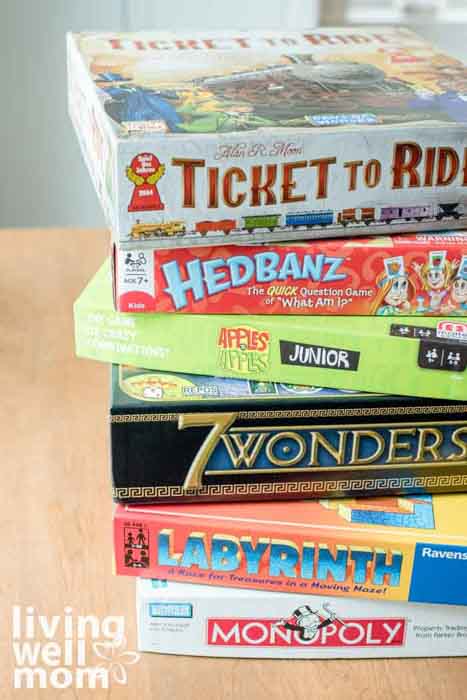 Now, my kids will often ask to play a game beyond family game night. I'll frequently catch them playing Rack-O
, Ticket to Ride
, Labyrinth
, or one of our other favorite games.
Sometimes our chickens even join in!
Our favorite games for family game night
A family game night is a wonderful way to enjoy quality time with your kids on a regular basis. Even if it's not something you can commit to every week, even just once a month will help bring your family together.
And you don't need to have dozens of games to choose from. Sometimes it's easier to keep it simple with just a few favorite family games.
We do have quite a few games, but we definitely have favorites that we pick most of the time. While every family has their own favorite games, I thought it would be fun to share what my family loves to play again and again.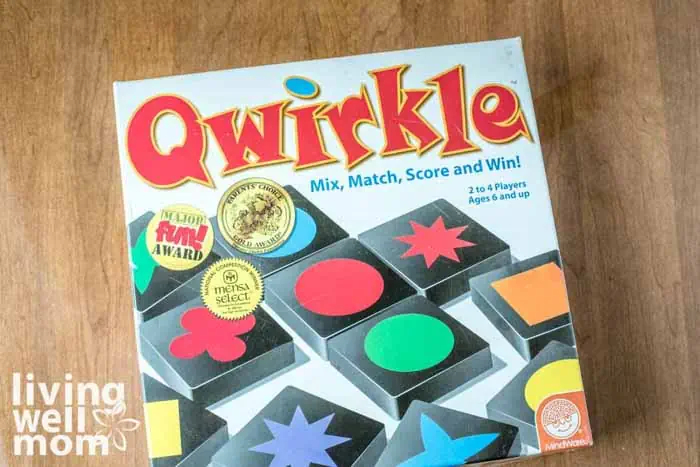 Qwirkle involves color and shape patterns and matching, with just enough strategy to make it fun without being overwhelming. It's a perfect combination of simplicity for younger kids with a little smart thinking that appeals to older kids and adults.
Our whole family loves to play this game, and it's often our choice on family game night. Even Joshua and Luke, who are 6 and 5, love to play. Luke plays on a team with Mom and Dad as he's not quite old enough to do it all by himself yet and always has a blast putting the pieces down.
Buy it here
.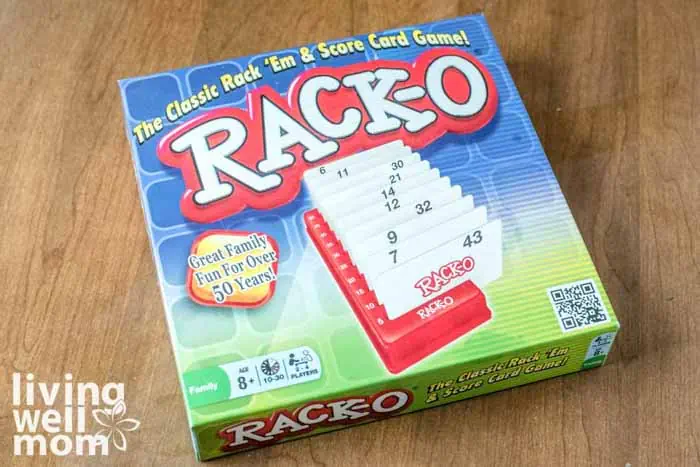 With Rack-O, the goal is to get your 'rack' of numbered cards in order from smallest to highest. It sounds simple, but you can't just move the cards around. This is a perfectly paced game where it's not too fast, but there's always the element of "hurry up!"
I grew up playing Rack-O and requested it as a Christmas gift last year. I'm so glad I did because everyone loves this family game! Luke is still a bit young to play independently, but he loves to be on a team and pick cards, etc., and Joshua very proudly plays all by himself!
The only downside is only 4 people can play at once, so the six of us take turns or play on teams. And because each round is pretty quick, it's easy to take turns (building those turn-taking skills!).
No matter how we do it, Rack-O definitely earns a place on our top favorite family games list!
Buy it here
.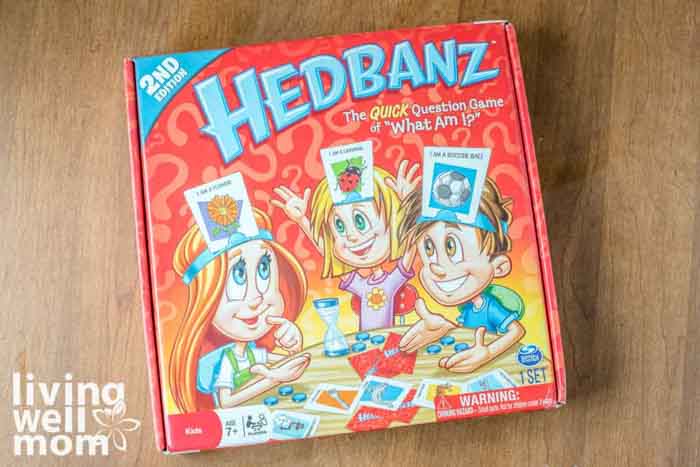 This fast-paced game is guaranteed to get the whole family laughing as you try to guess, "who am I?"
I'll be honest; at first, I thought Hedbanz was a stupid game, but we've played it so often and laughed so much every time that I had to take that back!
It's simply a hilarious game of giving careful hints about – and trying to guess – who is who!
Buy it here
.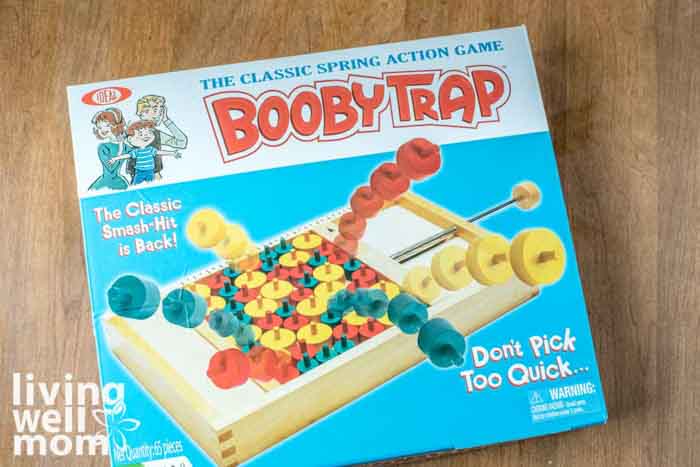 Booby Trap is a newer addition to our game closet, and it didn't take long for us all to jump in. The goal of this simple game is to gain points as you pick out pieces without causing the spring to snap!
Although it says ages 8 and up, Luke can play too. He doesn't quite understand the score concept but still has fun!
This was another game I loved playing as a kid, and I had completely forgotten about it until I stumbled across it when shopping online, and I just had to buy it.
Although I scored ours on Christianbook.com, you can sometimes find the classic edition on sites like eBay or a newer version available on Amazon
.
Ticket to Ride is a popular game and my personal favorite family game. Nate and the kids love it too. It's a classic board game (with a twist) that's fun, strategic, and has an educational aspect you don't even realize as you're playing.
This game and Rack-O are probably the best games for our family because we play them the most often on our family game nights.
The goal with Ticket to Ride is to accumulate the most points. You'll gather cards that allow you to place trains on tracks from one location to another. It's a great way to learn about different states and cities across the United States as you connect trains.
There's a strategic aspect too! Once a track is filled by another player, you'll have to choose a different route to get to your destination. You'll earn points for reaching destinations, but if you don't reach them, you'll lose points!
The first person to finish isn't necessarily the winner, which is also another fun twist.
Buy it here
.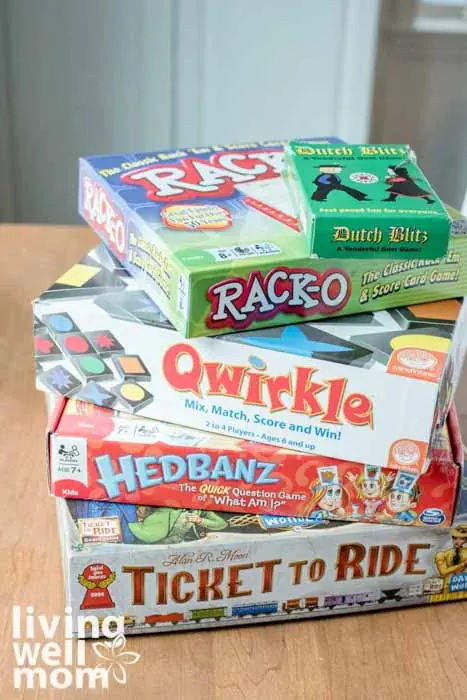 Honorable Mentions
Even though our family particularly loves these five games, we have tried many other great games that I think are worth a quick mention.
It doesn't get any more classic or competitive than playing Monopoly! You'll learn quickly who the real estate tycoon in your family will be. The downside to this game is that it can take SO long sometimes and be frustrating for little kids.
Clue is a classic game of mystery. Scrabble is great for working on vocabulary. Dice games like Yahtzee are always fun, while we've enjoyed many family board games from Candy Land to Chutes and Ladders and many others too.
And, of course, no list of family game night ideas would be complete without a card game! Uno has long been a favorite because we love the simplicity. And we've also started playing Poker in small doses, which is hysterical with small kids who have no concept of when to bet or fold.
There you have it – our favorite family games. I hope this helps inspire you to do a family game night more often!
Family game night ideas & tips
If you're just starting with playing family games, here are a few things that we've found helpful:
Prepare game night snacks. We always seem to get the munchies as we play, so I like to slice up some apples or wash some grapes for the table. We've also enjoyed snack options like popcorn, baked goodies like chewy caramel cookie bars, and treats like homemade almond butter cups.
Include prizes. We don't usually do this, but if that helps make game night more appealing at first, designate a prize for the winner.
Set a time limit. Time flies when you're having fun. Before you know it, it's past bedtime, and kids are overtired. Have fun, but set a timer to stop if you're likely to go too long.
Family game night is a wonderful tradition you shouldn't miss experiencing with your family. If you're too busy to commit to once a week, try setting aside a night every other week. Even once a month is something! Your family will benefit so much from family game night. If you try it, you won't regret it!
FAQs
Here are a few questions I often see readers ask about starting a family game night.
What do you need for a family game night?
Besides the members of your family and a game, not much! Depending on the game you play, you may need a table (we play at our dinner table). And of course, if you want snacks or prizes, you'll need those.
What night is the best for family game night?
The answer to that will vary from family to family. I think it makes sense to pick a night of the week that's not usually busy. For us, Friday nights are the least busy evening of the week, so we play then. It's a great thing to look forward to at the end of the week!
More family fun ideas