After a busy week, you might love the thought of a family game night, but in reality, rounding up all the kids and settling them down for a board game is more work than you need or want. So instead, you might consider a family movie night.
A family movie night at home will still bring the whole family together, but with less effort than a game night. Plus it saves money compared to taking everyone to the theater, which can be so expensive now days!
I was reminded of why we rarely go to the theater when we took our four kids to see a movie in December. Just matinee tickets cost a lot for the six of us and that wasn't including snacks or drinks! And my almost-five-year-old, Luke, was bored and constantly talking with me trying to shush him. I left feeling quite frustrated with the experience and reminded why we prefer family movie nights at home.
But family movie night doesn't have to be boring with a movie that half the kids hate and classic ol' popcorn as a snack. There's a few simple things you can do to make your family movie night rock.
3 Simple Ways to Make Your Family Movie Night Awesome:
1) How to Decide on the Movie
If you have a decent movie collection, choose something everyone loves or you haven't seen in awhile. You can also check out Redbox or Amazon video rentals for a new release.
But if you have multiple kids that are different ages, it can be a challenge to pick a movie everyone will enjoy.
I have four, ages 5-13, and while my youngest loves Jake and the Neverland Pirates and Cars, my oldest enjoys more adventurous films, like Harry Potter. Add in my 9 year old daughter who likes Disney princess movies and we've got quite a big difference. Despite that, we still enjoy awesome family movie nights together.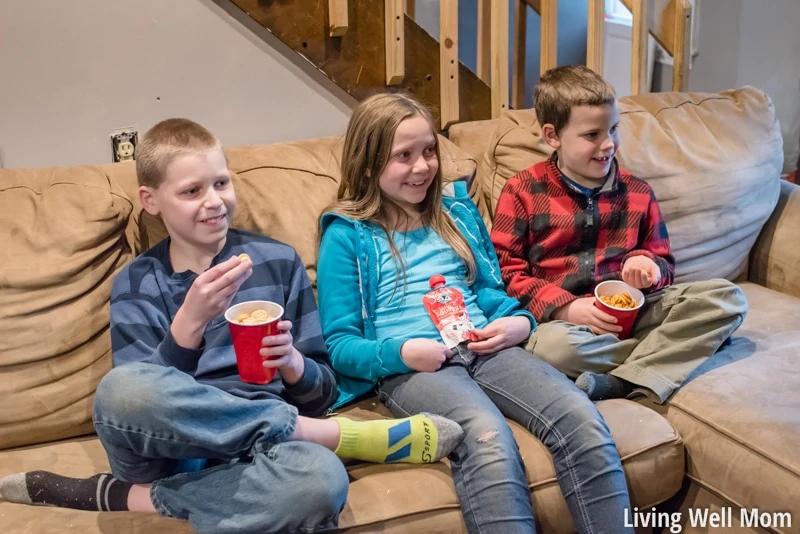 Here's how: We often start our family movie night early because it gives us time to watch two movies – one for the younger kids (usually a Disney film or something like Minions) and after they're in bed, another movie for my bigger kids. This tactic alone usually squashes any complaints.
Other times I'll simply announce that Mom and Dad are choosing the movie and if they don't want to watch it, they can go to bed early. I've only once had a grumpy child head up to bed voluntarily!
2) Choose Ready-Made Fun Snacks
If you want to go all out and make special desserts and treats for the family, by all means, go for it! But chances are, you want to keep family movie night as simple and effortless as possible. In that case, I highly recommend choosing ready-made snacks and healthier options, like fruit.
One great way to make it special is by offering tasty snacks from Horizon.
I love Horizon. I work hard with my family to have a healthy lifestyle and encourage healthy eating. Horizon is a brand that I feel good about giving my family. They use more organic ingredients and avoid artificial colors and flavors. Since I have kids who are sensitive to foods with dyes or high fructose corn syrup, I love knowing I don't have to worry about those with Horizon. They also use fruit instead of added sugar in a lot of their products which is another great advantage.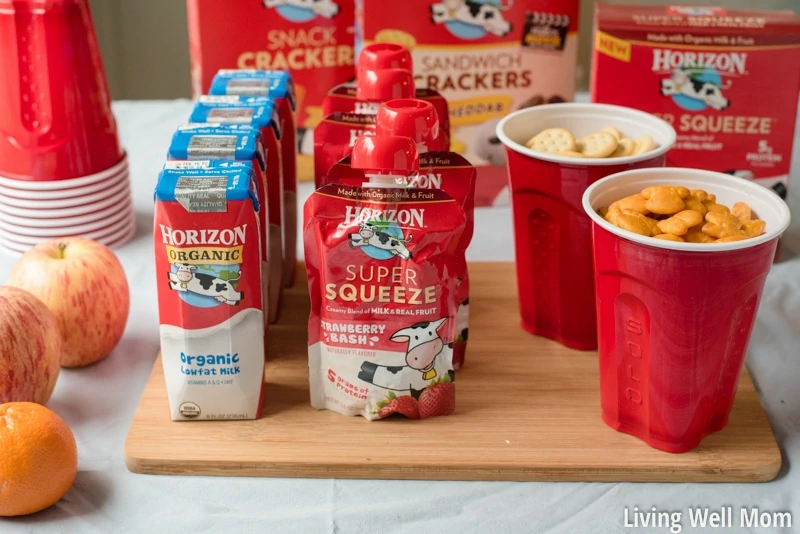 Horizon has a fun variety of snacks that kids love. There's Fruit Snacks (with DHA!), Apple Clusters, Apple Fruit Crunchers, Sandwich Crackers, Snack Crackers, Grahams, and even tasty "Super Squeeze" (a fruit and milk combination in convenient pouches.)
There's also Horizon organic milk. Of course there's regular lowfat milk, but also chocolate and strawberry milk which are perfect for a fun family movie night!

3) Make it Extra Special with a "Concession Stand"
My kids love to set up a "concession stand" and serve snacks and treats before the movie begins. Nathan or Emily usually take care of concessions and they love this special job. (And it's one less thing for me to do!) We just toss a sheet over the table and that's it. So easy!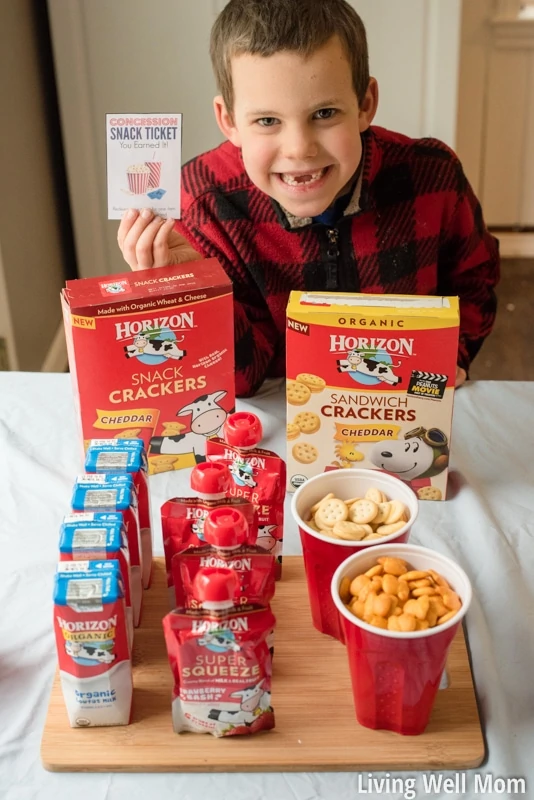 They love serving Horizon sandwich crackers and snack crackers in plastic cups.
To make family movie night even more special and "official," I had these fun "concession tickets" created. These are a perfect treat to give kids for good behavior or doing chores during the week. If you use our Chore Sticks System, these tickets fit in perfectly! My kids love saving up chore sticks and turning them in for extra concession tickets!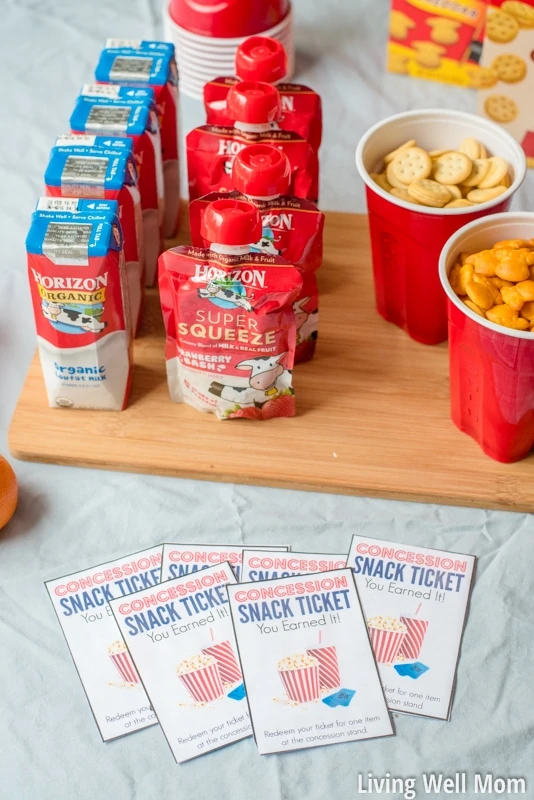 As you can see, it's really not hard at all to set up an awesome family movie night that everyone will enjoy!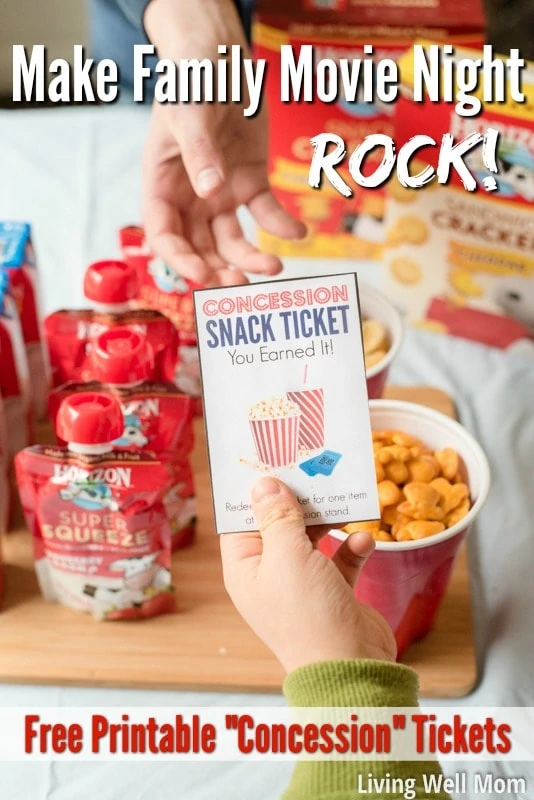 Just don't forget your Horizon snacks!
Learn more about Horizon and follow here: Facebook, Pinterest, Instagram, and Twitter.
This is a sponsored conversation written by me on behalf of Horizon Organic. The opinions and text are all mine.