These 12 Christmas essential oil blends are practically guaranteed to make your holidays extra festive and cheerful. While I developed these for use in a diffuser, you can also enjoy the blends as a room fragrance spray or as part of your DIY holiday gift baskets.
You'll love the way they fill your home with their lovely scents. After all, who doesn't want to feel cozy and festive this time of year? These blends are sure to help you do just that!
The Best Christmas Essential Oils
We spend a lot of time preparing our homes for the holidays. Tinsel is hung by the fireplace, trees are decorated, candles are lit, and holiday lights glow.
But, there is just something about the smells of Christmas that really hit home for me. I love walking into my home and smelling freshly baked gingerbread, candy canes, and fresh pine.
Thankfully, it's easy to enjoy all these wonderful scents without much extra work on your behalf with essential oils!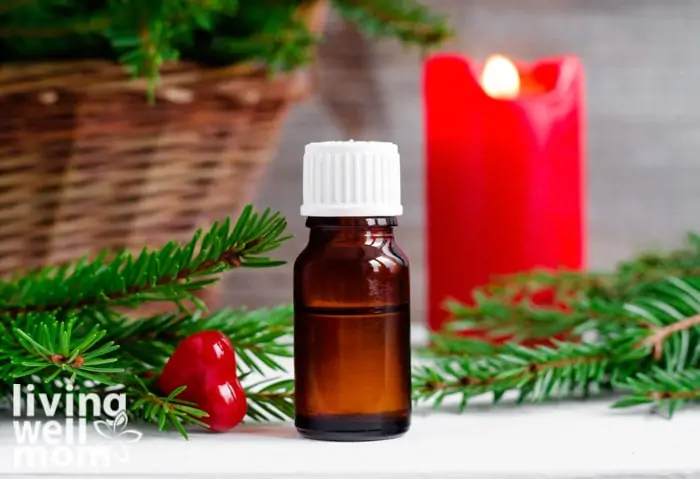 Here are my absolute favorite holiday essential oils that I recommend everyone keep on hand to celebrate the season:
*There are a lot of different types of orange oil on the market. I highly recommend you use blood orange, sweet orange, or wild orange essential oil for the best results!
I especially love the way these oils capture those holiday scents and allow me to enjoy them all year long! I have been known to pull out a few of my favorite Christmas essential oils even in the middle of summer! 😉
Which essential oils make a Christmas tree scent?
I have to say that Fir Balsam makes the perfect Christmas Tree scent. I've tried almost a dozen different spruce, pine, and fir essential oil varieties, and this exact one smells amazing!
It works particularly well when combined with cedarwood… see my Christmas Tree blend below for more!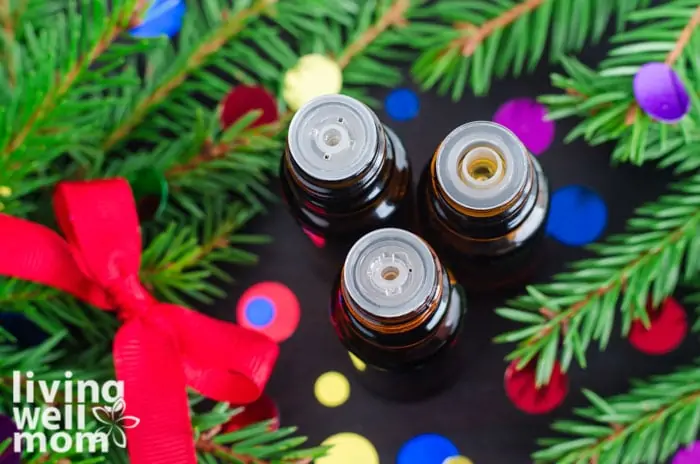 12 Must-Try Christmas Essential Oil Blends To Diffuse
Now that you know which single oils I like best for the holidays let's talk about how to pair them together to create Christmas essential oil blends.
You can adjust these recipes depending on how big your diffuser is. A little goes a long way with EOs, but if you have a large diffuser, or if you are trying to float scent through a larger space, you can double the amounts listed below.
Christmas Cheer
I call this blend "cheer" because it truly does make me happy each time I sniff it. The zesty orange notes pair perfectly with the fir balsam, while the bergamot adds soothing undertones.
Gingerbread House
The Gingerbread House essential oil blend is a sweet, warm scent that makes you think of holiday treats and home-baked goodies. It's all the fun of holiday baking with none of the calories! 😉
Christmas Joy
The oils that go into this joyful Christmas essential oil blend include fir balsam, cinnamon, and orange. This combination smells great and will remind you of time by the Christmas tree.
Joyful and Calm
While the holidays ARE the most wonderful time of the year, it can be super stressful during this season as well. To help you (and your kids!) relax, try diffusing this soothing essential oil blend!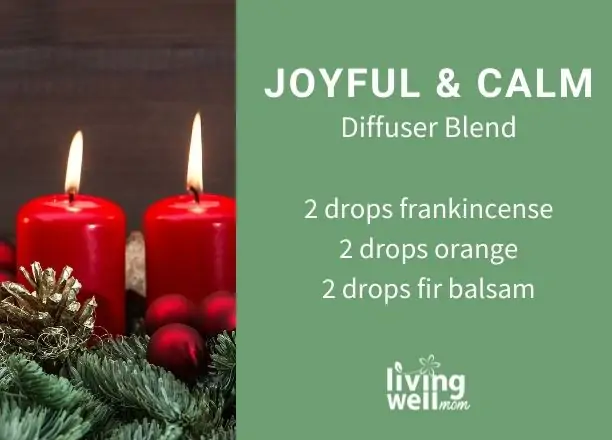 Christmas Spice
The spices of Christmas always seem so festive and fun to me. I particularly love this blend with juniper berry for extra crispness!
Candy Cane
This holiday essential oil blend smells just like peppermint candy. I really like this one for extra energy, but it is also great for making any space in your home smell fresh.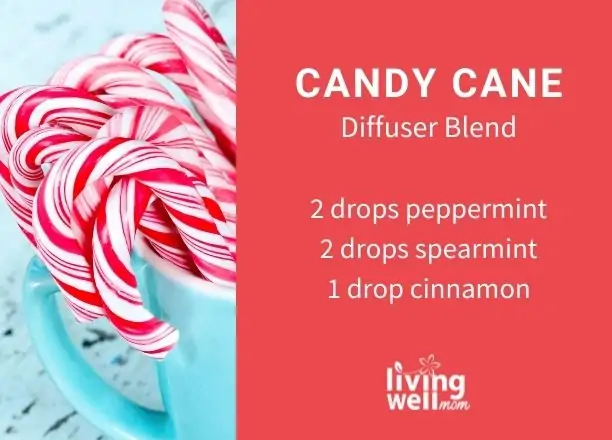 Wake Up, It's Christmas
At first glance, peppermint and orange may not seem like they go together, but they pair quite well with each other. This is another perfect Christmas essential oil blend for when you need a bit of a pick-me-up.
Three Wisemen
The three wisemen offered gifts of frankincense, myrrh, and gold. There isn't a gold-scented essential oil (yet!), but orange will sub in nicely.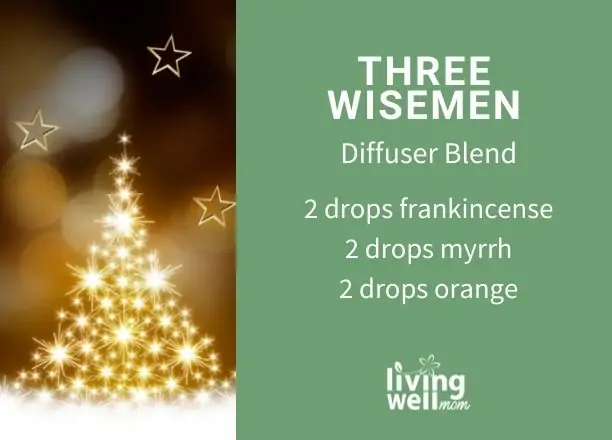 Silent Night
Looking for a blend that will help you get some much-needed sleep during a hectic season? This is the one!
Eggnog By The Tree
Whether or not you are a fan of eggnog, you'll appreciate the soothing scent of this yummy oil blend.
Deep Breath
We all need to stop and take a deep breath during the holiday season. Whether to have a moment of remembrance, a spiritual experience, or just to take a break from our kids… this is a scent to help you pause, breathe, and calm down.
Christmas Tree
I couldn't make a list of the best Christmas essential oil blends without including this one! It smells just like a Christmas tree.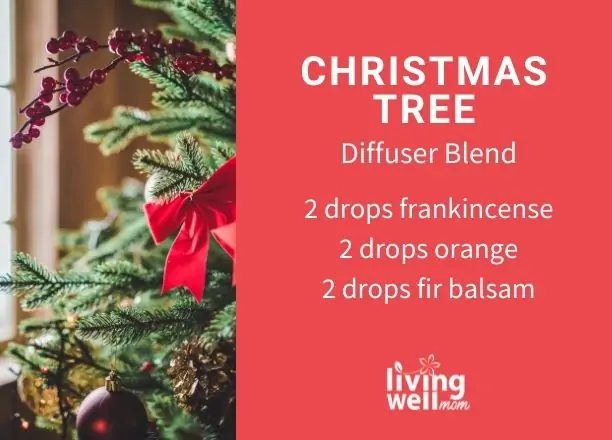 Get More Christmas Essential Oil Blends
Want more blends to try? No problem! I've put together a list of 20 more Christmas essential oil blends! They're positively bursting with warm holiday cheer. You'll want to try each and every one of them for yourself!
Pin the image below to save the list for later.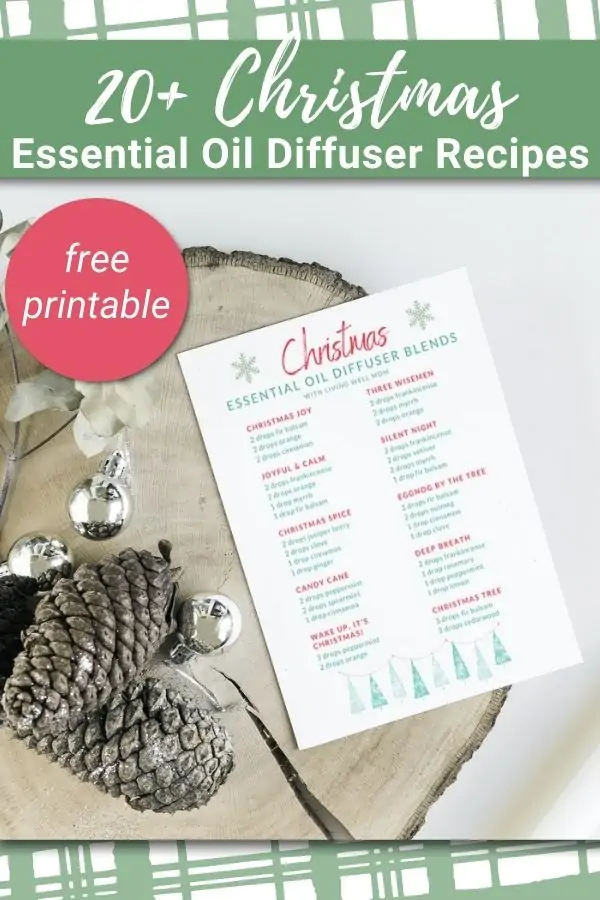 Get the FREE list of 20 essential oil blends here: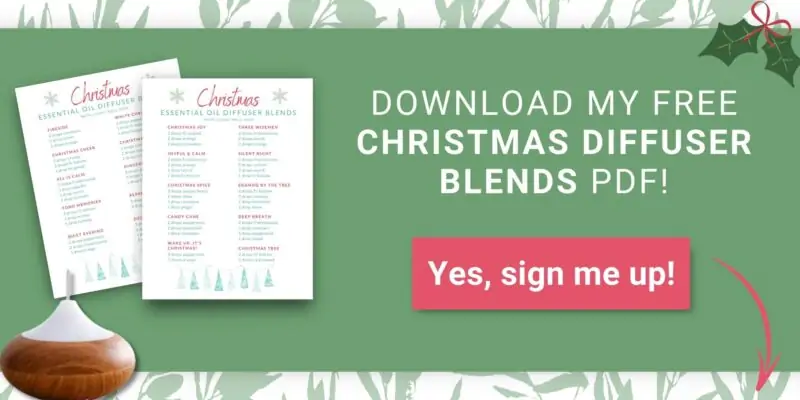 More Ways To Use Essential Oils At Christmas: