Make one of these wonderful homemade holiday essential oil gifts for the loved ones in your life. These quick and easy DIY recipes will make the holiday season extra special!
Homemade gifts can be some of the most thoughtful and useful presents. And they don't have to be time-consuming DIY projects that require tons of creativity. There are many homemade Christmas gift ideas that are both simple and easy to make.
Today, I've got a fantastic list of Christmas essential oil gift ideas that are all easy to whip up. You don't need to have a creative streak or extensive DIY experience to try your hand at these things.
Some of these homemade essential oil gifts are quicker to make than others, but all are simple! And if you love doing creative DIY projects, you can have even more fun adding your own creative touch by personalizing them.
Essential oils are a great way to make DIY gifts because there are many different things you can do with them. Some of the ideas in this list include DIY lip balms, essential oil blends for the diffuser, holiday room sprays, Christmas candles, homemade goat milk soap bars, and more!
These Christmas essential oil gifts are both practical and fun!
25 Christmas Essential Oil Gift Ideas
If you have an essential oil lover in your life, you can't go wrong with one of these aromatherapy gifts! Or, if you have a friend or loved one who is looking to go more natural, any one of these homemade essential oil holiday gifts will be appreciated.
Each essential oil idea includes a link with a step-by-step photo tutorial on each item to easily walk you through how to make it. But seriously, all of these gift ideas are SIMPLE, which is perfect for this busy time of year.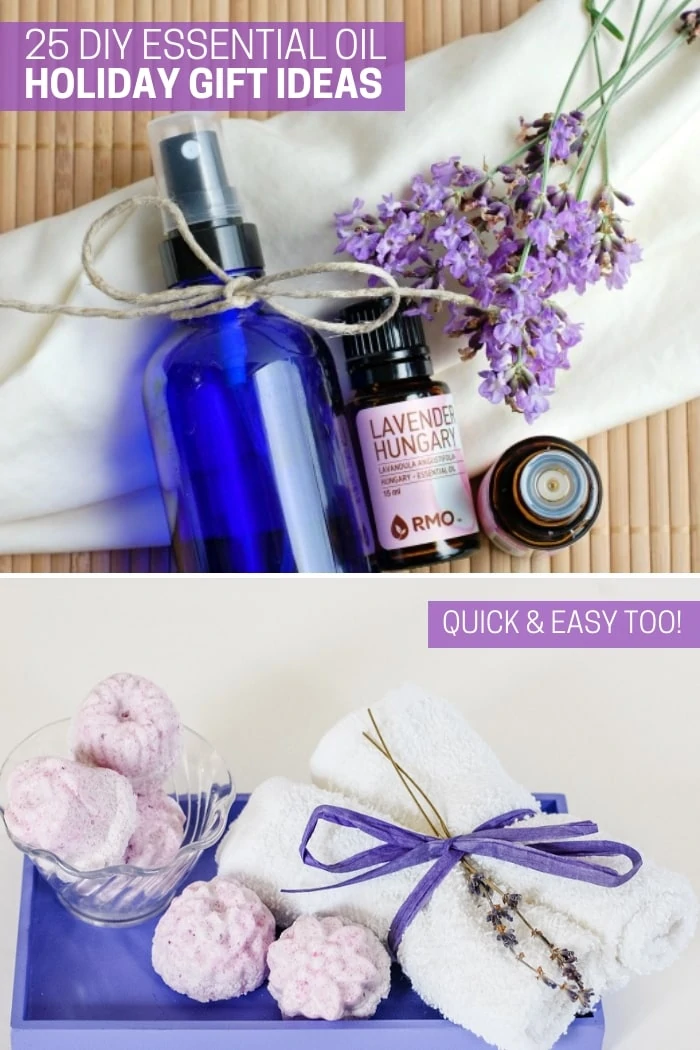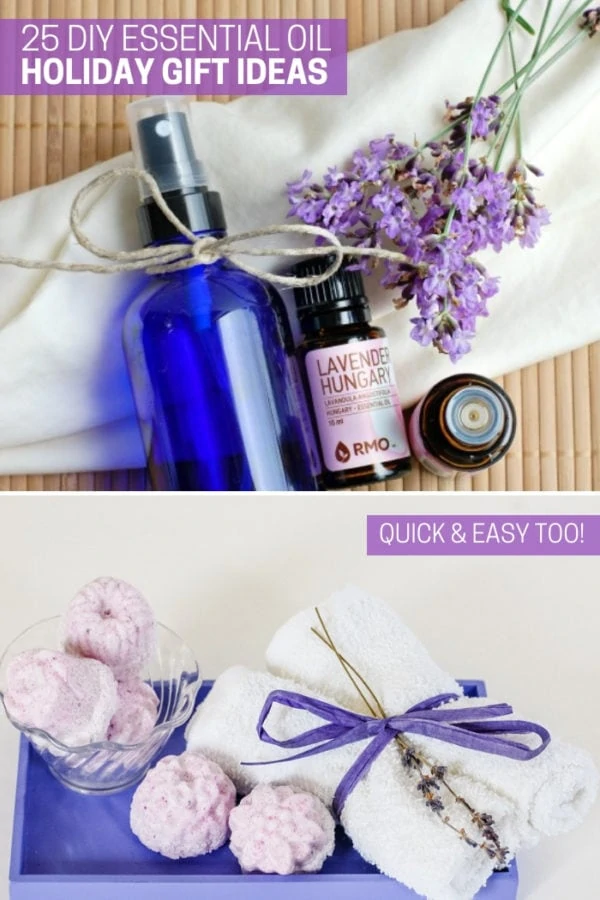 This list includes 10 Christmas-scented DIY essential oil gift ideas exclusive for the holidays and 15 non-Christmas-scented ideas that are perfect for Christmas or any occasion. See? Great gift ideas for everyone!
But, if you are like me and currently have Christmas on your mind, you won't want to miss this FREE PDF! Just fill out the info below and I'll send you the best holiday diffuser recipes EVER. These are my go-to every year!

Christmas-Scented DIY Essential Oil Gifts
Use these holiday-inspired essential oil gift ideas to add some holiday cheer.
This DIY holiday room spray combines lovely Christmas scents for a relaxing essential oil blend. This one is so quick & easy to make that it takes no more than 5 minutes!
With five different essential oil blend varieties, this homemade air freshener spray smells like Christmas AND can help deodorize a room naturally!
It's surprisingly easy to make homemade lip balm. This peppermint version will not disappoint as a simple yet much-appreciated homemade gift.
This peppermint sugar scrub recipe takes just 5 minutes to make and works well for gentle and natural exfoliation.
Did you know you could make a lotion in a slow cooker? Neither did I until I tried it. It's simple and incredible!
These candles make a wonderful homemade holiday gift idea for the aromatherapy lover and are a breeze to make. Check out this easy-to-make Christmas candle tutorial.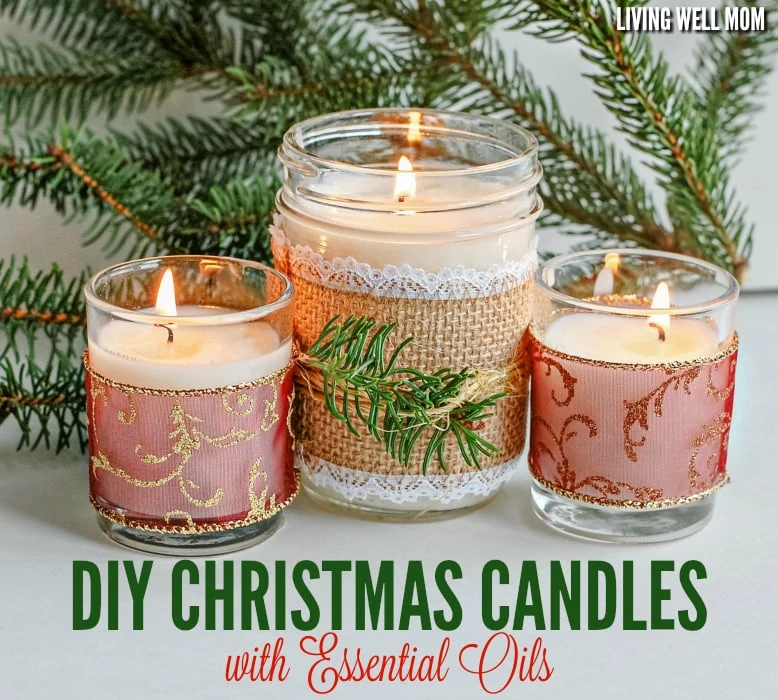 Did you know you can make an artificial Christmas tree smell a bit more like the real thing with a simple lava bead diffuser? These are easy enough that the kids can help make them too!
This lovely essential oil diffuser blend recipe smells just like Christmas and is perfect for enhancing the atmosphere of any holiday lover's home.
Consider purchasing or using a small empty essential oil bottle and combining the oils in this recipe, or simply offer the recipe as a Christmas card bonus! Don't forget to add labels, so you know what's in the bottles!
The holidays can be stressful. While essential oils won't cure anything, they may help promote stress relief. This easy-to-make blend is perfect in roller bottles and brings a calming scent.
Almost everyone could use a DIY foot cream to soothe dry, cracked, and weary feet.
If you're feeling a little more ambitious, this homemade goat milk soap recipe takes a little longer to make than the other DIY Christmas gift ideas shared here due to the curing time, but it's still quite easy. Check out the easy peppermint soap tutorial.
Easy DIY Christmas-scented wax melts with essential oils make perfect homemade gifts! This recipe includes three holiday scents: eggnog, peppermint mocha, and Christmas tree.
Essential Oil Gifts for Christmas (or Any Time Of Year!)
Continue reading to find more essential oil DIYs for holiday gifting using essential oils that are great year-round.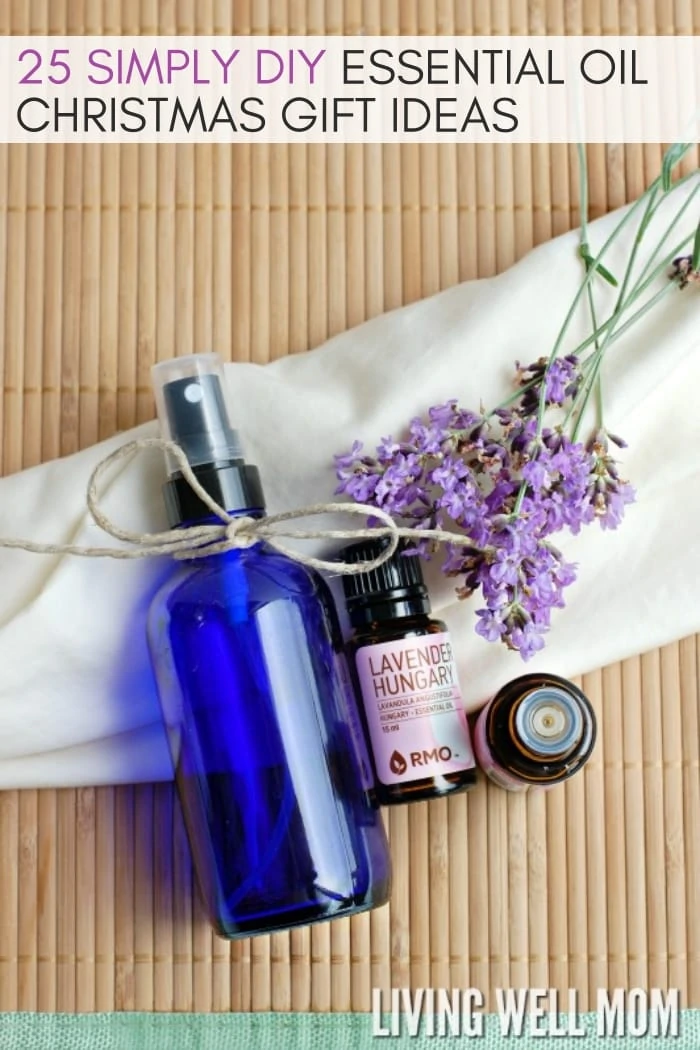 This linen spray can be used in various ways: try it as a spray to freshen up your sheets or add a fragrant spritz to your bath towels. It's super easy to make, and you can use our favorite lavender version or customize it with your gift recipient's favorite essential oil(s).
Diffuser bracelets are an easy way to enjoy the benefits of essential oils on the go. Whether it's to bring a calming essential oil along for the day, or an immune-boosting essential oil blend, this diffuser bracelet is an easy and fun-to-make Christmas essential oil gift idea!
You can also take this same idea and turn your bracelet into a diffuser necklace.
This DIY Christmas gift idea is a thoughtful present for the yoga lover in your life. This homemade essential oil yoga mat spray will help refresh their mats with a simple spritz. Lovely!
These little bags combine a little lavender essential oil with the dried plant and are perfect for a drawer. These are fantastic as part of homemade essential oil gift sets or for the person who seems to have everything!
Like the 'Poo-Pourri" spray you've heard about or even used, this homemade essential oil bathroom deodorizer spray can be given as a fun (but useful) gag gift!
With a combination of Epsom salts, baking soda, essential oils, and a couple of other natural ingredients, these easy-to-make homemade bath bombs are a great gift for the busy, tired mom in your life. (Maybe that's even you!)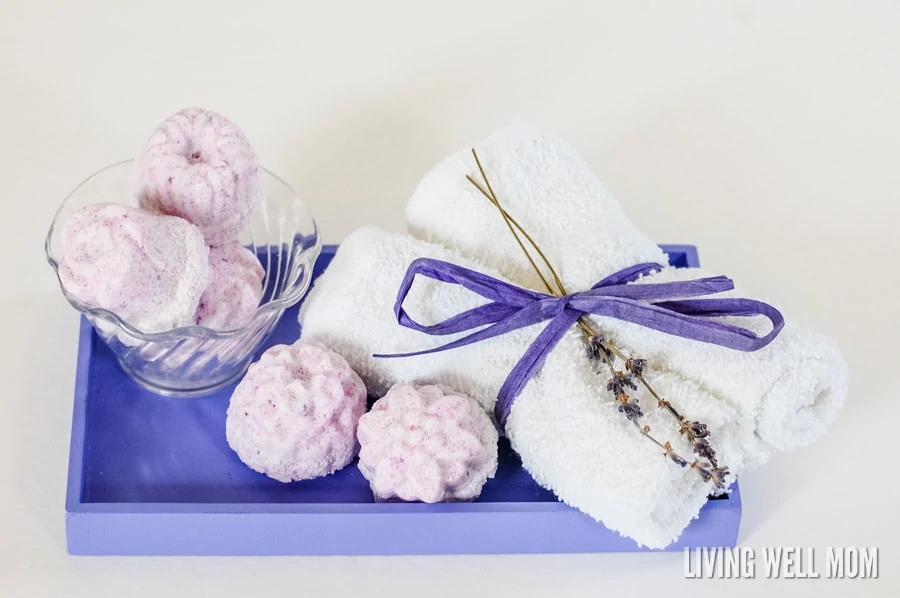 With four simple natural ingredients and a few calming essential oils, this homemade body butter is a perfect luxurious essential oil holiday gift idea!
Sugar scrubs are fun to use and super easy to make. This homemade lavender sugar scrub is ideal for relaxing at bedtime.
Let's not forget the children too! This easy DIY bubble bath is a hit with kids and moms because it's natural and helps calm them for their evening bath.
This thick heel cream is perfect for restoring moisture to tired, cracked feet. If you suffer from dry winter skin like I do, your feet will thank you for this magical lotion!
Here's another easy facial scrub, and this one is the best pick-me-up in the morning!
Similar to the peppermint goat milk soap listed above, this easy-to-make goat milk soap recipe includes an easy how-to-make photo tutorial.
You can make up this homemade Epsom salt bath mix in just 2-3 minutes!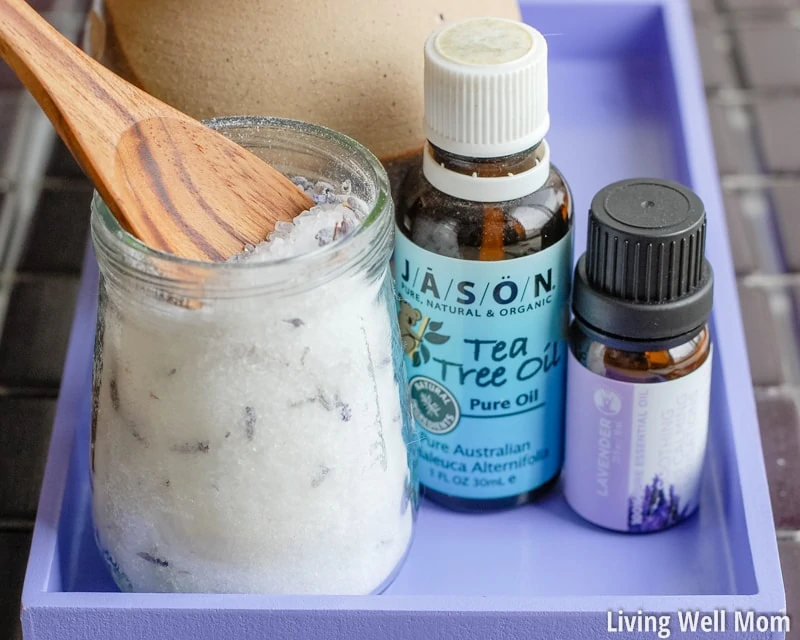 Charcoal is a popular natural health item, and these charcoal soap bars might be just the gift for that person on your list!
FAQs about Essential Oil Gifts
What are the 10 most popular essential oils?
The answer to this may vary slightly based on which company you ask, but I believe the top 10 essential oils are:
If you keep these oils stocked up in your collection, you'll be well on your way to being able to make almost any essential oils recipe I have.
Where should I buy essential oils?
I always recommend choosing oils from a high-quality essential oil brand that offers 100% pure oils as well as third-party testing for quality control. Learn how to choose essential oils that work for you and your family (beyond the brand).
My favorite essential oil company is Rocky Mountain Oils, followed by Eden's Garden and Ancient Apothecary by Dr. Axe. I purchase and recommend oils from all of them.
What oils can I use as carrier oils?
My favorite carrier oil is fractionated coconut oil because it's a non-greasy, light oil that the skin quickly absorbs. It doesn't usually cause an allergic reaction and has a very mild fragrance.
However, if you don't have fractionated coconut oil or prefer to use another carrier oil, you can pick one from many options! Some of the most common carrier oils are grapeseed oil, olive oil, jojoba oil, and sweet almond oil.
I hope this list of Christmas essential oil gift ideas inspires you in your holiday gifting this year. There is sure to be the perfect DIY gift for each person on your list this Christmas – or for any occasion!
What are the best diffuser blends at Christmas time?
I'm so glad you asked! Christmas is all about the smells for me, and I have my diffuser running practically 24/7 with my special secret holiday blends.
This season is all about generosity and I'm more than willing to share so you can enjoy the smells of the season too! Just fill out the info below and I'll send them your way.

More Essential Oil Blend Inspiration
Do you love these DIY holiday essential oil gifts and want more ideas for using essential oils? Try these: