Charcoal is an amazing option for natural skincare and today I'm going to show you how to make DIY Charcoal Soap Bars. With three main ingredients, you can make your own melt-and-pour charcoal bar soap! If you suffer from mild acne, using this soap may be better for your skin than other harsher skin cleaners.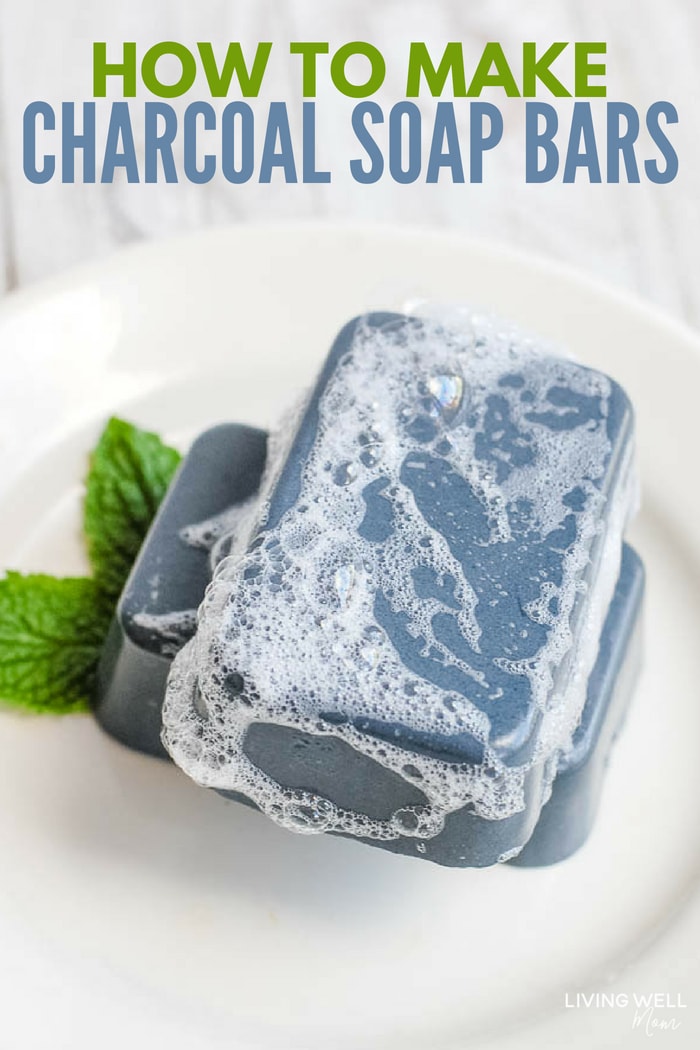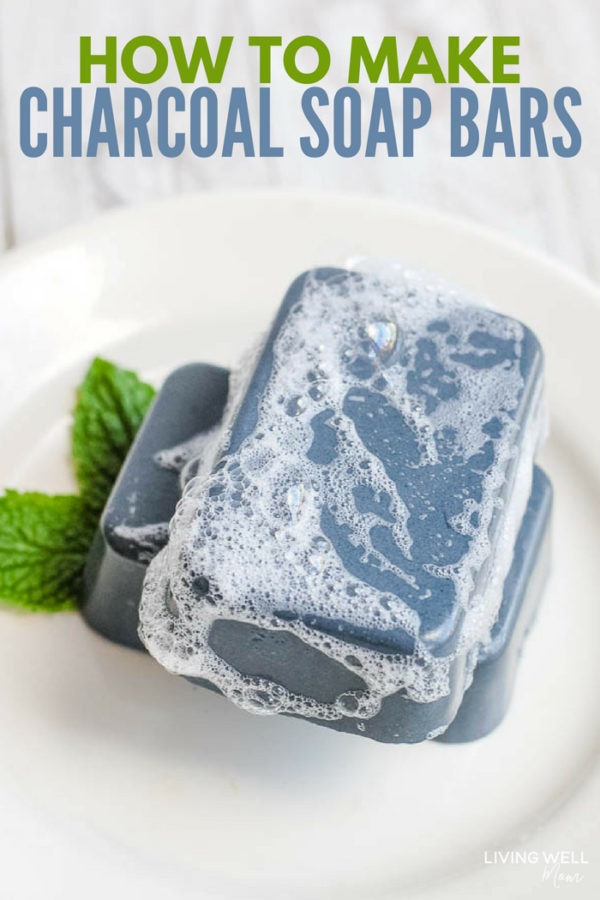 Have you noticed that charcoal is creeping its way into many of our personal skin care products? Especially face masks? (Do you remember the DIY charcoal face mask I showed you how to make?)
So why is charcoal popping up in body and facial cleaning products? Charcoal is superior when it comes to binding impurities that can be on our skin. (That's also why its the main ingredient in water filters! Both excess oil or environmental toxins will bind to the charcoal and will be washed down the drain.)
The dirt and oil combo that is in clogged pores can be bound to the charcoal first before it builds up in your pores, resulting in clearer, smoother skin.
That's why this DIY charcoal soap is a great DIY beauty product that you will want to both use for yourself and give as a gift!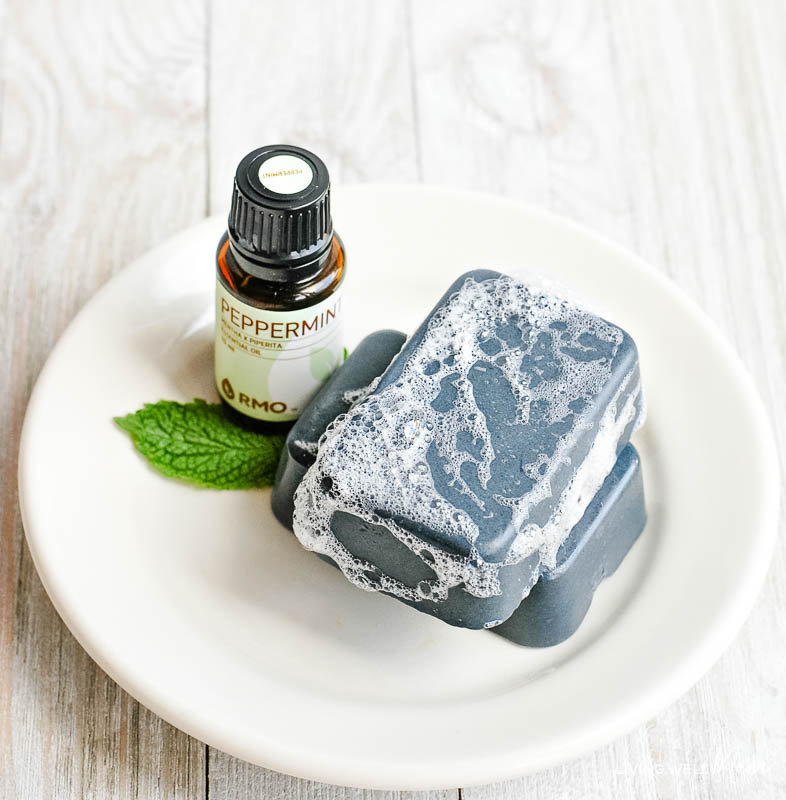 DIY Charcoal Bar Soap
One batch makes 12 bars of soap.
What You'll Need for DIY Charcoal Soap with Peppermint Essential Oil:
*One note about the goat's milk glycerin melt: you can find cheaper blocks of goat's milk soap online, but let me caution you. Since I always try to save money, I've tried them and they do NOT work as well. The cheaper blocks of goat's milk soap don't melt as smoothly and they are not as natural. Take my word for it; pay the extra couple of dollars and get Dr. Adorables Goat's milk soap base! (Not a sponsored opinion either!)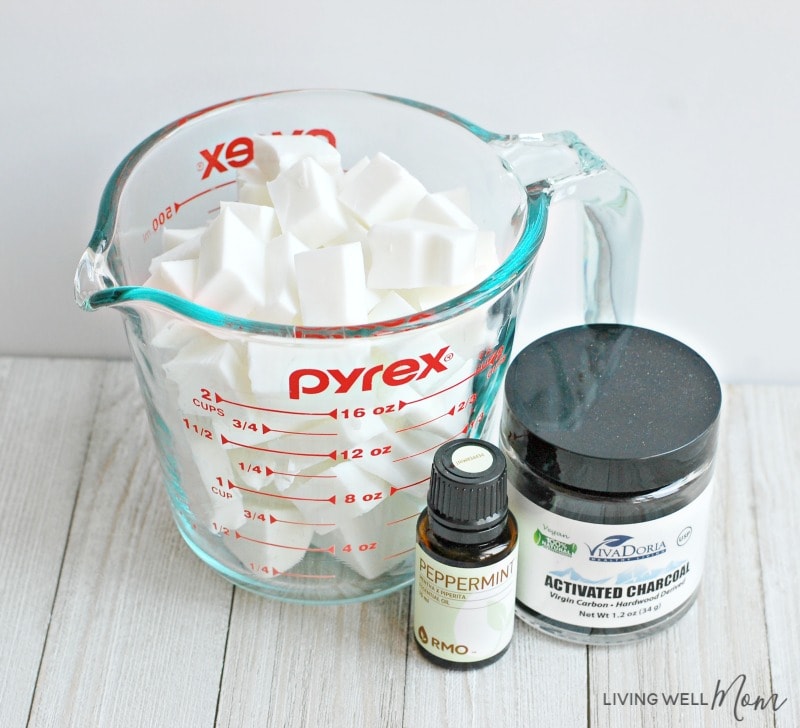 The large block of the goat's milk soap base is smooth and silky, and it cuts easily with a kitchen knife. Slice the soap base into strips, then cubes, and place them inside the microwave safe measuring cup. My Pyrex measuring cup holds about half of the soap – I made these DIY charcoal soap bars in 2 different batches.
Microwave your first batch of soap cubes for 1 minute. Take it out and stir; you'll see that it's starting to melt. Put it back in the microwave for another 30 seconds and stir again. Repeat until all the solid soap is melted. It will be about 3 minutes total of cooking time.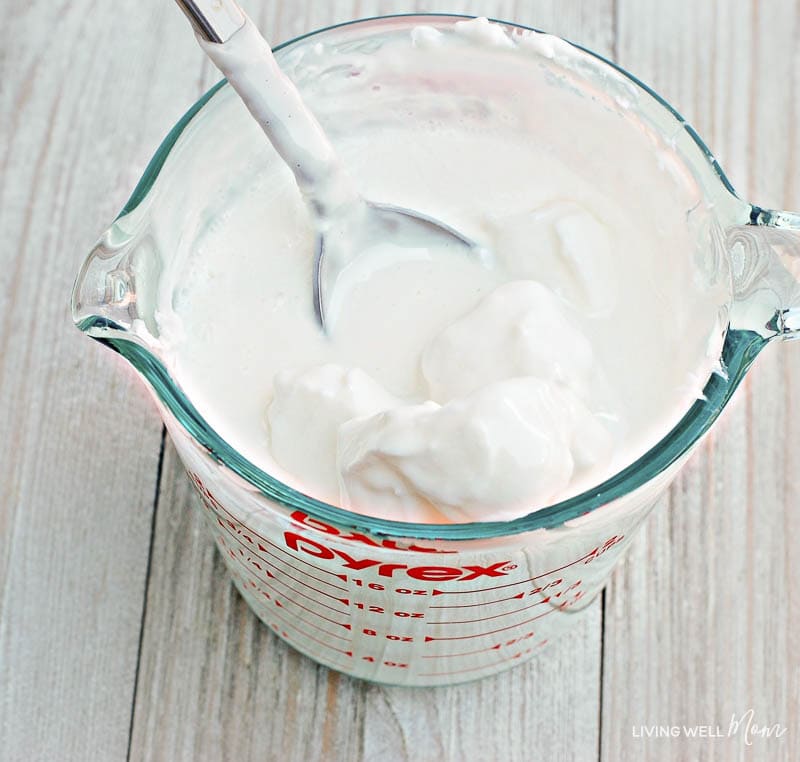 Next, add 15-20 drops of peppermint essential oil to your melted soap base. If you like a stronger peppermint smell, then add up to 30 drops.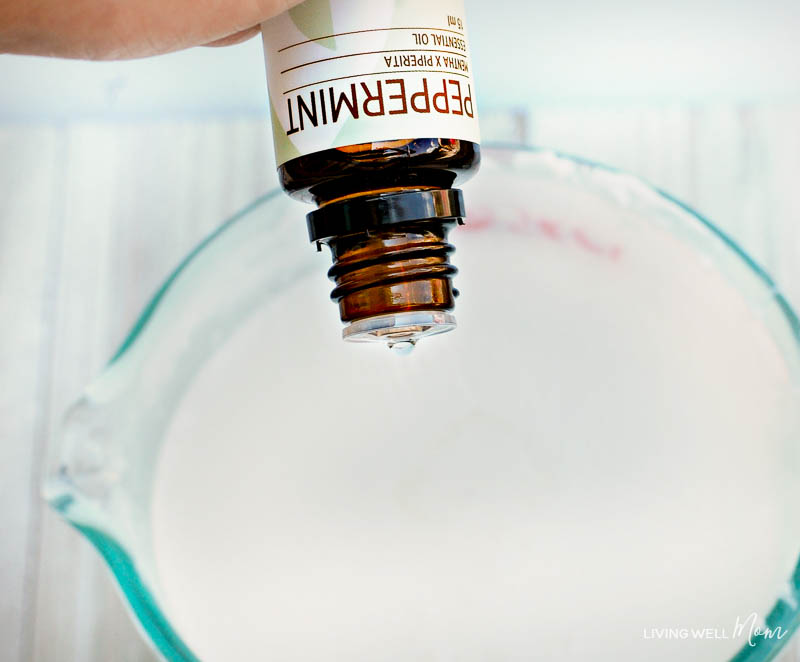 Peppermint is not the only essential oil you could add to this. Other essential oils for skin care, like lavender or tea tree oil, could also be used. (Check out this list of essential oils for dry skin.)
I chose peppermint because it has a lovely cooling effect, something I love for my skin.
Next, add 1 tbsp of activated charcoal powder.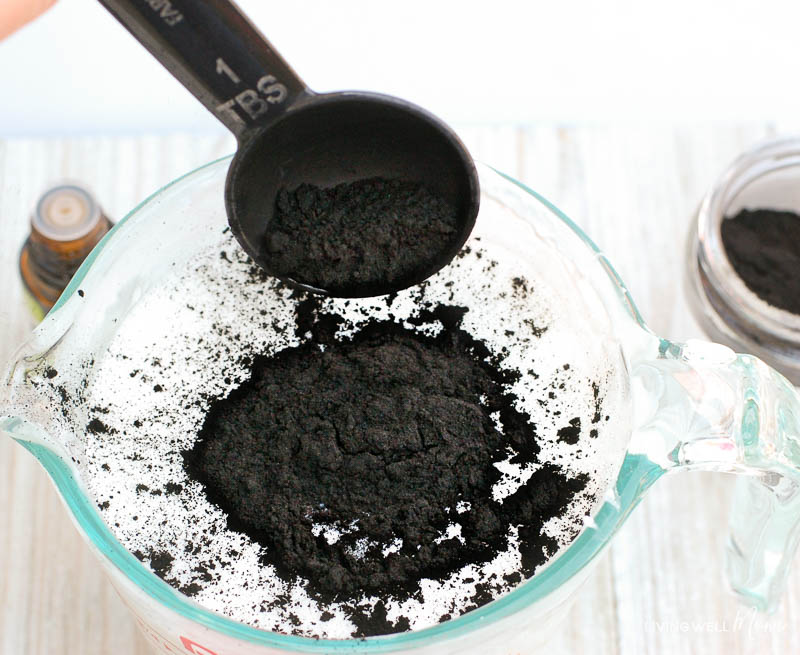 Stir together the melted soap, peppermint essential oil, and charcoal powder. It will take a few minutes of stirring to get a smooth consistency without any charcoal lumps. Let the soap rest in between stirrings and you'll see more small clumps of charcoal float to the top. Then stir those back in. Continue stirring until you don't see any more small clumps of charcoal powder.
Pour your charcoal soap mixture into your soap mold.
You'll probably notice some bubbles as you pour your soap into your molds. If you want a smooth bar of soap on the bottom with no bubbles, spritz it with a mixture of 50/50 isopropyl alcohol and water. That will make the bubbles pop and you'll get a nice smooth finish to your soap as it cools and hardens.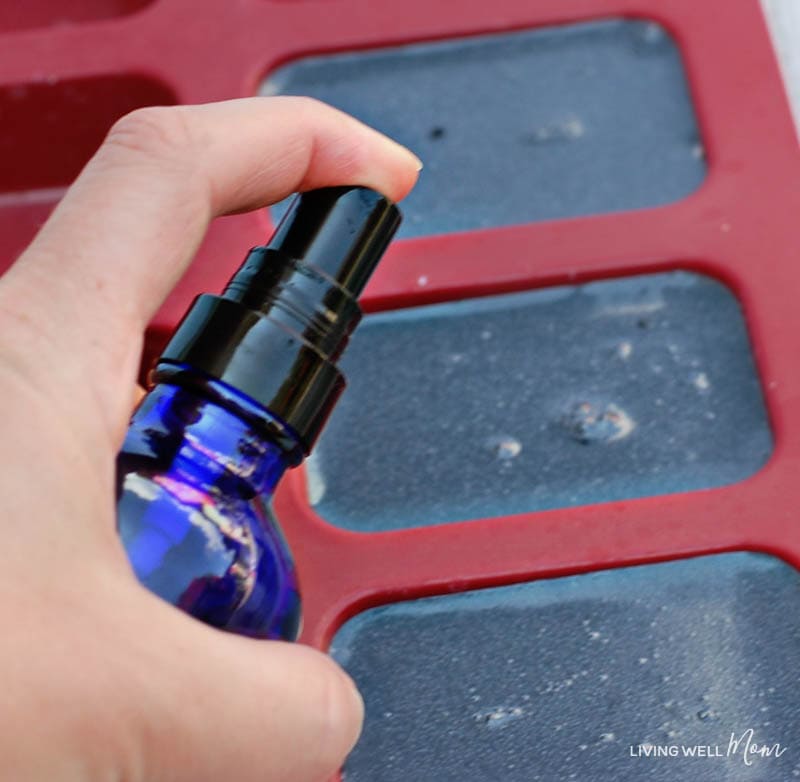 Let your peppermint charcoal goat's milk soap bars cool and harden for a few hours.
When they are completely hard, pop your DIY charcoal soap bars out of the mold.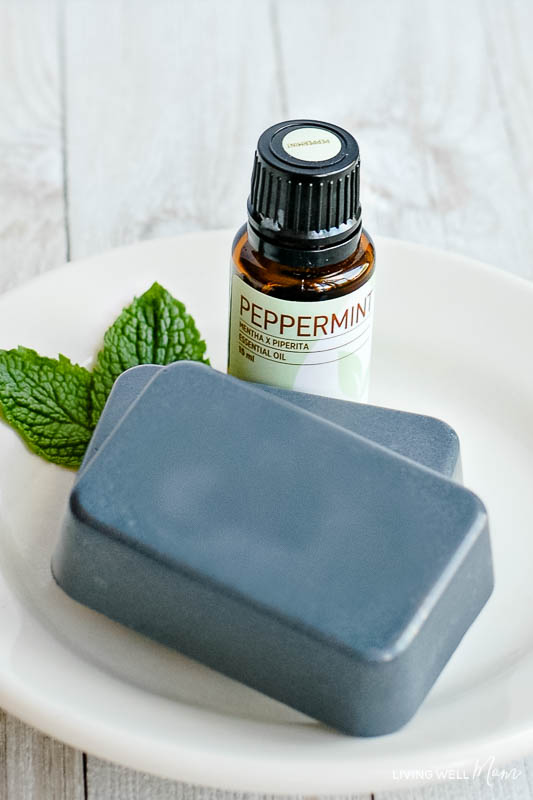 This charcoal bar soap gets nice and sudsy and is now my main go-to when it comes to cleaning my face. (Although I still love this Natural Homemade Foaming Face Wash as well!) I like it because it does not dry out my face too much, yet I know extra gunk is getting washed off with the help of the charcoal!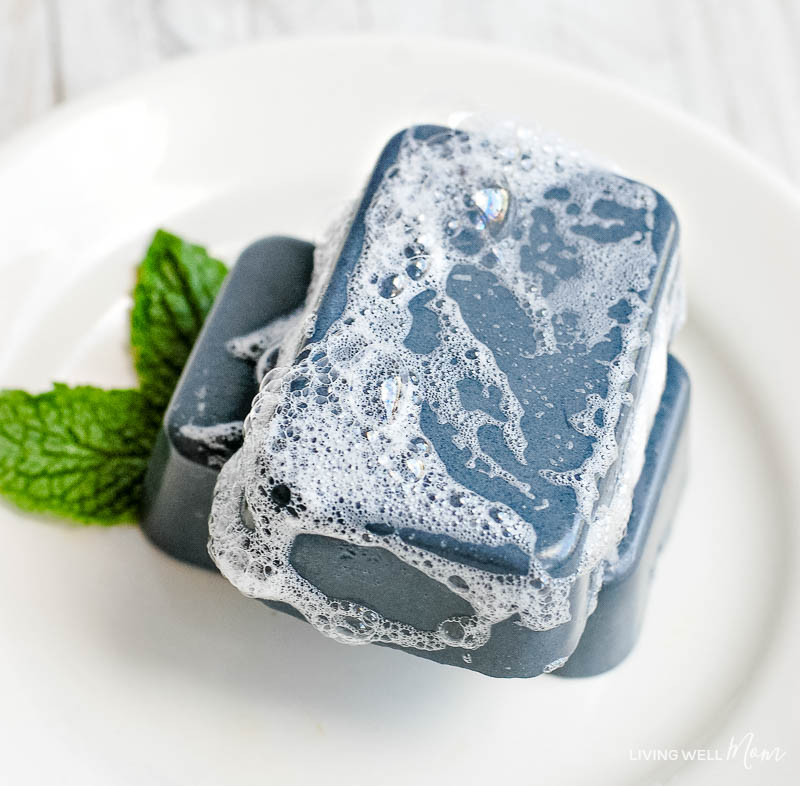 Looking for more personal care products you can make using essential oils? Check these out: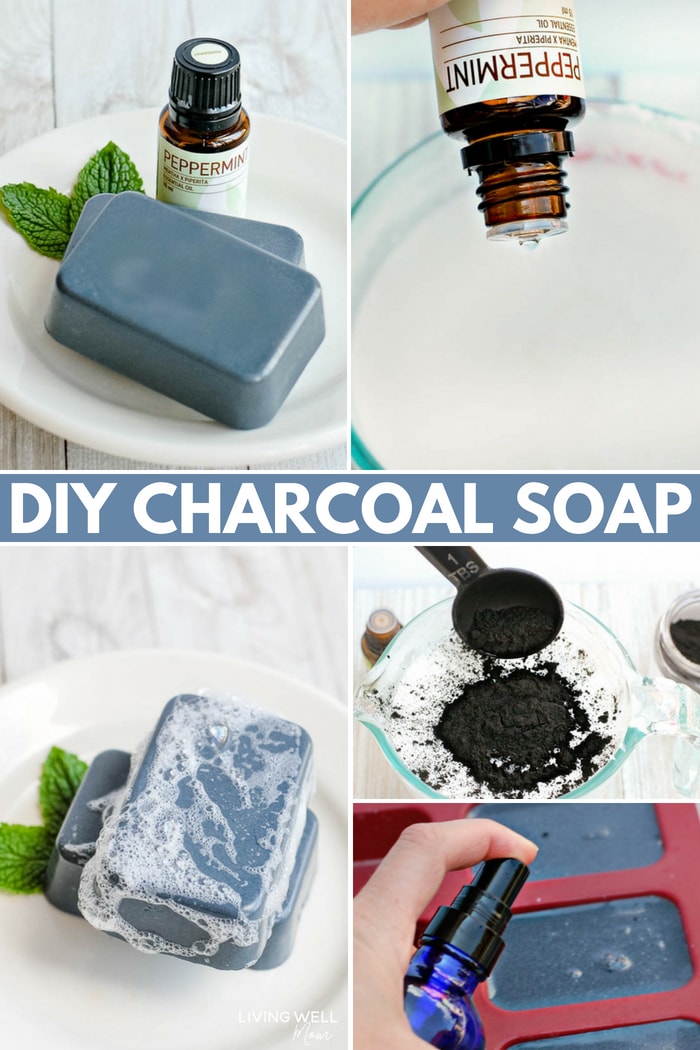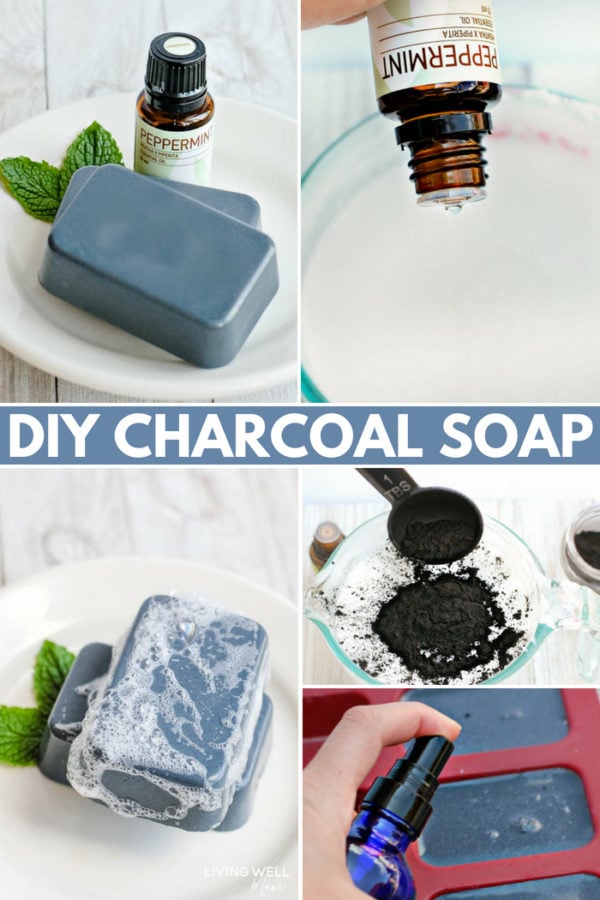 Which Essential Oil Brand is Best?
For the best results, you will want to choose a high-quality essential oil brand that is 100% pure and offers third-party testing for quality control. Read this post for more info on how to choose essential oils that work for you and your family (beyond the brand.)
My favorite essential oil company is Rocky Mountain Oils, followed by Eden's Garden, and Ancient Apothecary by Dr. Axe
.