Is your yoga mat in need of cleaning or deodorizing? It's not surprising that they can get dirty quickly between the dirt and sweat as you hold your favorite pose. This DIY yoga mat spray with essential oils is a simple, homemade way to refresh your mat.
You can also use this DIY yoga mat spray with different essential oils before a session for calming or awakening affects, depending on your mood and what you need.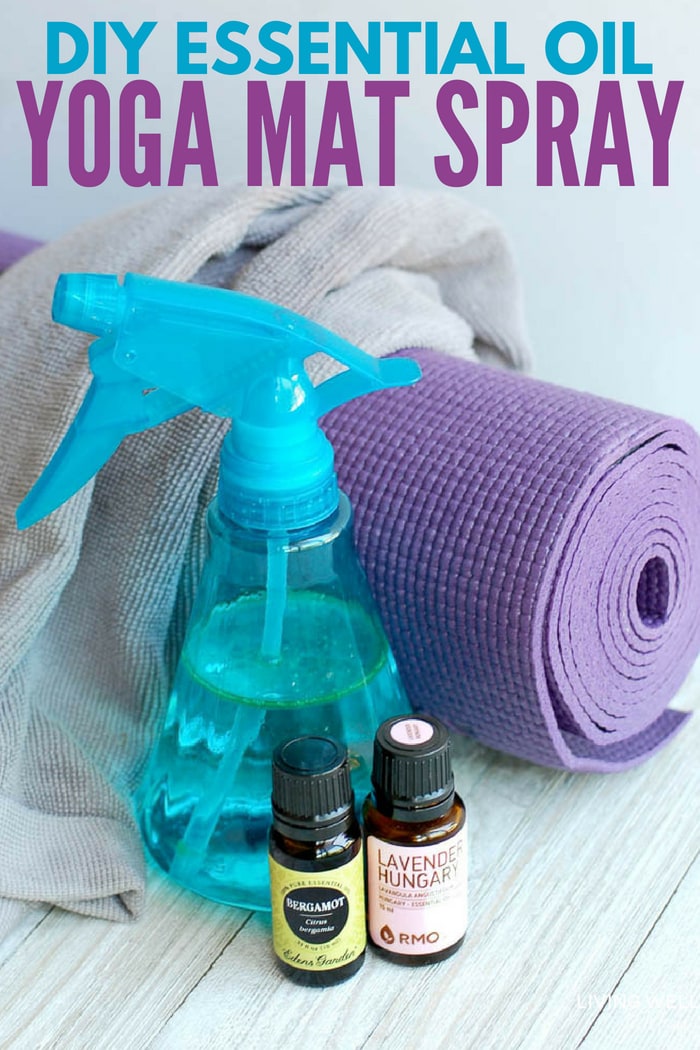 How to Make a DIY Yoga Mat Spray with Essential Oils
What You'll Need:
Empty Spray Bottle (use a glass bottle if you are using citrus essential oils, as the citrus oils can break down the plastic, otherwise a plastic one from the dollar store like I used is fine.)
1 cup of distilled water
1/2 cup of witch hazel (I prefer alcohol-free Thayers Witch Hazel with Rose Petal Water)
20 drops of your favorite essential oils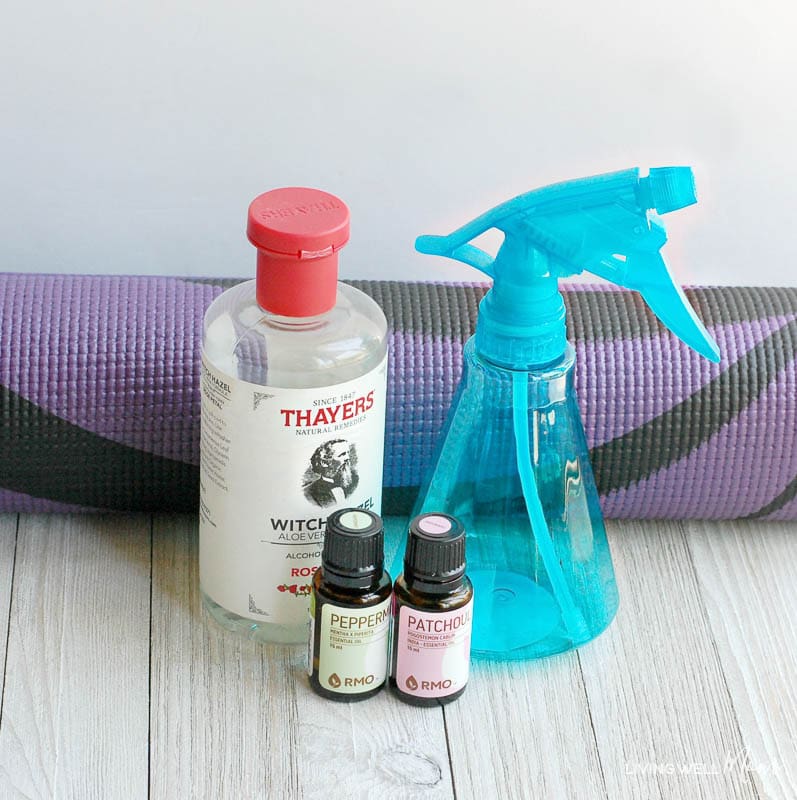 For this post, I'll show you how to make a Cleaning and Deodorizing Yoga Mat Spray.
Scroll down for more essential oil blend options.
Cleaning and Deodorizing Yoga Mat Spray: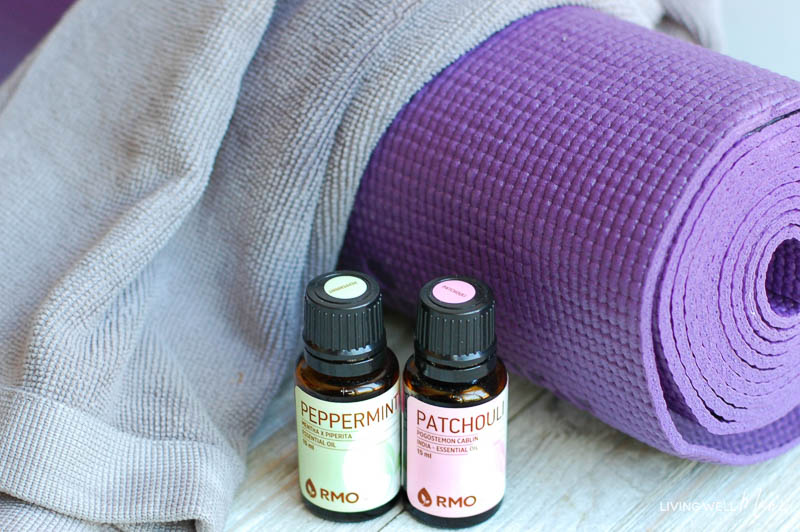 Instructions:
I'm going to show you how to make this DIY yoga mat spray with the cleaning & deodorizing essential oils as the example. This is quick and easy to make, requiring no more than 5 minutes!
Start by pouring in 1 cup of distilled water into your empty spray bottle. A funnel
may help to avoid spills.

Then add 1/2 cup of witch hazel
. I love the rose scent that Thayers has with the rose water variety. It also adds a touch of nice aroma to your spray.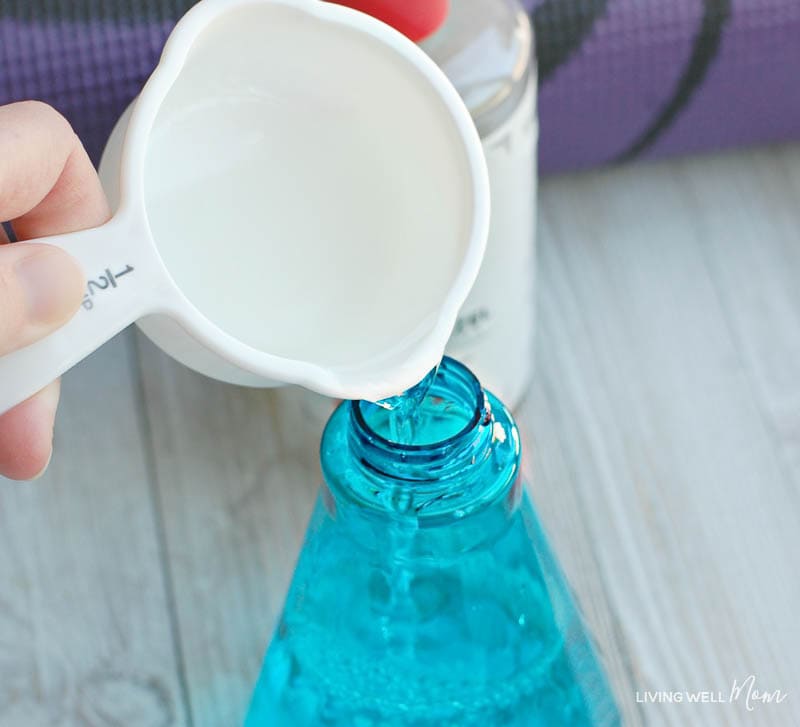 Then add 10 drops of Patchouli essential oil to the water & witch hazel mixture.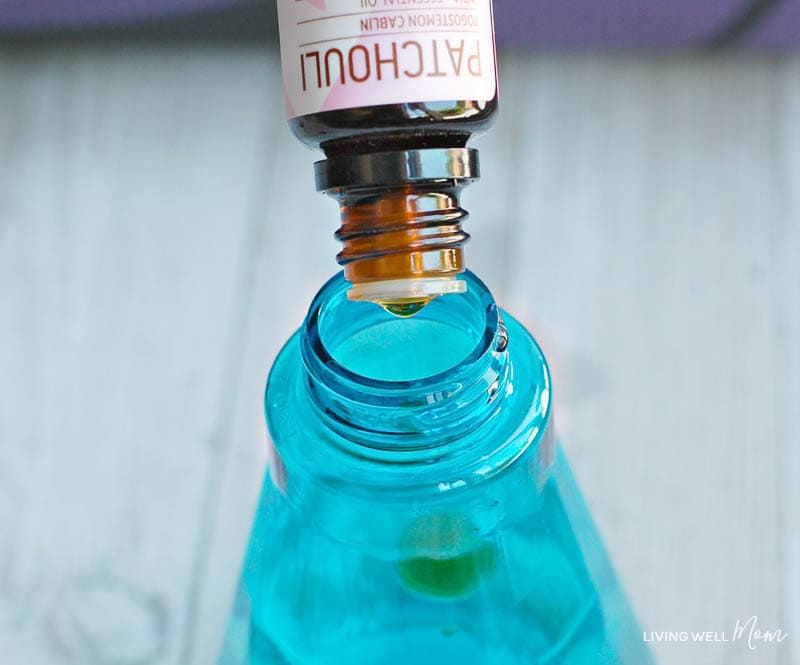 Add 10 drops of Peppermint essential oil to complete the blend.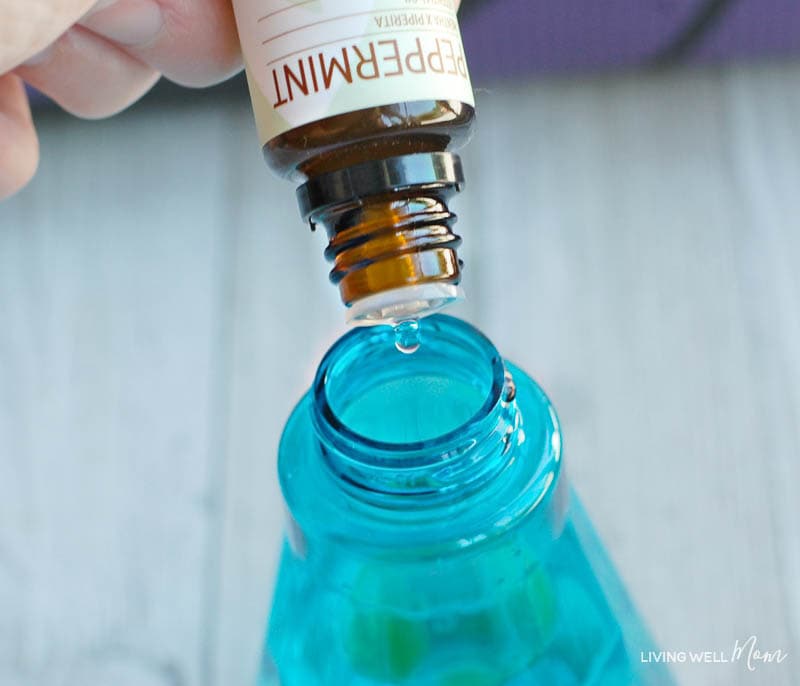 Screw on the top of the spray bottle and shake well.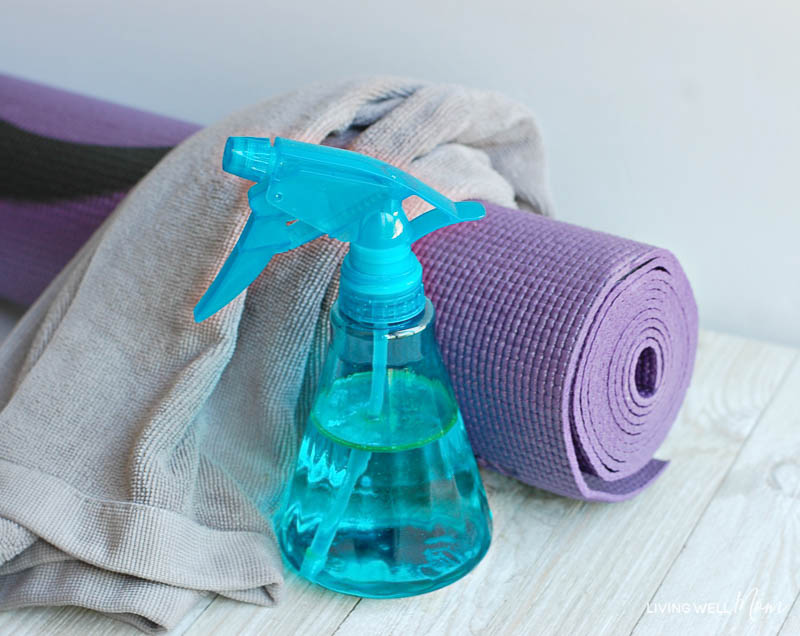 How to Use Your DIY Yoga Mat Spray
Shake well before each use.
Spray over your yoga mat and wipe dry.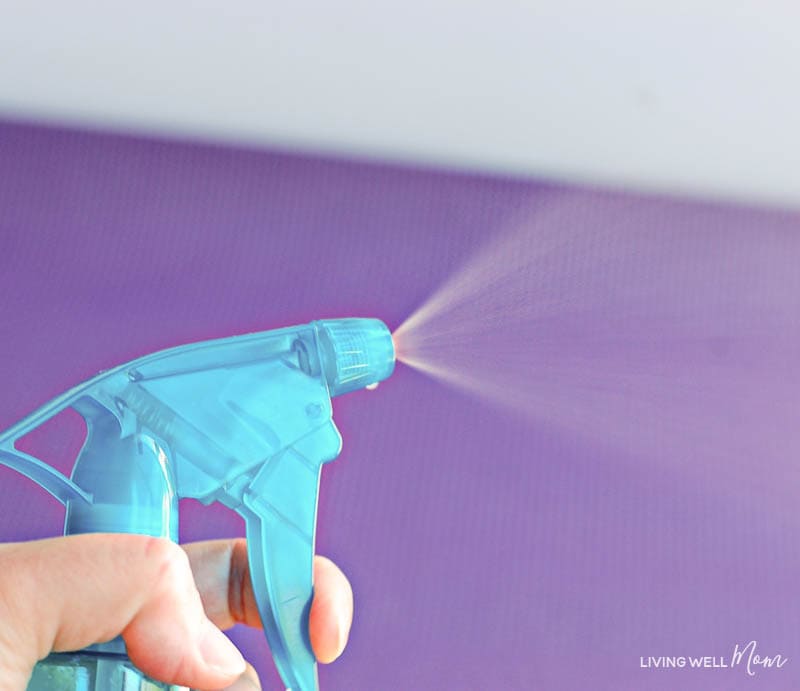 I like to use a microfiber towel
when I dry my yoga mat because it helps to clean all the nooks and crannies.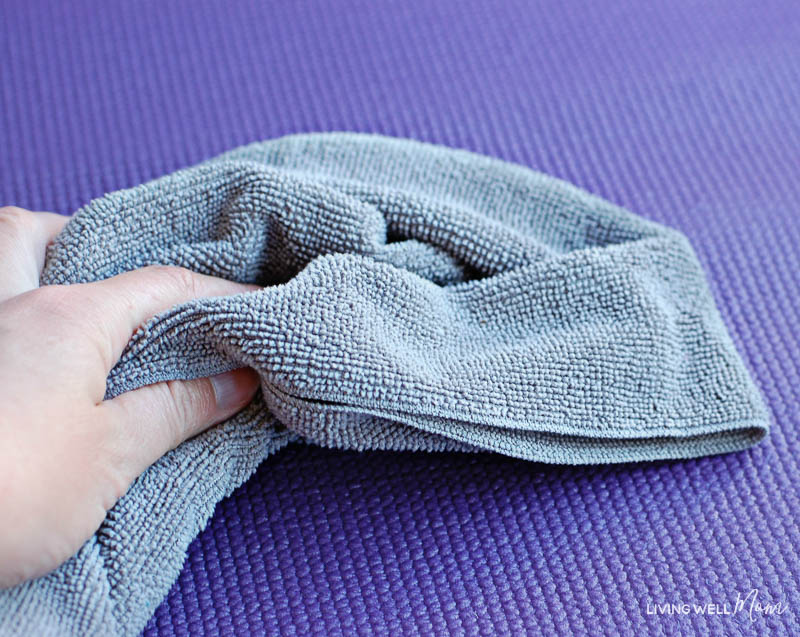 Don't forget to wipe down both sides of your mat.
Allow your yoga mat to dry completely before rolling it back up OR using it. (you don't want to slip!)
Essential Oil Blends for Your Yoga Mat Spray
Peppermint and Patchouli are not the only essential oils that are used for cleaning and deodorizing – you could also use tea tree essential oil or this Immune Strength blend.
Energy and Alertness Yoga Mat Spray:
If you are doing yoga first thing in the morning and you'd like an aromatherapy energy boost to help wake you up, spray on this citrus blend on your mat before you start. Wipe off any wet spots so that you don't slip. The essential oil aroma will still linger even after wiping so you can inhale the awakening properties of the citrus oils as you practice your yoga session.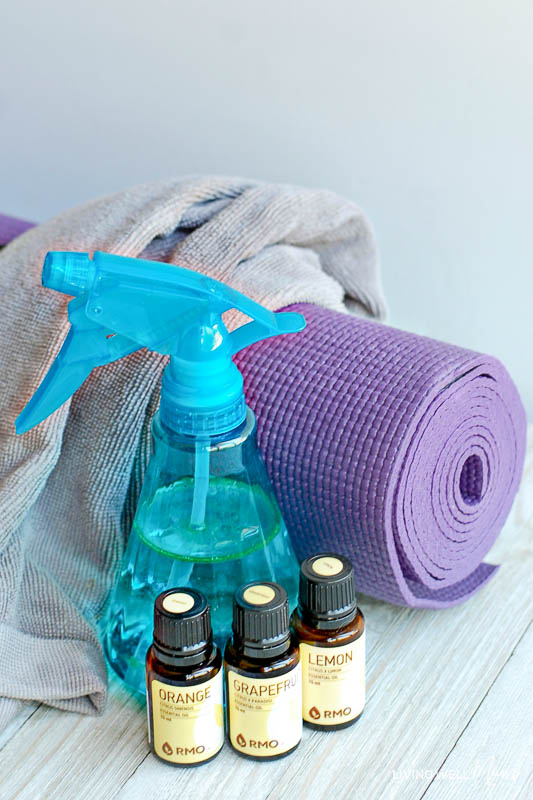 Calming and Relaxing Yoga Mat Spray:
Doing a relaxation yoga session? Use bergamot and lavender essential oils for a calming blend. Again fully wipe off any moisture before you start.
You can also spritz your DIY yoga mat spray around the room as a natural air freshener to enhance the aromatherapy.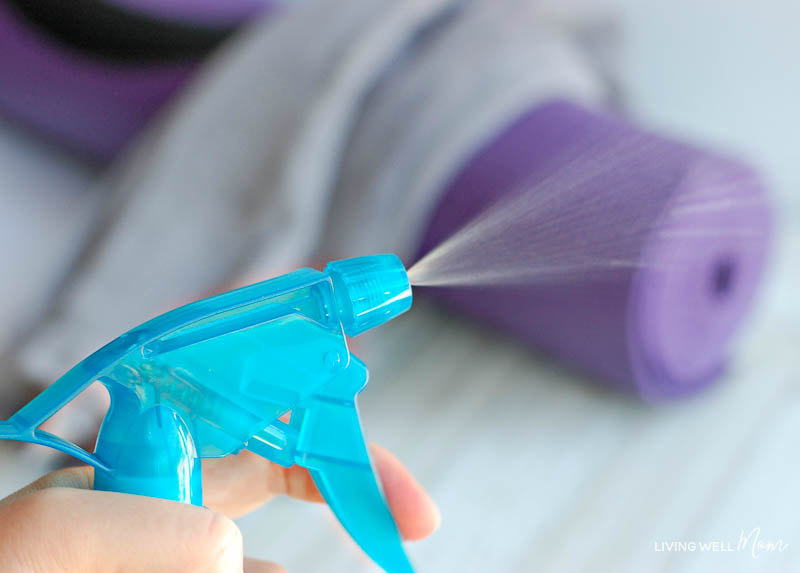 No matter the blend you use, each of these DIY Yoga mat sprays are sure to enhance your yoga experience with cleanliness, energy or calm.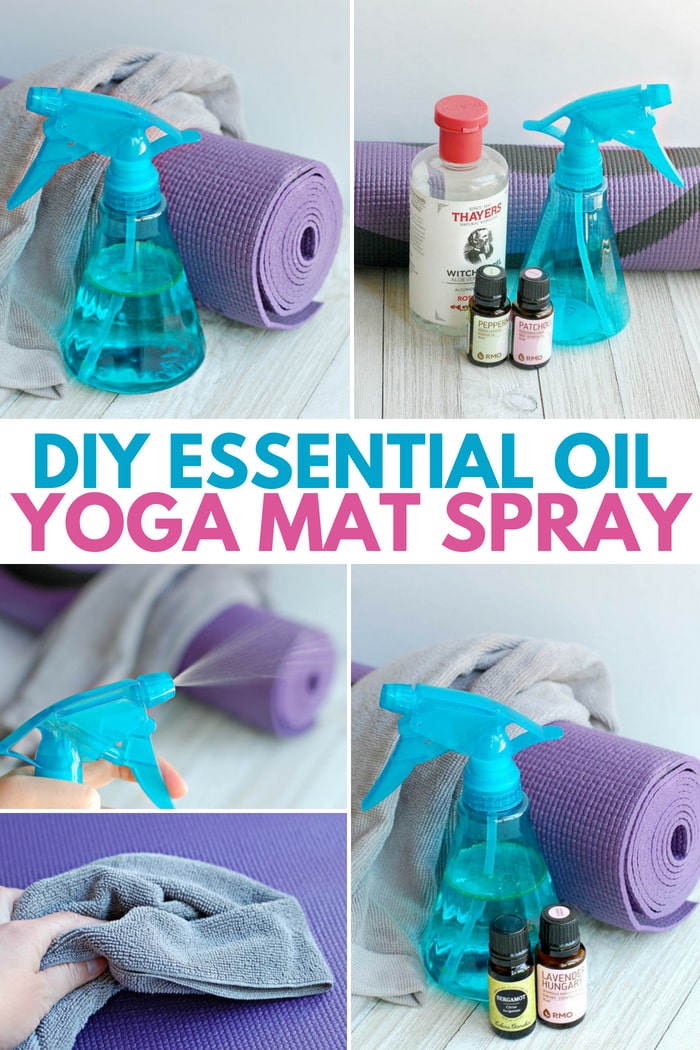 More DIY Essential Oil Ideas:
Which Essential Oil Brand is Best?
For the best results, you will want to choose a high-quality essential oil brand that is 100% pure and offers third-party testing for quality control. Read this post for more info on how to choose essential oils that work for you and your family (beyond the brand.)
My favorite essential oil company is Rocky Mountain Oils, followed by Eden's Garden, and Ancient Apothecary by Dr. Axe
.