Do you know the scented wax melts that slowly melt and leave a lovely scent? You can easily make them at home using all natural ingredients, including essential oils, and avoid the chemicals found in store-bought wax melts.
You can find the original easy homemade wax melt recipe here and today I'll show you how to make Christmas scented wax melts.
I've got three different Christmas scented wax melt varieties for you, including my favorite Christmas tree version. Choose your favorite or make all three!
With a soy wax base, wax dye and different essential oil blends, DIY scented wax melts are simple to make and are a perfect Christmas gift idea that you can give to friends, family, neighbors, and teachers!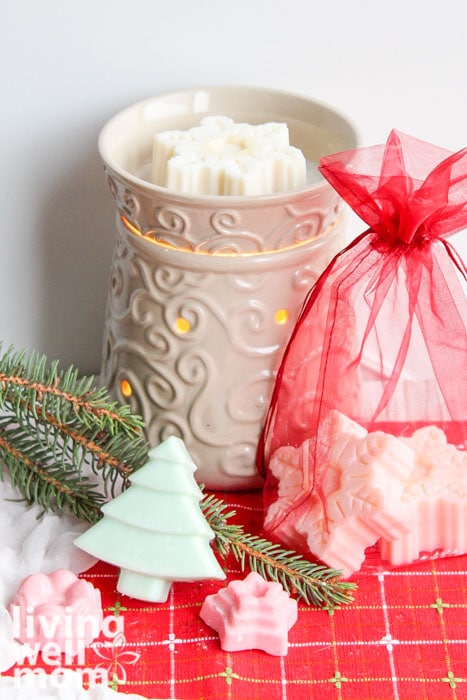 I really love the three varieties this Christmas scented wax melts tutorial has to offer, along with the different shapes. It makes them really festive and fun, and will help your home have the aroma of the holiday season!
Why are these Christmas-Scented Wax Melts so great?
easy to make
all-natural ingredients
use the scents I suggest or customize your own
use a variety of shapes and colors to bring out your own creativity
a lovely homemade essential oil gift idea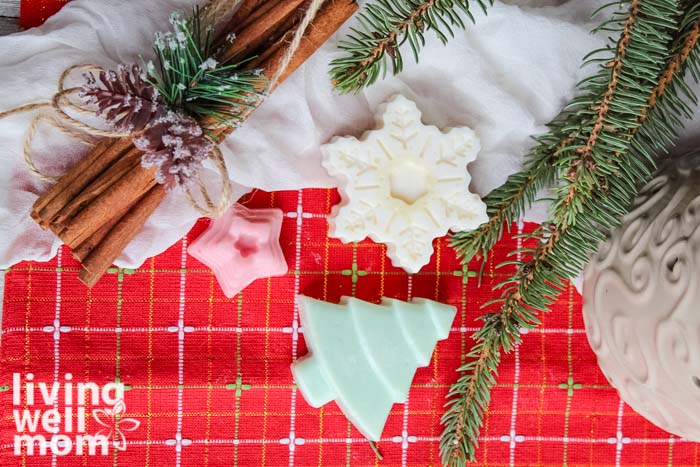 What you'll need to make DIY Christmas Wax Melts:
**The number of wax melts this makes depends on the size of your molds. It should be anywhere from 6-12 wax melts.

DIY Christmas Wax Melts Video Tutorial:
How to Make DIY Christmas Wax Melts
One of the easiest ways I have found to make the best Christmas scented wax melts is to use a crockpot and a plastic crockpot liner to melt the wax. Yes, you can make this in a saucepan over the stove but it is a little messier.
#1 If using a crockpot: Line the crockpot using a crockpot liner
#2 Add 3 cups natural soy wax…
For the crockpot: Cover, turn on high, and allow to melt for 20-30 minutes.
For over the stove: use a large saucepan/double boiler, turn to low-medium heat, and allow to melt slowly while stirring regularly.
#3 Add 25-30 drops of essential oils and stir.
#4 Add 1/2 to 1 or even 2 cubes of the soy wax dye.
Use 1/2 cube if you want a more muted color and use 1-2 cubes if you prefer a bolder color.
#5 Allow the wax dye to melt, then stir well.
#6 Pour into the silicone molds

For the crockpot: First, remove the plastic liner and place the whole thing – crockpot liner with the melted wax mixture – into a glass measuring cup. Then carefully pour the wax mixture into your silicone molds.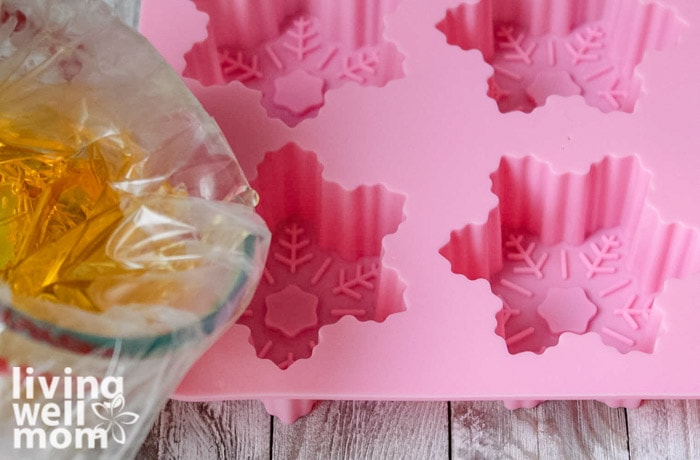 For stove top: I recommend pouring the scented wax mixture into a 2-cup glass measuring cup first for easier, neater pouring, and then carefully pour into your silicone molds.
Tip: for easy clean-up, put the double boiler in the freezer for a few minutes and it should help you peel off the wax.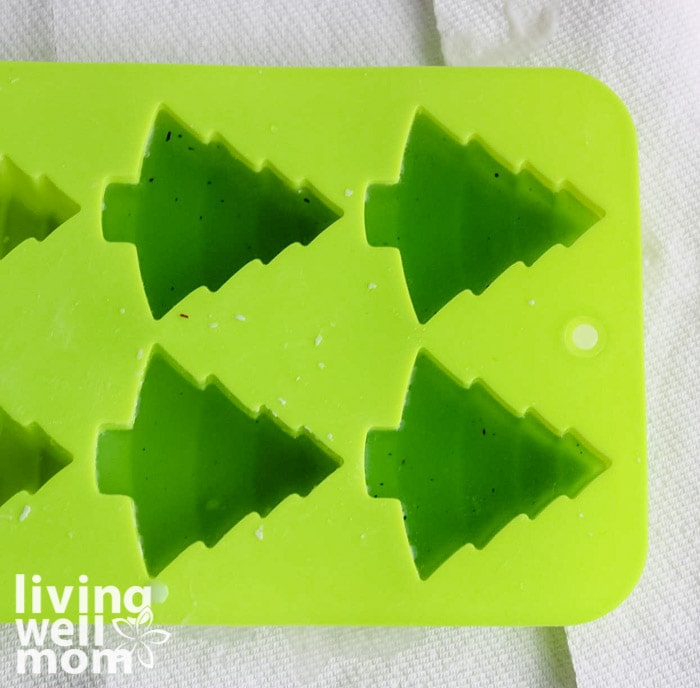 #7 Cool
Wait a few hours for your freshly made homemade wax melts to cool and they are ready to use in your wax warmer!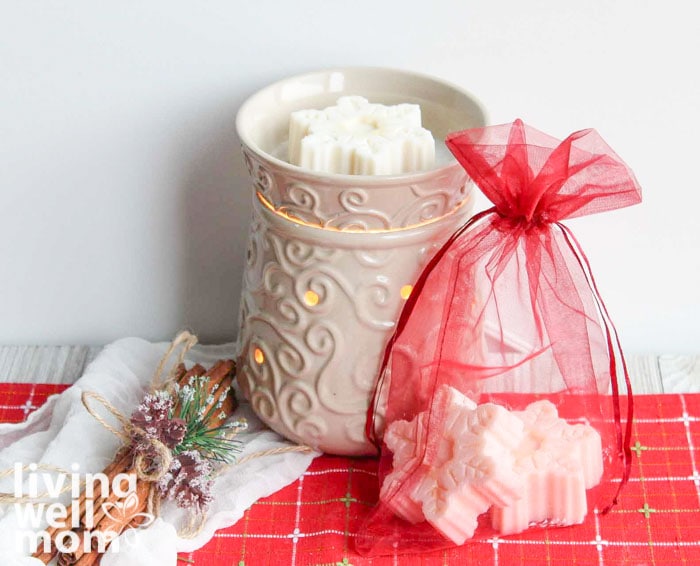 Christmas Essential Oil Blends:
If you want to make Christmas Scented Wax Melts, then see below the recommendations of essential oils to use.
#1 Eggnog Scented Wax Melts
This Eggnog Latte blend from Rocky Mountain Essential Oils has a cinnamon spice and coffee flavor to it.
I used this Eggnog Coffee Latte blend with red wax dye and a few of the shapes in the above mold that seemed to fit with Christmas. You can see below how they turned out when they are cooled. I only used half of a cube of wax dye because I wasn't sure how strong it would be. If you want a bright and bold red, use an entire cube. Because these molds are on the small side, I would recommend using 2-3 of this size, in the wax warmer, at a time.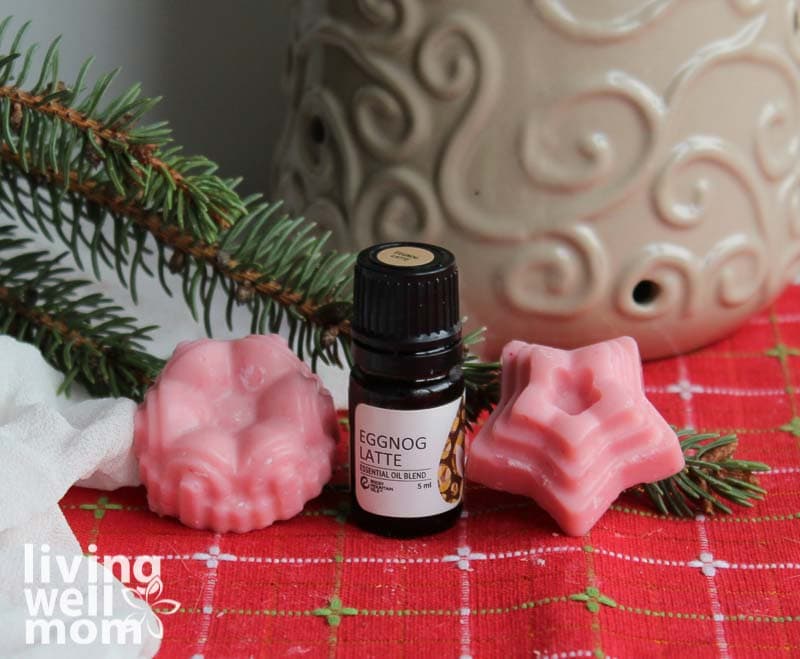 #2 Peppermint Mocha Scented Wax Melts
This Peppermint Mocha blend from Rocky Mountain Essential Oils smells just like how it sounds – chocolate and peppermint combined! Again add 20-30 drops to your melted wax.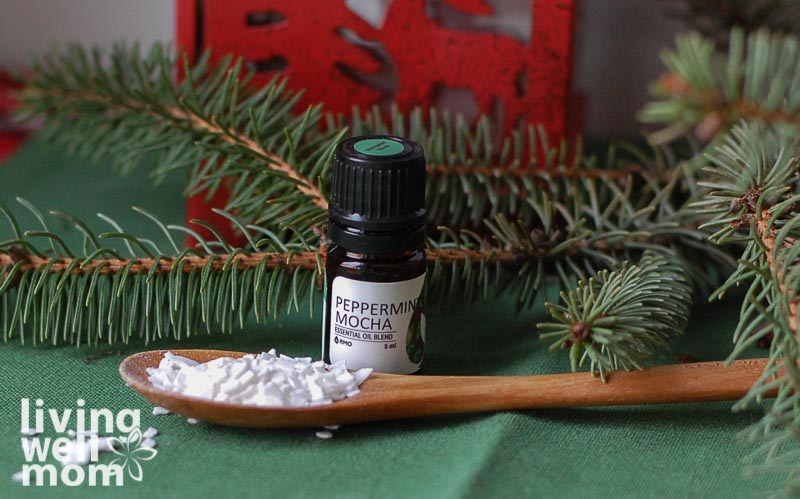 I decided to use this in plain white wax – no color added – for the snowflake molds. These snowflakes are about twice the size as the red wax melts above. I would recommend using only one of these at a time in your wax warmer.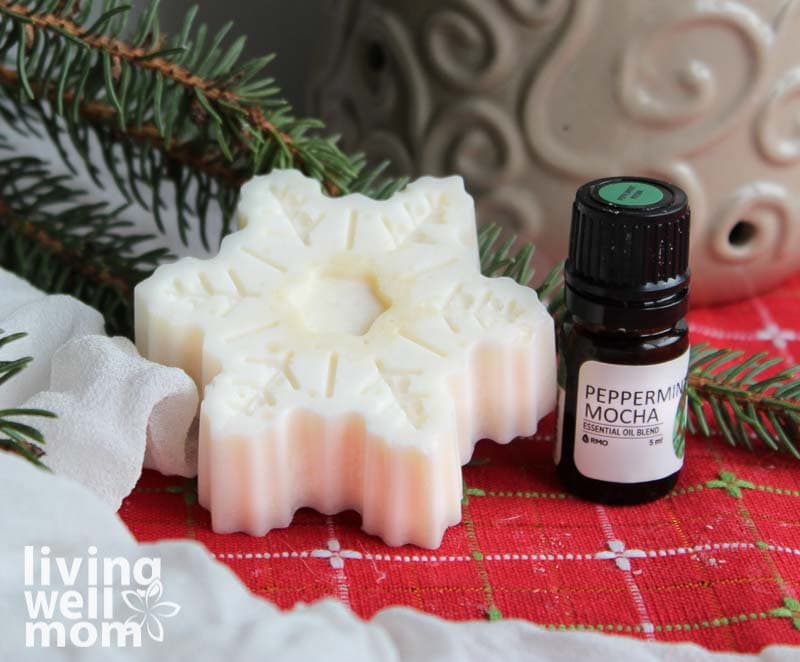 #3 Christmas Tree Scented Wax Melts
Use a blend of pine, balsam fir, & frankincense for this DIY Christmas tree essential oil blend. Add 5-10 drops of each essential oil into your melted wax, followed by a cube of green soy wax melt dye. I only used half of a cube and wish I used a full cube for a deeper green color.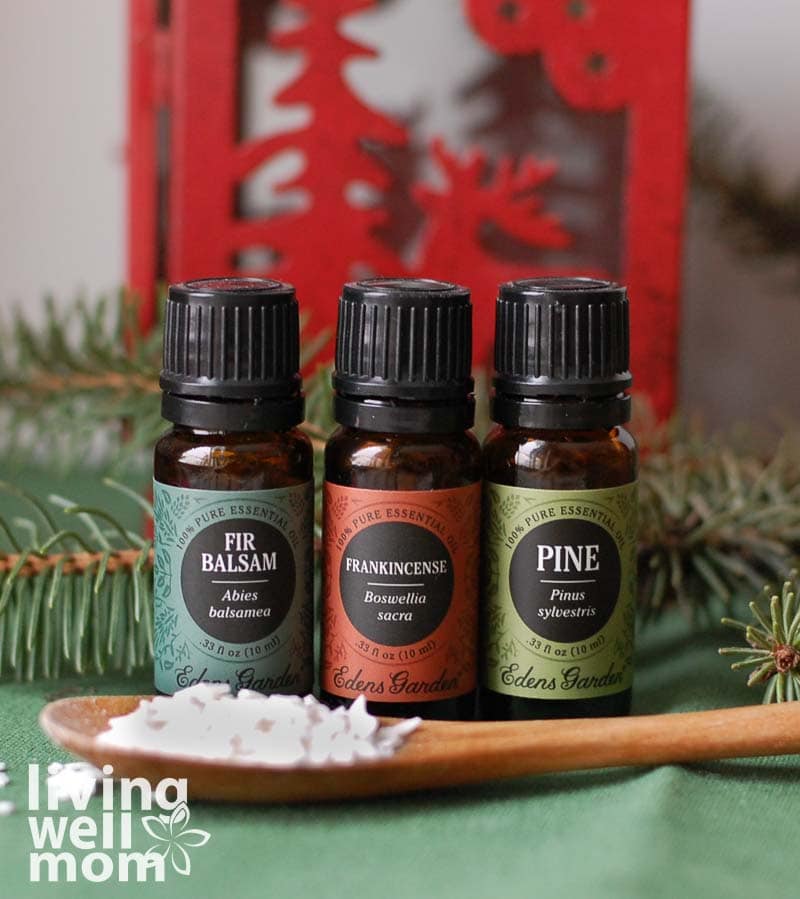 Tips for making DIY Christmas scented wax melts:
If you are looking for easy cleanup when using wax, use the plastic crockpot liner, and use plastic silverware or wooden compostable skewers to stir, so that you can discard them easily.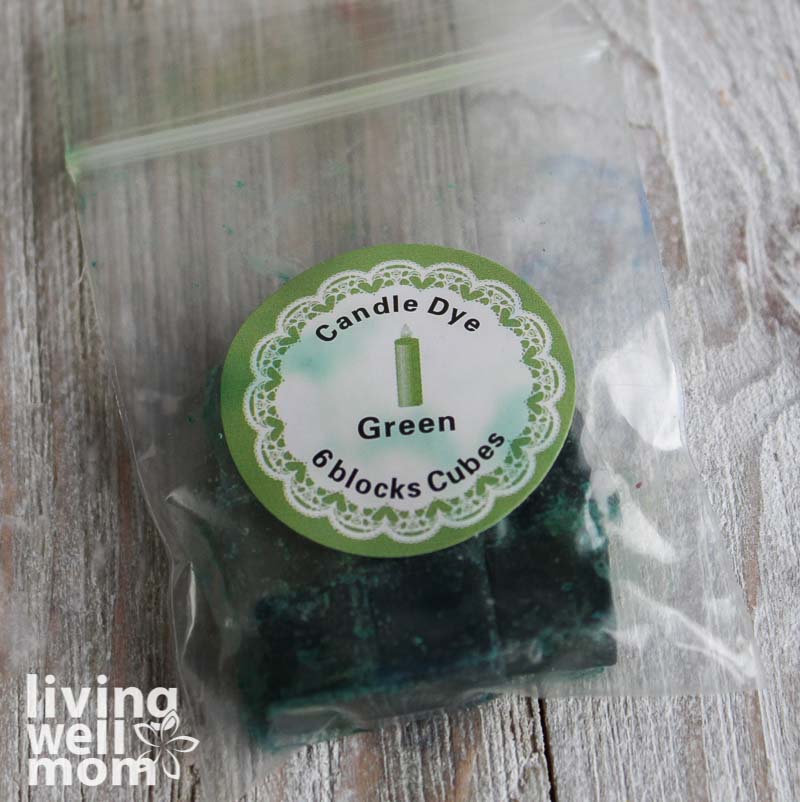 For bold colors, use a full cube of wax color or even 2 cubes.
For the Christmas tree wax melt below, I only used 1/2 cube wax color and you can see that it's very light. I will use 1 cube or more for my next batch.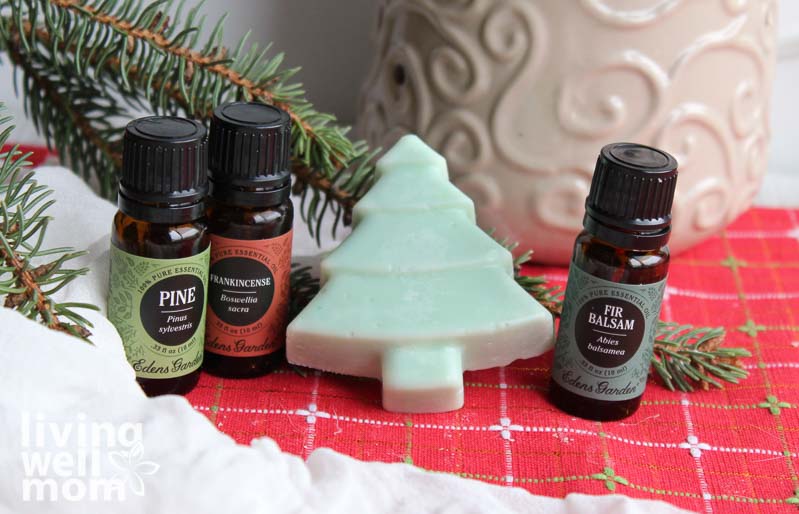 I also learned that food coloring and soap coloring do not mix with wax!
However, if you do have food coloring or soap coloring on hand, it won't be a complete waste. Check out the images below of how the wax melts turned out with food coloring. You will get a speckled look that actually gives the melts a unique appearance.
Go ahead and experiment with different dyes for each of your wax melt designs! These would look pretty with half of a wax dye cube, sprinkled with some food coloring for colored speckles!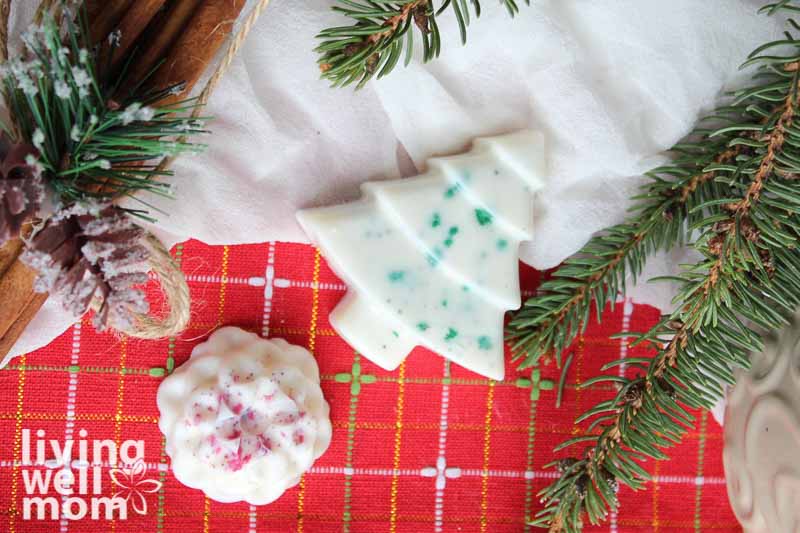 If you want to use these as a gift idea, grab some red organza bags to put your wax melts in. Then add a gift tag and you have yourself a great gift idea. Maybe even include the actual bottle of essential oils to go with the melts!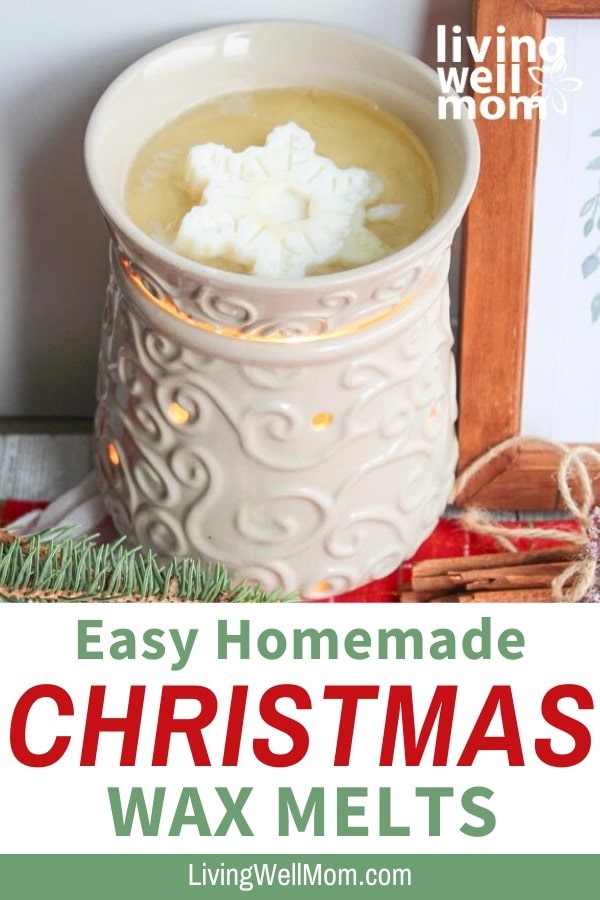 Tips for Using DIY Christmas Wax Melts
When you add your wax melt to your warmer, you will need to wait 15-20 minutes for it to heat up, for the wax to start melting, and for the aroma of your essential oils to diffuse throughout the room.
Using essential oils rather than synthetic fragrance oils will decrease the amount of time the aroma stays strong. Add more essential oil drops as you need it to keep the scent alive. Just add 1-2 drops into the melted wax mixture in your warmer and you've refreshed the scent!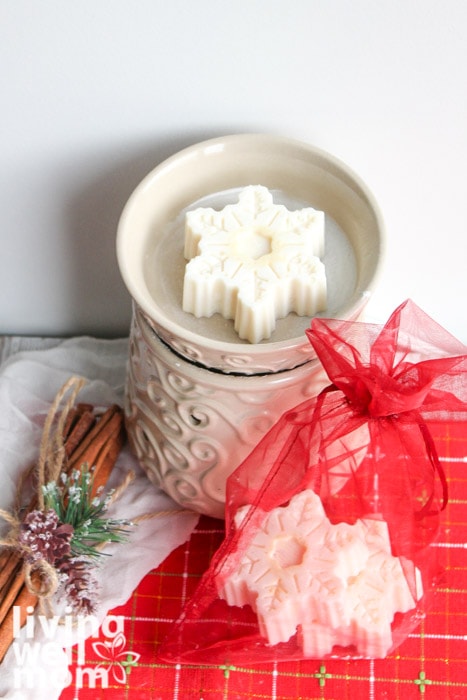 Whether you want your house to smell like eggnog flavored coffee, peppermint mocha, or a Christmas tree, these three varieties of easy DIY Christmas wax melts are sure to help bring the spirit of Christmas into any home!
Tip: After you have used this wax in a wax warmer, you can go ahead and repurpose your wax and make homemade Christmas candles with it!
This also creates a fantastic decor item for any mantle or end table, along with some evergreen branches or framed holiday wall art. Your wax warmer will come in handy for sure to help celebrate the most wonderful time of the year!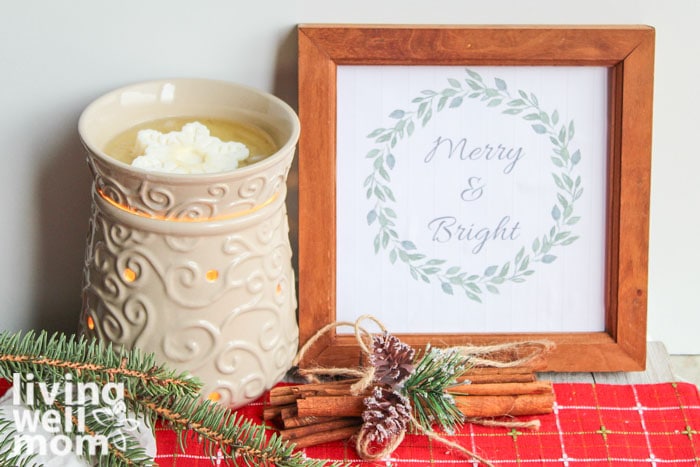 How to store your homemade wax melts:
You can store your homemade Christmas scented wax melts in a sealed ziploc bag, a large mason jar, or sealed container. It's best to store them in an air tight container to prevent losing the essential oil scent.
For the best results, I recommend using your homemade wax melts within a year, but they don't really go "bad" in my experience.
More Christmas Essential Oil Ideas:
Print
Easy DIY Christmas Wax Melts (3 Varieties)
How to make easy DIY Christmas scented wax melts with essential oils – perfect homemade gifts! Includes 3 festive scents – peppermint mocha, Christmas tree, and eggnog latte.
Author:
Prep Time:

10

Cook Time:

20

Total Time:

30
Instructions
Line your crockpot with a crockpot liner for easy clean-up. (Or use a large saucepan over the stove.)
Add 3 cups natural soy wax pellets into your slow cooker or sauce pan.
For the crockpot, melt on high for 20-30 minutes. For stovetop, melt on low-medium heat stirring often.
Once the wax is melted, add 25-30 drops of your preferred essential oil blend.
Add the soy wax dye and allow it to melt. Use 1/2 cube for soft muted colors or 1 cube, even 2 cubes for a bright bold color.
Mix everything together.
For the crockpot, remove the plastic liner with the melted wax mixture inside and place it into a glass measuring cup. For the stove, pour the mixture into a glass measuring cup (you can line it with a gallon ziploc bag for easier clean-up if you prefer.)
Pour the melted wax mixture into your silicone molds.
Cool for a few hours.
Use in your wax warmer.
Notes
Tip: Because the essential oils are natural, the scent does not last as long as the synthetic fragrances do. You may want to add 2-4 extra drops of your desired essential oil blend to the warmer to renew the scent.