Once in a while, you stumble upon a place that's so fantastic, you realize you've found a real gem. Clark's Trading Post in Lincoln, New Hampshire, is one of those unforgettable experiences.
With a little history and a lot of fun, the whole family will have an amazing day between the train ride, the live bear shows, a water raft ride, and of course the Wolfman and much more!
Clark's Trading Post kindly offered my family tickets in return for sharing with you; we couldn't wait to visit this summer!
I've lived in New Hampshire for most of my life, but I've never visited Clark's Trading Post before. It didn't take me long to realize how much I've missed out because my whole family loved this charming family-owned theme park!

13 Reasons Clark's Trading Post is an Unforgettable Family Experience:
1. It's Family-Owned
Clark's Trading Post opened in 1928 as "Ed Clark's Eskimo Sled Dog Ranch." The Clark family still owns and operates the park today; up to 20 family members and the 5th generation still work there!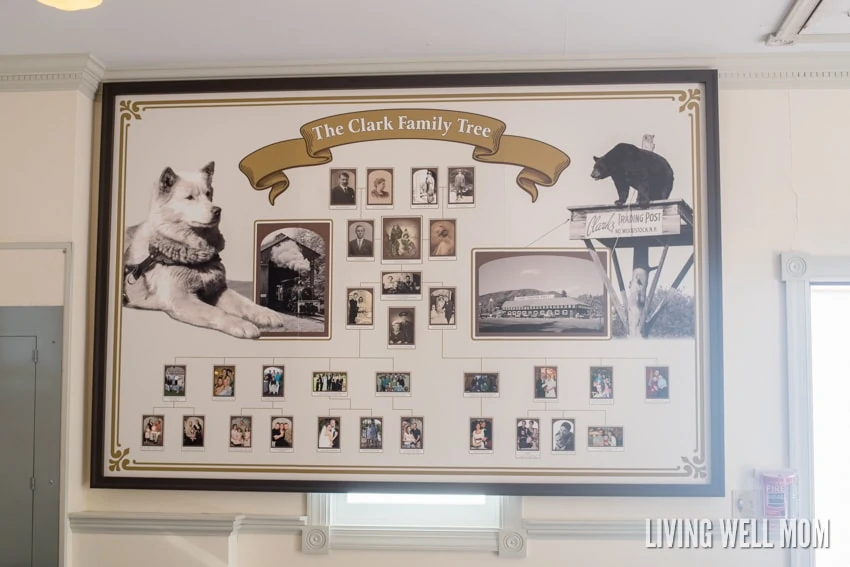 We could feel the family-owned atmosphere at Clark's Trading Post right from the start. Prices are reasonable, the park is kept immaculately clean, and we could sense the family pride all over the place.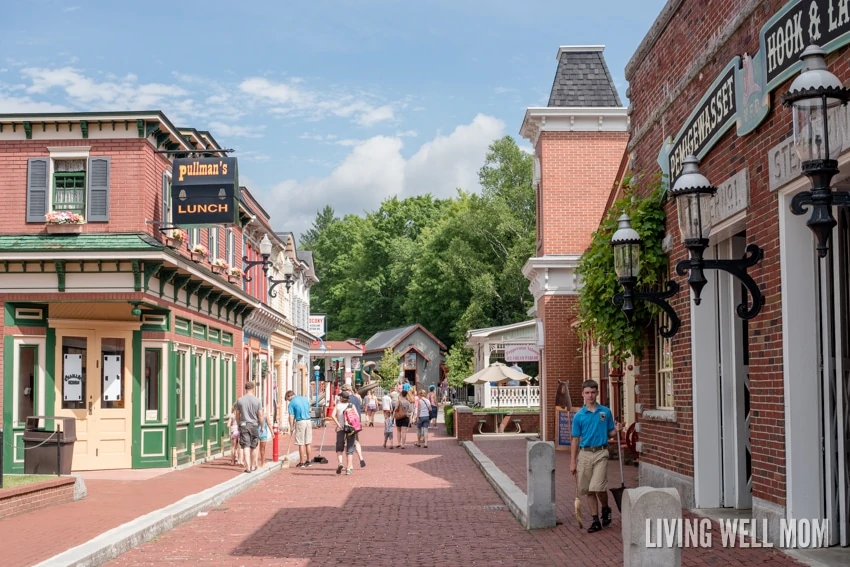 2 The Live Bear Show
One of the highlights of Clark's Trading Post is the live trained bear show!
The original founders began training and showing black bears in 1949 and it's been a favorite part of the park ever since.
It was an amazing experience to watch Murray and Maureen Clark guide two bears through a show. Murray did a wonderful job explaining as well. It was obvious that both he and Maureen – the entire family really – took great pride in the bears and loved them.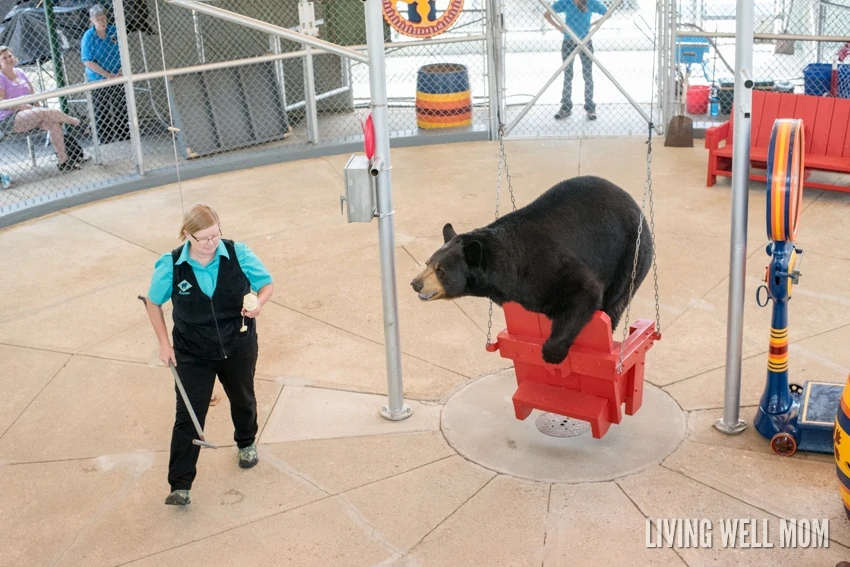 A few interesting things we learned:
The bears learn their tricks through positive reinforcement; whips are never used to force the animals. Their favorite treat? Vanilla ice cream!
We were told that it takes about 3 years to train a bear and they don't all turn out to be show bears. It was great to hear that the bears are not forced to perform if they don't want to.
When bears retire, they get to live out their lives in a nice bear "retirement" community across the road from Clark's Trading Post. Apparently Victoria, one of their newly retired bears, gets to choose from two houses to live in over there!
We got to see Pemigewasset (named after a nearby river) perform first. He dunked basket balls, rode a scooter, sat in a swing, and balanced on a rolling barrel! He was amazing!
Next, we were introduced to Tula, a cute black bear with a unique white birthmark shaped like a butterfly on her chest.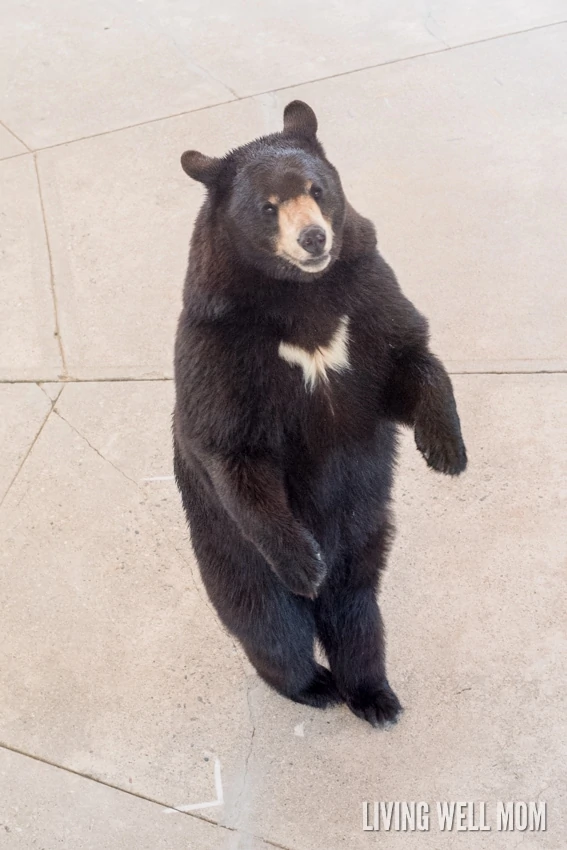 Tula also rode a scooter, caught a frisbee, walked on two legs, dunked a basketball in the hoop, and more! And did she love her vanilla ice cream reward!!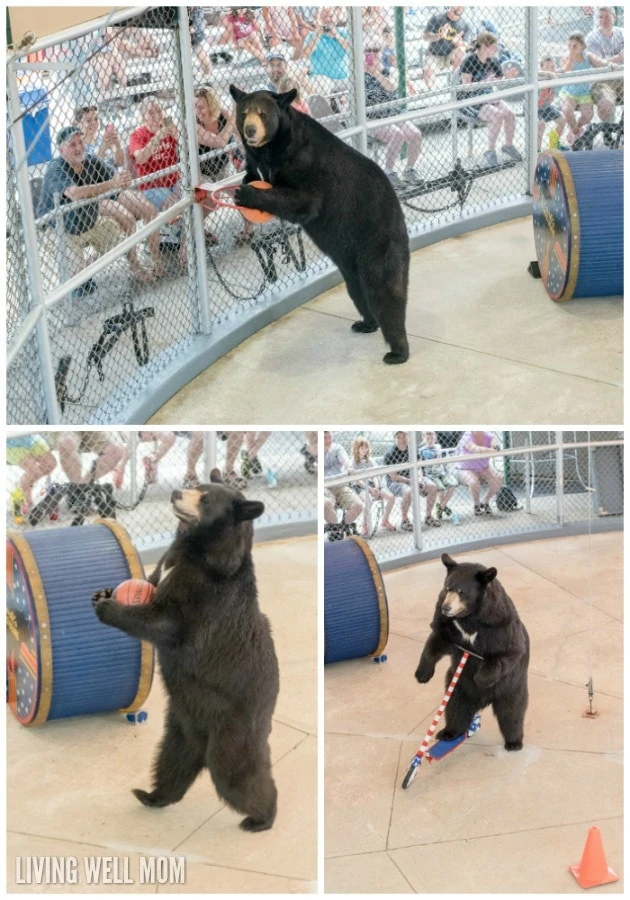 Interesting fact: wild black bears only live, on average, for 4 years here in New Hampshire. The bears at Clark's Trading Post live much longer – in fact, they hold the record for oldest black bear ever – Rufus, who lived to 38 years old! He is buried on the grounds at Clark's Trading Post along with some other bears and you can see his tombstone.
We also learned that some of the trained bears have been rescued as a small cubs. They could not have been returned to the wild, so they now live out their lives comfortably at Clark's.
Did you know that black bear cubs are born in January and weight less than a pound at birth?!
3 The Train
Clark's Trading Post is home to the White Mountain Central Railroad. It's a 2.5 mile long, 25 minute journey through the beautiful White Mountains.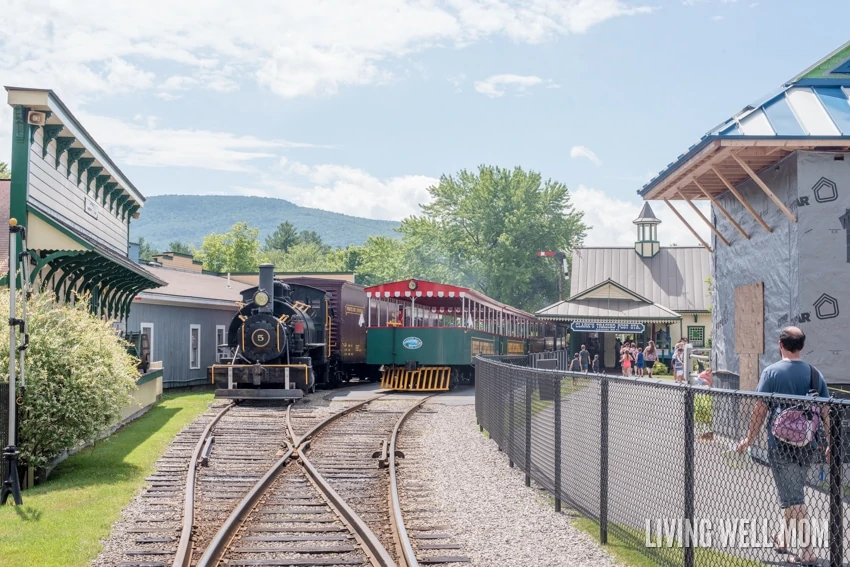 The train is run by a wood-burning, steam-powered locomotive; it was truly a fantastic experience to ride on a such a huge "real" train (as my kids called it.) This isn't a small train for kids; this is the real thing!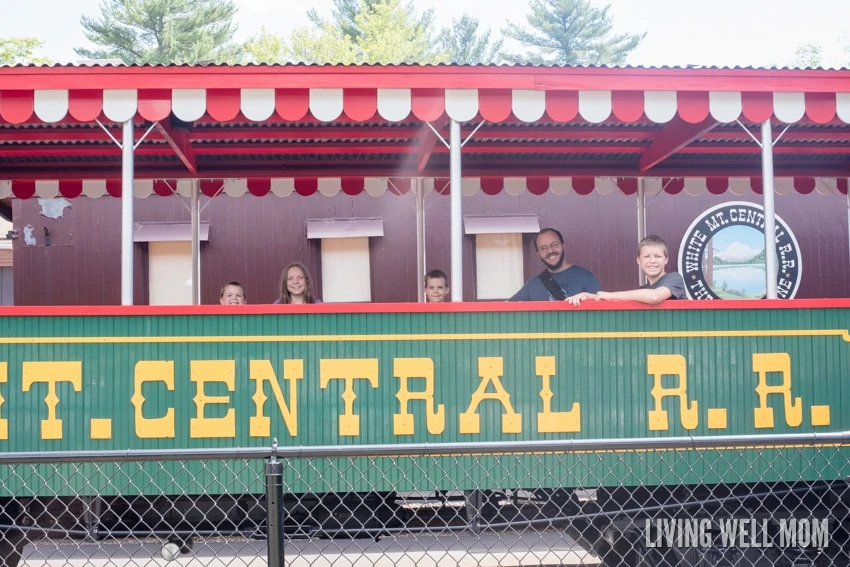 The train takes you over a covered bridge, originally built in 1904!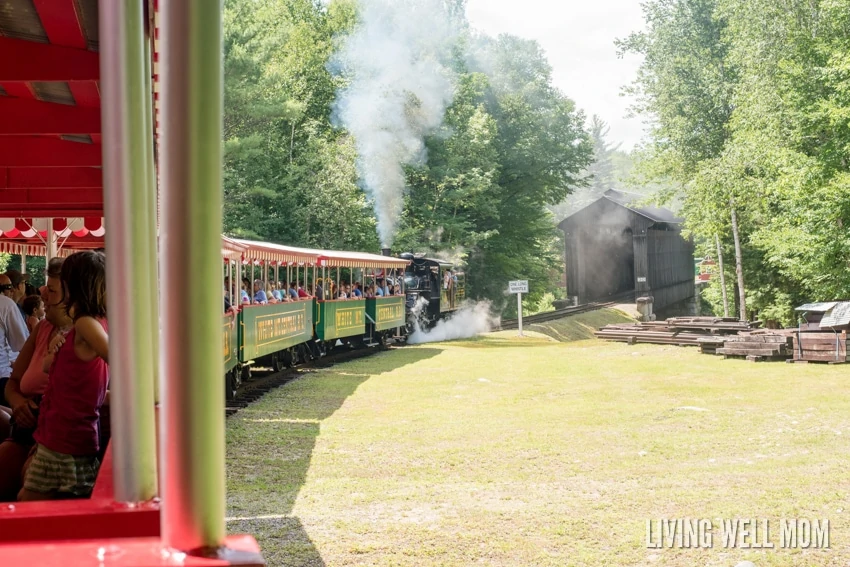 4. The Wolfman
A visit to Clark's Trading Post isn't complete without catching a glimpse of the Wolfman as you ride the White Mountain Central Railroad!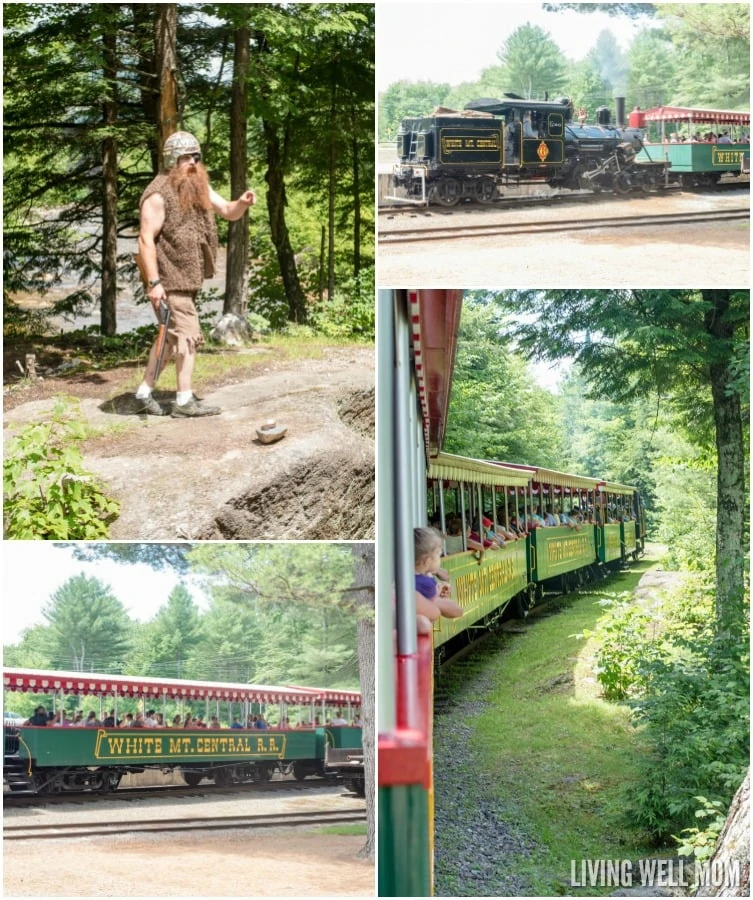 The Wolfman has been chasing the train for decades; apparently he has found an "Unobtanium" mine and can't stand to have people on his land.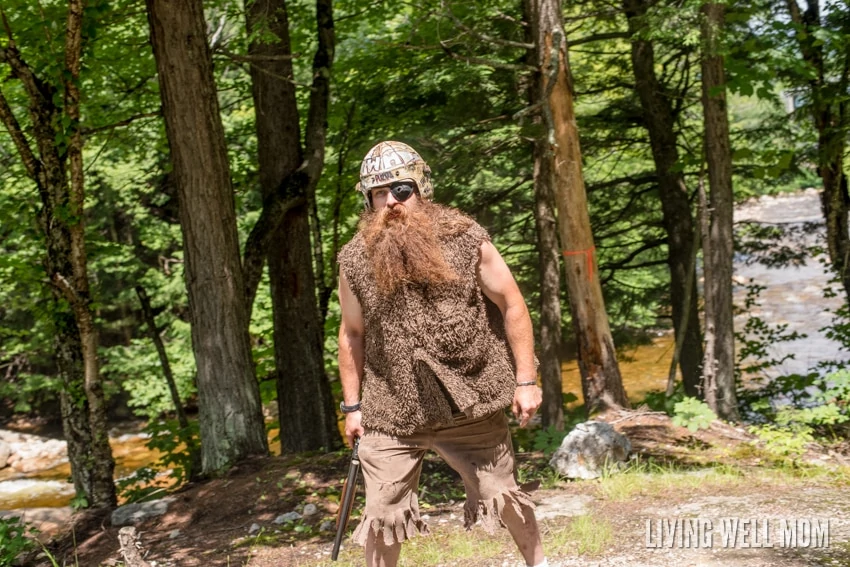 It was so much fun to see the Wolfman chasing us! On the way back, we yelled "Scram, you old goat!" and he became even more angry. Good thing he won't cross the covered bridge!
The Wolfman has become quite legendary at Clark's Trading Post, for good reason!
5. Old-fashioned Photos
Kilburn's Photo Parlor is an amazing experience by itself. Here, you can choose a theme and your family can get dressed into costume and get old-fashioned photos!
It's an additional cost for this and at first, I hesitated, but I am so glad we did it. We ended up with a family photo I will always treasure and it was so easy too! The staff at Kilburn's Photo Parlor quickly went to work picking out costumes for each of us which we easily slipped on over our normal clothes, then adding props to make it even more authentic to the period and scene we chose, and finally taking our pictures.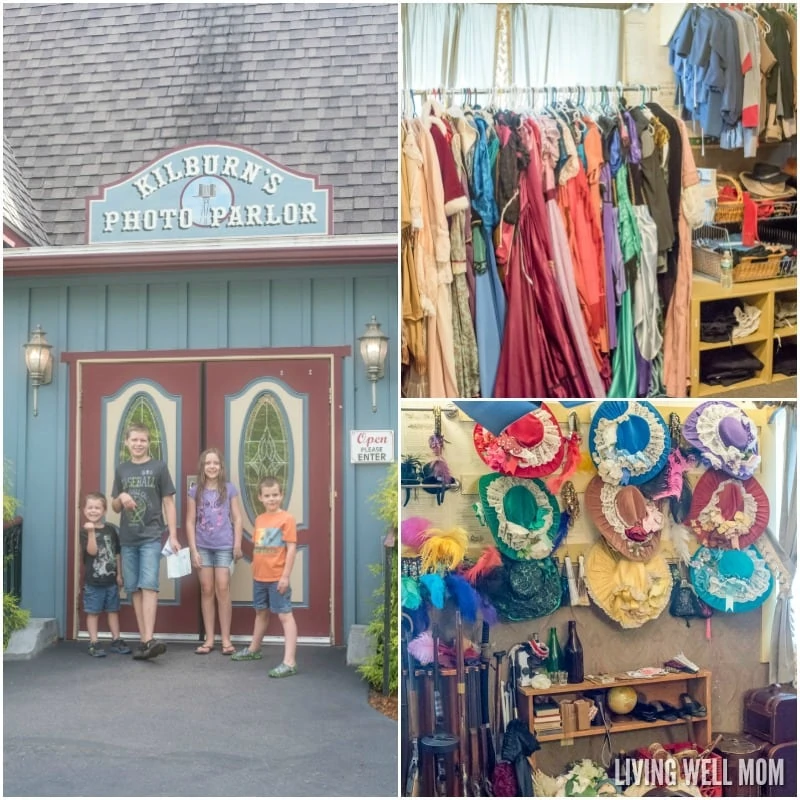 We chose the "Trapper" family theme because it seemed most suited to my crazy bunch and here's the result: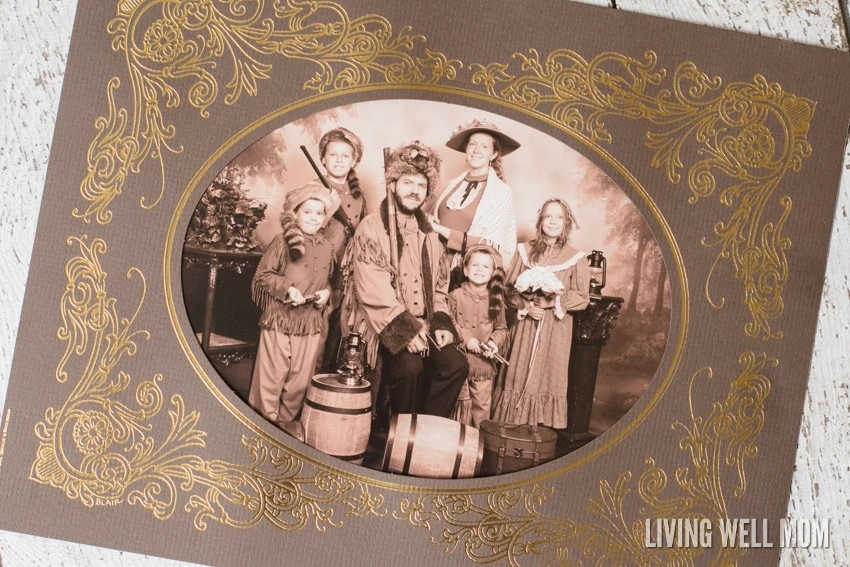 I highly recommend you check out this photo parlor; you will LOVE it!!
6. Anaconda Escape Water Raft Ride
With 300 feet of twists and turns, this water raft ride is brand new at Clark's Trading Post this year!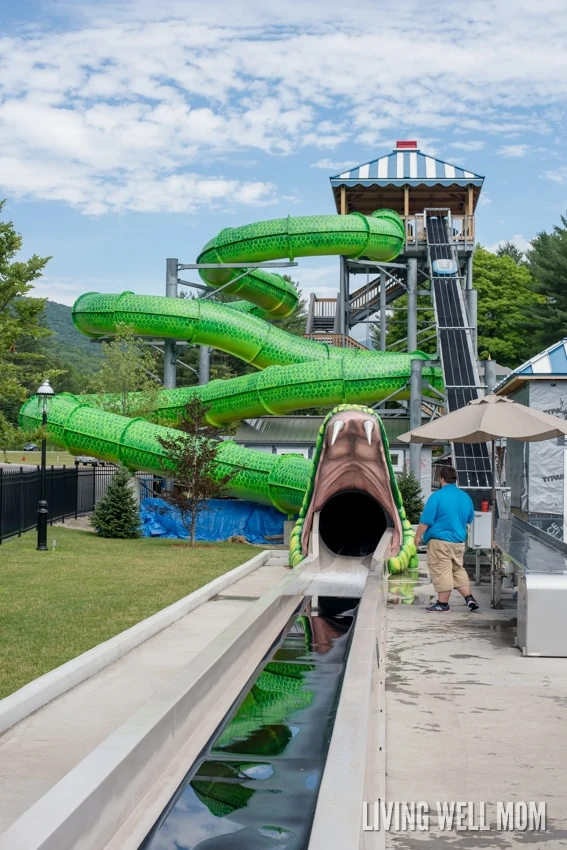 It's perfect on a hot summer day because you can ride fully clothed, but you will get a little wet. The Anaconda Escape takes you down a closed dark tunnel so it's quite a fun adventure!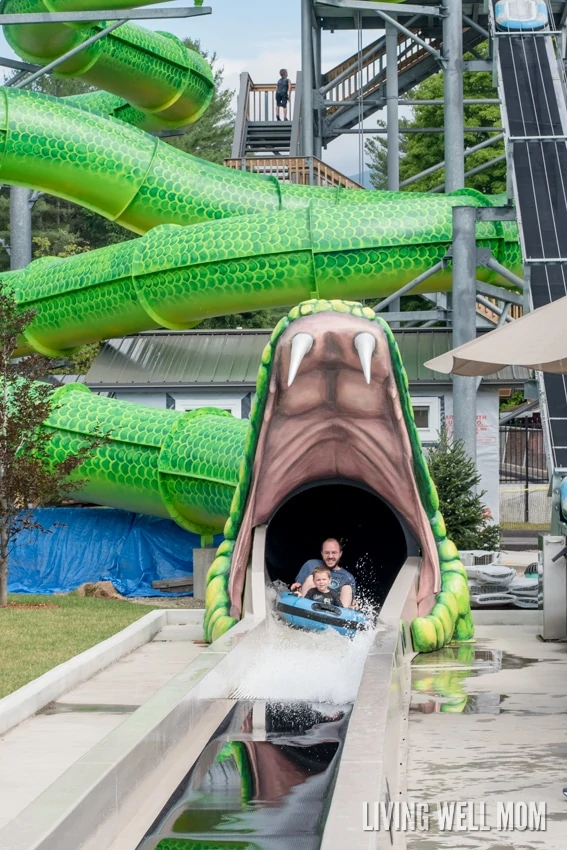 We all loved this fun water ride!
7. Merlin's Mystical Mansion
We didn't know what to expect as we knocked on the door of Merlin's Mystical Mansion and waited to see if the wizard's butler would allow us to enter. It is a mystical mansion, after all. I won't spill the beans, but I'll just say that this mansion was pretty awesome and we were brave enough to go back twice!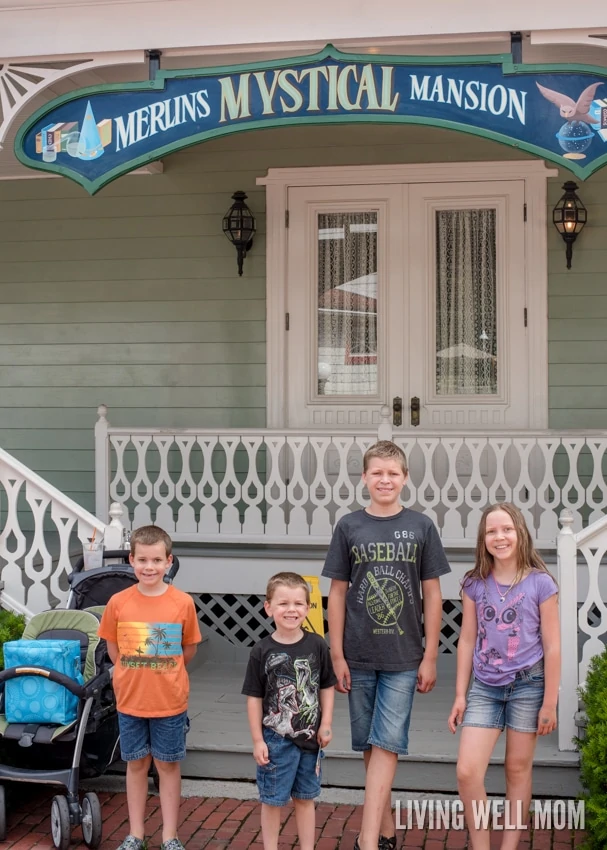 Let's just say that it's built on a "gravity point" so things might change inside….
Will you brave the wizard at Merlin's Mystical Mansion?
8. Segway Park & Safari
Wolfie's Segway Park is the first Segway park in the United States. The staff showed us the ropes and Nate, Nathan, Emily, even Joshua, got to try operating a Segway for a 3 minute turn.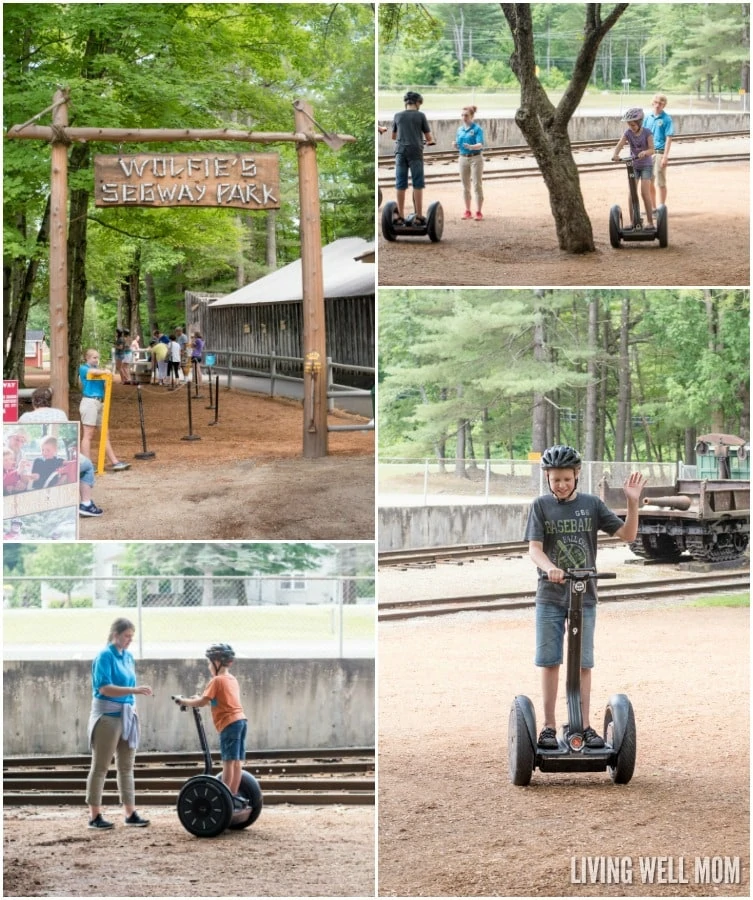 There's a 45 minute Segway Safari tour that takes you into the Wolfman's Territory, for an additional cost of $25 per person. But the 3 minute ride is included with a regular ticket at no additional cost.
The kids and Nate loved riding Segways for the first time; it was a fun experience!
Luke wasn't tall enough for this attraction, so I let him try out the gemstone mining near by. He was so excited to sift his rocks through the water and discover some gems!
9. Tuttle's Rustic House
It was fun to learn about the wacky ways of the Tuttle family as we toured their home, from Ezra Tuttle's alarm clock to guessing which direction the pool balls would roll.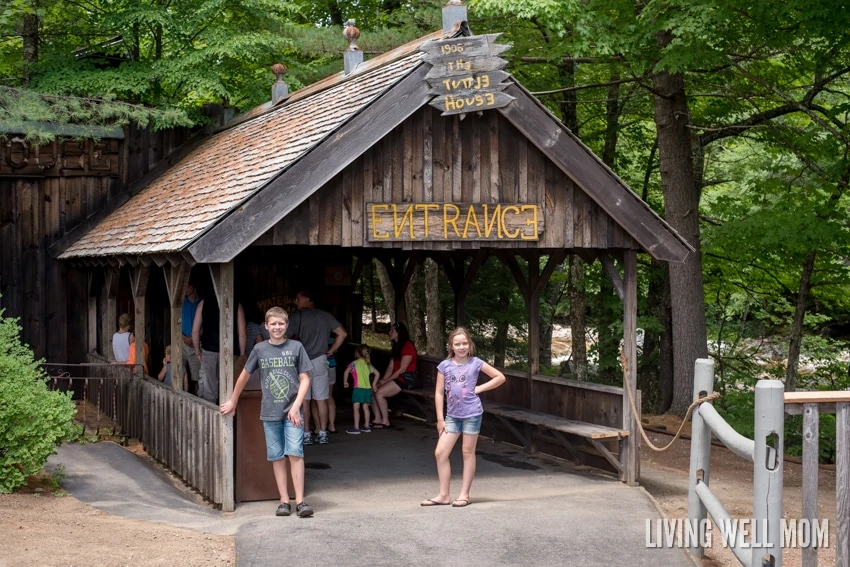 This was definitely another don't-miss feature at Clark's Trading Post!
10. Climbing Tower
Made to look like our beloved Old Man of the Mountain, this 30 foot climbing tower was great! Nathan did a great job of scaling to the top, while Emily got pretty close.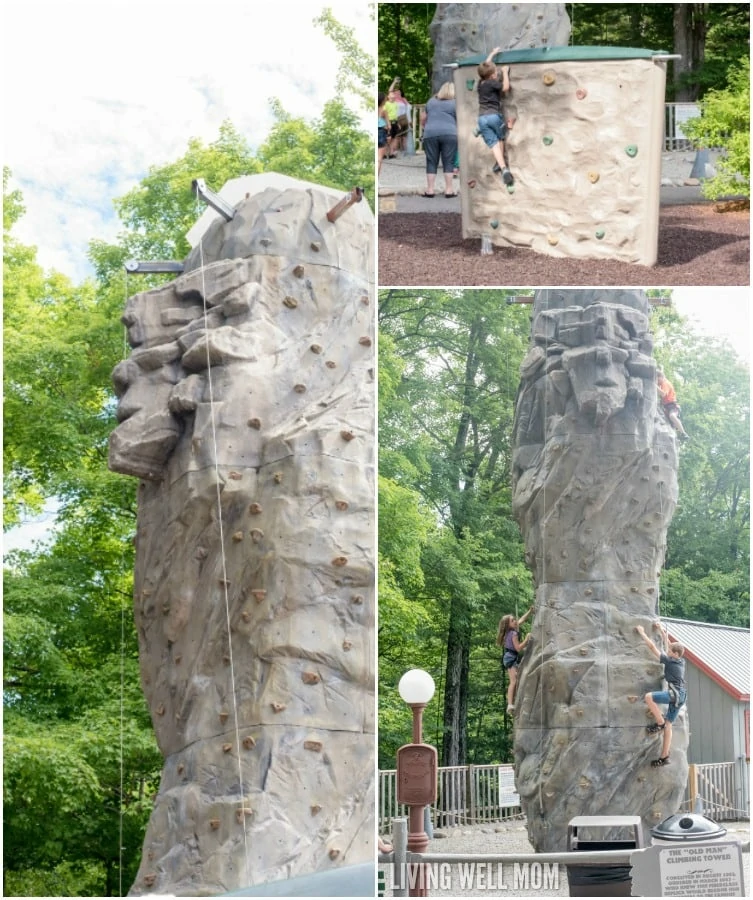 Luke was too small for this climbing tower, but he loved the mini climbing tower just for his size.
11. Blaster Boats
You'll get pretty soaked if you attempt the Blaster Boats at the Old Mill Pond. If you don't want to get that wet, you can stand on shore and blast your friends or relatives with a coin-operated water squirter.
12/ Chinese Acrobats
With high-flying hoop diving, incredibly strong pole climbing, and more tricks, the Yandong Chinese Acrobatic Troupe offered an impressive show. We really enjoyed it!
13. Main Street
Walk along the brick main street of Clark's Trading Post and find a little history. From old fire engines to a Moxie car, there's some wonderful things to discover.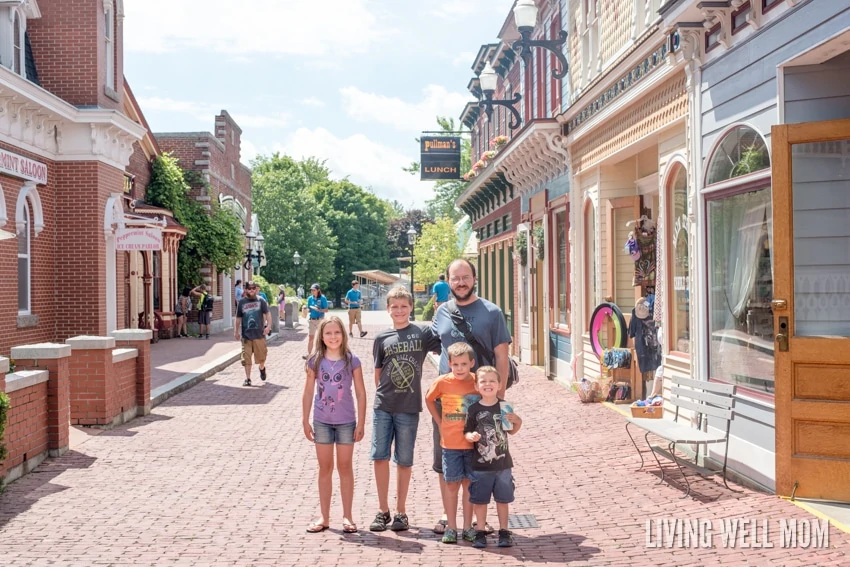 At the Museum, we saw a stuffed 2-headed calf among many old treasures, along with a beautiful collection of Queen Elizabeth and Princess Diana memorabilia, Old Man of the Mountain collectibles, and many more things.
A few more things:
I was happy to see gluten-free choices at Clark's Trading Post. We ordered hamburgers with gluten free buns and some deliciously tasty fries (technically not gluten-free) at the Whistle Stop Snack Bar for lunch. The food was tasty!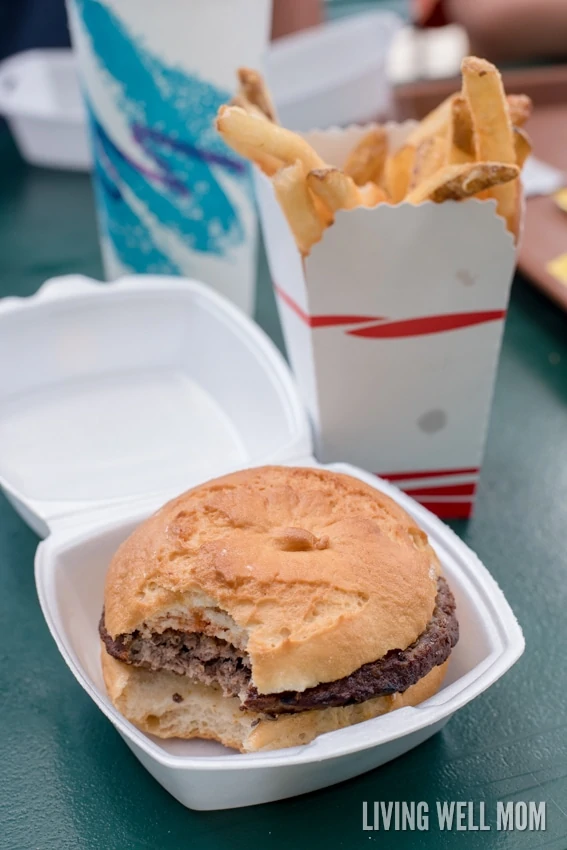 Later, we enjoyed ice cream sundaes at the Peppermint Saloon. The kids loved assembling the toppings on their ice cream sundaes!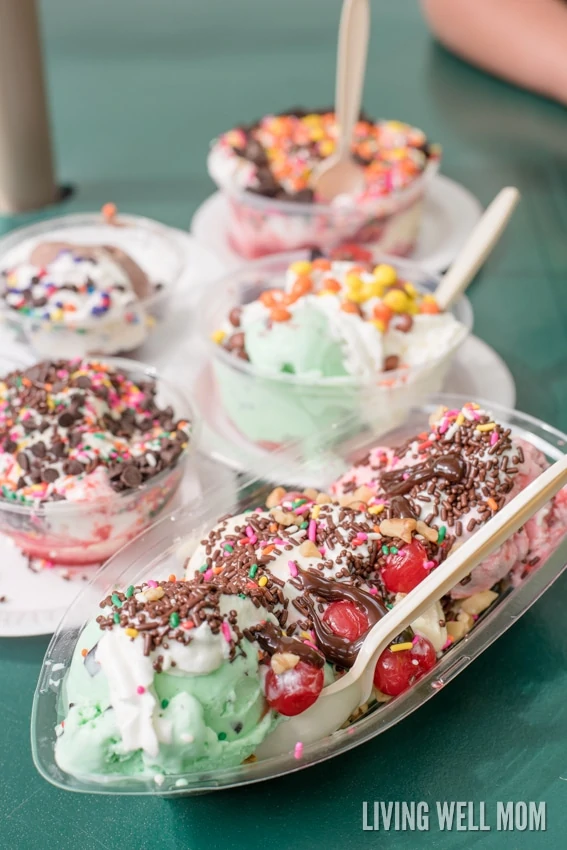 There's also some lovely gift shops at Clark's Trading Post where you can find gifts for anyone! At the end of our day, we finished up with some delicious home-style fudge from Clark's Main Gift Shop.
We spent a full day at Clark's Trading Post and had an incredible time. We can't wait to go back again!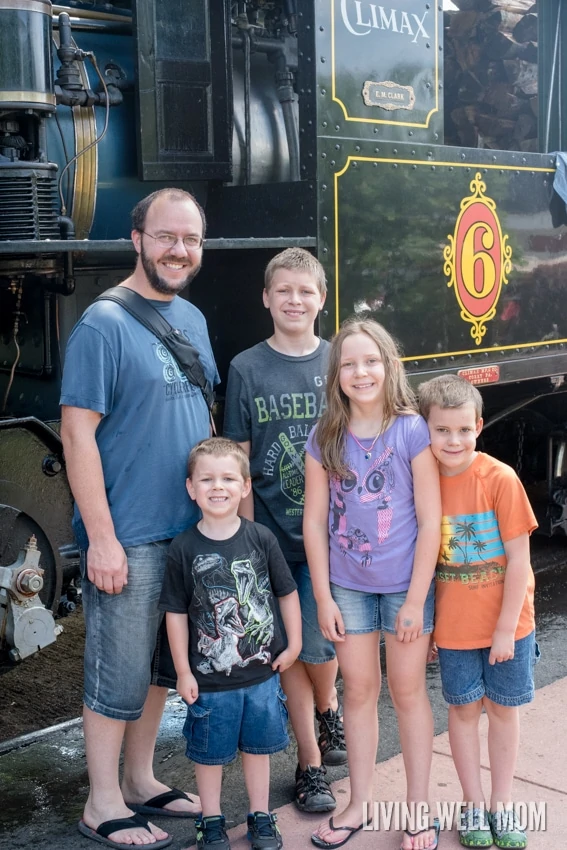 Tickets are $22 (ages 4-64 | toddlers 1-3 are free | seniors 65+ are $20) and this includes all the rides, all the shows, all day long.
They offer a military discount for both active, retired, and veterans for $20 per ticket.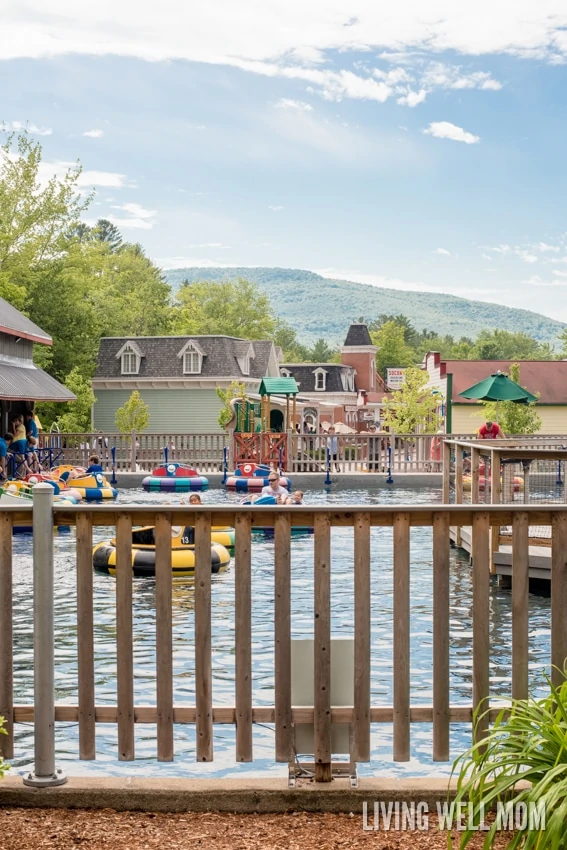 What will be your family's favorite part of Clark's Trading Post?!