We've had chickens for almost a year now and I can't imagine life without our girls (and 3 boys.) We have 27 chickens now and there's something so peaceful about listening to the chickens cluck around the yard. And the fresh eggs are amazing!
I love my girls and everyone around me knows it. I've become the "crazy chicken lady" among my friends and even my acquaintances. Even people on Facebook I barely know send me chicken photos all the time! "I thought of you when I saw this, Erika."
But yes, I'm the crazy chicken lady.
If you're interested in having your own chickens but don't know how to start, check out my Raising Chickens 101.
I thought it would be fun to come up with a few reasons why someone might be a crazy chicken lady. You too?
You Might Be a Crazy Chicken Lady…
1) You talk to your chickens and they answer you. "How are you today, Patti?" (squawk) "I'm fine too. Thanks for the yummy egg!"
2) You talk about your chickens constantly and have to stop yourself because not everyone thinks chickens are as wonderful as you do. So sad!
3) You have a house chicken and you know what a chicken diaper is.
4) You save food for the chickens – "Save some of that squash, Meredith will love it!"
5) All your chickens have names and you know who each and everyone is. And yes they have their own personalities.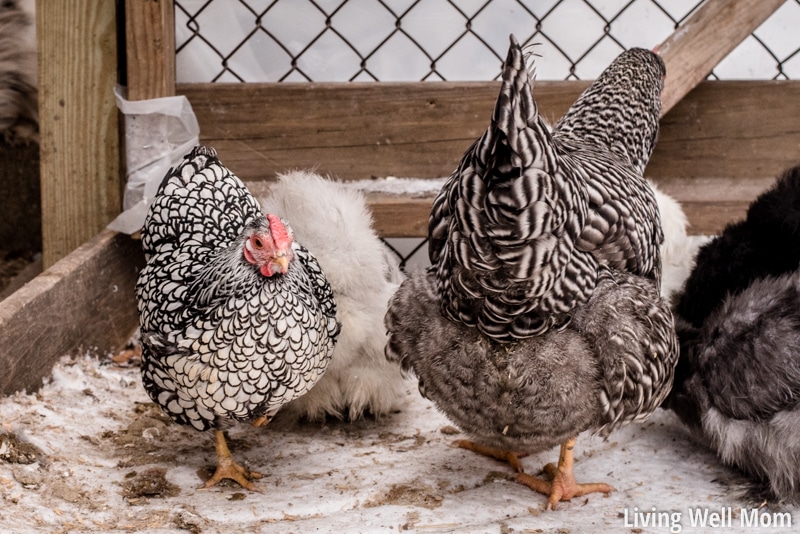 6) You know what chicken math is because you have it. Just ask your husband. (It's when you plan to get 3 silkie chicks and come home with 5 and a full-grown rooster!)
7) You don't mind being woken up by the rooster crowing in the morning. (And you get a lovely white noise machine
for those days when you do mind.)
8) You are okay with your husband putting your kitchen remodel on hold while he works on finishing the chicken coop. Because that's more important.
9) You know what different squawks and clucks mean. There's "I'm hungry!" "Let me out of the coop now! Why did you take so long getting up today!?" Then there's the funny "I-have-to-lay-an-egg" clucking and also the famous "egg song" that hens sing after they lay an egg.
10) You think that chickens are better entertainment than any TV show could ever be.
11) Everytime you go outside, you're quickly surrounded by at a dozen chickens who follow you everywhere.
12) You have to call your son outside to do chicken 'herding' when you try to drive away because your car is surrounded by a flock of chickens who want to go with you.
13) You've brought a chicken with you to pick up the kids from school.
14) Two of your chickens lay eggs in your house. Yes, they're housetrained because chickens don't poop in their nestboxes and they consider your house to be their giant nestbox.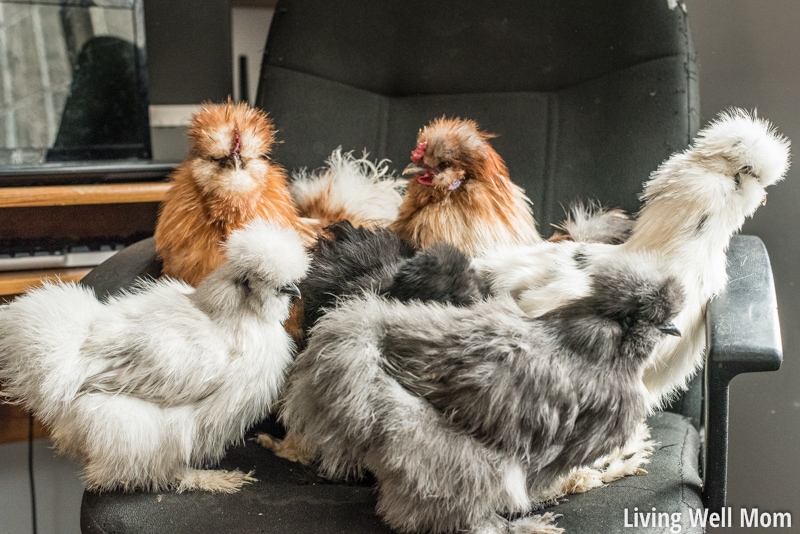 15) And because you can't get enough of chickens, you have signs and calendars and boots and other things around the house that are all chicken-themed.
16) You make your kids breakfast and then you make a separate pot of warm oatmeal for your chickens before you eat your own breakfast.
17) You keep a sick chicken in your bathroom in a large bin with shavings and carefully keep the lights off (and remind your husband to be quiet) so you don't wake her.
18) You've asked your husband to build an addition onto your already large coop so you can get more chickens. "While you're at it hon, why don't you just make it three times as big."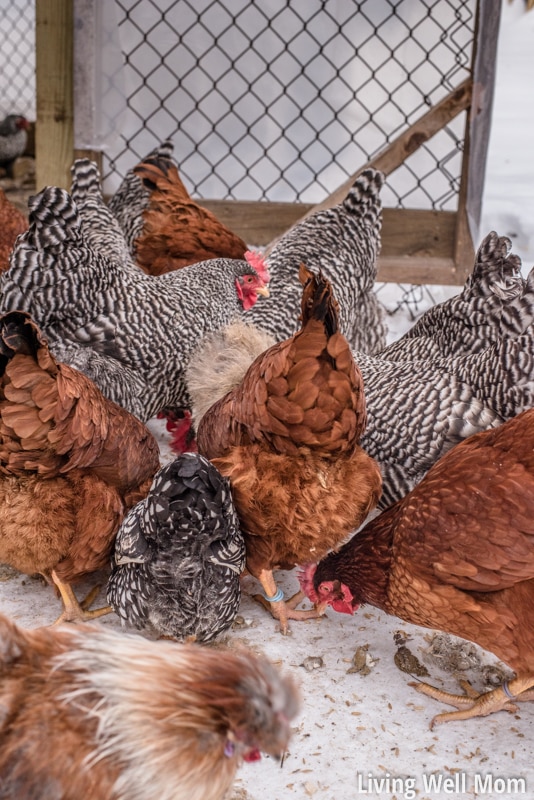 19) You text your best friend about the funny thing your chicken did that day. And you know she loves you because she texts back "LOL" and listens!
20.) You are giddy with excitement when the new chick catalog arrives and you pour over it everyday trying to think of how to convince your husband to let you get more this spring.
21) When you're sick, your husband brings you your pet silkie and you immediately feel better.
22) Nothing warms your heart like your children and chickens together…

23) Your kids and husband know to bring you a chicken if you're grumpy. Because chickens make life better.
24) You share your food with your chickens.
25) Every night after telling your husband about the kids that day, you tell him chicken stories. And he listens. Yes, he's a keeper!

If you have chickens, why are you the crazy chicken lady?