When I was asked if I wanted to bring my family to Boston, Massachusetts and visit the Museum of Science, I didn't hesitate. We've been wanting to take the kids to the museum for awhile now, but we've always been busy and put it off. This was the perfect chance.
I have many memories of the Museum of Science in Boston myself. You see, I used to visit the museum when I was a child. I went with my dad and brother and I even spent the night when I was a Girl Scout! I vividly remember curling up in my sleeping bag by the train display and talking to my then-best friend Emily for hours. It was SO much fun.
I also remember the cool ball sculpture, officially called the "Audiokinetic Scuplture."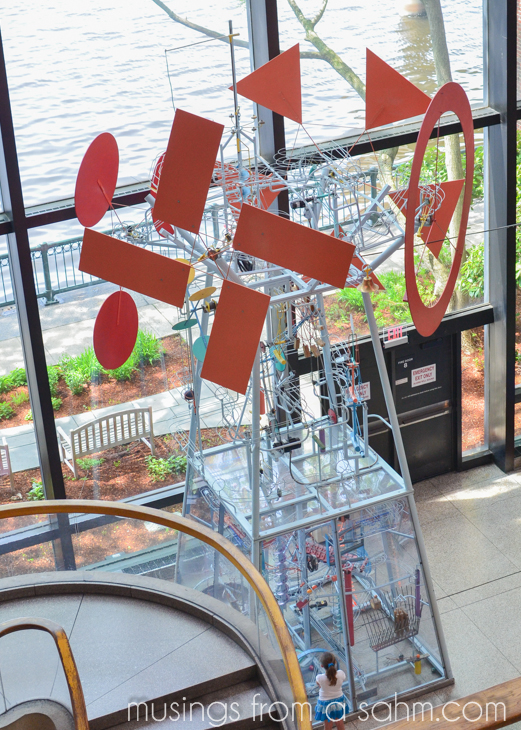 So yes, absolutely I wanted to visit again! Plus, I knew my 10 year old, Nathan, would love it because he's my science kid.
We live in New Hampshire about 1.5 hours away so we planned a full day's visit, which I would definitely recommend if you want to see the full museum.
We picked a Monday, hoping to avoid the weekend crowds. That was a big mistake; I had completely forgotten about school field trips. And the museum was packed full of kids and even more teenagers, many who thought nothing of pushing in front of little children.
But that's nothing against the museum itself; it's just a note to myself (and to you!) to pick a day when there's less likely to be rows upon rows of school buses.
Anyways, back to the museum itself. We started by visiting the Discovery Center. This section was created specifically for young children. There were a couple animals to see, hands on exhibits, water play, and more. While it was on the younger side for Nathan, my other three – especially Joshua and Luke – enjoyed it.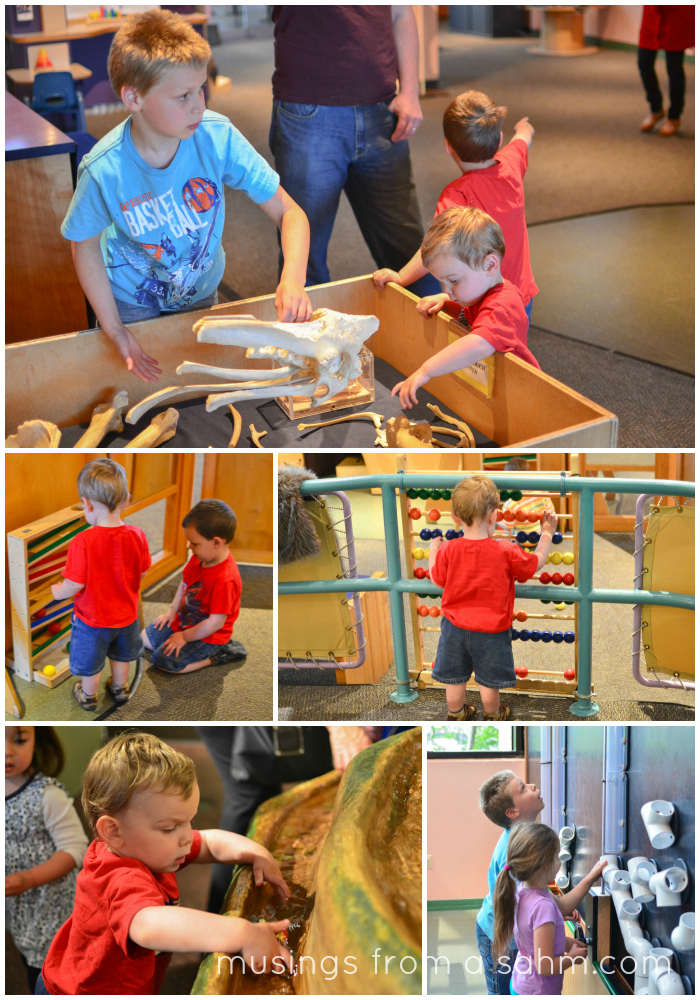 Next, we went over to the Blue Wing, where the majority of the museum is. One of the things I like about the Museum of Science in Boston, is that even though many exhibits are geared for high school on up (it's purely the nature of science), there were still lots of moving things and hands on aspects that encourage even young kids to take part.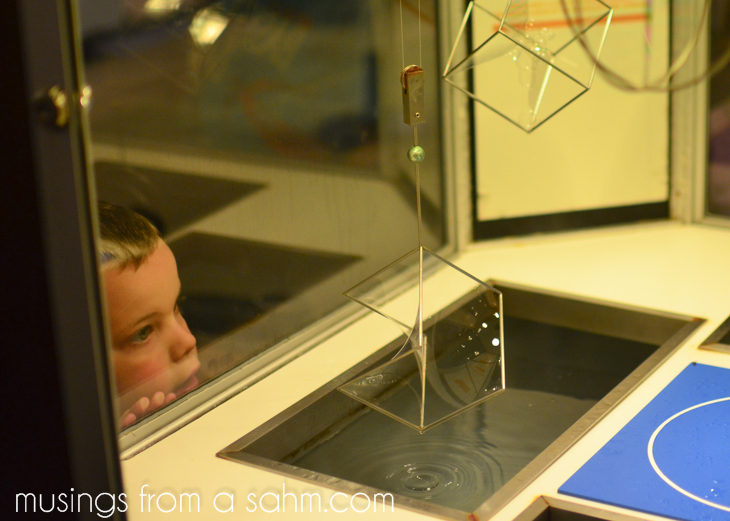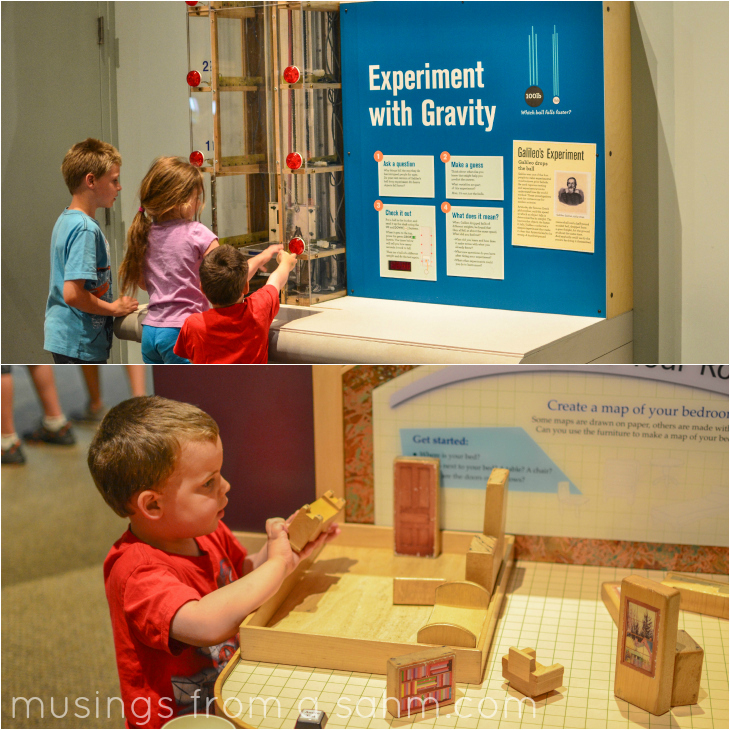 A must-see part of the museum is the Lightning! presentation. Here you'll see indoor bolts and learn about lightning, electric charge, and storm safety. Another fond childhood memory for me, I knew Nathan would love this.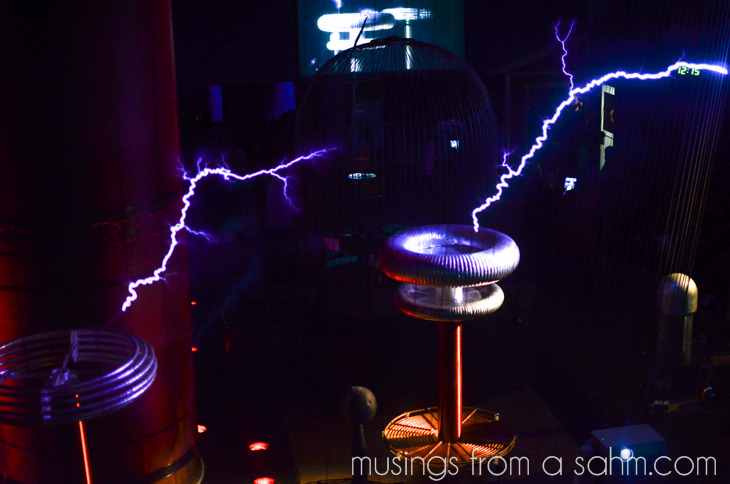 The "show" is a little loud for young children; Nate ended up taking Joshua and Luke out of the room because the lightning noises scared them. But Nathan and Emily loved it. Emily is usually afraid of lightning so this was a great experience for her.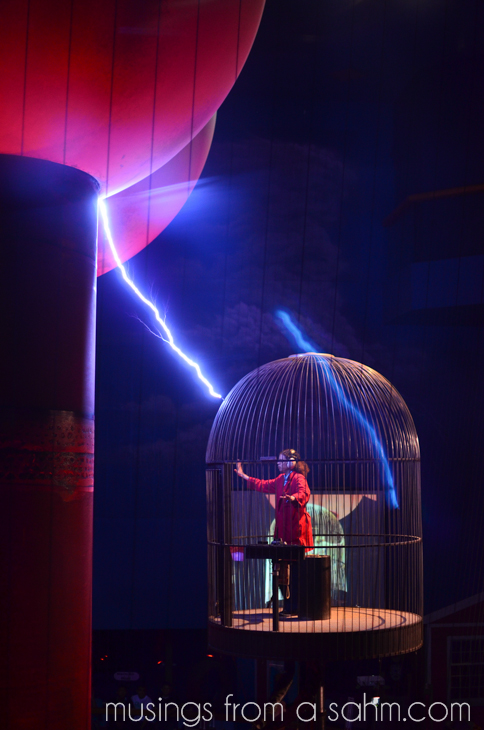 Watch these two videos I took (sorry they are sideways!)
One of everyone's favorite parts of the museum was the Dinosaur exhibit. Emily, Joshua, and Luke have been watching Dinosaur Train lately and were super excited to see this part. From a real Triceratops skeleton to more fossils, it was really neat to see.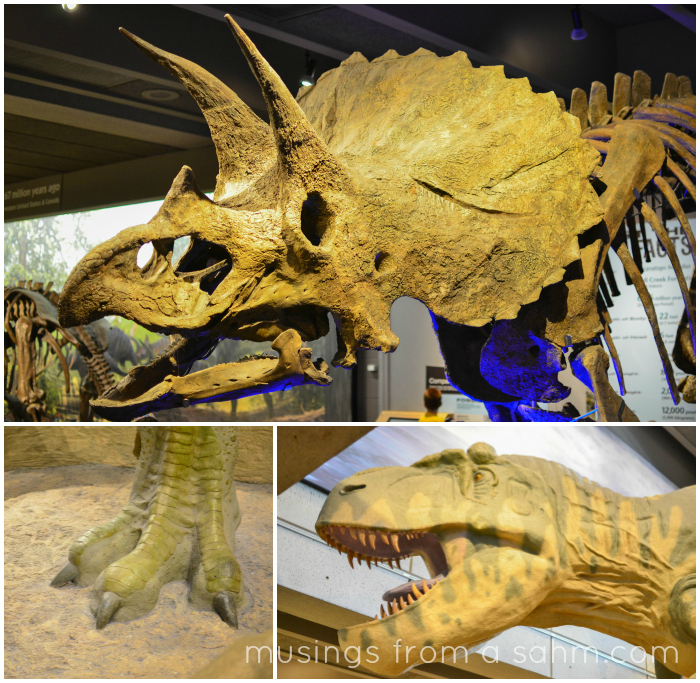 There was also a full-scale model of a Tyrannosaurus Rex!
We had lunch in the museum cafe. My recommendation: pack your own lunch. The cafe was way overpriced and the food? Not very good. But still, it was food and we moved on to our next stop: a visit to the Planetarium.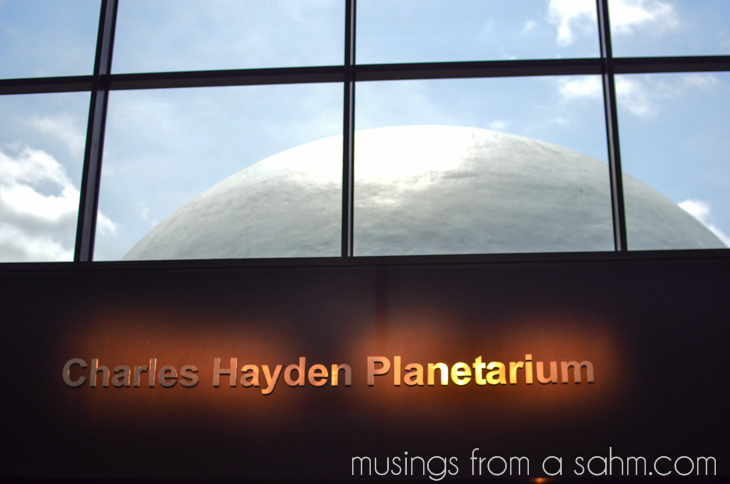 The Charles Hayden Planetarium has been around for as long as I can remember. I've seen cool shows there when I was a kid. For our visit, we had tickets to see Big Bird's Adventure: One World, One Sky. We had so much fun with the show, with the exception of Luke (who had missed his nap and had a meltdown.) But Emily and Joshua, especially were thrilled to see their favorite Sesame Street characters – Big Bird and Elmo – show them the stars, moon, and more.
They encourage kids to be interactive and answer Big Bird's questions. When Big Bird asked what the Big Dipper looked like, Emily responded "Mommy, it looks like a shopping cart!" Spoken like a true girl! (Well it kinda does, doesn't it?!)
The planetarium was a big hit and I highly recommend it!
We did not visit the Omni theater, because we didn't see any shows that our young kids would enjoy. When they're a little older, we'll take them again and see something like the currently playing Rocky Mountain Express.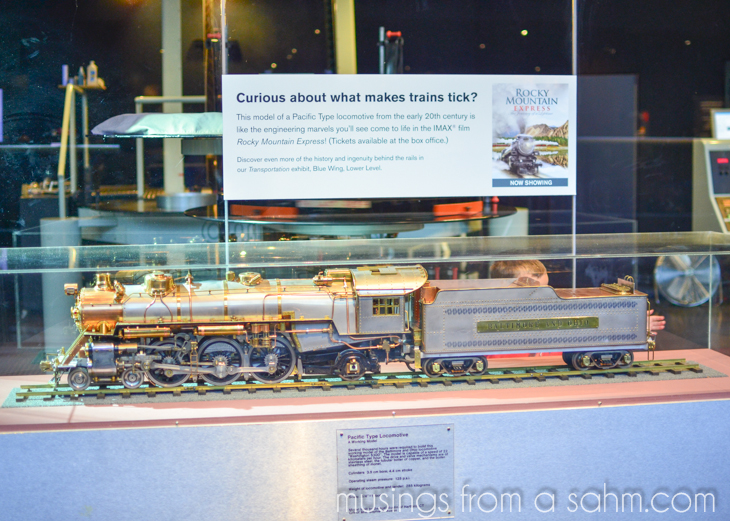 After the planetarium, we went to see other parts of the museum. By this point, many of the school tours were beginning to leave, so the rest of our visit at the Museum of Science was much more enjoyable.
All of the museum employees were very helpful and friendly. And volunteers, like this sweet lady here, helped the kids put together a human body "puzzle!"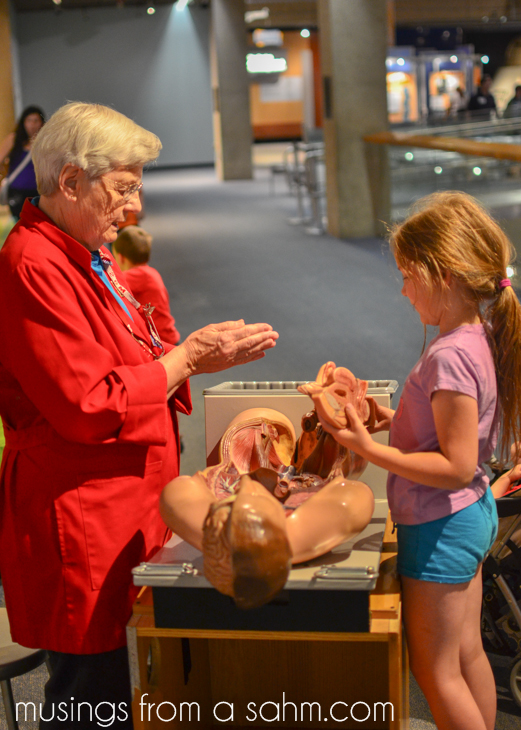 Throughout the museum, there are tons of hands-on exhibits.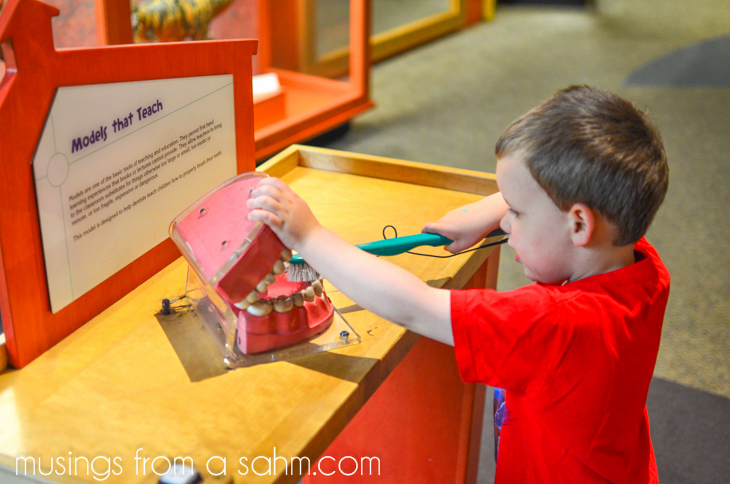 On the bottom floor of the "Blue wing" is where many of the machine exhibits are kept. The kids were able to see model trains, how a piston works in a car, a helicopter engine, and more.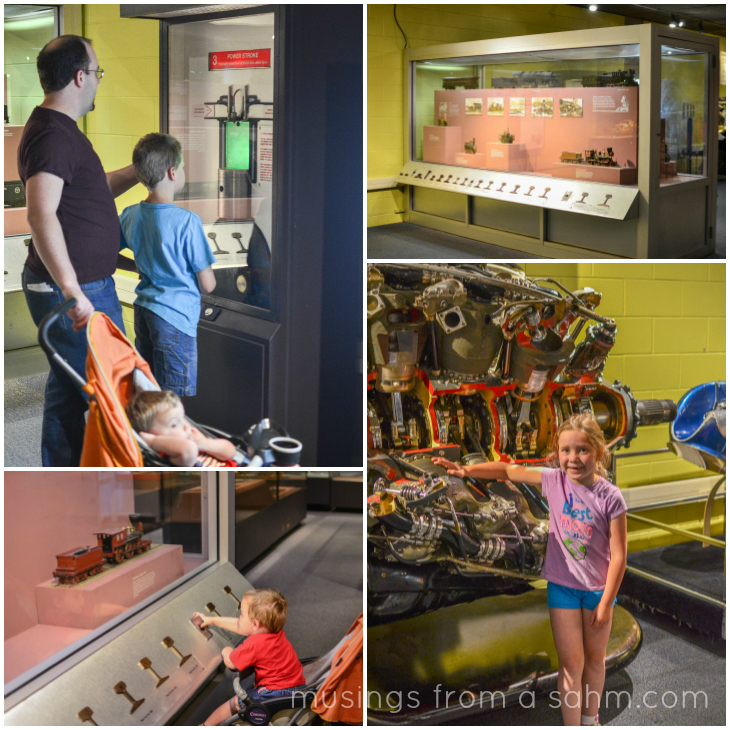 There was space exploration stuff too.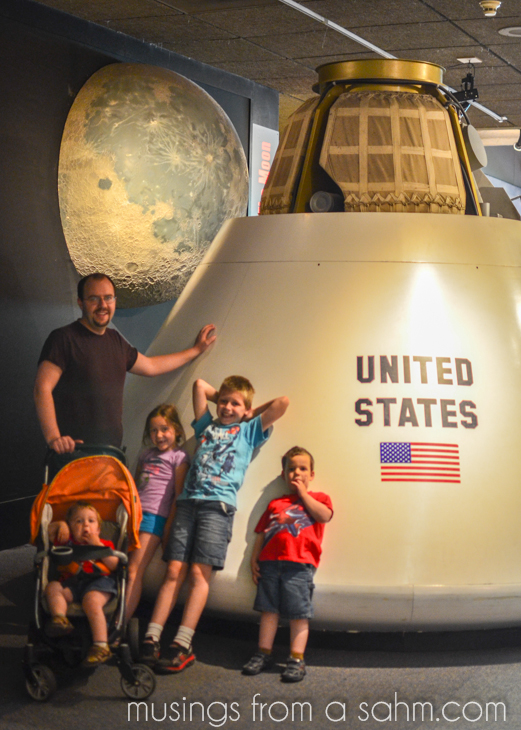 Another favorite exhibit for the kids was the Science in the Park exhibit. Literally, kids could play on swings, go on the seesaw, run, jump, and more; all the while, learning about cool science stuff about playgrounds.
Emily and Nathan even got to try laying on a "bed of nails!"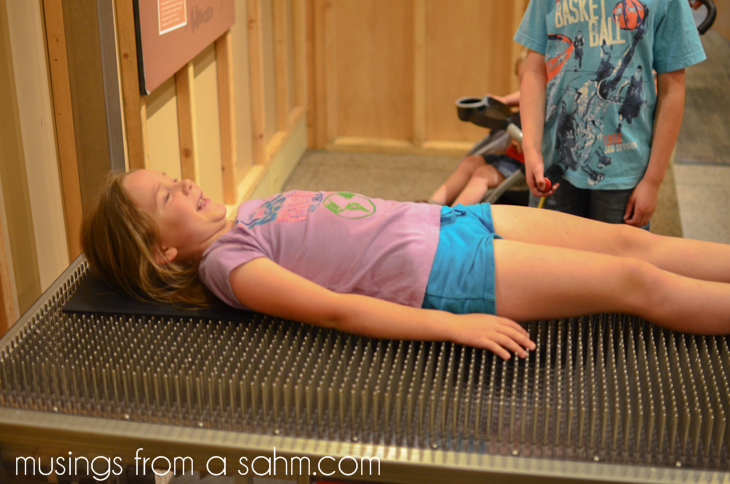 Here's a few more of my favorite pictures from our trip. I took close to 1,000 photos of our visit, so it was hard to narrow down my favorites!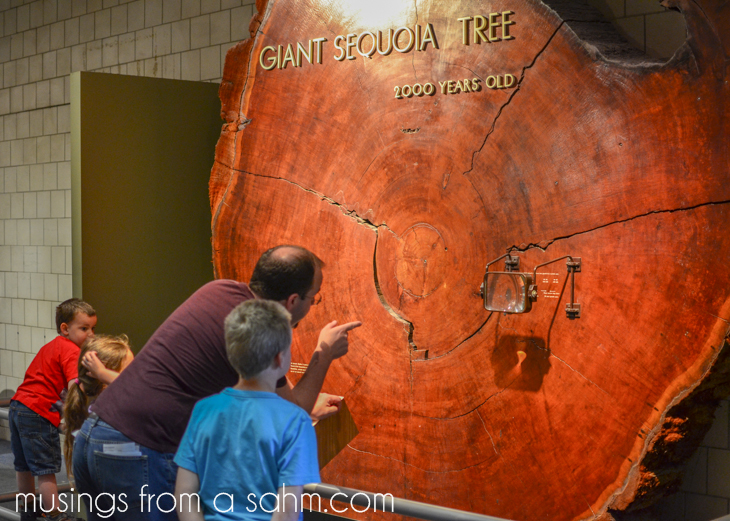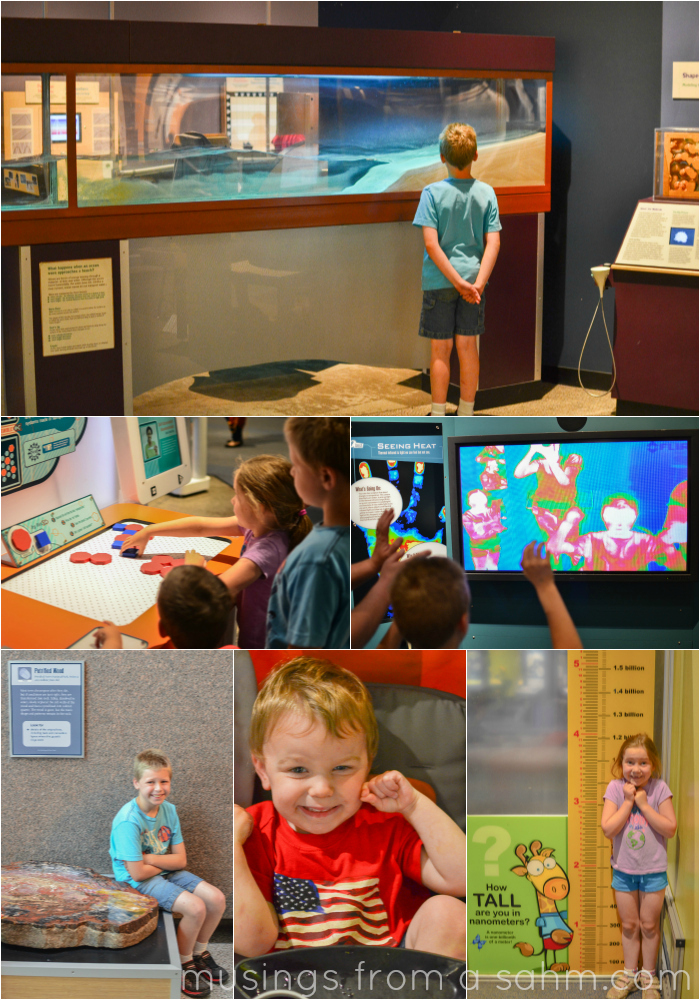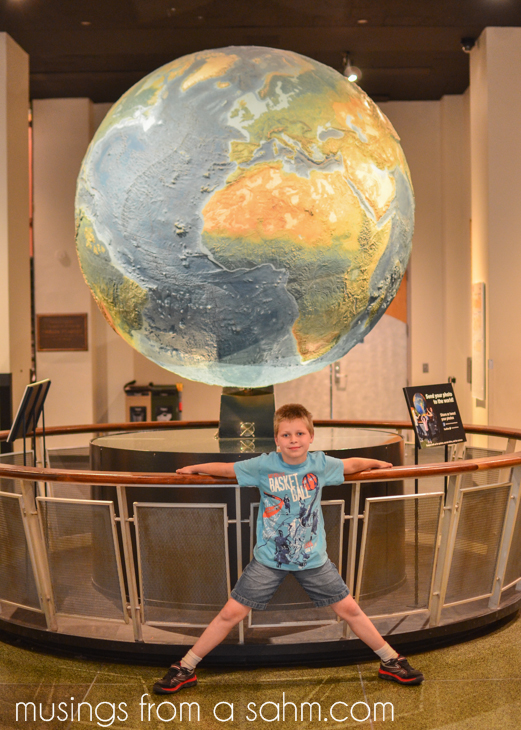 At the end of our day, we spent some time relaxing in front of the Audiokinetic Sculpture. It's really neat to watch the balls continually moving throughout the structure.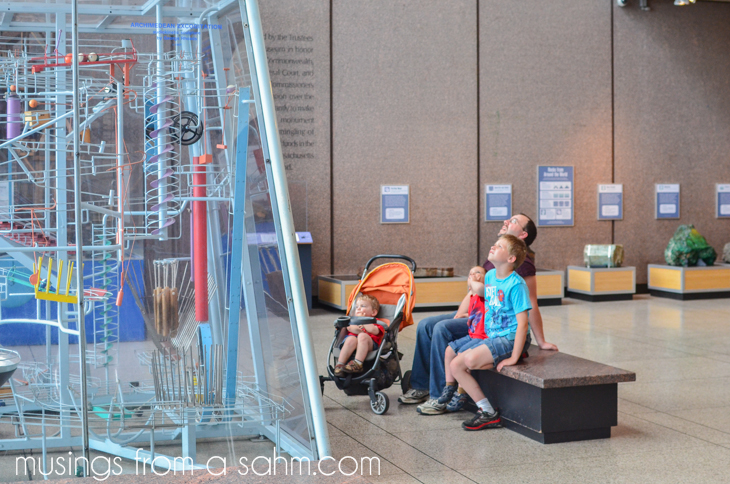 A couple things to note:
I personally wish the museum included more in the ticket cost; at $22 per adult and $19 per child, it would be nice if you didn't have to pay extra for the Butterfly Exhibit, 3-D Digital Cinema, Simulator Experience, etc. (We did not see those.) Omni Theater and Planetarium tickets are also extra money, although those are worth the extra $5 per person in my opinion. I also think that charging $19 for ages 3-11 is a LOT of money when the museum is really geared towards older children on up. But that's just my two cents.
That being said, the Museum of Science is a great way to spend a day learning, exploring, and creating memories together with your family. And I DO recommend visiting the museum, particularly for ages 10 and up.
Nathan said this was one of the best days of his life!
Thanks, Museum of Science, for the great day!