If you are looking for a natural way to make brushing tangled hair easier, then you need to try this DIY detangler spray! It has just 3 basic ingredients and is so easy to make and use! Plus, I'm sharing my top tips for getting knots out with no (or very few!) tears.
Kid-Friendly Detangler Spray
If there are any moms of daughters with long hair out there, I'm betting that you have heard her cry and complain of pulled hair during a hair brushing session! That was me like every. single. day!
My daughter has long, red wavy hair. Getting her to cut it any shorter is not up for discussion according to her (and I honestly love her hair color so much that I don't want her to cut it either.) BUT every morning when we had our battle over brushing out her hair – I wished I had a pair of scissors instead!
After a particularly rough session of brushing that left both of us in tears, I had a desperate stroke of genius: we needed some hair-detangling spray ASAP.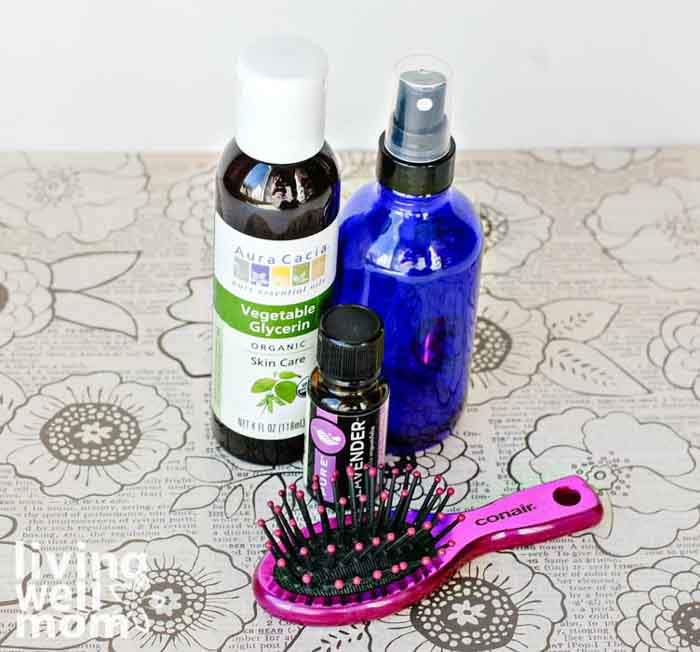 I pulled a few things from my cabinet and whipped up a batch of homemade detangler spray. To my amazement…it worked!
Now we can both get through a hair brushing session with less pain and stress and no more threatening to cut off her hair!
I honestly wish I had this years ago! Now that I have it, I need to share it with you because it has made our morning routine easier, it's easy to make, and it's all natural!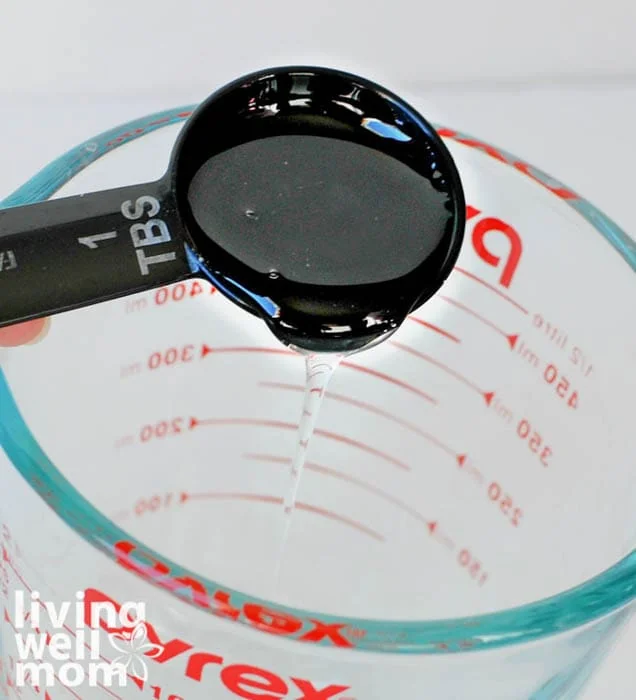 Supplies
Other Supplies: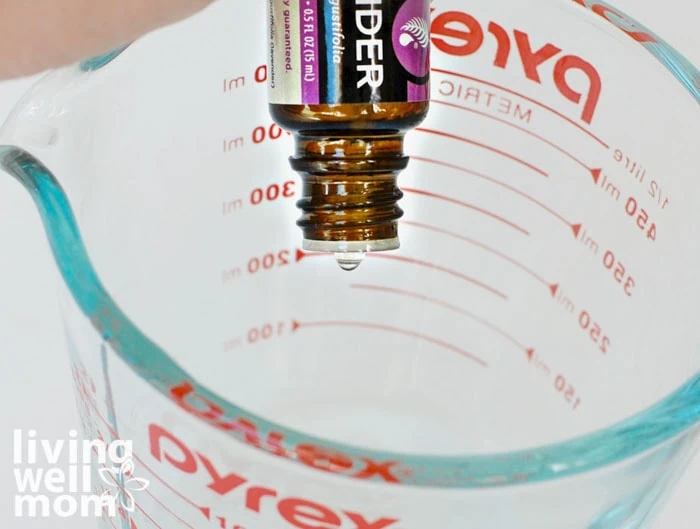 How to Make DIY Detangler Spray
To start, add 2 tablespoons of vegetable glycerin and then add 10 drops of Lavender essential oil into a glass measuring cup.
I decided to mix the ingredients in the glass measuring cup first because the spout on the measuring cup made it much easier to pour into the smaller 8oz bottle.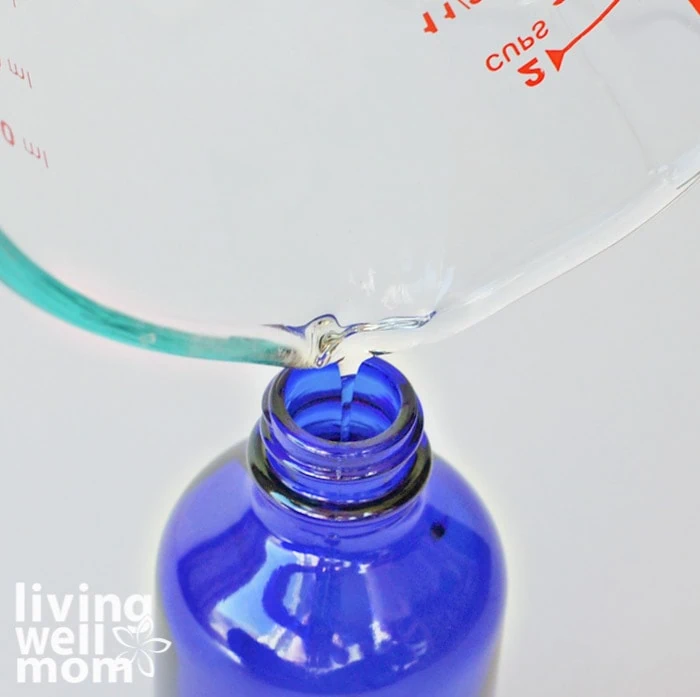 Pour that mixture into your 8oz spray bottle, and fill the rest of the bottle with water.
How to Use Detangling Spray
Gently shake your mixture, and your DIY natural hair detangler is ready to tackle a head like this! This would be an example of really tangly messy (but beautiful!) morning hair.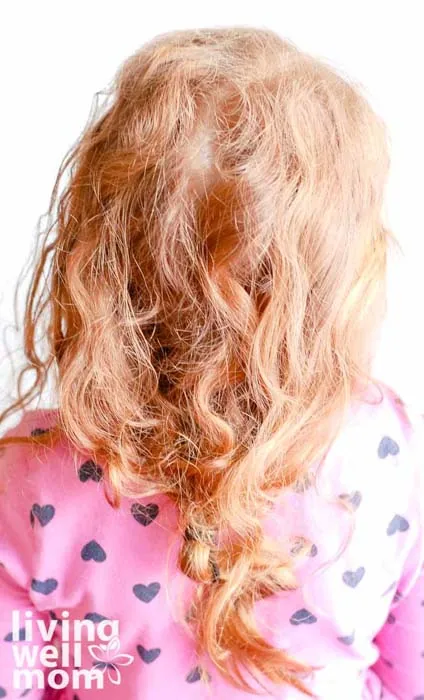 There is no way I could tackle this with just a brush without kicking and screaming from my daughter!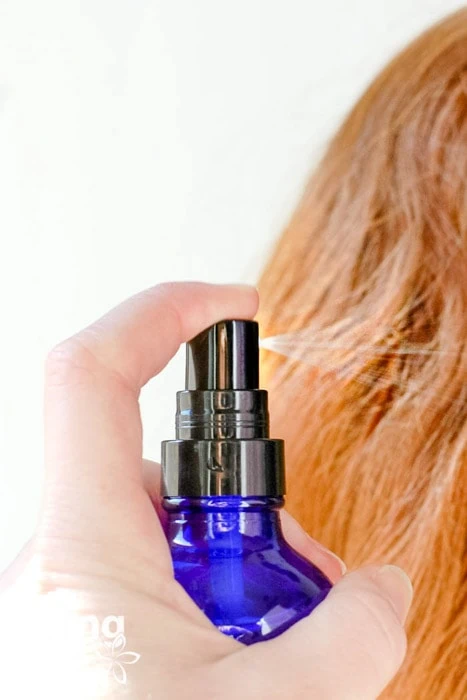 When you give a few sprays of the DIY detangler spray on the hair first, it makes a world of difference! When you spray it on, you don't want to soak the hair, but just make it damp enough for the glycerin to smooth and soften the hair enough to make brushing less difficult.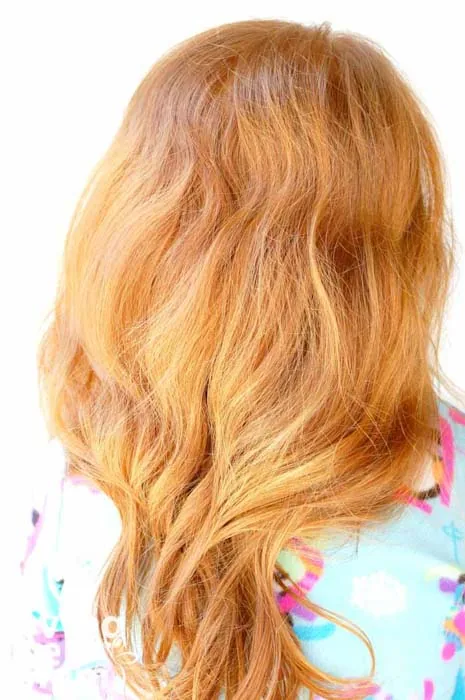 This is an average day of morning hair, or even afternoon hair after my daughter gets home from school after not brushing it all day. I spritz on some hair detangler, and it easily brushes out – much easier than if I used just a brush or just a brush and water alone without the detangler spray.
Here is my daughter's smoothly brushed hair.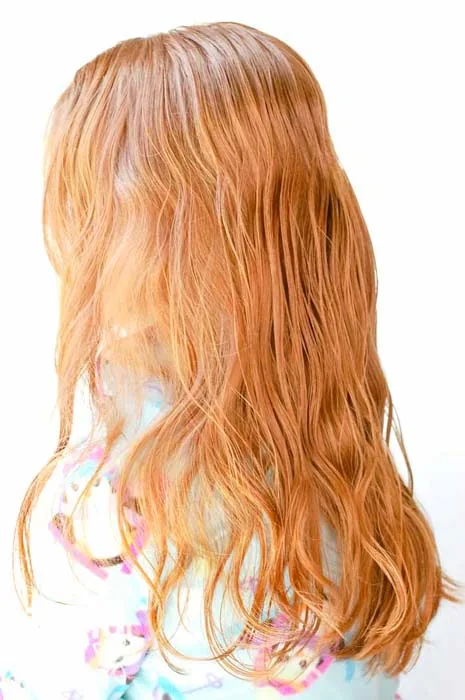 Note: A little goes a long way with this spray! If you use too much detangler, the glycerin will leave a residue on the hair that will weigh it down and make it look a bit greasy. Just dampen the hair, and that should do the trick.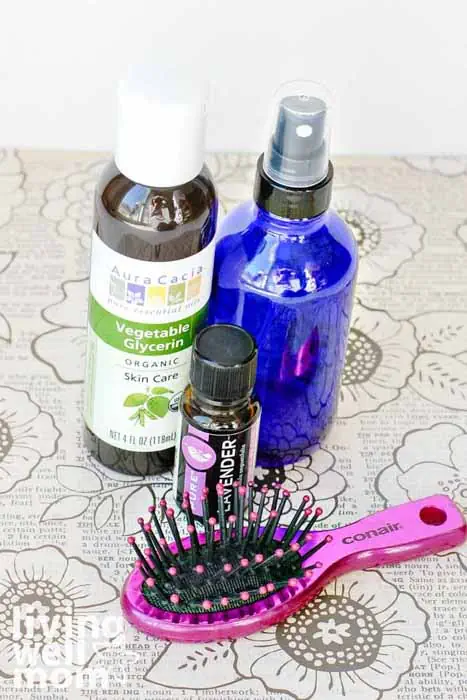 Quick Tips for Detangling
These tips are tried and true and will help you get through a detangling session with no (or very few!) tears.
Instead of using a hair brush, use a detangling comb or a wide-toothed comb.
Start combing from the bottom and slowly work your way up. This is the only way to get through serious tangles without causing a lot of pain.
Hold each section of hair above where you are combing – if you can grasp it tightly, your child will hopefully not feel the tug at their roots. Warning: you may walk away with sore arms!
Use lots of detangling spray. If the tangles (or knots as I always called them) are SUPER bad, get some thick conditioner and work that in as you comb.
Patience is key! If you allow screen time, now's the time to bust it out and keep your child still (and distracted).
More Natural Bath and Body DIYs