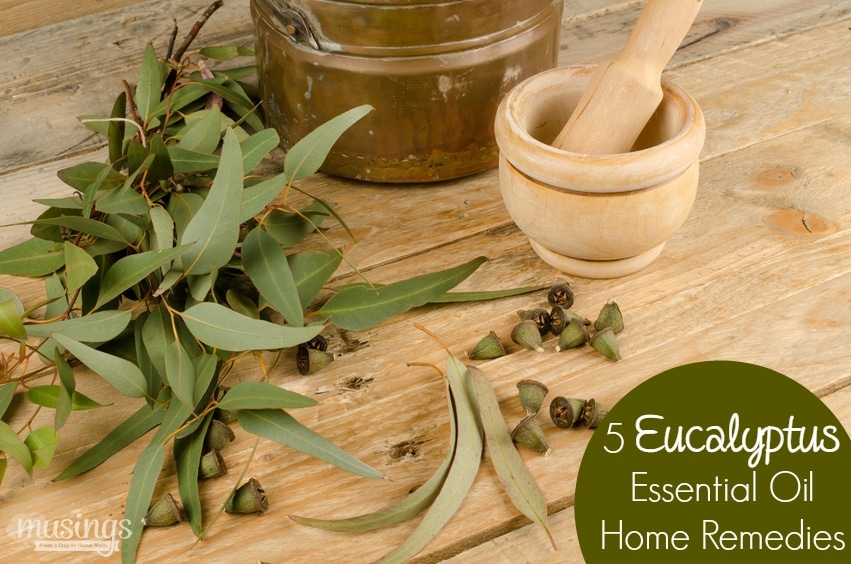 Essential oils are all the rage these days. For awhile I wondered if they were just a fad, or if they truly do contain some health benefits, but they really do work! I've used essential oils with my own family for a few years now and I've learned some great tips. There are no crazy miraculous claims, but they definitely have their place in the natural remedy world. One of my favorite essential oils is Eucalyptus, because there are so so many different benefits to it. Today I've got a few great tips to share for Eucalyptus essential oil uses.
I am not a medical professional and the information presented here is merely for educational purposes and not intended to replace medical advice. It is your responsibility to do your own research, consult with your doctor, and make safe decisions for yourself and your family.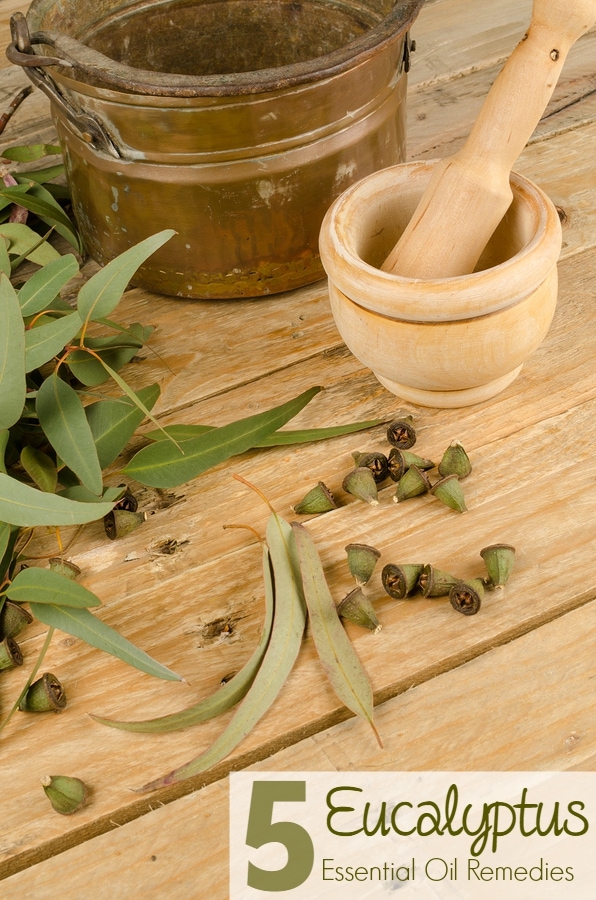 Homeopathic uses for Eucalyptus Essential Oil
1. Natural Pink Eye Remedy
I seem to get pink eye more than the average person. It could be because I wear contacts all the time since I despise wearing glasses. But regardless, I can't stand the typical prescribed antibiotic drops where you can't use wear contacts for 7-10 days.
I discovered that if you place eucalyptus oil around your eye (not IN your eye – OUCH!) a few times a day for a week or so, the pink eye goes away!
When you apply this oil around your eyes, it will feel funny, and your eyes may be sensitive to the eucalyptus vapors. But it won't be uncomfortable for long. Since eucalyptus is anti-bacterial, I know it is doing its job getting rid of the eye infection. No more doctor visits for pink eye and no more antibiotic prescriptions for drops that are seriously a pain to even put in your eye! This is a great way to use Eucalyptus essential oil!
2. Supports the respiratory system
When there is a cold lingering in our house, I get out the essential oil diffuser and add a couple drops of Eucalyptus essential oil during the day and at night. It is helpful to add a drop or two in your shower.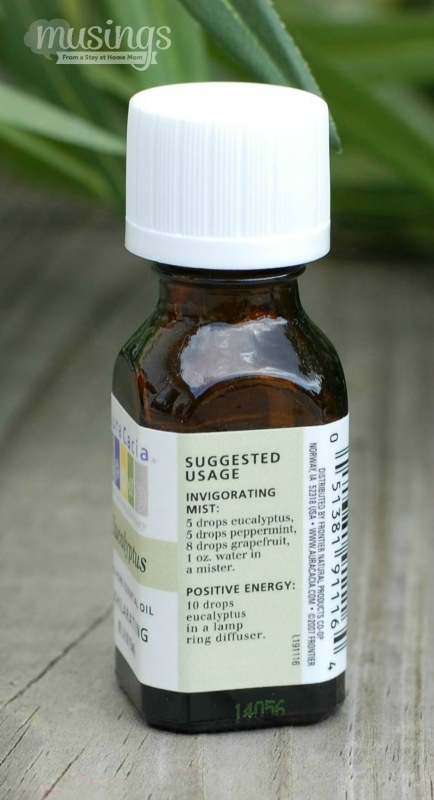 3. Soothes Achy Muscles
Try adding a few drops of Eucalyptus essential oil to your favorite lotion and rub into aching muscles after a workout. I like to add some Peppermint and Lavender essential oils into my favorite lotion after a long run too.
4. Helps Heal Wounds
I use Eucalyptus essential oil on scrapes, wounds, stings, and skin irritations. A word of caution: it does sting! My children aren't a huge fan of this, but I brave it because I've noticed a big difference in the healing time.
5. Natural Insect Repellent
Eucalyptus essential oil is great for repelling bugs, especially mosquitoes and fleas. If you have a dog – you could try putting it on his collar. Note: don't try this on your cat – many essential oils are toxic to our feline friends so always check with your vet first!
I love using Eucalyptus essential oil on myself and my children when we're outside, especially in the evenings when the mosquitoes are especially bad. I apply it on my hair and ears and ankles – where the mosquitoes try and attack me first! I have noticed that this won't work all day – you will need to re-apply every hour or so, or more if you are sweating. But if you are looking for a natural repellent – add this to your "must-try" list of home remedies! Or try our homemade DIY essential oil mosquito repellent blend – find that here.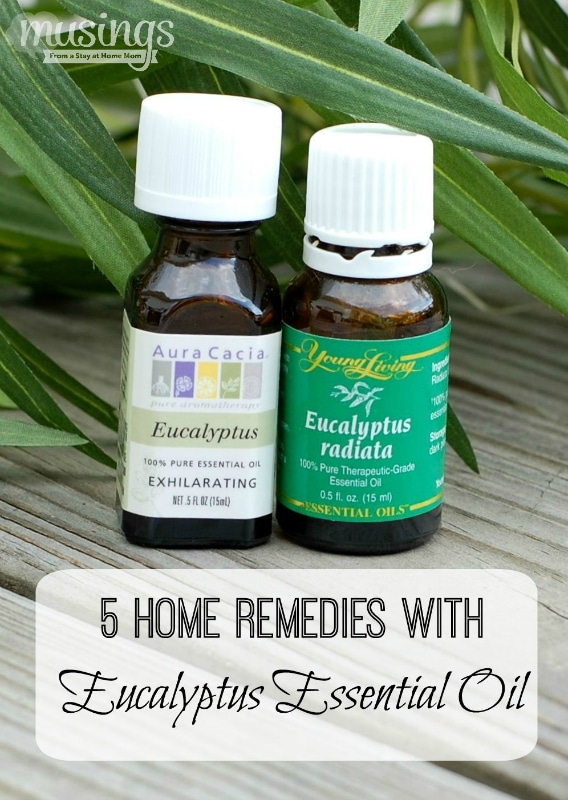 These are just a few of the many amazing Eucalyptus essential oil uses; this remarkable plant has some amazing benefits.
Where to Buy:
I prefer to buy Eucalyptus from Rocky Mountain Oils. If you prefer a brand from Amazon
, Eden's Garden is my favorite choice.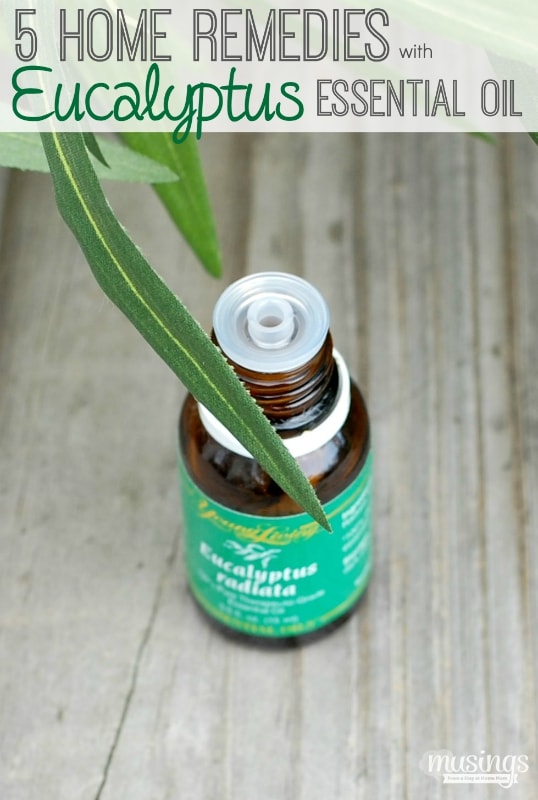 What are your favorite Eucalyptus essential oil uses?
*Disclosure: I'm not a nutritionist or medical professional. I'm sharing information I've learned through research and my own experience. I make no guarantees as to any claims or health benefits. You should talk to your doctor if you have any health issues or concerns.