Keeping preschoolers busy while older siblings are in school can be challenging… until now! This free matching games printable activity pack is the perfect solution.
It's hard to imagine, but it's time for back-to-school. Believe it or not, we are actually starting school in just a few days!
It's always been a challenge for me to keep my little one busy while the other girls are doing school. So this year, I've decided to take the bull by the horns and do something different.
With that in mind, I made some printables that I'm excited to share with you! This super fun back-to-school free printable matching games activity pack is perfect for preschool-aged kids who need something to do while the other kids are in school (whether traditional or home school).
With no siblings to play with, little ones can become quite a handful for mom during the day! Here is a solution that's perfect for keeping in a busy bag, quiet box, or at the table to keep those little hands occupied while you get some work done.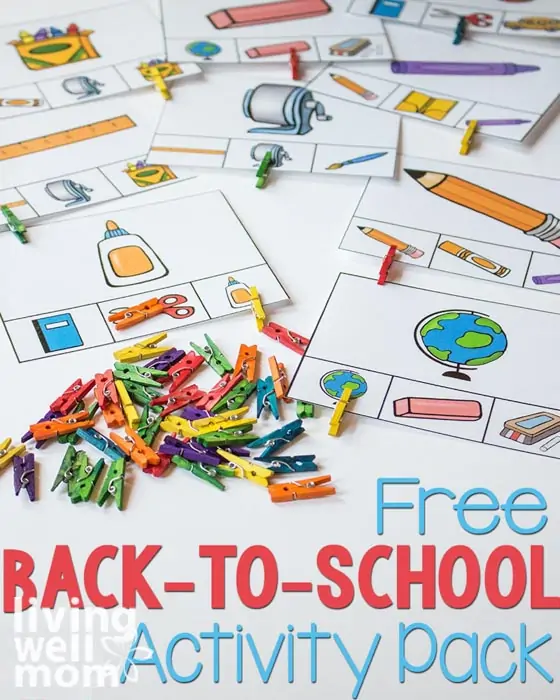 I love that this is an activity that isn't going to cause a huge mess—a rare win with little ones! Here's a great list of other things to do if you are looking for more mess-free toddler activities.
Supplies Needed For Printable Matching Games
Here's a complete list of supplies you'll need to prepare this activity packet for your little one.
Note: This post may contain affiliate links, which means I may receive a small commission if you make a purchase at no extra cost to you.
Sign up for your free printable matching game for preschoolers here:

Games Included In Free Preschool Matching Games Printable Pack
Here's a breakdown of everything that's included in this pack. I'll also share instructions for preparing all the different printable matching games activities.
Matching Clip Cards
This is a great activity for practicing matching skills without your kids realizing they're "working."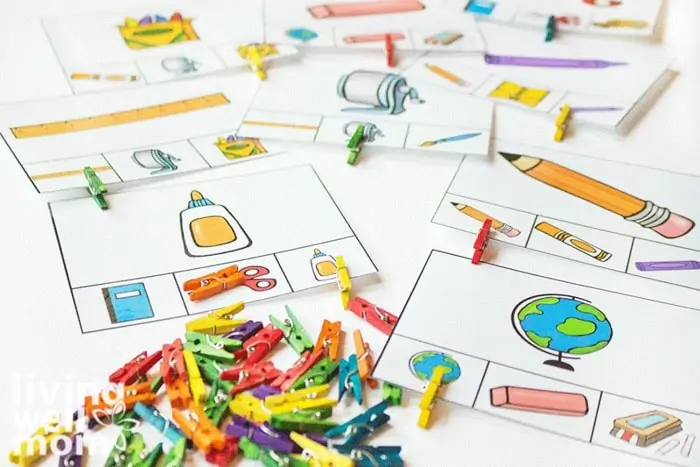 To prepare: Print on paper or card stock and laminate to increase its durability. Cut out the individual cards, leaving a little bit of lamination as a border around each side.
To use: Have your child place a clothespin on the picture at the bottom of the card that matches the large featured picture.
School Supply Memory Matching Games Printable
Increase those amazing memory skills with this memory game printable activity.
To prepare: Print on card stock or the white side of scrapbooking paper (so you can't see through the cards.) Laminate the cards to increase durability. Cut out the individual cards.
To use: Lay the cards face down. Have the first player flip over two cards. If they match, the player gets to keep them and take another turn. If they don't match, flip them back over, and it's the next player's turn.
Play continues until all the matches are made. The player with the most matches wins!
School Supply Spin And Cover
This is a fun option that can be played with a partner or individually!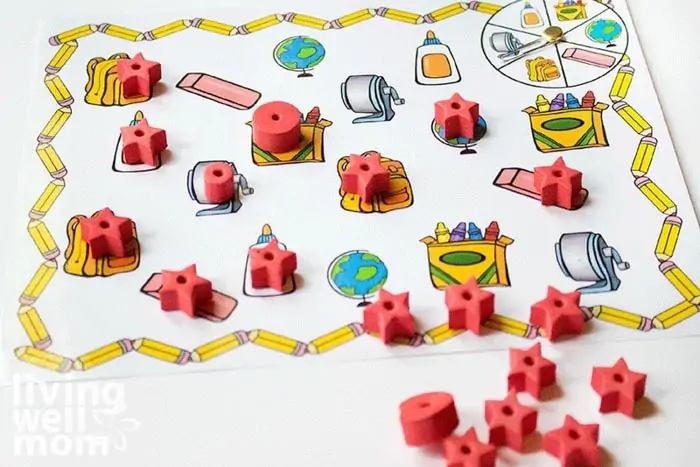 To prepare:
Print on paper or card stock and laminate.
Poke a hole in the center of the spinner area.
Thread a paper clip onto a paper fastener, then poke the paper fastener through the hole.
Spread apart the pieces of the paper fastener on the back.
Note: Make sure to leave about 1/4″ of space between the top of the paper fastener and the paper for easy spinning.
To use: You can play it alone or with 2 players. Spin the spinner. Place a game marker on a picture that matches the spin result. We use mini eraser shapes when we play. Once the board is full, the person with the most pieces wins!
School Supply Spin And Graph
Want to play Spin & Cover with a math twist? Try this version!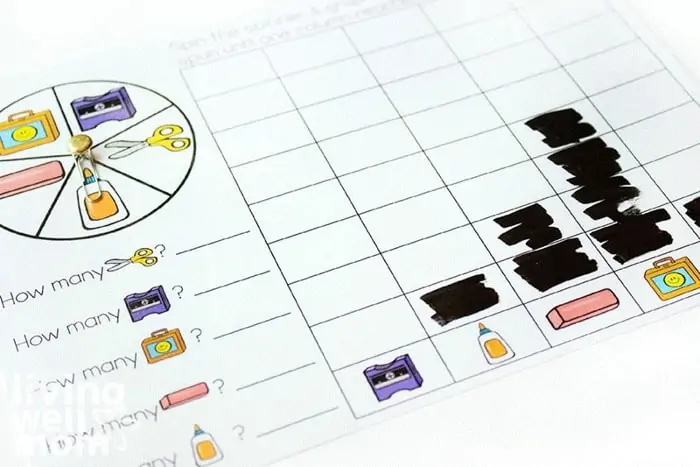 To prepare: Print on paper or card stock and laminate to allow for multiple uses of the activity. Follow the same directions for making the spinner for the Spin & Cover Game above.
To use: Spin the spinner. Color one space on the graph for each picture spun. Stop when one of the graph columns is full. Then count the number of each school supply that was spun and record it on the left side.
Fun And Learning With Preschool Matching Games Printable
Kids can play all of these free printable matching games and activities many times without getting bored with them. From personal experience, I know that they're sure to keep your little ones occupied for a while during school time when the big kids aren't available to play!
Go ahead and grab these fun printable matching games and let your little one start having fun with these games instead of looking at a screen!
More Printable Fun
If you love these preschool matching games printables, you'll love these other ideas too!
Pin the image below to save the printables for later!