As parents, we have many things to consider when it comes to keeping our families safe and happy. Good planning and awareness can give everyone peace of mind when it comes to home safety and keeping our sanity.
Here's a few practical home safety ideas that can add to your peace of mind today:
#1 Emergency Numbers List
I realized recently that my two younger boys, Joshua and Luke, have no clue what my phone number is. Since they're both heading off to school soon (even Luke is starting kindergarten), this is something we need to work on.
That started me thinking about other emergency numbers my children should be aware of and I thought we should make it a fun exercise for the whole family.
I had an "Emergency Numbers" printable made and hung it on our new family bulletin board. It helps my children memorize important numbers, like 911 and Mom and Dad's numbers, plus it's an easy reference if another number is ever needed.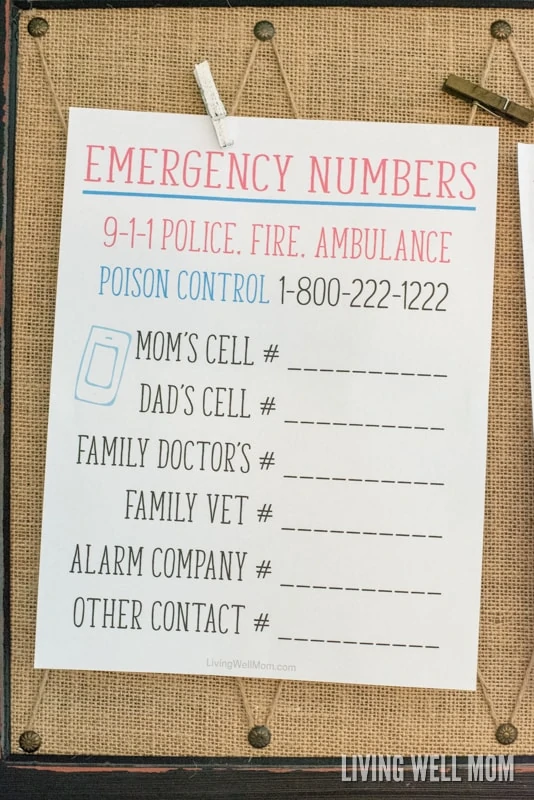 Because I don't want to put out our personal numbers for everyone to see, I didn't write in our family's numbers before I took this photo, but you get the point. 🙂
This Emergency Numbers list isn't just for the kids. What if Mom is away and Dad needs to call the vet, but has no clue what the number is or even who the vet is? (Yes, that would be my husband.) This list will come in handy and help add to your peace of mind when it comes to home safety.
Download your free printable Emergency Numbers List here.
#2 Energy Savings Plan
For moms, peace of mind for little things can be just as important. Have you ever left the house and couldn't remember if you turned the coffee pot off?
It's not just for home safety, but also to help conserve energy and save money.
We can teach our kids how to save money and energy with little things, like turning the lights off when they leave a room or unplugging electronics that aren't in use.
Here's another handy printable for the family bulletin board, an Energy Savings Plan that will help the whole family get in the habit of unplugging, turning off, and reducing energy usage.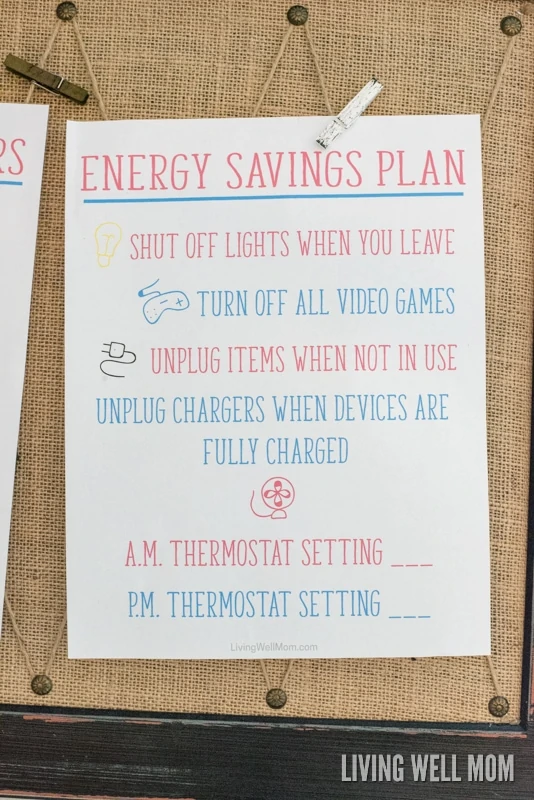 Download your free printable Energy Savings Plan here.
#3 Communicate with your family
Communicating is important for many things, but it's especially crucial when it comes to your home and family's safety. If you don't talk about what to do if an emergency happens, it will be more difficult and scary when you need to be calm, cool, and collected.
Set up a fire exit plan.
Teach older children how to call for help if an emergency occurs and you're unable to get to the phone.
Talk to your kids about what to do if severe weather occurs.
Teach kids how to safely handle sharp objects, like knives and scissors. Older children should always keep them out of reach from younger siblings.
Family communication can be so simple, yet really add to your peace of mind.
#4 Secure Your Home
With innovative technology, a unique home security system will help you manage and monitor busy home schedules.
Some home security systems allow you to check on your children or be alerted if there is an intruder with video monitoring.