I can't stand walking into the bathroom and finding wet swimsuits strewn along around the floor or crumpled on the counter. And there's the beach towels and goggles and sunscreen and swim diapers. All that good stuff that comes with going to the beach or pool. This year, it was driving me crazy and I had to figure out a way to organize it all. So I came up with a DIY swim gear organizer.
We call this our "Swimsuit Station" though it holds much more than just swim suits.
This DIY Swim Gear Organizer has all of our swim gear in one place, making it easy for the kids to put their things away and most of all, for me to easily find stuff later when I'm packing for a beach day.
How it Works
I put together wire cubes
(you can find them at Target, Lowes, Amazon, etc.) and made a tower. It stands about 5 feet high; the perfect height to put sunscreen above the reach of my curious two-year-old. I pulled out a few storage bins from my attic and used those to organize things like sunscreen.
I repurposed a wipes bin for storing goggles. (I love wipes bins – they are so handy for so many things!)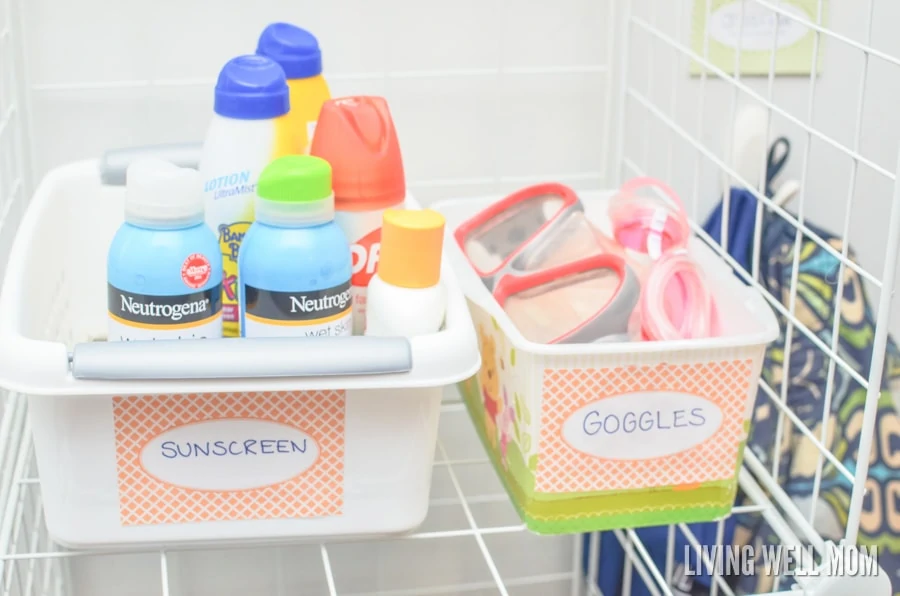 I labeled everything too. Labeling is the key for organizing to really stick. Click here for the free printable labels I used.
Another bin holds swim diapers and wipes so I can quickly grab what I need for the day. It's also easy to see when it's time to restock.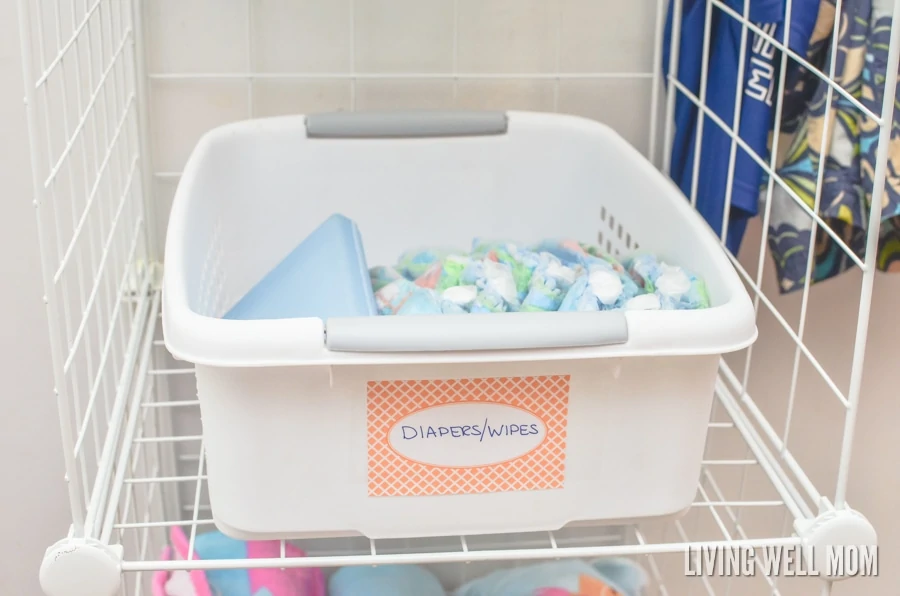 A third cube holds our beach towels. I've found that rolled towels are easier to put into a big beach bag.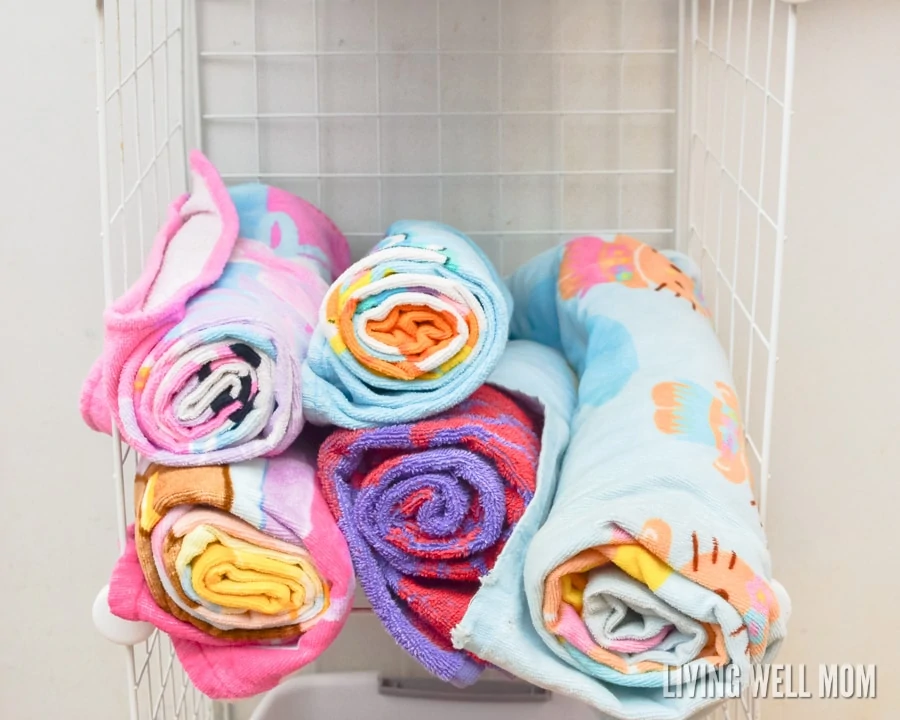 The last section of our swim gear organizer is for clean, dry swimsuits. Once the kids' swimsuits are dried or washed (I typically wash swimsuits once a week), I fold and put them in this bin.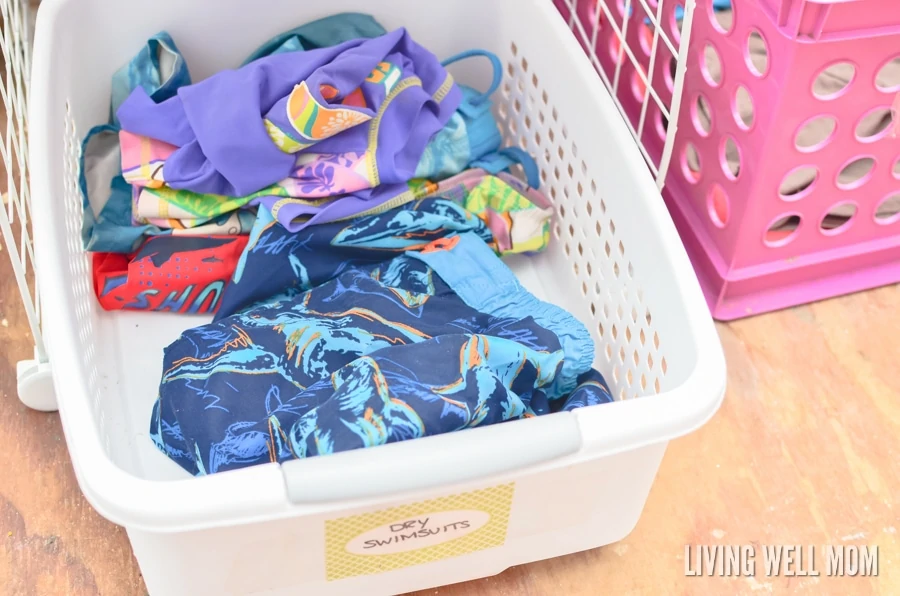 Clothes were another issue I addressed with our DIY swim gear organizer. In their rush to get ready, my kids used to drop their clothes where they changed (usually the bathroom) and I'd find it scattered across the floor. Often, their clothes could have been worn again later and that meant more laundry for me. And I do what I can to avoid extra laundry, believe me!
That's where the clothes crate comes in. At first, I used the dry swimsuit bin in the bottom cube, but the kids were still tossing the clothes on the floor and missing the bin. With four of them, I figured a larger space would be better anyways, so I put to use an extra pink crate. Now it's easy to "score" getting their clothing into the proper place.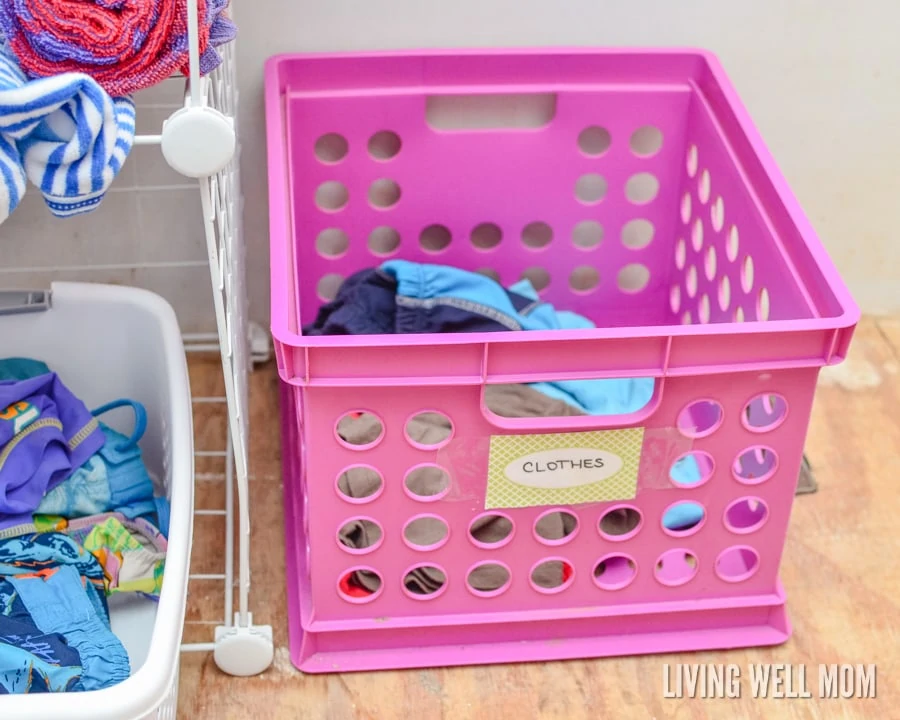 Wet Swimsuits & Towels
While the most logical solution is to hang wet swimsuits on a clothes line, we don't have a good clothesline or a spot to hang one. Maybe when the kids are a little older and less likely to fling clean stuff and grind it into the mud, we'll attempt one. But not right now. I need to save at least that shred of sanity!
I do have wall space with our new mudroom area, but I didn't want to hang permanent hooks. Yet. So I went to Target and found these handy double Command hooks.
These Command hooks hold about 3 pounds, plenty for a wet swimsuit and a damp beach towel too. I bought the three hooks that Target had in stock. (I'm still looking for a fourth hook so there's one for each child.) Each child has a swim shirt and trunks (Emily has a tankini) so there's one hook for each piece. It's perfect.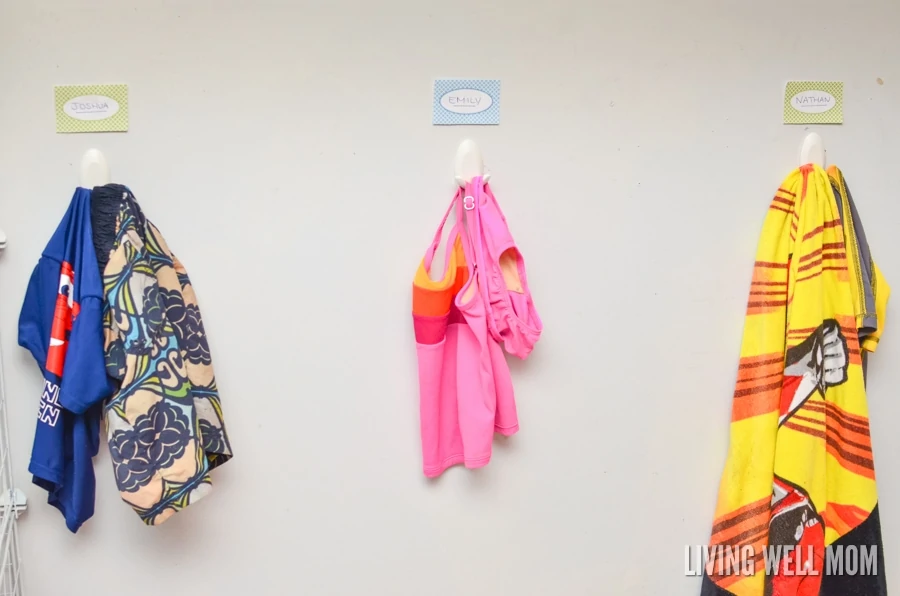 Usually we hang beach towels out on the porch to dry, but if it's going to rain, the Command hooks work too. I don't hang anything too heavy but one damp towel seems to be fine.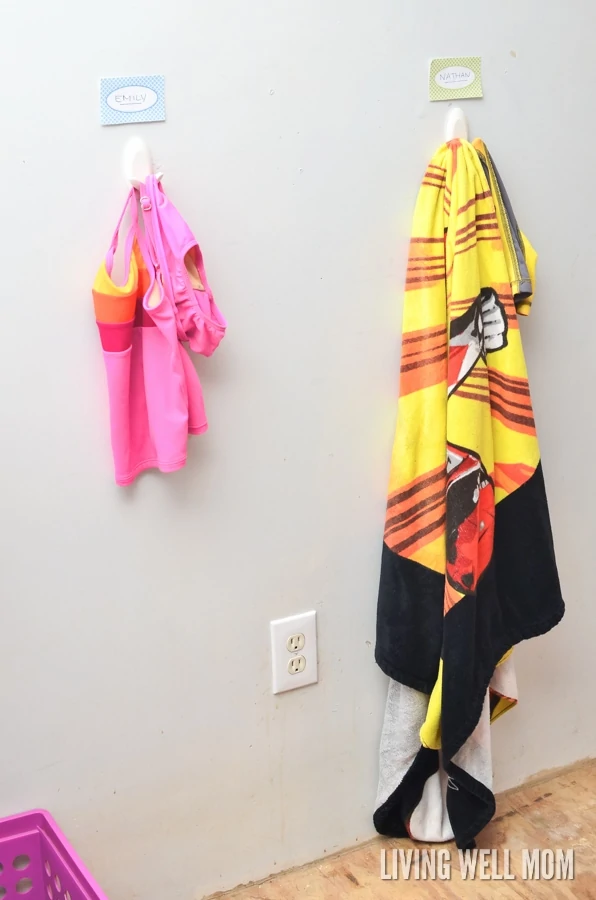 Another advantage to this swim gear organizer is I can hang or lay stuff on top to dry. The wire holes are perfect for air drying. That's what I've been doing with Luke's swim trunks and shirt while I'm waiting for the double Command hooks to come back in stock at Target. It doesn't look as pretty, but it does keep stuff off the floor. I also hang Emily's cotton cover-up too; the wire connectors make for a perfect hanger.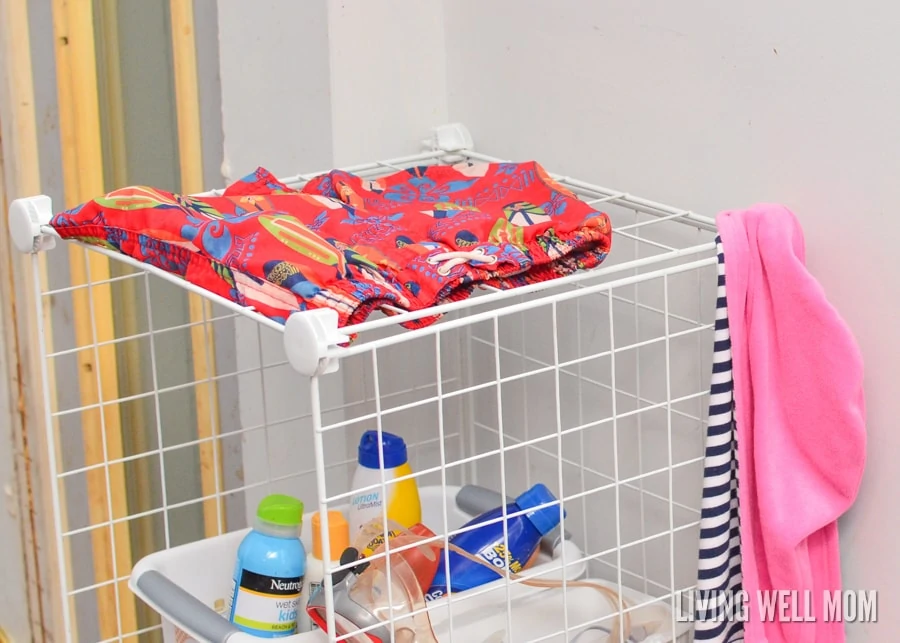 If you have one or two children, you may even be able to get away with hanging everything right on the swimsuit station. That's the great thing about organizing – you can tweak it to make it work for you.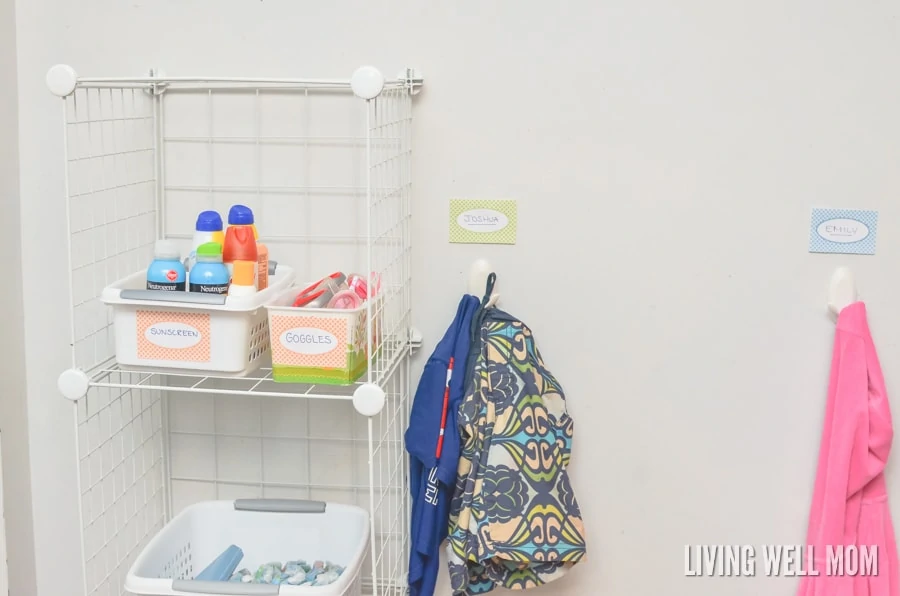 Let me tell you, this swim gear organizer works.
Now, packing for the beach is a breeze. No more running around, looking for a swim shirt only to find it kicked under the bed and still damp. Or a mad dash to find Nathan's mask at the last minute (he can't stand to have water in his eyes – it's a sensory thing for him). Never mind the sunscreen. Now all the swim gear is in one place!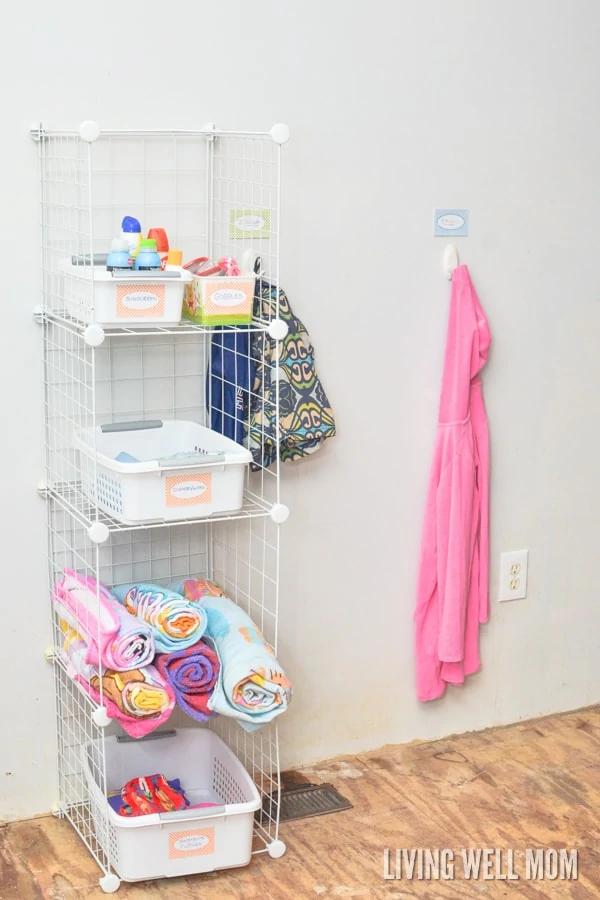 How would you modify this DIY swim gear organizer to work for your family?