If you want a fantastic family day to remember for years to come, you need to visit Loon Mountain, in Lincoln, New Hampshire.
It's far more than a beautiful mountain set in the scenic White Mountains; there's something for everyone to do at Loon Mountain.
I grew up visiting Loon Mountain regularly during the summer with my father and brother. My husband and I spent our honeymoon there too. And now I bring my family to Loon Mountain every summer because it's that awesome.
This summer, I was given tickets to visit Loon Mountain with my family in return for sharing with you. Yes, please!
Loon Mountain's Gondola Skyride
Loon Mountain is a gorgeous mountain but it would take a long hike to get to the top. Luckily, Loon Mountain has a Gondola Skyride that allows you to enjoy an effortless trip to the top.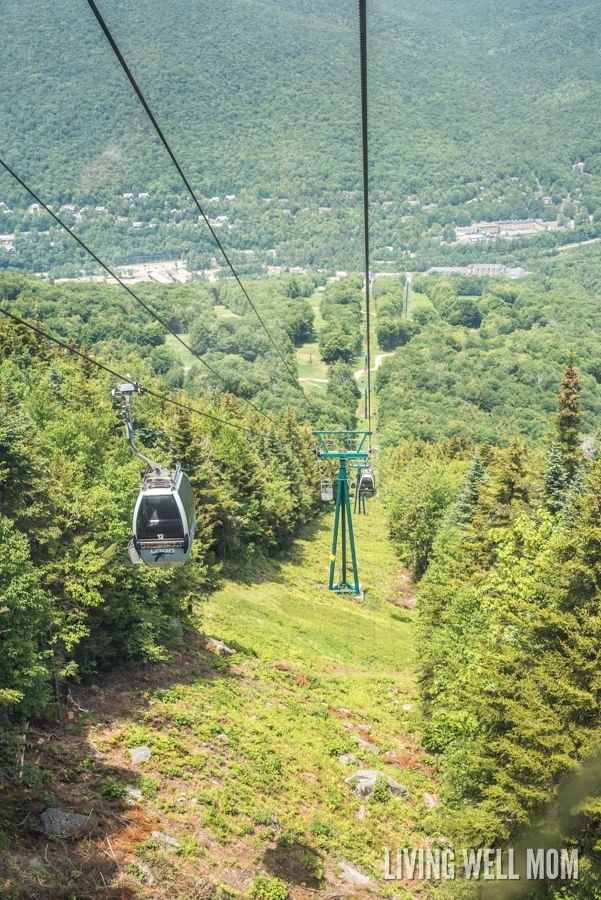 Up to four people can ride in a gondola. They're constantly moving and, in all the years I've visited Loon, I've never had to wait in line for a gondola.
Fun fact: Loon Mountain's gondola skyride is New Hampshire's longest scenic gondola ride!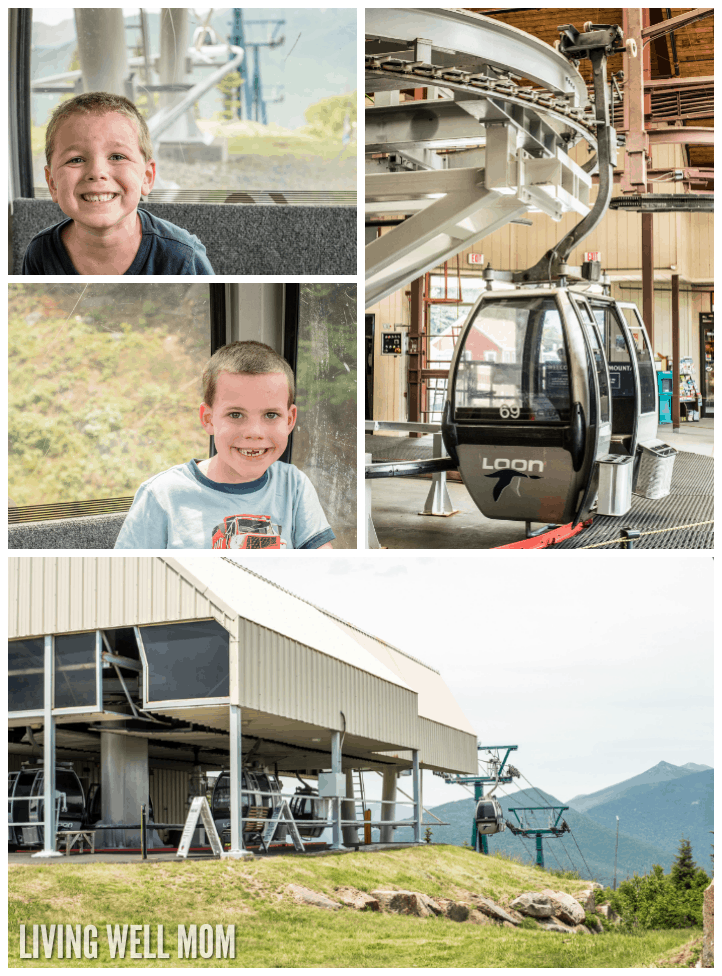 The ride up takes about 10-15 minutes and it's amazing to watch the scenery as you go higher and higher.
Loon Mountain is 3,050 feet tall; the gondola drops you off at 2750′.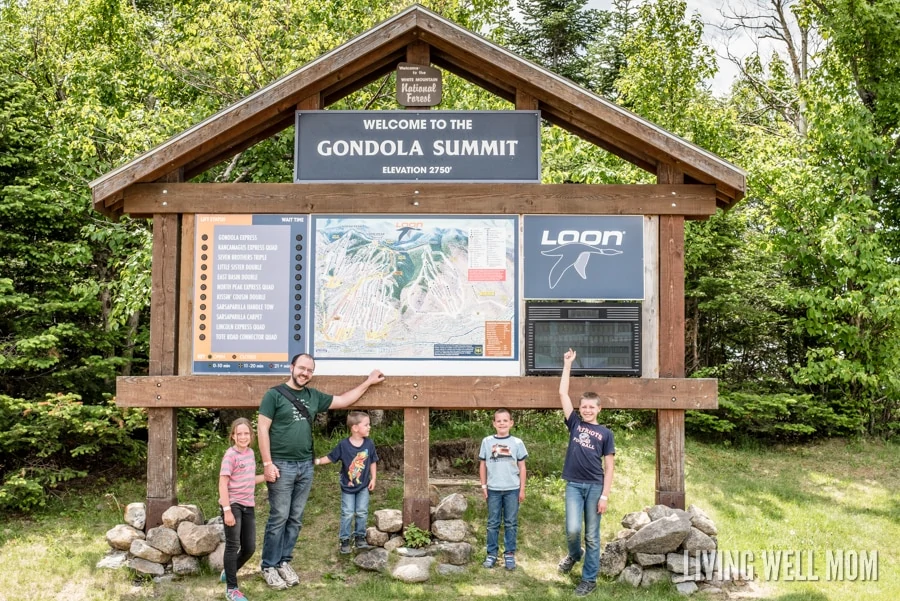 At the top, there's plenty more to do. There's a small playground for kids, a cafe where you can get snacks and meals, an observation tower, hiking, and glacial caves to explore. You could seriously spend a whole day just at the top of the mountain!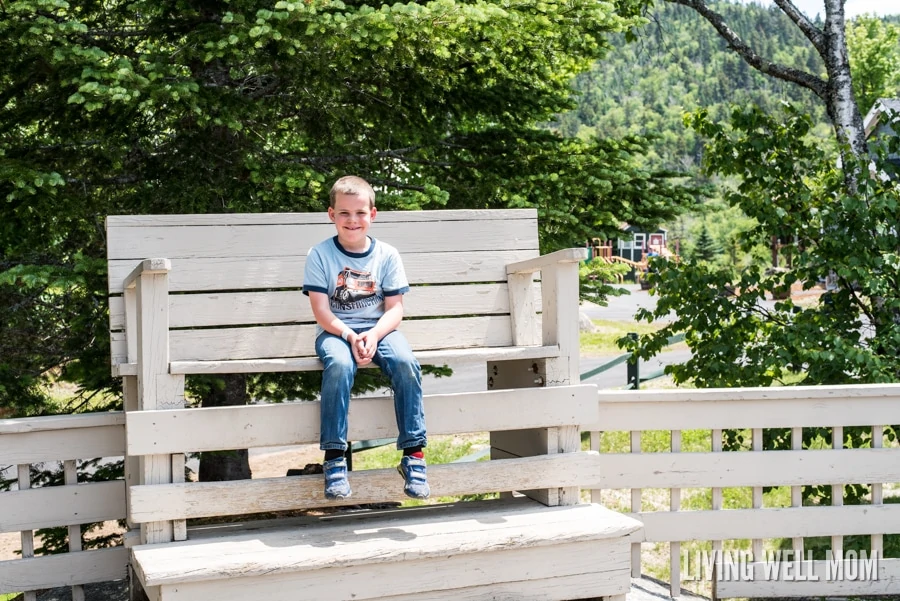 The stairs are steep, but it's well worth the climb to the observation tower.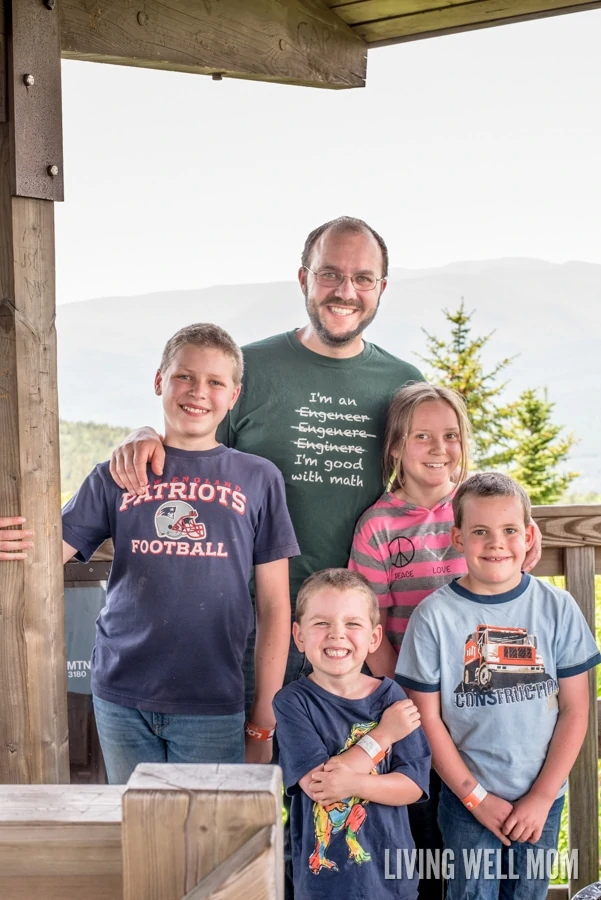 The view is simply breathtaking! You can even see New England's highest peak, Mt Washington, in the distance!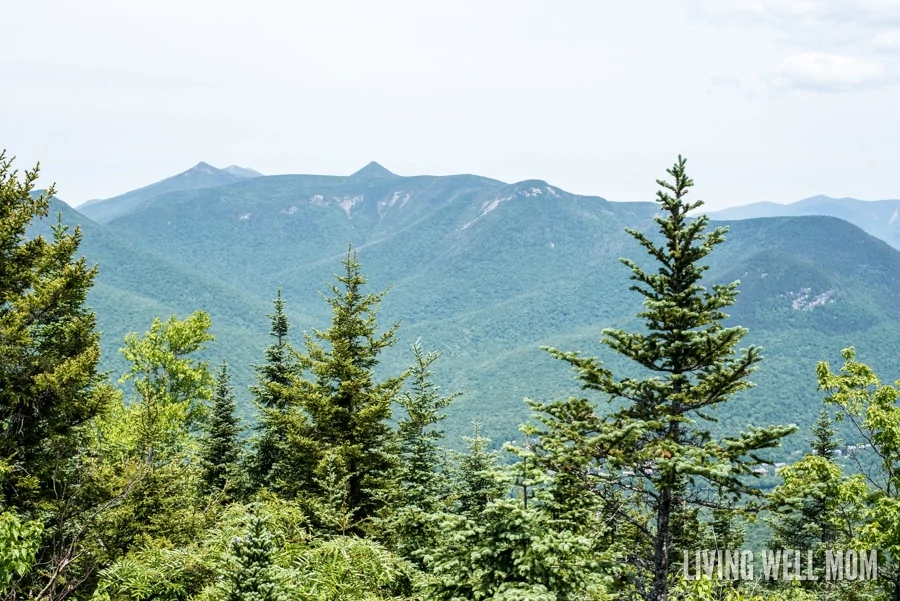 Stop for lunch at the cafe and enjoyed another beautiful view over a lake.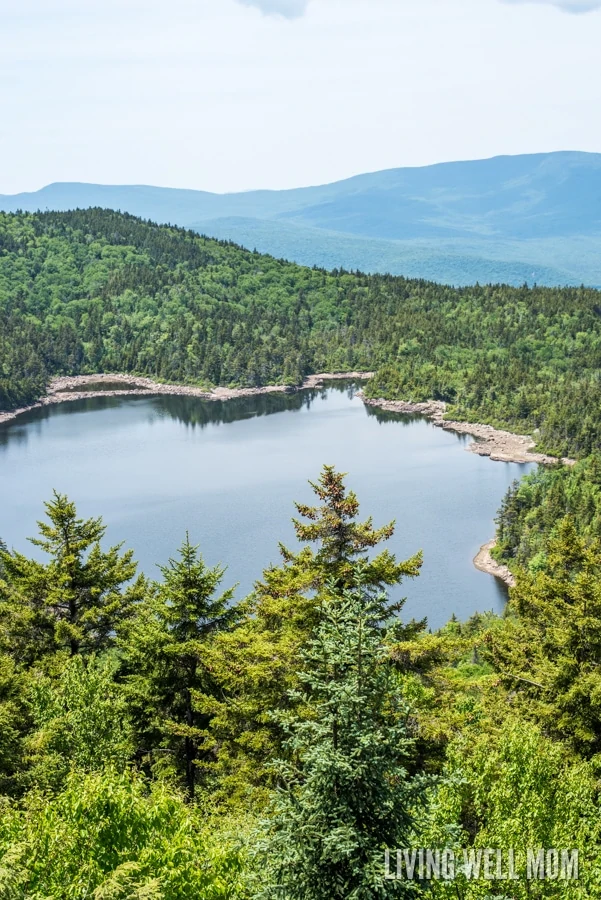 The Glacial Caves:
The Glacial Caves are always a favorite. Huge boulders, moved by the glacier 50,000 years ago, formed maze-like labyrinth of caves. You have to climb down quite a few stairs to get to the caves and then back up again, but we never miss this hike!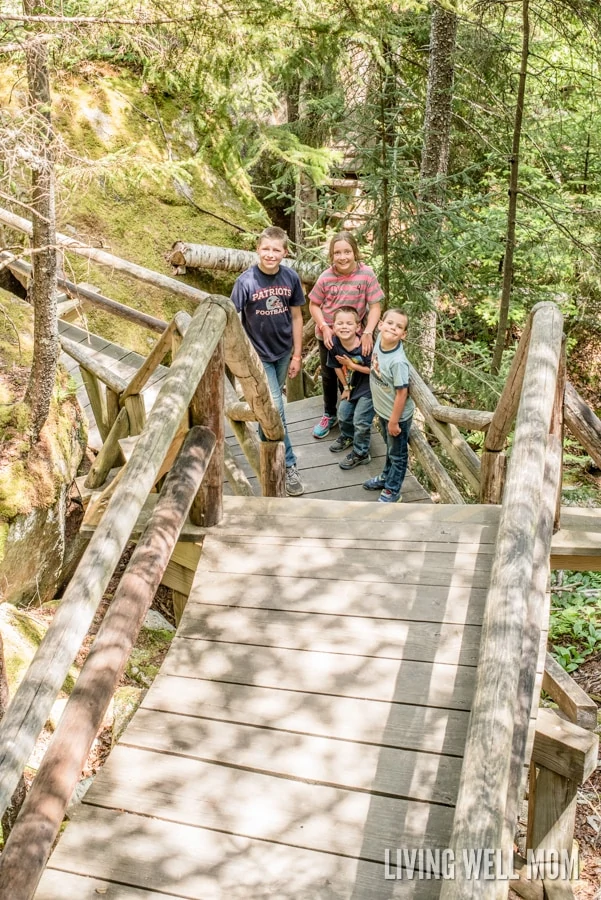 The kids love exploring the caves. I went through the first, but some of them are more of a challenge (aka get down on your stomach and squeeze through) so I let the older kids do those alone. Even Joshua and Luke were able to climb through a few!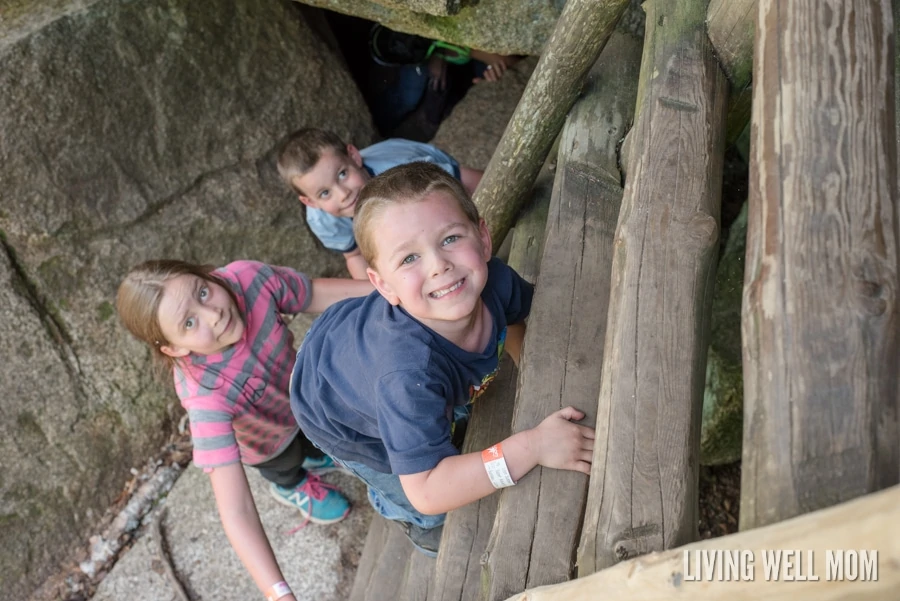 When you're finished enjoying the beauty at Loon Mountains's summit, you can head back down in the gondola. You can go up and down for as many times as you want all day! Sometimes we'll take a break and go around an extra loop.
One of the best parts about the gondola ride is that anyone, any age can enjoy it. Older family members will love it and it's also safe and gentle enough for babies too! I've taken my babies up Loon Mountain plenty of times! You can see pictures of one of our trips to Loon Mountain when Luke was a baby here. And again, three years ago when we took Grandma and Uncle Jonathan for a visit: Loon Mountain 2013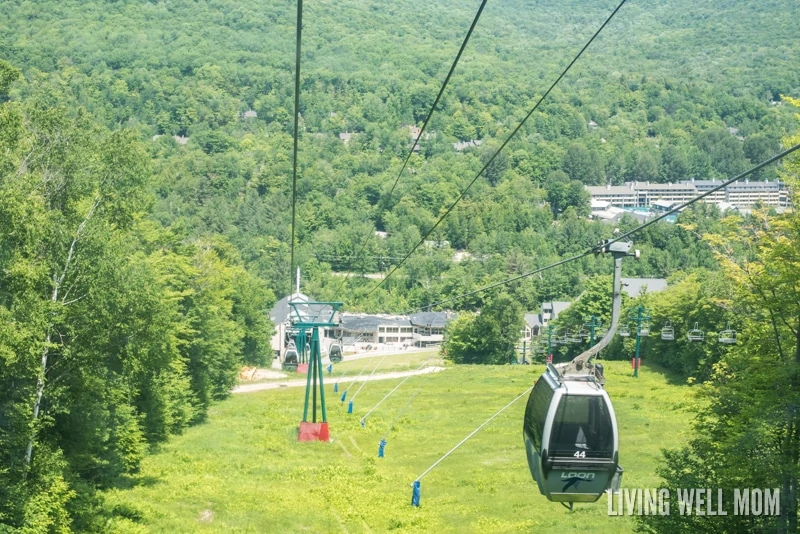 Back down at the base of Loon Mountain, there's the Adventure Center with plenty more to do!
Climbing Wall:
Loon Mountain's climbing wall is fantastic. There's various degrees of difficulty so beginners can try their hand and the more experienced will still be challenged.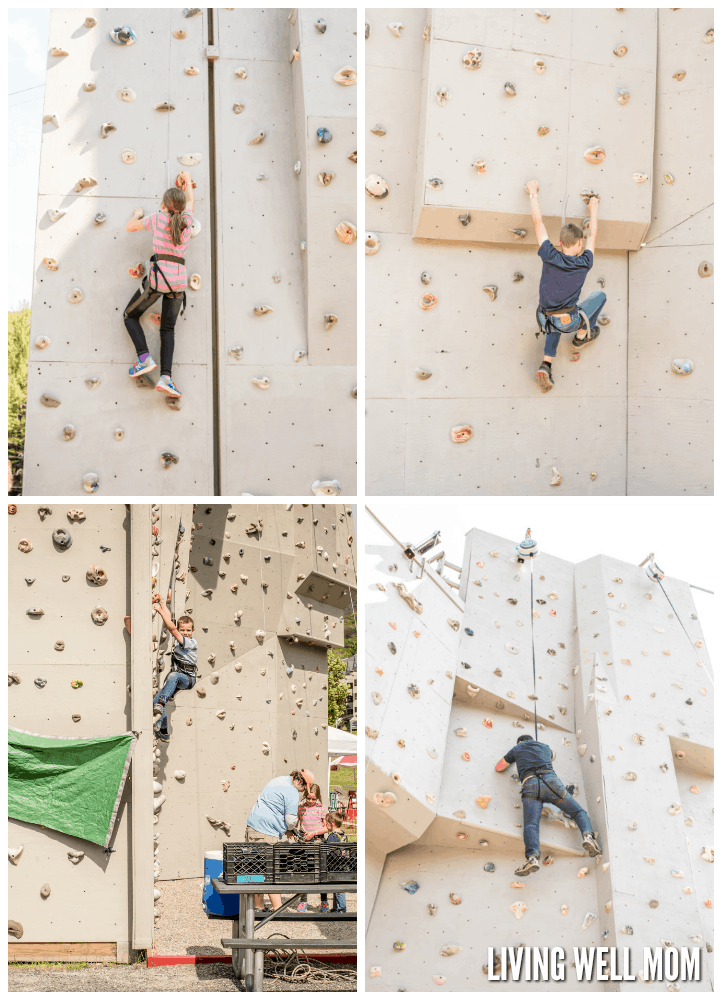 All four of my kids loved the climbing wall, even 5-year-old Luke. He was thrilled to climb up, then glide back down. Over and over and over again!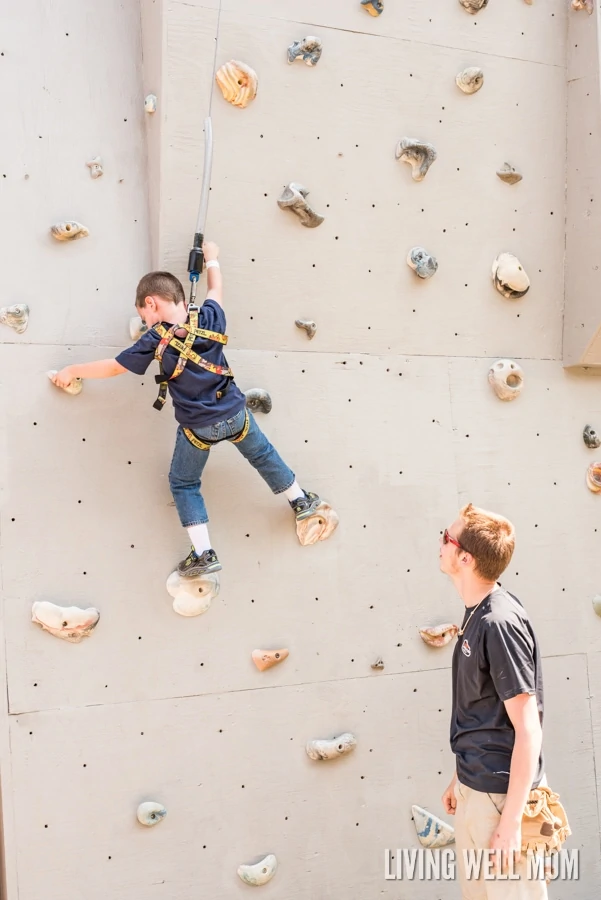 The employees were fantastic too. One guy was very patient with Luke and helped him get a little higher. He was so patient and friendly, I was very impressed!
Bungee Trampoline:
Another favorite for us, even Dad gave the bungee trampoline a try!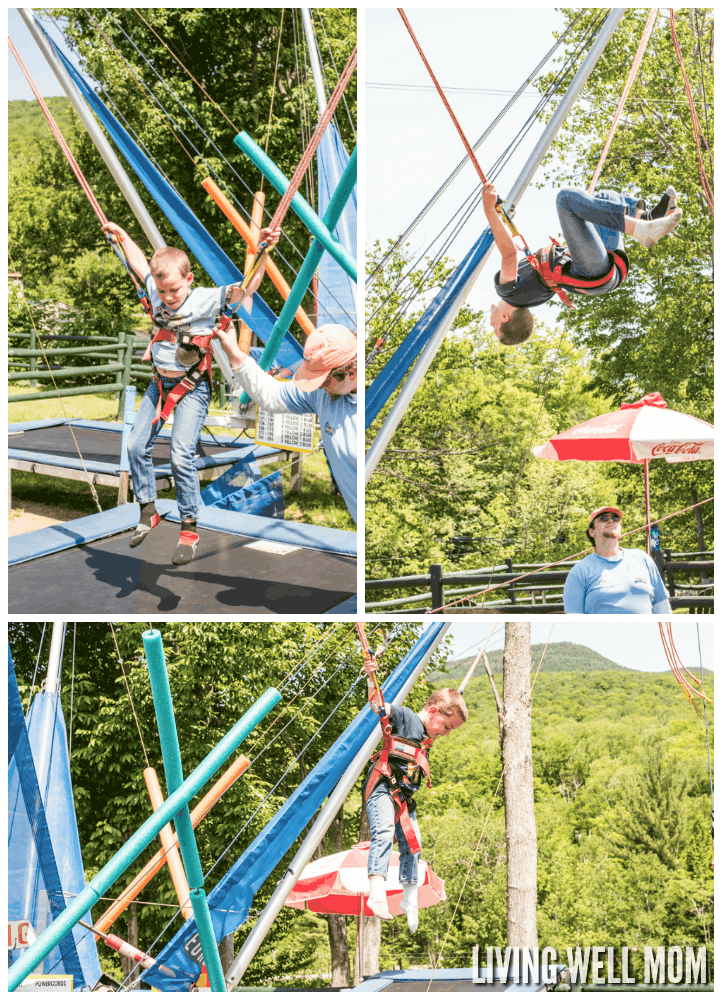 Everyone had fun trying different things and Nathan even did a few flips!
The Zipline:
This was our first time trying Loon Mountain's Zipline and WOW!
First, you get suited up with a harness and gear. The employees make sure you're all set and then you make the climb up the zipline tower.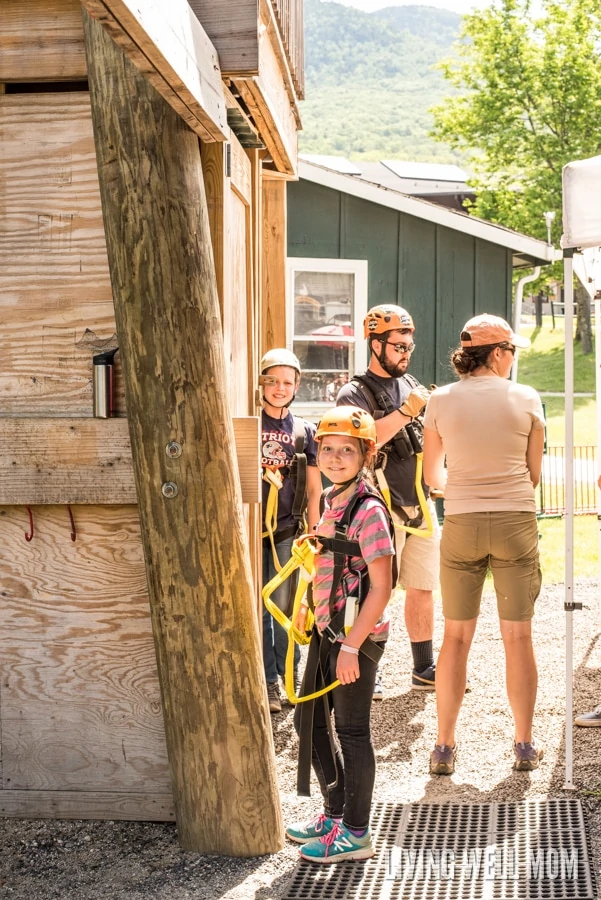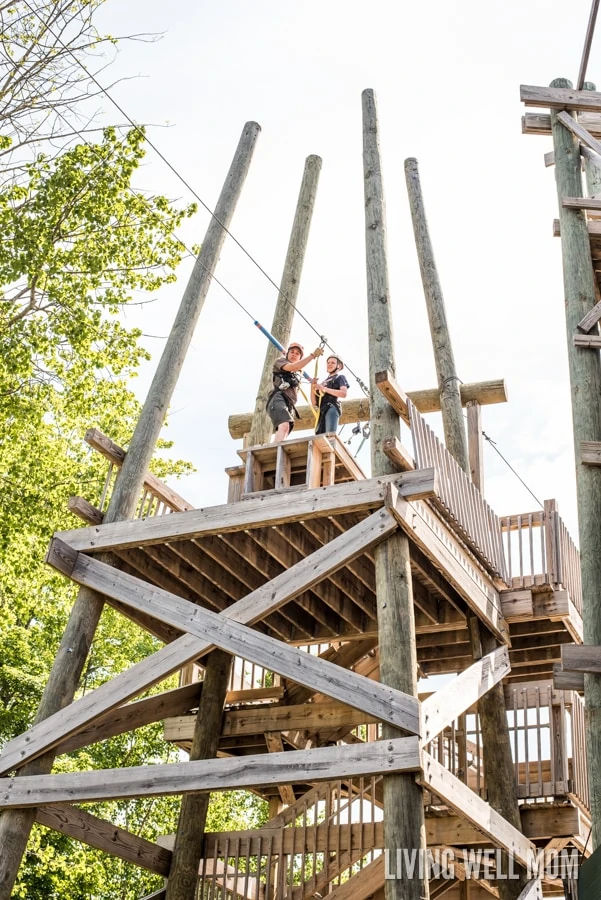 Nathan and Emily (ages 13 and 9) tried the zipline and so did Nate.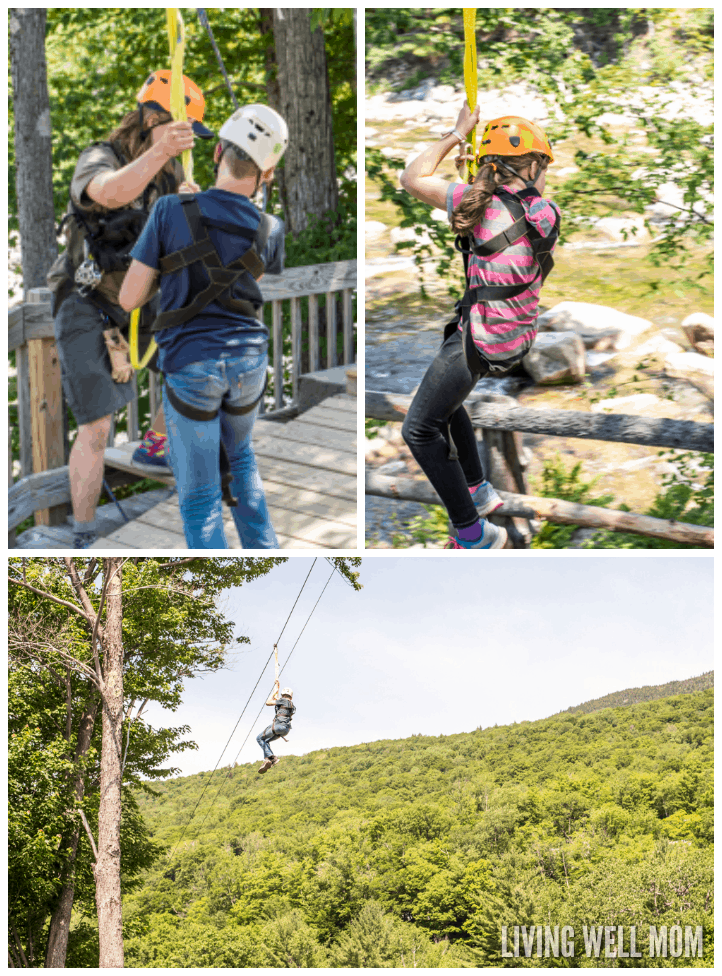 I even mustered up the courage to take the leap (I'm not a fan of heights) but I'm so glad I did. Zippin' across the Pemiegewasset River, with the beautiful mountains in the background was truly an amazing experience. It's round-trip too so you get to zip there and back!
Logjam Maze:
This maze is tons of fun! It's not so complicated that you can't find your way out, but it's definitely a challenge. You get a card at the beginning with your start time stamped on it, then you can race to see who finishes first! It's not just about going in and out either – you have to find 4 separate letter punches to spell out "M-A-Z-E" and then you find your way out!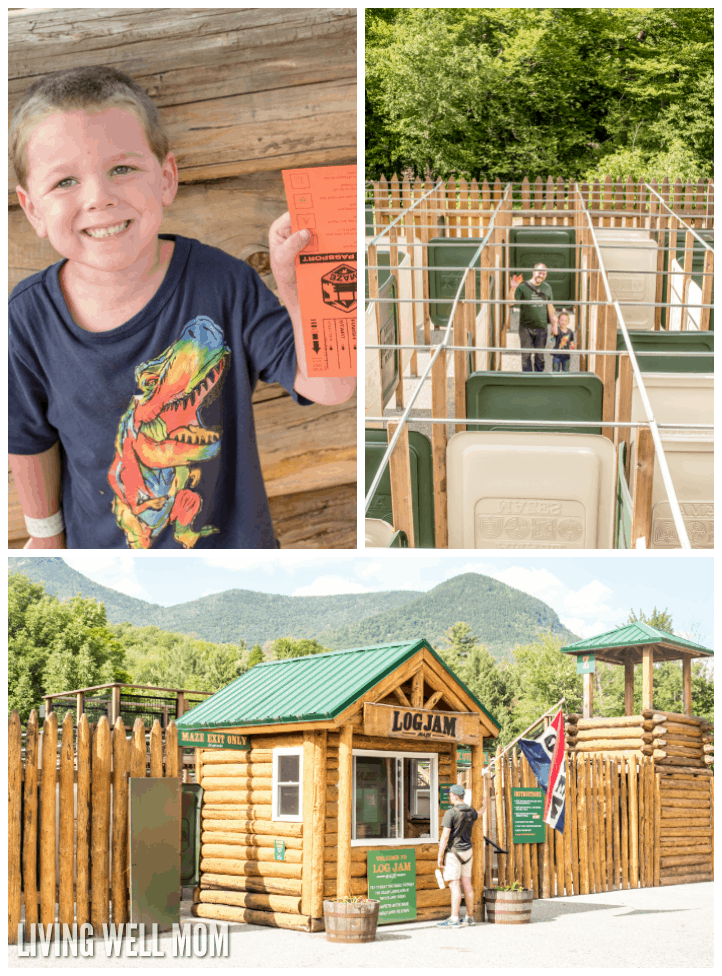 We kinda did the maze as a family effort, but I managed to find my way out first. With a time of 7 minutes, I had the shortest time of the day and won a t-shirt! How fun!
The Aerial Forest Adventure Park
The aerial park is a whole different section and you have to go through a training course before you get started. It's self-guided so you can go as fast or slow as you want. It's perfectly safe because you are locked into the very strong cable constantly.
The Aerial Forest is impressive. I thought it would be just one course, but there's actually five different courses, ranging from easy to difficult!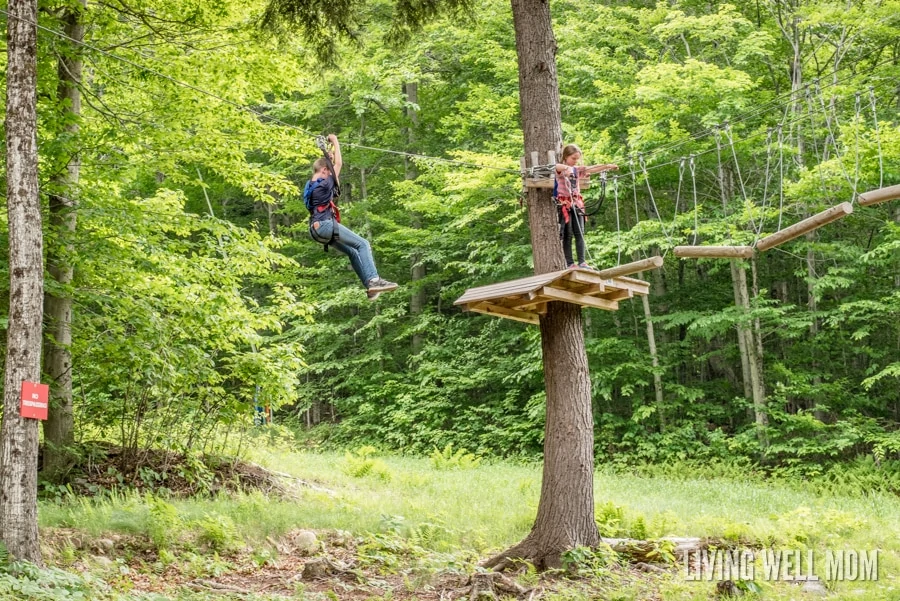 Joshua, our 7 year old, impressed by actually doing a couple of the courses. He's usually cautious but, with a little help, he did amazing. By the end, he was a pro and telling ME how to do it! It was a big accomplishment for him and we let him know how proud we were!
Again, I have to comment on the employees – they went above and beyond to help us out (and no, they didn't know I was a blogger!) They were especially patient with Joshua, who did require some coaxing, over two challenging sections.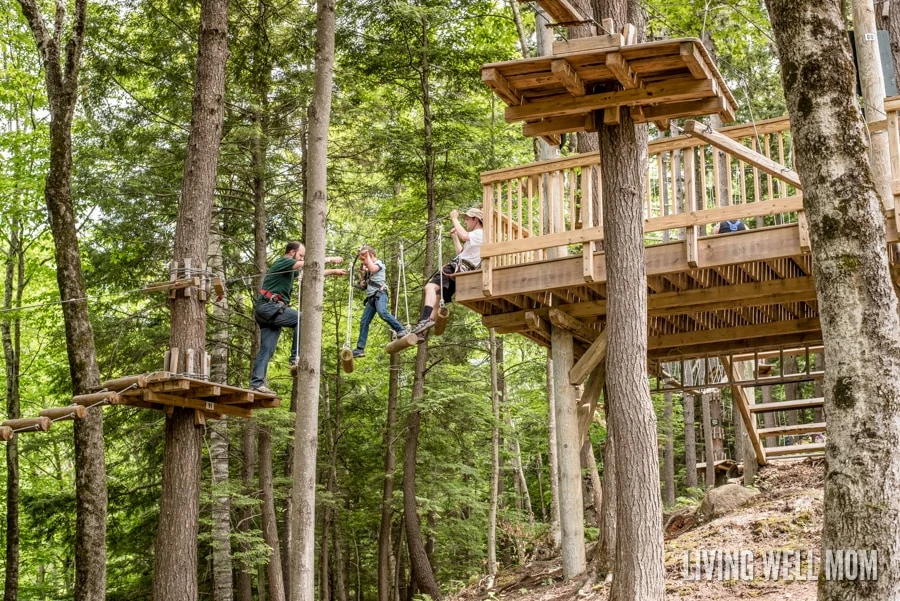 Four of the fives courses have ziplines too!
Luke was too small, but our older two kids and my husband, Nate, had an amazing time each doing 3 or more courses!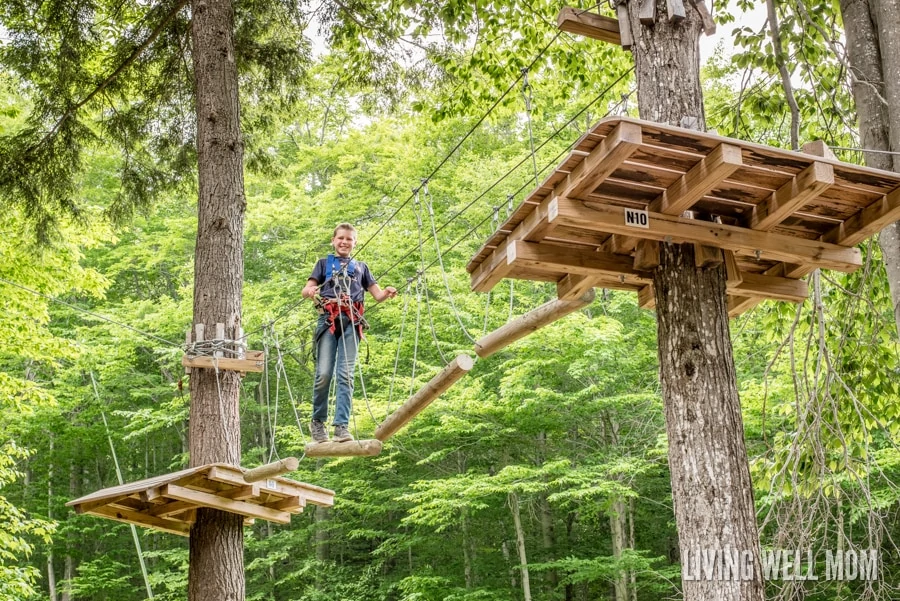 I was so proud of how brave my kids were!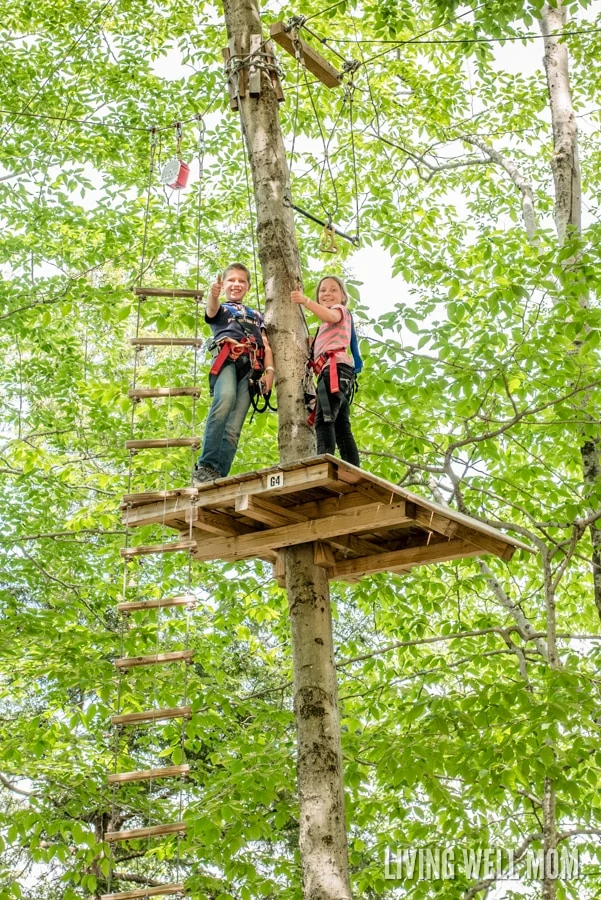 I tried one course but when Joshua wanted to turn around at a tricky spot, I was happy to do so. Maybe next time I'll be a little braver! But seriously some of the courses are 40 feet in the air! Wow!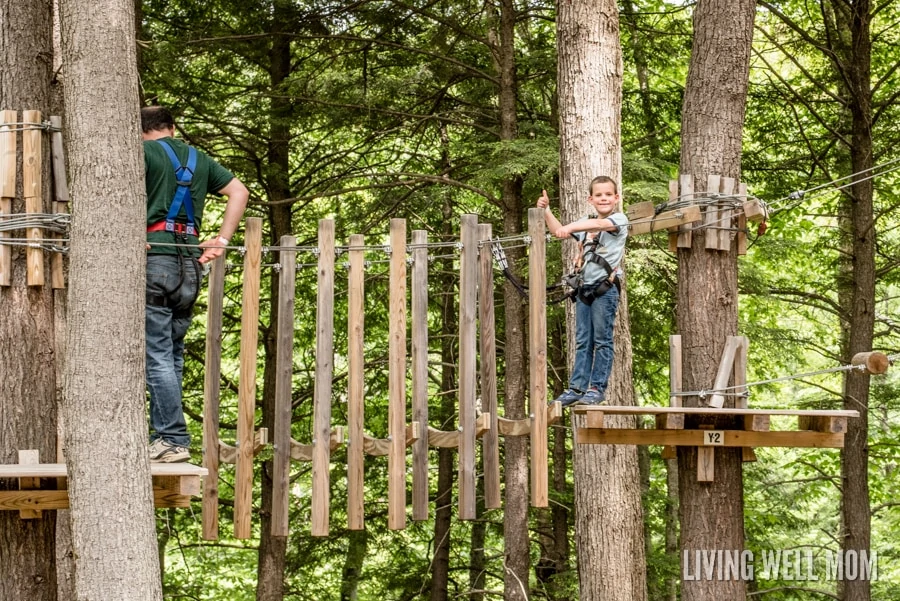 There was more to Loon Mountain we didn't have time to do, like bike rentals. You can rent bikes for the whole family and try out some mountain biking. We'll definitely have to try that another time. Also, there's a fun bouncy house area for kids, called "Bunyan's Bouncin' Backyard" and the "Spider Web" maze tower that was out of order when we went. (We were told it was going to be back online the next day!)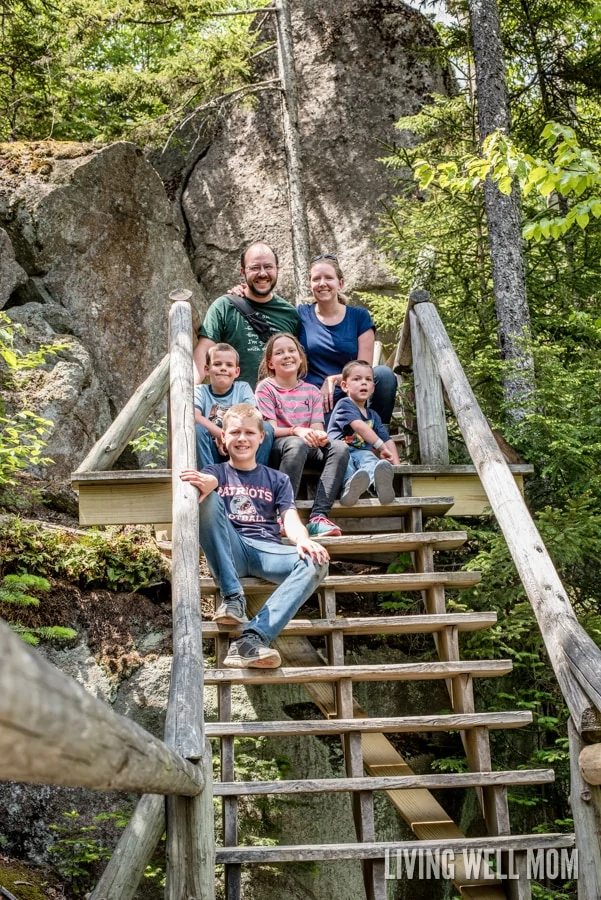 No matter what age, Loon Mountain in Lincoln, NH is a place where you can truly have a family adventure to remember. I know we won't forget our amazing trip anytime soon!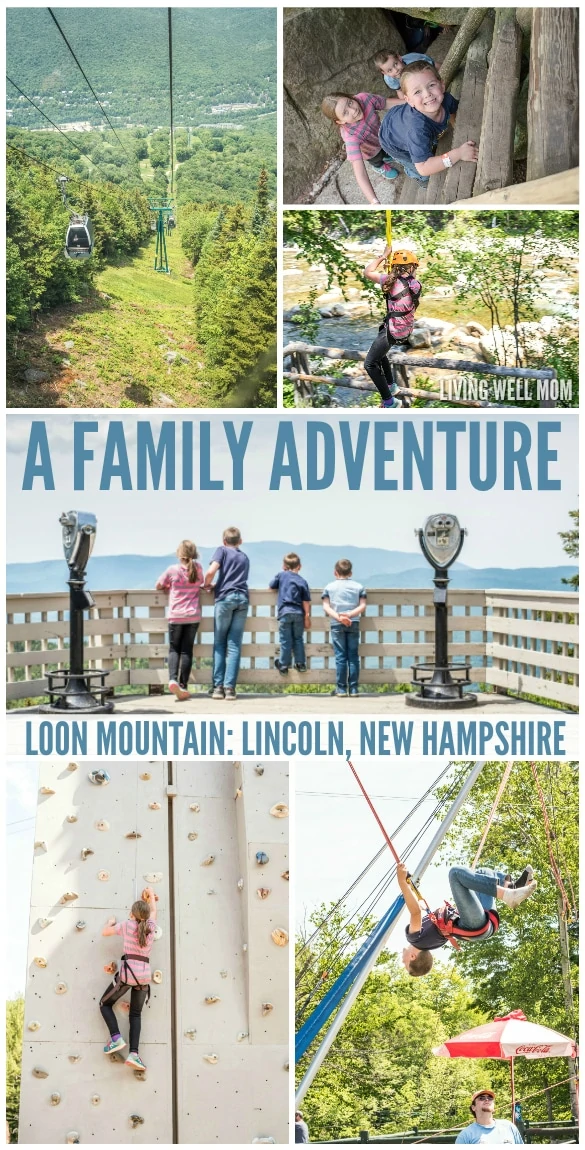 Another awesome thing about Loon Mountain is you can customize your visit!
Maybe your kids are little and you don't plan to do quite as much "adventure" as we did. You can purchase tickets for just the Gondola Skyride, Glacial Caves, and Summit Adventures. Tickets are $12 for kids (6-12 | 5 & under is free!) and $17 for adults.
Maybe your older kids want to try out the Zipline or Climbing Wall. Buy individual tickets for those.
Or get a package deal with the Adventure Pass or try everything with the Super Adventure Pass. (That's what we did.)
Click here for Loon Mountain Ticket Prices.