Living in cold New Hampshire with four kids makes it a challenge to keep our winter gear organized. Between all the winter coats, snow pants, hats, mittens, boots, etc., it's always a huge frustration for me. It's not been easy to find the space in our closet or a good system that consistently works.
I tried a new way to organize the closet a few years ago and it wasn't perfect, but it helped. Then we moved 18 months ago, and I had to start over. Our new home has a lot more closet and storage space, but it wasn't as simple to organize winter hats and gloves and other gear as I had hoped.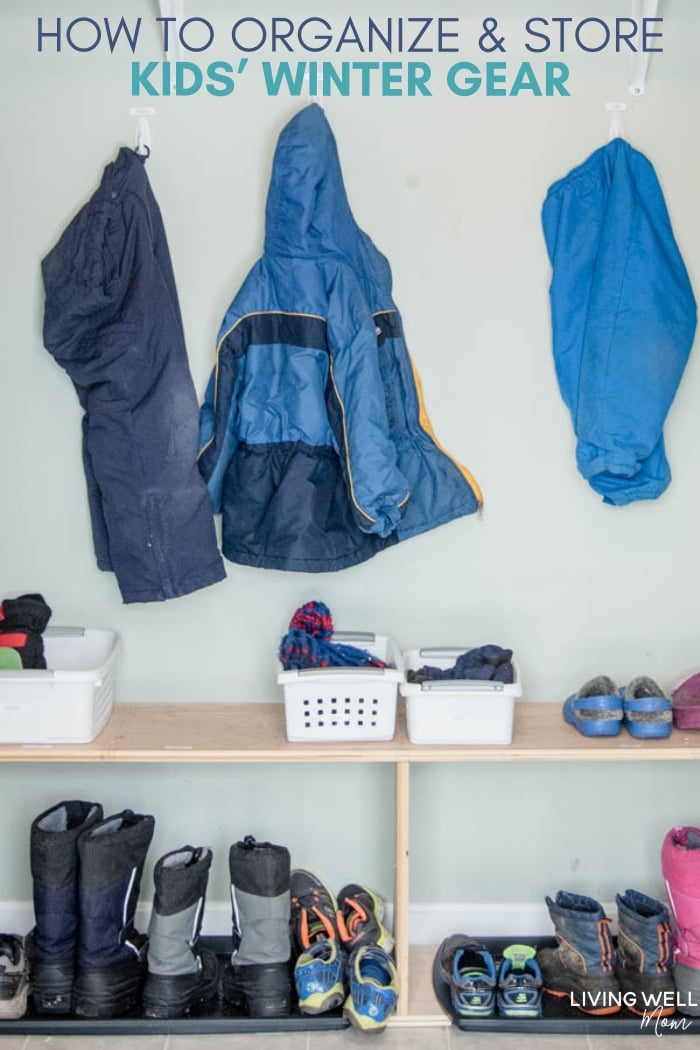 Before Our Organizing System
Last year, I just made do with a few command hooks and a small organizer in the corner of the closet. But this year, that setup was driving me nuts even before the snow came. This is what my closet looked like: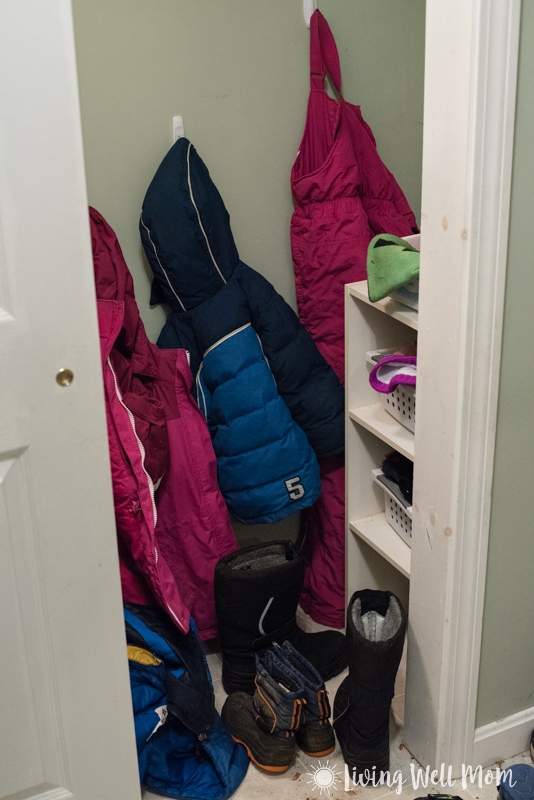 I had to go back to the drawing board for organizing winter gear.
I've learned a few things about successful organizing with kids over the years and that includes two things:
Successful organizing with kids needs to be simple. If it's too hard or complicated, it won't work.
Labeling is very helpful with children (and adults.) So just label, ok? (Check out this list of 10 free printable labels here.)
With those things in mind, I enlisted both my husband, Nate, and my father. Dad suggested that we build a bench where the kids could put their boots underneath and hats and mittens in bins on top.
The more I thought about that idea, the more I liked it. The only issue was that even with our large coat closet, the sliding double doors made it tricky to store FOUR kids' worth of coats, snow pants, boots, hats, and mittens. And that wasn't even counting their shoes and crocs because it is simply too cold to store them in our handy shoe organizer outside on the porch.
Nate offered to remove the closet doors for the winter so I could organize the winter gear as I had hoped to. I was hesitant at first – after all, that closet is the first thing people see when they walk in my house. But then I realized I wanted the closet doors to hide the unorganized mess and if I could really organize the "mess", it wouldn't matter.
So Nate removed the closet doors and built a very simple bench out of wood he used for a different project at the old house and no longer needed. Of course, he had little helpers.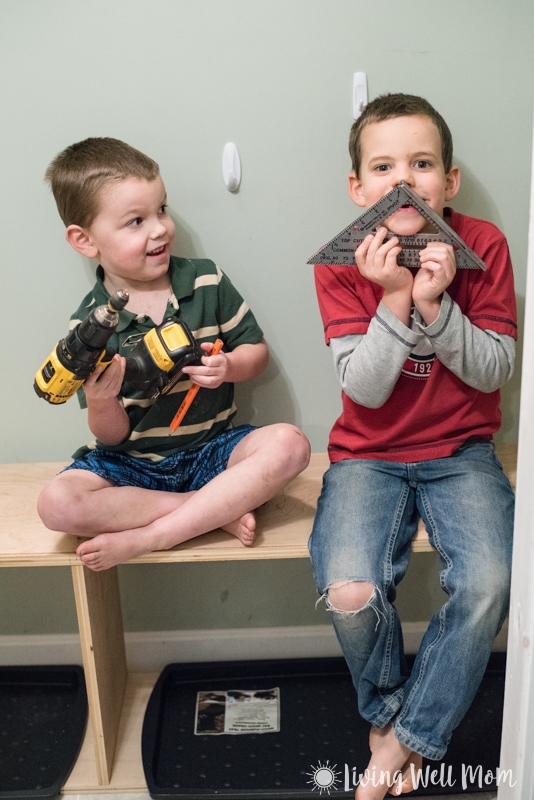 He specifically built the bench with enough room to put one boot tray
under each half. With the amount of snow and mud we get, boot trays are a must around here and they had to fit in our winter boot organizing system.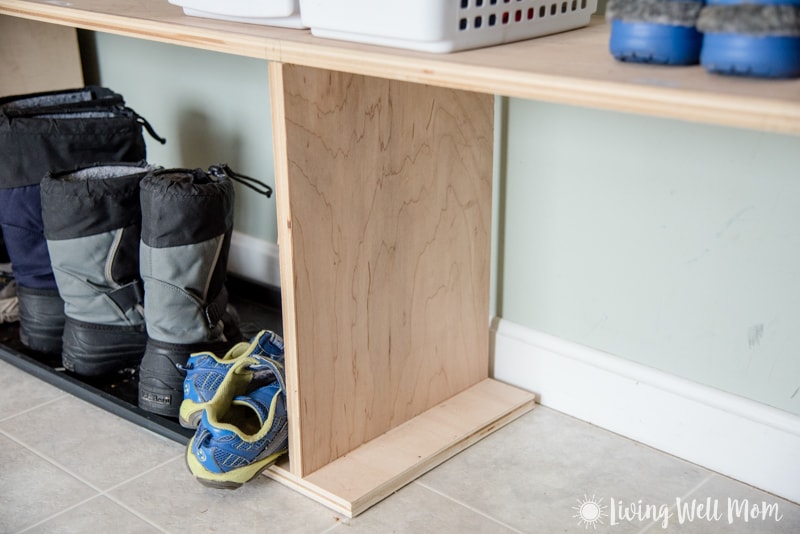 This bench is perfect. It's sturdy enough for the kids to sit on or even for the little ones to climb up to hang a coat, but it's not attached to my closet, so we can remove it for the summer if I want. (Though I think we may just keep it.)
Anyways, on to the details:
How to Organize Winter Hats and Gloves
Each child has two hooks, one for their winter coat and one for their snow pants.
Nathan is tall enough so he hangs his coat and snow pants on the main closet rod.
Emily's snow pants are a little too tall to hang over the bench, so we installed a double hook on the side of the closet for her things.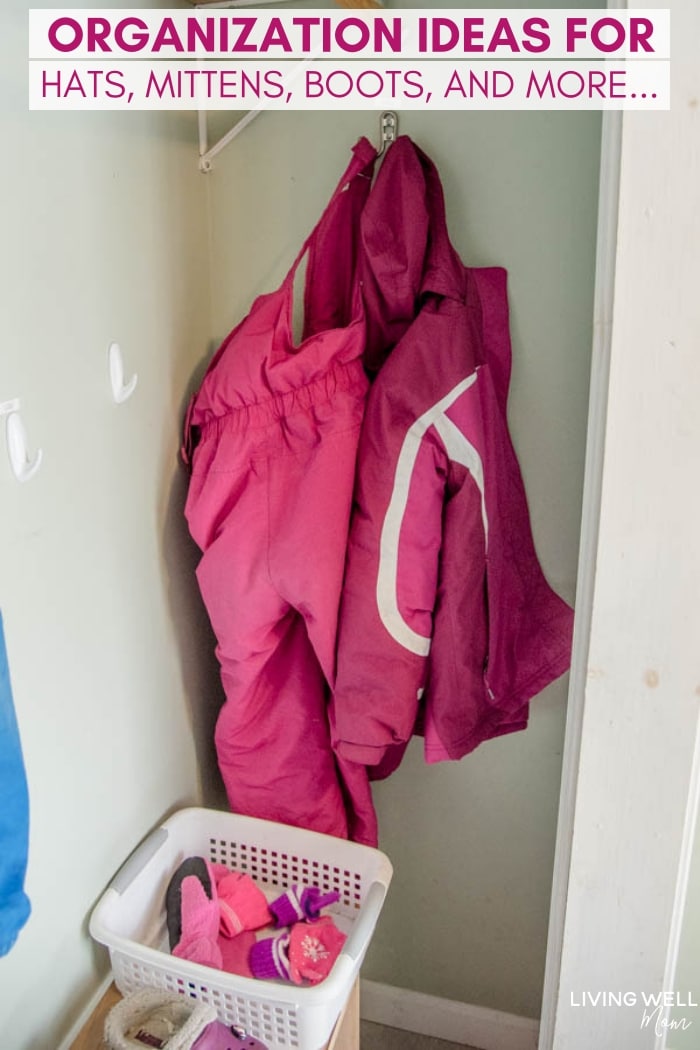 I used Command Hooks
for Joshua and Luke's gear; I hope they're strong enough to endure the abuse they're bound to take this season, but thankfully they're inexpensive and not permanent for a reason.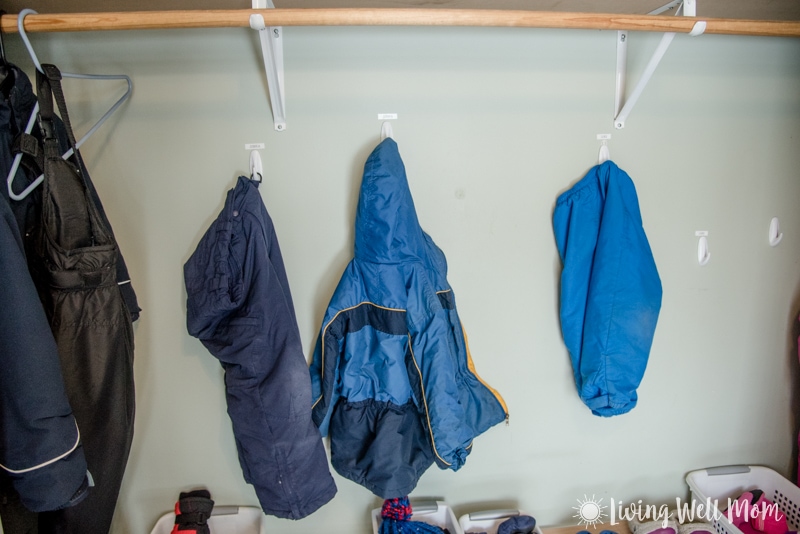 Each of the kids has a section underneath the bench for their boots and shoes.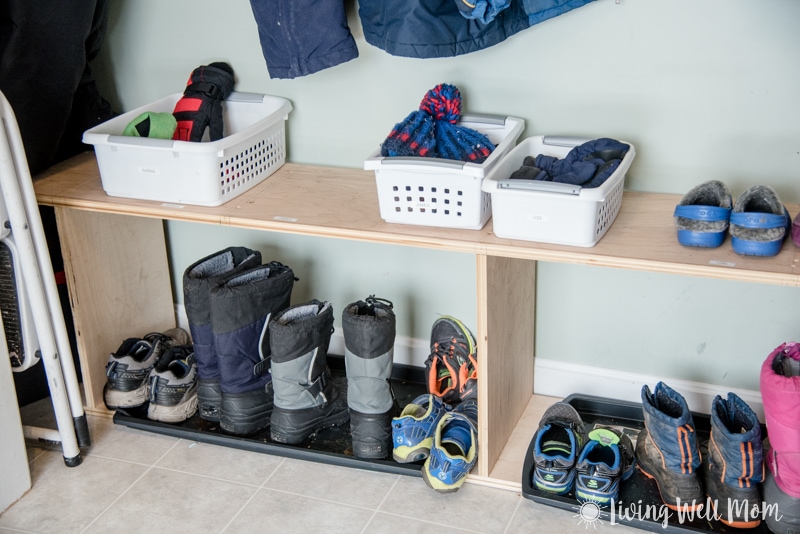 There's a small plastic bin on top for each child where they put their hat and mittens or gloves. Establishing a clear designated space has worked wonders for organizing winter hats and gloves!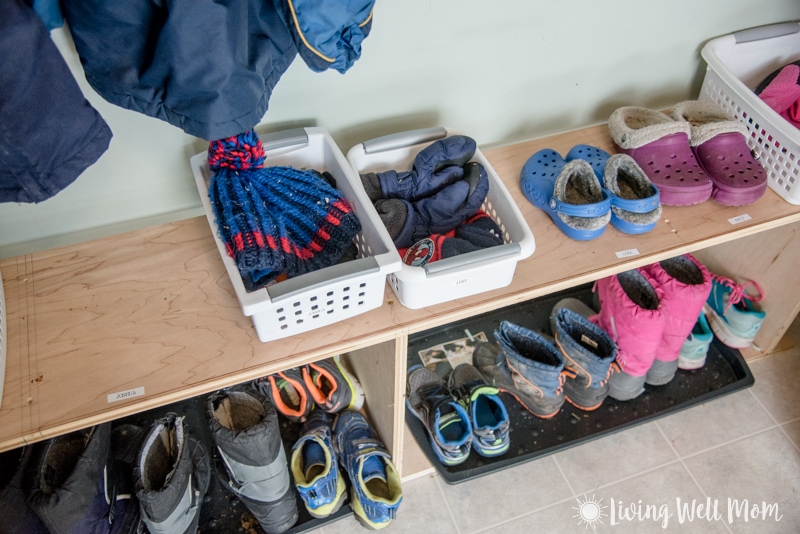 I keep separate bins for my stuff, Nate's stuff, and extra mittens/hats, etc. (I always keep spares around) on the top shelf of the closet.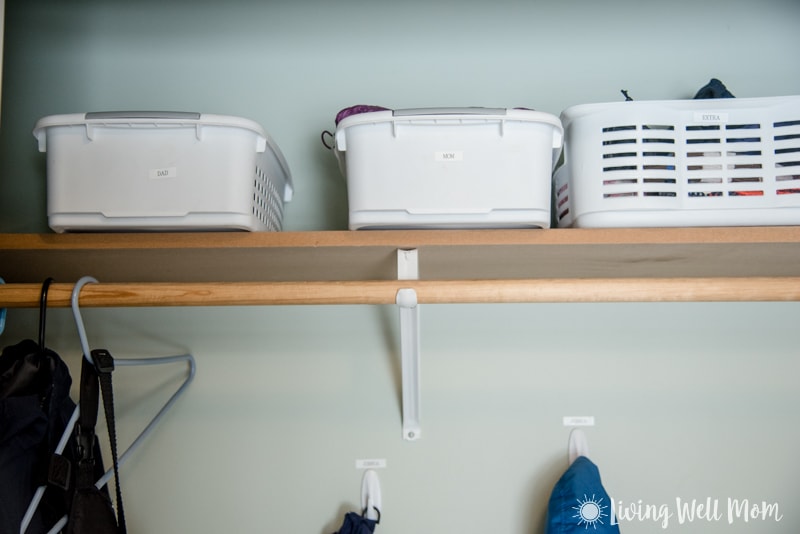 We've had this winter gear organization system for a few weeks now and it's worked beautifully.
Because it's so simple and the kids know exactly where to put their things, there's been no headache with messes or arguments.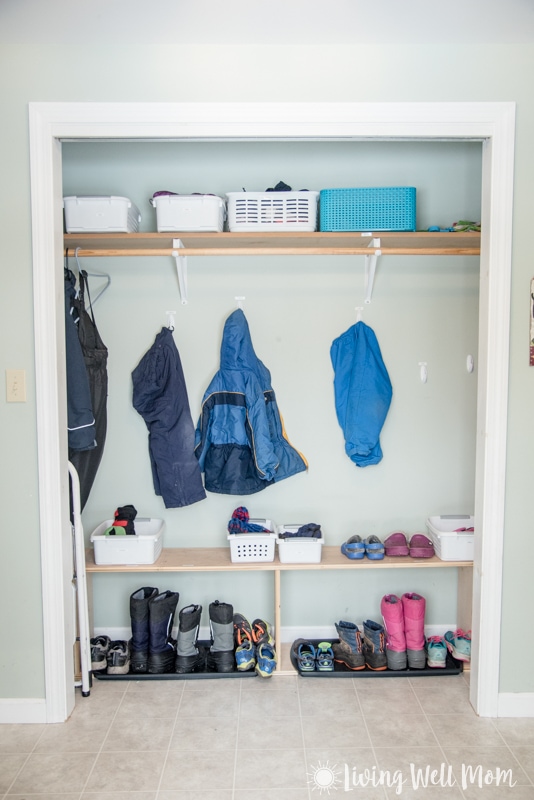 Naturally, a couple of the kids have tried just throwing their things in the closet without putting them away properly, but it was easy to see who did it and have them correct it.
(By the way, if you're tired of fighting with the kids to get chores done, you need to read about our Chore Stick system. It works so well, even 6 months later, that my kids still regularly ask for chores to do!)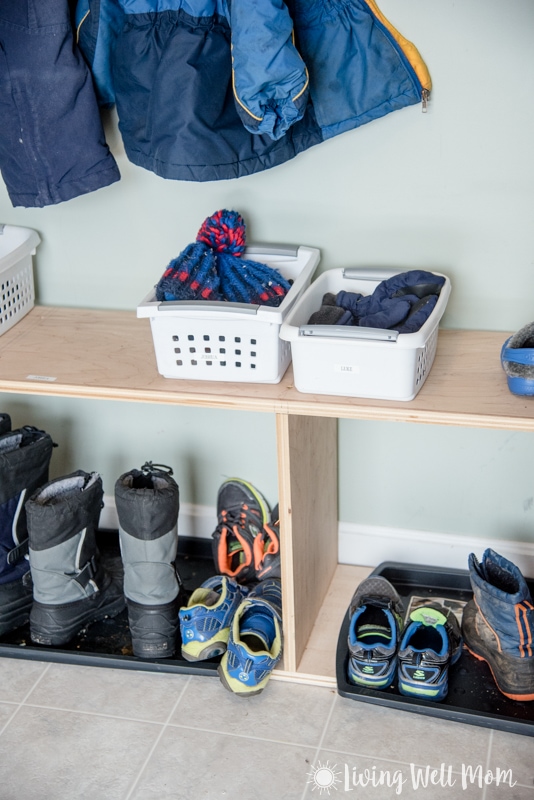 If you've been wondering how to organize winter hats and gloves and boots and other gear, I hope this has helped inspire you.
This system has worked really well for organizing my kids' winter gear this year and we absolutely love it!
What's your biggest winter organization challenge?