Cats bring a lot of fun and joy to our lives. That being said, dealing with the litter box is low on my list of chores I like to do!
I designed this DIY litter box out of necessity—I needed something that would keep the litter box from getting smelly and messy. Of course, I wanted to do it on a budget too!
While I'd like for you all to think that Miss Josie is truly this photogenic, I had to bribe her with a piece of turkey held over her head.
All of you cat lovers can agree just how special our feline friends are. Even if you love dogs too, there's just something about cats that set them apart. Maybe it's the fact that we're not constantly tripping over them. Or the way they rub up against us and purr when they want attention or food.
Our kitty, Josie, "talks" to me by letting out this soft little "rumble" in response to something I say or do and it's one of my favorite things she does.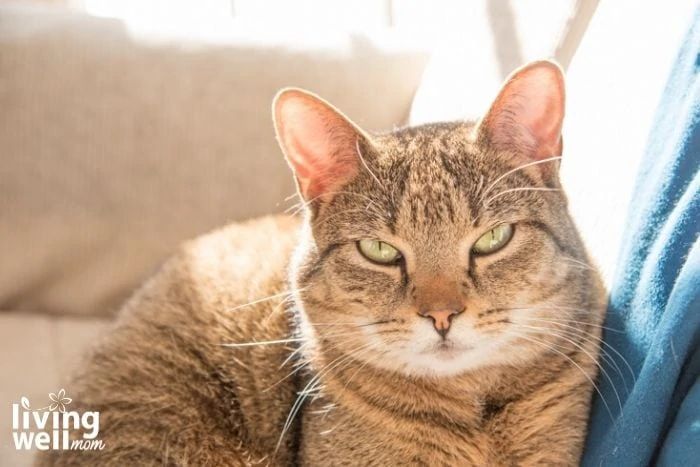 As much as we love our cats, there's one thing no cat lover is a huge fan of. The litter box. Right?
It can get smelly and messy when our dear sweet kitties track litter all over.
Mess-Free DIY Litter Box
Friends, say goodbye to the smelly messy cat litter box because I have a new kind of litter box for you.
A simple, mess-free litter box that you can easily make yourself. Even better? The entire project should cost you just a few dollars.
It's the Original DIY Mess Free Cat Litter Box. I'm pretty proud of this one!
An Update on My Original Cat Litter Box with a Lid
A few years ago, my husband and I came up with this DIY cheap mess free cat litter box and it became one of the most popular posts EVER.
People LOVE this mess free cat litter box because it's simple (anyone can do it), really cheap, and best of all IT WORKS.
And while there may be the occasional picky cat who refuses to change (we are generally talking about older cats here), most kitties seem to love it too. Yes, it's a win for us owners, but it gives them more privacy too!
After all this time, and with the feedback of literally hundreds of people, it's time to write an update.
Today, I'll again share a tutorial for how to make the cat litter box (with better photos – my old photos make this photographer cringe!) and with a new twist – personalized decoration! Plus I'll answer some frequently asked questions and comments.

What You'll Need to Make the DIY Mess Free DIY Litter Box:

18-gallon tote bin (you can use a larger size for a bigger cat) – I found ours at Walmart for under $8
a plate (to trace the hole)
a pen or marker
strong scissors or a box cutter
decal stickers for decorating the outside (optional)
cat litter
How to Make the DIY Cat Litter Box:
Like I said, this cat litter box is really simple to make.
Step 1: Trace the plate onto the bin lid.
I recommend tracing the outline on one end of the lid because this gives kitty more of an "entrance" area and then a "bathroom" area. Note: you can use a larger plate for a bigger cat.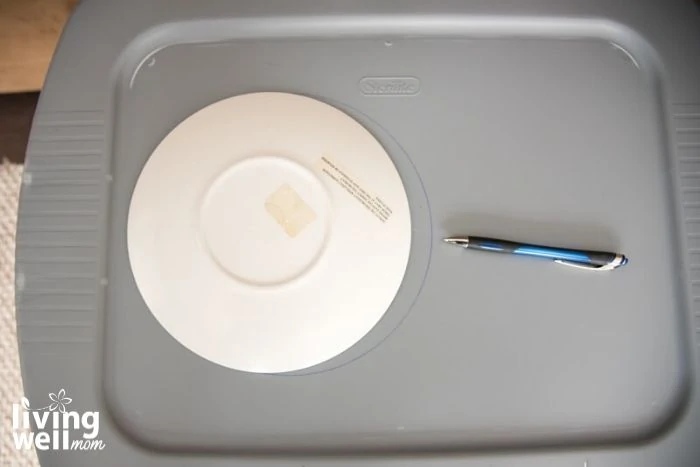 Step 2: Carefully cut along the circle outline, using strong scissors or a box cutter.
This may take a few attempts -it's okay if the rubber doesn't cut all the way through on the first time. Just go slow and steady here.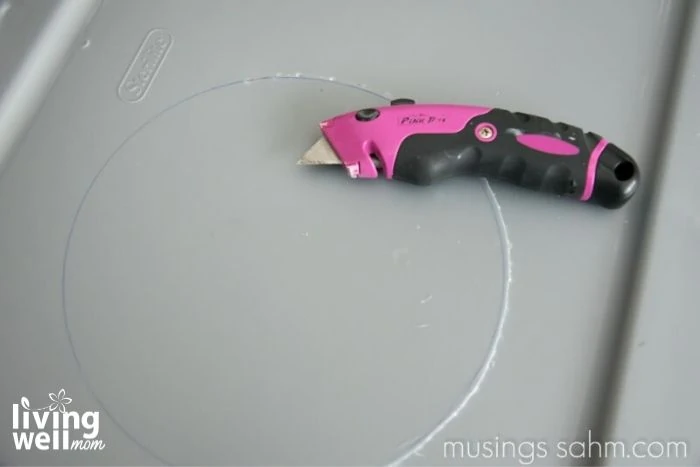 Step 3: Decorate (optional)
I thought about many different ways to decorate the cat litter box, including spray paint or modge podge. But I remembered two things: 1) this is a cat litter box. And 2) I wanted to keep this a simple and cheap DIY project.
So…I decided to use decal stickers and the possibilities for decoration and personalization are nearly endless. This is also a fun part of the project for kids to help do!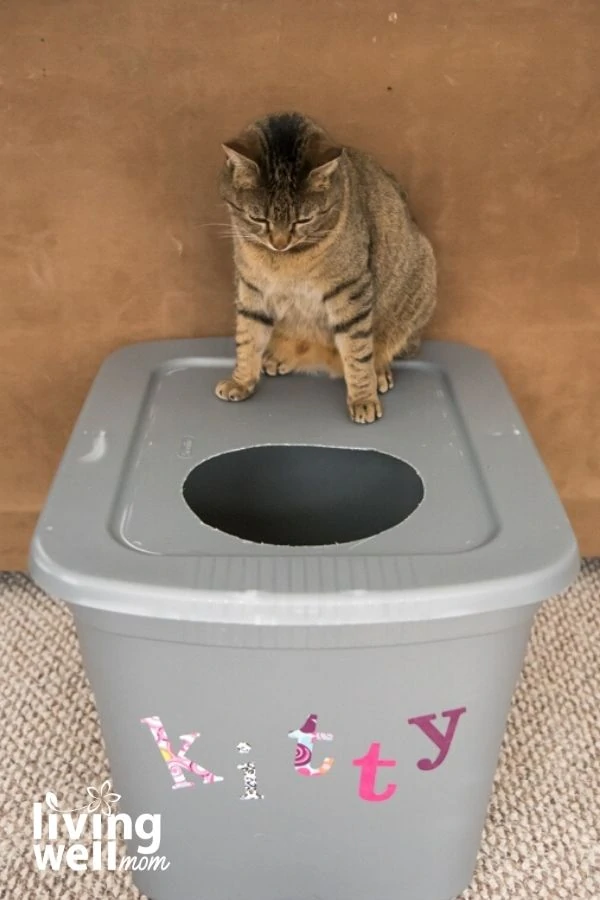 I found these colorful letter decals on Amazon:
Here's a more neutral alphabet:
Decal stickers are perfect because there's easily removable, so it's no issue if you ever need to remove them to wash out the litter box or you simply want a change in decor.
Step 4: Fill with Cat Litter
The last step is to fill your new cat litter box with cat litter.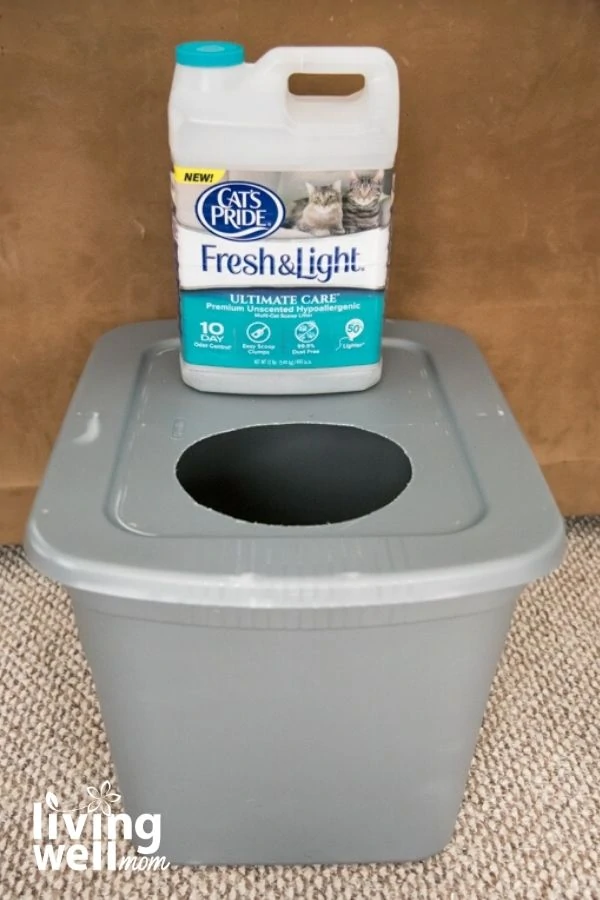 Step 5: Put your new DIY Mess Free Cat Litter Box where you'll be keeping it.
We keep Josie's litter box downstairs in the corner of the family room. You can keep it in the laundry room or garage too—anywhere you'd like that your cat can easily access!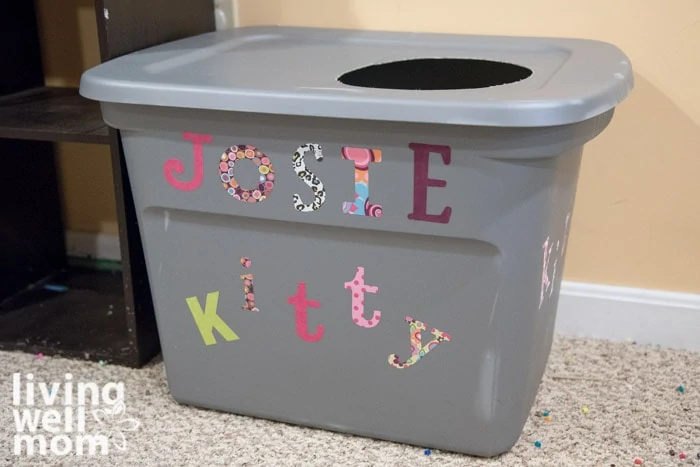 What Does Josie Think?
Even though Josie didn't "approve" of me putting her back on the litter box for yet another photo, she loves her new "upgraded" cat litter box. She just might not admit it to you or me!
Frequently Asked Questions about this DIY Litter Box
As I mentioned above, this is an update to an older post. Over the years, I've gotten so many questions about this DIY cat litter box, so I wanted to answer the most common ones right here. If you have another question, just drop it in the comments and I'll get back to you!
Question: I don't think my cat will fit through the hole. He's too fat!
You have a couple of options here, depending on just how large your cat is! You can:
Simply make a larger hole on top of the bin.
Purchase a larger bin from the store. Walmart, Target, and Lowes have tons of sizes to choose from. You'll need more room where you're going to keep the litter box so keep that in mind.
Comment: The urine-soaked litter will stick in the grooves at the bottom of the bin! This diy litter box won't work!
Answer: First off, this may depend on what kind of bin you get. But in the almost 4 years we've been using our bin (yes the same one!), this has never been a problem. I always make sure to put 2-3″ of cat litter in the bottom of the bin.
If you barely cover the bottom, then yes, you'll probably have litter stuck to the bottom, but fill it enough and you won't have an issue. Obviously you'll want to scoop and change the litter regularly. You can also spray out the bottom of the bin with a hose if you ever need to.
Comment: I don't want my cat to jump on her poop!
Answer: Okay, this may vary from cat to cat, but this has never been an issue with our kitties. They've always covered their poop with the litter and we scoop regularly. Also by cutting the hole on the end of the litter box lid, you're giving kitty one end to use as her toilet and the other end as her entrance/exit.

That's it! If you make this DIY litter box, please let me know in the comments below how it's working for you (and your kitty!).
Just pin it below to find the instructions later!