Do you ever feel like no matter what you do, it's not enough?
Life is crazy, especially when you have kids. Even more when you're jumping into the back-to-school routine. While it's a welcome relief for some of us, for others it means early mornings and non-stop to do lists. Whether you're running on no sleep with a colicky newborn or playing soccer mom and transporting kids from one place to another, it's easy to let the stress build up.
How many of us don't feel like we're doing a good job? The demands in life are high and juggling everything can easily become overwhelming.
It's essential to take time for yourself and learn ways to destress. Believe me, it will be worth it.
I just learned I have multiple food sensitivities and leaky gut syndrome, most likely due to chronic stress. Even though I've learned better stress-coping strategies over the past couple years, I am still paying for years of not taking care of myself.
Dear fellow mom, don't let yourself get to this point. Take care of yourself please. Now.
We all need ways to relax. And that doesn't mean you have to go to the spa. (Sure a spa would be fabulous, but for most of us, it just isn't gonna happen.) Instead, here's a few simple inexpensive ways to destress that you can actually do!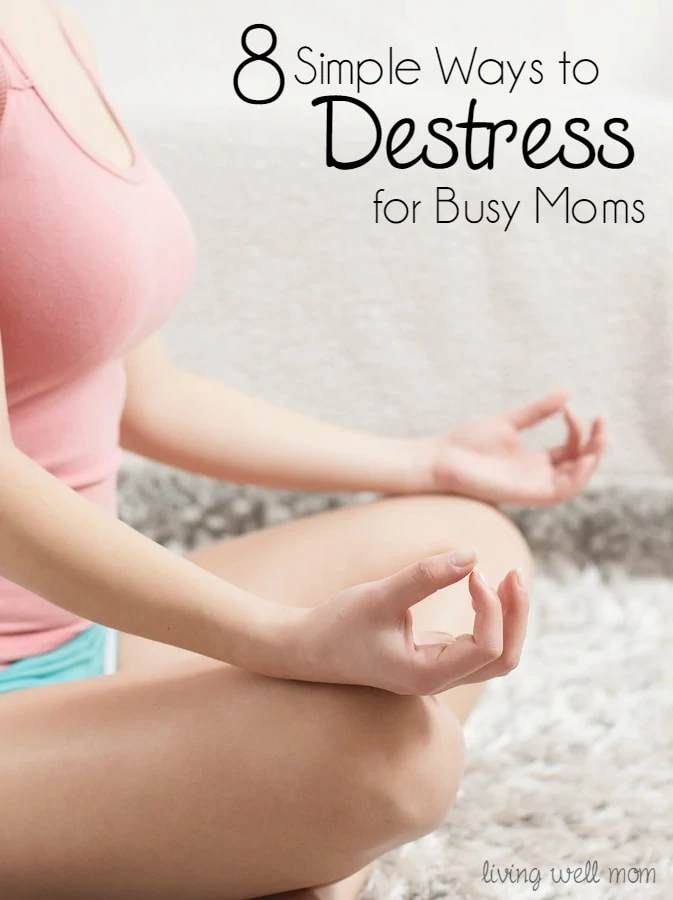 8 Simple Ways to Destress for Busy Moms:
1. Think About What's Important
Just stop. Look around at the mountain of laundry or floors that need to be vacuumed. Or maybe your whole messy house. Then look at your children. Your sweet children who may drive you a bit insane, but you love so much. Fast forward 20 years. What will matter more? Folded laundry and a clean, organized house? Or memories of crazy fun times with your kids? What do you think THEY'll remember more?
2. Take 5 minutes and breath deeply.
Lock yourself in the bathroom or hide in the closet if you have to. Close your eyes and slowly breathe in for 5 counts. Then slowly breathe out 5 counts. Do this 5 times. It helps!
3. Put your favorite music on.
Music always makes things more fun. Whether you're listening to fun pop tunes as you do chores or soothing peaceful music when you're relaxing, music is great.
4. Do something with someone.
Even if you're generally anti-social and prefer to hole up at home (I'd rather hibernate than see someone mid-winter), you need to get out and see people. If you work outside of the home, it's still a good idea to socialize with friend and/or family outside of your work environment.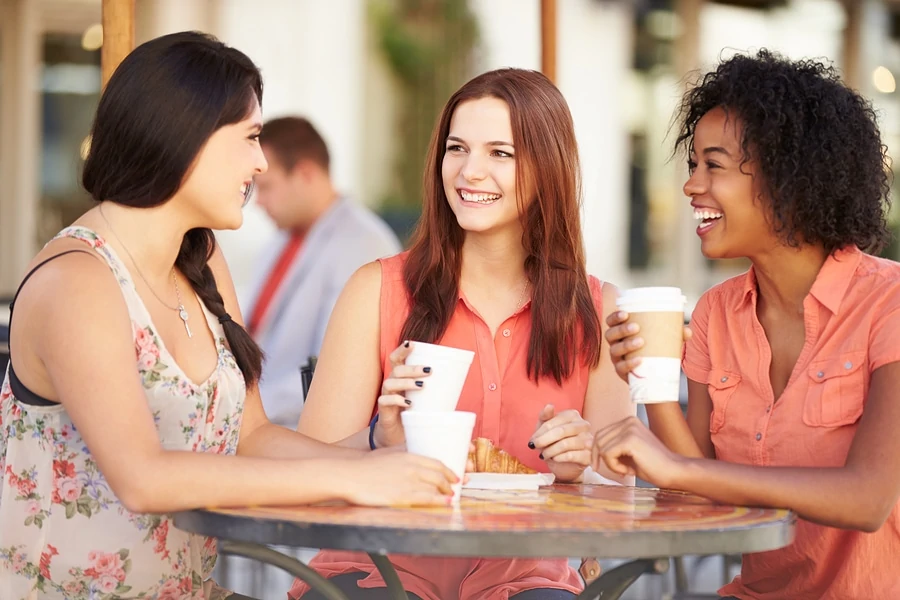 Set up a time to go to a local coffee shop and chat for an hour with your best friend/sister/mom/ or even an acquaintance you've been wanting to get to know better. It doesn't have to be long or expensive but that little interaction can make a big difference in your mood.
Even though I'm an introvert and need my alone time, I always feel better after getting together with someone I know.
5. Enjoy a special treat that's just for you.
I look forward to my green tea latte every afternoon. It gives me an energy boost, and I find it relaxing. I do the same with a small piece of dark chocolate later every afternoon. These two little things are small and guilt-free, yet they're a mini destresser for me.
What's your favorite special treat?
Looking for a non-food related treat to enjoy? Try a DIY lavender bath bomb in an evening bath for a peaceful, relaxing soak.
6. Laugh!
Find something to laugh about. Go join the kids – they're sure to make you laugh one way or another! Or pick out a comedy to watch one evening. It's true that laughter is good medicine.
7. Get some fresh air
Fall is a beautiful time of year. The summer heat is beginning to subside (okay, maybe not for you southerners, sorry!) and it's gorgeous out. Soak up some sunshine or walk around the yard. Even a few minutes can help you step away from the craziness of life and reconnect with nature and yourself. Even if it's in the dead of winter, a few minutes of cold air can rejuvenate you. (At the very least, it will wake you up!)
8. Think about the positive.
This is one of my favorite ways to destress because it brings a little perspective. When you look at everything that's gone wrong in a day, it's easy to be hard on yourself and feel like you're not doing a good job. If you start thinking like that, stop yourself in your tracks! Instead, try to think about everything good that did happen! Even on tough days, you can always find a little bit of sunshine if you look hard enough.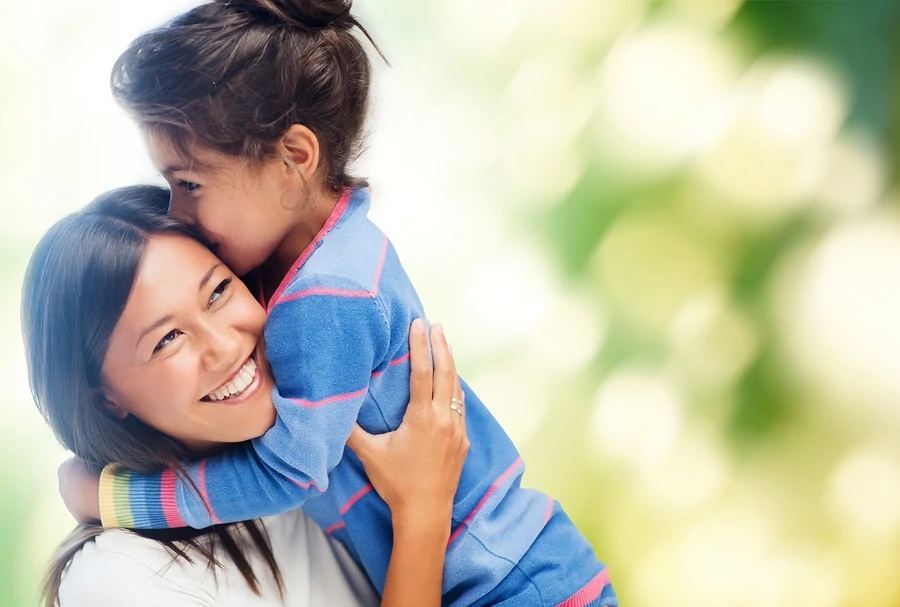 You ARE doing a good job. Believe it! Want some proof? Read 10 Reasons You're a Good Mom. And dads? You rock too!
Think about a time when you felt you were doin' good. Or when you noticed another parent doing a good job. I bet it happens more often than you'd think!
Follow Minute Maid on Facebook and Twitter.

1 lucky winner will receive a Minute Maid prize pack, including a $250 VISA Gift Card!
This giveaway ends on September 14th, 2015 at 11:59 pm EST.
Open to the US only, ages 18+.
Click here for complete rules and disclosure.
Closed: The winner is – Pamela Gurganus