I've often felt like I'm not doing enough to teach my children about history. Sure, they have history or "social studies" in school, but how much goes in one ear and out the other? I haven't sensed that any of my children have really understood or wanted to learn more about things from long ago.
But then my family was offered the chance to visit Old Sturbridge Village in Sturbridge, Massachusetts in exchange for writing this post, and we gladly accepted. We had an incredible time and my kids learned more in one day at the Village than they probably will all year from their school history books.

10 Reasons Why You Should Visit Old Sturbridge Village
1. History comes alive at Old Sturbridge Village and it's amazing!
You're not just reading about life in a book; you'll get to personally experience life in the early 1800's.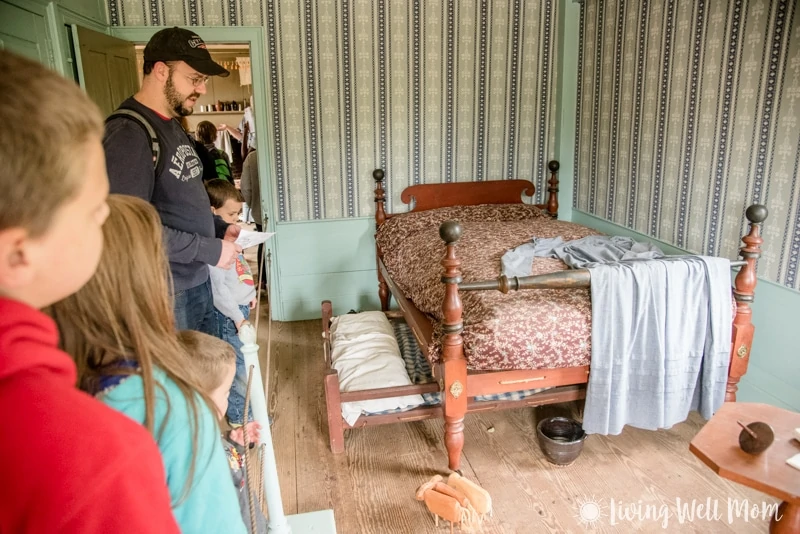 The Village has over 50,000 artifacts in their collection!
2. There are over 40 buildings on 200 acres at Sturbridge Village, including a beautiful church, bank, schoolhouse, pottery shop, shoe shop, stores, houses, and more. Your family won't even realize they're learning!
My kids had no idea what a Blacksmith really did until they were able to see first hand.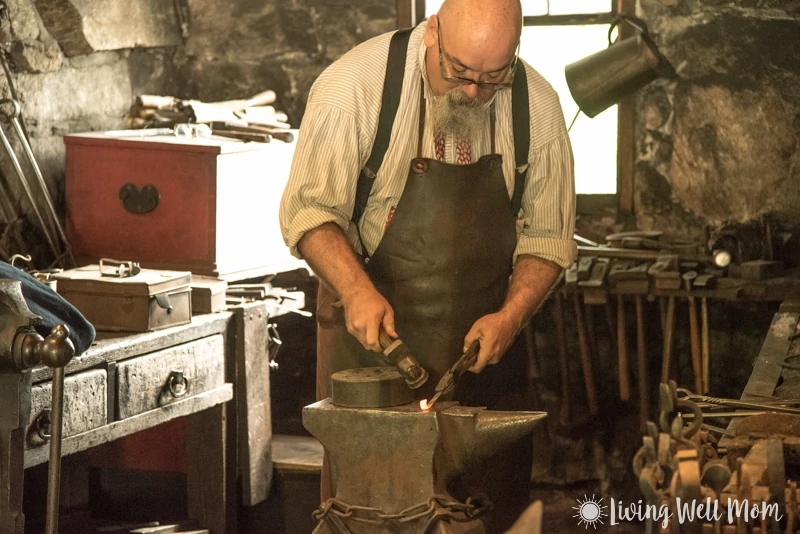 They were fascinated!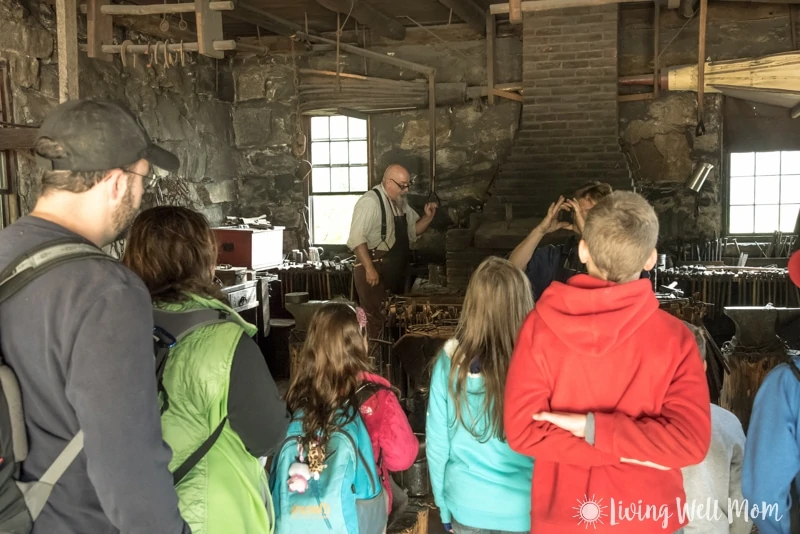 My kids were also amazed at how much time and effort went into making a single pair of shoes.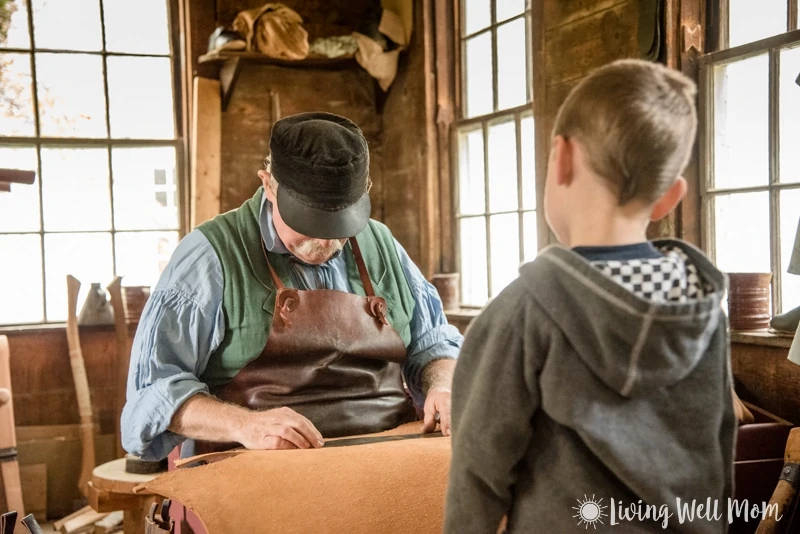 3. Sturbridge Village has many actors who dress up and act like people in the 1800s.
From blacksmith to housewives, you can meet a wide array of people from the 1800s. They are very knowledgable and more than happy to answer questions and explain why things were done differently 200 years ago.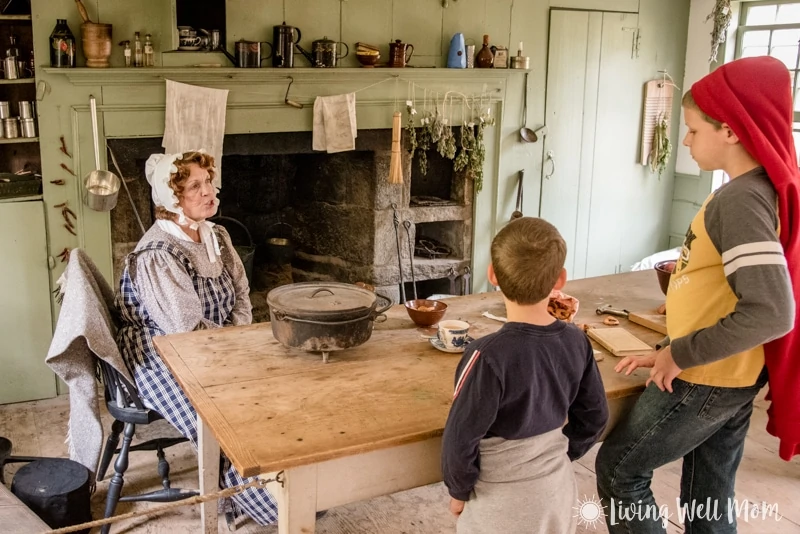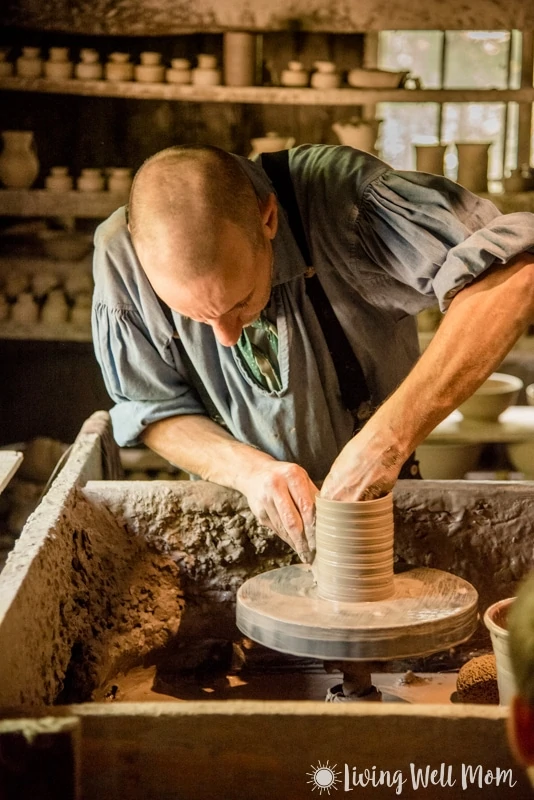 4. Old Sturbridge Village is not a boring old museum where you can't touch anything.
While there are some areas that are hands' off for the sake of preserving artifacts, you can try out most things in the Village for yourself!
There's the water pump in the middle of the Village square. My kids each tried pumping water and were amazed at how much muscle it required.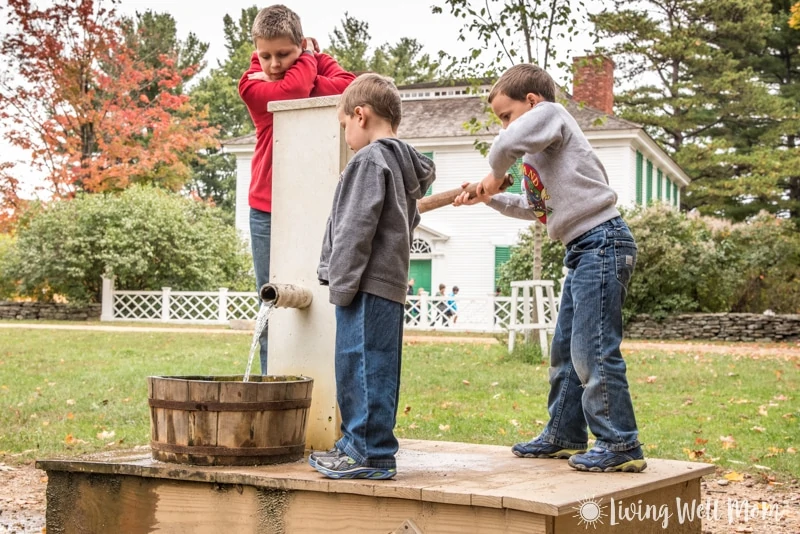 There's an original one room schoolhouse that was relocated from a small town in New Hampshire.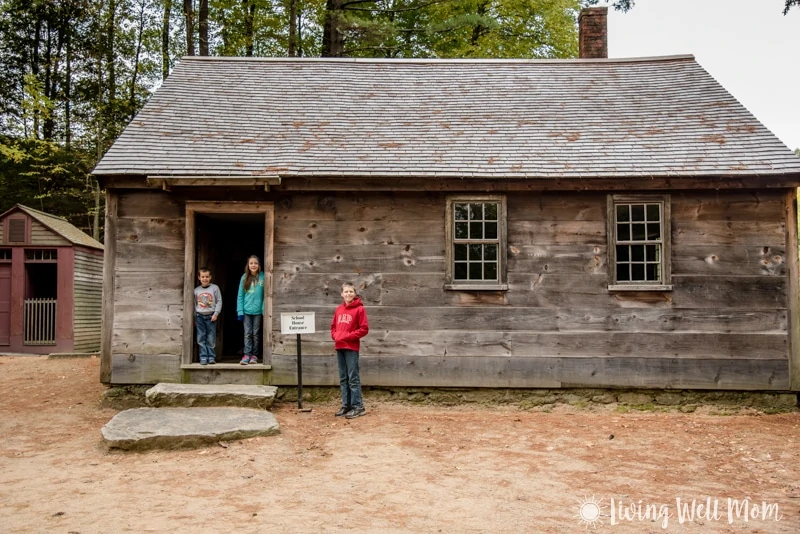 It was really cool to sit at a desk.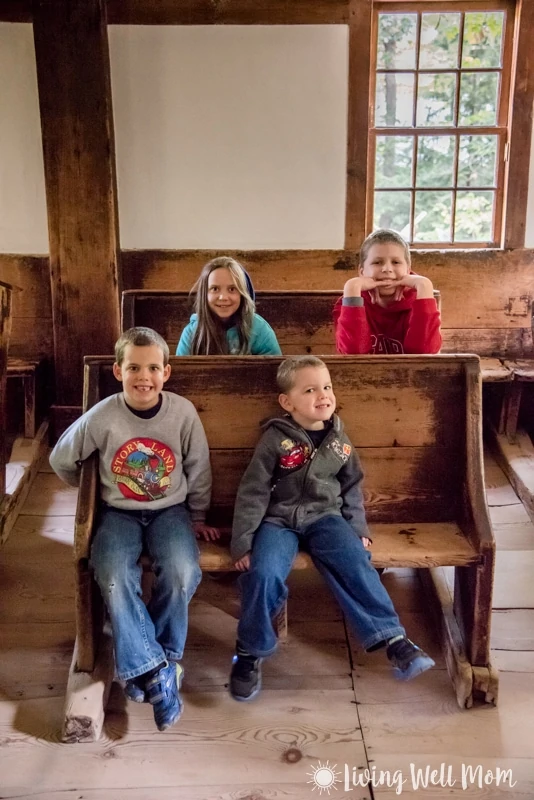 You can also take a stagecoach ride. We were amazed to see that 9 people would sit in the tiny coach back in the day! This ride was one of our favorite parts of the Village. We just loved bumping along the town square pulled by those beautiful horses.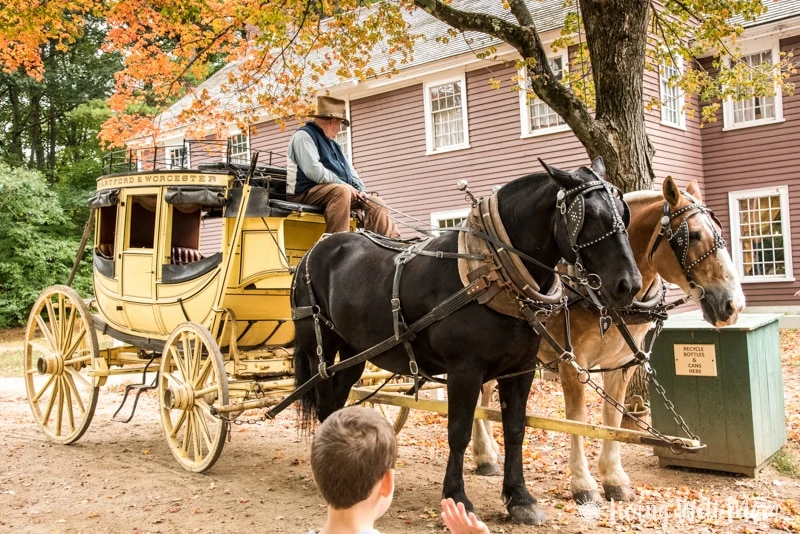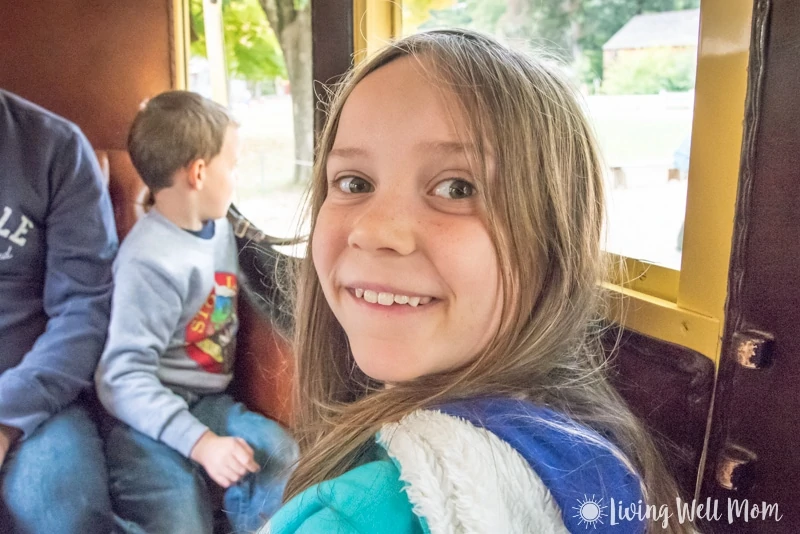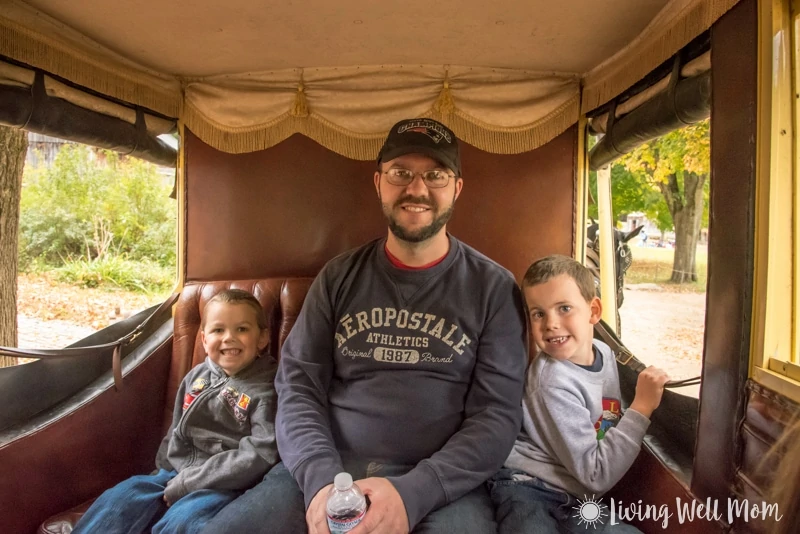 5. There's 3 working water powered mills at Sturbridge Village.
No electricity just water. This amazed my children and my husband had fun explaining how it worked.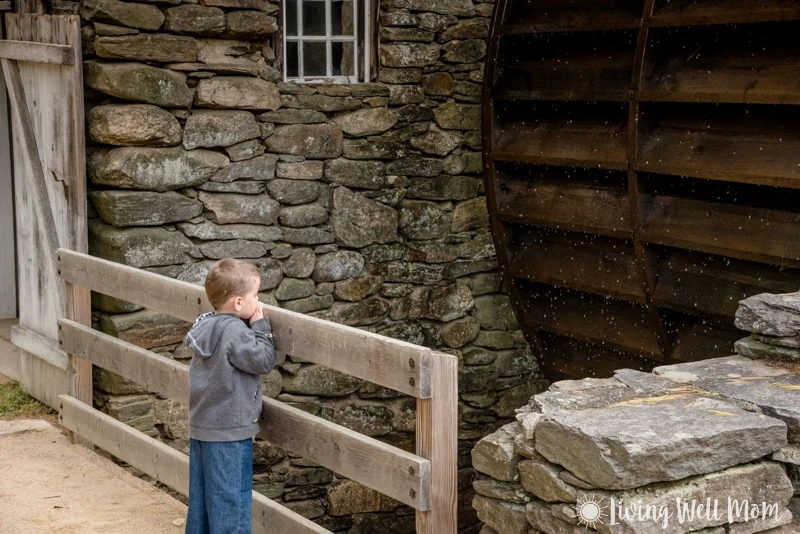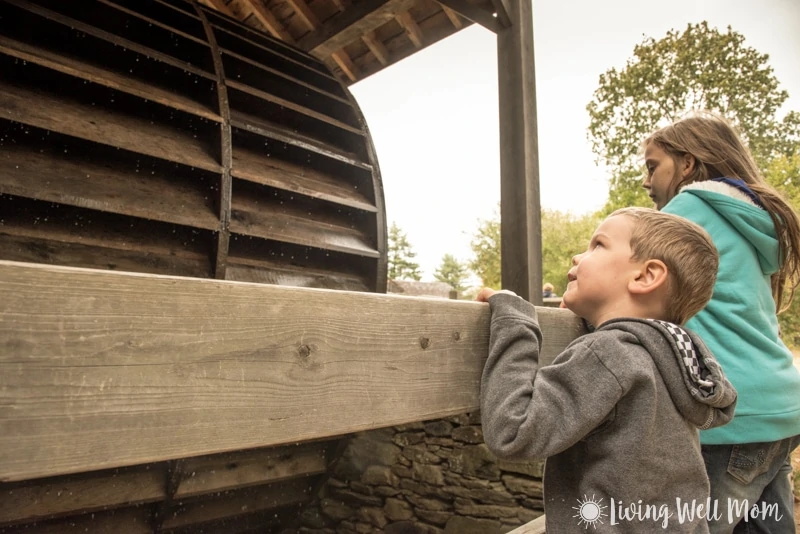 6. Sturbridge Village is a reminder of how people used to work hard, live simply, and have great community.
I found it refreshing to experience simpler times.
When you visit Old Sturbridge Village with your family, you'll make lasting family memories you'll cherish for a long time to come.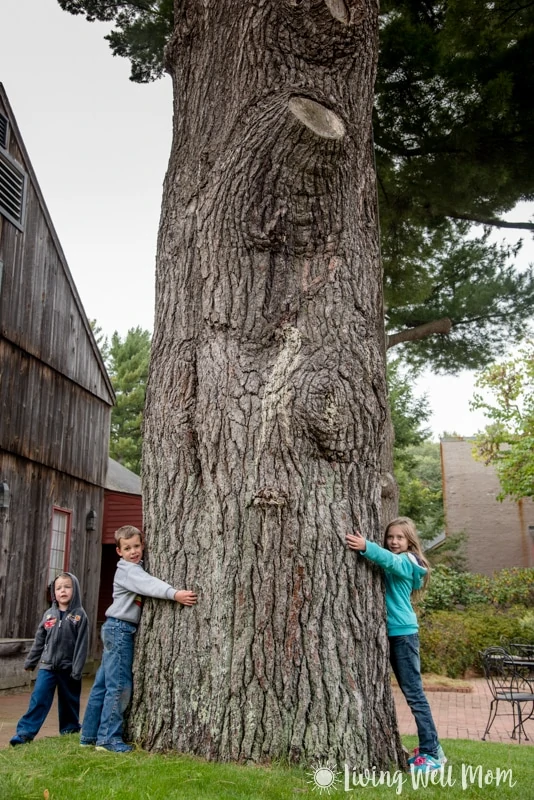 7. There's a real working farm with crops and animals at the Village.
My kids were quite pleased to see free range chickens running around.
The whole Village, especially the farm really made me feel like I was transported back to 1800s. Of course then there were crowds of school kids flashing around iPhones and iPods to remind us where we really are.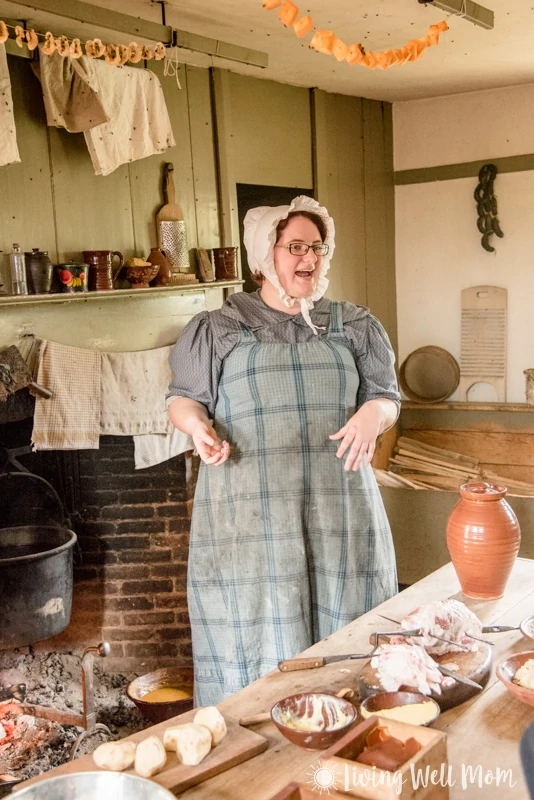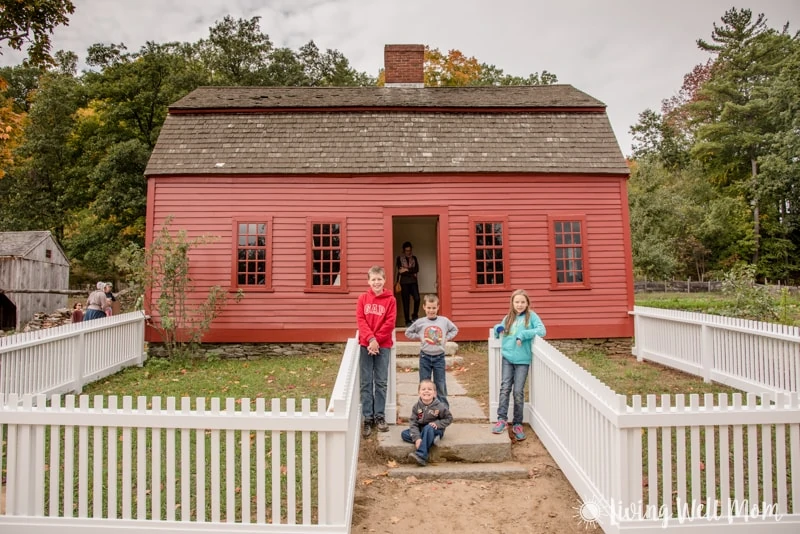 It was absolutely beautiful with gorgeous colorful fall leaves everywhere. The fall is a wonderful time to visit.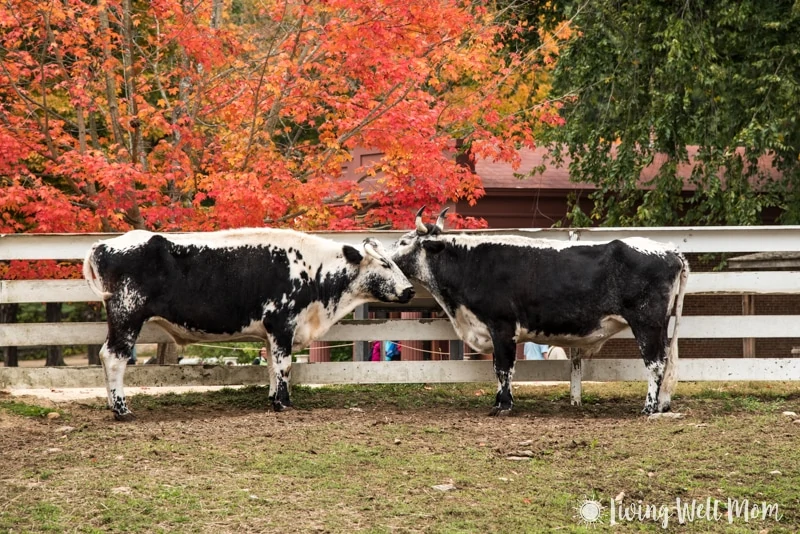 8. Sturbridge Village hosts fun events and festivals throughout the year.
From Maple Days in March to Apple Days in October, you can check out these special events and really learn how things were done back in the day. There's even a Winter Market in late November and "Christmas by Candlelight" in December! Read more here: OSV Events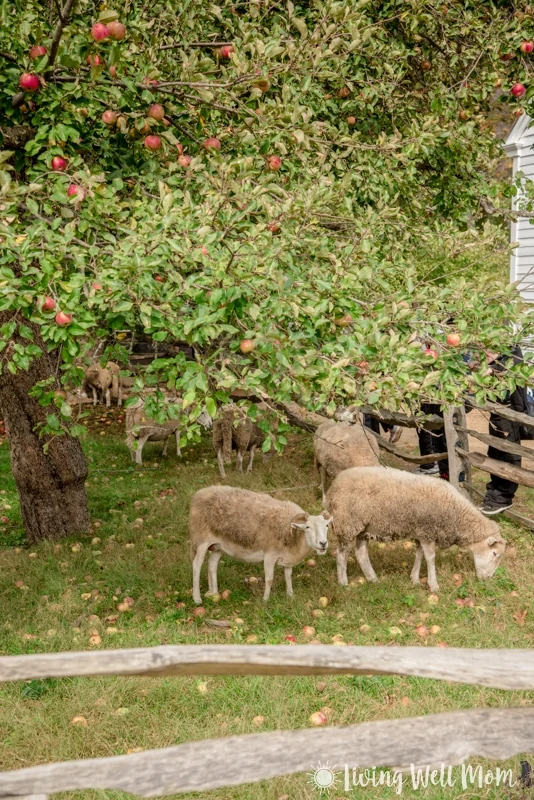 9. Old Sturbridge Village is affordable.
Admission is just $24 for an adult ticket and $10 for kids ages 3-17. Bonus: Your second visit is free within 10 days!
Plus it's FREE for active-duty and retired military!
Believe me, Sturbridge Village is worth every penny. We spent a good 5 hours there and there was still more to see!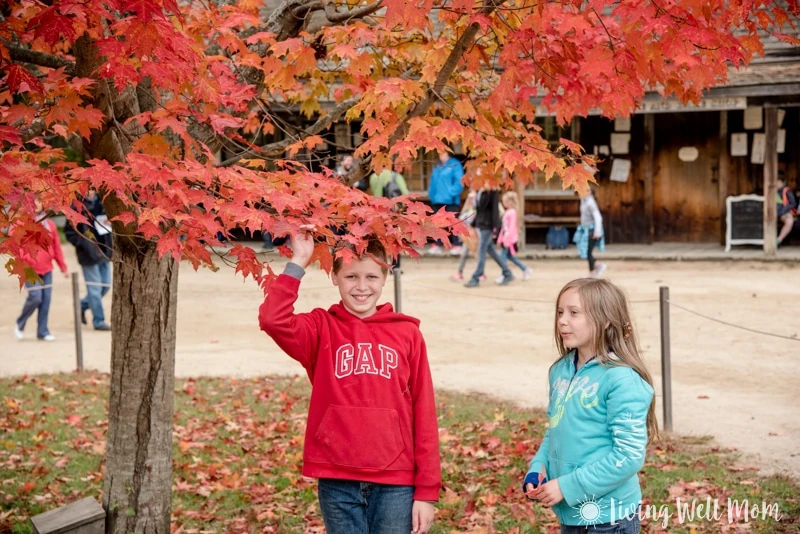 10. There's convenient food and lodging at or near Sturbridge Village.
Old Sturbridge Village has two onsite restaurants (we ate at Bullard Tavern and though there were not many options for our gluten free diet, we did find tasty food that worked for our family.) There's also two lodging options just up the road – the Old Sturbridge Inn and Reeder Family Lodges.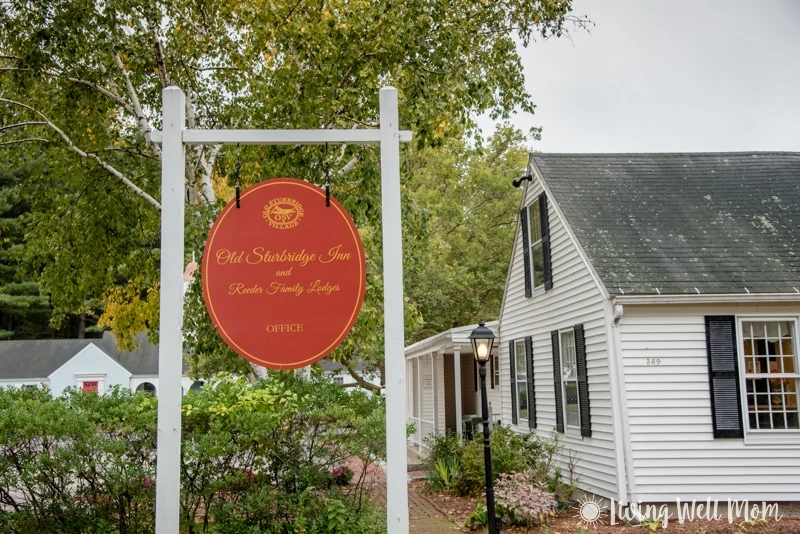 We were lucky enough to be allowed to stay at the Reeder Family Lodges and it was a wonderful experience.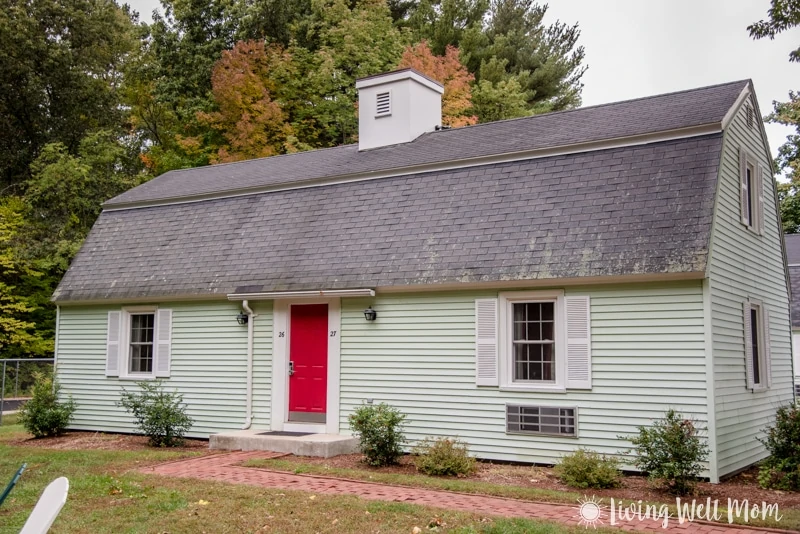 With four kids, you never know how things might turn out, but our rooms more than met our expectations. The Lodges are clean, comfortable, and have convenient amenities, including free Wi-Fi, flat-screen TVs, a coffee maker, free continental breakfast, and more.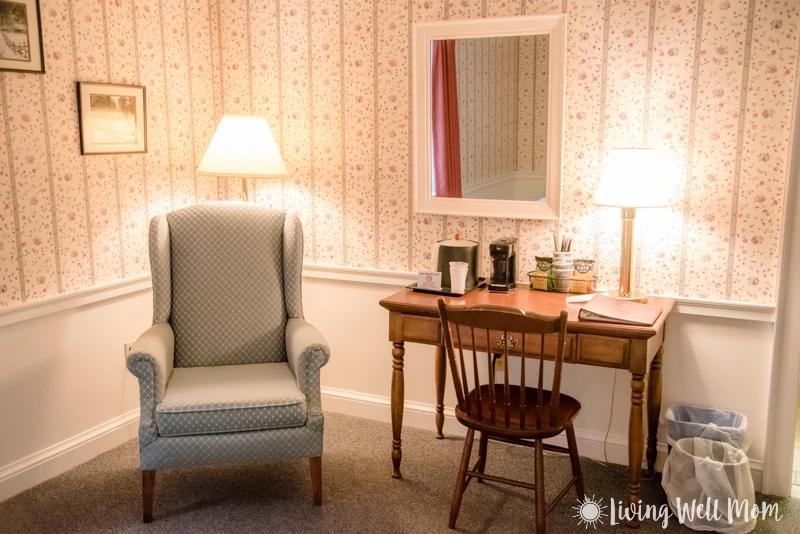 Note: This photo is from the morning after. I'm not as good at making the beds as the staff is!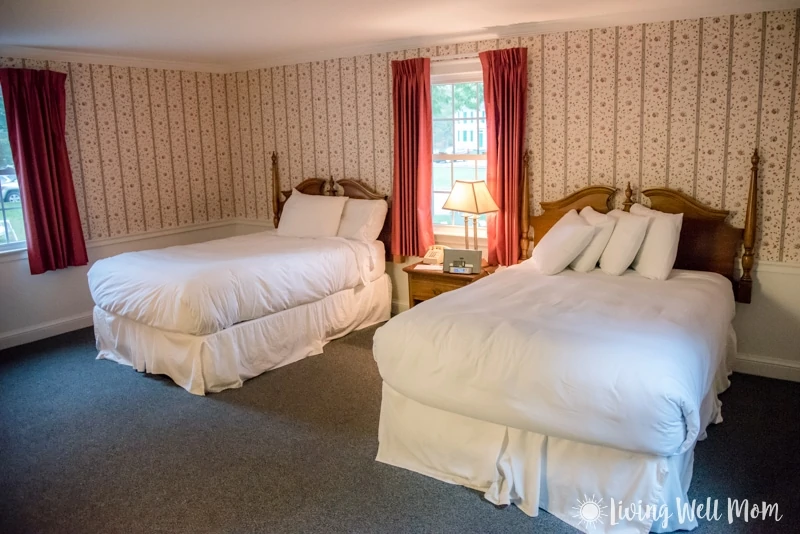 Our door opened up to a playground for the kids, which the kids loved. It was clearly a family friendly place and we were very impressed.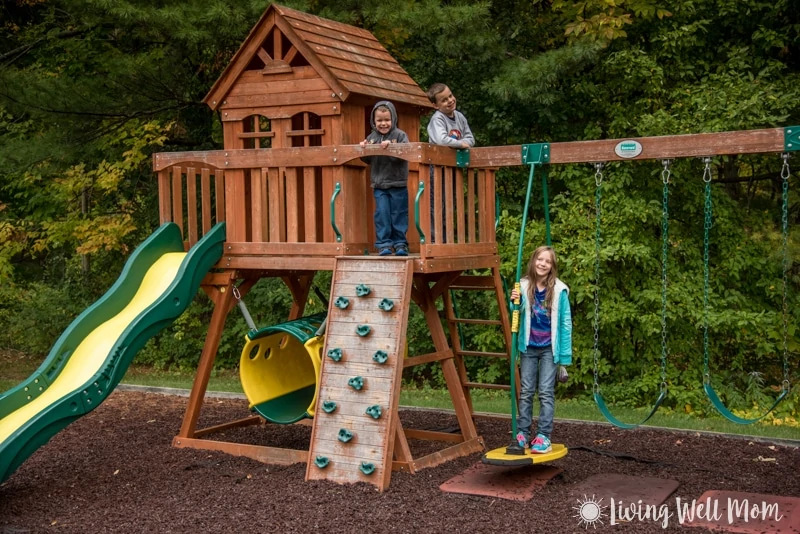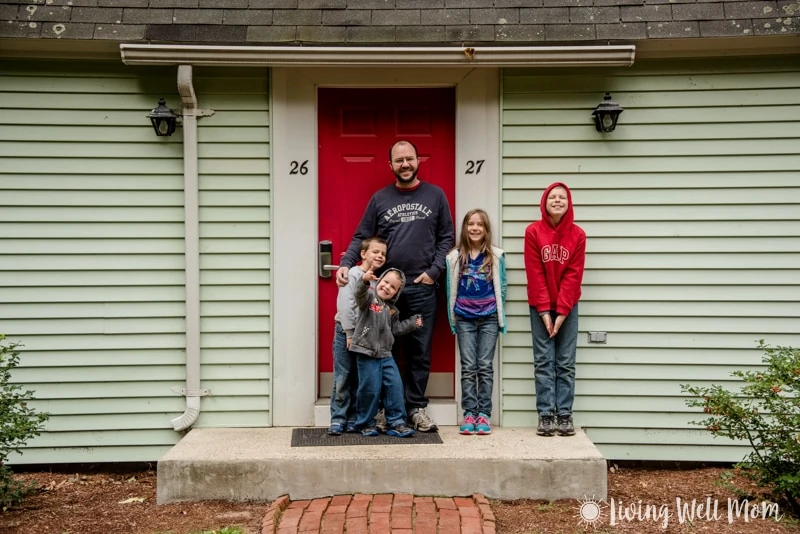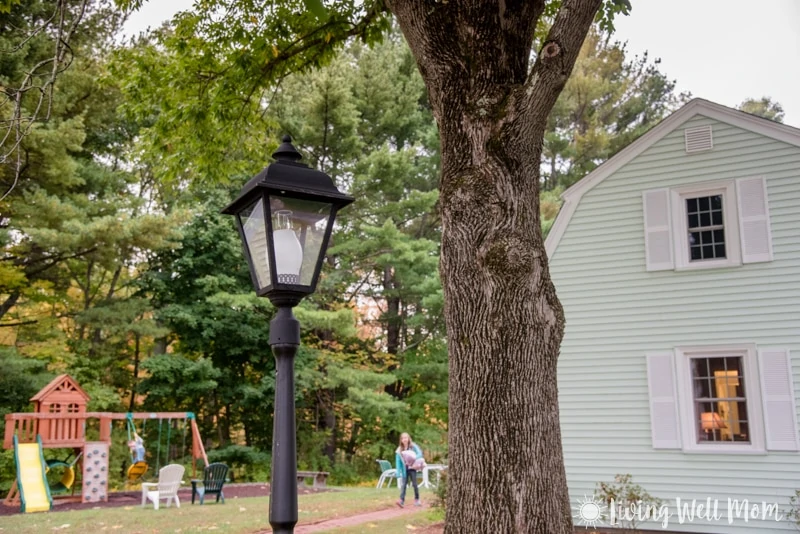 Hint: Old Sturbridge Inn and Reeder Family Lodges offers lodging packages. Be sure to check it out when you plan your visit!
If you live in the New England area or plan to vacation here, you should definitely visit Old Sturbridge Village. You will make wonderful family memories and learn a lot too, just like my family did.
We can't wait to go back again!