If you're looking for an easy breakfast that's healthy, has protein so you'll stay satisfied longer, and something the kids will eat, you'll love this recipe for 2-ingredient banana egg pancakes.
With 2 eggs and 1 banana, these quick-and-easy pancakes are naturally gluten-free, dairy-free, and Paleo-friendly. The bananas add natural sweetness while the eggs give you a nice amount of protein that will keep you and your children satisfied longer than most typical pancake recipes.
Banana Egg Pancakes
I can't even remember when or where I first discovered this 2 ingredient pancakes recipe – it was a few years ago. I can't claim this as my creation; now I see it all over the internet. But it's too good not to share with you.
There are very few breakfast recipes that both my kids and I love equally and this 2-ingredient banana pancake recipe is definitely one of them. I eat these as much as my children!
I do want to tell you that these are not the same as regular pancakes. If you are expecting a complete replacement for Grandma's fluffy buttermilk pancakes, you will probably be disappointed. But they are delicious, they are much healthier than regular pancakes, and they do look like pancakes! That is why my family loves them and I think yours will too!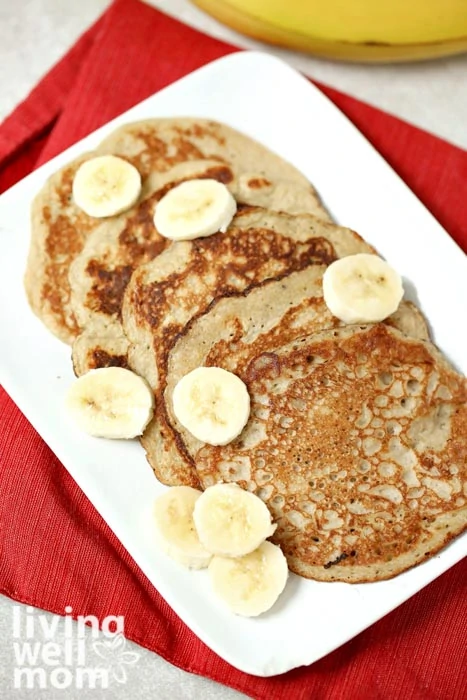 I love that the ingredient list is super simple for these banana egg pancakes. In fact, the name says it all! One serving has 1 banana and 2 eggs and makes 4-5 small pancakes or 2-3 medium to large pancakes.
Benefits of Banana
Banana has a lot going for it, nutritionally speaking. A single banana has both soluble and insoluble fiber, as well as energizing carbohydrates.
Additionally, bananas are high in potassium, magnesium, vitamin c, and folate, along with many other vital nutrients.
Benefits of Eggs
Eggs provide an inexpensive, easy-to-digest protein, as well as healthy fat. Plus, eggs also have a high amount of nutrients and vitamins such as D, B6, B12, selenium, zinc, and iron.
When combined into banana egg pancakes, these two powerhouse ingredients give you the best start to your day possible!
Delicious 2 Ingredient Pancakes
Honestly, these 2 ingredient pancakes are so good that you'll feel like you're indulging. Thankfully, this breakfast won't give you the mid-morning crash you might get from regular pancakes.
I love a stack of gluten-free pancakes, but they often leave me feeling sluggish and sleepy the rest of the day. This breakfast won't give you the mid-morning crash you might get from regular pancakes. (At least that's what happens to me when I eat regular gluten-free pancakes.)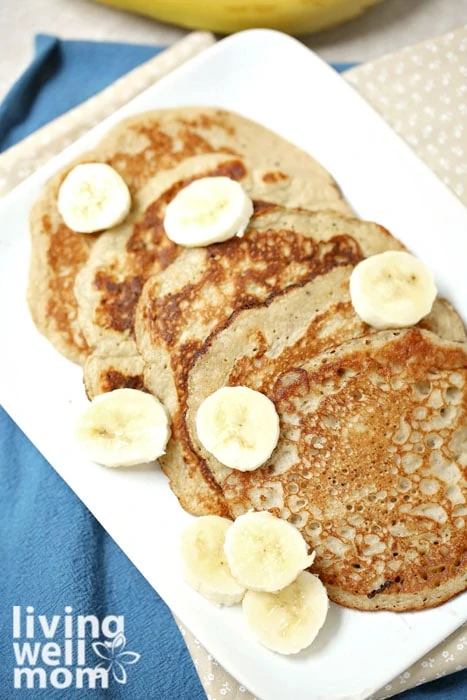 Optional Pancake Add-Ins
Just because this is a 2 ingredient pancake recipe doesn't mean that you are limited to only two ingredients!
You can also have some fun with these banana egg pancakes by adding some mix-ins. I've enjoyed several different combinations. Here are a few of my favorites:
Cinnamon banana pancakes: add 1/2 teaspoon of cinnamon to your batter
Blueberry pancakes: sprinkle in 1/4 cup of blueberries before cooking
Chocolate banana pancakes: add a dash of cocoa to the batter and mix well
Nut butter pancakes: spread a teaspoon of almond butter or peanut butter on top of your pancakes after they are cooked
Apple walnut pancakes: mix a tablespoon of apple sauce into the batter before cooking, then top with chopped walnuts
As you can see, you can get quite creative with these banana egg pancakes and keep all the health benefits intact!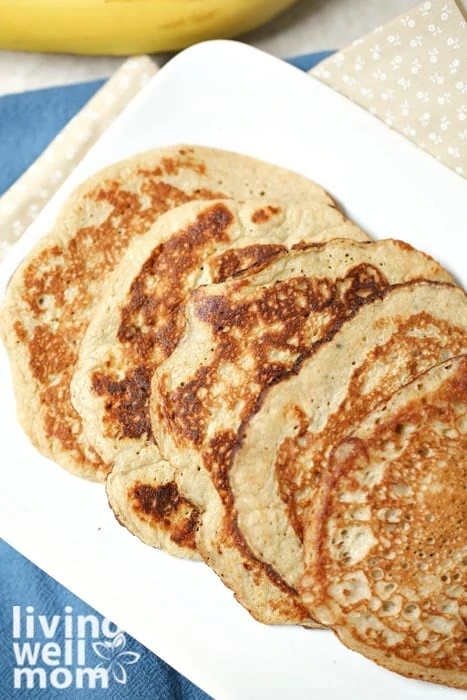 Tips for Making Banana and Egg Pancakes
If you've ever had pancakes that are dry or flavorless, you know that not all pancakes are created equal. These tips will help you enjoy this flavorful recipe and ensure it's cooked properly:

Choose bananas that are ripe. This recipe won't be nearly as good or as easy to make without a soft, ripe banana. You don't want them to be completely mushy, but they should be more yellow than green, like in the image below.
Use room temperature eggs. Room-temperature eggs will make all baked goods, including these 2-ingredient pancakes fluffier than cold eggs.
Mash your banana with a spoon. The easiest way I've found to mash up my bananas is to use the back of a spoon. I like mine to have a little chunkiness to them to add some texture, but that's a personal preference.
Know when to flip. A pancake is ready to be flipped over once the edges start to brown and you see little air bubbles
How to Make 2 Ingredient Banana Pancakes:
Let's talk about how to make these 2 ingredient pancakes.
You'll need 2 eggs and 1 large banana per serving. A serving makes 4-5 small pancakes or 2-3 medium to large pancakes.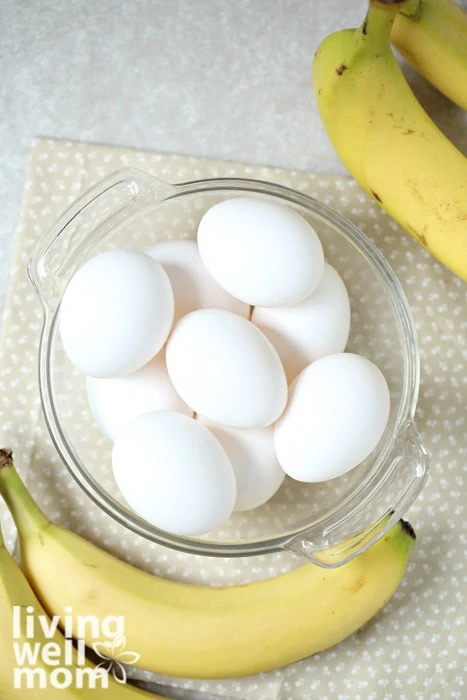 Crack the eggs into a medium-sized bowl…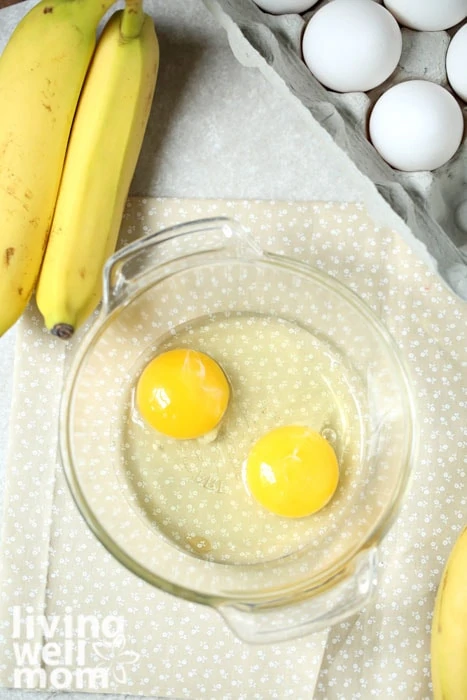 …and whisk.
Break the banana into chunks and add to the egg mixture…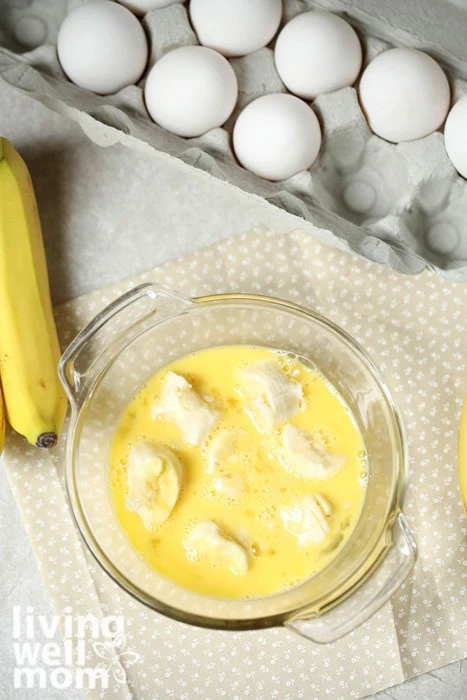 Mash up with a spoon or mixer until mixed well. You can leave some chunks of banana behind if you want a chunkier pancake.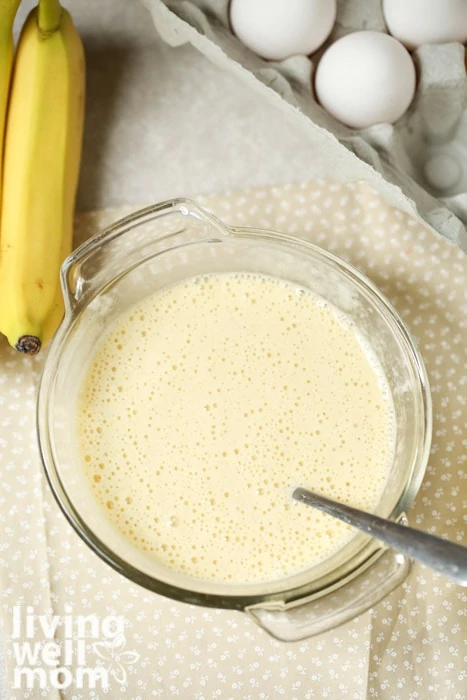 Cook on a griddle or frying pan over medium heat until the edges are beginning to brown then flip over and cook until 30-60 seconds.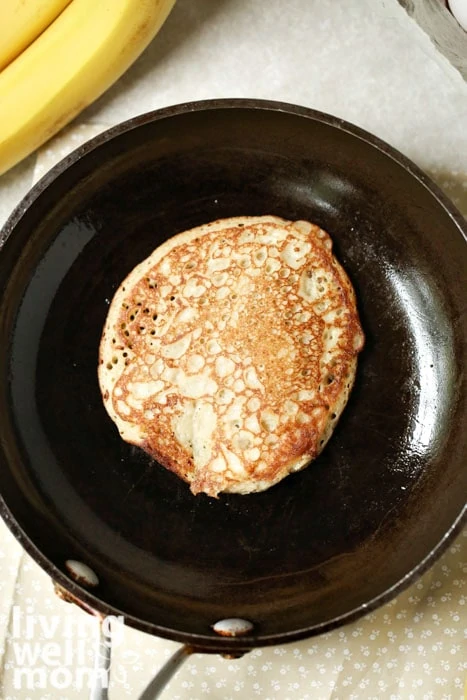 Remove to a plate.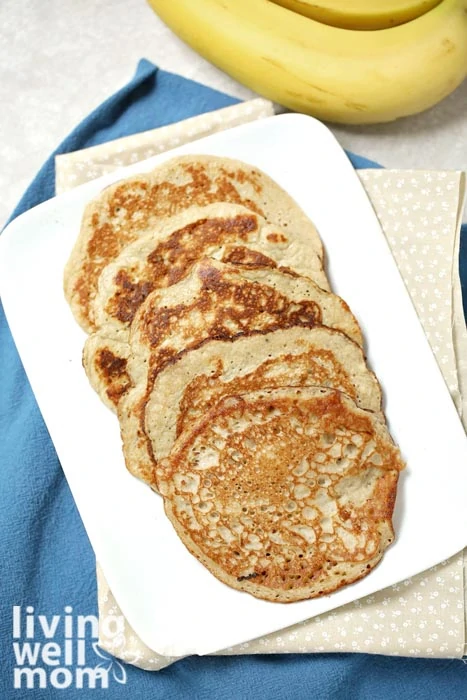 Serve however you prefer your 2-ingredient pancakes – with maple syrup, molasses, extra bananas or fruit on the side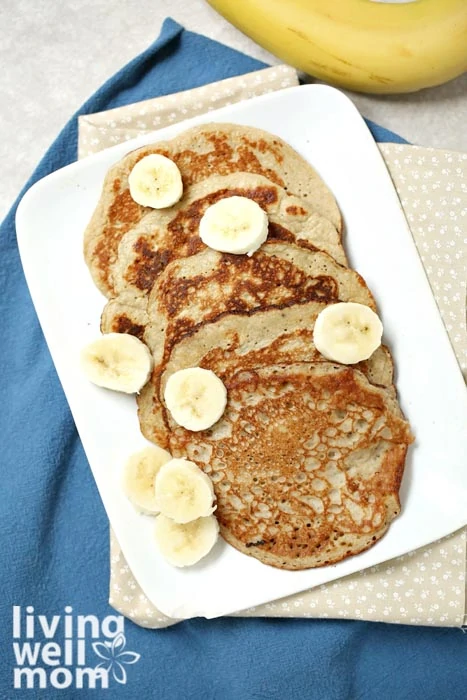 Print
2-Ingredient Banana Pancakes
Author:
Prep Time:

3 mins

Cook Time:

3 mins

Total Time:

6 mins

Yield:

1

-

2

servings

1

x
Category:

breakfast

Method:

cooking

Cuisine:

American

Diet:

Gluten Free
2

eggs

1

large banana
Optional:

1/2 tsp

cinnamon

2

–

4

Tbsp blueberries
Instructions
Whisk the eggs together in a medium bowl. Break the banana into chunks and mash or mix into the egg mixture. Whisk together until blended and few lumps remain.
Optional: add 1/4 tsp cinnamon or 2-4 Tbsp blueberries for variety.
Cook over medium heat until the edges begin to brown. Flip and cook for an additional 30-60 seconds or until cooked through.
Remove to a plate and serve as desired.
Keywords: breakfast, eggs, pancakes, healthy
Pin the image below to one of your favorite breakfast Pinterest boards to find the recipe later!