Did you know that you can make a DIY natural first aid spray for your whole family? It's simple to make and uses natural ingredients, including essential oils, that may help improve minor cuts, scrapes, and scratches.
I came up with this simple DIY first aid spray as a natural alternative to the antibiotic ointments that are so commonly used today and it works very well for my family, including my four children.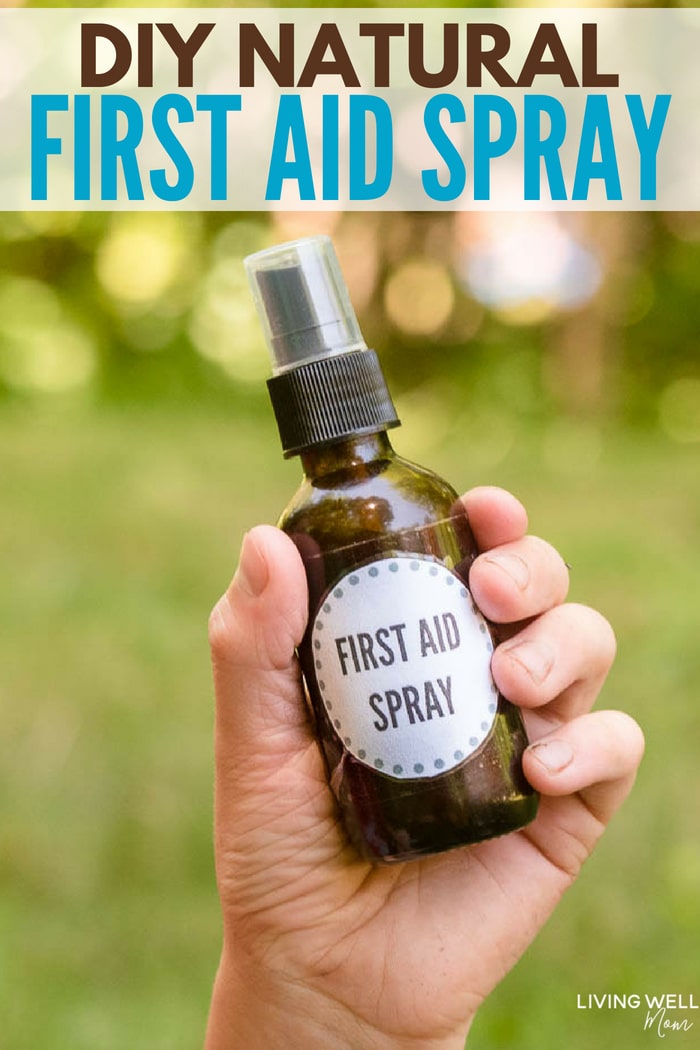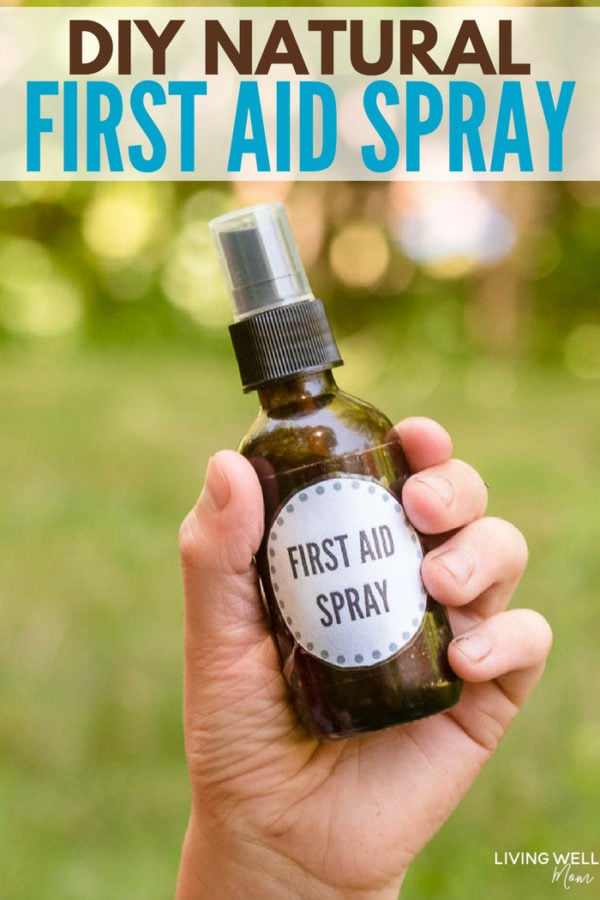 My children love this DIY Natural First Aid Spray. One of the advantages is that you don't have to touch a child's scrape or boo to apply it – the spray makes application painless. This spray is gentle and does not sting either.
I also use and highly recommend this First Aid Spray from Herbal Energetics. It's ready-made and contains even more helpful ingredients than my homemade version. The only downside I've experienced is that this spray can sting when applied to cuts and scrapes, so my kids don't prefer it.
There are times, however, when I insist on using it because it works SO well. You can buy it here: First Aid Spray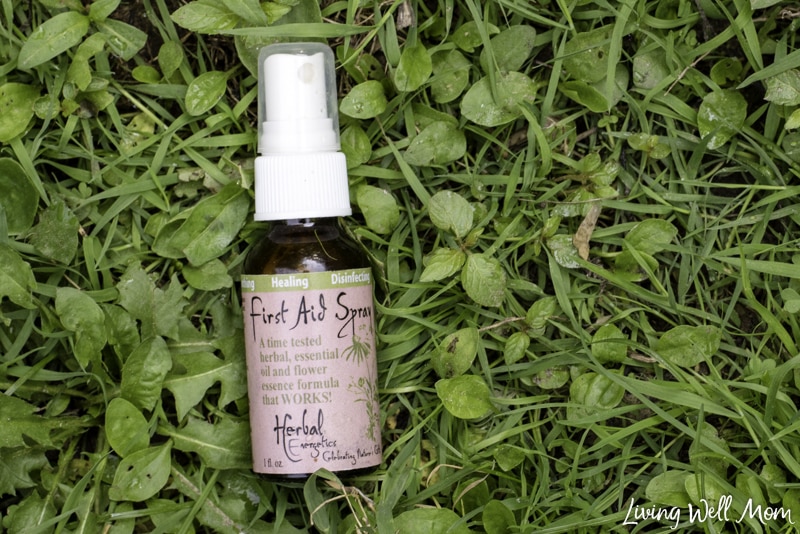 Back to this homemade first aid spray…
This DIY natural first aid spray contains a mixture of water, witch hazel, neem oil, and my favorite First Aid essential oil blend from Rocky Mountain Oils. (I will also include recommended individual essential oils later in this post.) This combination has been quite effective at helping my four kids' cuts and scrapes improve quickly.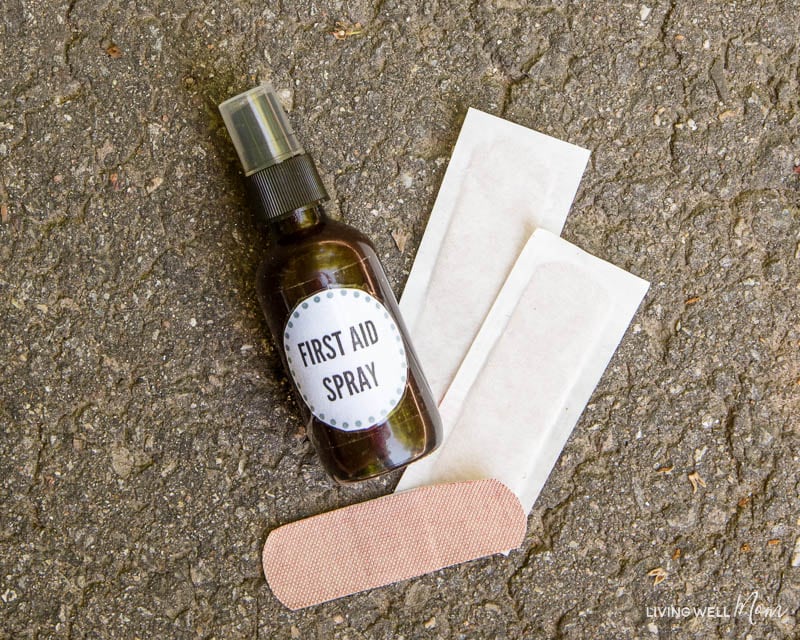 Disclaimer: This homemade first aid spray is meant for minor cuts and wounds and is not intended as a cure. Check with your healthcare provider before use. Please read my post on essential oil common sense safety before using this blend or other essential oils.
DIY Natural First Aid Spray Ingredients
Witch hazel works as an astringent and may help reduce inflammation along with pain-soothing properties.
Note: I recommend an alcohol-free Witch Hazel – this
is the one I use.
A 2014 study found that topical use of Neem oil, along with the oral use of Haridra powder, was found to be effective in healing chronic non-healing wounds.
Essential Oils in this DIY First Aid Spray:
I use and recommend:
First Aid essential oil blend from Rocky Mountain Oils. It contains Rosemary, Tea Tree, Clove Bud, and Helichrysum Italicum essential oils.
Lavender essential oil (Lavandula angustifolia) -calming for the skin – one of my favorite oils for skin health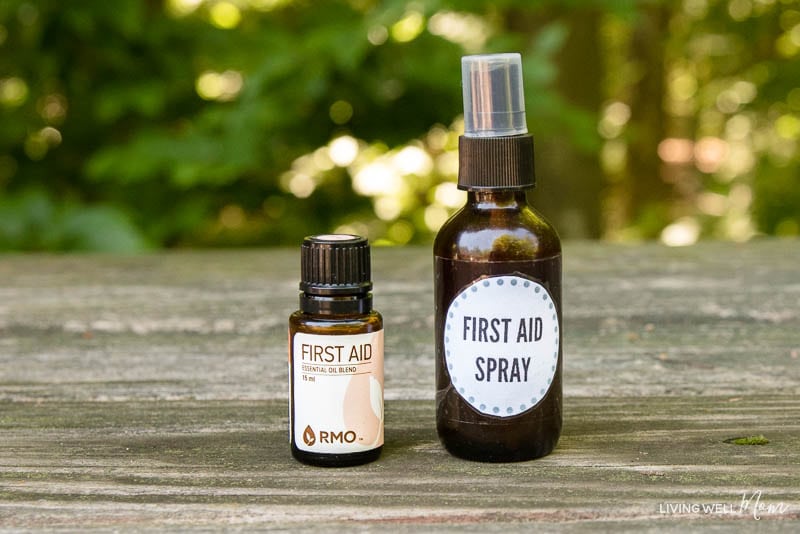 Essential Oils for Your Natural First Aid Spray:
You can try one or more in your first aid spray and discover which combination works best for you and your family.
How to Make Your DIY Natural First Aid Spray
You'll need:
You can use a smaller or larger spray bottle – just adjust the quantities accordingly.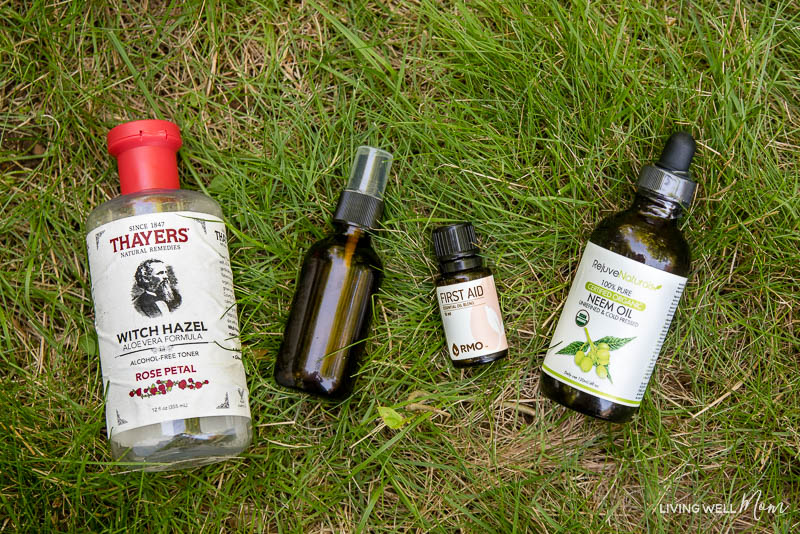 Directions:
Fill your 2-ounce glass bottle about halfway with water.
Add about 1 tablespoon of neem oil. I always estimate as neem oil is messy and it's harder to measure.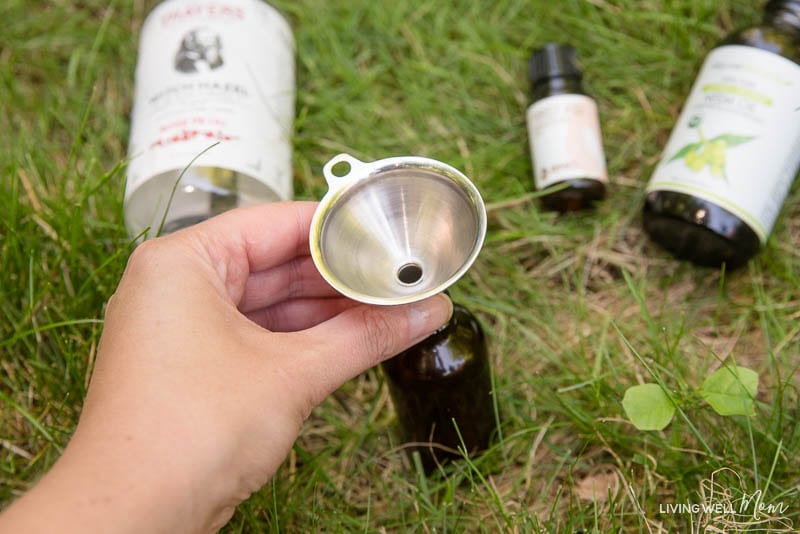 Add 20-30 drops of your preferred essential oils.
*I use 25 drops of Rocky Mountain Oil's First Aid essential oil blend along with 10 drops of lavender essential oil for my DIY First Aid Spray. You may use the same or your own preferred combination of essential oils. See below for safety and using this First Aid Spray with young children.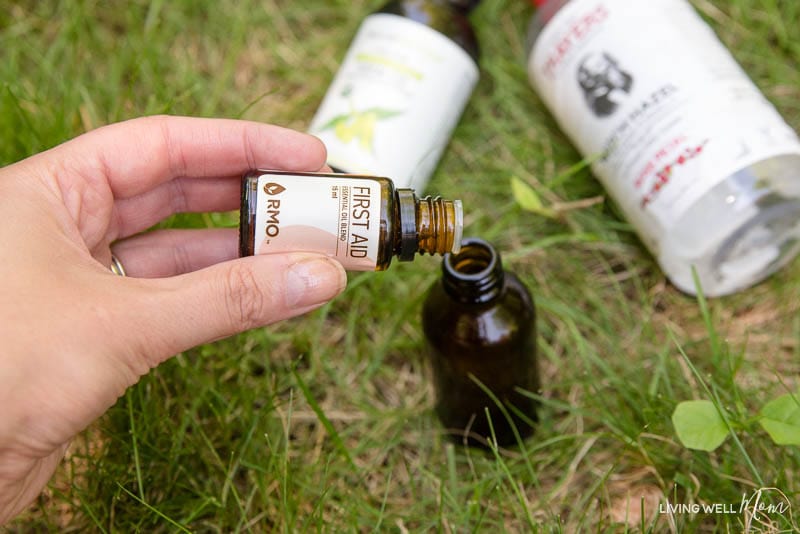 Fill the rest of the bottle with witch hazel.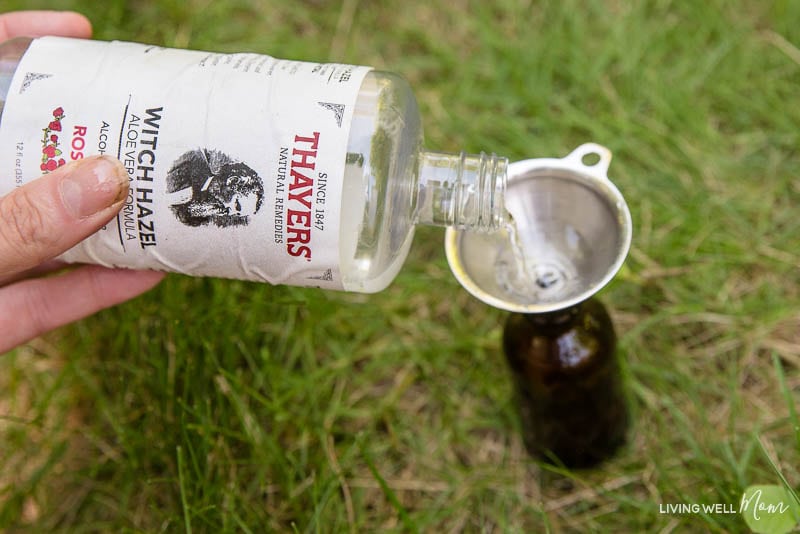 Cap with the spray nozzle.
Print, cut out, and tape on this free printable label we've made for you or use a label maker or masking tape to label.
Shake well before use.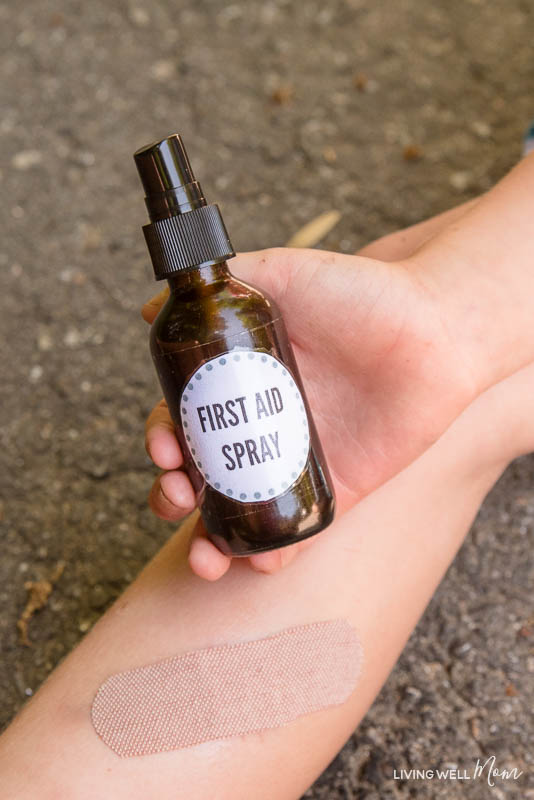 How to Use this Natural First Aid Spray
Always shake well before use to distribute the oils as they tend to separate.
Spray as needed onto minor cuts and scrapes.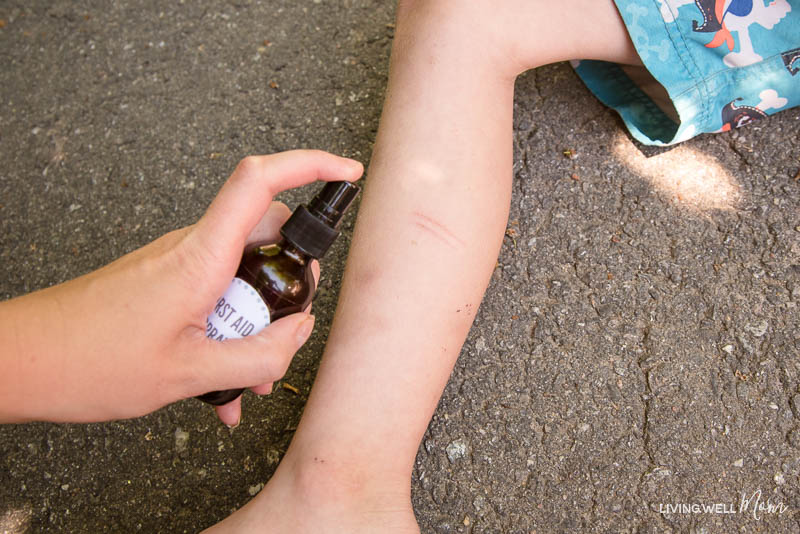 If you choose to put on a bandage, gently blot around the wound before applying the bandage so it will stick.
Reapply your natural first aid spray as needed.
For my kids, I usually only apply this once and the cut/scrape improves quickly on its own without further intervention.
First Aid Spray and Young Children:
If you have toddlers or young children, please do your own research and check with your healthcare provider before using this homemade first aid spray.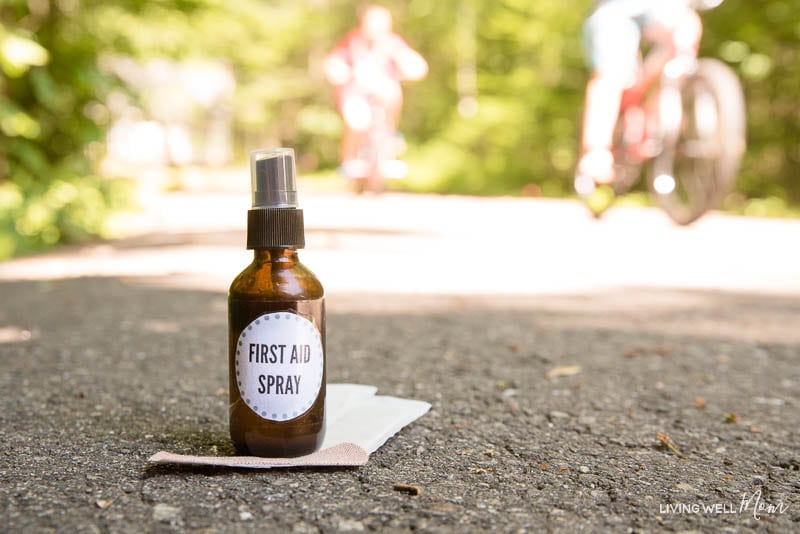 I hope you enjoy this simple natural first aid spray as much as my family has.
Have a safe and enjoyable summer!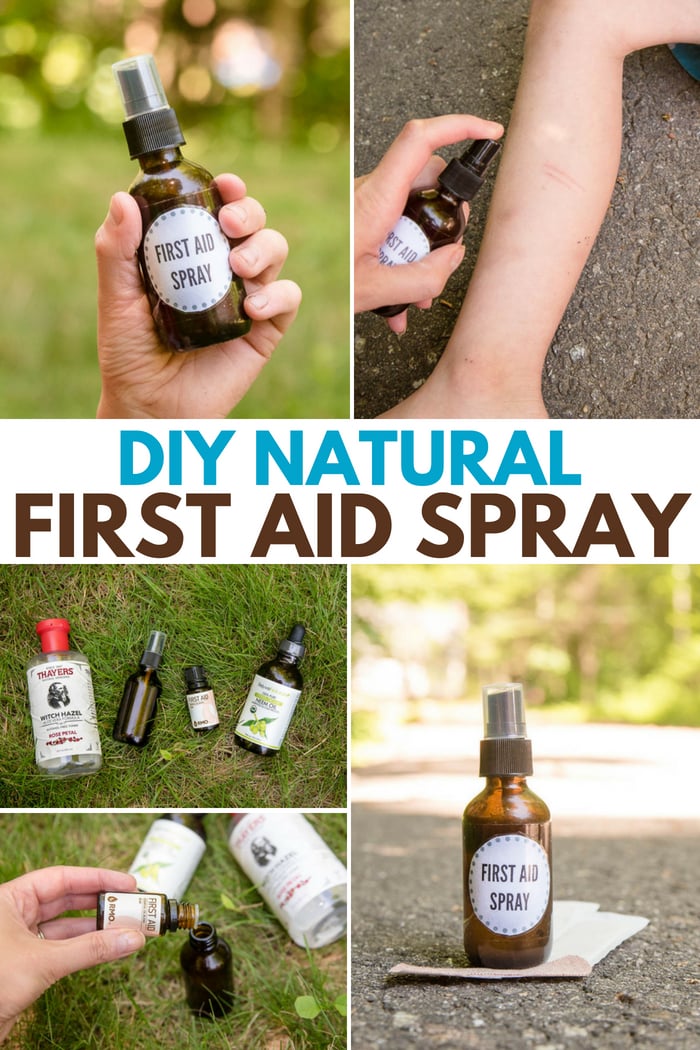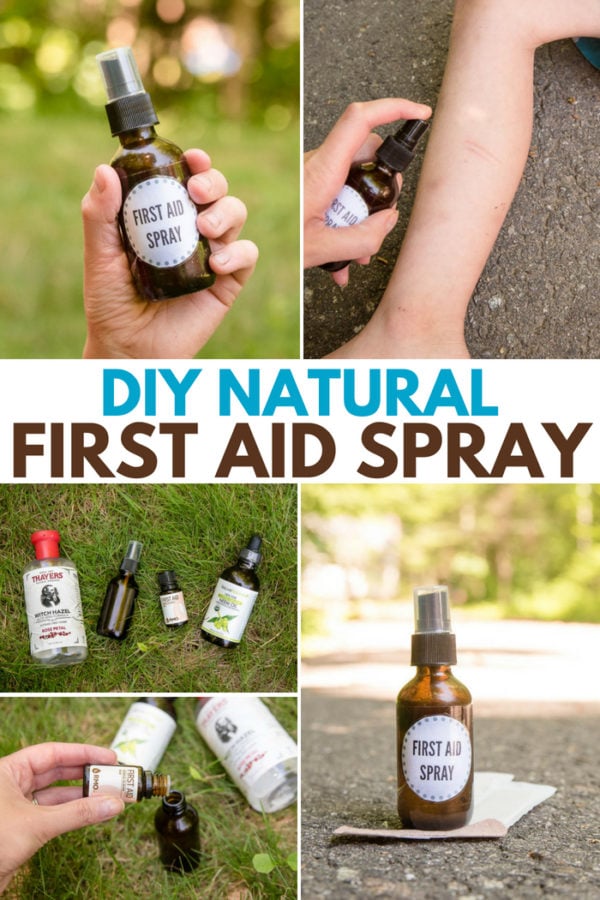 Which Essential Oil Brand is Best?
For the best results, you will want to choose a high-quality essential oil brand that is 100% pure and offers third-party testing for quality control. Read this post for more info on how to choose essential oils that work for you and your family (beyond the brand.)
My favorite essential oil company is Rocky Mountain Oils, followed by Eden's Garden, and Ancient Apothecary by Dr. Axe
.