If you've been a reader for any amount of time, it'll come as no surprise that I love energy balls. In fact, you'll find our freezer stocked with a couple dozen at practically any time!
These little round snacks tick a lot of the boxes on my mom-approval list: they are easy to make, healthy, and my kids will eat them without complaint. Win, win, win!
In this post, I'll share my favorite energy balls recipes with you and give you some of my tips for making them. Trust me, this will quickly become your kids' favorite snack…and yours too!
FAQ About Energy Balls
As I mentioned, my family has made dozens and dozens of energy ball recipes. Every time I share a recipe here or with a friend, I get a lot of questions, so I wanted to address them here.
Are energy balls good for you?
I get this question a lot, and I understand why. These little balls are surprisingly delicious and have some some caloric ingredients such as nut butters or dried fruit.
That being said, the amount you consume is fairly small, and fill you with healthy fats. It only takes a bit to feel satisfied, and it's a lot healthier for your family than a handful of crackers or fruit snacks!
Can I make energy balls without sugar?
Absolutely! In fact, none of the protein ball recipes I've shared on my site have typical granulated sugar added. Instead, the energy bites are sweetened with foods that are naturally sweet such as dates, dried fruit, or honey.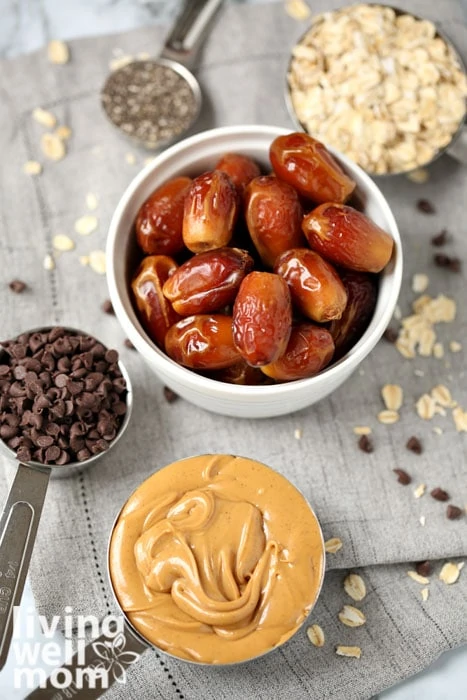 Depending on what your nutritional goals are, you can further sweeten them with a few drops of liquid stevia, or simply use sweetened (or unsweetened) nut butters.
The truly fun thing about energy bites is they are completely customizable, so you can very easily make a batch that aligns with your health goals or nutritional needs.
How can I make protein balls without peanut butter?
While you do need some sort of "binder" that helps hold your ball together, it doesn't have to be peanut butter. Whether you have a peanut allergy in the family, or you don't care for peanut butter, don't worry. There are several alternatives you can use. Here are a few ideas:
almond butter
sun butter
honey
dates
What can I put in energy balls?
Practically anything! This is where the fun of making energy balls comes in. If this is your first time making energy bites, I'd recommend starting with one of the recipes below to get comfortable with making them. Soon, though, you'll be able to invent your own recipe and fill them with whatever you'd like!
Some of my favorite ingredients include:
nut butters
shredded coconut
dried fruit
protein powder
dried oats
chocolate chips
chia seeds
ground flax
honey
powdered peanut butter
chopped nuts
seeds
As you can see, the combinations are practically endless! I know it can all be a bit overwhelming, so here are some tried and true favorite recipes to get you started.
11 Energy Balls to Try
These energy balls are so easy to make. In fact, I routinely task my kids to make these for the family. They are no-bake and most of the ingredients are already pre-chopped, so perfect for little hands to assemble. Here are 11 of my favorite recipes for you to try:
**NEW** Spiced Almond Butter Balls
These almond butter bites are lighter compared to many other nut-based options that are packed with heavier nuts, raisins, dates, and other ingredients.
Blueberry Snack Balls
If you love a good blueberry muffin, you'll appreciate the flavor in this nut-free energy ball. First, sunflower butter is mixed with high-fiber oatmeal along with coconut oil for healthy fats. Next, add in a touch of honey and some dried blueberries, and you have a perfect snack!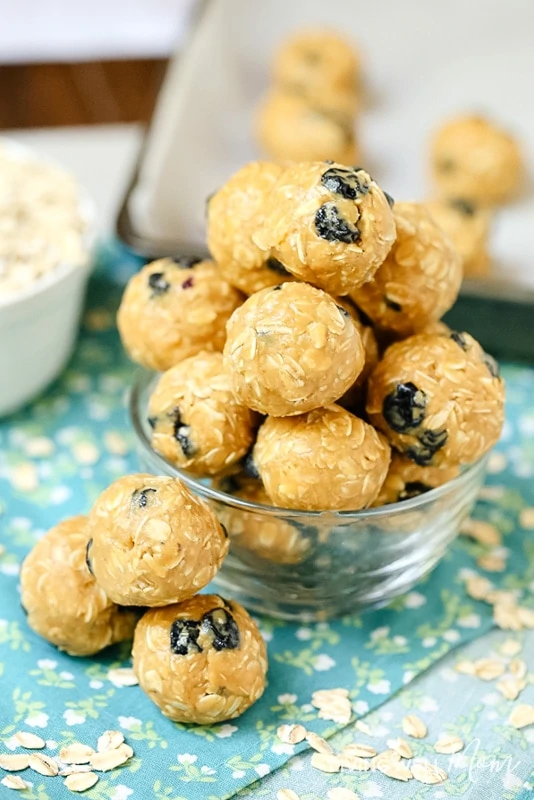 Banana Chocolate No-Bake Energy Balls
This tasty recipe from Organize Yourself Skinny uses ripe banana to sweeten the balls. Combined with flaxseed, almond butter, oats, and chocolate chips, this will quickly become a family favorite!
Chocolate Protein Balls
If you love chocolate like I do, you've got to give these chocolate protein balls a try! This version has almond butter and cocoa, so it is reminiscent of an almond butter cup. You can easily swap the almond butter for peanut butter for an entirely different flavor too!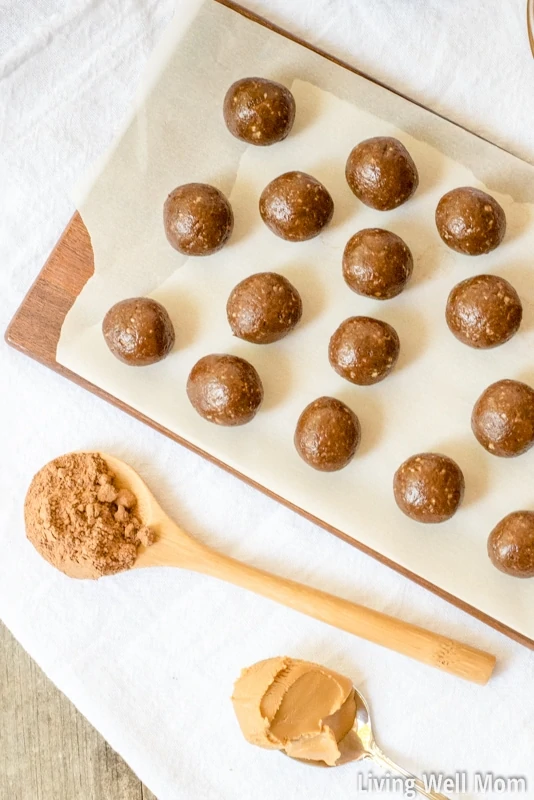 Cookie Dough Energy Bites
This awesome energy bite recipe from Pinch of Yum tastes like peanut butter cookie dough with chocolate chips mixed in—what's not to love about that?
5-Minute Peanut Butter Snack Balls
This recipe is one of my favorites of all time. If you are looking for a simple snack that your kids are guaranteed to love, start here with these peanut butter energy balls! Plus, you can easily experiment with add-ins and let each child choose what they would like best.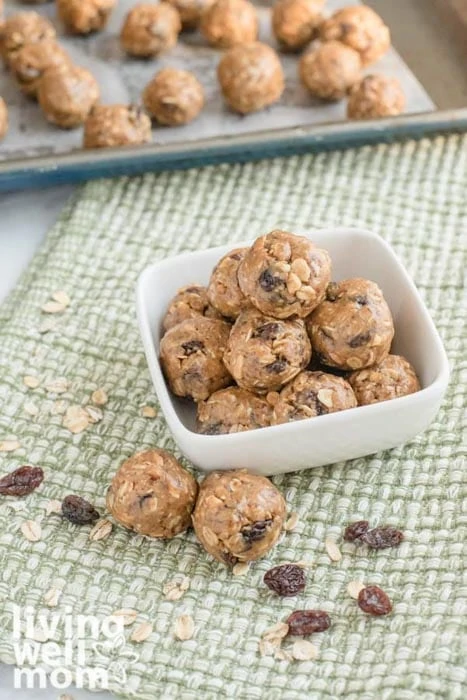 No-Bake Chocolate Cashew Energy Bites
I love cashews, and this recipe from The Kitchen Girl combines them with one of my other favorite flavors…chocolate! These vegan balls are sweetened with dates and maple syrup, and if you use GF oats they are gluten free too.
Peanut Butter Date Energy Balls
These energy bites have a yummy combination of peanut butter and chocolate but are sweetened naturally with dates. All you need is 5 minutes of time and you will have a delicious, healthy snack.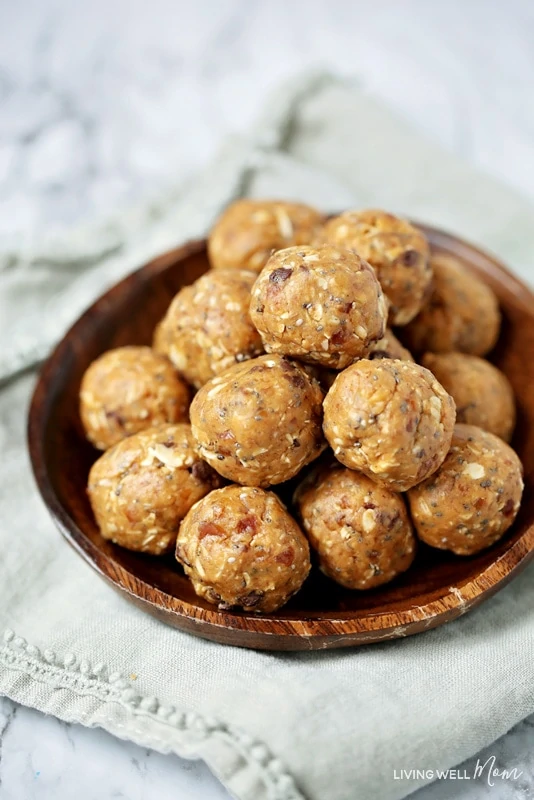 Sea Salt and Dark Chocolate Quinoa Balls
If you are looking for a way to enjoy your chocolate guilt-free, look no further than these snack balls from Simply Quinoa. These yummy bites have dates and pecans combined with quinoa and chocolate for a perfectly balanced treat.
Chocolate Mint Balls
It's hard to beat the classic combination of chocolate and mint. These energy balls are the perfect thing to make when you are in the mood for something minty and fresh. Plus, these balls are naturally sweetened with date and have the addition of shredded coconut, so they are absolutely loaded with flavor.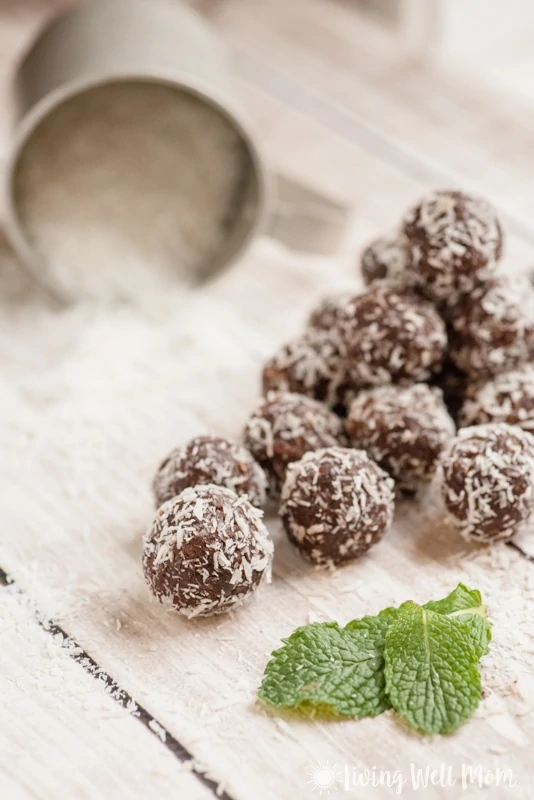 Vanilla Peanut Butter Bliss Balls
Not a chocolate fan? That's okay. You can easily make your energy balls with vanilla flavor like this recipe from No Spoon Necessary. This 6-ingredient snack is chewy and flavorful, sans chocolate.
Matcha Green Tea Energy Bites
I start almost every day with a matcha green tea latte…I absolutely love the flavor. In fact, I was craving some more matcha when I had the great idea to make a matcha green tea energy bite. I'm happy to say it turned out amazing!
Just pin it below to find the recipe list later!