Next time you, or a friend, or family member is fighting off a cold, you may want to pamper them a bit and help speed up healing with this essential oil infused tissues.
I'm going to show you two different ways to add the scent of cold symptom fighting essential oils into tissues in a way that it is not overbearing on your nose.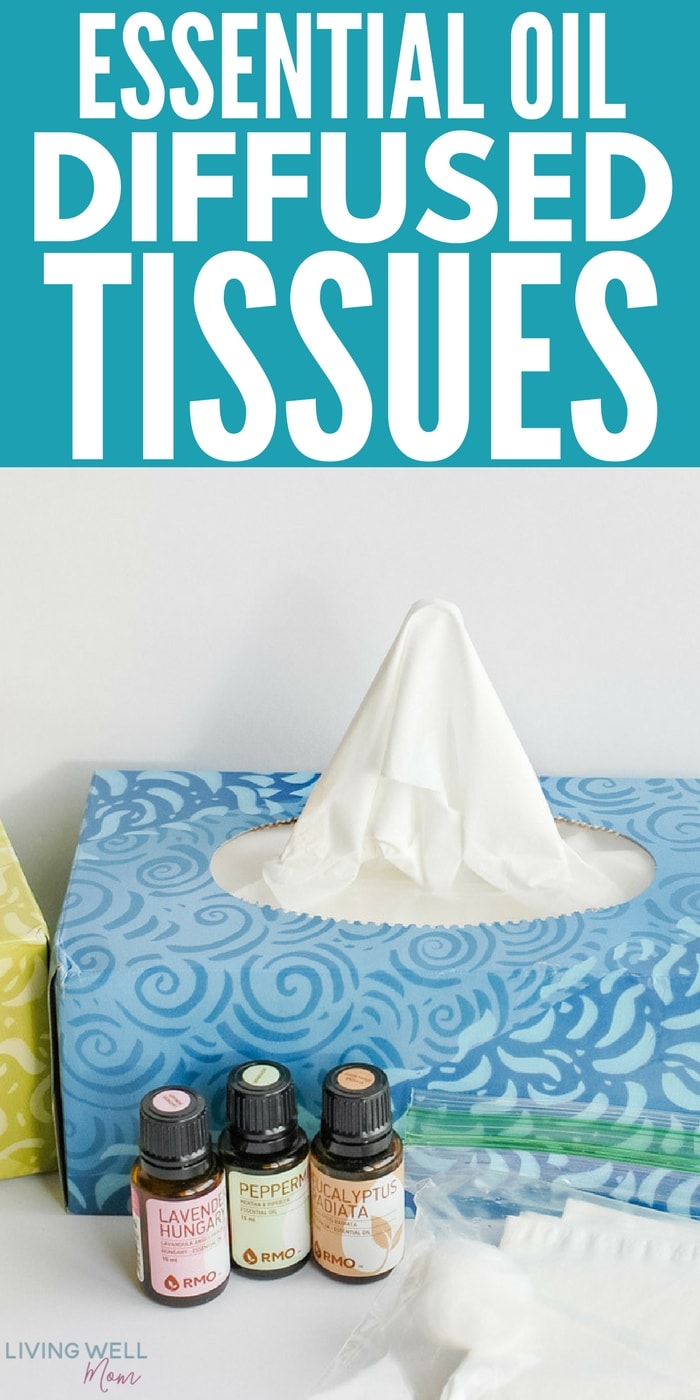 It should be soothing and helpful while your immune system is in overdrive fending off the virus.
Each way of making essential oil infused tissues takes only about 5 minutes to do – so this is a quick way to use some of your oils this winter!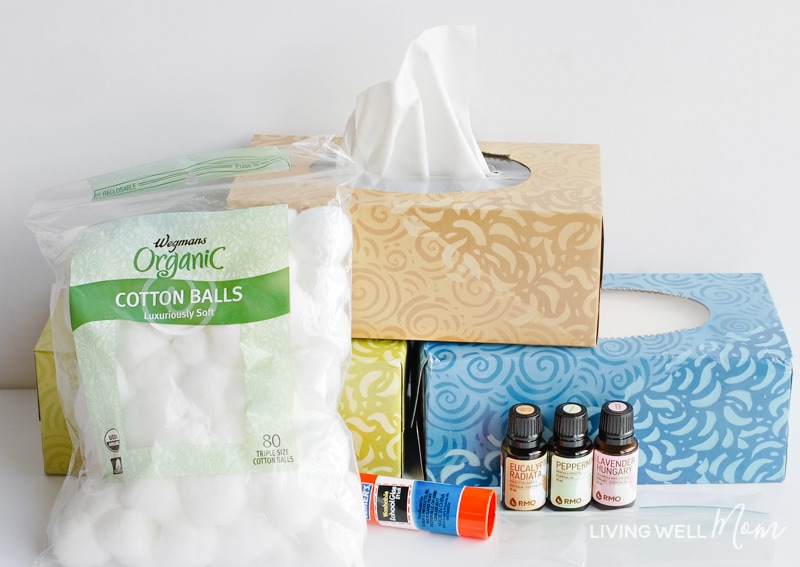 Materials Needed To Make Your Own Essential Oil Infused Tissues: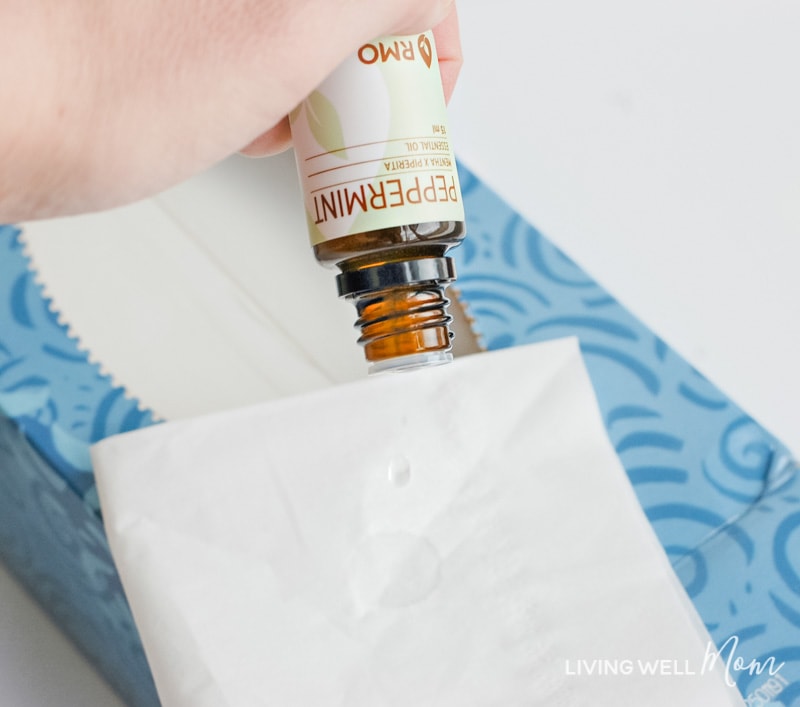 For essential oil infused tissues in a box, you will first want to open your tissue box and pull out one tissue that you will use as the "diffuser". Fold it into a square and add 2-3 drops each of peppermint…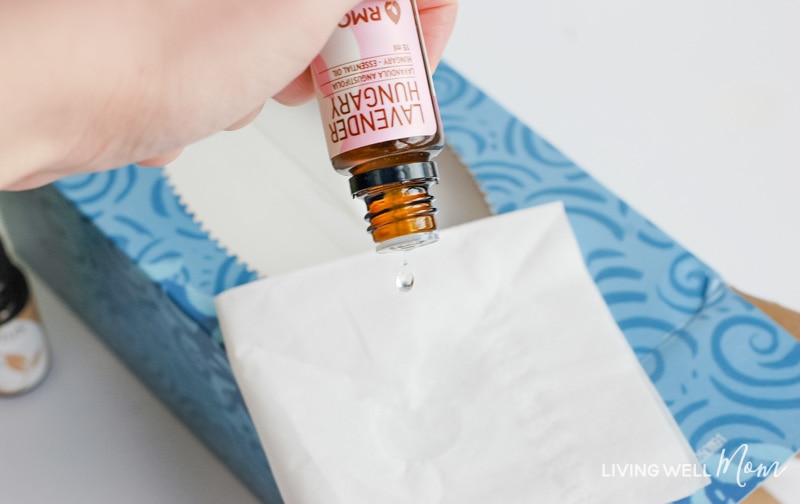 eucalyptus, and lavender essential oils.
Peppermint essential oil is used to soothe and cool skin. This essential oil can also aid in your respiratory system by decreasing inflammation.
Eucalyptus essential oil is an anti-bacterial, anti-viral, an expectorant, decreases inflammation of the nasal mucous membrane, and can bring quick sinus relief. Those are all great reasons to infuse your tissue with this oil when fighting cold symptoms!
Lavender is soothing on your skin – so when you have a raw or red nose from blowing your nose often, the lavender will help!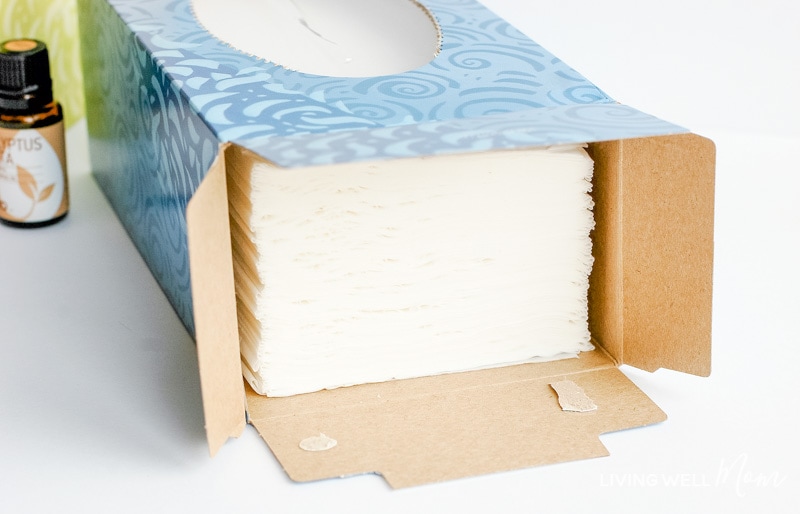 Now the secret to this is to open the side of your tissue box. You will want to take your folded infused tissue with the oils on it, and place it flat up against the layer of tissues inside the box.
This way, the tissue with oils on it will be in contact with the rest of the stack, and the oils will continuously diffuse throughout the box.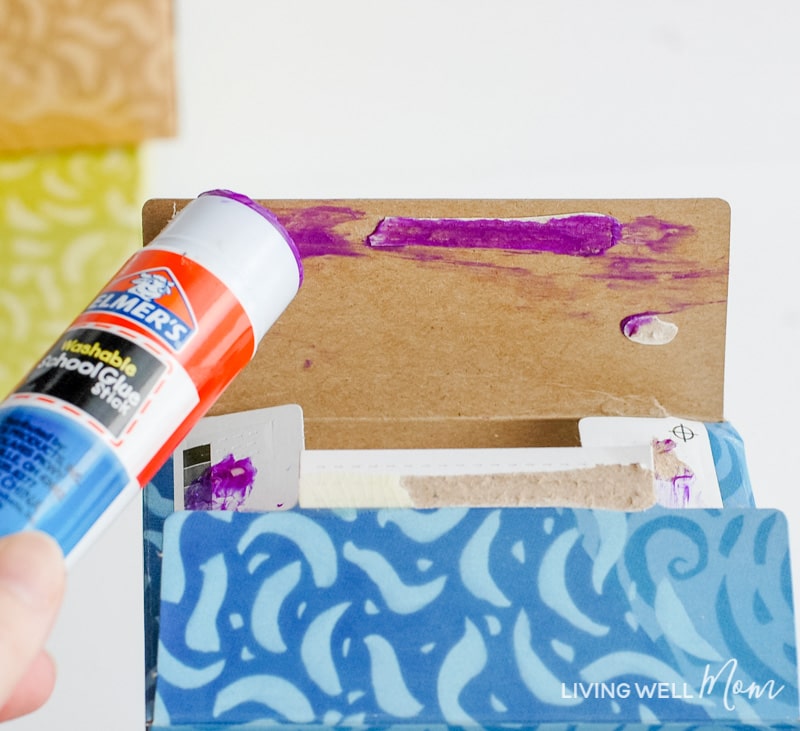 You will need a glue stick because you will want to glue your tissue box back together again so that you can use it normally.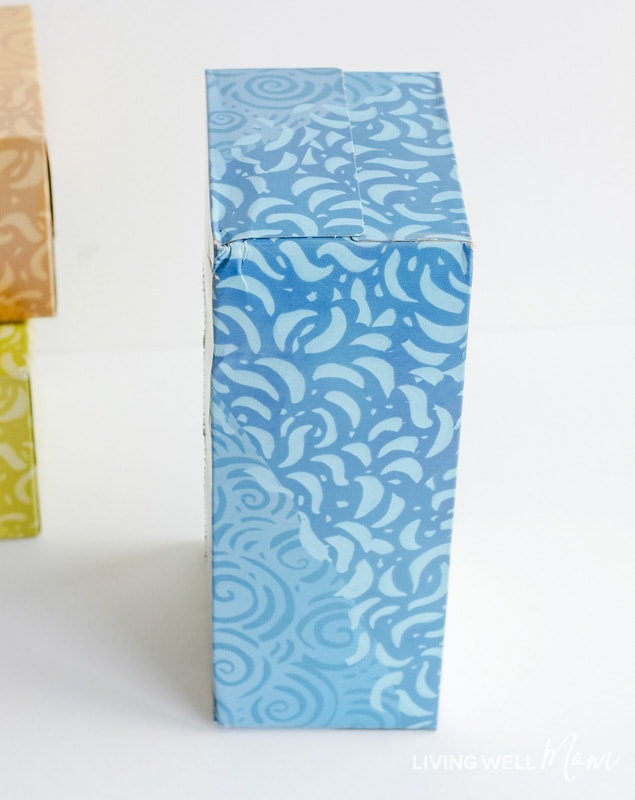 I tipped mine up and left it sitting its side for a couple of hours while I waited for the glue to dry.
Now when you pull out a tissue from this box, you get a delicate aroma of peppermint, eucalyptus, and lavender to help open up your breathing and soothe your skin.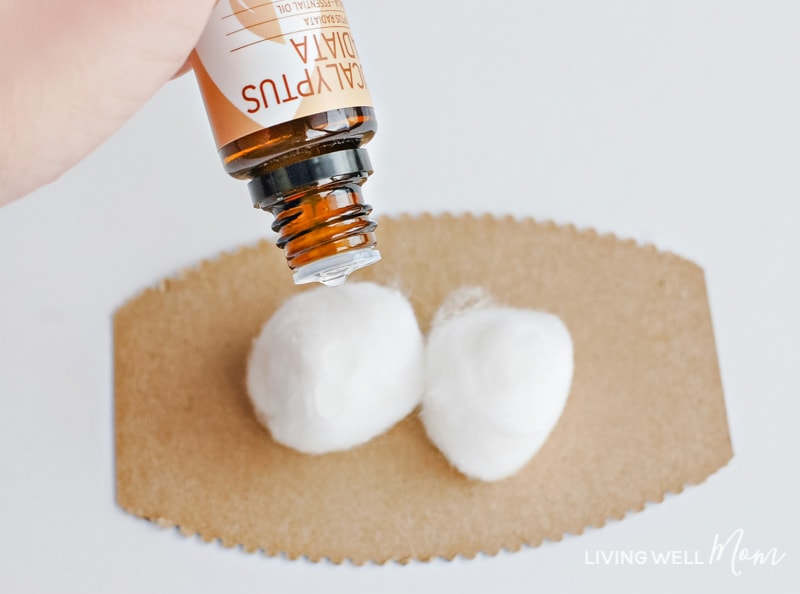 The second way to create essential oil infused tissues to make a "travel pack" of them. This time, instead of putting drops of oils on a folded tissue, grab a cotton ball or two and add 2-3 drops each of eucalyptus, peppermint, and lavender to those instead.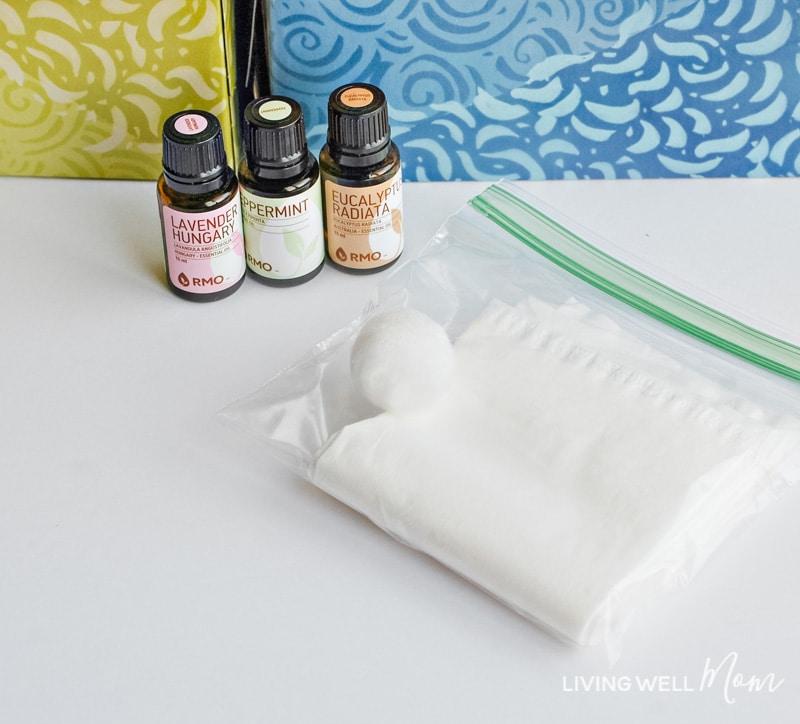 Then you will want to take out about 10 tissues and put them in a flat, folded pile. Place them inside a sealable plastic bag along with the cotton ball diffuser.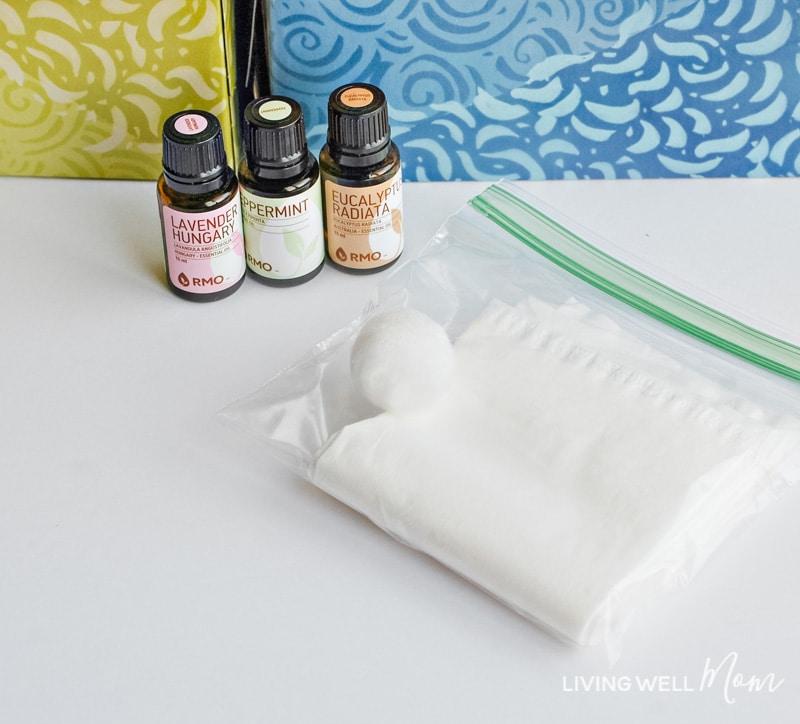 I like to keep the travel tissue pack in my purse and have the tissue box on hand in any room where a cold sufferer is located. This little trick will help the healing while they recover.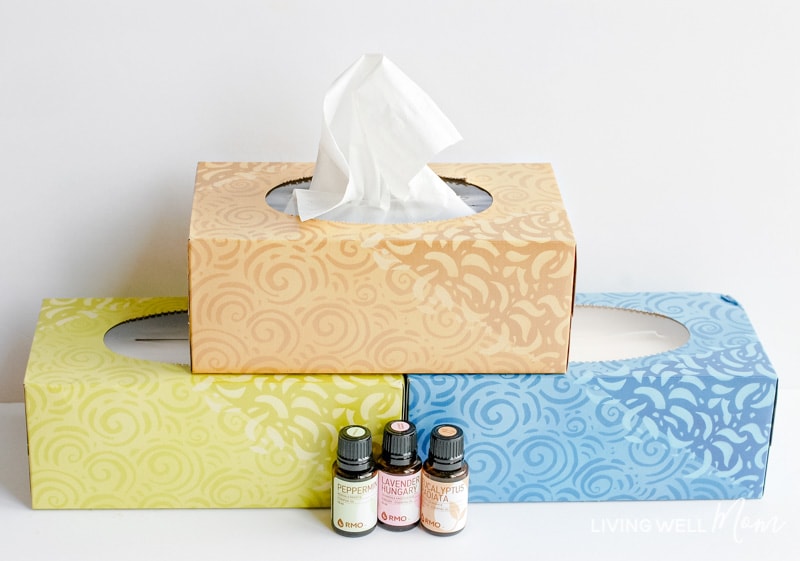 Looking for more natural ways to fight the cold or flu this winter season using essential oils? Here are a few more ideas you can incorporate and reach your goal of a healthy cold and flu season:
15+ Natural Cold and Flu Remedies That Really Work
DIY Immune Boost Foaming Hand Soap
DIY Essential Oil Bracelet for Cold Relief
Easy Homemade Natural Hand Sanitizer
DIY Essential Oil Roller for Immune Support