Summer is the time of year when we're supposed to be able to take a break from the grueling routines of the busy school years.
But when you're an autism mom, it's not that simple. Taking your kids for a spur-of-the-moment trip to the pool or sending them to summer camp can be far more complicated than they might seem. Summers can sometimes be more stressful than the school year!
Kids with autism thrive on routine and therein lies the big issue: how do you balance fun-in-the-summer without stressing your child out? How do you create a summer schedule for your autistic child that offers some necessary flexibility?
I understand the challenge of summer very well. Summers have been a struggle for my son, Nathan, for as long as I can remember. Back when I was homeschooling him, I would be desperate for a break every summer, but less than 4 weeks into "vacation," Nathan would begin to fall apart. He just couldn't handle the lack of routine that I craved.
Over time, I've learned a few strategies that have helped both of us survive the summer and transform it into a more balanced time of change of pace (for me) and a time of learning without too much stress (for Nathan.)
The biggest key was learning how to create a flexible summer schedule.
Thanks to these simple strategies, Nathan had a fantastic season last summer without any of the major meltdowns or issues we've had in past years.
How to Create a Flexible Summer Schedule for Your Autistic Child
#1 Create an intentional routine, big or small.
It helps to remember what a routine or schedule means for kids with autism:
It lets them know what to expect in any given situation
It lets them know what they are expected to do.
Anytime you can put a simple routine or consistency into your child's summer will be helpful.
Even if your typical day is hard to predict (one day you may go to the beach, the next day you may visit Grandma, the next day you may relax at home), even something as simple as creating a daily morning routine can be helpful for your child.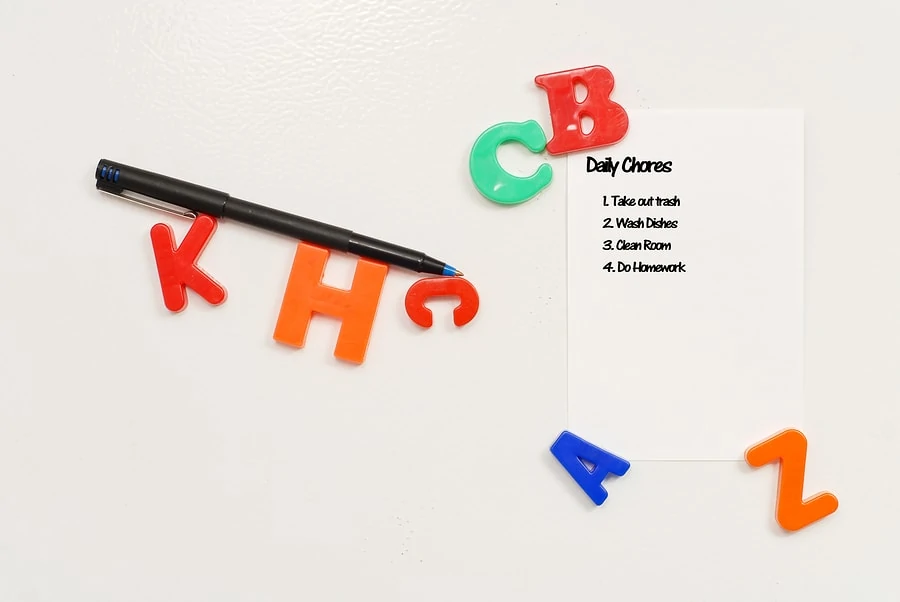 Because I have 3 younger children besides Nathan plus I work from home, our days vary quite a bit and it's always been a challenge to create a regular daily routine during the summer.
However, I've discovered that encouraging Nathan to simply establish his own morning routine was the hidden key to this whole "summer challenge."
First, by having him write down his own routine, it empowered him to own it instead of it being one more thing Mom and Dad told him to do. He was actually eager to follow it.
Secondly, he wrote down some very detailed things I wouldn't have thought to include myself, like "2 minutes to take vitamins." (I would have told him to take supplements, but writing down the specific time was Nathan's idea. (Whatever works!)
I made sure to let Nathan know that we may need to adjust his summer schedule for things he may have forgotten to include, including a couple things that weren't high on his priority list (aka brush his teeth.)
#2 Make it very clear what they can expect
One of our biggest issues every summer is the whole "when can I play a video game / watch TV / use the tablet / go on the computer?" question.
Last year, I made a "School Vacation Rules" chart for my whole family and it solved this problem.
This simple chart included basic things every child had to do before they were allowed any electronics time. This included things like: "pick up your room," "play outside for 1 hour," "read for 30 minutes," etc. You can download it and customized it for your child here.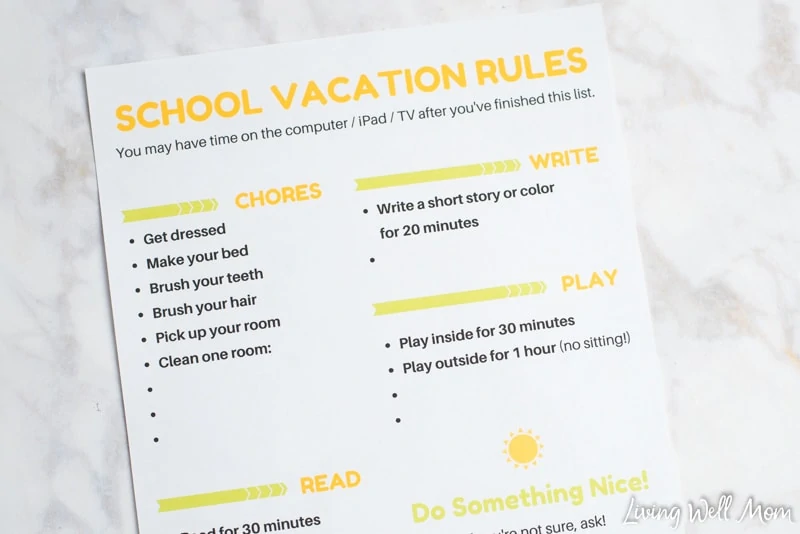 Nathan would still sometimes ask to play Minecraft before he had completed his list, but I would simply point him back to the "rules" and he knew what he needed to do. This summer schedule chart isn't a miracle worker – I can't say it eliminated all the whining or complaining, but it did at least offer some consistency.
#3 Create a Picture Chart
Check out Pinterest for lots of neat picture chart ideas for creating a summer schedule for your child. These are especially great if your child isn't reading yet. If they're able and willing, you can get your child involved in picking out pictures and creating their own picture chart!
Whenever possible, it's always a great idea to get your child involved because it really helps them make the project/chart/goal, etc. their own. But that being said, sometimes it's just easier for you to do and if that's the case, don't feel guilty, mama!
#4 Hold a Weekly or Daily "Review" with Your Child
This is very simple: just tell your child what to expect for the upcoming week. You can also do this every night as a way to share what to expect the following day.
Again, kids with autism do much better when they are prepared instead of being told "We're doing this now" and being expected to go along with it; this simple "review" idea helps to reduce that 'unexpected' factor.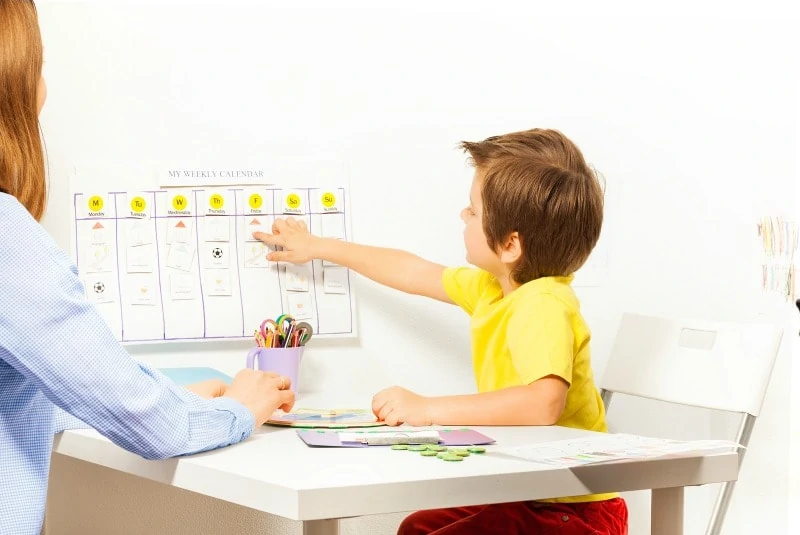 I've started doing this with Nathan every week and it's made a huge difference in helping him understand what's going on and being prepared for it. And it's so simple too!
#5 Offer a special summer activity they'll love
The idea is to give your child something to look forward to that they don't necessarily have during the school year. Depending on your child's interests, this will vary, but I'll try to give you a few ideas to inspire you.
For us, Nathan thrives when he is academically stimulated. He quickly becomes bored over the summer if we don't intentionally give him something challenging and the result is more whining, complaining, and he'll get into trouble doing things he shouldn't. (Frustrations all around.)
This year, we purchased Nathan a monthly subscription to an online video course that includes everything from extreme weather courses to mathematics, cooking, nature, music, etc. They're instructional college-level videos, but they're well done and not a boring professor lecturing from his classroom. Nathan has already started watching one video course (extreme weather) and has a list of others he wants to watch.

I'm hopeful this helps him stay away from that 'boredom = frustration' factor this summer!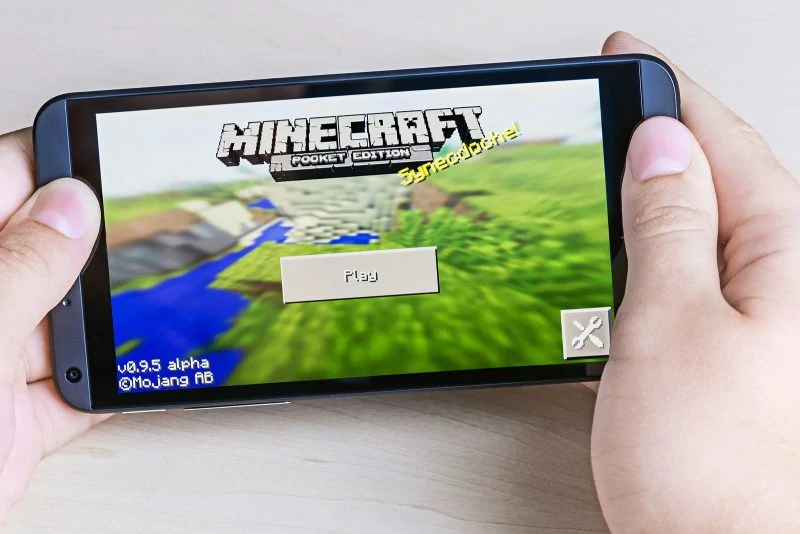 If your child loves online games, you can look into some autism gaming options. Minecraft, for example, has a special server created by an autism dad, that is just for autistic kids.
You could do special fun activities with them, like make homemade playdough or GAK.
Think of something YOUR child loves to do and find a way to encourage him or her in that area this summer.
Beyond those summer schedule ideas, you can help support your child with essential oils. My favorite blend of Frankincense and Wild Orange is particularly helpful for anxiety, stress, and intolerance.
Above all, give yourself a break, mama. Don't hold yourself to some perfect standard. Give yourself some flexibility in your own summer schedule too!