If you and your family are feeling especially distracted this year, I highly encourage you to try these essential oils for focus. This custom blend can help lift brain fog and boost productivity! You can use it in a roller, a diffuser, or as a spray.
Kids can have a hard time focusing at school, and that's normal. Sometimes school is just long and can be boring. Or maybe it's over their head. Particularly this year, there are some added challenges!
Regardless, there are some great essential oils that can help kids focus and pay more attention.
Today I'll show you how to make a simple DIY "Think and Focus" essential oil blend that's perfect for kids. Let's be honest…us grown-ups could use this oil too! I use this scent myself when I'm feeling distracted and find it works wonderfully for adding a boost to my mood and productivity.
Erika Bragdon is a Certified Essential Oil Coach from the Essential Oil Institute.
Essential Oils To Help Kids Focus
These essential oils for focus may help improve memory retention and mental clarity. I also have found it works to improve concentration, alertness, and focus while also decreasing anxious feelings and irritability.
These essential oils have worked really well for my children as they started back to school this fall. I have one child, in particular, that is prone to interrupting in class and not listening to his teacher. He always reports that he's had a good day and "hasn't gotten in trouble" on the days I put this focus essential oil blend on him compared to the days I forget. On those off days, he tends to come home telling me he's gotten "in trouble."
I've used this aromatherapy blend with all my kids, and they all say they have felt calmer and less stressed with it. Mom win!
The Best Essential Oils For Focus
Please read my Essential Oil Common Sense Safety page before using this essential oil recipe.
I am not a medical professional, and the information presented here is merely for educational purposes and not intended to replace medical advice. It is your responsibility to do your own research, consult with your doctor, and make safe decisions for yourself and your family.
I've tested several oils out, and this combination is by far our favorite! It has an uplifting, energizing aroma that isn't overly stimulating.
I use 3 (or often 4) common essential oils for this "think and focus" blend:
Lavender may help with stress and anxiety and is calming.
Cedarwood may help improve focus and concentration while calming and reducing anxiety. It can also help improve one's "connection" to others.
Vetiver may help improve focus and concentration and increase learning retention while decreasing irritability and "rooting" one.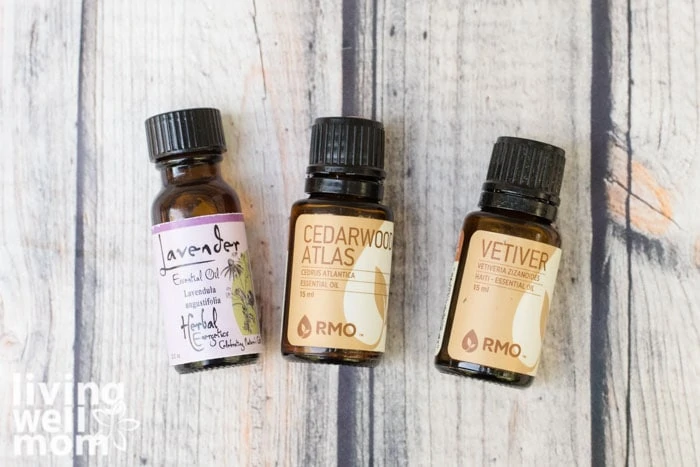 You can also add frankincense if you have it for even more benefits, though this blend works well without it, in my experience. If you aren't a fan of frankincense or want to try something different, I recommend rosemary essential oil for its uplifting aroma.
Frankincense may help improve focus and reduce feeling "down." I have personally found Frankincense to be extremely calming for my son, who has autism, and my other kids as well. Read more about my "DIY Calm and Collected" blend here.
Which Essential Oil Brand Is Best?
For the best results, you will want to choose a high-quality essential oil brand that is 100% pure and offers third-party testing for quality control. Read this post for more info on how to choose essential oils that work for you and your family (beyond the brand.)
My favorite essential oil company is Rocky Mountain Oils, followed by Eden's Garden and Ancient Apothecary by Dr. Axe
.
How To Make A Focus Blend Roller Bottle
To make the blend into a roller bottle, you'll need a 10ml glass roller bottle, a carrier oil (I use fractionated coconut oil), along with these essential oils: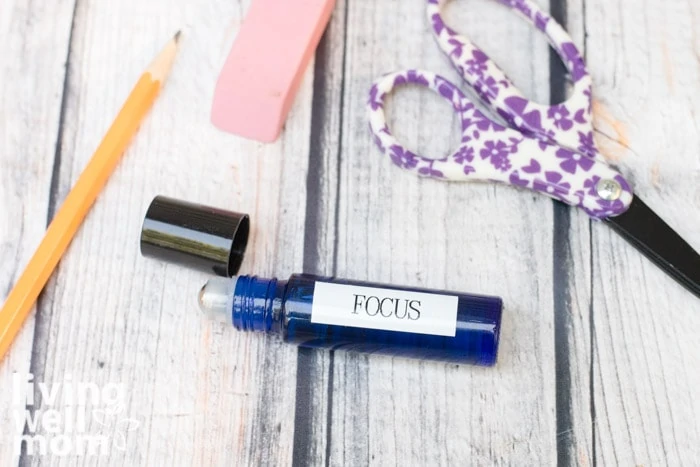 How To Make This DIY Focus Essential Oil Blend
For younger children, you'll want to use fewer essential oils, so the blend is more diluted.
I recommend starting with…

1 drop cedarwood essential oil
2 drops lavender essential oil
1 drop vetiver essential oil
1-2 drops frankincense or rosemary (optional)
You can increase the number of drops slowly if you feel it's needed. (e.g., your child isn't getting the results you had hoped for, etc.)
I use this amount for my children:
2 drops cedarwood essential oil
3 drops lavender essential oil
2 drops vetiver essential oil
2 drops rosemary or frankincense oil
Add the desired amount of essential oils to your roller bottle and fill with your carrier oil. Place the cap on. Don't forget to label! I use my label maker, but I also sometimes use the pretty essential oil dots. You can find them on Etsy or Amazon here.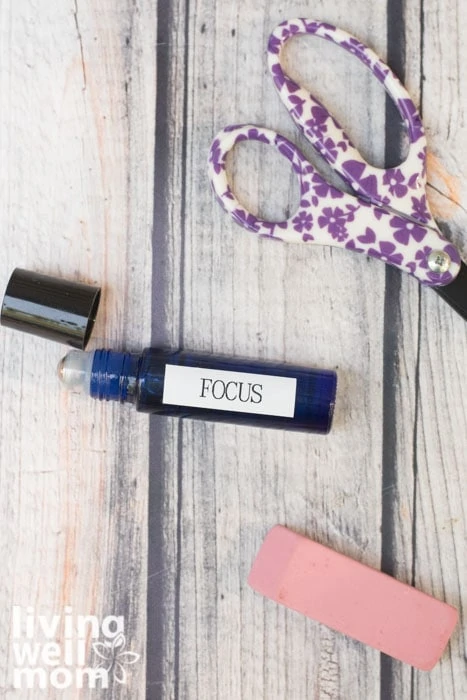 How To Use This DIY Focus Essential Oil Blend
There are several different ways you can use this focus essential oil blend. Here's what we usually do:
Roller Ball
One of my favorite ways to use this blend is simply swiping it on the back of my children's necks with the roller bottle. You can also swipe on the bottom of your child's feet or apply to the inside of their wrists.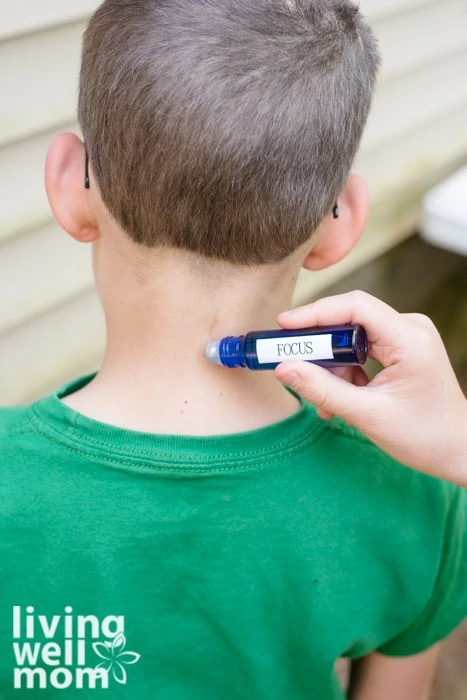 You can apply this every 2-4 hours, depending on behavior. If you use it regularly with your child, you will probably notice that its effectiveness lasts longer as time goes on, and you'll need to use it less frequently.
Of course, when your child heads off to school, you can't drop in and apply more of this focus essential oil blend every 2-4 hours. And most teachers/nurses aren't sure enough about it to do it themselves. (Wouldn't it be awesome, though, if teachers would diffuse some of these oils in their classrooms? How amazing and calming would that be?!)
Essential Oil Necklace
One solution to this problem is to get an essential oil necklace. These handy necklaces come in different forms. Some are lockets containing felt pads that hold the oils and naturally diffuse throughout the day.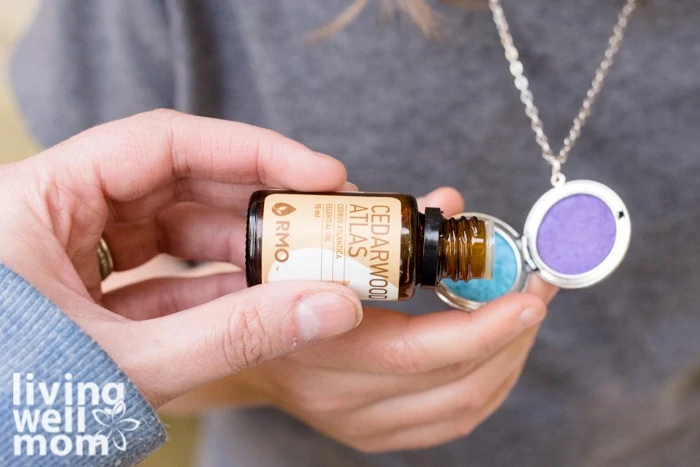 My daughter loves it when I put lavender and vetiver in her special necklace to help her stay calm and focus.
My boys didn't want lockets – they said it was too girly, and I don't blame them. So, I checked out Etsy and found these cute clay necklaces. We haven't tried them yet (I JUST ordered them), but I'll update this post later to let you know what I think.
Luckily there are many great options available!
Diffuse
Of course, when my kids are participating in virtual schooling, or even when I myself need some additional help focusing, I will diffuse this blend. All you need to do is add a drop of cedarwood, lavender, vetiver, and frankincense – easy and effective. It's one of my favorite diffuser blends during the day!
Inhale
One more way I like to use these oils with my kids is to add one drop to the palm of their hands and let them inhale it. Or simply breathe some in straight from the bottle.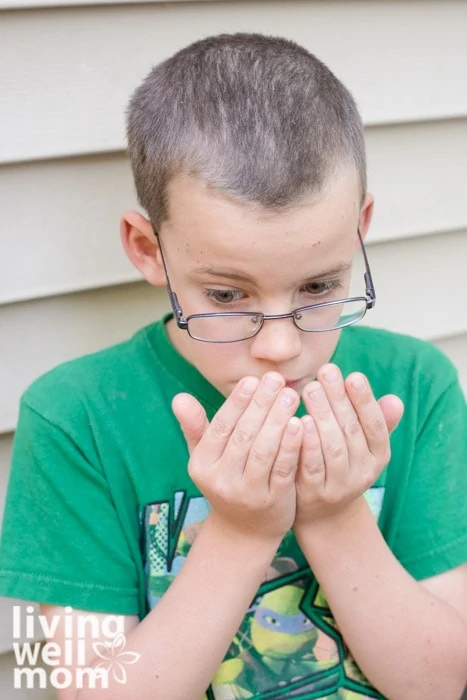 Lavender, cedarwood, and vetiver are not "hot" oils meaning it's generally okay to use them not diluted. This is something I am fine with doing with my children, but not everyone agrees with this, and that's okay.
You can do your own research and decide if you want to put a drop of undiluted vetiver in your child's hand or not.
Make A "Listening" Essential Oil Spray For Kids
You can also easily turn this recipe into a spray. This spray recipe uses the same essential oils as the roller blend above:
You will also need: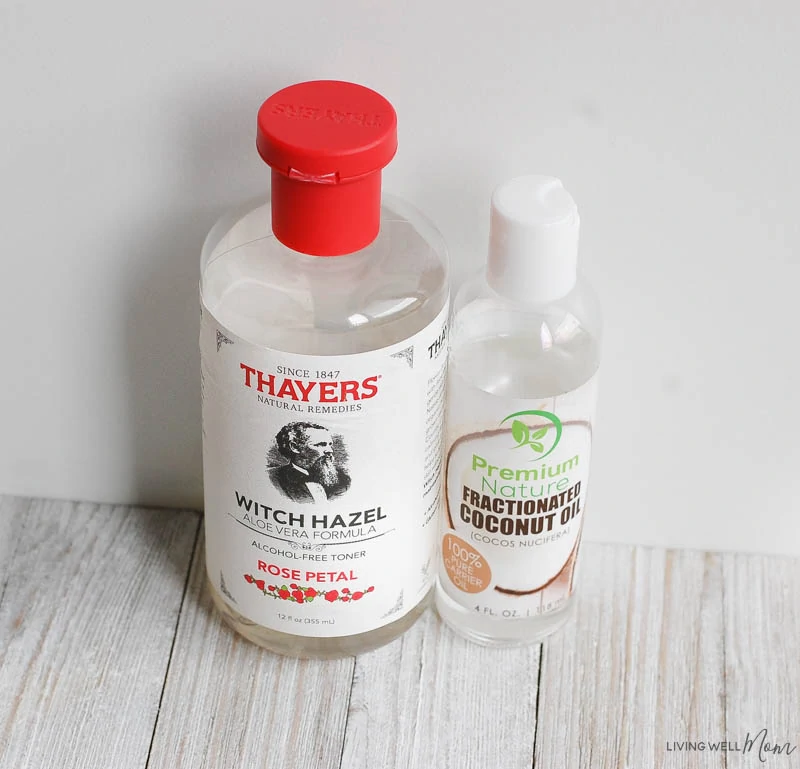 I used a glass spray bottle with this, but you could also use a plastic spray bottle from the dollar store. I prefer glass because some essential oils (especially anything citrus) can corrode plastic.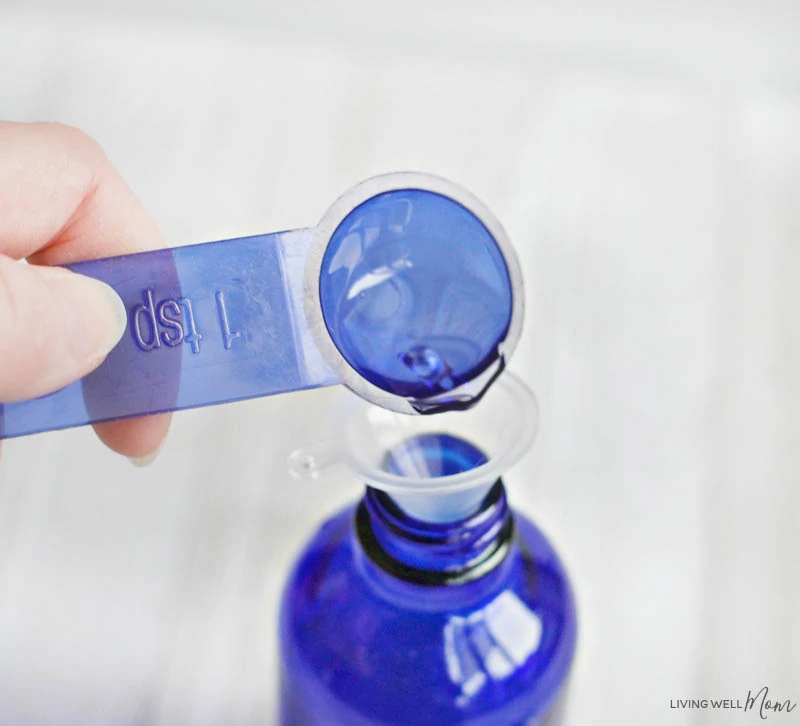 First, add 2 tablespoons of witch hazel to your empty glass bottle. Then, I added 1 teaspoon of fractionated coconut oil. My empty spray bottles came with a small funnel that made it easier to pour into them.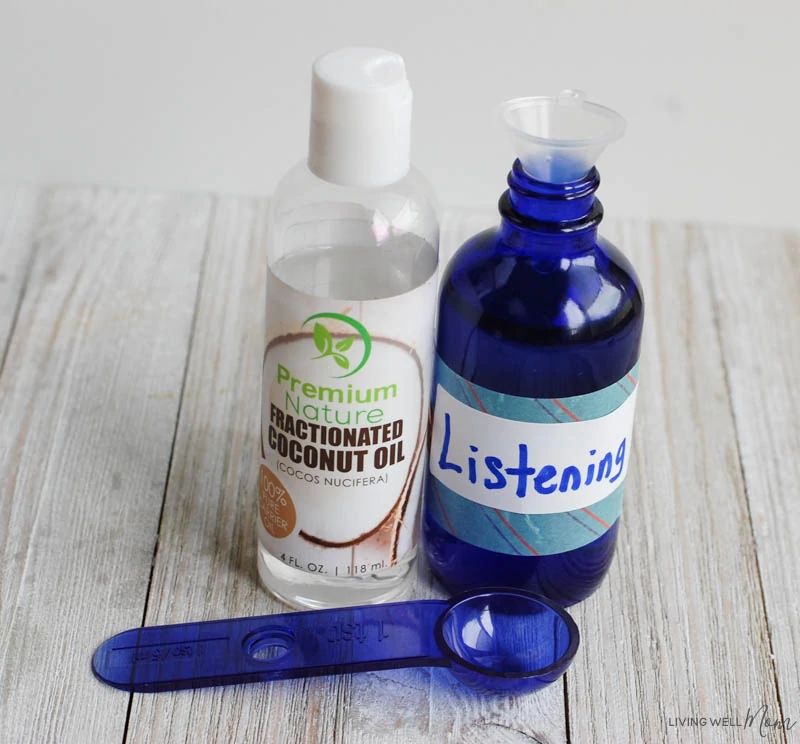 Both the witch hazel and the coconut oil help the essential oils to disperse more evenly in the water.
If you just add water and essential oils to your spray bottle, the essential oils will float to the top. So, even if you shake well before you use your "Listening" DIY Essential Oil Spray, you will get an uneven concentration of essential oils in each spray.
By adding the witch hazel and fractionated coconut oil, everything will spread more evenly, resulting in a more consistent spray.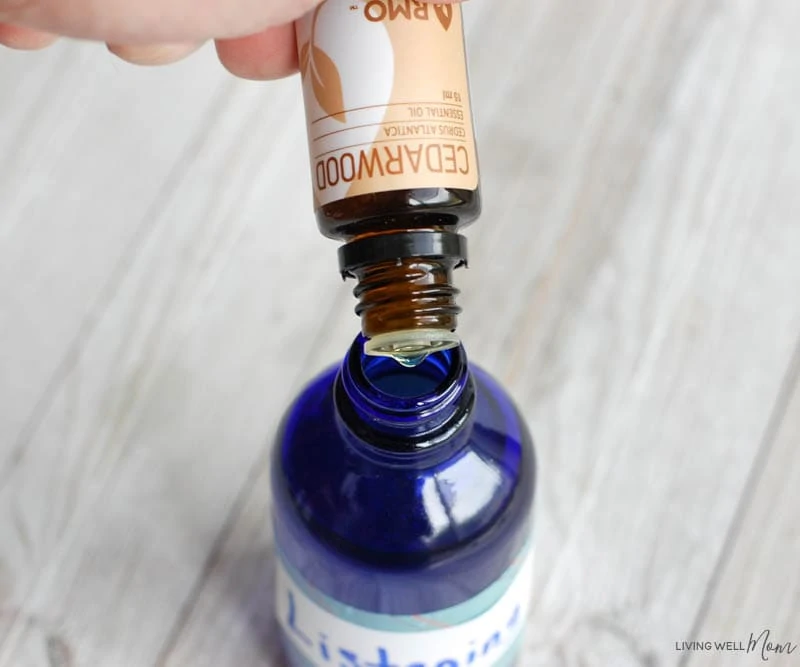 Then, you will want to add 5 drops each of cedarwood, vetiver, lavender, and rosemary essential oils to your glass bottle. That's 20 drops total.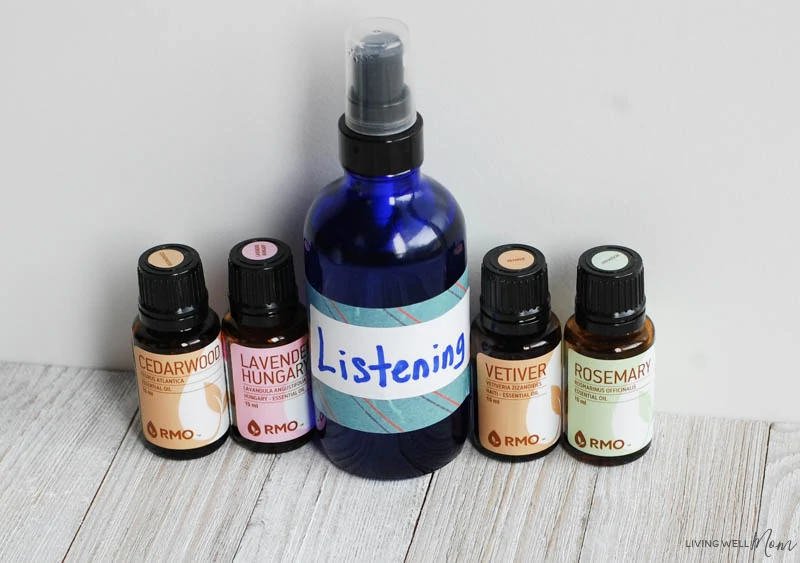 Fill the rest of the bottle to the top with water, and your "Listening" DIY essential oil spray is done!
How To Use This Spray
Shake well before spraying, and spritz a few times in any room where your child needs a little help to calm down and listen. You can also spritz it on the back of your child's neck.
If you are a homeschooling mom, this is excellent to have on hand during tough lessons, homework, or test time where students need to focus on their auditory listening skills and not just visual or tactile distractions.
It works for my mental fatigue throughout the day as an adult too. I also like to spray some of it in the air if I feel an afternoon slump where my energy levels plummet.
Additionally, I would also recommend using this "Listening" essential oil spray in combination with this "Overwhelm" roller ball blend to help calm anxiety and help kids pay attention.
I hope this DIY Focus essential oil blend works as well for your children as it does for mine!
Other Ways To Use Essential Oils