Valentine's Day can be challenging if your kids are on a gluten-free diet. It seems that everyone is passing out heart-shaped cookies and cupcakes that our kids can't eat. Luckily, there's plenty of fun gluten-free Valentine's Day treats that kids will love just as much!
We've come up with an awesome list of Valentine's Day recipes that are so yummy, the kids and you won't even realize they're gluten-free!
This favorite Valentine's Day Chex Mix is a favorite with kids and adults! [Living Well Mom]
Put those little hands to work making these Gluten Free Jam Thumbprint Cookies. [Almost Supermom]
The kids will enjoy making their own chocolate dipped marshmallows. [Give Recipe]
These Strawberry Rice Krispies Treats are a fun twist on a classic recipe – they're actually strawberry flavored! [Living Well Mom]
Use a gluten-free cake mix to make these Cake Batter Rice Krispies "cupcakes" from Just Helen.
Let the older kids practice their hand at piping with these chocolate covered strawberry meringue cookies. [Midget Momma]
Primally Inspired found "The One," not to marry but the perfect gluten-free fudge brownie recipe.
Fall in love with these gumdrops made from applesauce. [A Mitten Full of Savings]
These cute gluten-free strawberry cupcakes are perfect for the little princess in your life. [Meaningful Eats]
Have some cookie cutter fun making these heart sugar cubes from Budget Savvy Diva. Mom & Dad can put a little "love" in their coffee or tea, instead of regular sugar cubes.
Round up the family and form that assembly line to make some popcorn balls. [Mom on Timeout]
You'll want to opt out of store bought candy once you see these heart shaped fruit gummy lollipops from Petite Allergy Treats.
This tasty Valentine's Day Mini Triffles recipe is a great healthier option for kids!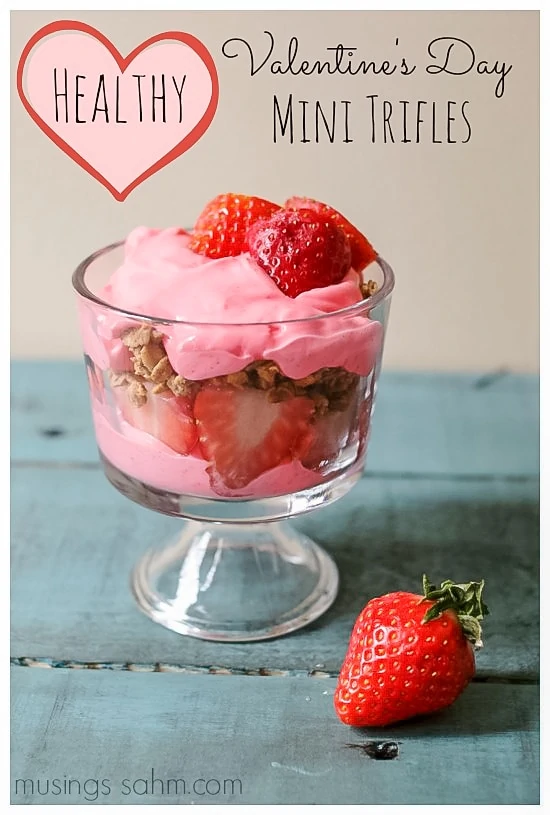 If you're still looking for classroom treat ideas, Midget Momma's recipe for chocolate pops is perfect.

Celebrate Valentine's Day with the kids' favorite movie and some white chocolate Valentine popcorn. [A Few Short Cuts]
If you can trust your kiddo's with skewers, let them create some Cupid Kabobs by Bon Bon Break.
The kids will be running to sit down for breakfast with these Valentine's Day inspired gluten-free, vegan strawberry "Pop Tarts." [Allergy Free Alaska]
If you happen to have a Zoku popsicle maker, you have to try these Valentine's Day recipes from Thrifty Mommas Tips.
Start Valentine's Day morning off with these beautiful Heart Beet Pancakes and let everyone know they're loved. [Self Proclaimed Foodie]
Make your own banana chips for your kiddo's Valentine's Day class treats. Grab the "I'm Bananas for You" free printables while you're there. [Primally Inspired]
Thrifty DIY Diva's gluten-free fudge is quick and easy, music to my ears.
Your little girl would love to receive a bouquet of flower themed chocolate muffins. [The Primal Desire]
Let the kiddos enjoy a little bit of everything with these Strawberry Brownie Trifles from Confessions of an Over-Worked Mom.
This Chocolate Raspberry Pudding Recipe by Texanerin Bakin is the perfect Valentine's Day spin on traditional pudding.
Let little hands sprinkle dried, crushed raspberries over these yummy coconut meringue cookies. [Super Healthy Kids]
For the love of strawberries, this 3-ingredient parfait is perfect! [Blessed Beyond Crazy]
The kids will have so much fun pouring in the love (heart shaped sprinkles) in this Coconut Flour Funfetti Cookie Recipe by Leelalicious.
Let the little ones know that love turned the fudge pink with this strawberry fudge recipe. [A Few Short Cuts]
What's your favorite Gluten-Free Valentine's Day recipe or healthier option?