We all love spending time in the sun, but absolutely no one wants a sunburn. Too much sun exposure can lead to discomfort, nausea, and a whole other range of unpleasant symptoms. While I always try to keep sunscreen well-stocked, there are times when sunburns do happen. On those occasions, I always reach for this DIY relief cream filled with natural essential oils for sunburn to relieve symptoms ASAP.
Summer is finally here and that means days at the beach or pool, hiking, camping, gardening, and simply enjoying time outdoors in the sun. And yes, even though we all know to use sunscreen as protection when needed (a little sunshine is actually good for you), sunburns sometimes do happen.
If you or one of your kids ends up with a sunburn, I've got just what you need! This wonderful homemade sunburn relief cream is made with the best essential oils that will help soothe your burn and speed up the healing process.
In fact, this homemade lotion is so luxuriously wonderful, you may want to use it as a daily skin-softening lotion instead of just for sunburns!
Erika Bragdon is a Certified Essential Oil Coach from the Essential Oil Institute.
The Best Essential Oils for Sunburn
There are three powerhouse essential oils in this sunburn cream. After testing a bunch of different ones, these are the three I come back to over and over again. Luckily they are both effective and affordable, making them a winning combination in my book. 😉
It's important to note that you'll need to use a carrier oil with both of these essential oils (following my recipe below). Don't just add them directly to the skin.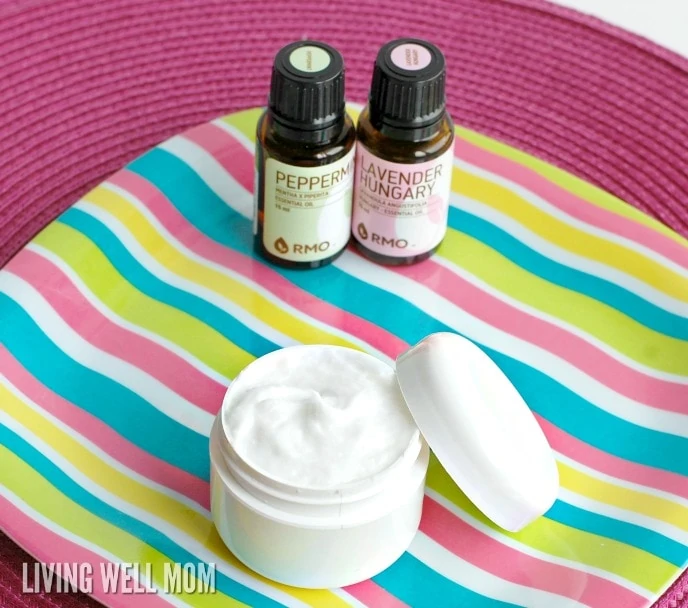 Lavender Oil
Lavender essential oil is my all-time favorite! It has so many incredible uses (here are 11 of them). I always have this one on hand.
For this recipe, in particular, lavender oil can help heal your skin as well as aid with natural pain relief. Plus, it smells amazing and will help you relax too!
Side note: I have used lavender oil before for burns that result in blisters (from my glue gun for example.) The lavender oil does miracles to take away the burning pain and speed up healing! Whether it is a second-degree burn, or minor sunburn, lavender is something to always have on hand!
Peppermint Oil
Using peppermint essential oils for sunburn may seem counterintuitive, but I promise you…it works SO well. It gives your skin a lovely cooling sensation. That being said, this is a very strong oil so dilution is crucial. Don't apply it directly to your skin!
Tea Tree Oil
Tea tree oil is a great addition to this cream. It reduces inflammation which helps relieve itching and soothe skin. It also can help aid the skin in healing, which is very helpful when trying to battle a sunburn.
I listed it as optional in the ingredients, but highly recommend you add it in!
Coconut Oil for Sunburns
Another powerhouse ingredient in this sunburn cream is coconut oil. It's been known to treat a wide range of skin conditions such as dermatitis or dry skin, but did you know it also works incredibly well as a sunburn treatment?
Coconut oil is one of my favorite natural remedies. It's filled with anti-inflammatory properties to help your skin cool down, repair, and heal quickly. It works and it feels great on your skin too.
Supplies Needed
Now let's chat about how to combine all these ingredients and provide some sunburn relief!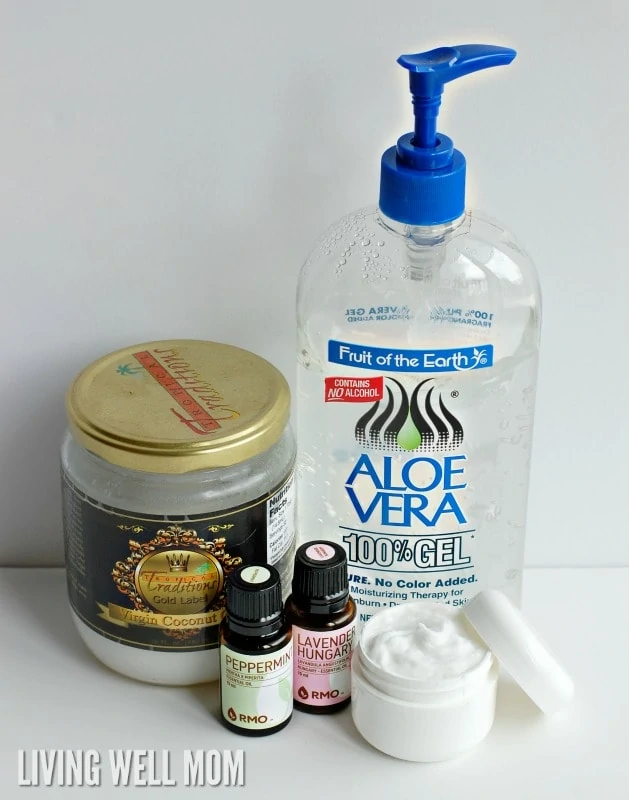 Directions
First, add 1 cup of the coconut oil to your mixing bowl. Then add 1/2 cup of aloe vera gel.
Add 10-15 drops of lavender essential oil and peppermint essential oil each. If you have tea tree oil on hand, you can also add some of that, as it has healing qualities for burns.
Use a whisk and mix all of these ingredients together.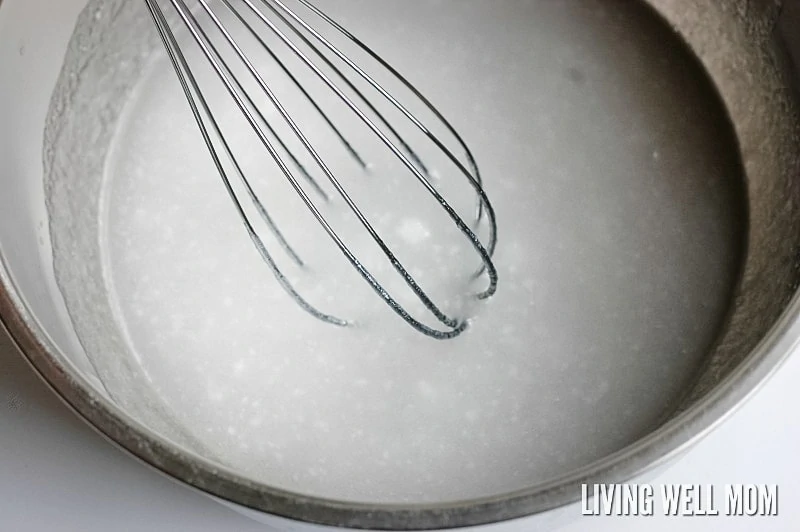 When I added my coconut oil, it was about 80 degrees in my house. Coconut oil has a very low melting point (77 degrees F), so you may find your jar of coconut oil being half-melted in your pantry in the warmer months.

Because my coconut oil was half melted and lumpy – I decided to put it on my stove burner on low for a few minutes until the lotion mixture (oil, aloe and essential oils) was completely lump-free and smooth.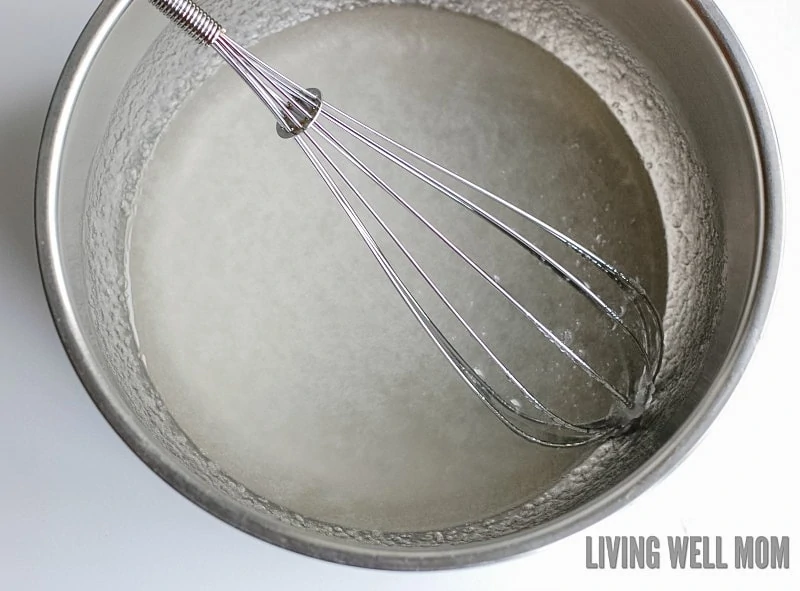 Once your mixture is smooth, let it cool to room temperature.
Now it's time to make your mixture a luxurious lotion by whipping it. Get out your mixer and mix for 5-7 minutes, until you get a creamy white lotion texture.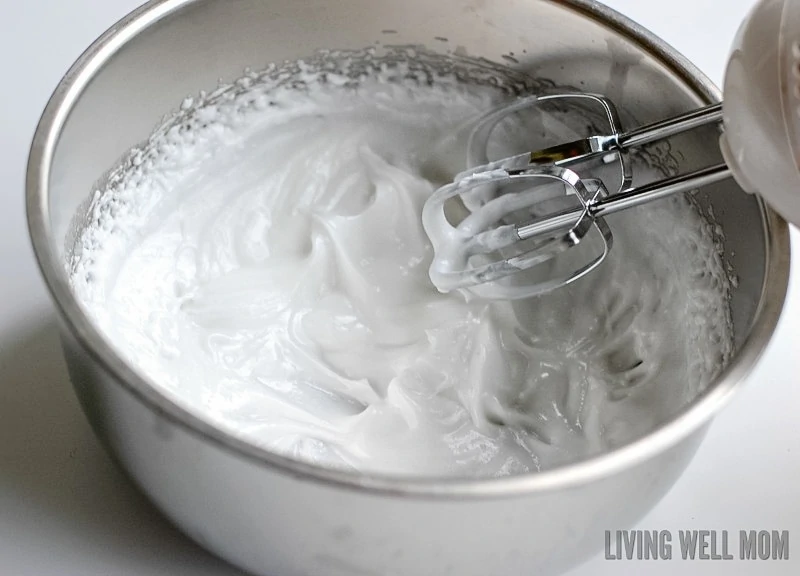 This homemade sunburn relief cream with essential oils looks almost good enough to eat (but don't!)! And it feels wonderful on your skin! To use it, simply apply to the affected area and feel the relief.
I had some small plastic storage containers that I put my homemade sunburn relief cream with essential oils in. This is a great size to add to your beach bag or pack for a camping trip (see my other favorite essential oils for camping here).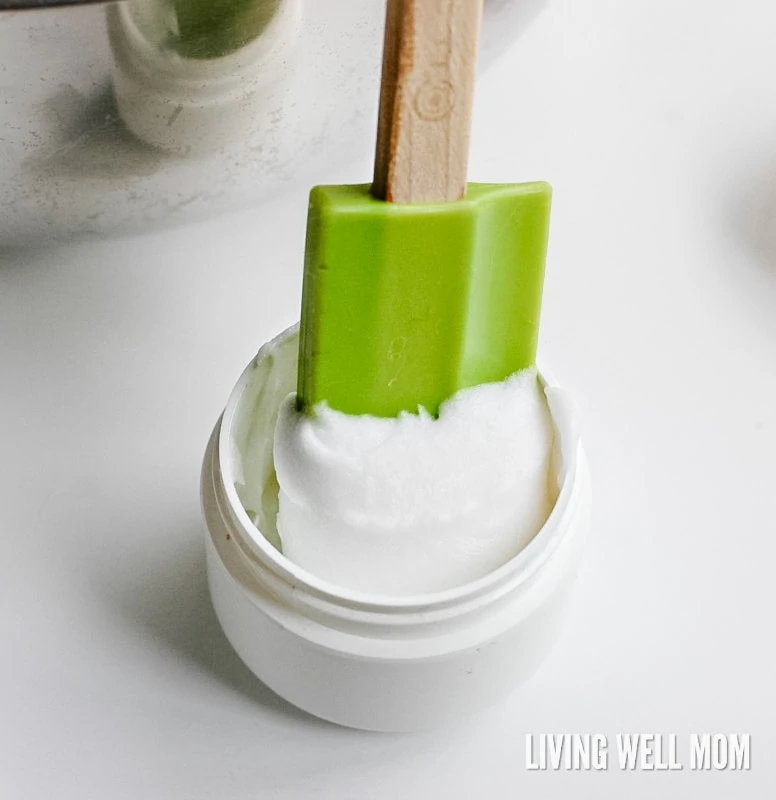 This recipe makes more than enough to fill a small glass container with more to spare. I had enough that I could fit it into a small mason jar too.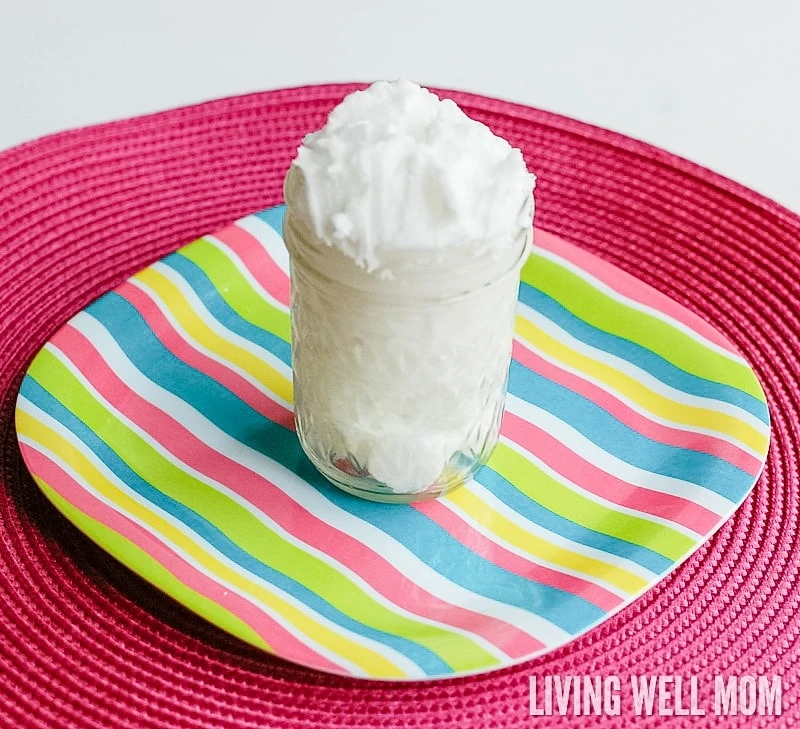 Storage
If you want your homemade sunburn relief cream to keep that beautiful whipped consistency, keep it in a room cooler than 70 degrees.
Otherwise, the lotion will melt (from the coconut oil). It will still work just as well, but it won't be as creamy. If it does melt, you can simply re-whip it.
Another option is to store it in the refrigerator to maintain the whipped texture. Plus, the cool lotion will feel great on hot skin!
This homemade sunburn relief cream with essential oils really does help to soothe and heal burns. Give it a try, your skin will thank you!
More Essential Oil DIYs: