That little ol' kitchen sponge sitting next to your sink may not be as innocent as it appears. I'll show you why in this post, as well as how to disinfect a sponge. There are a few different methods, but the one I use and recommend takes just minutes, is totally hands-off, and chemical-free!
First, let's chat about the gritty reality of what's hiding in your kitchen sponge. Be forewarned – it isn't pretty!
Why You Need to Sanitize Your Sponge
Here's a fun fact: some studies have shown that a kitchen sponge is the number one source of germs in a household. Yup, this means that the little green and yellow pad that touches all your dishes is even germier than your toilet seat.
I'm no germaphobe (if anything, having four kids has gotten that out of me) but that has a huge ick-factor.
A kitchen sponge can contain up to 10 million bacteria per square inch. Think about everything your sponge touches and it makes sense. And still just as gross.
This is particularly worrisome if you are in the habit of handwashing dishes. What you thought was a good habit or way to care for your dishes may be resulting in little more than smearing around bacteria on your plates. Ick!
Then, you may use that same sponge on your counters, which means you are really spreading the…er, love.
So, what's the answer? Do we need to use our sponges once, then toss them away? Thankfully, no! But, there are some basic things you can do to keep your sponge nice and clean.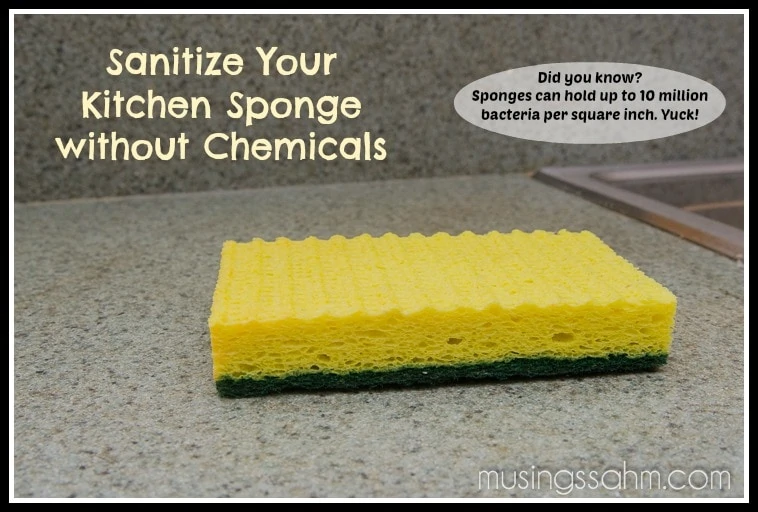 How to Keep a Sponge Clean
Yes, the thing you use to clean other things will also need to be cleaned. How fun is that! But, if you think about it, it makes sense. Here's how to keep the germs at bay:
Be Selective About Where You Use Your Sponge
Okay, this may be common sense, but your bathroom sponge and kitchen sponge should be kept very, very separate from one another.
But, let's take it a step further. I recommend keeping one sponge for your dishes and another for your countertops (I actually use a microfiber cloth for this).
Choose Your Sponge Wisely
Speaking of microfiber, I highly recommend you ditch your standard sponge for one that is made of microfiber. The main reason for this is microfiber dries quickly, which means bacteria will not be able to develop for as long.
Replace Your Sponge Often
This may shock some of you. But, did you know that you should be swapping out your dish sponge every 2-4 weeks? I have to admit, that kind of blew my mind the first time I heard it. At the time, I couldn't tell you when the last time I had changed it was. Now, however, I swap it out on the first day of the month like clockwork!
Disinfect Your Sponge Regularly
Yup, even though you are now starting with a new sponge every month, you'll still need to disinfect your sponge. Keep reading to find out how!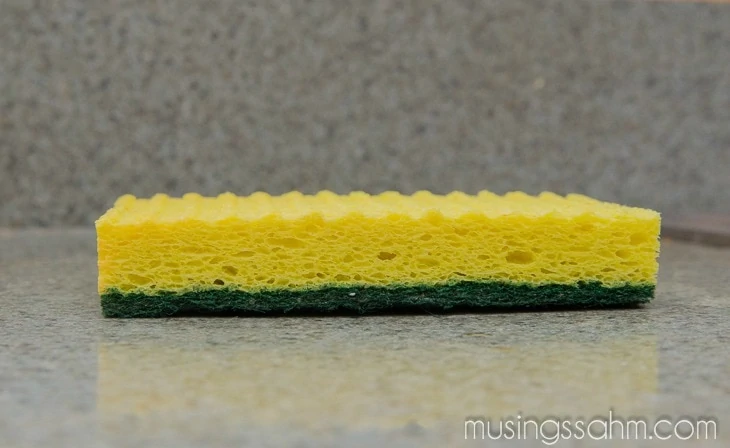 How to Disinfect a Sponge
Okay, first of all, let's talk about how often you should be disinfecting your sponge. Are you ready for this one? Every day. Yes, you should be disinfecting your sponge on the daily AND tossing it monthly. Phew.
Sanitize Your Sponge in the Microwave
The good news is that with this method, it's super easy to sanitize your kitchen sponge. And you can do it without chemicals too.
Simply microwave your damp sponge for 2 minutes. (Never microwave a dry sponge as it could catch on fire.) This kills 99.999% of germs. Easy!
I sanitize my kitchen sponge every morning after finishing the breakfast dishes. It's nice knowing that a simple trick can make such a difference in cutting down on germs in my kitchen.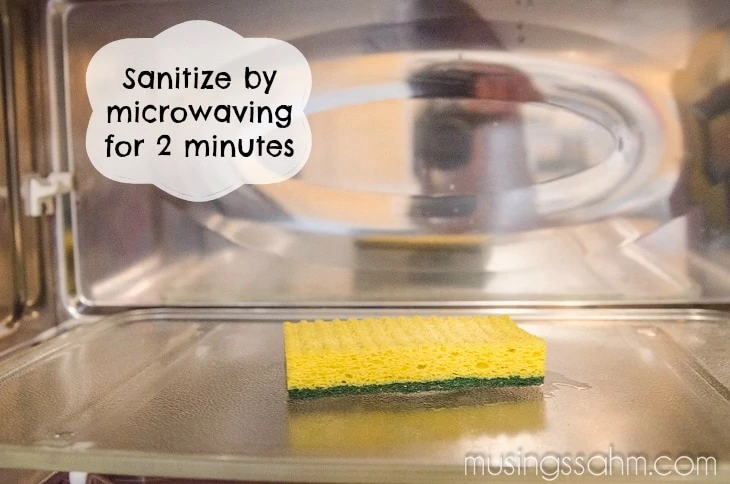 I have a 1,000 watt microwave, but if yours has less power, I would zap that sponge for up to 3-4 minutes. Remember to make sure the sponge is wet before you do this, and keep a close eye on it!
Beware: the sponge will be really hot so don't touch it right away. I let it sit for 10-15 minutes.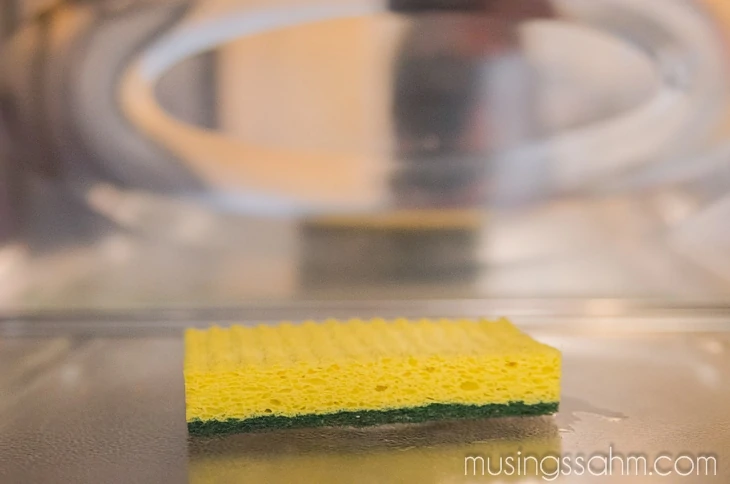 There you have it! A perfectly sanitized, ready-to-use sponge that won't spread germs all over your dishes. Give this one a try…it's so easy!
More Cleaning Posts: