Glass stove tops have a lot of pros to them, but the one major downside is keeping them clean! However, I've found the easiest way to get a clean glass stove top. Learn my top-secret and highly-effective method below.
I admit that I've never been a fan of cleaning. And there are some things I really despise. Like cleaning the bathroom – especially with three boys (four, if you count my husband). Yuck!
Trying to figure out how to clean a glass-top stove used to be another one of those dreaded cleaning tasks. As hard as I tried, I just couldn't figure it out. It was frustrating when even the special stovetop products (a.k.a., cooktop cleaner) didn't work.
And based on reviews of cooktop cleaners, I wasn't the only one feeling defeated.
I love the guaranteed "even heat" and sleek, modern look of electric black glass cooktops. So, when my new Maytag stove arrived last fall, I was determined to keep it clean and beautiful looking. But good intentions usually aren't enough, and it didn't take long for my beautiful new stove to get dirty. Sigh.
However, when I visited the Whirlpool headquarters (aka the ultimate pros!) recently, I finally learned the secret to cleaning a glass cooktop that had been eluding me! Learn how to clean a glass stove top using my top-secret method below.
The secret tool you never knew you needed for a clean glass stove top
Okay, when you hear that you need some new tool to clean glass-top stoves, you probably start wondering how expensive it is and whether it's REALLY needed.
Well, I have good news! It IS really necessary, it's inexpensive, and it's crazy effective! Ready to see it? It's this handy little razor blade.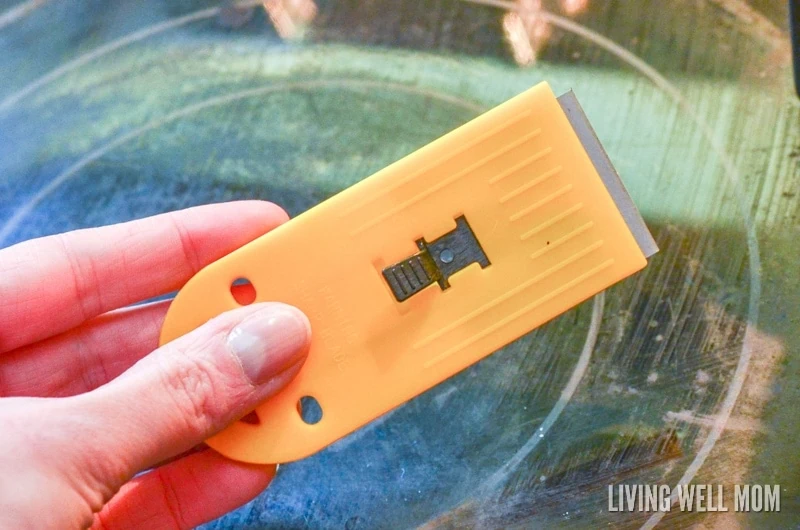 If you have built-up grime, this bad boy literally scrapes it right off. And it really works.
Pro Tip: Get the metal razor blade because the plastic kind won't cut it. You don't need to buy one labeled for "cooktop cleaning" (which, thanks to marketing, will be more expensive). A regular ol' razor blade for a couple of dollars is all you need.
How to clean a glass top stove secret #2
Surprise! Yes, this is a two-step secret. And this insider's trick is completely F-R-E-E!
Clean your glass stovetop when it's warm.
In the same way that it's easier to wash dishes with hot water, the most efficient way to clean your stovetop is right after you've used it when it's still warm.
That being said, it might be ideal to clean your stove right after you've used it. But let's face it, "ideal" isn't often realistic because the kitchen needs to be cleaned, the dishes need to get done, the kids need their baths, and then it's bedtime (and you're exhausted).
Before you know it, it's already the next day, and you're looking at a stove top with stuck-on food. Bleh!
Never fear; here are two ways you can get it done:
Method Option #1 – I usually clean the stove while the oven is turned on. The stove top surface will be warm from that, but not too hot. It's the perfect chance to get it done!
Disclaimer: I won't recommend this to you because it's clearly not the safest idea. I'm just sharing what I do. If you try it, you do this at your own risk, and I assume no responsibility if you burn yourself!
Method Option #2 – The recommended way would be to turn the burner on briefly (just for maybe 5 seconds), then turn it off quickly and scrub away. I do this often, and it works well. But obviously, I have to be very careful not to leave the burner on long at all (it heats up quickly) or touch it directly.

Supplies needed
Here's everything you'll need to clean your stove. The good news is that you probably already have most of these supplies at home!
Note: I tried going without the cleaner in favor of using natural cleaners or cheaper alternatives, but I haven't found a good substitute. The cleaner costs $3 or $4 a bottle and is worth every penny.
Directions for a clean glass stove top
Here's a close-up "before" picture of my filthy stove.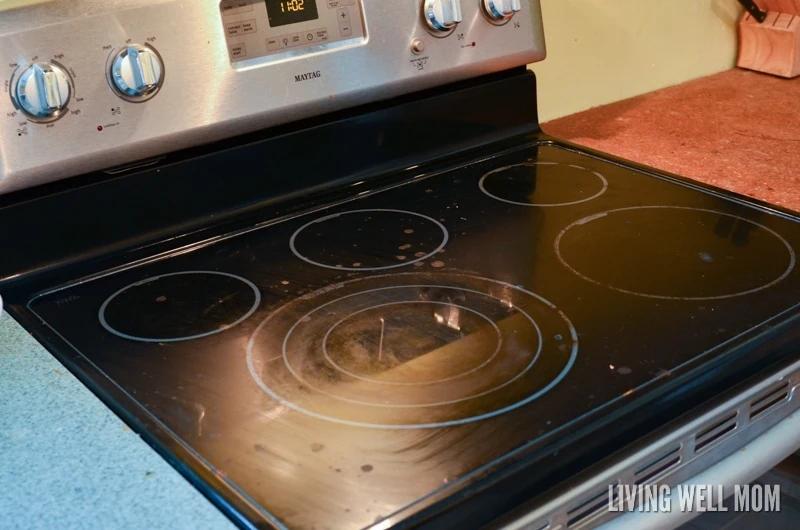 1. Add cleaner
Start by squirting on the cooktop cleaner and scrubbing with the cleaning pad.
Make sure you use the "approved" cleaning pad because the scrubbing side of your regular kitchen sponge (or even harsher items like steel wool) can scratch the surface (and void the manufacturer's warranties).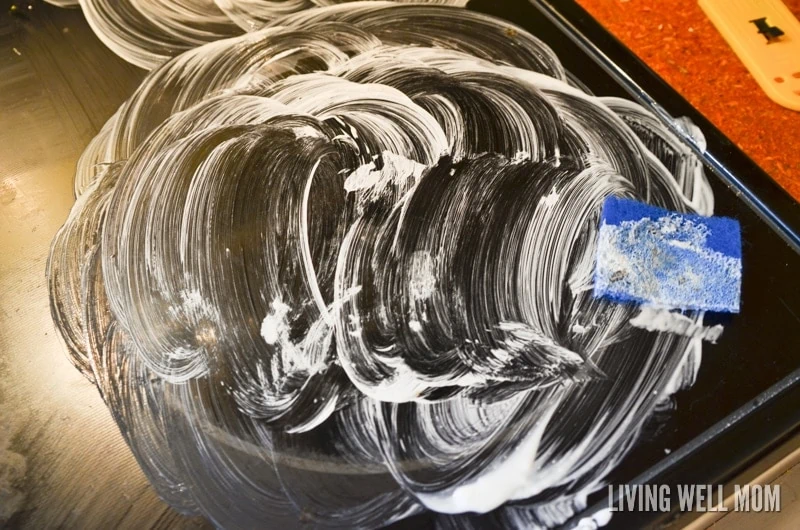 2. Use the razor blade
Some of the grime will come off when you use the cleaner and scouring pad but not all of it. That's where the razor blade comes in.
See the rings around my burner here? Water boiled over, and we all know what a lovely mess that can make. This picture was taken after I had scrubbed it with the cleaner.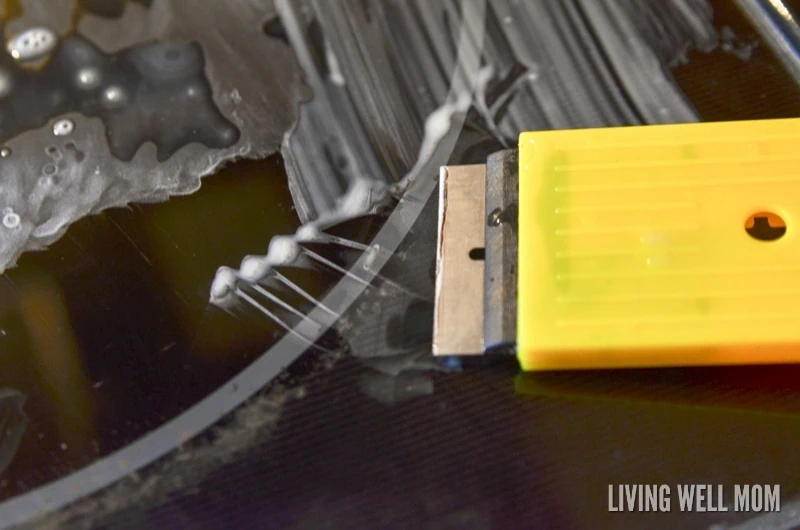 Look what the razor blade did: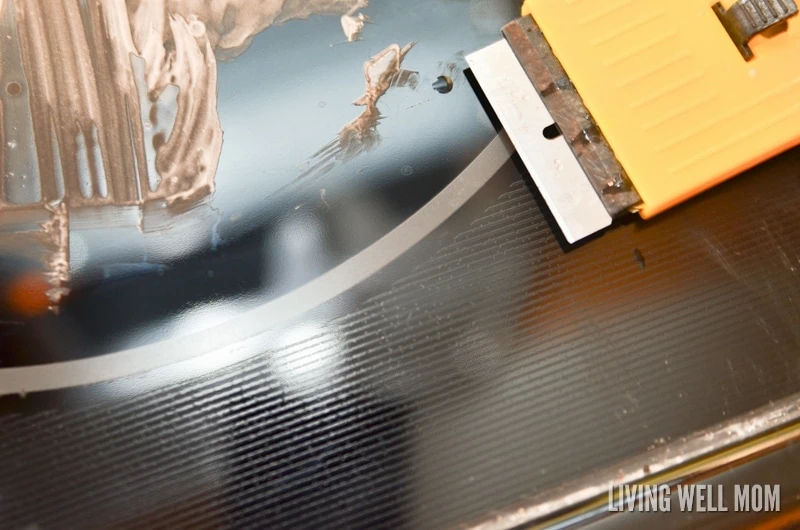 Note: This is not always a one-and-done process. You may need to go back and scrub some more with the cleaner and cleaning pad if the grime is really built up. Just wash, rinse, and repeat until you're satisfied with the results.
3. Buff the clean stove top
Finally, wipe it clean with a paper towel or microfiber cloth and buff your stovetop with a cleaning rag. You're done!
The results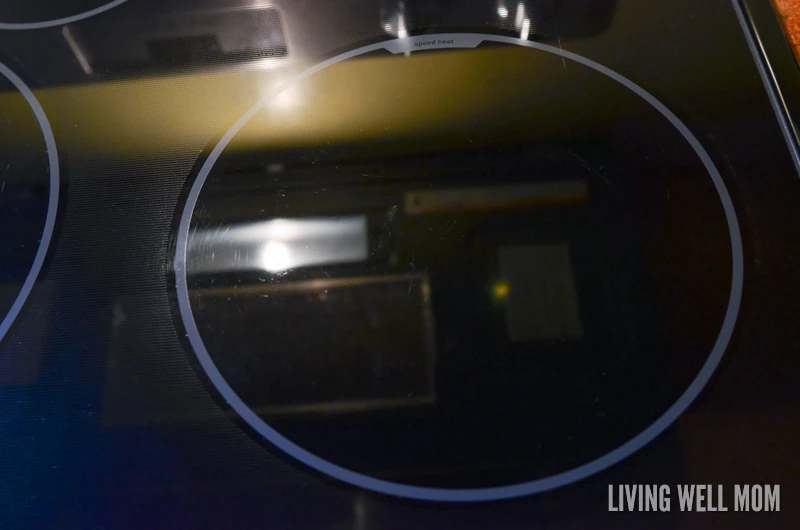 And with these tips, I was able to restore my cooktop to its former sleek and shiny glory. It practically looks brand new!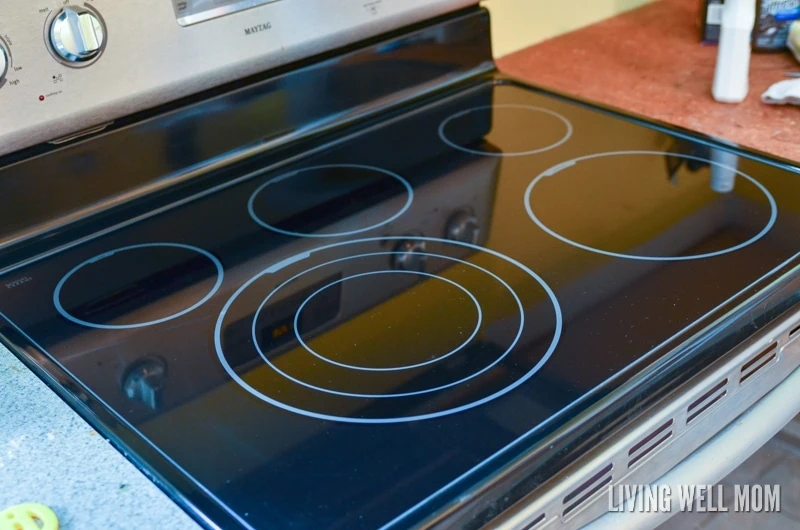 And that, my friends, is the secret to cleaning your stove top.
FAQs
Do you have some questions? Based on what I'm seeing in product reviews and from readers, you're not alone! Here are some answers to the questions I see asked frequently.
Will the razor blade scratch my stove top?
No, it will not as long as you use it according to the manufacturer's instructions. Just keep the razor blade level and use it firmly and smoothly to remove caked-on gunk.
However, if you gouge your stove top with the razor blade by trying to use one of the corners to really work on a tough substance, it WILL scratch your cooktop.
Can I use natural cleaners to clean my electric cooktop?
I totally understand the desire to stay away from harsh chemicals as you clean (I want that, too!). Although I haven't found them to work better than this method, here are a few DIY alternatives you can try using:
White vinegar – Fill a spray bottle with equal parts vinegar and water. Spray the surface, let it sit for a moment to loosen any stains or residue, and wipe the stovetop off with a cleaning rag or paper towel.
Baking soda – The chemical makeup and mild abrasive qualities of this substance make it a great go-to natural cleanser. Mix a few drops of water with some baking soda to form a paste, and use a cleaning rag to scrub off grime in small circular motions. Note: You can mix baking soda and vinegar together, but the mixture bubbles and foams (think of classic erupting volcano experiments), which can make a bigger mess if you use a lot.
Lemon juice – Ah, the power of lemons! Lemon juice has the ability to cut grease (and it smells amazing). Simply sprinkle a little baking soda on your stove top, then take a lemon slice (or even spray a little lemon juice on) and scrub away any spills or grime.
Can I use glass cleaner on my stove top?
Since electric cooktops have a glass surface, it may seem logical to use glass cleaner (like Windex) to clean them. Unfortunately, these cleaners are not designed for use on cooktops. Using them can create permanent stains and streaks. Yuck!
I hope this post helps you restore your own glass cooktop to its former shining glory! I promise that the process to clean a glass stove top isn't hard. And the results speak for themselves.

More cleaning tips + ideas
Pin the image below to save the instructions for later!