Glass stove tops have a lot of pros to them. You are guaranteed even heat and they look sleek and modern. But, there's one downside: keeping it clean! However, I've found the easiest, best way to learn how to clean a glass stove top, and I'm sharing my top-secret method with you today.
I've never been a fan of cleaning. I admit it.
And there are some things I really despise. Like cleaning the bathroom. Yuck. Especially with three boys (four counting my husband.)
Trying to figure out how to clean a glass stove top used to be one of those cleaning tasks I dreaded. I couldn't figure it out. Even the special stove top / cooktop cleaner didn't work. It was so frustrating. And clearly based on reviews of cooktop cleaners, I was not the only one feeling defeated.
When my new Maytag stove arrived last fall, I was determined to keep it clean and beautiful looking. But good intentions don't always work and it didn't take long to get dirty. Sigh.
It wasn't until I went to the Whirlpool headquarters in November that I learned the secret.
How to Clean a Stove Top: the Secret Tool You Need!
Okay, not only is this little tool affordable, but it works SO well. Ready to see it? It's this handy little razor blade.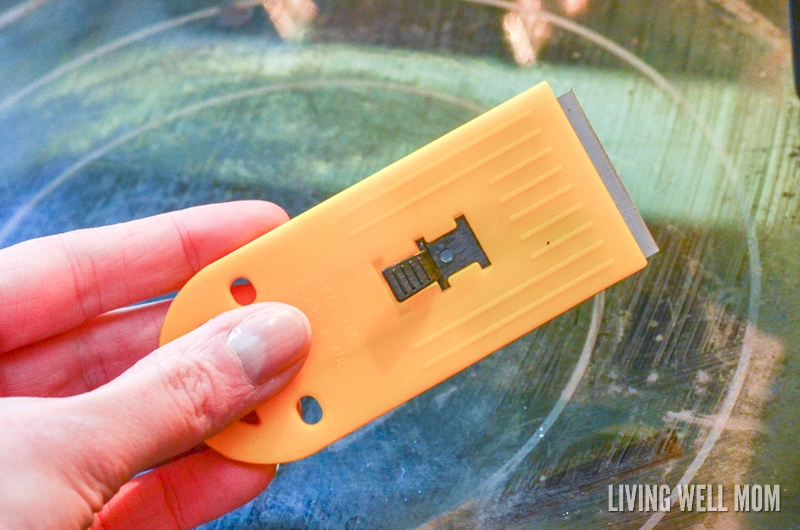 You need this bad boy to scrape off the grime. Literally. And it really works.
Get the metal razor blade. Plastic isn't gonna cut it. And it doesn't have to be labeled for "cooktop cleaning" – a regular ol' razor blade
for a couple of dollars is perfect.
You'll also need paper towels or a cleaning rag (that's what we call it in our house), a cooktop scrub pad and a cooktop cleaner. I tried going without the cleaner and haven't found a good substitute. And this stuff costs what? $3 or $4 a bottle. It's worth it.
The Second Secret to Keeping a Glass Stovetop Clean
Ahh! Yes, this is a two-step secret. And this insider's trick is completely F-R-E-E!
Clean Your Glass Stove Top When it's Warm.
Just like how it's easier to wash dishes with hot water, the most-efficient way to clean your stove top is right after you've used it when it's still warm.
That being said, it might be ideal to clean your stove right after you've used it, but let's face it – ideal isn't often realistic. The kids need their baths, it's bedtime, then before you know it, it's the next day and you're looking at a stove top with stuck-on food.
Never fear, here's how I get it done.
First, I usually clean the stove while the oven is turned on. The stove top surface will be warm from that, but not too hot. It's the perfect chance to get it done!
Disclaimer: I won't recommend this to you because it's clearly not the safest idea. I'm just sharing what I do. If you try it, you do this at your own risk and I assume no responsibility if you burn yourself! But the other way I clean it is to turn on the burner for a couple seconds, then turn it off quickly, and scrub away. I do this often and it works well. But obviously, I have to be very careful.

Step-by-Step Directions
Here's a close up at the before picture of my filthy stove top. Feel better about yours? I thought so.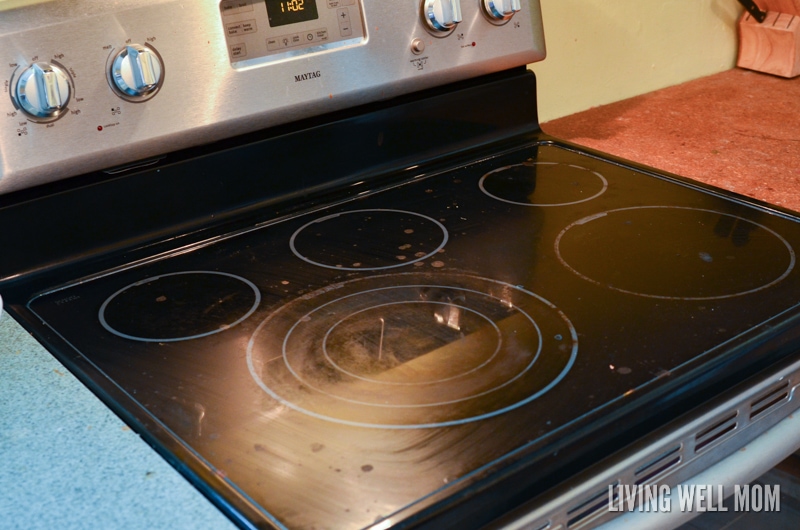 Add Cleaner
Start by squirting on cooktop cleaner and scrubbing with the cleaning pad. Make sure you use the "approved" cleaning pad because the scrubbing back of your regular kitchen sponge can scratch the surface.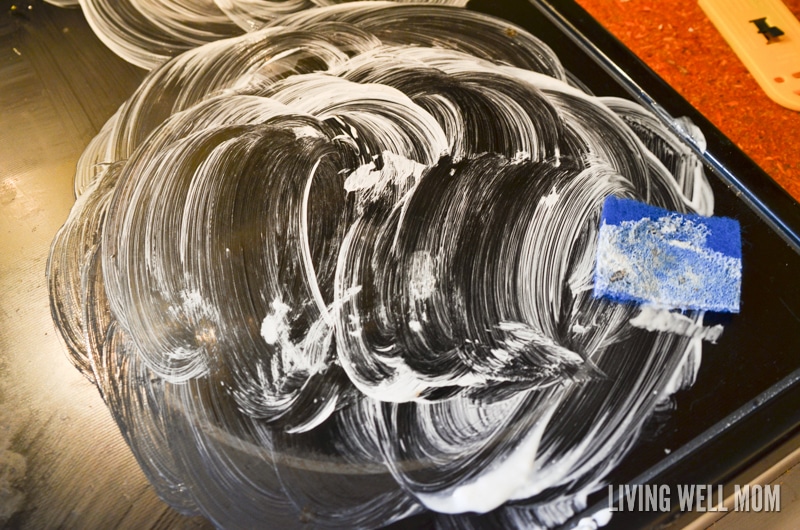 Use the Razor Blade
Some of the grime will come off, but not all. That's where the razor blade comes in.
See the rings around my burner here? Water boiled over and we all know what a lovely mess that can make. This picture was taken after I had scrubbed it with the cleaner.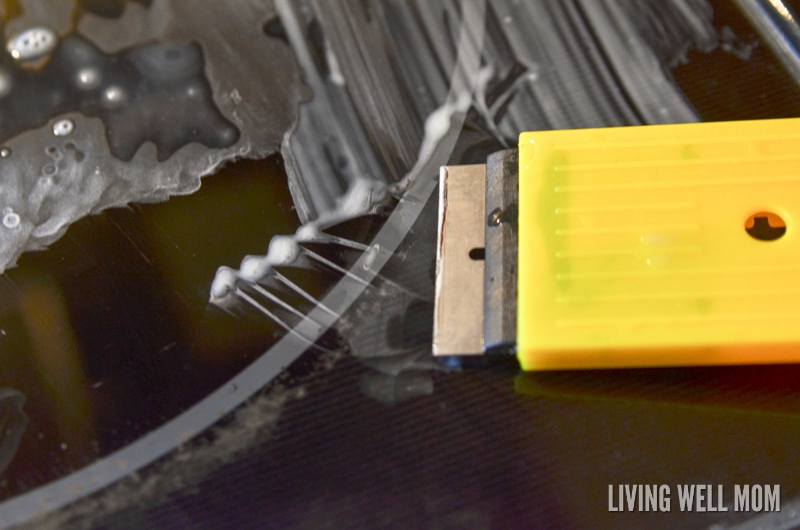 Look what the razor blade did:
You might be wondering if the razor blade will scratch up your stove top. Unless you gouge your stove top with the razor blade, it will not. Use it firmly and smoothly. It's not hard and you'll get a feel for it as you go. And the results speak for themselves.
You may need to go back and scrub some more with the cleaner and cleaning pad if the grime is really built up. When you're satisfied with the results, wipe it clean with a paper towel and buff with a cleaning rag.
The Results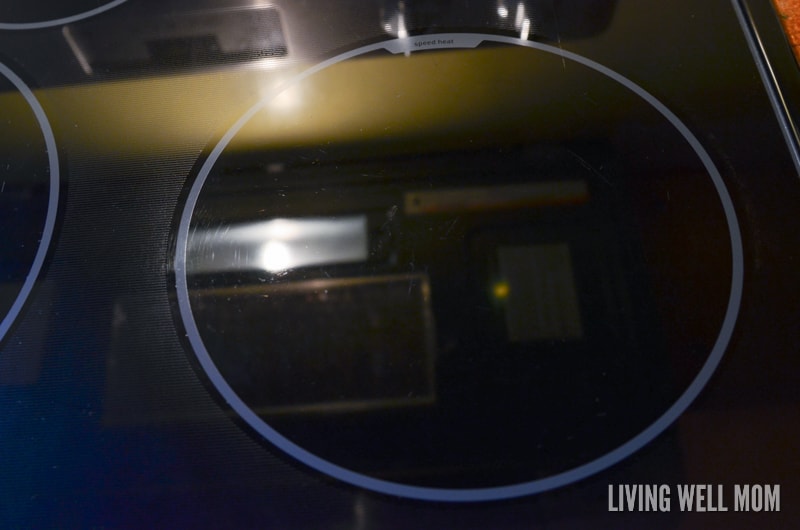 And with these tips, I was able to restore my range to its former sleek and shiny self.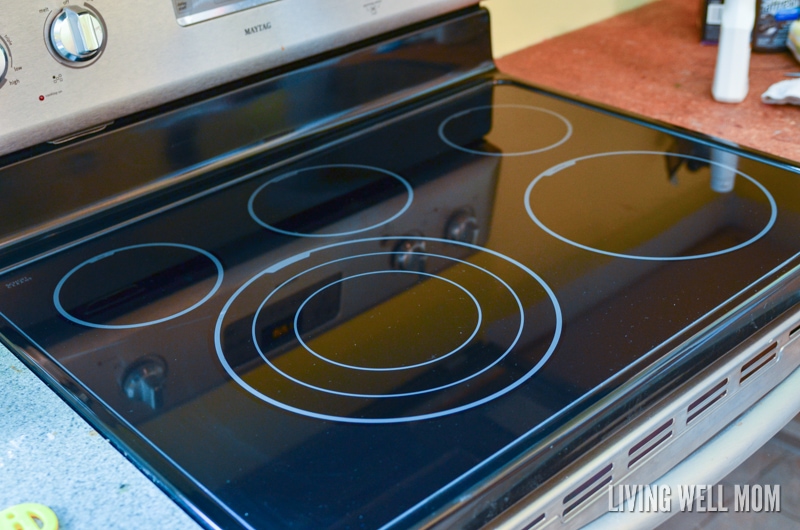 And that, my friends, is the secret to cleaning your stove top.

More Cleaning Tips + Ideas
Pin the image below to save the instructions for later!