I bet you didn't expect to see that. But it looks like a hysterectomy at age 30 is going to be my reality.
I told you about the issues I've been having in my "girl talk" article. I went to see my doctor last week and we agreed that we need to do something. It's not normal or healthy to be having the kind of periods I've been having.
It doesn't appear that my issues are hormone-related, since my cycles are of normal length. It's a bleeding issue for me. I have Von Willebrand's, which is a clotting disorder. It's not a life-altering disease and generally isn't a big deal, but in this case, it really compounds the issue.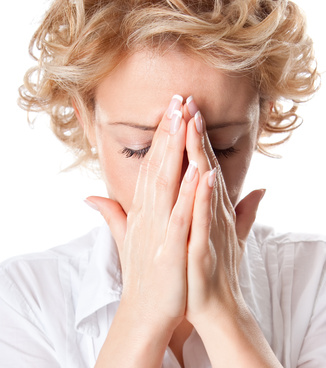 My Options
Normally, my doctor would recommend hormone treatment, such as the pill, or a Mirena IUD. But I've already tried those (I had a Mirena IUD twice – one for 3 years and another for 1 year) and I don't do well with hormones. No go there.
The next possibility is an ablation. That's what I went in hoping to have done. My doctor is willing to pursue this, but there's two big negatives standing in the way.
1) Since I've had four c-sections, there's a very high probability that my uterus is thin. If an ablation is done on a thin uterus, there's a big risk of damaging other organs. They can do extensive ultrasound testing to check for this, but my doctor's not confident it will work.
2) The other issue? And that's if we got past issue #1. I'm only 29. (I'll be 30 in October by the time I have anything done.) Chances are an ablation won't last very long at all. My doctor said, in her experience, women my age are back in the office within a couple of years of having an ablation, complaining of the same symptoms.
That leaves a hysterectomy.
I would keep my ovaries, so I wouldn't need hormone therapy or have to be on medication, etc. Essentially, they would remove my uterus and the bleeding issues would stop.
We're done having kids. We've been blessed with four beautiful, healthy children and I am so thankful for them. After the difficult pregnancy I had with Luke, we knew without a doubt that our family was complete. But a hysterectomy is as permanent as it gets, and it sure has made me think.
I've been praying. A lot. Nate and I have been praying together. I've been researching the subject and I've spoken with family and friends who have gone through this. I'm going to do it. Am I nervous? You bet I am. But I have peace that this is the right choice for me.
I can't continue on like I have. I have a family to care for and for 3 days every month, my life is essentially put on hold. And it affects me the rest of the month because I'm anemic. I have no energy, I'm dizzy, I've nearly fainted a couple of times. It's not healthy. Without medical intervention, I'm looking at another 20 years of this. And it usually gets worse with age. A hysterectomy is radical, but given my unique circumstances, something radical is in order.
I'm going to keep blogging about it. This is immensely personal, but I hope that in sharing this, it will help someone else. And well, it's me. I share just about everything else here, why not this?
Please keep me in your prayers. I'd really appreciate it.
Read My Complete Hysterectomy Story here:
Questions or comments? Feel free to email me at erika at livingwellmom . com (no spaces). I've received countless emails from women with similar stories to mine and I love hearing from you!