When I had two kids, there was a lot of laundry, but I could handle it. Then I had a third and overnight, it became tough to keep up with it all. After my fourth arrived? It was insanity.
I had no laundry routine, other than attempting to do it all one day of the week because I didn't want it to take over my life. But that ship had long since sailed and it seemed like I could never get ahead.
I would get close to catching up, but with babies and small children, someone would inevitably spit up, make a huge mess, or wet the bed (often all at once) and before I knew it, I'd be back to square one with so much laundry, I could barely walk through our bathroom/laundry room.
It was even more complicated by the fact that at our old house, we had one bathroom that also happened to be home to our washer and dryer located smack in the middle. We literally had to step over laundry piles to get to the toilet. (TMI. Yeah, sorry. It was my life.) When we moved in 2014, I was thrilled that we had three bathrooms, but our "guest" and main first floor bathroom was also where the washer and dryer were located. And there was still laundry everywhere.
I tried so many different things, but nothing worked. Until I finally came up with a very simple laundry routine.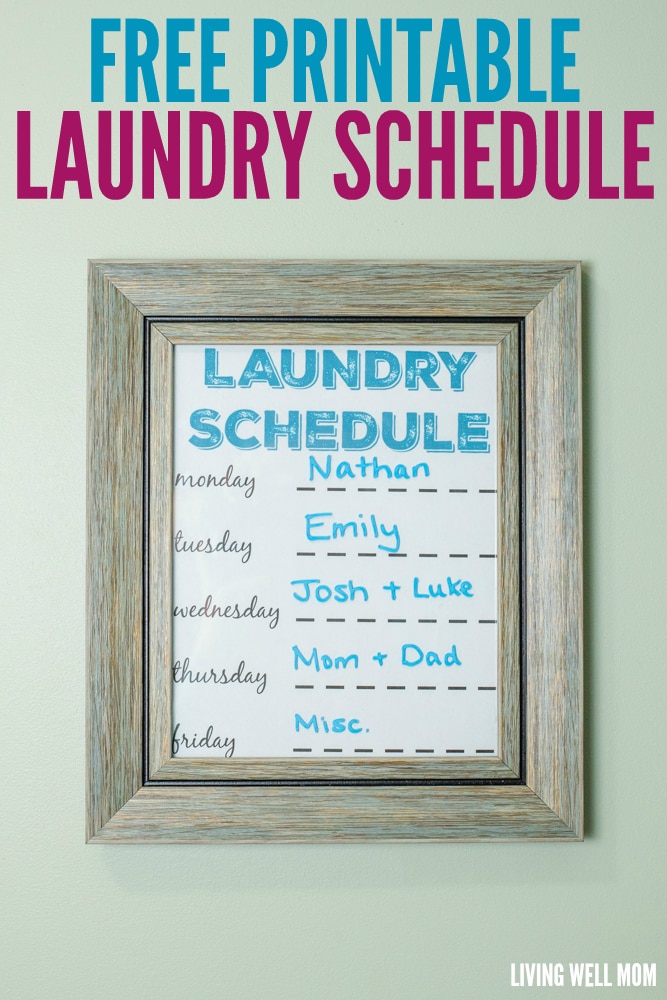 I realized that instead of trying to wash, dry, fold, and put away everyone's laundry in one day (that was my completely unrealistic goal), it would be better to split it up throughout the week.
While that may seem like a no-brainer, this combined with a regular schedule is what allowed me to finally get ahead of laundry.
I started our laundry routine about a year ago and it's completely tamed the laundry beast. I still have four kids, a dog, cat, rabbits, and 27 chickens. We still have a lot of laundry. But I no longer have piles of laundry in the bathroom or bedrooms. In fact, this is usually the most you'll find on any given day:
How?
I don't separate our laundry; there's no separate loads for whites, darks, colors in my house. Occasionally, I'll run a load of whites for Nate and me, but that's about it. Our clothes don't seem to be any worse for wear and the simple fact is, this is an unnecessary step I don't have time for. And since you're reading this, you probably don't either!
I don't do all the laundry myself. Every single member of our family helps out. Since each person creates dirty laundry, each person has a responsibility to help.
If you don't already have your family helping out, I encourage you to change that today. Even small toddlers can put clean dry clothes into a laundry basket; in fact, they'll love helping Mom! Older children may be reluctant, but it's an important skill they need to learn (both in learning to do laundry and taking responsibility for their own clothes.) I'll share more about how my children help with laundry in another post soon.
Even my husband gets involved too by carrying his basket to the laundry room and later, folding and putting away his clothes.
Here's How Our Laundry Routine Works:
I use a Monday-Friday schedule with our laundry schedule. I've tried laundry on the weekends, but it doesn't work well because we're often too busy and consistency is key with a successful laundry schedule.g
Each member of my family has their own day of the week for their laundry.
Our Schedule:
Monday – Nathan
Tuesday – Emily
Wednesday – Joshua & Luke (they share a room, so this simpler)
Thursday – Nate and I
Friday – Miscellaneous laundry (towels, sheets, etc.)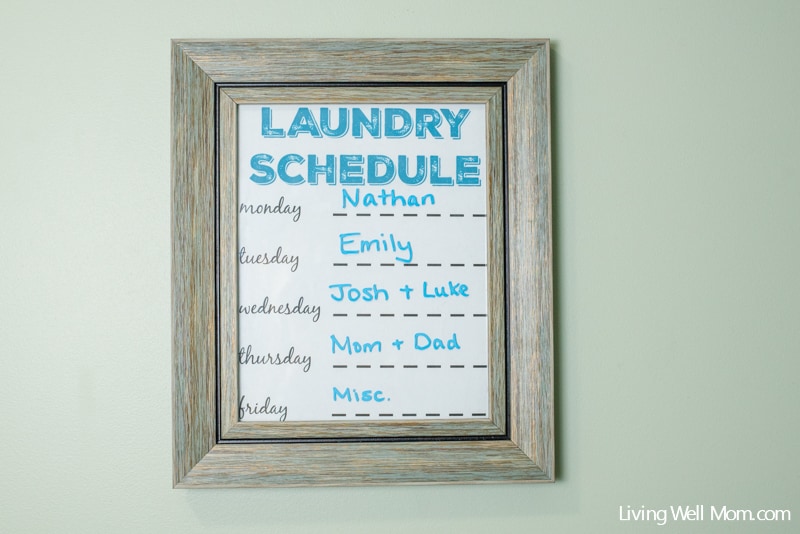 Each day, the laundry is washed, dried, folded, and put away. While normally that might seem like something from our dreams (before my laundry schedule, I never managed all of that in one day), when it's just one (or two) loads a day, it really can be done!
To make this more fun and "official," I had a "Laundry Schedule" printable created for me and you!
You can print out this schedule and create a routine for your family!
There's four free printable "Laundry Schedule" charts for you to choose from:
Just click the links above to download your own laundry schedule.
I purchased a pretty 8×10″ frame
(I bought this one from Kohl's) to display this laundry printable. I use an erasable chalk marker
to write in the names. This way it's simple to erase if something needs to be adjusted.
A quick note: If you put your printable in a frame like me, you'll need to trim the edges slightly to make it fit.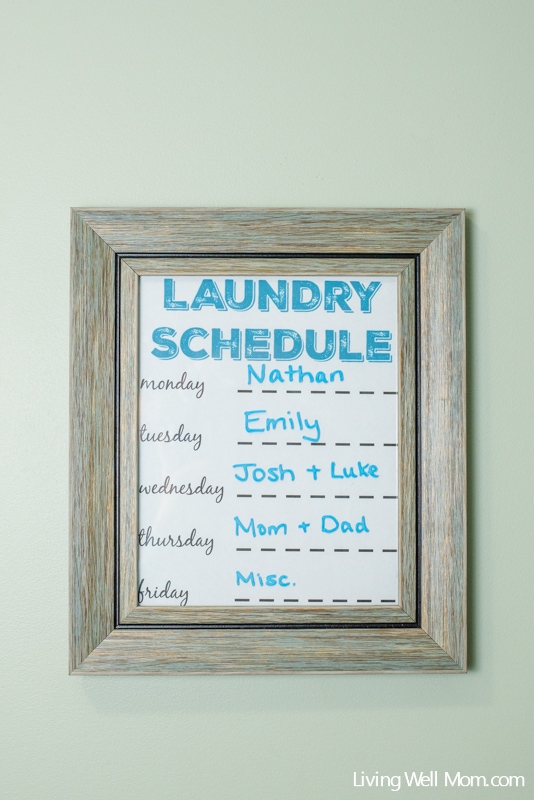 Of course, life happens and I have to run an extra load here and there, but with this simple routine, that's the exception instead of the norm.
Try this simple laundry schedule with your family. It will help you take over the laundry in your house instead of the other way around, just like it did for me!