Do you have an essential oil organization problem? If you love using essential oils but have a problem with the bottles spilling out into your life, these tips for organizing essential oils are for you!
Since I started using essential oils frequently a while ago, I've struggled with finding a good solution for organizing essential oil roller bottles.
It's easy enough to store regular bottles of essential oils – they'll sit neatly in any plastic bin or even a box, but roller bottles are another story. They don't stay upright because they fall over easily and end in a heap where you can't find the right one when you need it.
And busy moms don't have time to plunder through heaps of bottles to find the one that they need right now. You know what I mean, right?
At least that's how it was for me until about a month ago when I figured out a very simple solution for how to organize essential oil roller bottles.
Easy DIY Storage For Essential Oils
I know there are beautiful essential oil organizers you can buy from many places, like this pretty hexagon shelf.
But I've hesitated at spending a minimum of $135 for a storage system that doesn't fit all my oils and takes a lot of shelf space. For me, while they may not be quite as pretty, regular bins work well for organizing my essential oils conveniently.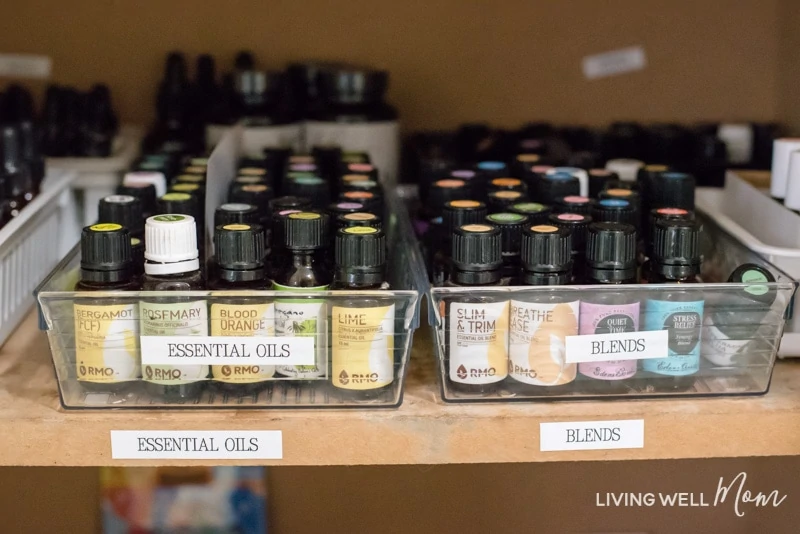 I searched on Pinterest and Google for ideas and couldn't find anything that worked for me. Until one day I stumbled on a simple idea.
I make lots of my own essential oil roller bottle blends, including my Calm and Collected, Focus essential oil blend, and Bug Bite relief essential oil roller bottle.
That means I buy empty roller bottles to use for these blends. One day, I bought a new batch of roller bottles and realized the cardboard container they came packaged in was the perfect solution.
Why didn't I think of that before? The compartments are the exact size they need to be to prevent the bottles from falling over into a heap.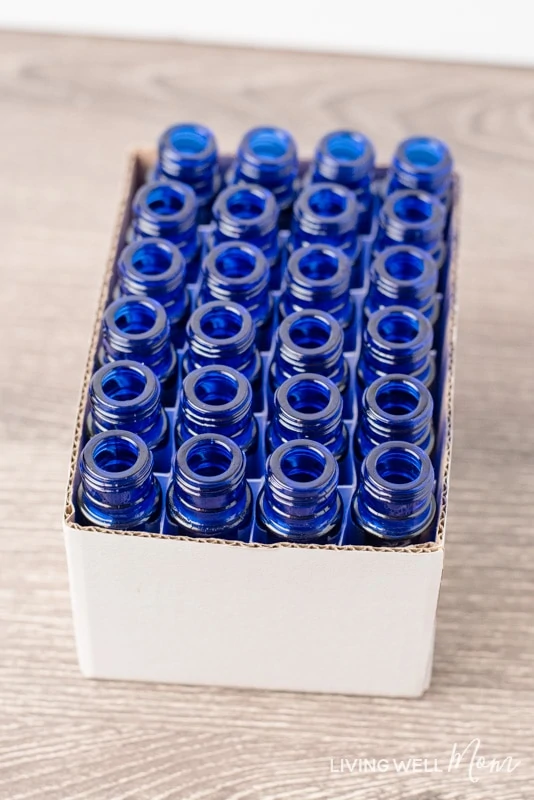 Why Organizing Essential Oil Roller Bottles This Way Works
Roller bottles are designed to be thinner and taller than typical essential oil bottles. Because of those bottle design differences, roller bottles just don't fit into containers meant for regular essential oil bottles.
However, this box is designed specifically for roller bottles, so they stay stored neatly and kept upright.
If you want to know what oils or blend a bottle contains, simply label the top of the cap. That allows you to easily and quickly see what oils you have without needing to pull out each individual bottle to read the label.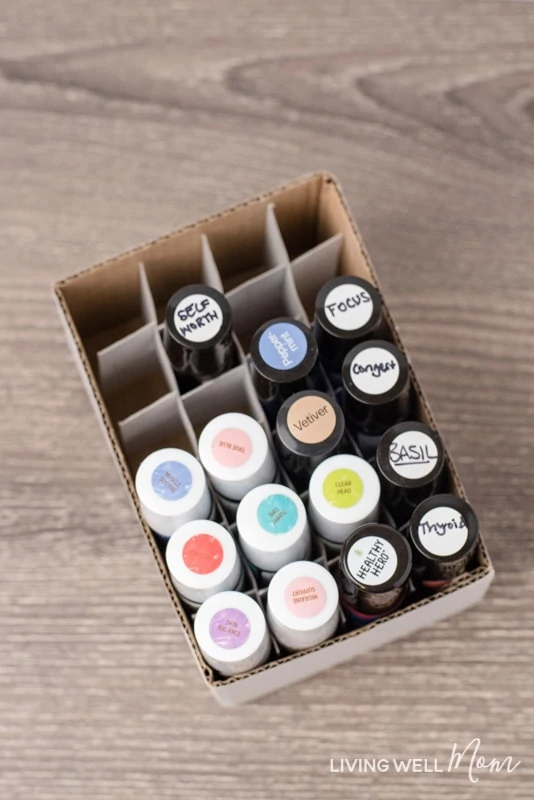 Some brands, like Rocky Mountain Oils, already label the tops of their oil bottles. Thank you, RMO!
Other brands, like Eden's Garden, don't automatically label them for you, but you can purchase inexpensive stickers to do it yourself. My daughter loves helping me add stickers to new essential oil bottles.
To set up my own essential oil organization for roller bottles, I simply removed the empty roller bottles and put them into a small plastic bin. Because they don't need to be organized as neatly, that works great for me.
Then I put all my essential oil roller bottles neatly into the individual sections and it works perfectly! The box is tall enough, and the sections are small enough to keep everything wonderfully in place.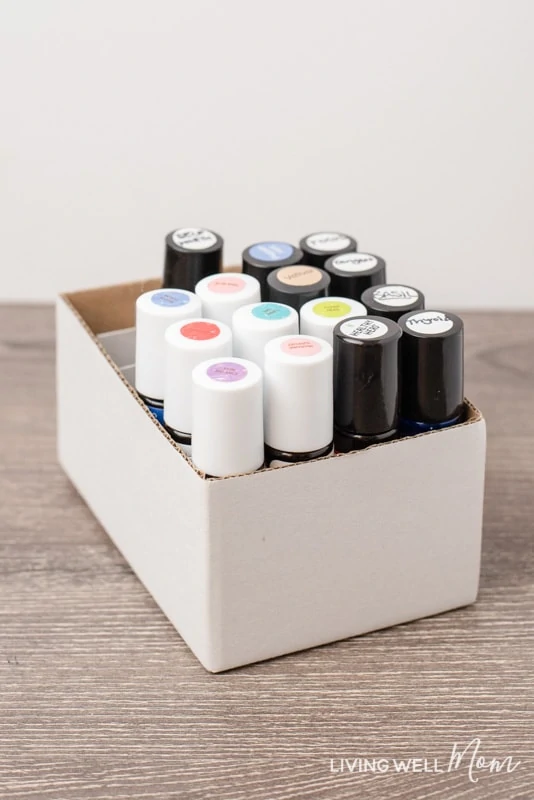 Tips For Organizing Essential Oil Bottles
The cardboard slots inside itself aren't the sturdiest and you will find it may bend a little, but it works quite well considering it's pretty much free.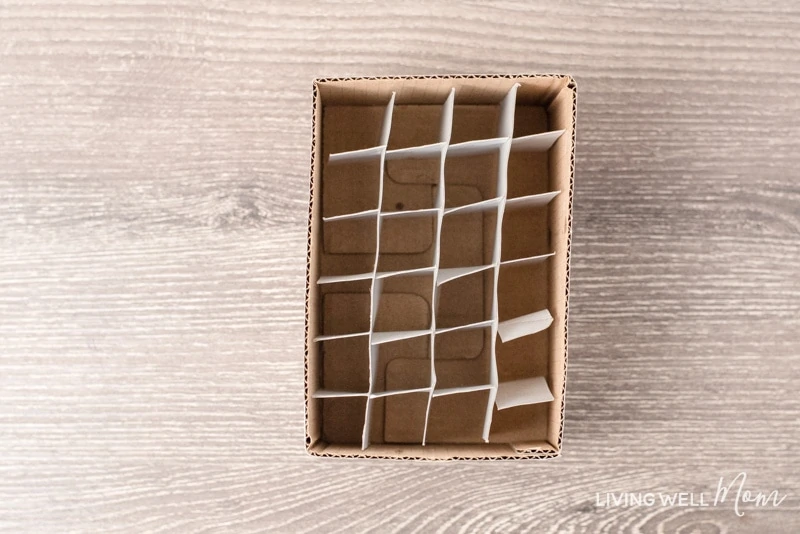 You could also replace the little slots with slightly thicker cardboard if you want. Either way, this is an inexpensive, no-DIY-required, solution to organize essential oil roller bottles!
For added support, you can keep your box in a small plastic bin, like this: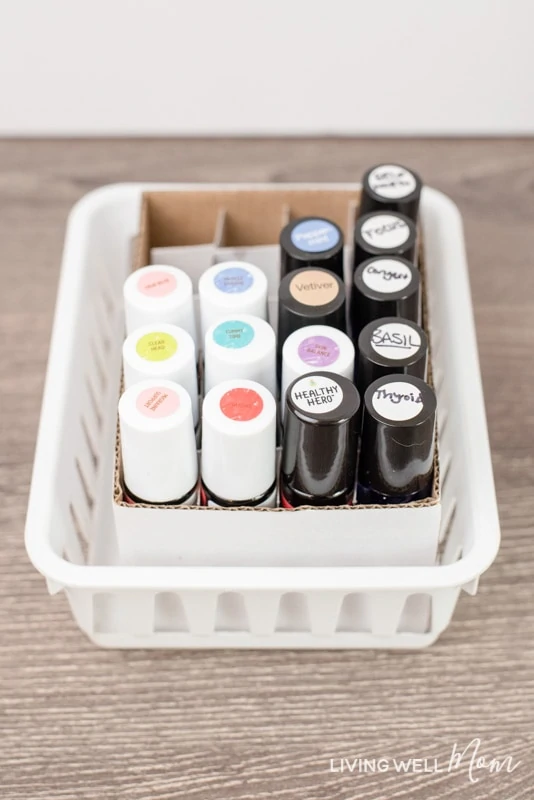 The Essential Oils I Recommend
FYI, this is the brand of essential oil roller bottles I buy from Amazon that comes with this packaging. I'm sure most other brands would be similar, but this is the one I use. Don't need 24 roller bottles? Here's a 6 pack for $6.99.
I don't recommend just any brand of essential oils. I only recommend brands that I trust because they are made of the highest quality.
If you're somewhat new to essential oils, I highly recommend Rocky Mountain Oils and Eden's Garden. Here's why I like these brands:
They're both reasonably priced.
Both brands are high-quality, 100% pure therapeutic-grade, and 3rd party tested essential oils.
They have regular and kid-friendly ready-made roller bottles.
My Favorite Essential Oil Blends
Here are a few of the Rocky Mountain Oil roller bottles I have and use with my family: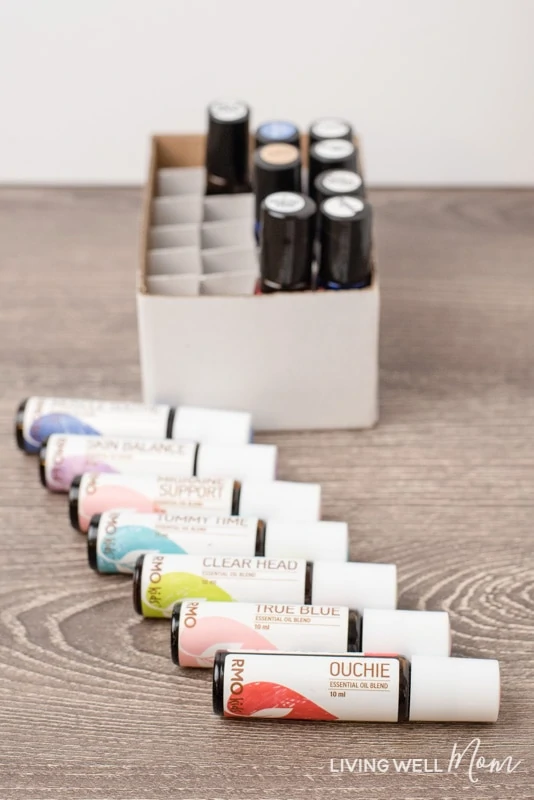 If you suffer from headaches, like I do on occasion, I highly recommend Migraine Support. And my kids love their "Ouchie" blend.
I only have one from Eden's Garden so far, but we use it every day and love it. It's called Healthy Hero and is already diluted and ok to use on kids ages 2 and up. My kids have stayed healthy since we apply this oil daily now!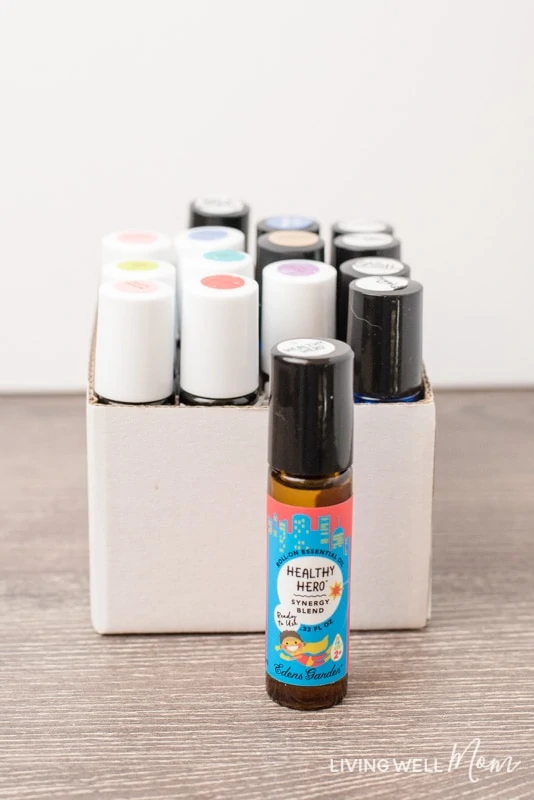 I hope that inspires you to organize your own essential oil roller blends. You don't have to spend a fortune to do it, nor does it have to be a fancy DIY project!