This recipe for Mini Apple Pies has been a family favorite for years. I use my favorite homemade pie crust recipe and the result is a golden, flaky handful of apple-pie deliciousness.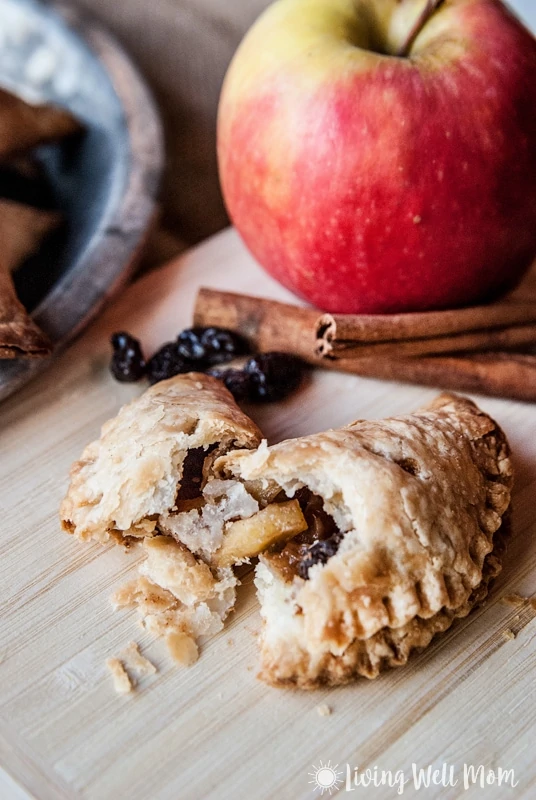 I came across a similar recipe just after I got married, and as a new bride, I was thrilled when my husband, Nate, loved them. I've been making them ever since and have gradually changed the recipe to exactly what I wanted. The kids love these Mini Apple Pies too. In fact, the only downside is that they rarely last longer than a day in our house!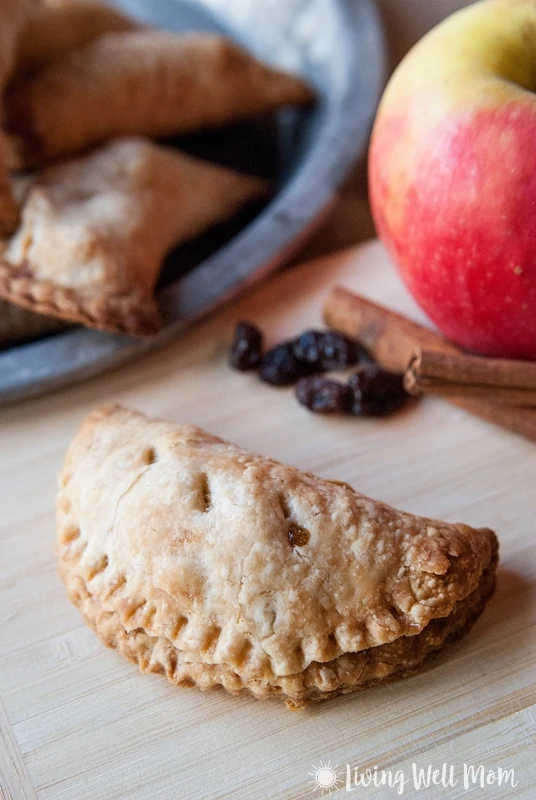 How to Make Mini Apple Pies:
Ingredients:
2 cups chopped, peeled apple (usually 2 large or 3 smaller apples)
1/3 cup packed brown sugar
1/3 cup raisins
2 Tablespoons flour
1/2 teaspoon lemon peel
1 teaspoon cinnamon
1/4 teaspoon nutmeg
1 teaspoon vanilla extract
pie crust pastry for 2 crusts (one double-crust)
Mix the apples, brown sugar, raisins, flour, lemon peel, cinnamon, and vanilla extract and set aside.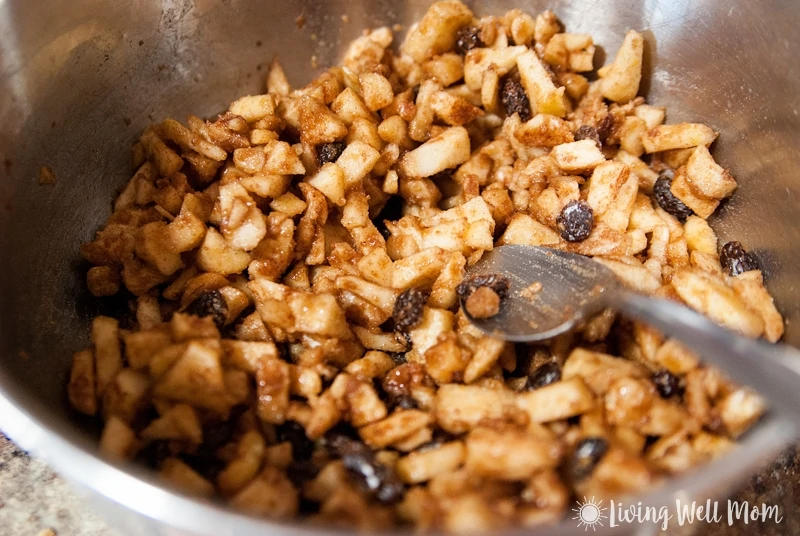 Roll the pie crust out and cut into 3-4″ circles using a cookie cutter or cup. If you make larger circles you'll be able to put more filling in, but you'll have less mini pies in the end. I usually make them smaller, about 3″, using a glass.
Spoon about 1-2 tablespoons (more or less depending on the size of your circles) in the center of each circle.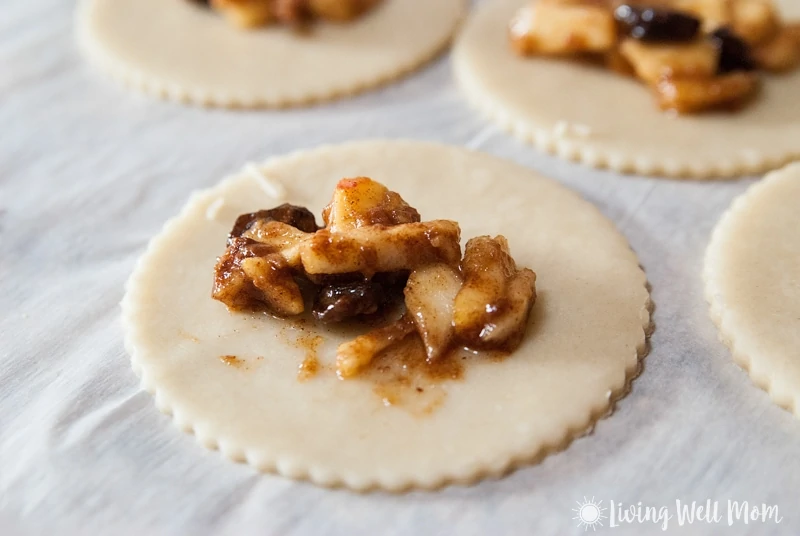 Fold over. This is where my little baker, Emily, came in – she did a great job helping.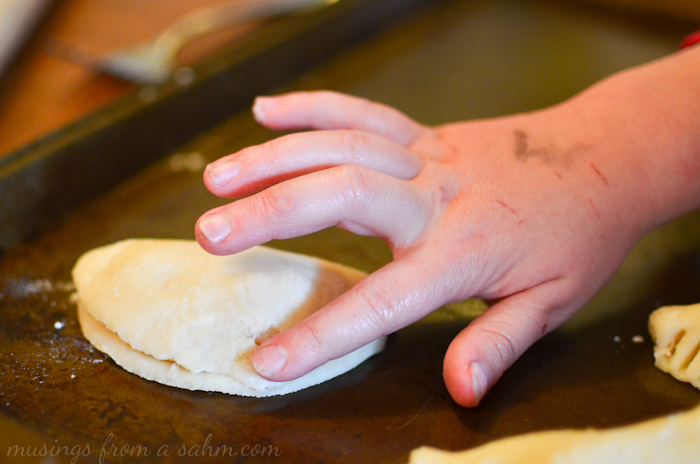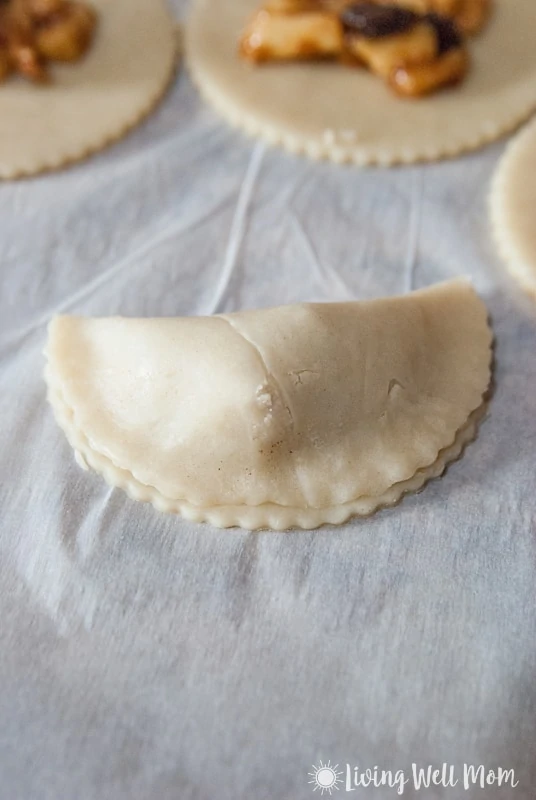 Seal the edges with a fork. If they're not staying together well, you can moisten the edges of the crust with water. I don't usually need to, but it depends on the consistency of your pie crust.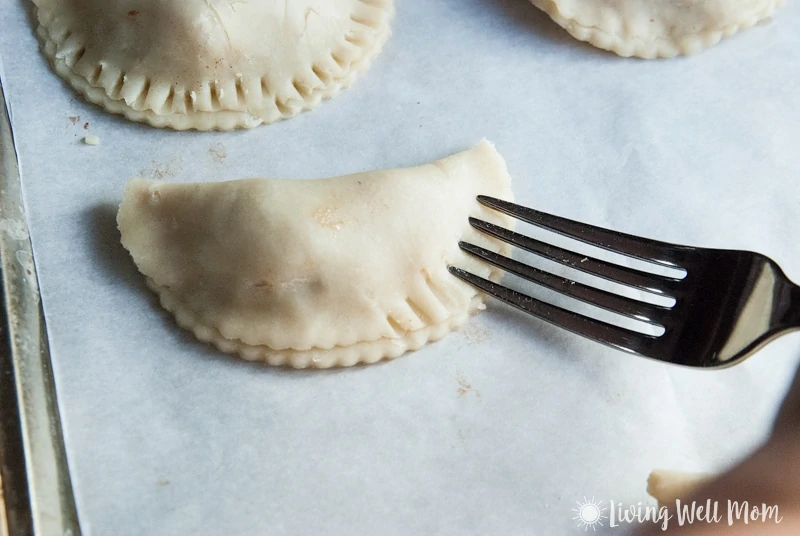 Place on a baking sheet. You could grease it or line with parchment paper – if the apple leaks out, it may stick a little. But I don't. 🙂
Here's my good little helper, Emily: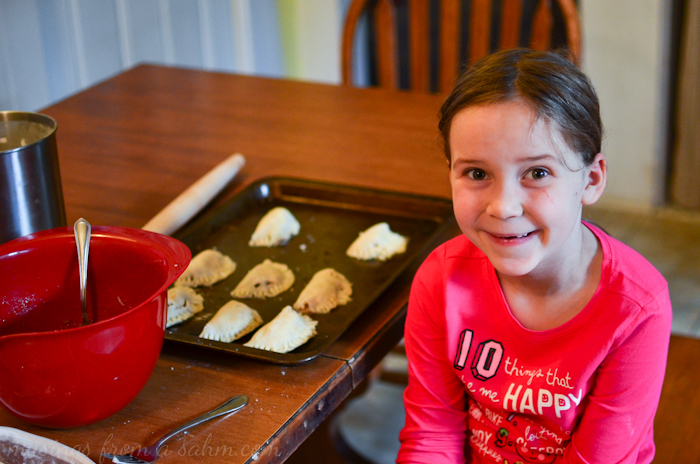 Bake at 450º for 10 minutes. Reduce heat to 350º and bake for 5-10 minutes longer (depending on how larger your mini pies are.) For me, it's usually 15 minutes total. They should look flaky and golden when done.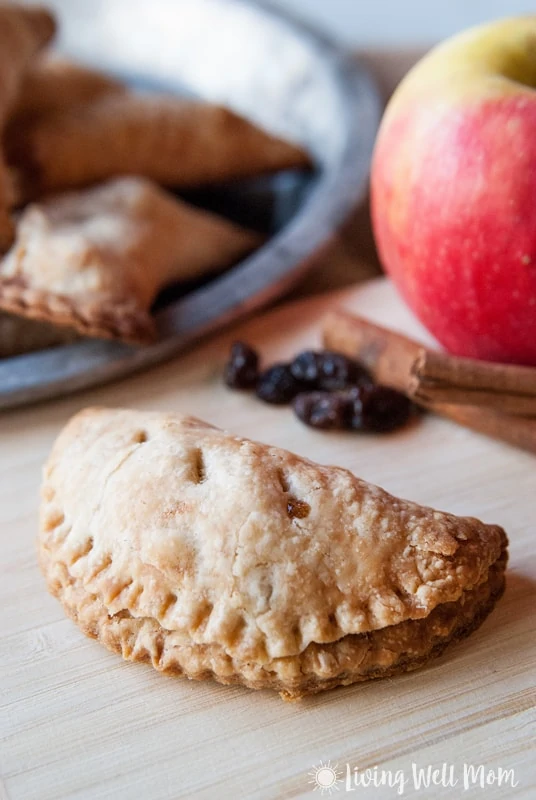 Mmmm….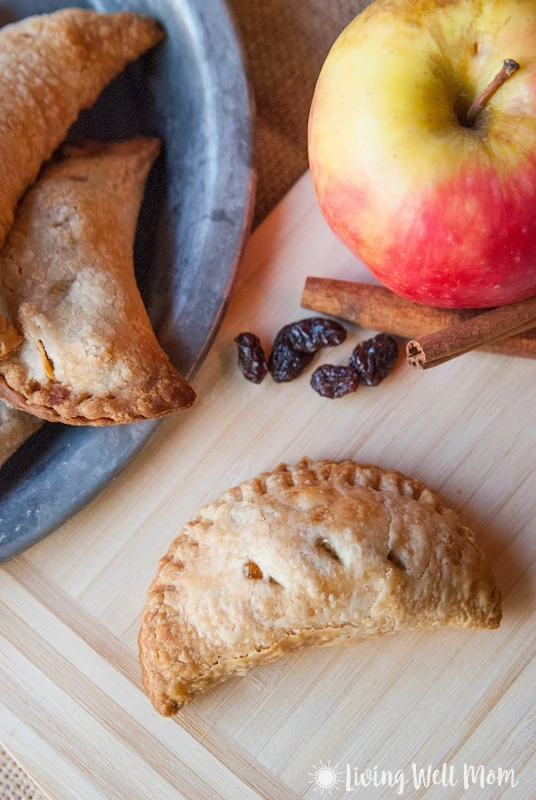 Can't you just smell the cinnamon and spices in the air?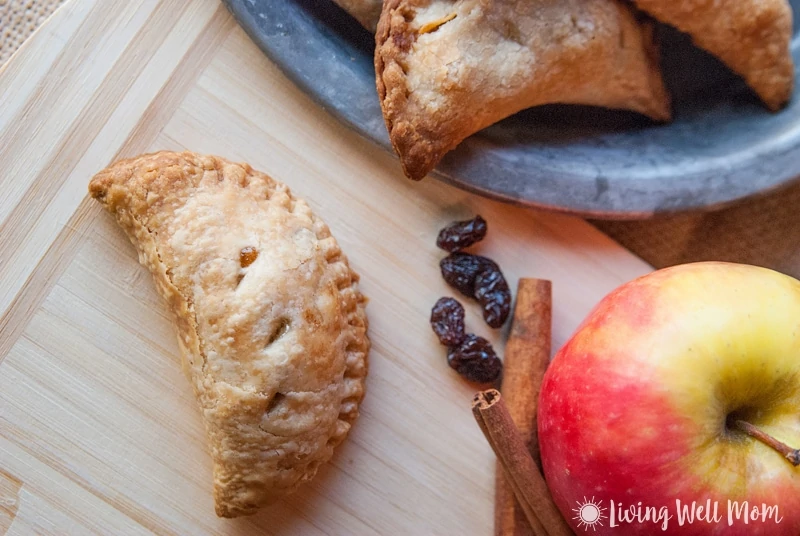 Print
Mini Apple Pies
With mouth-watering spices, these Mini Apple Pies are a great way to enjoy apple pie on-the-go.
Author:
Prep Time:

20 mins

Cook Time:

15 mins

Total Time:

35 mins

Yield:

8

-

1

4

1

x
Category:

Dessert
2 cups

chopped, peeled apple (usually

2

large or

3

smaller apples)

1/3 cup

packed brown sugar

1/3 cup

raisins

2 Tablespoons

flour

1/2 teaspoon

lemon peel

1 teaspoon

cinnamon

1/4 teaspoon

nutmeg

1 teaspoon

vanilla extract
pie crust pastry for 2 crusts (one double-crust)
Instructions
Mix the apples, brown sugar, raisins, flour, lemon peel, cinnamon, and vanilla extract. Set aside.
Roll the pie crust out and cut into 3-5" circles, depending on how large you want. Spoon about 1-2 Tablespoons (more or less, depending on the size) into the center of each circle. Fold over and seal edges with a fork. You can moisten with water if the pastry isn't sticking together well.
Place on a baking sheet and bake at 450º for 10 minutes. Reduce heat to 350º and bake for 5-10 minutes longer (depending on how larger your mini pies are.) For me, it's usually 15 minutes total. They should look flaky and golden when done.
Makes: 8-14 pies