Premade pie crust, apple filling, and seasonal spices come together to make a simple yet delicious fall dessert that's bursting with flavor. Gather your family up to enjoy these mini apple pies fresh out of the oven. You'll be enjoying your yummy hand pies in about 30 minutes!
Our family loves apple recipes! The mixture of apple, cinnamon, and sugar is almost magical, and these homemade apple hand pies are no exception.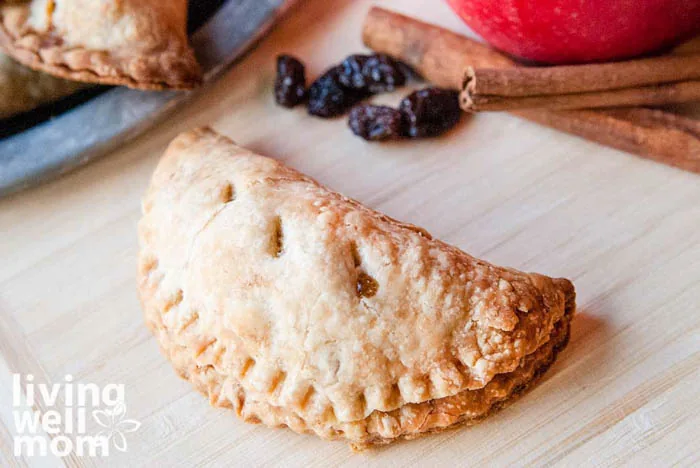 A family favorite apple recipe
This recipe for mini apple pies has been a family favorite for years. I came across a similar recipe just after I got married, and as a new bride, I was thrilled when my husband, Nate, loved them.
I've been making them ever since and have gradually changed the recipe to exactly what I wanted.
I use my favorite homemade pie crust recipe, and the result is a golden brown, flaky handful of apple pie deliciousness. Now the kids love these mini apple pies too.
In fact, the only downside is that they rarely last longer than a day in our house!
During apple season (and throughout the year, too!), we indulge in all kinds of apple treats! When we aren't eating these mini apple pies, we're enjoying homemade apple crisp, apple dumplings, caramel apple cake, and more!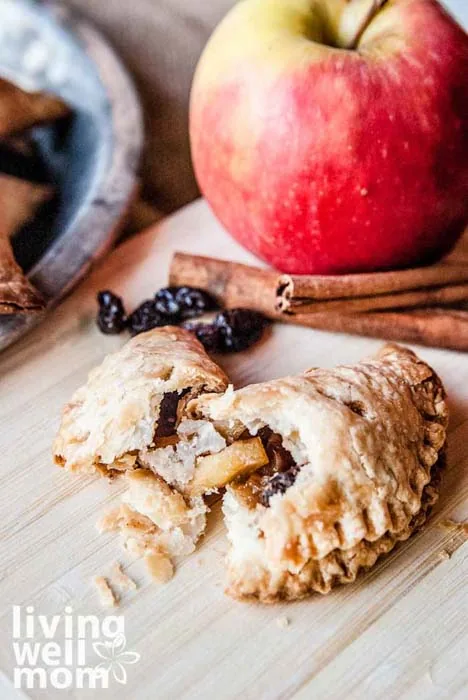 Ingredients
Here are the ingredients you'll need for these apple hand pies. Grab the printable recipe card at the bottom of this post for the whole recipe.
chopped and peeled apples
packed brown sugar
raisins – these are optional, based on your preferences
lemon peel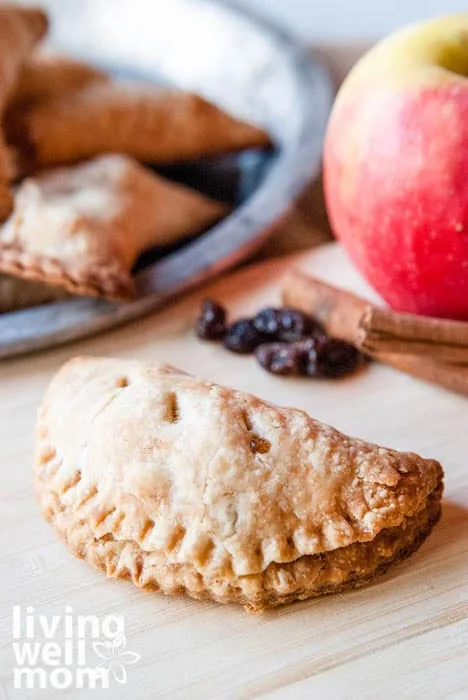 How to make mini apple pies
This recipe is super simple, so anyone can make it. Just follow these step-by-step instructions, and your family will soon be enjoying their new favorite apple dessert.
Create a homemade apple pie filling by mixing the apples, brown sugar, raisins, flour, lemon peel, cinnamon, and vanilla extract in a bowl and setting aside.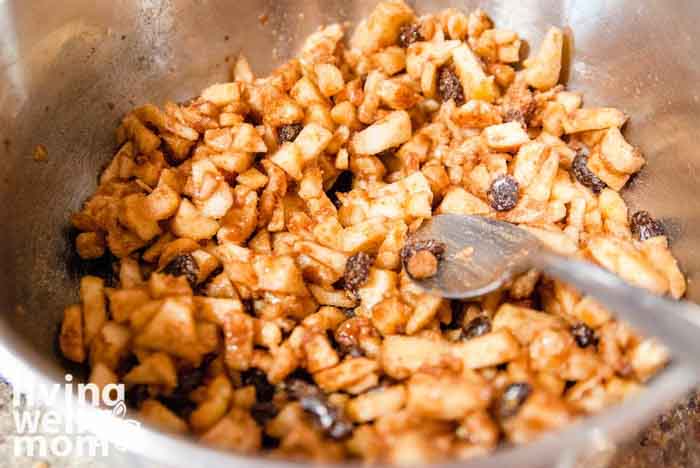 Roll the pie dough out and cut it into 3-4″ circles using a cookie or pastry cutter or cup. If you make larger circles, you'll be able to put more filling in, but you'll have fewer mini pies in the end.
I usually make them smaller (about 3″) using a glass.
Spoon 1-2 tablespoons (more or less depending on the size of your circles) of the apple mixture in the center of each circle.
Then, fold over the dough circle.
This is where my little baker, Emily, came in. She did a great job helping!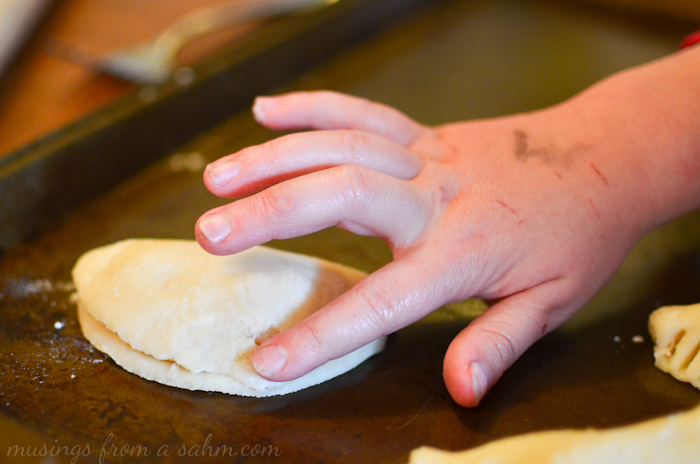 Seal the edges with a fork.
Note: If they're not staying together well, you can moisten the edges of the crust with water. I don't usually need to, but it depends on the consistency of your pie crust.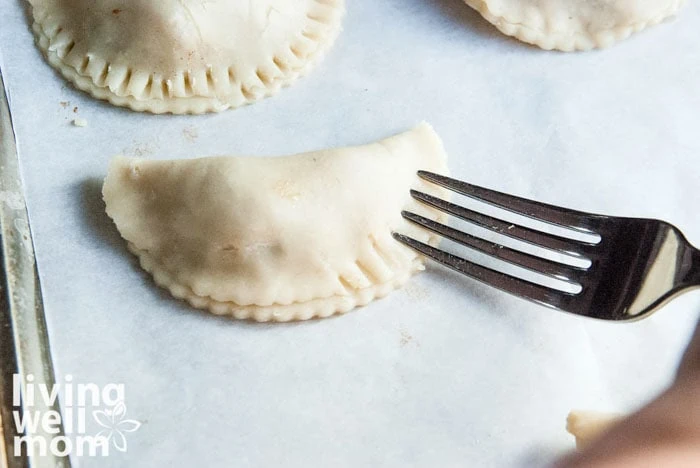 Place on a baking sheet.
If the apple leaks out, it may stick a little, so you could grease it or line it with parchment paper.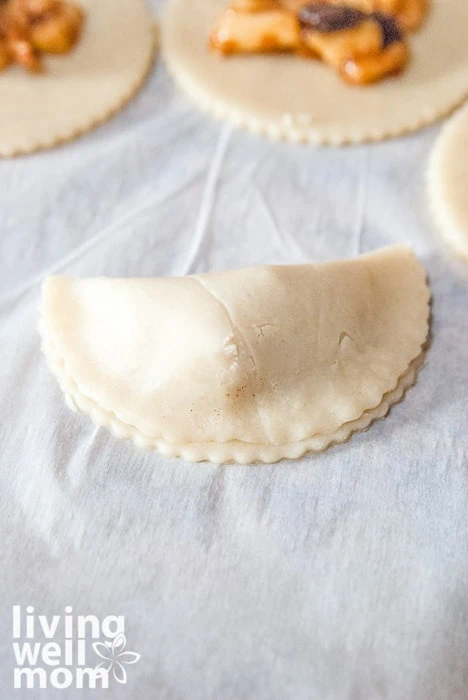 Here's my good little helper, Emily: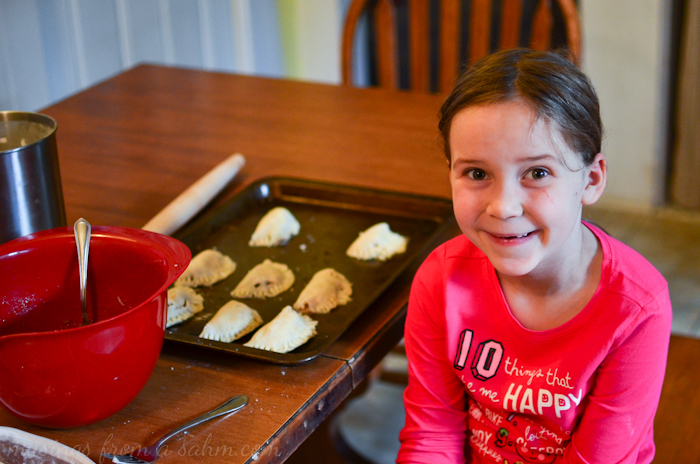 Bake at 450º for 10 minutes. Reduce heat to 350º and bake for 5-10 minutes longer (depending on how large your mini pies are.)
For me, it's usually 15 minutes in total. They should look flaky and golden when done.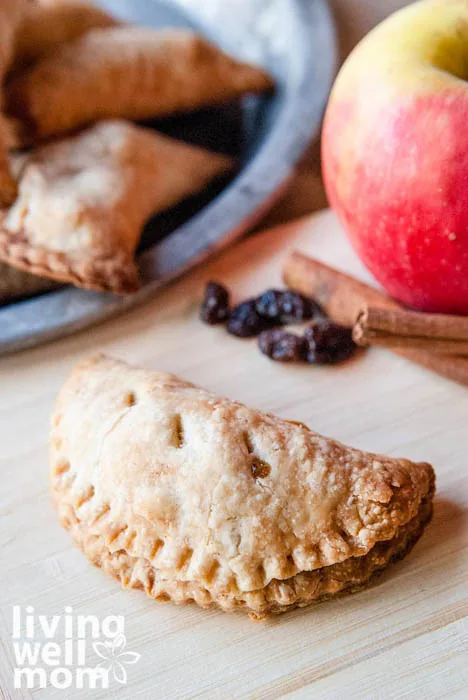 Mini apple pie variations to try
To make it even more beautiful, coat your hand pie with a light egg wash with a pastry brush.
Sprinkle a little coarse sugar on the top of each pie before baking.
Include chopped pecans or walnuts in the apple pie mixture for some crunch.
Lightly sprinkle with a crumble topping.
Add a pinch of allspice to the mixture for even more flavor.
Drizzle a light icing across the top of the apple hand pies.
How to serve mini apple pies
It all comes down to personal preference! You can eat them plain (and they're amazing), or you could top them with whipped cream or a scoop of vanilla ice cream.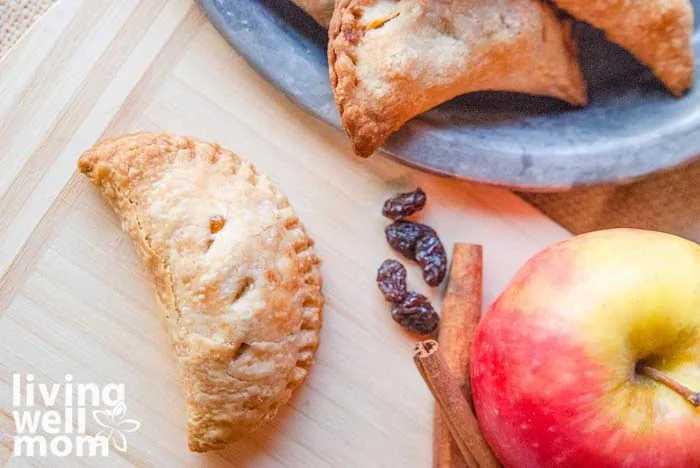 Mini apple pie recipe FAQs
Here are some questions that I frequently see from readers about making these apple hand pies. If you don't see your question answered below, please leave it in the comments!
What kind of apples should I use in this recipe?
I prefer to use crisp apples that hold their texture when baking. Granny Smith apples are the best, but a sweeter (and still crisp) variety such as Jonagold, Pink Lady, or Honeycrisp apples also works really well.
Could I make apple hand pies with a lattice top?
You sure can! If you want more of a classic apple pie recipe in mini form, you could have a solid dough bottom and a lattice top. To do this, weave strips of dough and seal them at the sides as described above.
Note: The apple pie mixture is likely to bubble out as your mini apple pies bake.
Could I substitute lemon juice for lemon peel?
Yes, you could. I personally prefer the flavor of the lemon peel, but in a pinch, you could substitute about 1/2 teaspoon (or to taste) of lemon juice in the homemade apple pie filling.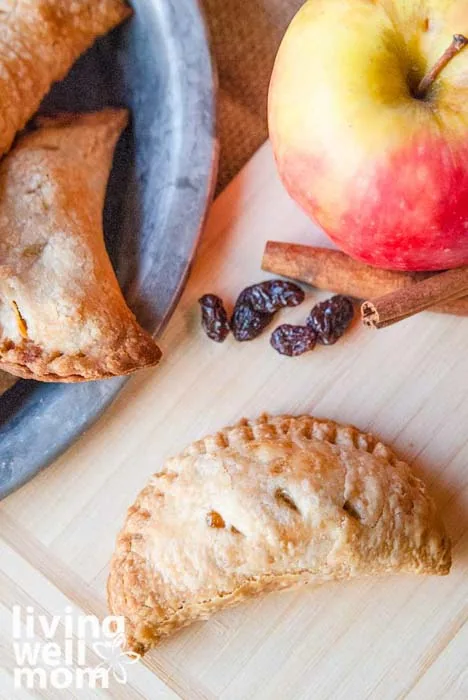 More recipes with fruit
If you love these mini apple pies, you'll love these other ideas too!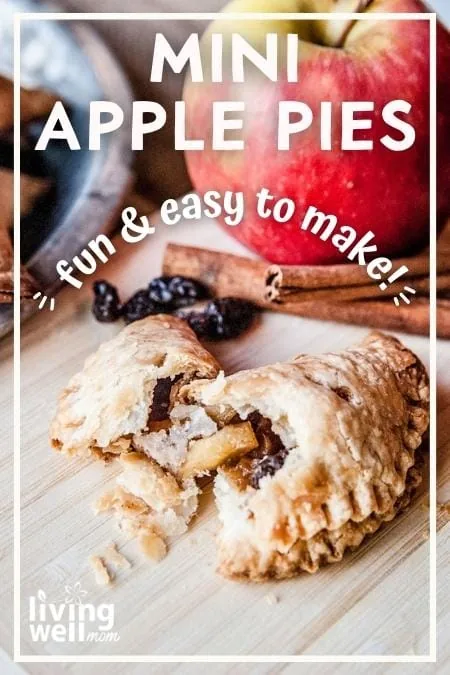 Print
Mini Apple Pies
With mouth-watering spices, these Mini Apple Pies are a great way to enjoy apple pie on-the-go.
Author:
Prep Time:

20 mins

Cook Time:

15 mins

Total Time:

35 mins

Yield:

8

–

1

4

1

x
Category:

Dessert
2 cups

chopped, peeled apple (usually

2

large or

3

smaller apples)

1/3 cup

packed brown sugar

1/3 cup

raisins*

2 Tablespoons

flour

1/2 teaspoon

lemon peel

1 teaspoon

cinnamon

1/4 teaspoon

nutmeg

1 teaspoon

vanilla extract
pie crust pastry for 2 crusts (one double-crust)
Instructions
Mix the apples, brown sugar, raisins, flour, lemon peel, cinnamon, and vanilla extract. Set aside.
Roll the pie crust out and cut into 3-5" circles, depending on how large you want. Spoon about 1-2 Tablespoons (more or less, depending on the size) into the center of each circle. Fold over and seal edges with a fork. You can moisten with water if the pastry isn't sticking together well.
Place on a baking sheet and bake at 450º for 10 minutes. Reduce heat to 350º and bake for 5-10 minutes longer (depending on how larger your mini pies are.) For me, it's usually 15 minutes total. They should look flaky and golden when done.
Makes: 8-14 pies