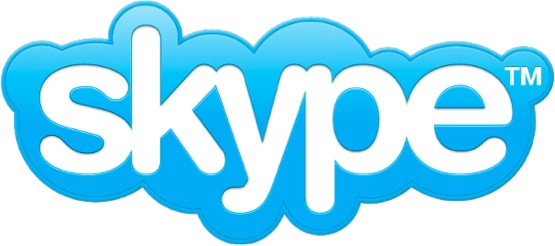 I've talked about how much I love Skype as a great way to connect with out of state family. Video chat is free to talk to anyone in the world. It's also much more personal than a phone call. Have you ever tried to get a 2 year old to talk to Grandma on the phone? It doesn't work very well, but chatting with Skype video is interactive in a way that all ages can relate to. My kids can actually show Grandpa their favorite new book or demonstrate their new karate move. When you have family that lives far away, that's huge. 
I now enjoy regular Sunday afternoon Skype video chats with my mom, who lives in Texas.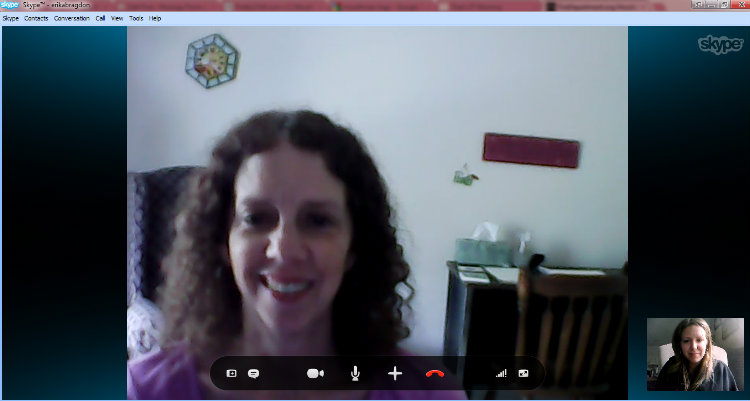 Up until recently, I didn't realize how many neat features Skype has, beyond the basic free video chat. Yes, there's even more!
Skype has calling features, including Skype to phone and Skype to mobile. Simply put, you can use Skype to call someone's home or cellphone. This is great if the person you're calling doesn't have video access or maybe you simply don't want to do video chat (we all have bad hair days!) All you need is a microphone (via your phone or your computer) and internet service. You can pay as you go with Skype Credit or choose a monthly subscription. The monthly subscription is a prepay plan where you pick the options (which countries you want to include.) It's just $2.99 a month for unlimited calls to the US and Canada!
I don't have any friends or family outside of the US or Canada right now, but a few years ago, a friend lived in Great Britain. We would have been saved a lot of hassle and money, not to mention how much more often we would have connected, had Skype to phone been available back then. It just goes to show how much advancement has been made in technology in just a few short years!
I use Skype to mobile with my husband sometimes and I'm always impressed that the sound volume is so loud and clear. It's actually louder than normal cell to cell because they amplify the sound so well.
I'm really enjoying Skype instant messaging too. It's free and an easy way to connect. It's just like any other instant messaging, only it doesn't close when you exit out of your internet browser and it can stay up running in the background. I love connecting with my blogging friends this way. It's also great for chatting on my phone too. If you have a smart phone, you should definitely check out the free app. You can have all the features of Skype right on your phone, wherever you go. If I'm at the store and need a friend's advice on what shirt to buy, I now have the option to ask them via instant message or even a quick video chat so they can actually see what I'm talking about. How awesome is that?
Technology is becoming more advanced everyday and in my opinion, Skype is one of the front-runners in connecting people and bringing them closer together in easier and better ways all the time. Us moms can join in right along with them. This infographic showing how moms are using Skype technology is pretty neat.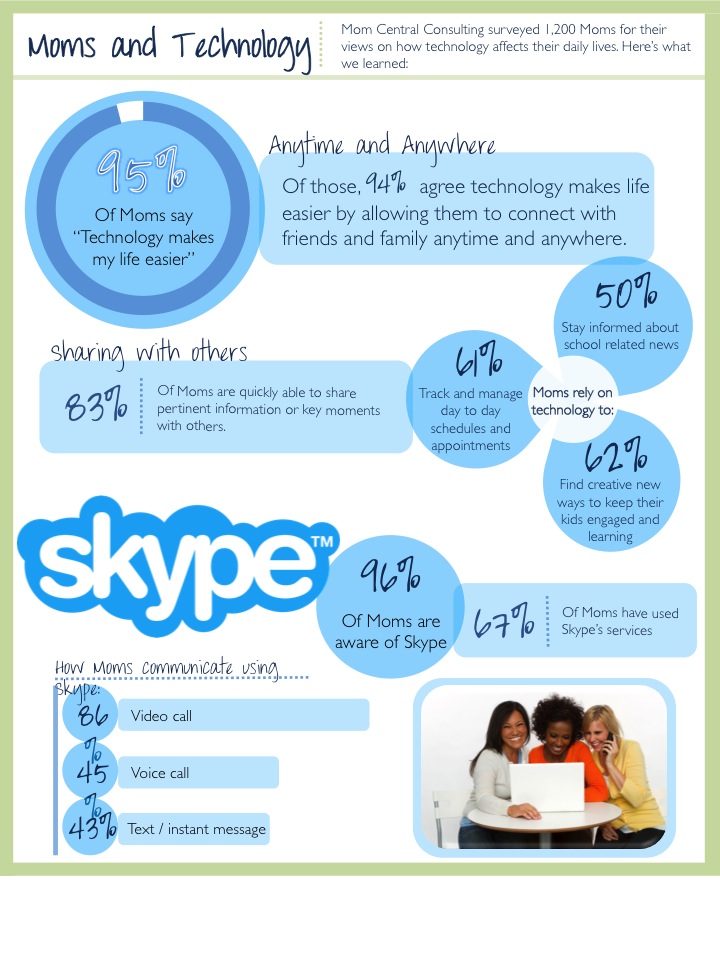 I think the Skype service I'm most excited about is Group Video Calling. With this, we can connect multiple family members at the same time and chat face to face! We're going to set up a group video chat with Nate's family soon and I'll be posting about that next month.
Have you tried any of the additional Skype features? What's your opinion?
Disclosure: I participated in a campaign on behalf of Mom Central Consulting for Skype. I received Skype credits to facilitate my review and a promotional item to thank me for participating.