If you're anything like me, you prefer natural solutions as much as possible, particularly when it comes to your children. These natural first aid kit supplies are what I use on my own children—I highly encourage every mother to keep these on hand!
You don't have to make everything homemade if you want to have a natural first aid kit for your family. Of course, you can if you want to, but it can be challenging just to find time to make dinner tonight, much less a first aid salve.
9 Must-Have Natural First Aid Kit Supplies
Luckily there are some ready-made all-natural products that work really well.
Here are a few favorite tried-and-true natural first aid kit supplies I keep on hand for my kids.
(Please note that I'm not a doctor. I'm simply sharing what I use for my own family. Always check with your doctor or health professional if you have any doubts about the safety of your children, especially in emergency situations.)
#1 Arnica Montana Homeopathic Pellets
These little homeopathic pellets have saved us on more than one occasion. With four kids, including three boys, I've seen plenty of bumps and bruises, sprains, strains, and even a fracture.
Arnica Montana does an amazing job at naturally easing pain and swelling quickly without side effects.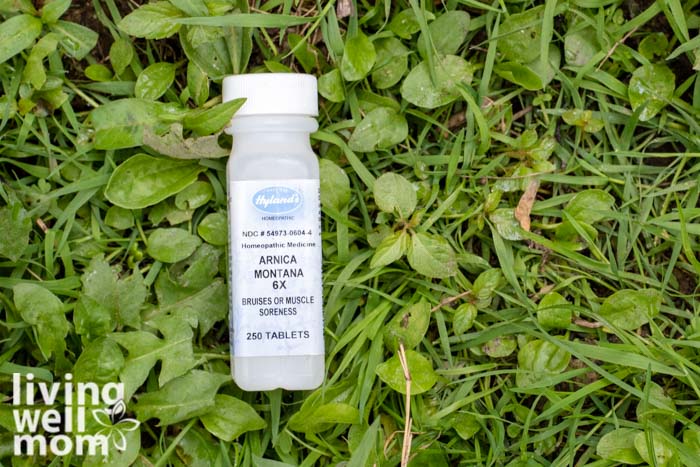 These homeopathic pellets quickly dissolve in little ones' mouths making them easy to use. They're great to give little ones when they fall as they're learning to walk and bigger kids as they awkwardly bump into things as they grow.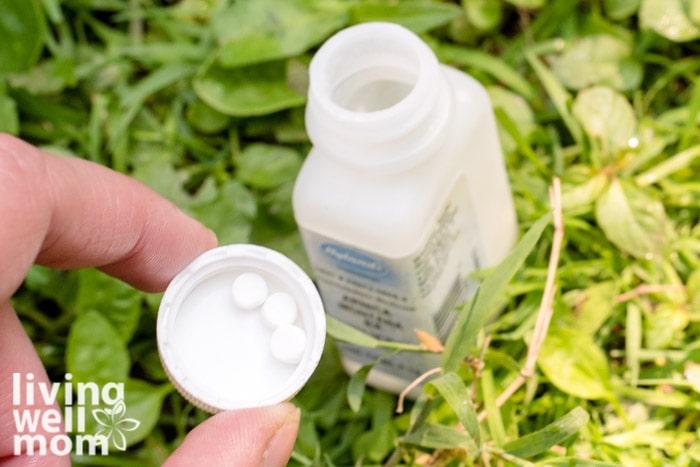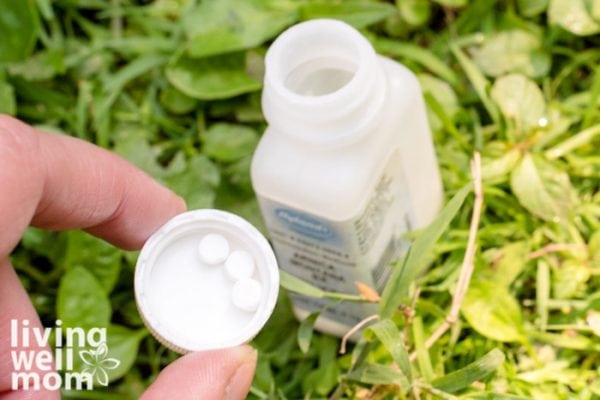 I could go on and on about how many times these homeopathic pellets have helped us.
One example: my 7-year-old threw a small rock and it bounced off the back of my 6-year-old's head (ouch!). There was no bleeding, but it quickly began to swell into a small "egg" on his head.
I gave Luke 2 of these homeopathic arnica pellets and within 20 minutes, the swelling was down and he was back to playing as nothing had happened. The next morning, I remembered to check his head and there was no sign of a bump. It's an incredible natural remedy!
Buy it here: Arnica Montana remedy
#2 Arnica Gel
Arnica is my favorite remedy for bumps and bruises. This cool gel is soothing to use topically and very effective at helping ease pain and reducing the actual bruising.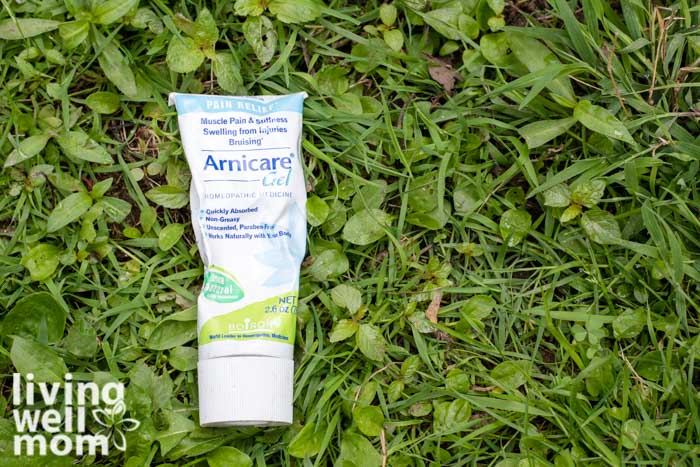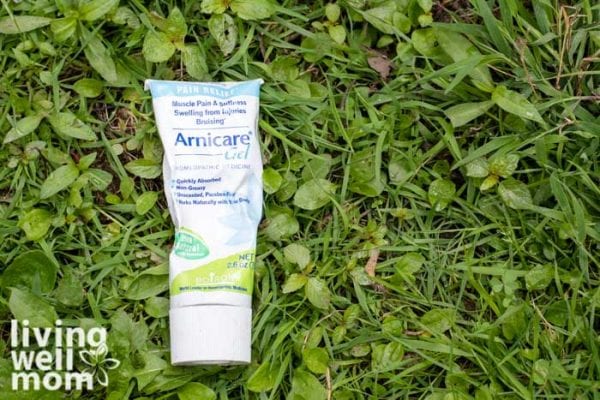 I apply Arnica gel to the affected area whenever one of my kids complains of pain from a bump or boo-boo.
Caution: don't use Arnica gel on broken skin; it will sting! Only use Arnica gel topically; it is not safe to ingest. This is where it's helpful to have both the gel and homeopathic pellets that can be ingested as first aid kit supplies.
Buy it here: Arnicare Gel

#3 Ahh Relief Gel
My kids sometimes experience growing pains at night – muscle pain usually in their legs but sometimes their arms too.
I used to get growing pains ALL the time when I was a kid and I hated it. But I'm 5'8″ now so I think that paid off. Maybe? Anyways, my kids will probably be tall too because they get a lot of growing pains.
I used to resort to giving my kids a pain reliever so the pain would ease so they (and I!) could sleep, but I always wished there was a more natural alternative.
Two years ago, I started using this Ahhh…Relief gel from Herbal Energetics and it has been an absolute lifesaver! This gel is one of my favorite natural remedies of all time.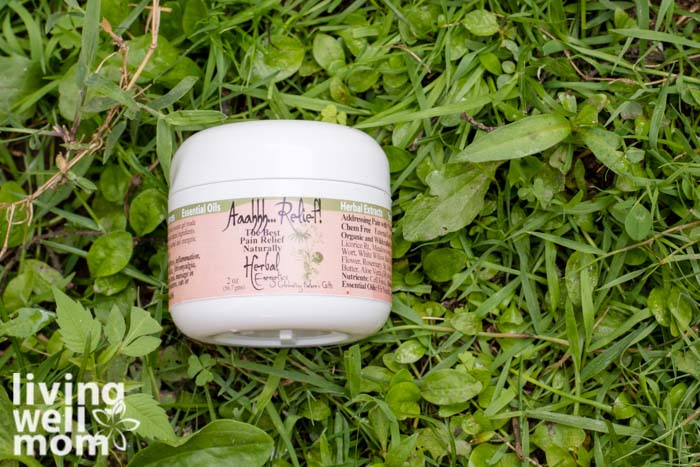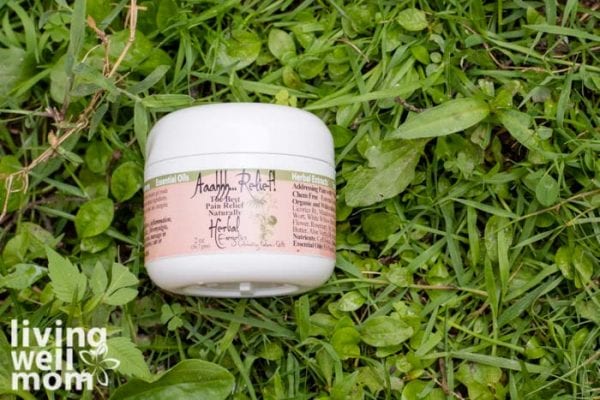 This lovely herbal "relief gel" contains a "magical" blend of herbs. To be clear, that's my term – I say magical because it lets me sleep more at night – and anything that does that is magical in my book!
These herbs are very effective at relieving growing pains. It includes arnica, calendula, chamomile, among others, plus arnica and essential oils. You can read more about it here: Ahh…Relief
I just rub this gel on my child's legs (or arms) as needed and within a few minutes, they begin feeling relief. I love that I don't have to worry about giving them Tylenol anymore!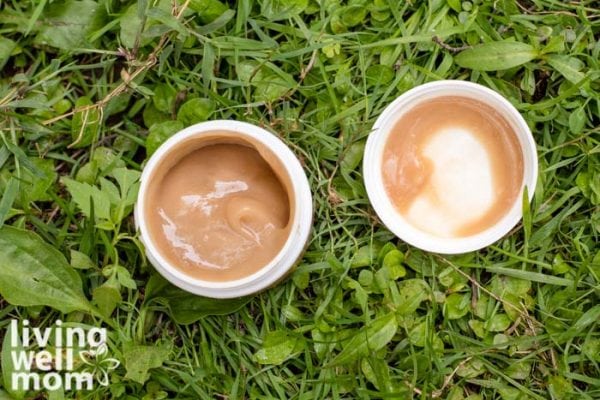 This gel is also good for bumps and bruises and can even help with arthritis and other body aches from muscle strains, sprains, etc.
Buy it here: Ahhh Relief Gel
#4 First Aid Spray
This herbal First Aid Spray from my favorite herbal source, Herbal Energetics, combines organic and wildcrafted herbs (neem, calendula, chickweed, comfrey, self heal, aloe juice) essential oils (lavender, tea tree, lemon), and flower essences (SOS rescue, crab apple, and self heal) in a formula that helps cleanse, disinfect, and detoxify.
It's great for all sorts of things even beyond cuts and scraps – it's helpful with burns, skin irritation, bug bite irritation, bruises, and sore muscles.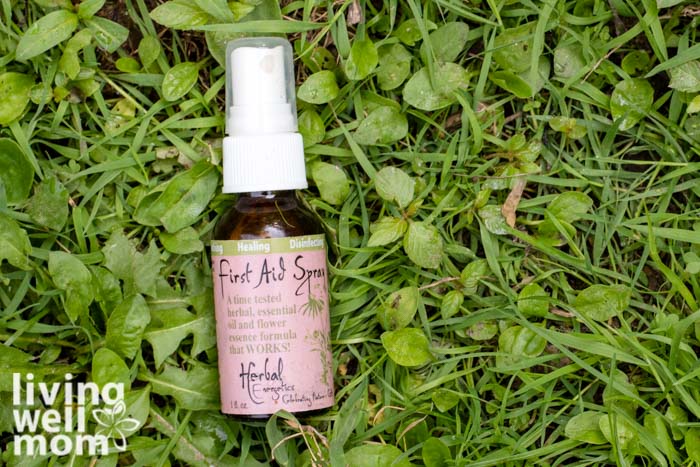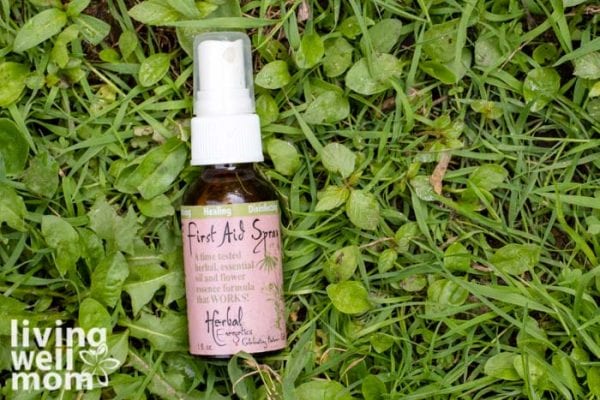 Since I began using this First Aid Spray a couple years ago with my whole family, we haven't need any first aid antibiotic ointments (Neosporin, Bacitracin, etc.) once because this spray is so effective. Plus I try to avoid using antibiotics at all possible.
My kids don't always love this First Aid Spray because it does sting a little (that's due to the herbal disinfectant properties) but we have never had an infected cut when we do use it.
Last summer, my daughter ended up with a fairly deep wound on the top of her foot. She refused to let me use this first aid spray on the first couple of days because she didn't want it to sting.
The wound ended up getting infected and when she finally let me use this spray, it cleared up within a couple of days. We also used plantain to help draw out the infection. This combination of the Herbal First Aid Spray and plantain was amazingly effective!
This Herbal First Aid Spray is also great for burns. It was very helpful at easing a sunburn Nathan experienced two summers ago.
I've used it myself on what appeared to be a second-degree burn with blisters (I rush too much when I'm cooking sometimes). Once I sprayed on the First Aid spray, the pain and inflammation quickly decreased and it healed quickly.
Buy it here: Herbal First Aid Spray
Make a DIY First Aid Spray
After my daughter's traumatic experience with the stinging first aid spray, I decided to try my hand at developing my own version. I'm happy to report back that I was successful – this DIY first aid spray is effective and sting-free!
#5 First Aid Powder
This herbal First Aid powder can stop bleeding, draw out toxins, and encourage healing all at the same time. It's great for bleeding wounds and can even act as a natural band-aid.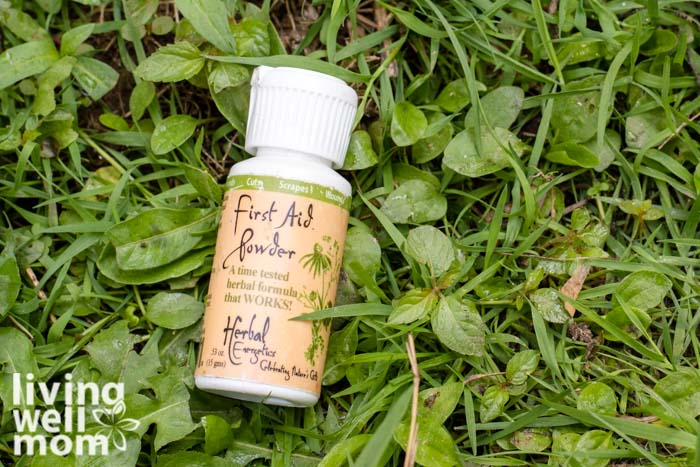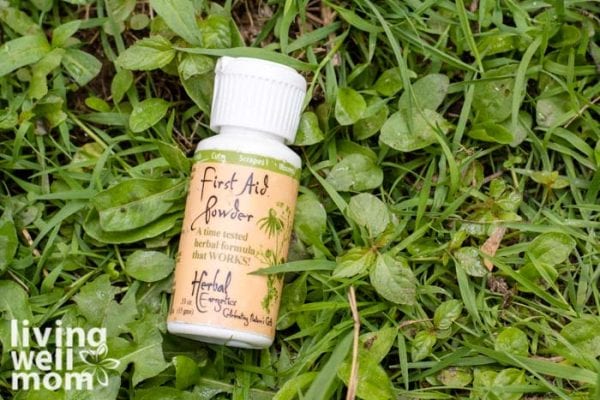 It includes organic and wildcrafted calendula, chickweed, comfrey root, echinacea angustifolia root, fenugreek seed, goldenseal root, myrrh gum, plantain leaf, and yarrow.
I use this powder if any of my children have a deeper cut; it really helps reduce the healing time.
Buy it here: Herbal First Aid Powder
#6 Colloidal Silver Salve
While the herbal First Aid spray is my go-to for most cuts and boo-boos, if one of my kids is particularly sensitive and refuses to let me use the spray for fear of it "hurting" (I have one such very sensitive child), I use a colloidal silver gel that also works well for healing.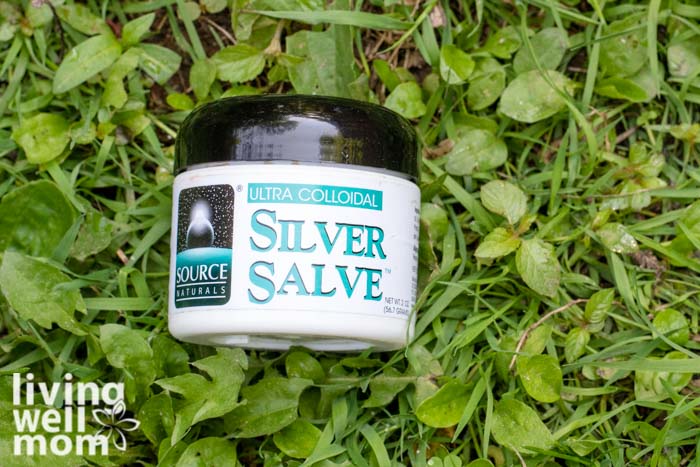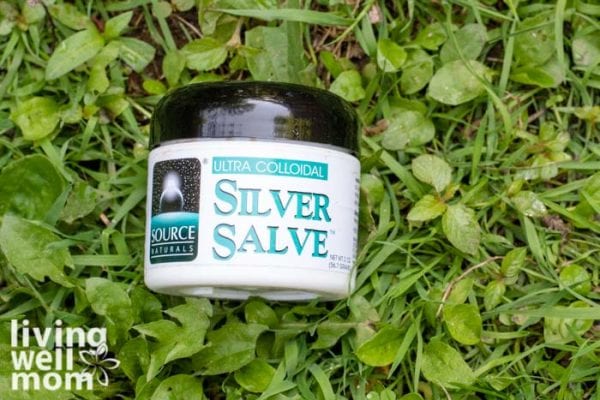 In my experience, this gel isn't as effective as the First Aid spray, but it does help and it's soothing and does not sting.
Buy it here: Colloidal Silver Salve
#7 First Aid Essential Oil Blend
While you can make your own blend, this ready-made essential oil blend, called First Aid, from Rocky Mountain Oils is one of my favorites. I've used this on both cuts and burns.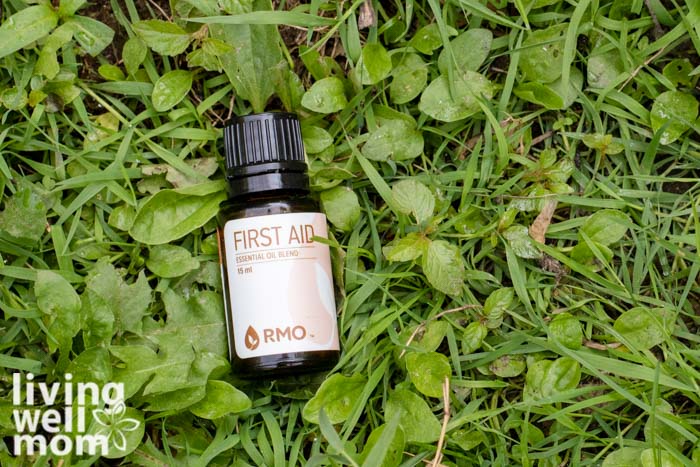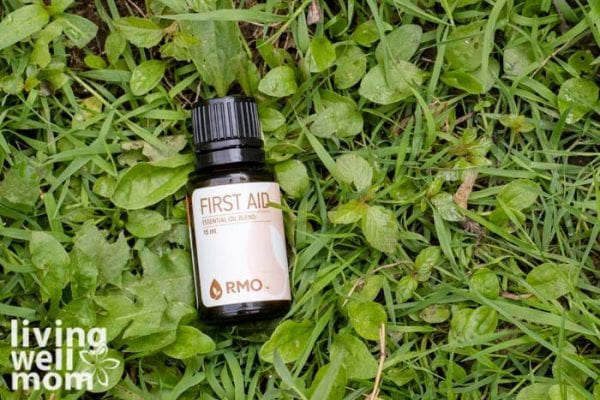 Works On Cuts
One day, I carelessly burned the side of my hand while removing a dish from the oven. I had run out of the herbal First Aid Spray (I haven't done that since!) but I did have this essential oil blend in my bathroom cabinet.
So, I dropped 2 drops of the First Aid blend directly onto the burn. I applied more essential oils 2 hours later and then again before bed that night.
The next morning I woke up and it wasn't until later that day that I realized I hadn't even noticed the burn area. It was practically gone! I've never had a burn disappear that quickly! I use this gentle essential oil blend with my children as well.
Effective for Infected Toenails
I use this gentle essential oil blend with my children as well.
My daughter once had a painfully infected toenail and we alternated between using the First Aid Spray and Essential oil blend throughout the day. The next day it was much better and the day after, almost 100% normal.
Buy it here: First Aid Essential Oil blend
#8 SOS Rescue Flower Essence
For kids that are particularly sensitive when getting hurt, flower essences can be very helpful at easing their anxiety.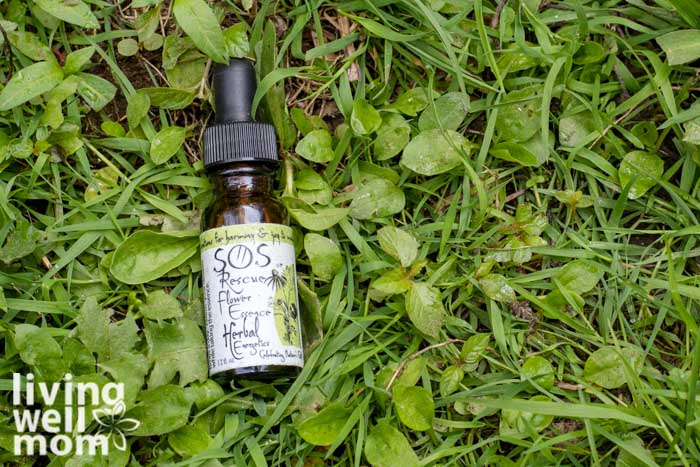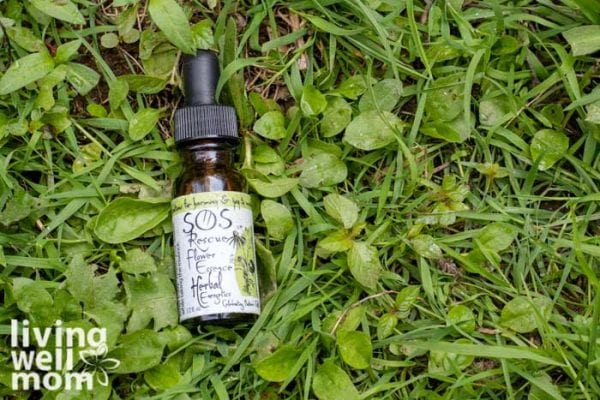 One of my children is prone to freaking out very quickly if she starts bleeding and her panic often makes the pain worse. You might know exactly what I'm talking about.
I now give her 1-2 drops of this SOS Rescue flower essence and it's amazing how quickly she calms down.
This is a great one to have on hand for both you and the kids. And it's helpful far beyond boo-boo calming.
SOS Rescue can be an amazing help if your children are anxious or stressed about other things too. (It's a great simple way to help yourself too, Mom!)
Buy it here: SOS Rescue Flower Essence
#9 Comfrey Salve
Comfrey Salve has an amazing combination of herbs, essential oils, and flower essences: organic comfrey, calendula, chickweed, horsetail, self-heal, St John's Wort, neem leaf, cleavers, plantain leaf, extra virgin olive oil with jojoba oil, shea butter, ghee, beeswax, and lavender, lemon, geranium and carrot seed essential oils.
Plus it also contains forsythia, SOS rescue, Self Heal, and Yarrow flower essences.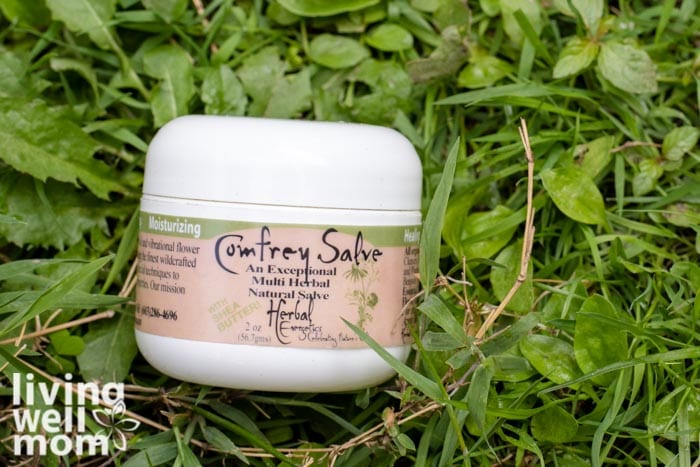 This Comfrey Salve is great for dry skin and skin irritations.
My 6-year-old, Luke, has had eczema for the past few months (we're still trying to get to the bottom of it) and I use this salve daily as a way to help calm the irritation. It works very well and we definitely notice a difference if I skip a day or two.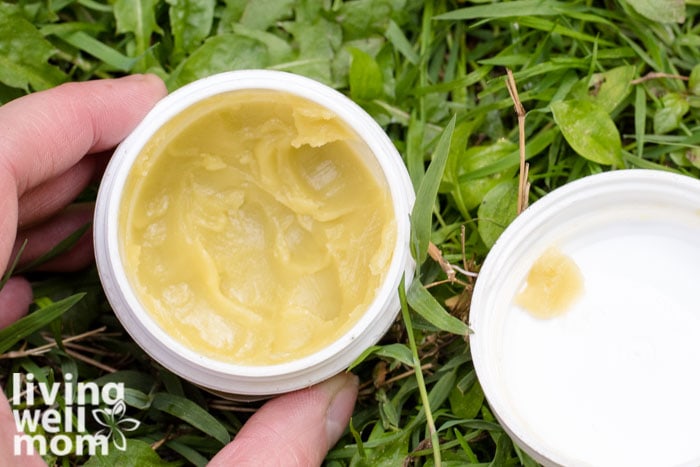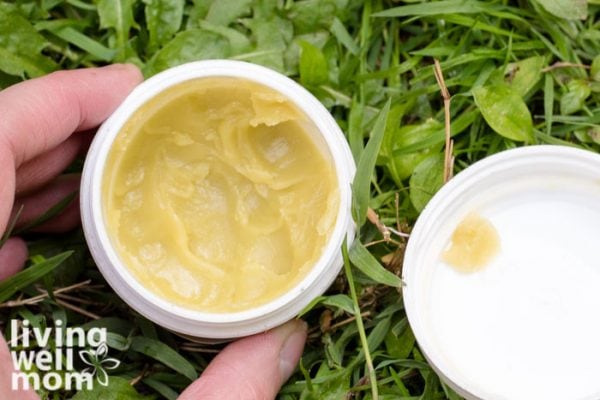 I also use it on my daughter because her skin is very dry and prone to chapping, especially during the long winter months. It's great for hydrating and healing skin naturally.
Buy it here: Comfrey Salve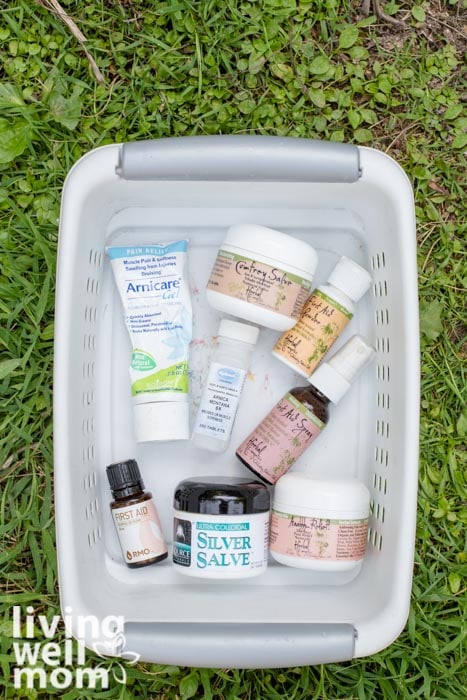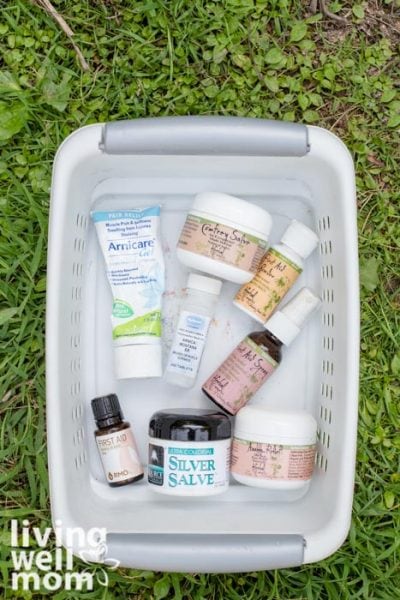 There you have it – my favorite things to include in a natural first aid kit for kids. They're simple, all-natural, effective and easy to use!
Just pin it below to save the info for later!