It's not an easy task to keep your kitchen organized when you have a busy family. Especially the food; kids often aren't great about putting things back where they belong and that's if they haven't eaten it all first! Luckily, it's not hard to simplify organizing food storage areas in your kitchen.
My husband just now finished remodeling my kitchen (it used to be super tiny) but it's been a work-in-progress for over a year now. Last summer, when the cabinets and counters were installed, one of my priorities was to find a good system to keep my kitchen organized, especially the food.
With four kids ages 5-13, who are old enough to help with chores, including putting food away after grocery shopping and meals, I knew it was important to set up a simple system for organizing.
I've learned two simple concepts that have made a huge difference in organizing food storage areas in my kitchen and best of all, keeping it that way.
#1 Smart Storage Containers
I've tried all sorts of methods for organizing my food kitchen cupboards, from using original packaging to all sorts of storage containers. But the easiest way -and what's really stuck – was to choose one standard container size for my main food cupboard.
I adore these Better Home & Garden containers from Walmart. They're affordable at just $7 each and I love how they're slim enough to fit quite a few on one shelf.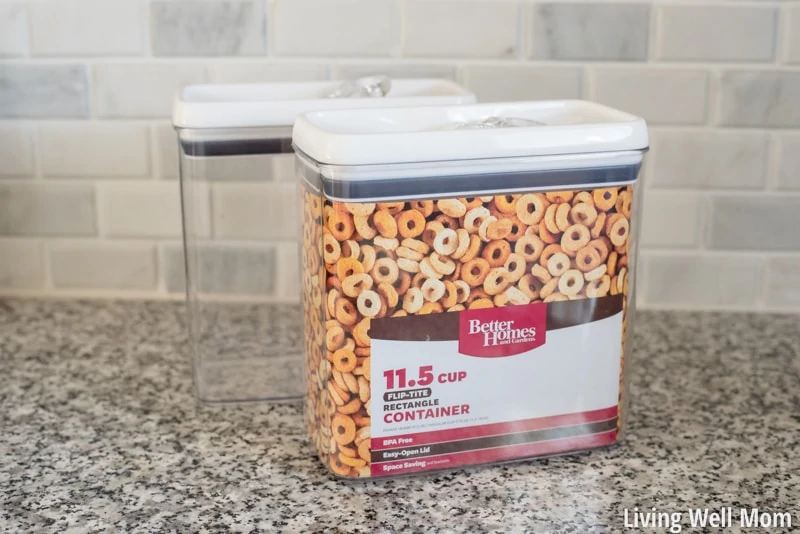 You know how little boxes or containers always get shoved into the back and hidden? These containers take up the whole front-to-back of the cupboard so that doesn't happen.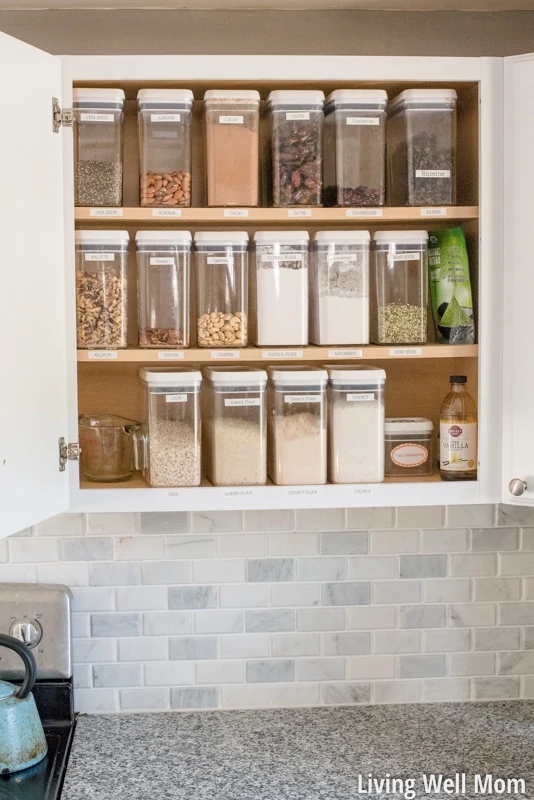 I keep other food items that require larger storage in a lazy susan in a lower cupboard.
#2 Labeling is My Best Friend
If you've read other organizing posts here at Living Well Mom, you'll see that I often talk about labeling and that's because it's made a huge difference in how I organize my home. Labeling is a reminder to everyone – not just us, but hubby and the kids too – about where something belongs.
Labeling is especially useful if you have children who are old enough to help put things away. My daughter is responsible for clearing the counters and sometimes that includes ingredients that belong in my food cupboard. Labels make it clear to her where things belong without me having to remind her.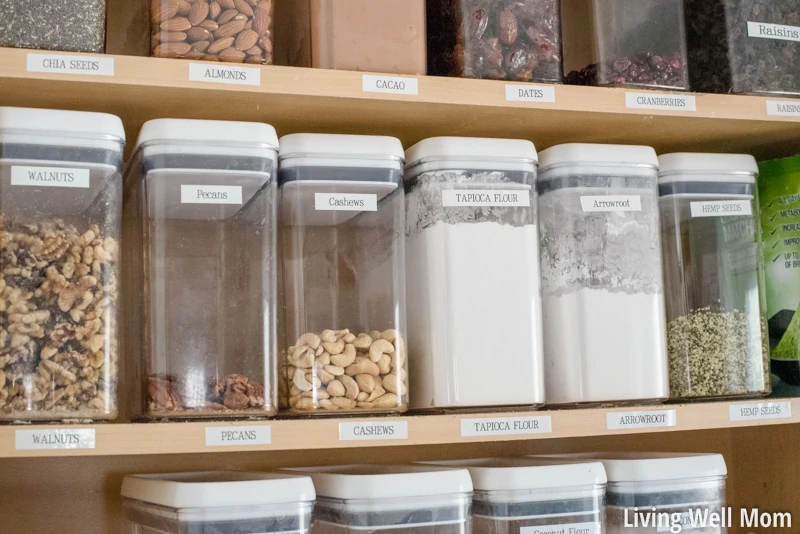 I used my label maker
to clearly label both the containers and their spot on the cupboard shelf, so it's easy to tell exactly where something belongs. The labels are easy to remove if I need to change something later.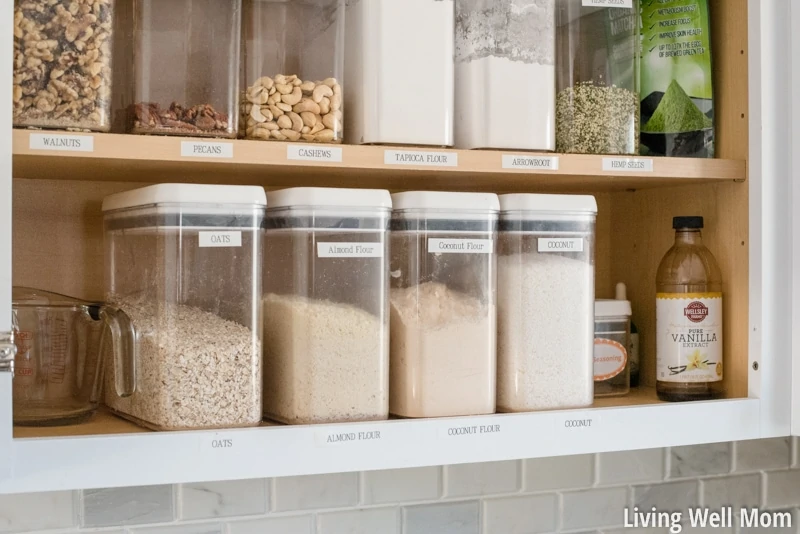 One of the best parts about organizing food storage areas like this is that it doesn't require a lot of time and there's no DIY skills required. (Always a plus in my book, because I'm not so handy there.)

Choose one standard size storage container whenever possible in organizing your food storage areas and be sure to label. You'll notice a big difference in how organized your kitchen is, just like I have with mine.
Do you have a favorite kitchen organizing tip?