Scattered toys all over the floor is a huge source of frustration for any mother. We try hard to keep things picked up and organized, but those little people of ours are just as determined to mess it up. It can be enough to make you want to give up on organizing toys altogether!
With four kids, I've had plenty of days where I've been overwhelmed and frustrated with organizing, especially toys! Whether it's a large playset that won't fit on a shelf or LEGOS that always seem to sneak underfoot, organizing toys and even more, keeping it that way, can be downright overwhelming.
I've learned a few things over the years and have finally figured out a way to successfully organize my kids' toys. Best of all it's stayed that way!
Of course, organizing almost always requires maintenance, especially with kids as they're constantly growing and changing, but with a few simple steps, you too can organize your kids' toys without all the frustration!
5 simple steps that make a huge difference with organizing toys:
The best part of these steps is that no matter what your situation, ages or how many children you have, you can apply these tips to organizing your kids' toys and you will see an improvement!
#1 Designate
Toys stored in many different spots is confusing for both the kids and you, so the first step to getting a handle on organizing toys is deciding where the toys should be and where they shouldn't.
I've tried a variety of locations for my kids' toys, but it wasn't until I decided on one space for everything that we finally made progress. About 9 months ago, I moved all the kids' toys into their bedrooms and it's been so much easier!
At the same time, it's helpful to set clear boundaries regarding where the kids are allowed to play with toys. There's no reason for them to run all over the house and leave a trail of their things everywhere they go. That's not to say you shouldn't ever let your little ones bring a toy to play next to you (they do love that, don't they?), just that it's good to set limits.
I used to get so frustrated with finding blocks on the kitchen table, stuffed toys and LEGOs scattered all over the living room floor and even indoor toys ending up outside, until I realized that was my own fault for not making it clear to my kids where I wanted them to play. It's easier to tell them they need to keep toys in the playroom or their bedroom compared to letting them play anywhere and then saying "no" to many different spots.

Now my kids know the rules and they also are well aware that I have no issue confiscating toys for repeated offenses.
Bottom line: keep it simple for the whole family and make clear boundaries.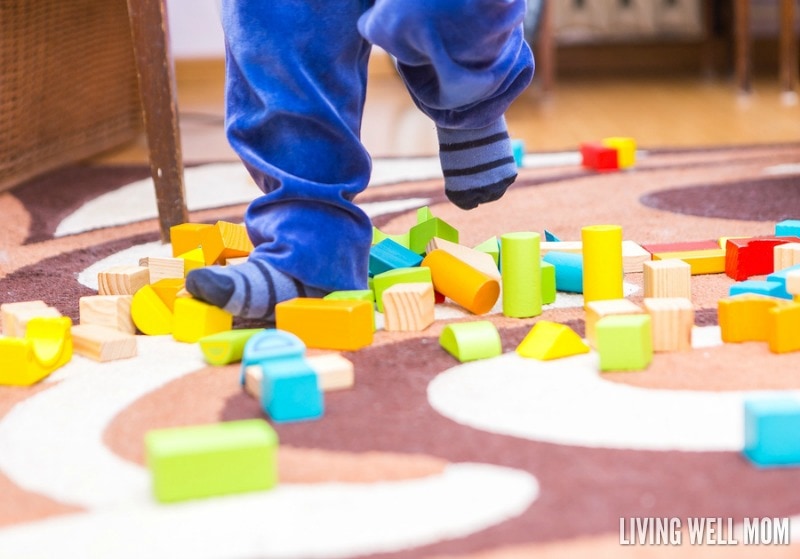 #2 Declutter
You knew this one was coming, right?
Kids lose things and break things. Mine do. It doesn't mean you're an awful mother or your kids are little monsters, they're just kids. (If it happens ALL the time to everything, you may want to address it.) But for the most part, you don't need to beat yourself up about the fact that your 3 and 4 year olds took Great Aunt Sue's giraffe puzzle outside when you weren't looking and left it in the rain. Things happen. And things are just that – things.
Stop feeling guilty. If a toy is broken or missing pieces, get rid of it.
The same goes for toys your kids have outgrown. If your daughter is past the My Little Pony stage, this is a great time to teach her about decluttering and even making extra money by selling gently-used things on Craiglist! There's tons of place that accept donations too – from GoodWill to local churches that might love a few nice toys for their nursery. Or you might have nieces or nephews or know a friend's child who might appreciate something. This is also a great way to teach kids about giving.
#3 Minimize
This is my favorite step because such a big difference!
There's a ridiculous amount of toys available now days, but kids do not need hundreds of toys. They don't even need 20!
Go through your kids' toys with an eagle eye. Get rid of things they don't play with. Even if it is a cool toy, do they really need three different kinds of train sets? (More on this next.)
Instead of 30 toys your kids only occasionally play with and frequently scatter all over, pare that down to 5 or so things. You'll be amazed at how much easier this is for everyone! As an added bonus, you'll find your kids enjoying the things they do have.
I got rid of most of my children's toys last summer and it was one of the best decisions I've ever made. Not only are there fewer things for my kids to clean up and for me to organize, but my children love their things now!

#4 Toy Rotation
If you have multiple children like me, you might not want to get rid of the cool building set your oldest son outgrew because your younger kids will probably enjoy it later.
The same thing goes for multiple sets. Maybe you have a beautiful wooden Chuggington train set, fun GeoTrax, and also Thomas the Tank Engine. All three are wonderful and you don't want to get rid of them.
The solution? A toy rotation.
I've used this trick for years and love it! (My kids do too!) The idea is simple – keep a minimal amount of toys available for your kids and store a few select extra toys that are really nice, expensive, or will be used later by younger children.
"Select" is the keyword here because you won't want to take over your attic or basement with a ton of extra toys. Just save a few that you know will be used later.
Then every so often, swap out a current toy for one in storage. The kids will love it because it will be like something new and you'll be happy to not be cleaning EVERYTHING up!
#5 Realistic Expectations
One of the biggest mistakes I've made with organizing toys is to expect too much from my children. Yes they need to pick up after themselves, but there's also a point where it can be too complicated or simply I'm expecting too much.
They're not going to keep their toys perfectly organized and that's okay.
My boys' bedroom does not look "Pinterest perfect." And it's not going to. That's okay.
This is what a bookcase in their closet looks like.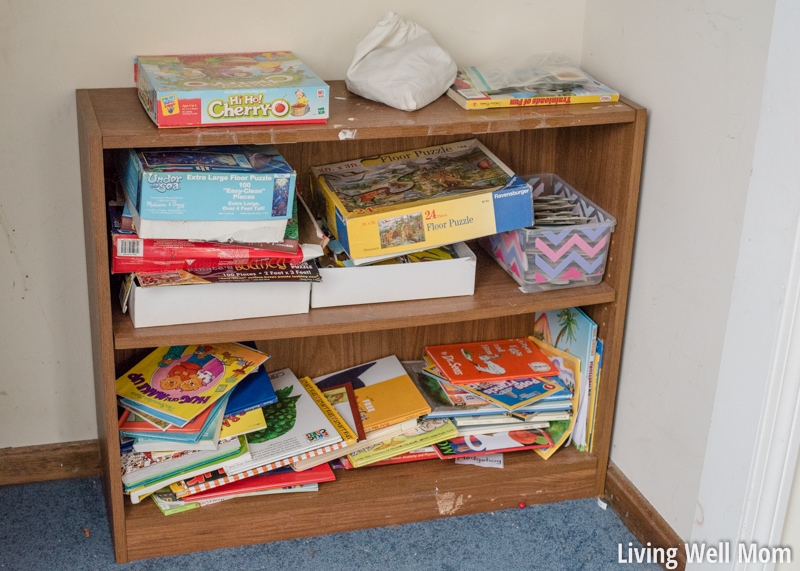 Believe it or not, that's organized for them. And me too. There's a a puzzle shelf, a favorite game shelf, and books. When we do "clean up" time and I inspect, I have the boys straighten it a bit more, but I don't expect perfection.
Naturally I do expect more from my older children, but I still try to manage my expectations.
So there you have it – Designate, delutter, minimize, rotate, and realistic expectations.
With these 5 simple steps, you too can get your kids toys successfully organized!
Be on the lookout for an upcoming post where I'll share how I organized my boys' toys.