The kitchen can be a challenge to keep tidy, and this is even more true when you are attempting to tackle pantry organization with children in your home!
Today I'm giving you my best tips and tricks to keep your area neat and organized. Certain areas in every home can be tricky to keep organized, and the kitchen pantry is one of them.
How do you organize your pantry and keep it neat and tidy? It can be a real challenge, especially if you have kids!
Easy Pantry Organization
For the longest time, one of my big frustrations was not being able to keep my kitchen pantry organized. It would seem that no sooner would I carefully line up rows of cans and various containers, it would get messed up again. And with four kids, if I didn't continuously work at keeping it organized, it would look like a bomb went off. And I didn't, so it did…quite often.
Saves You Time and Money
A disorganized kitchen pantry doesn't just look messy; it can cost you money and time, too! You can't easily see what you have or what you need. As a result, you'll end up buying extra food or forgetting to buy something you thought you had, resulting in an extra trip to the store.
It's so frustrating to be in the middle of making dinner and realize you're out of an essential ingredient because you assumed it was hiding in the back of the pantry! (Maybe that's never happened to you, but it has countless times to me!)
This is why it's crucial to organize your pantry! But, don't worry – I'm going to walk you through the entire process. And we are going to make sure it's kid-friendly so everyone in the household can help keep it nice and neat! 🙂
Are you tired of that messy pantry? Save time and money with these simple, practical tips for organizing your pantry. It's so easy; you'll be able to keep it tidy even with kids!
After years of trial and error and much frustration, I've finally figured out a simple trick that worked to help me organize my pantry and keep it that way! It's not magic, but it's made a massive difference for my family and me.
Is your car just as jumbled as your pantry? I've got some simple, budget-friendly solutions for organizing the family vehicle, too!
How to Organize Your Pantry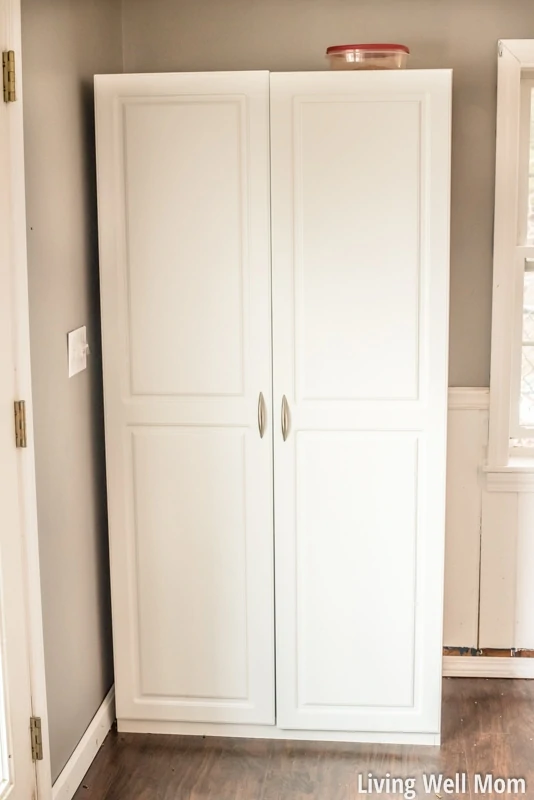 There are three simple steps to organizing your kitchen pantry.
It's rather obvious, but you need to assign a place to everything in your pantry. You can't just shove a bunch of cans on a shelf and call it organized. If you have a few miscellaneous random items, it's okay to group them. Just make sure that's not how it works in the rest of the space.
Decant bulk items if necessary.
Once you've figured out where everything belongs, label it.
Assign Zones
Here's what my pantry looks like inside: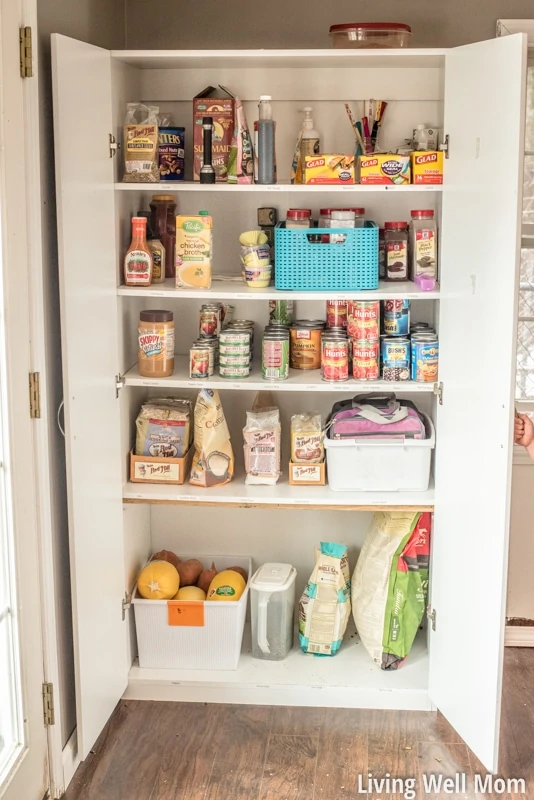 My top shelf has snacks, pet treats, a few miscellaneous items we rarely use (i.e., a mason jar with chopsticks), and space for individual boxes of plastic bags since we use a lot for the kids' school snacks and lunches. (One of these days, I hope to switch to fabric reusable bags, but I don't have the time for that right now.)
Previously our stack of plastic baggie boxes would get shoved into the back, and we'd end up with three opened boxes of sandwich bags. By giving each sized bag its own label and spot, it's eliminated that problem.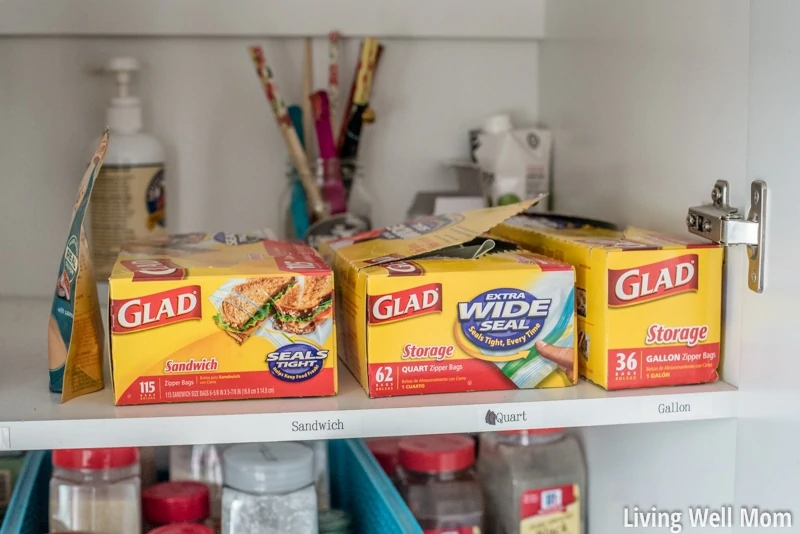 The next shelf has a spot for extra spices in a large plastic bin (and room for extras), baking materials like muffin cups, my kids' vitamin containers, etc.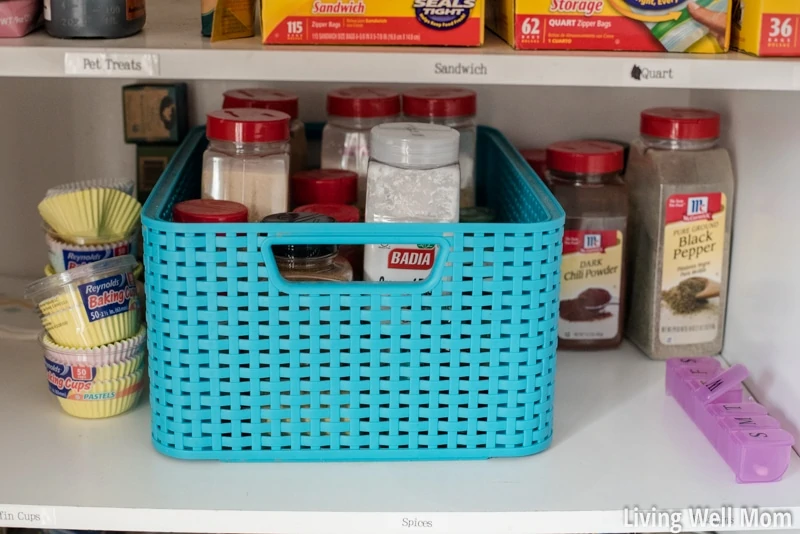 We then move onto space for "condiments," which is my miscellaneous area for things like hot sauce, salad dressing, chicken broth, etc.
Then we have our cans and peanut butter. This shelf has benefited the most from labels because they used to get so mixed up before! You can see my mix of organic and non-organic food. I wish we could do all organic, but it's expensive and not in our budget right now.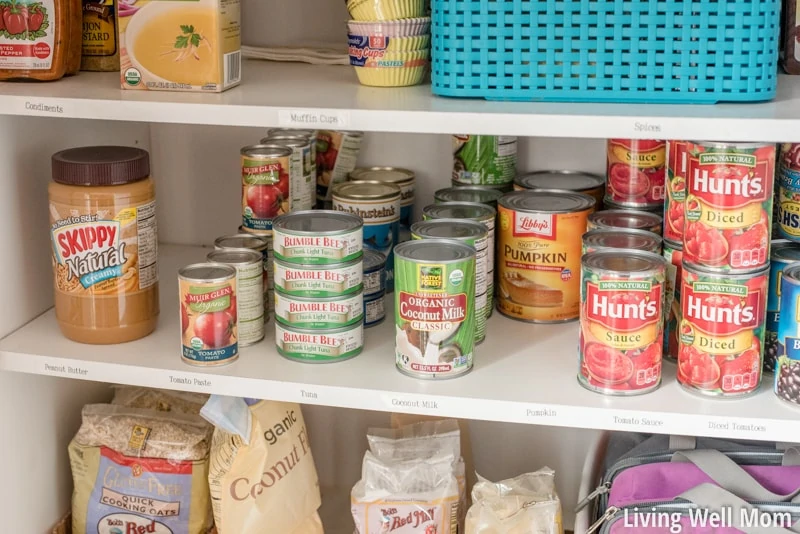 Next is my baking shelf with oats and various grain-free flours. There's also a large plastic bin for the kids' lunchboxes. Luckily, one container fits all four lunch boxes perfectly.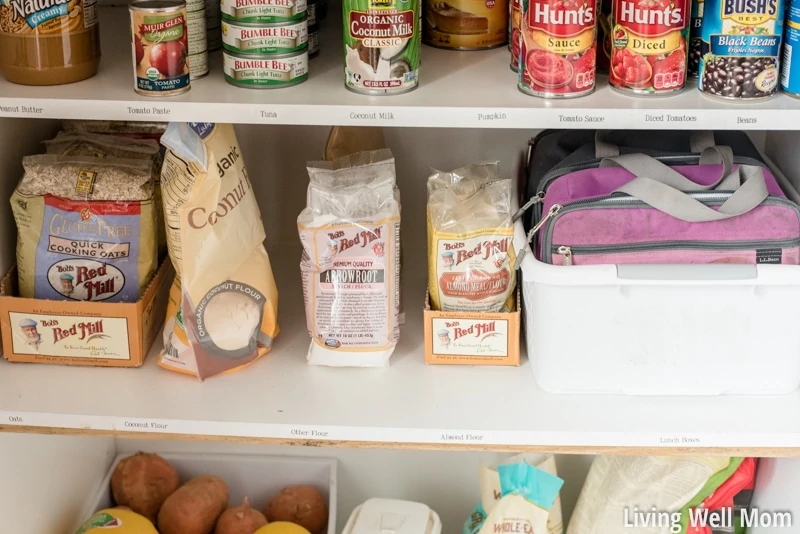 The bottom shelf has a large bin for produce, mainly squash and sweet potatoes. And then there's the pet food. I need to figure out better containers for the dog and cat food that will fit in here, but this is what we do for now.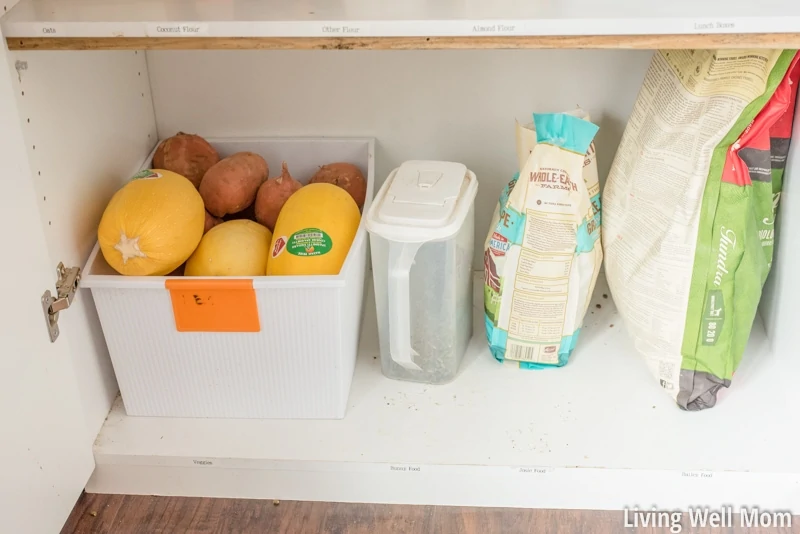 I've stuck to a simple organization system, with the largest items at the bottom. I've also created zones for items that I'll often use together. For example, I group the goodies for kids lunches and my baking things together.
In your home, work out what categories work best for you. Think about the items you use most often. These should be easily accessible within your arm's reach. As an example, you'll probably use peanut butter more often than pectin.
Use Pantry Organization Tools
Technically, there's nothing wrong with storing flour in the bag it comes in. if you want a perfectly neat pantry, however, an assortment of packages in different sizes may prove counterproductive.
Storing items like flour in an airtight container helps maintain its freshness. It also prevents messy spills and ensures that no food traces attract pests.
The containers you use depend on what you have on hand. Here are some ideas to get you started.
Free Containers
Ice cream tubs and margarine packaging are sturdy and durable. They're not clear, but they provide a workable solution. If you're operating within a tight budget, look at the containers you already have on hand.
They'll be food-safe plastic, and many are reusable. A large plastic milk bottle, for example, makes a suitable cereal dispenser. Just be sure to wash and dry the items thoroughly before you use them.
You won't win any style awards, but unless you regularly allow strangers to tour your pantry, it won't matter.
Budget Buys
Watch for end of season sales at big-name companies, or check for great deals online. Plastic storage containers provide an inexpensive, durable alternative to expensive systems. Buy them in bulk, and you'll get an even better price.
Baskets and File Holders
You don't need to pack everything on the shelf by itself. Group like items together in a basket, and then take the whole basket out when you need them. Working like this saves you a good deal of time when you're a busy cook.
Wire Baskets in the Doors
Use the often wasted space behind the doors by hanging wire baskets as a catchall.
Use a Lazy Susan to Make Things Easier
These wheeled devices make it simple to bring items you need to the front of the cabinet. Use them or variations like rotating spice racks to allow you to optimize your pantry space.
Use the Vertical Space
It's easy for short cans to slip behind large containers. Avoid this by installing a short ledge along the back wall of the cabinet. It'll allow you to stack the cans, so they are easily visible.
Consider Wire Drawers
If you have a deep pantry, you won't like having to claw your way to the back. Installing wire drawers makes it simple to pull out everything in the cabinet, no matter where it is.
Pantry Organization Tip: Start Labeling
All you'll need is a label maker! If you don't already own one, trust me, it's worth it! My label maker has saved me so much time, hassle, and money because it's helped me stay so organized in such an easy way.
Alternatively, buy blank labels and fill them in yourself. It doesn't have to look spectacular; it just has to be legible.
Labeling is the key to keeping your pantry organized. It works because it's a visual reminder of where everything belongs—and not just for you, but your whole family!
I started labeling about six months ago, and it's been incredibly helpful in keeping it my pantry organized this whole time.
Labeling isn't a guarantee it will stay that way, especially when someone (usually one of the kids) shoves a few things on a shelf without putting them in their proper place, but it's much easier to correct and maintain order.
Get the Kiddos Involved in Labeling
Here's how I use this simple labeling system for my pantry:
When my husband remodeled my kitchen last year (technically, it still isn't done a year later, and I will post pictures once it is!), a large pantry was a priority for me. But I didn't want the small in-stock kitchen pantries at Home Depot, and we couldn't afford a larger custom order version. So we ended up buying a storage cabinet and transforming that into my pantry.
A few months ago, Nate had to stabilize a couple of shelves because they were beginning to sag due to the weight. (That's why you can see a tiny bit of wood under the shelf in a couple of the photos.) But it's worked beautifully ever since!
My Joshua was an excellent helper, putting the labels on and helping sort and put everything away. He does this each week after I go grocery shopping, too.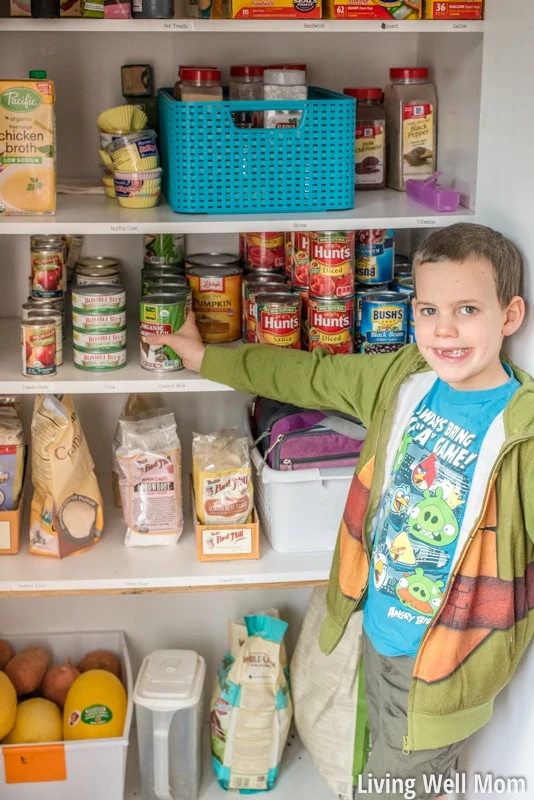 I love that simple labels have not only helped organize my pantry, but they've also encouraged my kids to put things away properly to help out the family. As a bonus, it's encouraged Joshua with his reading, too!
Did you ever think that pantry organization could be so simple?
More Kitchen Organization Ideas:
Love this post about pantry organization? Check out these other posts to get your kitchen in order!
Just pin it below to find the instructions later!