Your bullet journal supplies can be as simple or elaborate as you want. It's all about making it work for you. You can get ideas from what I share or from other blogs or Pinterest images, etc. but ultimately your bullet journal is YOURS.
In this post, I'll share some practical bullet journal ideas including what supplies you'll want to get started and my personal bullet journal. Hopefully, this will inspire you, especially if you're a busy, non-artistic mom like me.
Practical Bullet Journal Ideas for Busy Moms
Bullet Journal Supplies to Get Started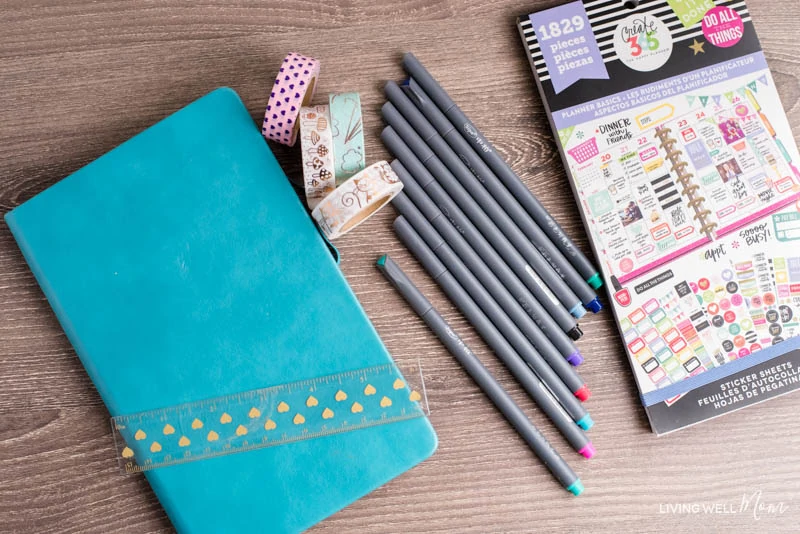 Bullet journaling does not have to require a bunch of expensive supplies. You can start for free if you want. Or if you want to make it more fun (which I highly recommend), you can start off with a couple basic supplies.
For the bare basics with bullet journaling, you can use a regular notebook from around the house or buy a cheap one. However, I highly recommend purchasing a journal intended for bullet journaling. It's more fun and official that way. 🙂
After seeing my sister's bullet journal, I shopped at Hobby Lobby, Staples, and Walmart before finally settled on this journal
from Amazon.
My bullet journal is not a spiral-bound notebook (which I normally prefer) but it surprisingly lays flat and is easy to write on regardless of whether I'm on the left or right side. I also like that there's a bookmark ribbon attached so I can easily find my place.
And the little dots across the page help me "stay within the lines." It also makes it more bullet-journalish to me than the typical lines across the page.
I love it.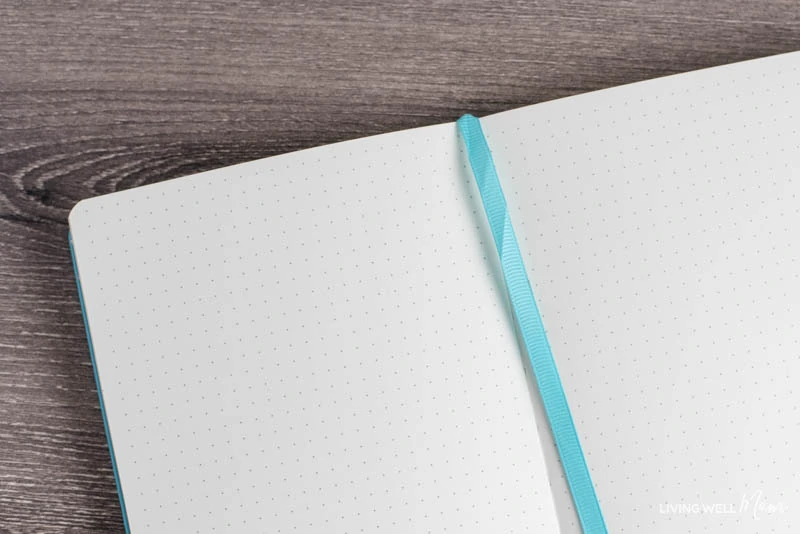 You'll also want some sort of nice pen or marker to write with.
I usually prefer a fine-point type of pen, because it helps me write more neatly compared to a thicker pen. But for my bullet journal writing, I wanted something special.
So I bought a set of fine tipped colored drawing markers/pens. I honestly don't use all the colors (some are too drab for my taste or too light to show up well), but the price was great and they work beautifully for my journal. This is the set I bought. I would have purchased this one
but it was out of stock at the time.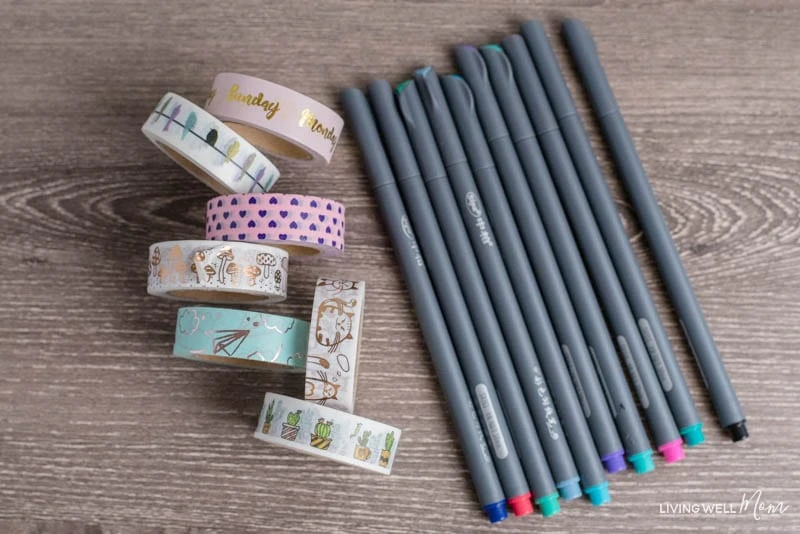 Next, I HIGHLY recommend, especially if you're a fellow non-artistic mama like me, that you buy some fun Washi tape
colors and stickers.
Seriously, stickers are your best friend if you're not super artistic. They will help brighten up your bullet journal and make it fun and special without requiring any drawing talent from you. Plus, who doesn't love stickers?
You can get them from craft stores or online. I found some at Hobby Lobby (in the planner aisle) and Amazon. I would not pay full price because $19.99 for a sticker booklet is a lot of money but I bought mine for less on Amazon or at Hobby Lobby with a 40% off one item coupon or during their 50% off sale. (I rarely see them go on sale, but one employee gave me 50% off one day because she said it was on sale even though not marked. Maybe I was just lucky?)
These are the stickers I've purchased and love: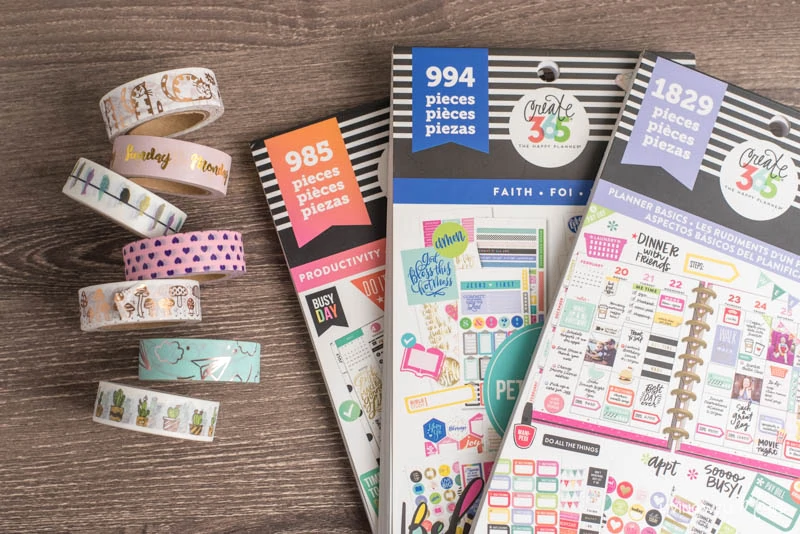 And washi tape has all sorts of options! I purchased this set of washi tape and love it. There are a few I don't care for and my daughter happily took those.
I recommend you get a very small ruler as it's perfect for drawing straight lines in your journal. This will help your journal stay neater and be more satisfying. (At least it is for me!) If straight lines aren't a big deal for you, then feel free to skip the ruler. I found mine (this one) at Hobby Lobby in the stationary section.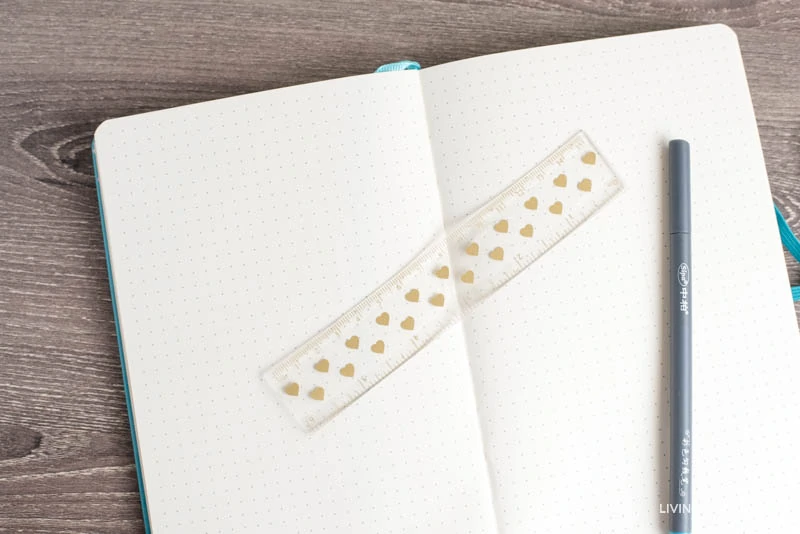 I also have a little pouch that I use to put my markers, ruler, and a couple rolls of washi tape in. This helps keep it organized. (This one was from Hobby Lobby in the sticker/planner aisle. I couldn't find it online to give you a link.)
It's great for traveling too!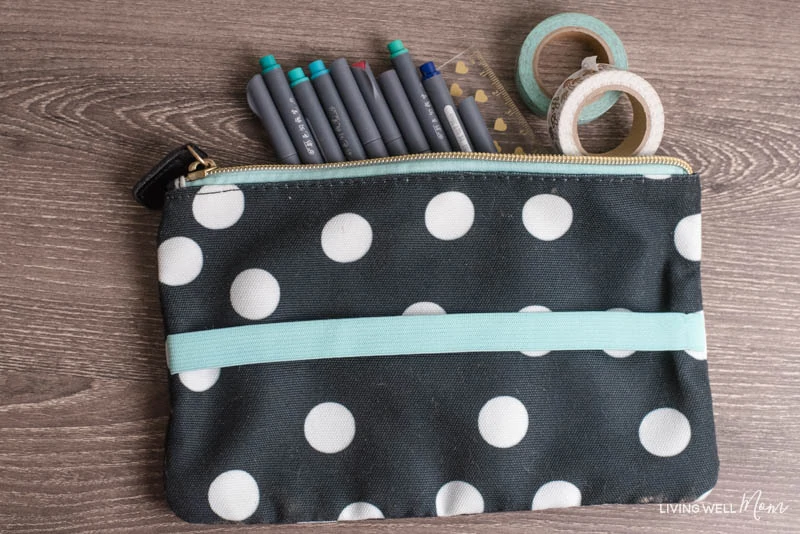 I keep all my bullet journal supplies (my four sticker books, Washi tape box, marker bag, and my journal itself) in a small plastic bin so I can keep it all together and carry it anywhere I want – outside on the porch, to the kitchen table, my office, etc.
Bullet Journal Ideas: My Personal Bullet Journal
Now, I'm going to show you my personal journal as a way to inspire you in getting started. I hope it shows you that you can have a pretty bullet journal without it requiring a lot of time or artistic talent.
I typically use one page per day. I start by adding a strip of washi tape across the top for some color and decoration. It already makes it look fancier and that's SO easy to do!
Then I use the dots and draw a little box for the date and day of the week. I'll sometimes jot down what the weather is up there too because I'm prone to getting depressed if I don't see enough sunlight and it's another thing I like to note.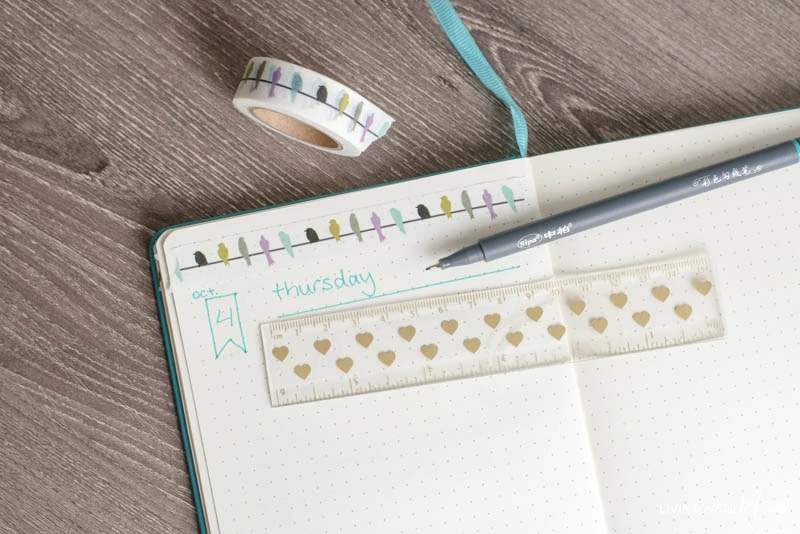 Next, I write down something I'm grateful for. This is my little gratitude journal entry. Sometimes I include this later on the page.
A note on daily gratitude tracking: when I started jotting a quick word or line about the first thing that popped into my head when I asked myself what I was grateful for, this took on a whole new meaning. It goes beyond the usual "I'm thankful for my family, home, etc." and I love that. Plus it keeps it real.
Next, I use my ruler to mark out little checkboxes. This is one of my favorite sections of my daily bullet journal.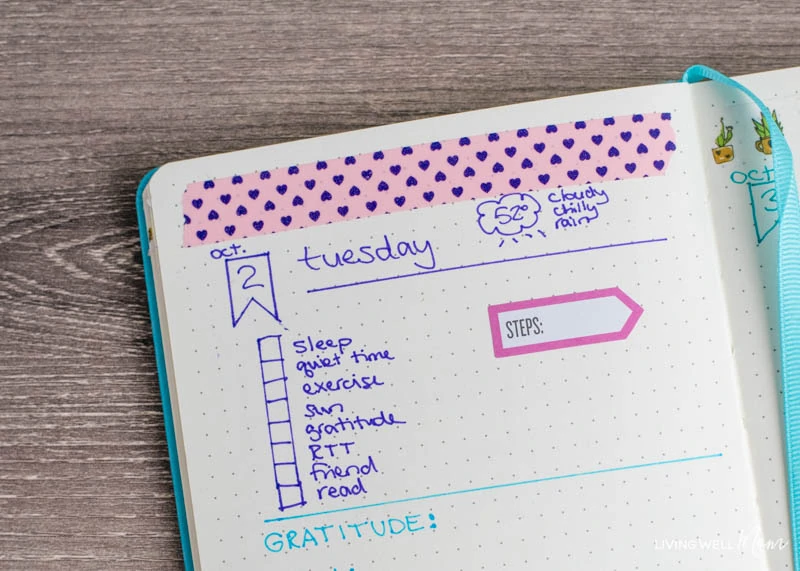 For now (and this changes frequently) I track the following things:
sleep – how many hours I got the night before and I'll note if I was restless or slept well, etc.
quiet time – this is my daily time I spend talking with God and reading my Bible. I usually jot down something that was revealed to me during my quiet time too.
exercise – did I take a walk or do yoga?
sun – I'm highly prone to seasonal affective disorder so I've started tracking how often I'm able to spend time in the sun or go to the tanning salon in the winter. If I've gone a week or more without some solid time in the sun, I know it's something I need to address or it will start affecting my mood.
gratitude – see above
friends – I track whether I've made an intentional (or not) connection with a friend or family member
read – while I always read for a few minutes before bed every night, I'm trying to be more intentional about reading more nonfiction books during the day too.
I'll add or subtract from my daily tracking list depending on what feels right to me. I didn't even think about tracking many of those things until I started my bullet journal.
Once you start tracking things in your bullet journal, you'll begin to get more ideas on how to bullet journal for YOU.
Next, I write down my mood. Again it's whatever I'm honestly feeling. Sometimes I just write "blah". It depends.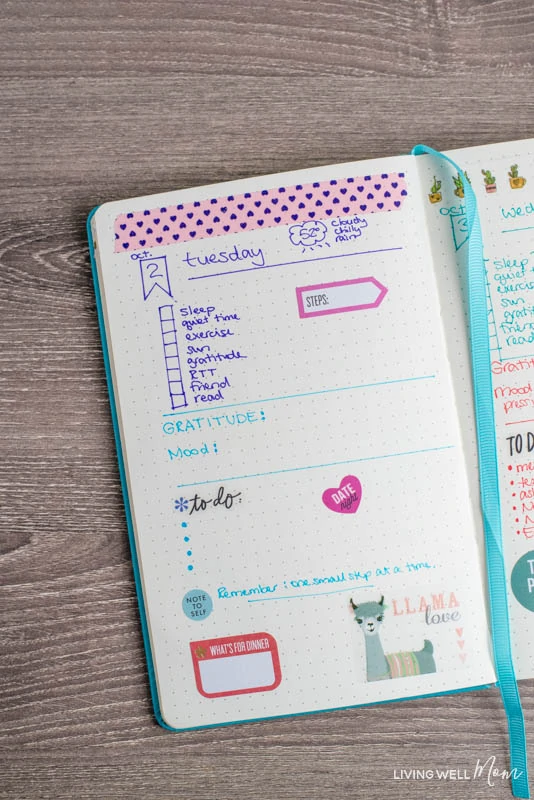 Then I'll usually write down a simple to-do list. This is NOT a list of everything I have to do but more those little miscellaneous things that I might forget like:
mailing a letter
submitting a prescription refill for the thyroid meds.
Or sometimes I'll write something down – like taking my son to karate practice -because I know I'll definitely do it and I want the satisfaction of marking it off later. (Yes, I just admitted that!)
Plus see, the cute "to do" stickers in the basic planner sticker book
? Now that's motivating!
I like to include an encouraging quote or something I want to remember, such as "Remember: one small step at a time."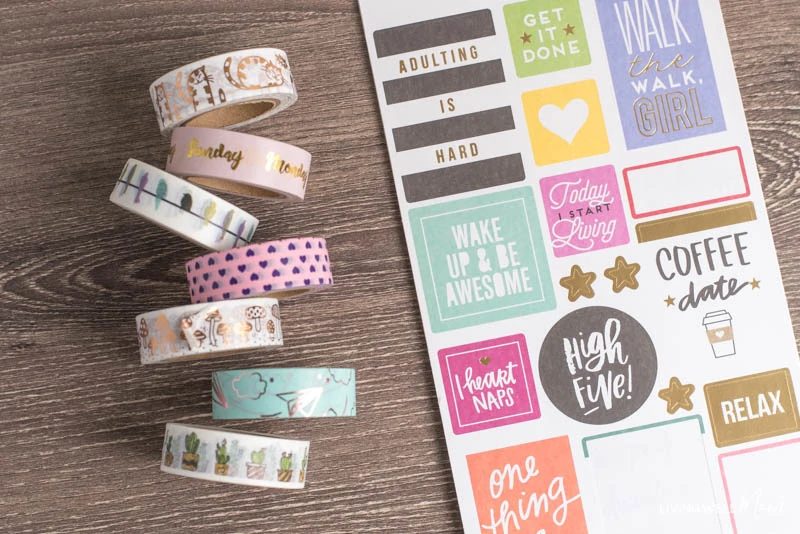 I love adding fun, colorful stickers to my bullet journal page. I'll usually include a "STEPS sticker" where I write in how many steps I took that day. This helps keep me motivated to stay active because I LOVE writing in a higher number. (I come back the next day and write it then.)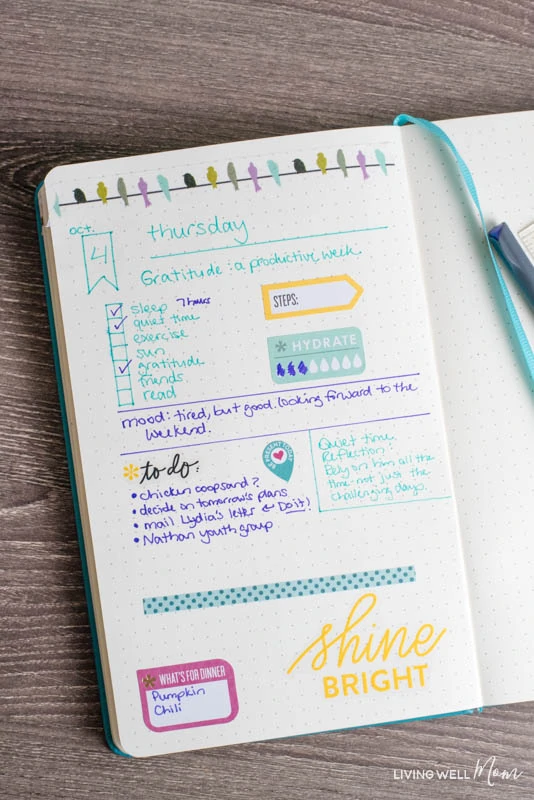 I use colored markers as you can see. I usually use two different colors to make it fun but not overwhelming.
At this point, I use one page in my bullet journal each day (I often skip the weekends) but I'm going to try doing a monthly review page to kind of sum=up all the things I'm tracking.
This page is an example of what I do NOT do. I tried this after seeing a bullet journal page layout idea on Pinterest. And while it's pretty and was actually easy to make thanks to my little ruler, it took me too long. This page appears exactly once in my journal and I'm not planning on using it again. But it is pretty. And impractical for me.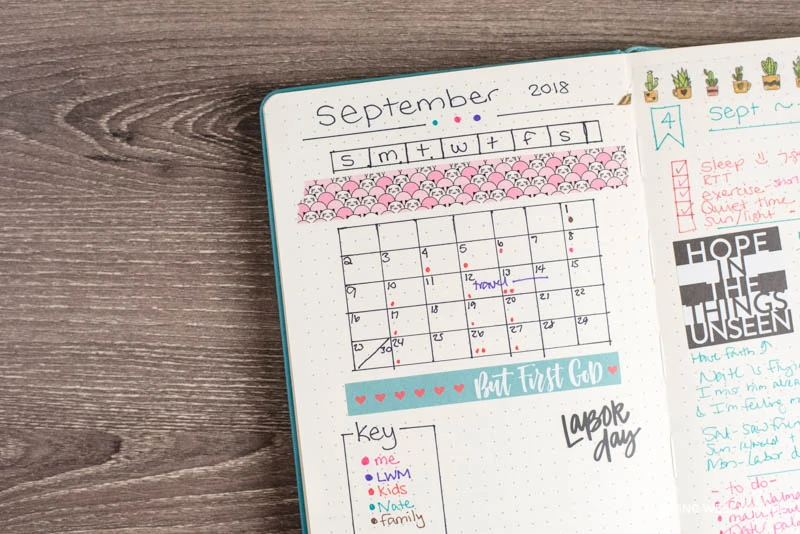 I've found my bullet journal to be a wonderful way to do something fun and beneficial for myself. It's my special thing and I love it. It combines my love of lists with stickers and my own version of creativity!
I hope you've enjoyed my little bullet journal ideas tutorial and are inspired to make YOUR own version! Now you know how to bullet journal for the busy, non-artistic mom. I hope you've enjoyed this little how-to guide and are inspired to make YOUR bullet journal.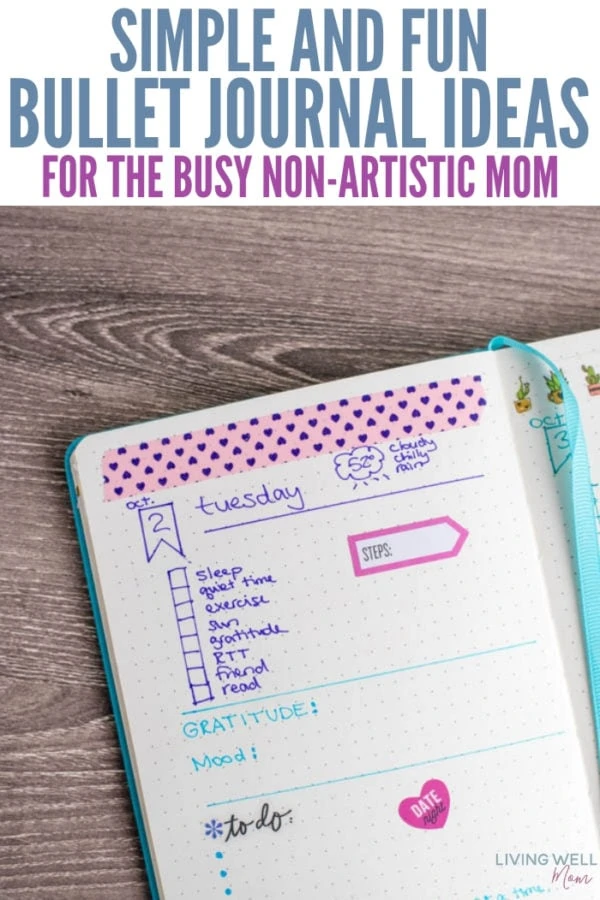 If you already bullet journal, please leave a comment with your favorite tips for bullet journaling. Or come back later and tell me how this post has helped you get started. I'd love to hear from you!
Have fun bullet journaling!