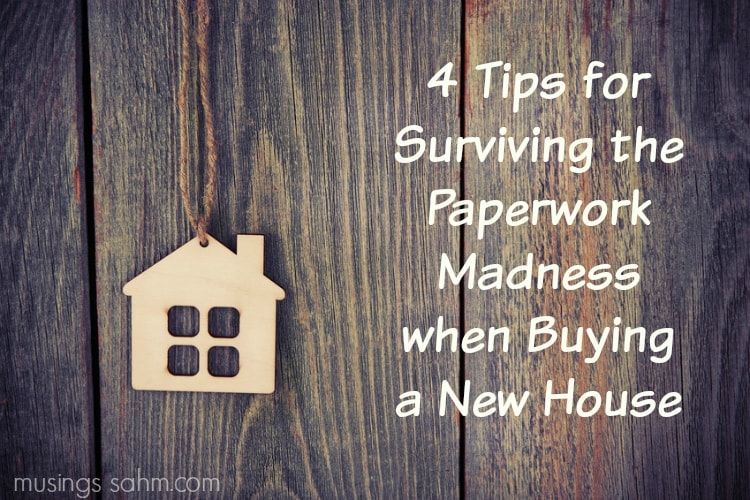 When we sold our old house and bought our new house this summer, Nate and I knew it was going to be a ton of paperwork. It was when we first became homeowners 10 years ago and it certainly was this time. I think paperwork madness is an appropriate term for it. There was so much to sign, it made my head hurt.
And some of the required documents is simply absurd nowadays. Case in point: the government required booklet informing us how to choose a lender that our lender was required to give us the day we signed with them? HUH?! Kinda late for that, don't you think? Or the six pages of local counselor listings that we were required to initial (each one!) by law. (Apparently Uncle Sam wanted to make sure we know where to turn for help after we went insane from all the red tape that would strangle us!)
So yes, I think madness is a good term for it. And unfortunately, it just goes with the territory when buying a house.
Allstate Insurance understands just how crazy the home buying/selling process can be. We've teamed up to share a few things you can do to make sure you're prepared and to help the whole process go more smoothly.
4 Tips for Surviving the Paperwork Madness when Buying a New House
1. Gather the most common documents you'll need ahead of time. This will save you a lot of time as you get into the process with your lender. Remember you'll need info for both you and your spouse/partner, especially if you both work.
Copy of ID/driver's license
social security card (my husband couldn't find his when our lender asked for it just before closing and we almost had to postpone things just over this little piece of paper. Thankfully he was able to pick up a new one quickly, but if I had known, we'd have definitely secured his new card far ahead of time and saved us that unnecessary stress.)
Employer info for the past 5 years
Residence address for the past 5 years
Copy of credit report (Only if you have a current copy already. Our lender pulled ours as we began the process. No need for additional credit checks on your report.)
Current pay stubs
W2's from the past 2 years
Proof of any other income
Federal tax returns for the past 2 years (some lenders may request 3-4 years)
Bank statements for both checking and savings accounts
Asset statements
Information on long term debts
Reserves and current budget info
Down payment funds and closing cost funds (while you won't know exact closing cost figures until practically the day of closing, you should at least have an idea of what you can/can't contribute and let your lender know. Often times, they can work closing costs into your new mortgage.)
If you are selling your home, you'll need:
Proof of home/condo insurance
Current property tax information
Assessment info if purchasing a condo/townhouse
Condo declaration and bylaws if it's a condo/townhouse
Attorney info and copy of home inspection (this may vary, depending on where you live)
Property appraisal (if you've had one completed recently. Otherwise this will be taken care of by the lender later in the home selling process)
2. Shop around for home owners' insurance if you don't already have one you trust. You might ask friends who they use or even your lender for recommendations. When it comes time to purchase the new policy, the insurance company will likely require a copy of the new home appraisal and a copy of the purchase and sales agreement. In our case, our lender took care of giving this information to our insurance company, but I  had to facilitate connecting the two.
3. Understand the costs associated with buying a new house. If you are informed ahead of time, it's a little less overwhelming when your lender starts discussing the fees. And they pile up quickly believe me! There's not a set solid list of fees because it varies depending on what type of loan you're applying for, what state you live in, and other details. But there's still some general fees you can learn about now. Most of these fees will be wrapped up in your closing costs. These include:
title fee
attorney fee
loan origination fee
loan points fee (to lower the interest rate)
credit report fee
You may be asked to pay for these prior to closing and out of pocket at the time:
appraisal fee (usually $300-500, depending on where you live)
home inspection fee ($300-600 – we paid $450)
4. Be proactive. If you're not sure about something, ask. If something doesn't seem right, speak up. Buying/selling a home is the time to be the squeaky wheel. It is NOT the time to sit back and wait!
We had more than one frustrating occasion where our Realtor didn't communicate with our lender and things would have seriously stalled had we not kept on top of things.
Is it stressful buying a home? Yes. But you'll get through it. Hang in there because it will be worth it in the end.