Eating well is one of the first steps to getting and staying healthy. But figuring out how to eat healthy and keep it up isn't as easy as it sounds, especially when you're a busy mom.
The key to eating healthy is making simple sustainable changes in your eating habits; and not just for you, but the entire family.
Take a minute to pinpoint your biggest challenge when it comes to healthy eating.
Is it a lack of time for preparing healthy meals and snacks so you end up with takeout or junk food?
Do you have a sweet tooth or even a sugar addiction?
Does evening snacking sabotage your daily diet plans?
Do you nibble on your toddler's snacks throughout the day?
Do you snack when you're bored and find yourself at the bottom of the chip bag before you realize it?
Maybe you just eat too much during meals.
Once you know what your biggest barrier is, make a simple plan to do something about it.
Perhaps having "junk" food in the house is too much of a temptation. Stop buying it. (Will your family protest? Maybe they need to eat healthy along with you!)
My biggest issue is my sweet tooth (I'm addicted to sugar) and having any sweets in the house is very hard for me to resist.
Don't get discouraged; remember, you don't have to be perfect or tackle everything at once.
Here are a few simple sustainable ideas for eating healthy this year:
1. Use small plates
Smaller portions is one of the simplest ways to eat better and lose weight (if that's your goal.)
Have you looked at the plates in your cupboard? Dinner plates are ridiculously ginormous (as my kids would say) now days and eating a full plate that big every night is a surefire way to sabotage any diet plan.
Yes, you could simply put less on each plate, but it's more satisfying to eat a full plate. The solution? Get smaller plates!
We replaced our giant correlle plates a couple years ago with medium-sized square plates and love them! Not only does it save space in my cupboard, but we eat less without realizing it!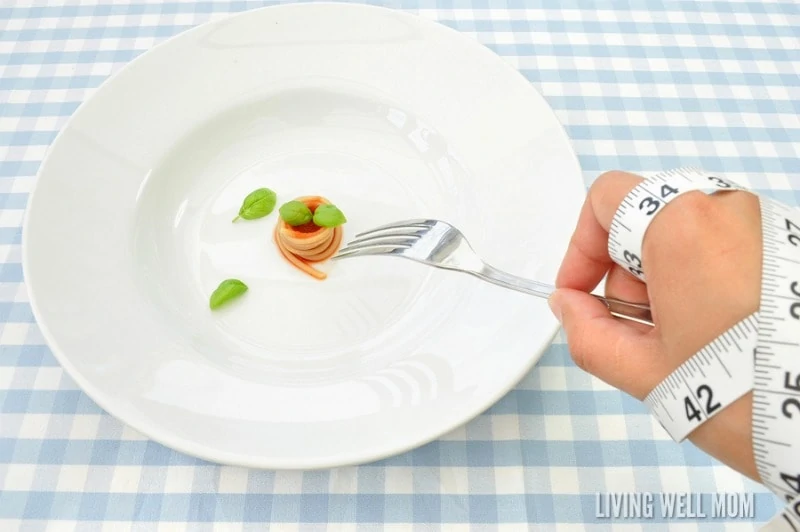 2. A little planning goes a long ways.
Plan for success! A simple weekly meal plan jotted down in your notebook or online can not only make your grocery shopping simpler and save you money, but it will give you options as you go about your week.
Choose easy recipes so you're not faced with choosing between an hour-long dinner prep or buying takeout. Two of our favorite meals are: Slow Cooker Sloppy Joes and 10 Minute Salmon Quesadillas.
Give yourself some yummy healthy snack choices too! (You don't have to eat carrots and celery every afternoon!)
Try these simple, delicious recipes: Craving Buster Fat Bombs or Matcha Green Tea Energy Bites.
3. Go with easy and convenient whenever possible.
Eating healthy doesn't mean you have to spend hours preparing food and cooking every week. There are still convenient options available.
For example, buy pre-chopped vegetables. It might cost you a little more, but it's worth it if it means you'll actually eat it!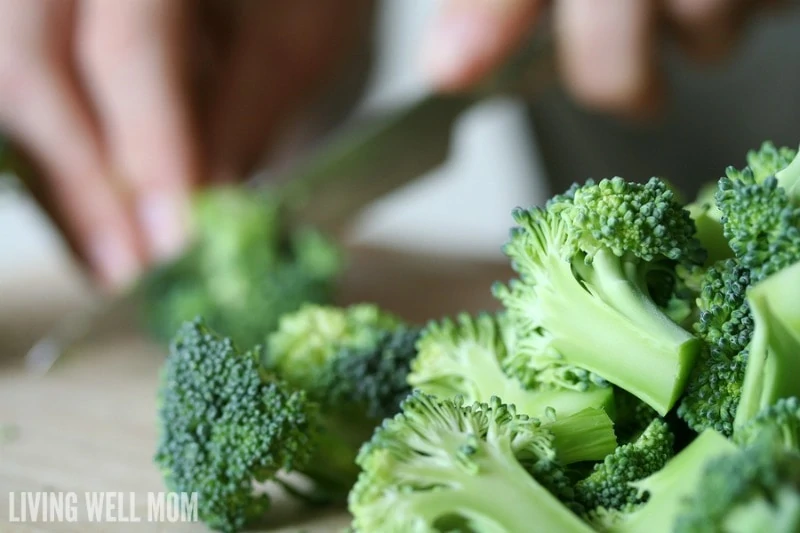 Frozen chopped broccoli is often the difference between serving a vegetable for my family at dinner or not. I also love to buy peeled and chopped butternut squash. It costs a little more than whole butternut squashes, but it's often the difference between cooking dinner or making hot dogs for the kids and ordering takeout for Nate and me.
4. Don't assume; read labels.
You might be surprised at how many "health foods" are loaded with sugar, carbs, or not-so-good for you ingredients.
Check labels, especially if you or your kids have any food sensitivities.
5. Take time for family dinners.
Did you know there's actual health benefits to eating dinner with your family around the table?
When you take the time to taste and enjoy the food you're eating, your body can better digest and absorb nutrients. As a result, you might eat less (without even realizing it) and be satisfied for longer.
Compare that to when you watch TV while eating. You might have looked down and wondered what happened to your food because you ate it without realizing it!
6. Try a smoothie!
A smoothie is a great option for a good breakfast, lunch, or snack.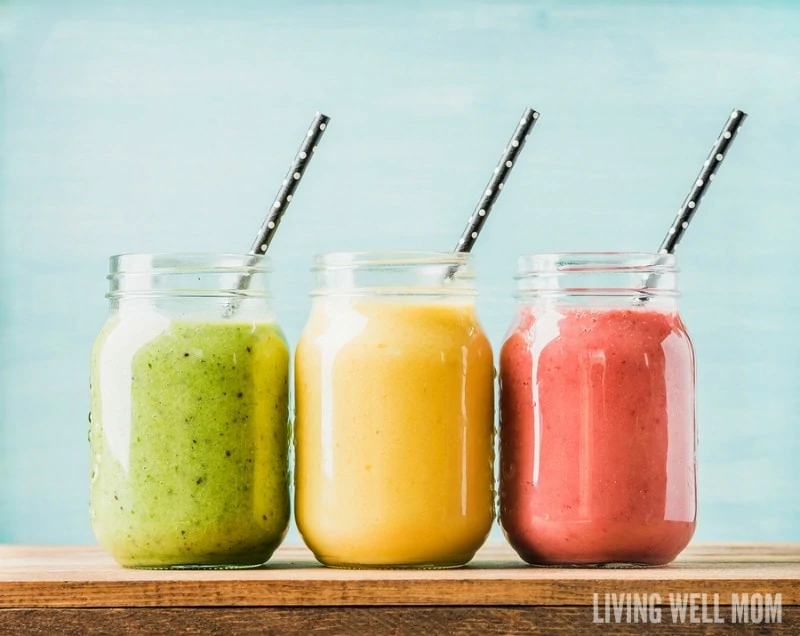 You probably hear a lot about protein powders, bars, shakes, etc. Just like when it comes to reading labels; be picky about your protein too. Have high standards and check ingredients.
My favorite protein powder is Orgain. It's delicious, organic, and contains no artificial flavors or added sugar.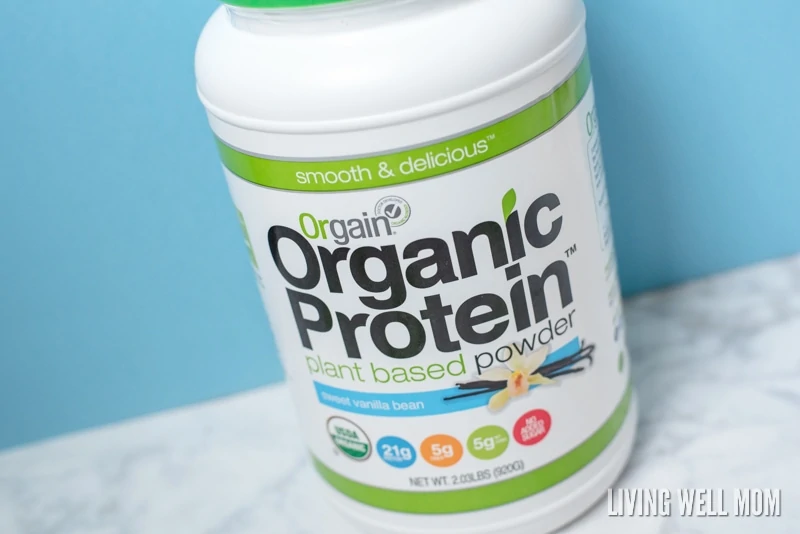 While many protein powers don't taste very good and might require added fruit or sweeteners to your smoothie to get it down, you don't have to sacrifice taste with Orgain!
Orgain Organic Protein Plant Based Powder is vegan too and packed with 21 grams of plant protein.
I enjoy a green smoothie with Orgain protein powder every morning. With this delicious breakfast, I'm able to think more clearly and start my day more efficiently. It also keeps me going until lunch time so I don't end up with the mid-morning munchies!
Sometimes I'll eat something else, like when my son makes his favorite gluten-free pancakes. But I don't feel as good as I do when I drink my Orgain green smoothie.
I also love to add a scoop of Orgain protein powder to my green smoothie bowls; it's one of my favorite healthy lunches!
Orgain also offers delicious organic shakes and bars. These are fantastic protein options for helping you on your journey to losing weight, getting stronger, and feeling healthier this year.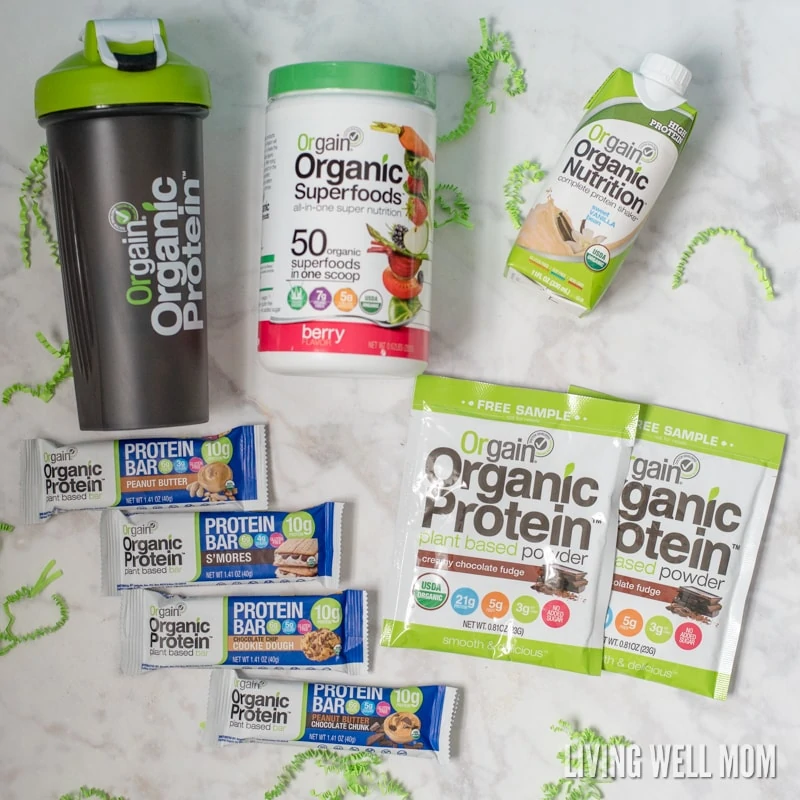 Orgain is running an awesome sweepstakes promotion from now through 01/30/17. Find out more details here: Orgain Resolutions
Find out more about Orgain products as a great option to help you eat healthy this year.
7. Remember you don't have to be perfect!
Last, but not least, remember to give yourself a break.
You're not going to be be perfectly healthy all the time and that's okay. Trying to be perfect can actually give you added stress and make you feel worse!
Remember, baby steps are the best way to start eating healthy. You can do it!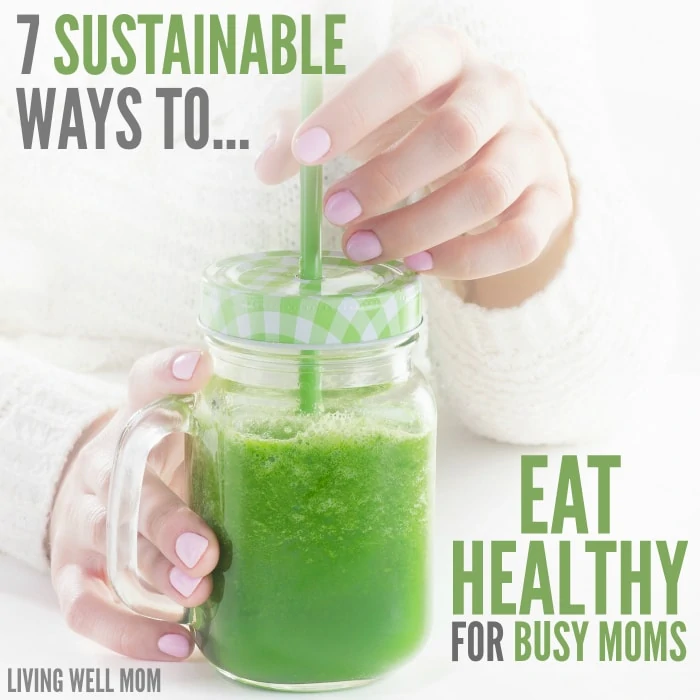 This post is brought to you by Orgain organic protein.