I am just loving our new baby chicks. And it's true what they say about how quickly the little things grow – we can practically see our chicks getting bigger each day! Plus their wing feathers are becoming more prominent and yesterday, I noticed a hint of little tail feathers. SO.MUCH.FUN!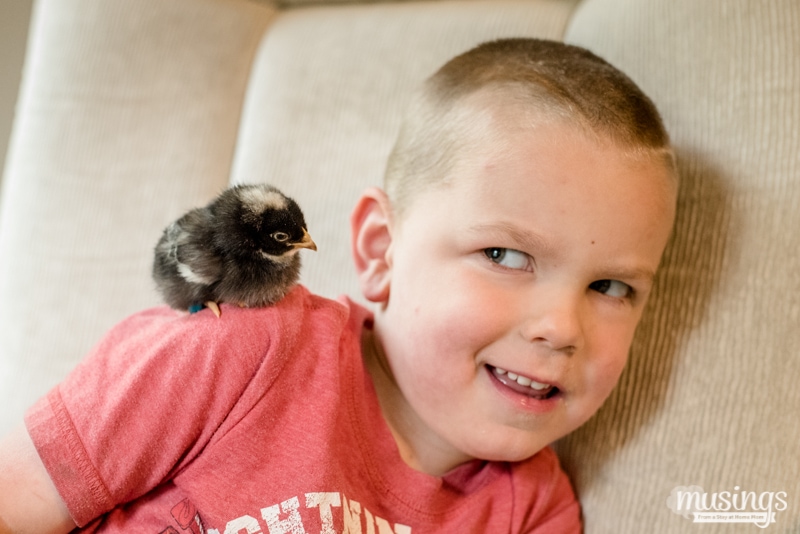 We have 14 chicks – 6 Rhode Island Reds, 6 Barred Plymouth Rocks, and 2 Silver Laced Wyandottes.
Each of the kids have claimed a chick as their very own and Emily even insisted that Daddy have a chick too. Apparently the rest are mine by default.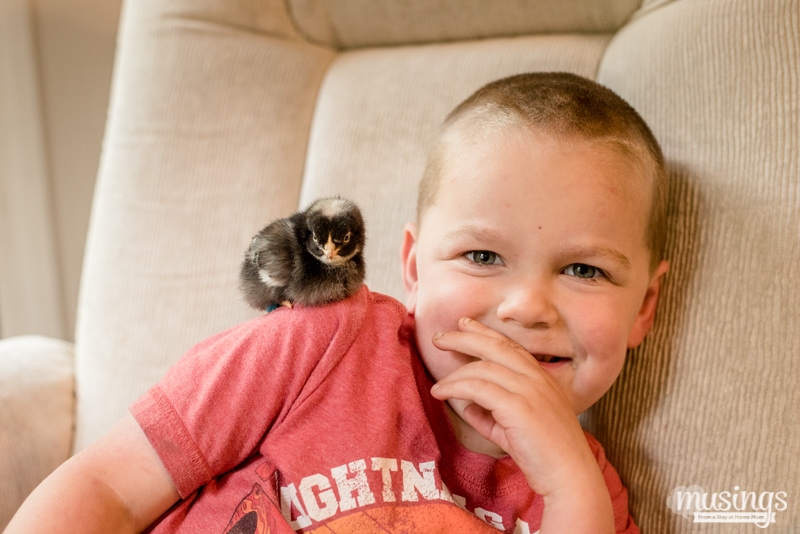 We quickly named all 14 of them.
But that meant we had to figure out how to tell our baby chicks apart. Since we have 3 different breeds of chicken, we really only had to tell 6 of each color apart (I could immediately tell the 2 Wyandotts apart so that was already easy enough.)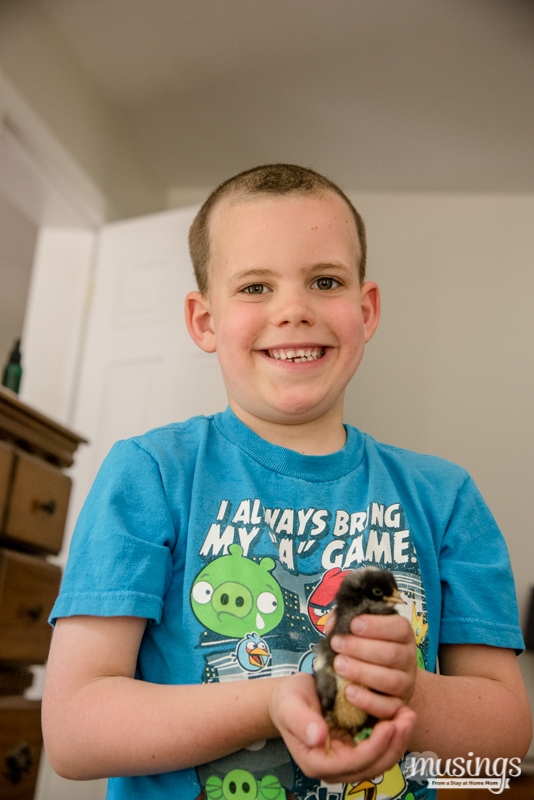 I did some research and it seemed the most common option for how to tell baby chicks apart is to use little leg bands for identification. But I couldn't find any that would fit tiny chicks like ours, plus I didn't want to have to worry about them being too tight and injuring their little legs. Another option I read some people do is color the chicks with a non toxic sharpie marker or food color. But I don't want to mark up the chicks! They're so cute as they are, plus my 4 year old doesn't need any ideas!
Then I had a thought. What if I used regular old pipe cleaners? I looked to see if I could find any reason not to use pipe cleaners, but I couldn't find anything.
So we tried it.
And it works!
Here's the Easy Method for How to Tell Baby Chicks Apart:

This is a great way for how to tell baby chicks apart, especially since (if you have kids) you probably already have the supplies at home, and it works so well.
All you need are a few pipe cleaners in various colors, depending on how many chicks you have. And scissors to cut the pipe cleaners.
If you don't have pipe cleaners, they're easy to find at Walmart, Target, or any craft store or online (affiliate link) at Amazon, etc. and they're really cheap too.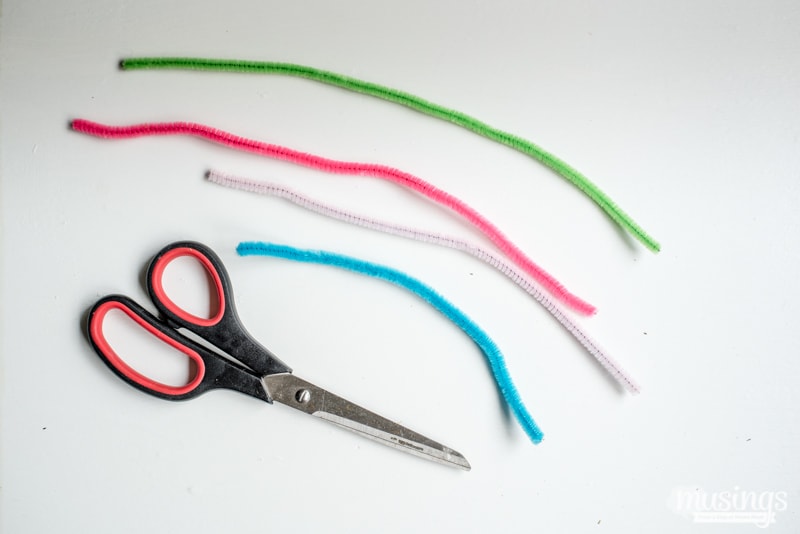 Just don't use red pipe cleaners, since chickens love to peck at anything red!
How to do it:
Cut 1-2″ sections (depending on the chick's size.)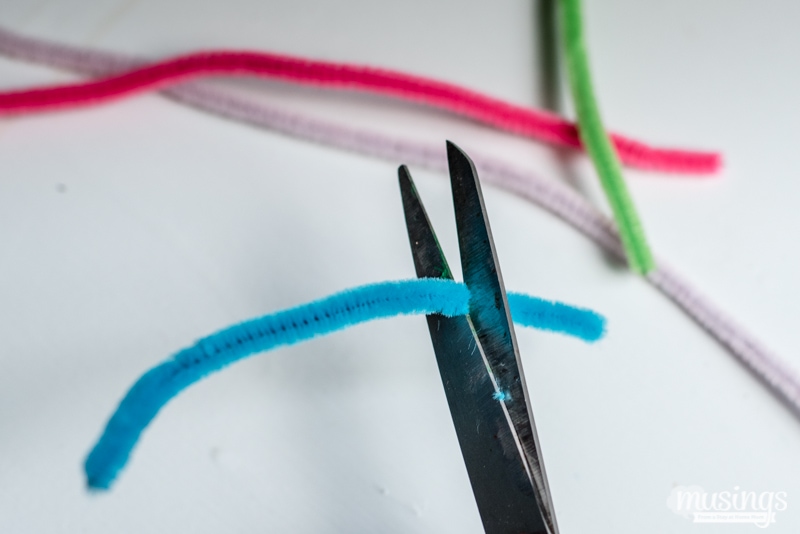 Prewrap the pipe cleaner around a pen or pencil so the metal wire will form the right shape. Trust me, it's easier to do it this way than on a wiggling peeping chick!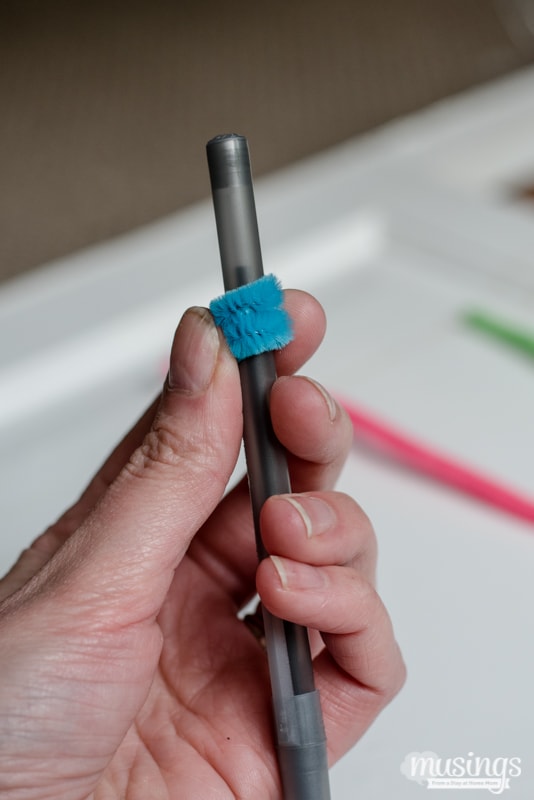 Have a helper gently hold the chick on her back while you quickly and gently wrap the pipe cleaner around the chick's leg. Don't wrap it too tightly – leave some room for growth. Also be careful you don't leave a piece sticking out, try to gently smooth it down the best you can – you don't want the wire to cut the chick or her pals.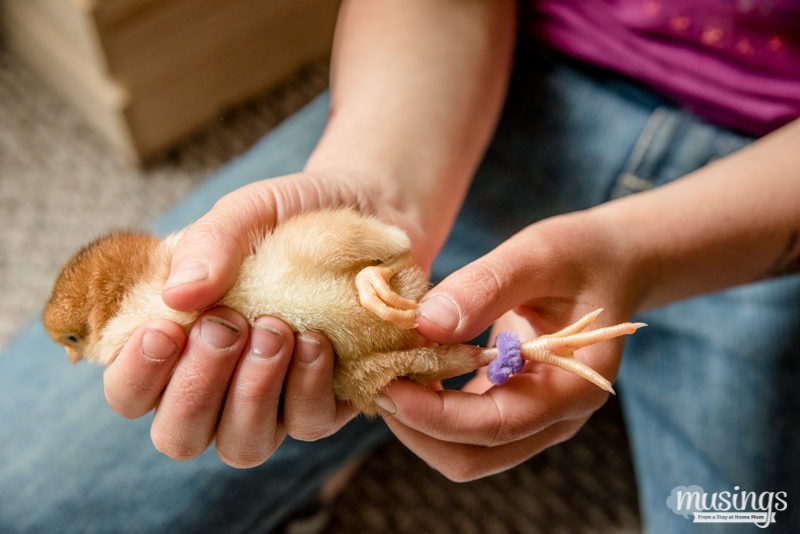 But if it's too loose it will fall off. Three of our chicks lost their bands the first night! But since then all the bands have stayed on nicely.
Once the bands are on, keep an eye on each of the chicks to make sure they don't outgrow the bands. The bands have been on our chicks for about 5 days now and check out Paprika:
Time to resize already!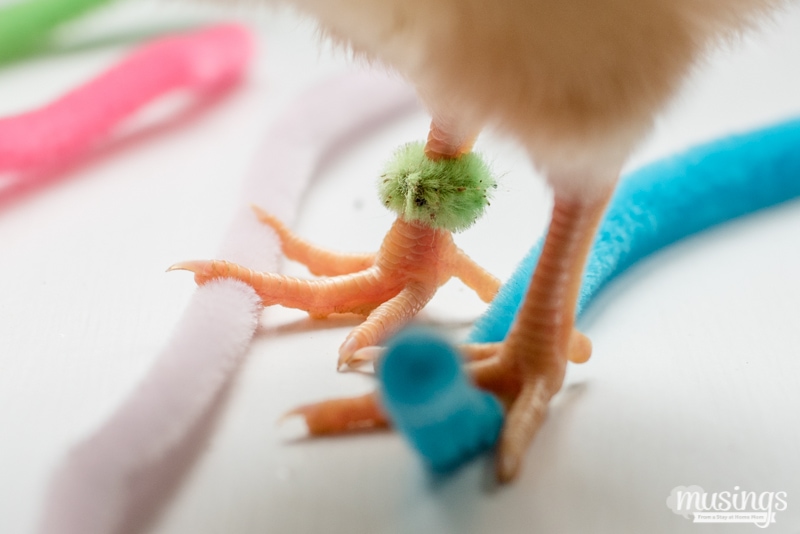 If you have quite a few chicks, you can try two different color bands on one leg or one color on the left and a second color on the right, etc. You can come up with all kinds of color combinations to identify each individual chick.
I chose 5 different colors because we have 6 of each breed that needed to be identified. So 5 chicks have colored pipe cleaner bands and 1 has no band.
I'm so happy with how well this system has worked. Now that we've had our baby chicks for almost a week now, I'm getting better about identifying each one without looking at their band, but it still helps to know for sure.
Introducing Our Little Flock:
The Rhode Island Red chicks: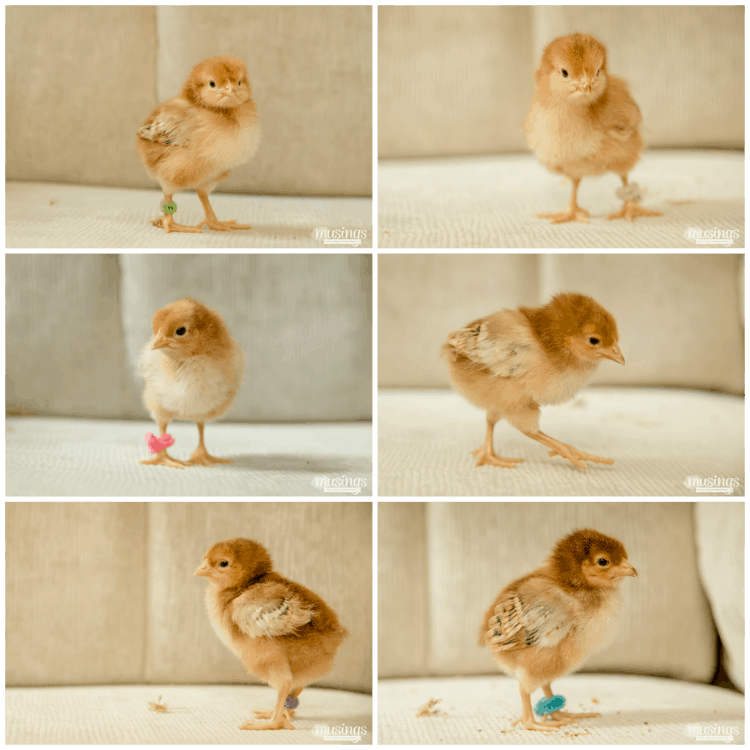 Top Left to Right:
Paprika (Nathan's chick)
Phoebe
Elise
Meredith
Anna (Emily's chick)
Alice
The Barred Plymouth Rock chicks: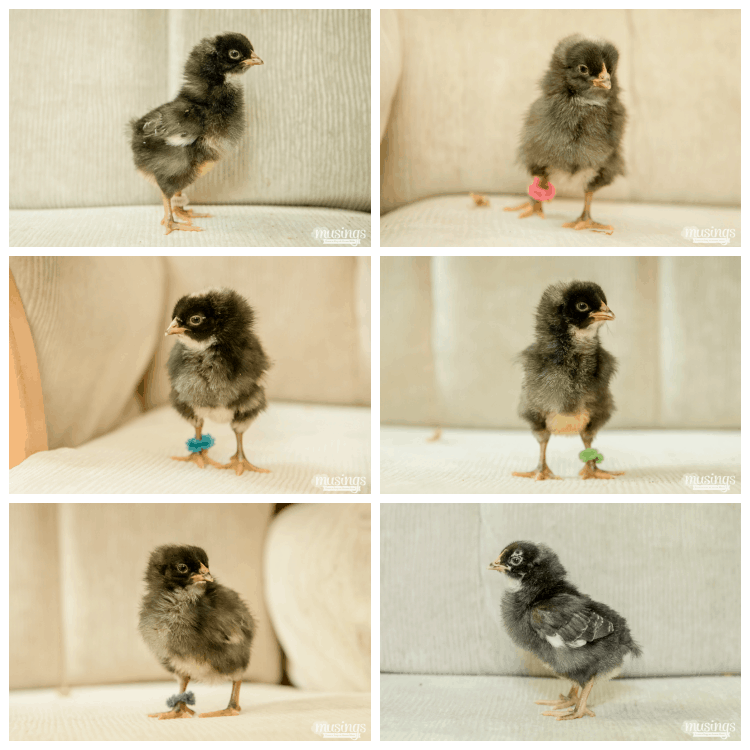 Top left to right:
Patti
Grace
Chickadee (Luke's chick)
Scooby Doo (Joshua's chick)
Rapunzel (Nate's chick)
Ariel (Emily's other chick – note she's a little bigger here. We somehow skipped her when we took the photos on Sunday so I took her photo today (Thursday). You can see the difference in just 4 days!)
The Silver Laced Wyandotte Chicks: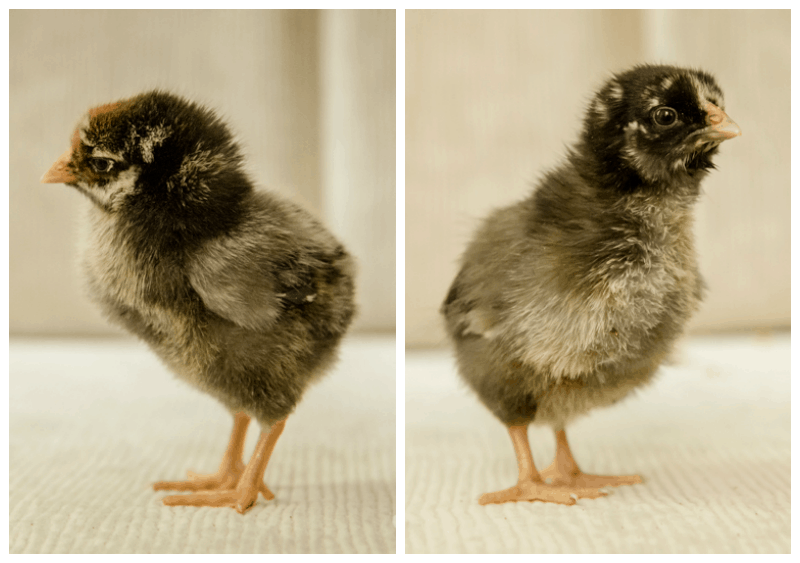 Charlotte (left) & Olivia (right) – see how their markings are different enough that they don't need an ID band?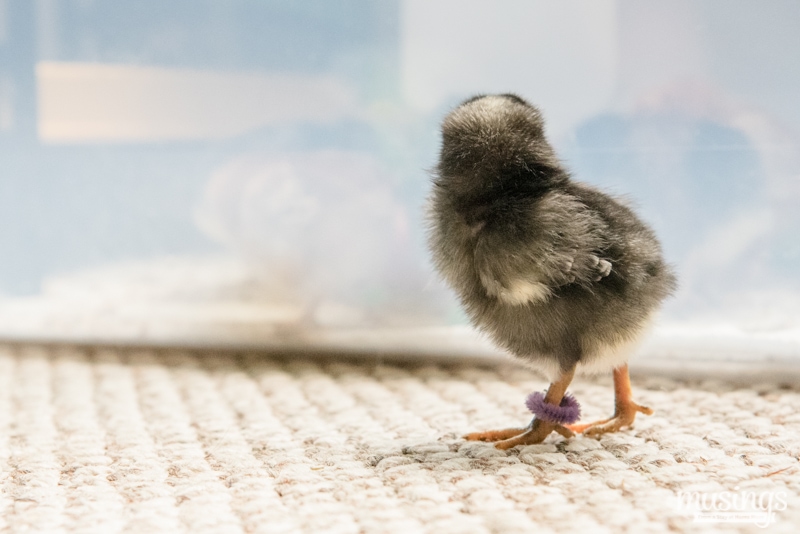 And that is how to tell baby chicks apart. Simply and easily.
Read more about our chicken raising adventures here!