It's been a long time since I've updated you on our little flock of chickens.
Our chickens are now 23 weeks old and they're huge! It's hard to believe they were just tiny fluffball chicks a few months ago.
See how we housed our chicks when they first came home in this post: How To Make A Chick Brooder
None of our girls have laid eggs yet, but they show all the signs of being ready so we're hoping any day now. I'm sure it's not helping that the weather is quickly turning cold here in New Hampshire – we even had a frost warning last night! (Cold weather often causes chickens to slow down their egg production.)
This is Meredith, one of our most friendly pullets. (Female chickens are called "pullets" until they reach one year of age, then they are hens.) Meredith is a Rhode Island Red chicken. She's 22 weeks in this picture.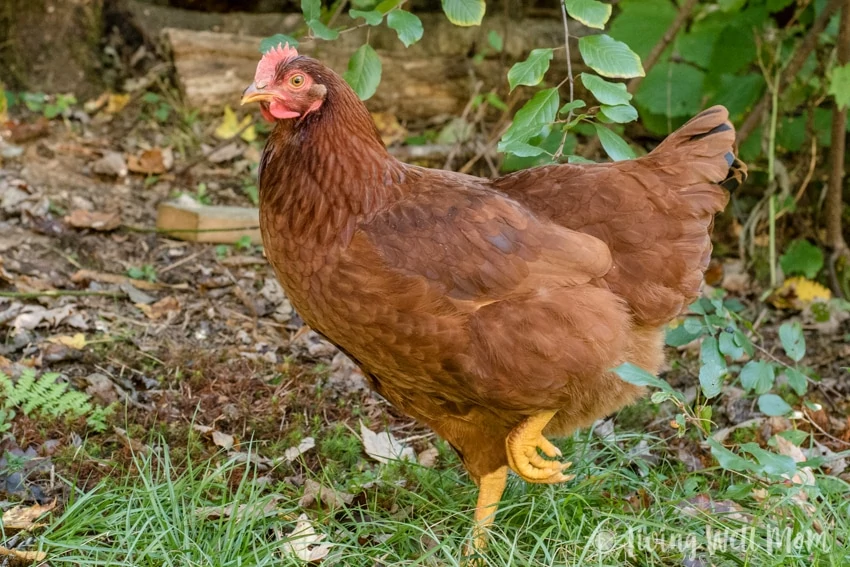 Chickens are amazing. They make everything better! Forget a therapist – just hug a chicken. Or sit and watch them. Their antics are funny – from the way they race at you with wings out on both sides to how they "talk". There's just something that's calming about watching them.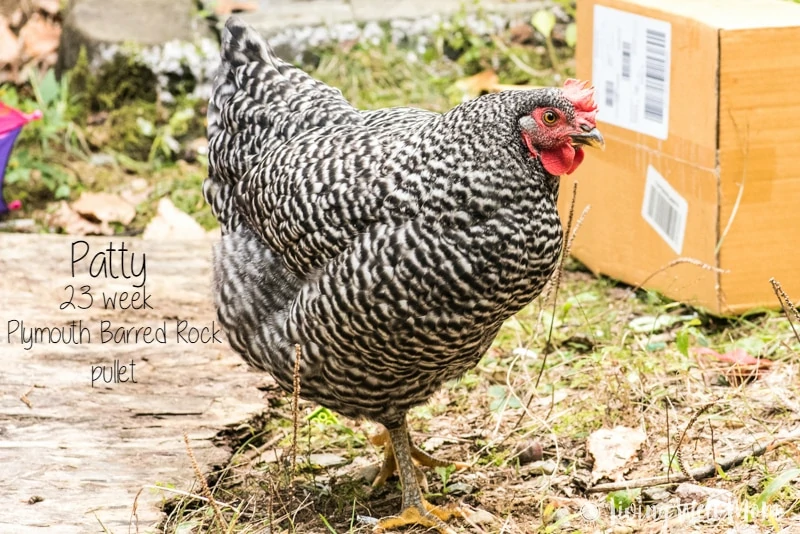 Fluffy butts! Here the chickens are about 19 weeks old. Do you see how the difference between Meredith and these girls? They grow a lot in 4 weeks!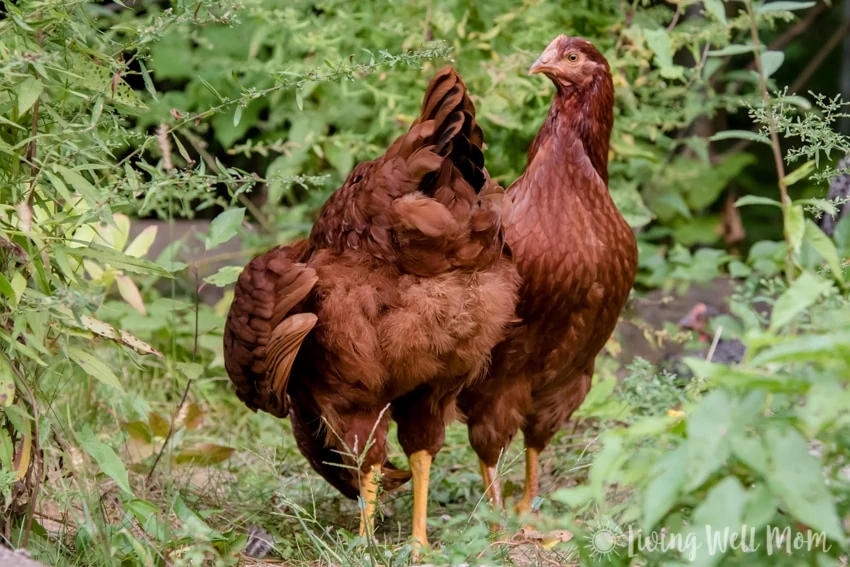 Now that I've established that I'm one of those crazy chicken ladies, I want to give you a tour of our chicken coop. It's not completely done yet, but it's fully functional and I love it. I'm pretty sure our chickens do too.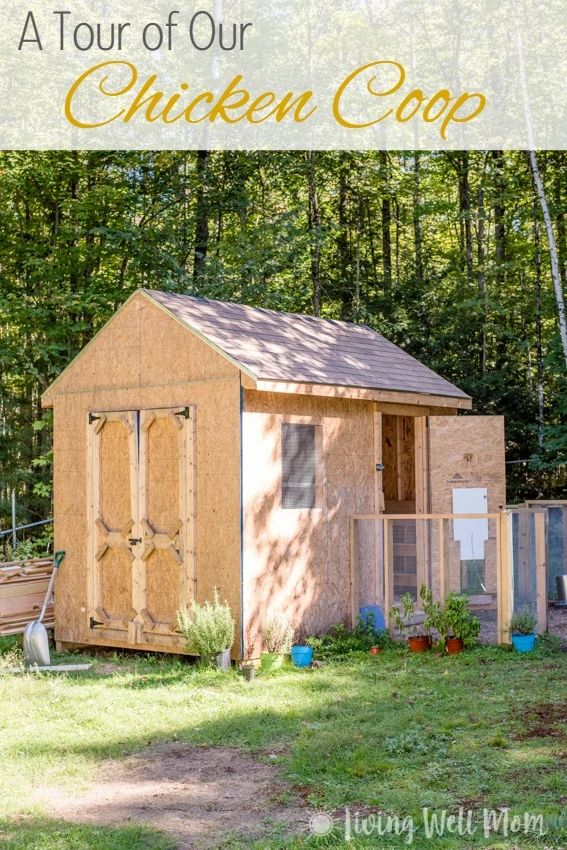 My amazing husband put this massive shed together, completely on his own, without any plans or guidance. He's pretty talented, huh?
Nate built the chicken coop early this summer and has been slowly working on finishing it this past couple months. Of course it just happens that this summer, he's also undertaken a complete kitchen remodel, so the poor guy always has a big list of things to do. He's doing a great job and I'm very thankful that he's such a hard worker.
I'll admit that the reason I haven't posted about our chicken coop before now is that I've been waiting for it to be 100% completed. It's going to take a bit longer, so I'll just give you the almost-finished chicken coop tour today.
Nate has to finish the siding, then I'll paint the outside of the coop, probably a pretty chicken coop red.
This is the outside run. It doesn't really function as a run because the chickens can and do fly out. Nate put this together as more of a temporary area until he has time to make the big covered chicken run, which he plans to do before the snow flies. (Fingers crossed!)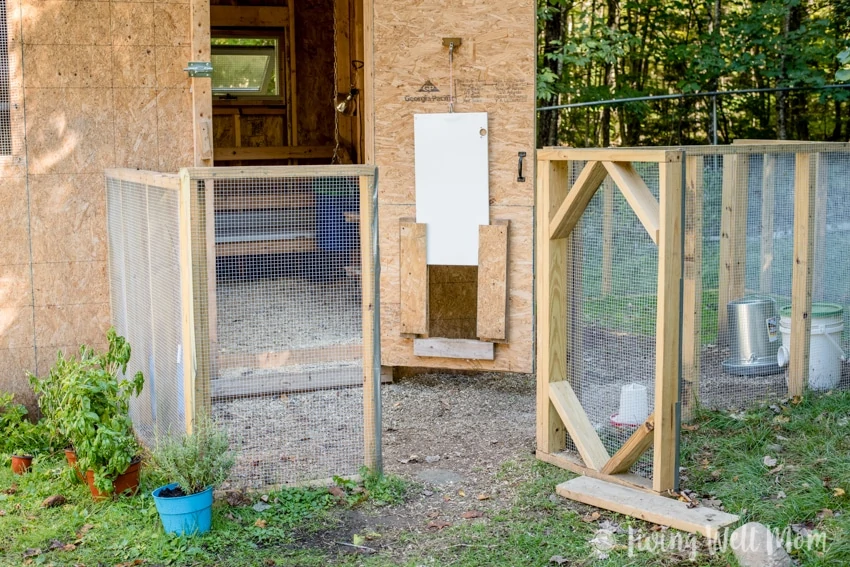 The run is not predator proof, but we've carefully secured the coop so nothing can get in to hurt our girls.
Here's the main door. There's two latches – the metal one is heavy duty. I told Nate I wanted to bear-proof the coop, since we have black bears here, and both he and my dad laughed in my face. I know that bears are crazy strong and could rip a door off if they wanted, but I'd like to at least try to persuade a bear that it's too much work to get at my chickens. So far, so good. We haven't lost any chickens (knock on wood!)
You can see the little chicken door is white. That's a damaged kitchen cabinet door that we reused. It's quite heavy and we can lift it up and down using the pulley system Nate rigged up.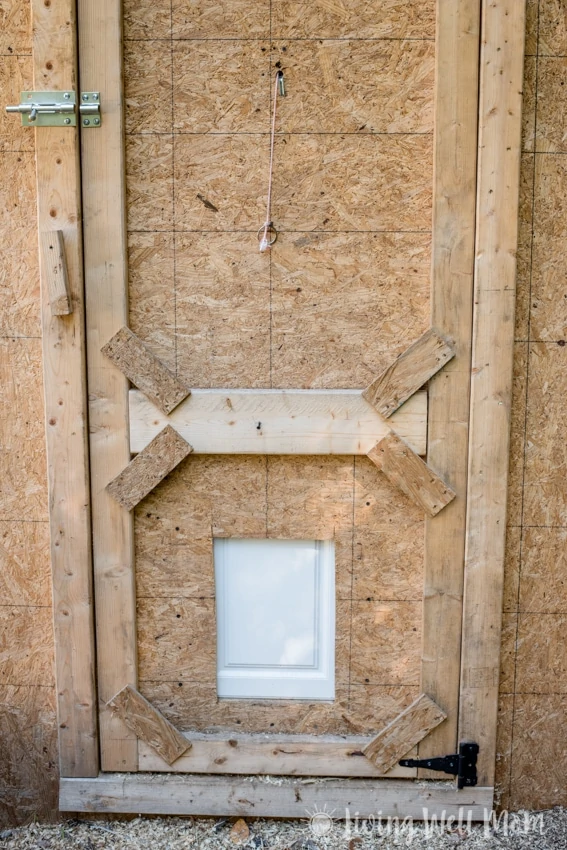 We keep the chicken feeder outside. We have two right now – a regular metal chicken feeder that the chickens seem to prefer. We've only recently begun using this feeder and just after I took this photo, Nate set up a little table/cover area so we can leave the feeder outside without the food getting wet.
The other feeder is a 5 gallon bucket with a PVC pipe opening for the chickens to stick their head into and eat. It's a great idea, except we have 14 chickens and they're not fond of patiently waiting in line. So that's where the larger metal chicken feeder comes in. (If you only have a few chickens, the PVC pipe bucket feeder is a fantastic idea!)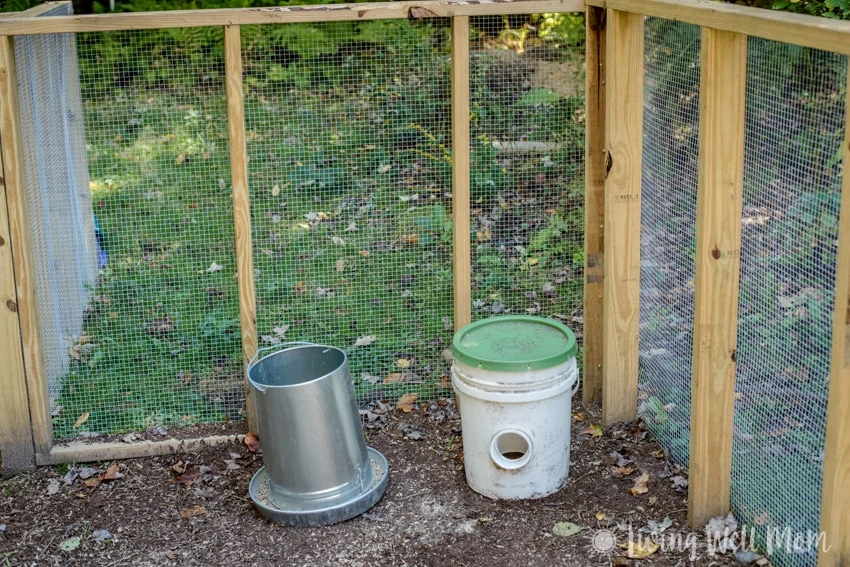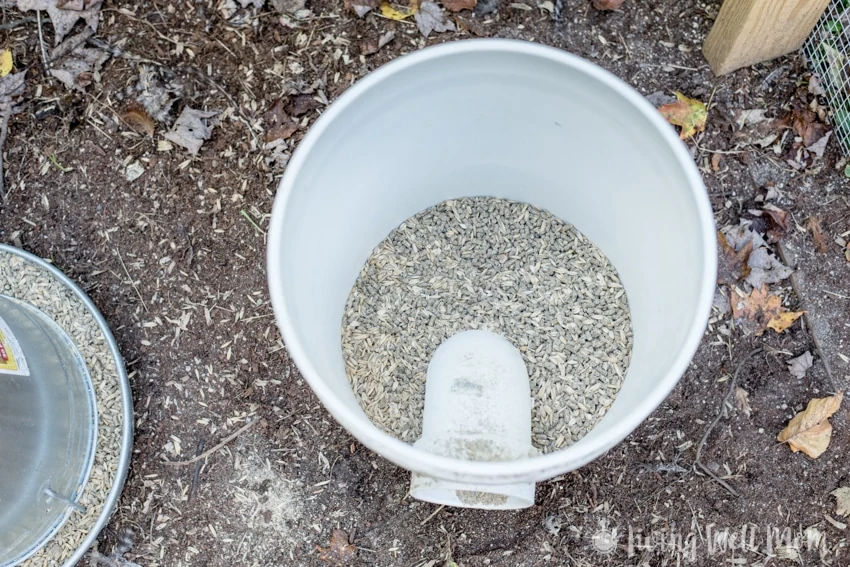 This is the back part of the chicken run. The dirt part to the left is where the chickens love rolling around in the dirt for their dust baths. They also have their favorite areas in the woods to roll around in. Yes, our chickens free range during the day.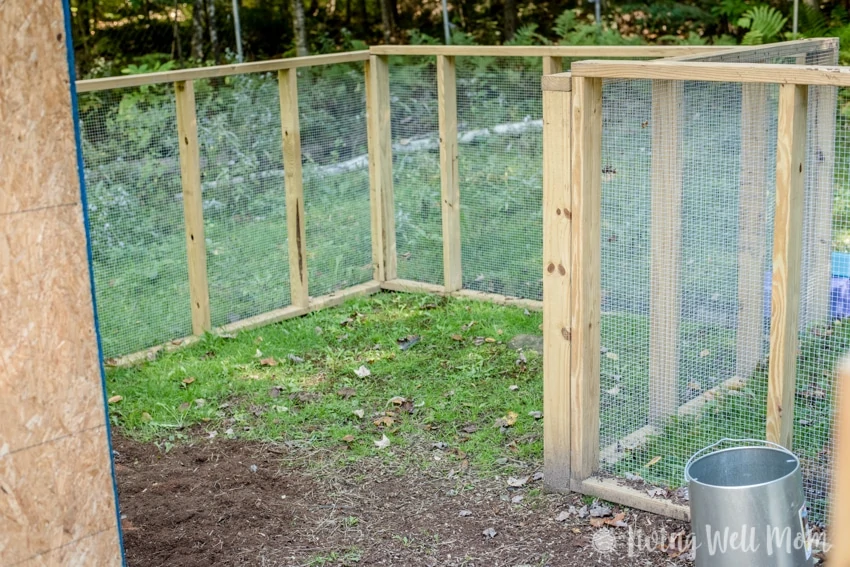 Let's move on to the inside of our chicken coop.
I love the roosting bars Nate built. He set up a frame using 2×4's and also installed a "dropping board" using part of our old kitchen countertop.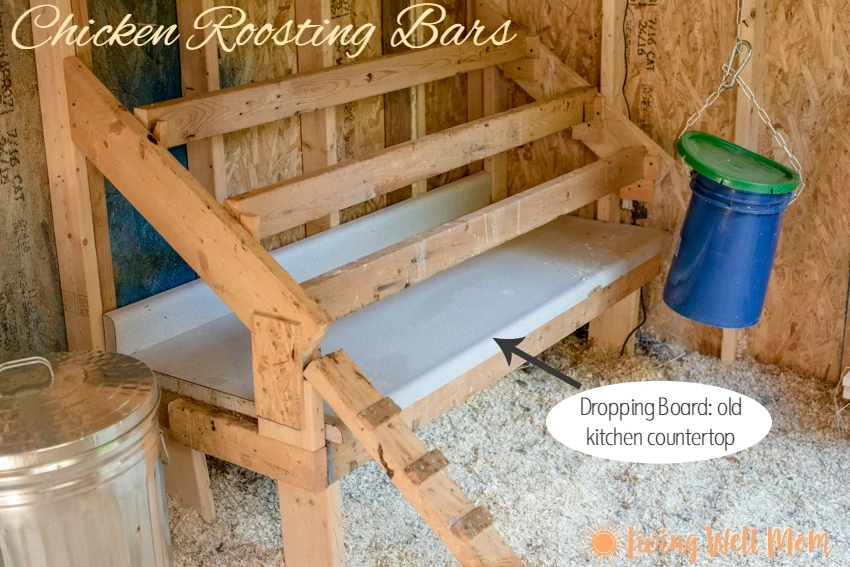 Chickens poop a lot, especially at night when they sit in one place as they sleep. Instead of constantly scooping out poop from the shavings, a dropping board makes it easy to simply scrape off the poop. I use an old scraper to "scoop the poop" every morning and toss it into our compost pile. It only takes a couple minutes. Then once every one or two weeks, I scrub the dropping board with an old brush and vinegar to clean and sanitize. Easy peasy.
The dropping board is one of my favorite parts of our chicken coop. If you're considering getting chickens, definitely add this to your coop list. It's well worth it!
Another feature Nate included was to make the roosting bars removable for simple cleaning. I love that he thinks of these things!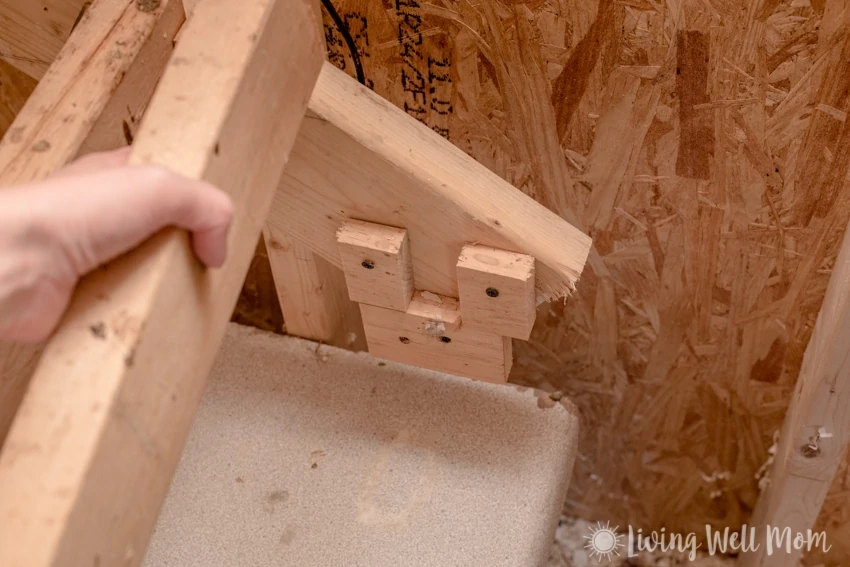 Our chickens love their roosting bars too. They're figuring out their pecking order now and it's funny to find them jostling for the best spot on the bars (it's always the top right corner.)
Next, here's the nesting boxes. So far, no eggs, but hopefully these beautiful nest boxes will entice our girls to lay soon!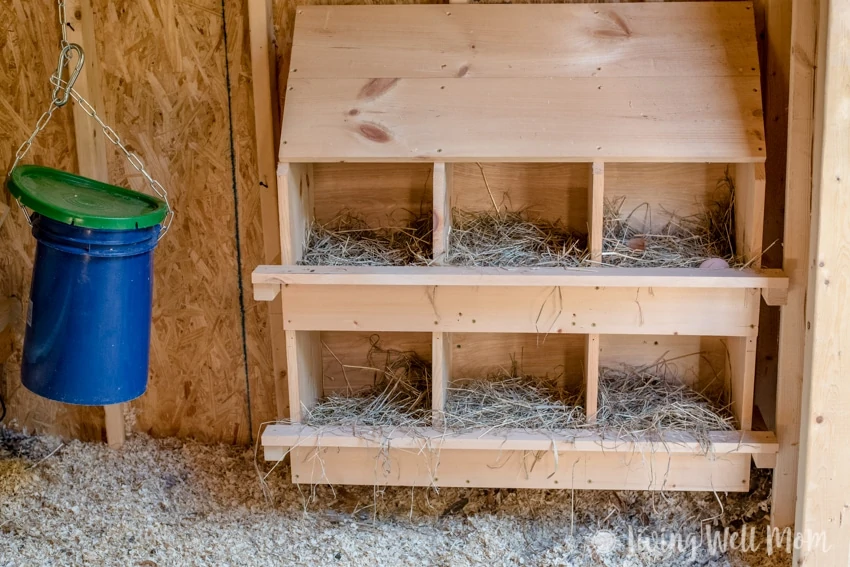 The blue bucket hanging next to the nest boxes is their waterer. It's kinda collapsed a bit so Nate is working on a different type of watering system. But it's still functional and the chickens use it.
Nate cut holes in the bottom of a 5 gallon bucket and glued in poultry nipples. Clean water is very important for chickens and this system cuts down on all the shavings and dirt and mess that would otherwise get into a regular water dish. I always add a couple tablespoons of apple cider vinegar to help the chickens' immune systems and they seem to love it.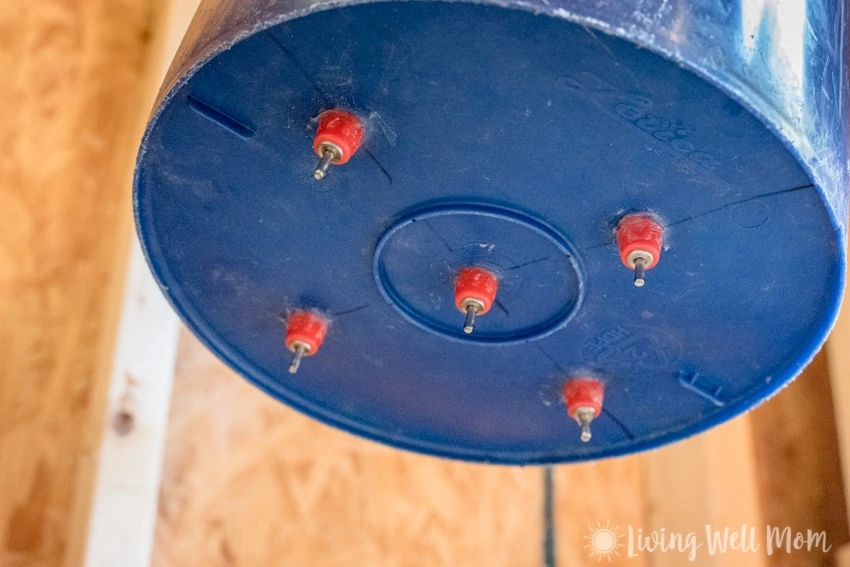 On the other side of the coop, we have a few metal trash cans where we store chicken feed, bunny feed, and oats for the chickens and rabbits. This helps keeps rats and mice out. So far, we haven't had any issues and we don't want to either!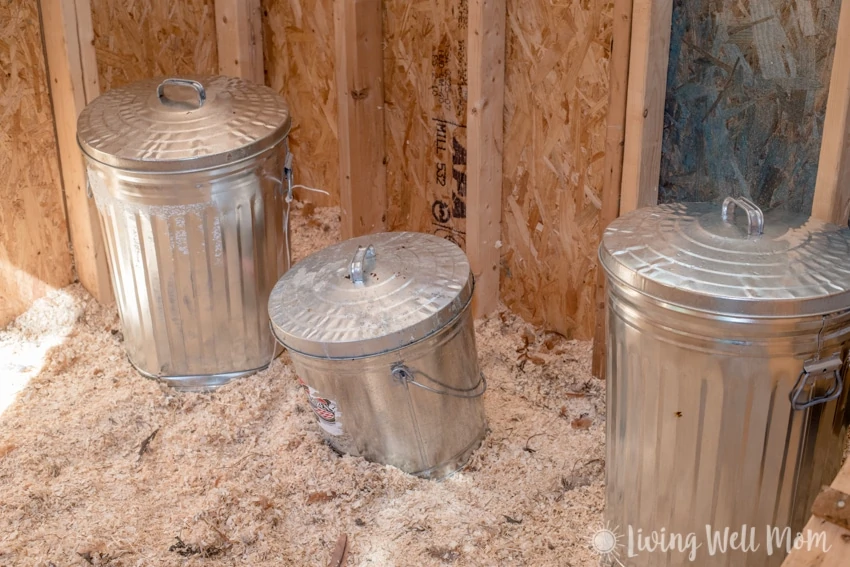 All of the windows in the coop are covered with hardware cloth to keep predators from trying to sneak in. The window above the roosting bars is an old window we recycled from the kitchen. It works out perfectly!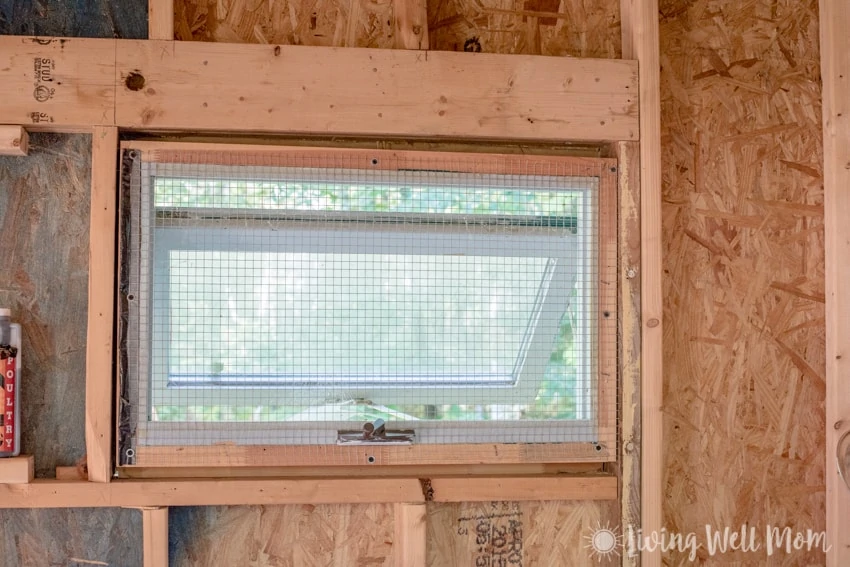 The other chicken coop "windows" are literally just openings covered with hardware cloth. We may put in actual windows at some point, but for now we're waiting as this coop has already cost a lot of money. Wood isn't cheap these days!
It's all 100% worth it for our girls. Especially once they start laying eggs!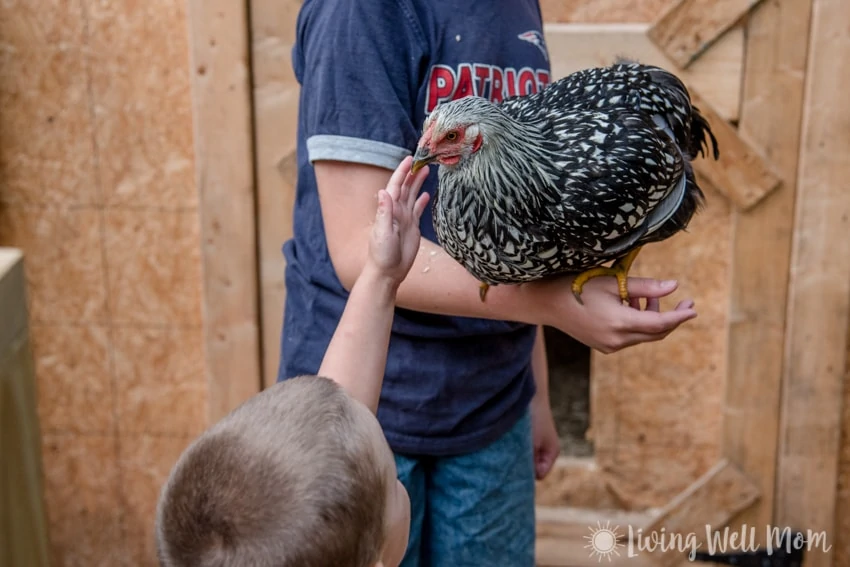 Here's a few things I've learned with raising chickens:
Dropping boards are amazing
Chickens are amazing
Chicken math is a real thing. It's hard to say no to chickens. (We just brought home a few bantams (small chickens) last week! More on our new arrivals later.)
Make sure you predator-proof the entire coop. We even have chicken wire covering the eves to prevent any climbing predators, like fisher cats, from sneaking in for dinner.
Chickens aren't as much work as you'd think. I spend 5 minutes a day caring for them and 30 minutes every couple weeks cleaning their dropping board and raking out the shavings.
Chickens can take a lot of your time because it's hard to stop spending time with them!
Chickens make remarkable compost piles. We have far less food waste because our chickens love to eat leftovers!
It's a great feeling knowing exactly what's in your eggs. I know our chickens' eggs are 100% organic, non-soy eggs because that's the diet we feed them. (When they finally start laying that is!)
You'll find yourself talking to the chickens like they will actually answer. (They do!)
Our chickens are pets just as much as our dog, cat, and bunnies. Yes, they have a purpose, but I consider that a bonus.
For more basic necessities for backyard chickens aside from the coop, read my Raising Chickens 101.