Hey thanks for visiting! In light of recent events, I can see why this post is so popular!
Important 2020 Note:
This original natural homemade recipe we shared several years ago was a way to specifically avoid using alcohol – so it is more natural and less drying to the skin for our family. I do not make ANY claims as to how effective it is.
There is a reason why traditional hand sanitizers use alcohol and other ingredients; because those ingredients are more effective at killing germs and there are more studies and research done with those.
I have updated this post to include a more traditional hand sanitizer recipe that uses alcohol for your convenience. You can find that here too.
In a time where traditional hand sanitizer and ingredients like rubbing alcohol are in short supply, I am using the first natural recipe with my family, but it does NOT replace hand washing, avoiding touching the face, etc.
The best way to protect your family is to follow the CDC recommended guidelines.
Here is an excellent video that shows children (and us adults) just how easy it is to spread germs and how basic handwashing does help. My children found this fascinating (and it encouraged my husband to wash his hands more often too!)
Hand sanitizer can be a mom's best friend in the winter, right? With germs everywhere and kids touching everything all the time, it can be a good defense against illness (though it never replaces good old fashioned hand washing!) But what happens if you just want to make your own?
Did you know you can make homemade hand sanitizer?
I have two recipes for you today – one is a traditional alcohol-based recipe and the other is a more natural, non-alcohol recipe.
It's much easier to make homemade hand sanitizer than I ever would have imagined, and I think it smells so much better than the store stuff.
Please note that I am not a medical professional and the information presented here is merely for educational purposes and not intended to replace medical advice. I am simply sharing my own family's experience in the hopes that it might help you too. Check with your doctor or find a qualified aromatherapist if you have questions or concerns.
Also remember that when it comes to essential oils, a little goes a long way. Start with less in the beginning and if you're not seeing the desired results, you can choose to slowly increase the number of drops.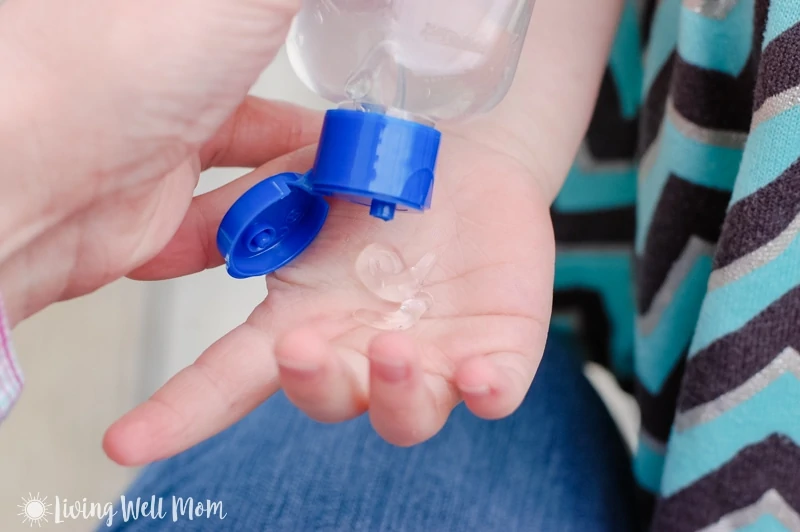 Alcohol-Based Homemade Hand Sanitizer Recipe
If you are looking for a more traditional alcohol-based hand sanitizer recipe, you can try this:
For a 4oz bottle:
Add all the ingredients into a glass measuring cup or small bowl, mix well, then pour into an empty bottle.
And that's all you have to do to make your very own homemade hand sanitizer!
What You'll Need to Make Homemade Natural Hand "Sanitizer":
1 tbsp Witch Hazel – Use a brand with alcohol for better 'sanitation' or if you prefer a gentler, less-drying option, try one without alcohol, like this Thayers witch hazel
2 oz Aloe Vera pure 100% gel

– I got a 2 oz bottle in the travel section so that I could re-use it and put the handmade natural hand sanitizer in it for my purse or car.

10 drops Tea Tree Oil or a blend like Thieves or Immune Strength (I always use Immune Strength as the combination of essential oils are more beneficial than tea tree alone.)
*This makes approximately 2oz

How to Make Homemade Natural Hand "Sanitizer":
The first thing I did was to squeeze out all of the aloe vera gel into a small bowl for mixing.

I then added 10 drops of tea tree essential oil. You could also use oil blends such as Thieves or Erika's favorite Immune Strength blend from Rocky Mountain Oils. (Read more about that on her favorite cold & flu remedies for kids post.)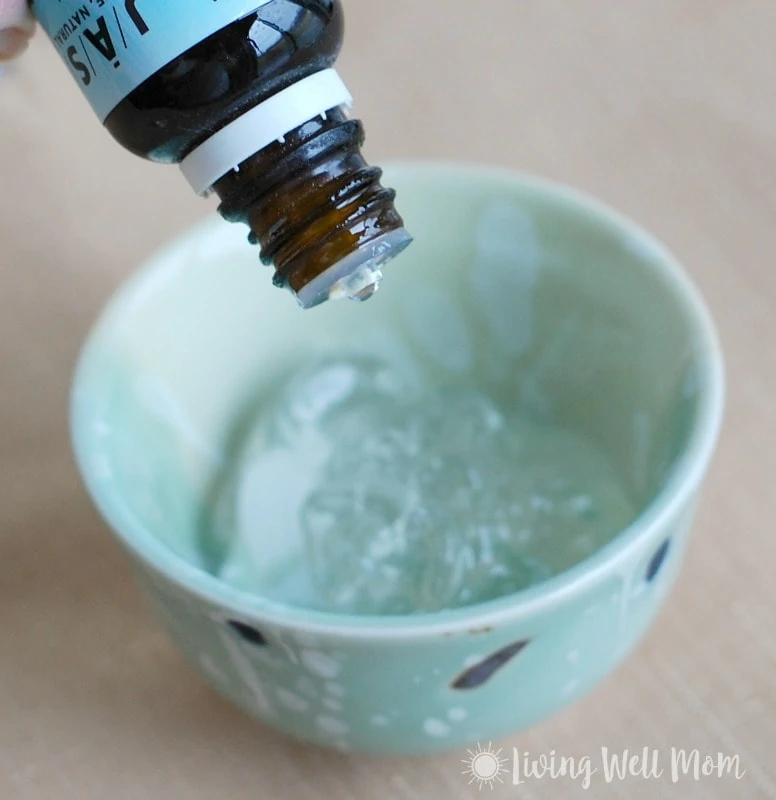 Then add a tablespoon of witch hazel and stir up your concoction until well blended.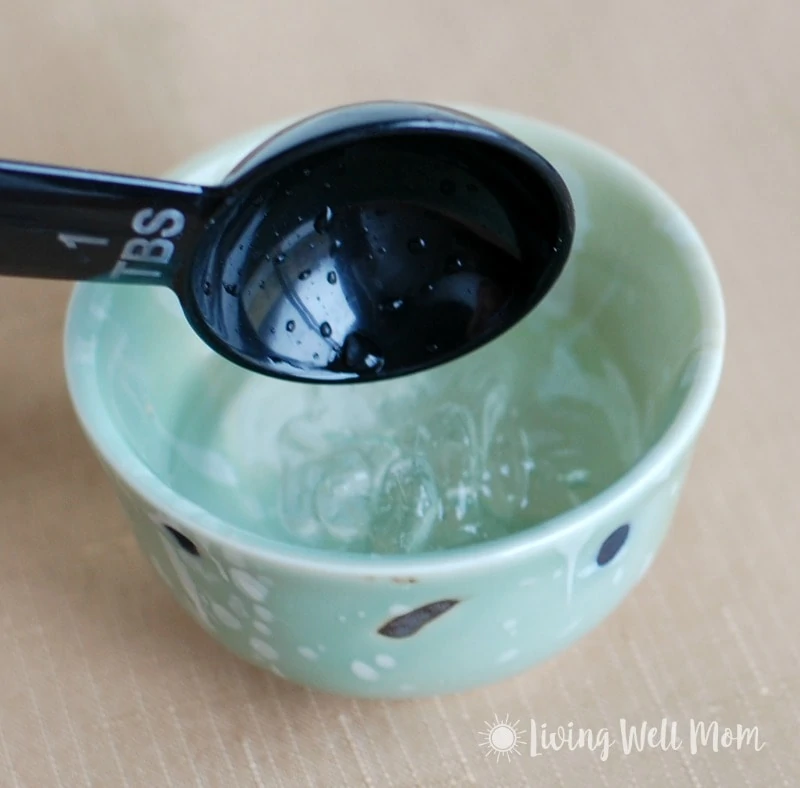 If you want to re-use the aloe vera bottle, then you have to get your mixture back in the bottle – which turns out can be quite messy (but sanitary!).
I found the easiest way was to scoop the sanitizing mixture into a plastic bag, cut out a bit of plastic in the corner, then use it like a frosting bag to squirt it back into the bottle.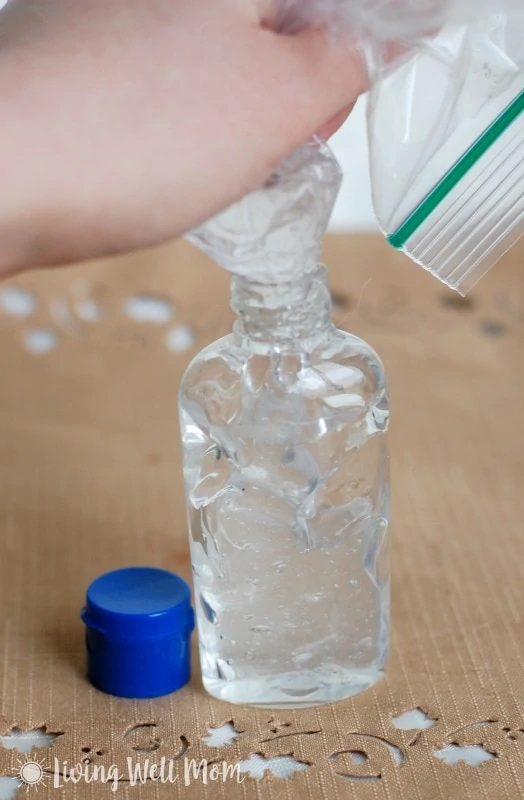 Looking for more ways to use essential oils? Check out these posts: